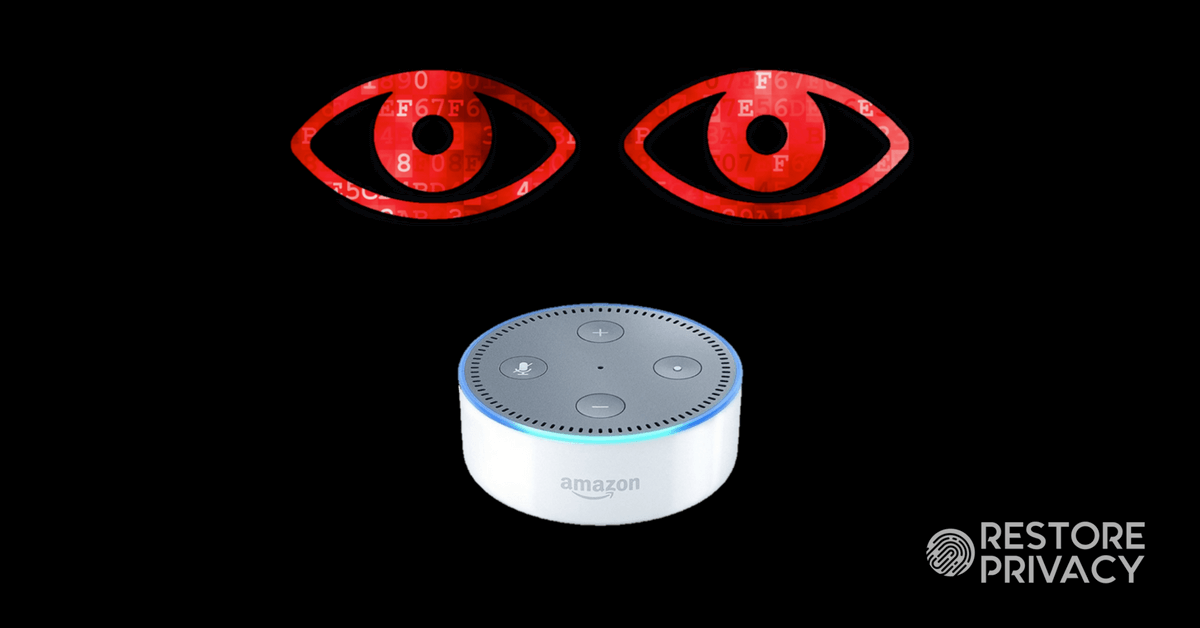 Can you trust an AI "home assistant" from Amazon, Google, or Microsoft?
Recently a couple was horrified to learn their private conversation had been recorded by Amazon's Alexa home assistant and emailed to a work colleague. The couple had installed Amazon Echo devices in every room of their home, going along with the trend to have "smart" devices everywhere. They were shocked to learn Amazon Alexa had recorded a private conversation and emailed it to a work contact:
I felt invaded. A total privacy invasion. Immediately I said, 'I'm never plugging that device in again, because I can't trust it.'
Well, this is what happens when you setup corporate AI spyware to record everything you say in your home…
Amazon responded to the story by claiming this was some kind of error that was triggered by a series of misunderstood commands.
Echo woke up due to a word in background conversation sounding like "Alexa." Then, the subsequent conversation was heard as a "send message" request. At which point, Alexa said out loud "To whom?" At which point, the background conversation was interpreted as a name in the customers contact list. Alexa then asked out loud, "[contact name], right?" Alexa then interpreted background conversation as "right". As unlikely as this string of events is, we are evaluating options to make this case even less likely.
Unlikely indeed – especially considering that the couple did not hear any warnings or questions from the Alexa device before it sent off the recorded conversation.
In an effort to do damage control, Amazon made this statement to USA Today:
If you're worried about what exactly Amazon's Echo-connected speaker has been recording in your home, there's an easy way to find out.

Amazon makes all recent recordings available for listening in the companion Alexa app for iOS and Android.
Basically, everything can be recorded – exactly as it says in the Terms of Service. Amazon can and will use all the data you feed it – just like Google, Facebook, and other data-driven tech giants.
Why does this matter?
These AI "home assistants" can be used to:
Influence your purchases and buying decisions.
Manipulate your behavior and emotions for profit (also known as social engineering).
Spy on you for government authorities (see the PRISM program).
Expose your intimate, private life to completely random people – from Amazon employees to work colleagues and government officials.
The fact that these devices can be easily used for total surveillance should come as no surprise.
Amazon is already involved in another privacy scandal for selling real-time facial recognition software to police departments. This powerful and invasive software is called "Rekognition":
Rekognition is currently used by police in Orlando and Oregon's Washington County, often using nondisclosure agreements to avoid public disclosure. The result is a powerful real-time facial recognition system that can tap into police body cameras and municipal surveillance systems.
Also recall that Facebook has been building a powerful AI-based facial recognition system called DeepFace. Every Facebook user who tags their friends has been training the AI, which is now extremely accurate.
The line between corporate and government surveillance continues to blur under the common goal of collecting and exploiting user data. Sadly, millions of people have been sold the idea that these corporate spyware devices are somehow beneficial to their lives, despite all the drawbacks and risks.
Home assistants make you stupid
But here's the issue that most people are not talking about: this technology actually makes you stupid.
Researchers who have been testing IQ for decades have noticed a continual decline in Europe. While there are surely various explanations for this decline, some researchers are attributing these changes to technology:
Researcher Michael Shayer, who co-authored the report, told Euronews that since 1995 a "large social force has been interfering with children's development of thinking, getting larger each year."

This "social force" includes the development of technology, such as game consoles and smartphones, which have altered the way that children communicate with each other, he explained.
The latest study examined IQ tests of about 730,000 men, born between 1962 and 1991 and found a noticeable drop in IQ.
Perhaps this is why Steve Jobs refused to give his kids iPads and other electronic gadgets.
Intuitively, this should all make sense. As people become more dependent on technology, it fundamentally affects our cognitive abilities. The recent surge in "smart" devices and various AI-based home assistants will surely accelerate this trend.
Just sit back and let Alexa do all the thinking for you.
For those with eyes to see, the reality of this situation is quite clear. You are living in a "smart" technology dystopia with numerous consequences to your privacy, intelligence, and health. Luckily, however, you can still opt out.