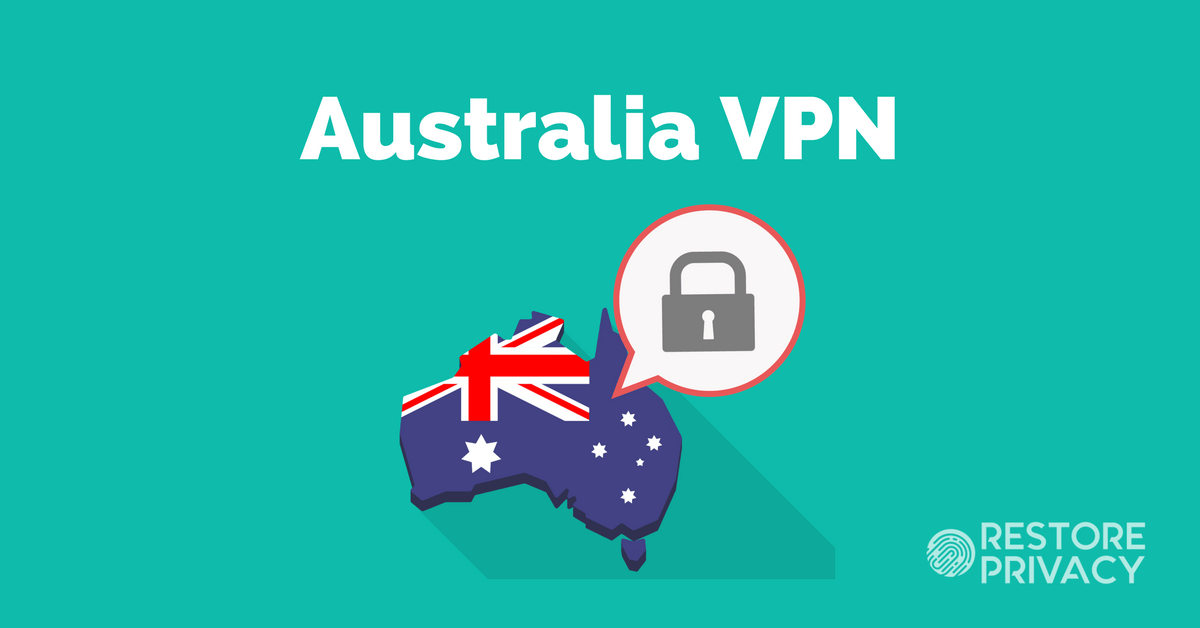 With all of the alarming developments in data retention, blocked websites, and internet providers recording your browsing history, many people are looking for the best VPN for Australia in 2018.
Whether you are residing in Australia or perhaps you are living abroad and looking for a way to access Australian media, a VPN is the best tool for these endeavors.
So why do you need a VPN for Australia?
Here is a brief overview:
Australian data retention and privacy – In April 2017, Australia's mandatory data retention laws official went into effect. Officially called the 'Telecommunications (Interception and Access) Amendment (Data Retention) Bill' – this law forces internet service providers and telecommunications companies to monitor and record user metadata. This extensive data is stored for a full two years and is easily accessible to authorities without a warrant. This law has destroyed online privacy in Australia.
Blocked websites – Currently there are hundreds of websites being blocked in Australia. These website blocks are carried out by internet service providers, usually on behalf of media companies, such as Foxtel and others. As of right now, most of the website blocks are for torrenting and P2P filesharing websites. However, there have also been proposals to extend these website blocks to other content areas as well.
Torrenting and copyright violations – According to copyright holders, such as Foxtel and Village Roadshow, they do intend to sue Australians for copyright violations in court in the near future. As we will discuss below, the fines and jail time are very serious and are definitely worth the cost of a good VPN subscription.
As you can see, there are many reasons for using an Australian VPN, aside from just getting an Australia IP address.
What is the best VPN for Australia?
The best all-around VPN for Australia is ExpressVPN.
ExpressVPN currently offers the fastest speeds, a great selection of Australian VPN servers, and it also does very well unblocking Australian TV and other content, such as Netflix and BBC. While it is more expensive than some options, ExpressVPN is currently offering a 49% discount, which includes three months free.
While ExpressVPN earned the title as the best VPN for Australia, there are some other great alternatives to consider as well, particularly NordVPN. NordVPN also does well with performance and has a huge network of Australian VPN servers. It is also one of the best values you'll find at only $3.99 per month with the 66% discount.
Here is a comparison table which highlights the best VPN services for Australia:
---
---
---
---
---
VPN discounts for Australia
As mentioned above, there are currently two different discounts you can pick up on the top two VPNs for Australia:
ExpressVPN 49% discount – This drops the price of ExpressVPN down to $6.67 per month. There is no coupon code necessary and you will see the discount being applied on the checkout page if you click the discount link above.
NordVPN 66% discount – This is a huge discount on the two-year plan, which drops the price all the way down to $3.99 per month. There is no coupon code necessary; clicking the link will take you directly to the discount pricing page.
Also note that both ExpressVPN and NordVPN are offering 30 day refund policies. This large refund window is among the best you will find in the VPN industry, where 7 days is most common.
VPN.ac is not currently offering any discounts on regular subscriptions, but you can get a discounted 1-week trial (see the FAQ page).
Perfect Privacy is not offering any discounts or coupons at this time, but you can check out their subscription pricing here for more information.
Australian data retention and VPNs
Australia's controversial data retention law was passed all the way back in 2015, but officially went into effect on April 13th, 2017. Despite the outcry from many different individuals and organizations, the law was pushed through parliament and remains in effect today.
Internet providers, such as Telstra, Optus, Aussie Broadband, Dodo, TPG, iiNet, and others were given two years to build the infrastructure necessary to collect your data. These regulations also apply to mobile carriers, such as Vodafone, Virgin Mobile, and other carriers.
What is being recorded with Australia's data retention law?
This is where it gets downright creepy. Here is the data that these companies are recording every time you go online:
Connection type (fixed line, WiFi, mobile, etc.)
Date and time of connection
Account name and personal details of the user
Connection duration
Physical locations
Services/websites accessed online
Mobile carriers are also recording text messages, locations, and call data. If you are in Australia, all of this data is being collected and stored for at least two years! It is available to law enforcement agencies and their surveillance partners through data-sharing agreements with other countries (see the Five Eyes Surveillance partnership).
As Electronic Frontier Australia pointed out, this data is fully accessible without a warrant, except in the case where the target is a journalist. Even worse, there is "very little effective oversight" of this mass surveillance program. This allows authorities to go on digital "fishing expeditions" of their targets and facilitates wide-scale abuse of power.
To sum this all up, these Australian data retention practices represent a major violation of privacy and pose a serious threat to all people living in Australia.
Blocked websites in Australia
Another reason to use a VPN for Australia is to unblock websites. Currently, there are hundreds of different websites being blocked in Australia. These blocks are carried out by internet service providers, thereby filtering what you are able to access online.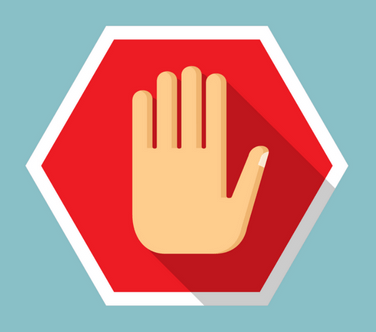 Most of the blocks have been carried out to prevent access to torrenting and P2P filesharing websites.
The Australian television company Foxtel pushed for many of these sites to be blocked for copyright infringement and piracy reasons.

There have been a few other types of website blocks carried out by Australian internet service providers. In the past few years, some organizations have also proposed blocking websites that contain "hateful" content. You can get more information about website blocking and censorship in Australia from Wikipedia here.
Note: A VPN service will allow you to easily get around any of these blocks. Simply connect to a VPN server in Australia (or another country) and you will have instant access to the content you want.
Torrenting copyright infringement in Australia
Copyright infringement is a dangerous area in Australia – and one that is constantly changing. The ultimate question is whether copyright holders will want to go after people who are pirating their content. John Burke – speaking on behalf of Foxtel, Village Roadshow, and the Australia Screen Association – had this to say about the matter:
We plan, later this year, to sue any individual that continues to download pirated content. If we find that someone is infringing our content, we'll send them a warning and we'll also be suing them for damages.
While there does not appear to be a flurry of copyright infringement lawsuits – yet – it's important to remember that copyright holder can go after people for past crimes.
According to the Australian Copyright Council, the current criminal penalties for those found guilty of copyright infringement are alarming:
For some indictable offences, an individual who is guilty may be fined up to 550 penalty units or imprisoned for up to 5 years, or both. For importation of material that infringes copyright, fines of up to 650 penalty units and/or imprisonment for 5 years may be imposed on an individual. Penalties can be much higher where the infringement involves the digitalisation of copyright material from hardcopy (eg., from cassette or vinyl to MP3 or from video to MP4).
The emphasis on the prison terms is mine, although I'm not aware of anyone going to jail for five years for torrenting Game of Thrones. But there is a potential for serious fines anytime copyright infringement is involved. Flashback:

While a good VPN will definitely protect you in these situations, you do need to be smart and also choose the right VPN – whether you need a VPN for torrenting or a VPN for Kodi streaming. Some VPNs – such as VyprVPN – do not allow torrenting on their network and may suspend your VPN account for repeated copyright violations. (Choose your Australian VPN carefully.)
All the VPNs listed on this page permit P2P torrenting on their network without any restrictions.
Best Australian VPN services
Now we will take a look at the best Australian VPN services.
Each option below offers servers in Australia and passed all security and performance tests. Because there is no one-size-fits-all with VPN services, it really comes down to which factors you consider important for your unique situation.
Without further delay, here are the best VPN services for Australia in 2018:
ExpressVPN for Australia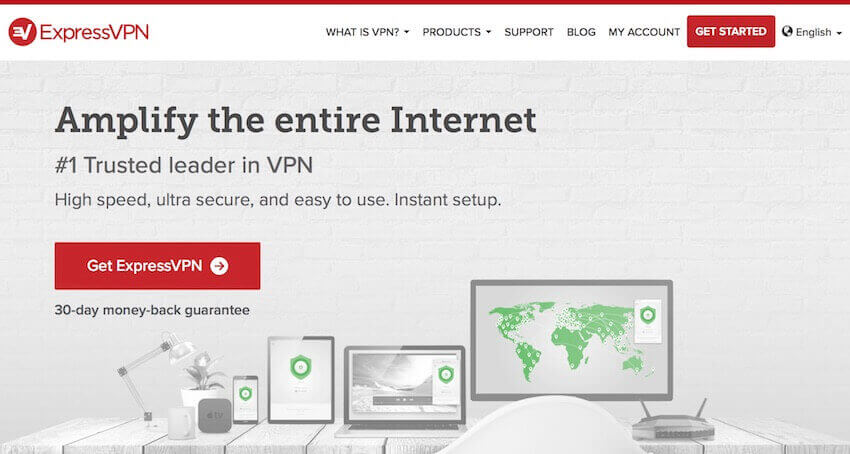 One VPN that consistently performs the best in testing is ExpressVPN. It is a based in the British Virgin Islands, which is a good jurisdiction for privacy. ExpressVPN also has a strong no logs policy and very secure VPN applications with advanced leak protection features and maximum 256-bit encryption.
If you are looking to access Australian media, such as sports, movies, or TV shows, ExpressVPN is a great choice. It works will with unblocking Australian content if you are living abroad, as well as accessing Netflix, BBC iPlayer, and other media
The user-friendly apps and great customer service are also noteworthy. ExpressVPN's apps are simple, well-designed, and very easy to use. You can get immediate 24/7 live chat assistance directly through their website whenever you have a question. And finally, all subscription plans come with a 30 day, no-questions-asked, money back guarantee.
ExpressVPN Australian server locations – ExpressVPN currently offers Australian VPN servers in the following locations:
Sydney
Melbourne
Perth
Brisbane
---
ExpressVPN Coupon
Sign up for the 12 month plan, and get 3 months FREE (49% Off)
Get 49% Off ExpressVPN
(Applied on checkout page)
---
NordVPN for Australia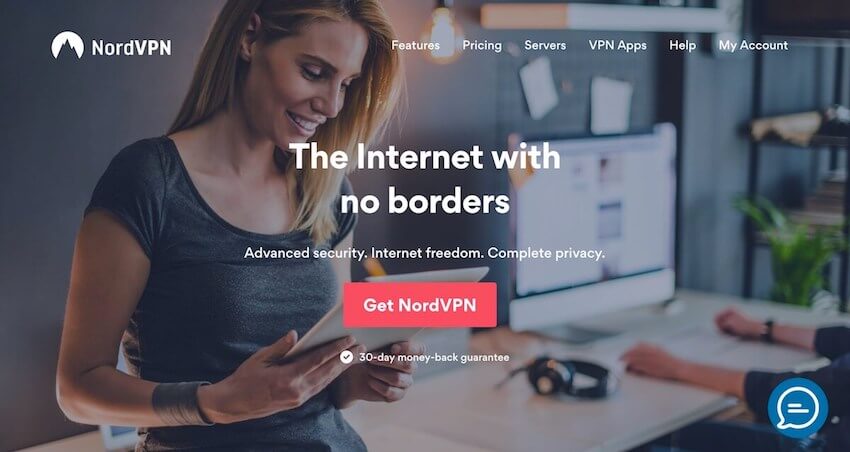 Another great VPN for Australia is NordVPN. It is based in Panama with a strong no logs policy and great applications that are packed with features. These privacy features include full leak protection, double-hop VPN servers, and Tor-over-VPN servers. NordVPN has also added a great CyberSec feature to block advertisements, tracking, and malicious domains directly through the VPN application.
If you are looking to access Netflix and other Australian media, NordVPN is a great option to consider. It will allow you to access numerous Netflix regions, such as Australia, America, Canada, and even the UK. NordVPN is also a great VPN to access Australian sport, TV, and other media.
Just like ExpressVPN, NordVPN offers a full 30-day money back guarantee and 24/7 live chat support directly through their website. Among all the Australian VPNs in this guide, NordVPN comes in at the cheapest at only $3.99 per month when you use the 66% off discount.
NordVPN Australian server locations – NordVPN currently has 173 Australian VPN servers in the following locations:
Adilaide
Brisbane
Melbourne
Sydney
Perth
---
NordVPN Coupon
Get 66% off NordVPN (drops the price down to $3.99 per month)
66% Off Coupon
---
VPN.ac for Australia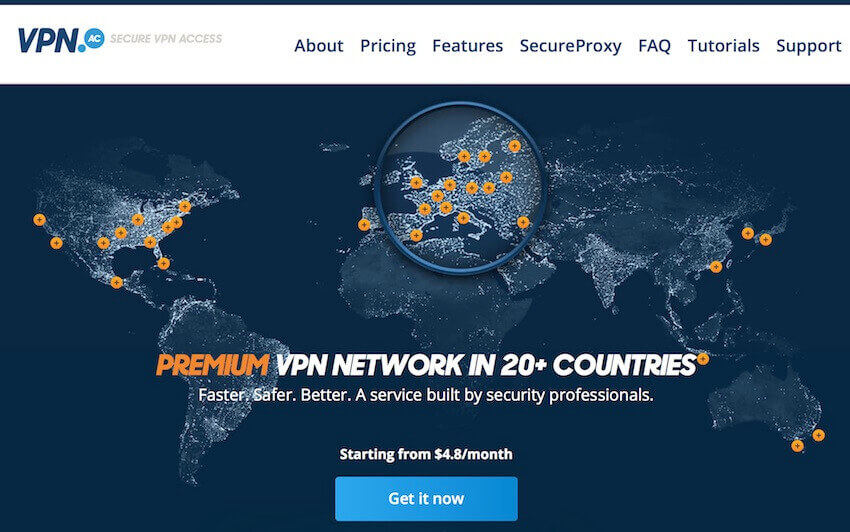 VPN.ac is also a great option for an Australian VPN service. It is was created by a team of network security professionals and is based in Romania, which is a good jurisdiction for privacy. Extensive testing for the VPN.ac review found the applications to perform exceptionally well in terms of speed and security.
For features, VPN.ac offers double-hop VPN servers, advanced encryption, and a secure proxy browser extension for Firefox, Chrome, and Opera browsers. The one drawback with VPN.ac is that they maintain connection logs, which are used for network security and support, as explained on their website. But on a positive note, all connection data is deleted daily and there is no data stored on any VPN server, to further protect customer privacy.
While VPN.ac is not offering any coupons at this time, you can pick up a discounted one week trial on their website (see the FAQ page).
VPN.ac Australian server location – VPN.ac is somewhat limited when it comes to VPN servers in Australia. They currently offer Australian VPN servers in the following locations:
---
Perfect Privacy Australia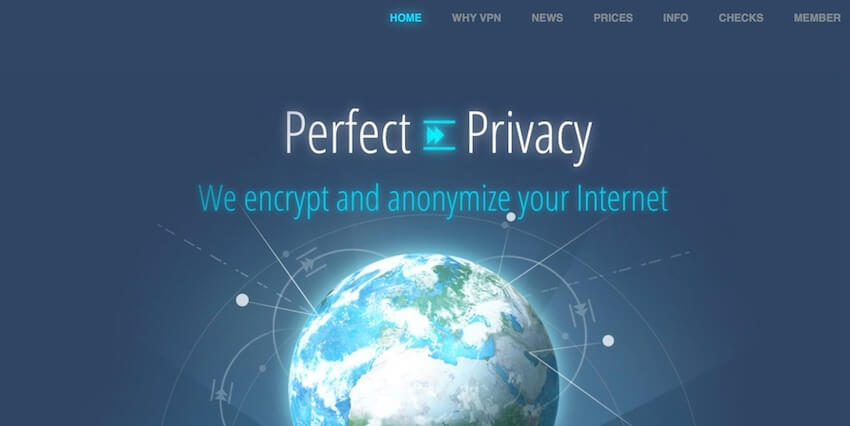 Last, but not least, we have Perfect Privacy. In terms of advanced privacy and online anonymity, Perfect Privacy leads the pack. It boasts some very advanced features, such as NeuroRouting, multi-hop VPN chains, and a TrackStop filter which will block advertisements, tracking, phishing, and malware domains at the VPN server level.
Perfect Privacy's VPN network consists entirely of dedicated, bare-metal servers that are operated in RAM disk mode to ensure no data is ever saved. They have a strong no logs, zero-knowledge policy, which means you get an unlimited number of device connections and no bandwidth restrictions.
One drawback, however, is that there are not as many servers in their network when compared to ExpressVPN or NordVPN. In Australia, Perfect Privacy currently only has one server, which is located in Melbourne. Another drawback with Perfect Privacy is that it probably won't work for unblocking Netflix, as they are mainly focused on privacy and online anonymity.
---
Australia VPN FAQs
Below we will cover some common questions and areas that often come up when selecting a VPN for Australia.
If you have a question that is not covered here, and you don't want to ask the VPN provider directly via their website, feel free to drop a comment further below.
What can Australian ISPs see with & without a VPN?
What can your internet provider or mobile carrier see without a VPN?
If you are not using a good VPN service, internet service providers and mobile carriers can easily record all your data when you are online. This makes your internet provider or your mobile phone company the adversary because they are forced to collect your data under the current law. Again, the bad guys aren't Telstra, Optus, or Vodafone – they are just complying with the law to record your activities for the Australian government.
Also keep in mind that there is no way to opt out. But on a positive note, you can encrypt your data and thereby make it unreadable to third parties.
What can your internet provider see when you are using a good VPN service?
When you are using a VPN on your computer, your internet traffic and data will be encrypted between your computer and the VPN server you are connected to. This will encrypt and anonymize everything you do online, while also replacing your real IP address with the VPN server's IP address. This makes you appear to be in the location of the VPN server you are using.
Here's a basic diagram showing how a VPN protects your data from third parties, courtesy of ExpressVPN:

As you can see in the diagram above, your internet traffic and online activities will be unreadable to third parties, thanks to encryption. However, your ISP will still be able to see that you are online and connected to a VPN server, but they won't be able to see (or record) anything you do.
This gives you online anonymity while also securing your connection, wherever you happen to be.
The same applies to mobile devices that use the internet. However, a VPN will not prevent your mobile carrier from recording text (SMS) messages, calls, and location data, which can be easily triangulated from different mobile towers.
Are VPNs legal and safe in Australia?
Yes, VPNs are completely legal to use in Australia.
In fact, VPNs are used every day by businesses around the world for network security, especially with remote workers. As discussed in the What is a VPN guide, virtual private networks are becoming increasingly common for all different types of users. This includes with businesses, those who want access to Australian media, and an increasing number of people who desire more privacy and security online.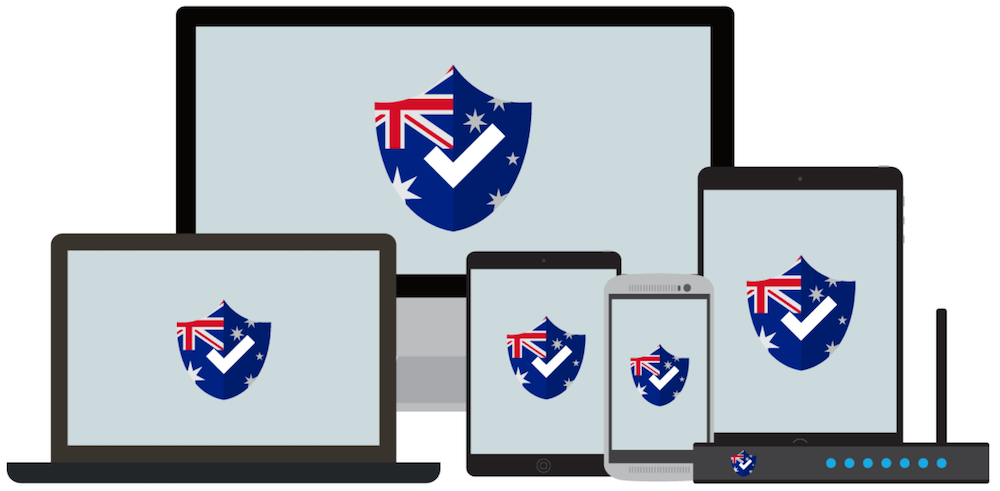 Is an Australian VPN safe?
Regarding the safety of VPNs, yes, they are safe to use, but be careful when selecting the best VPN for your needs.
VPNs are safe to use in Australia, so long as you are using a trustworthy and reputable VPN provider. Granted, there are over 400 VPN providers currently on the market – actually, more if you count all the shady free VPN apps in the Google Play and Apple stores. Unfortunately, the vast majority of VPNs are garbage.
There are also some popular, highly-recommended paid VPN services that may not be safe to use due to traffic leaks. However, as long as you are going with a good VPN provider that keeps your data secure, you should be good to go.
What is the fastest Australian VPN?
There are many factors that affect speed when using VPN servers in Australia or abroad. Aside from the distance between you and the server, other important speed factors include server quality and server congestion. Your internet provider, computer/device, and network also play a role. Because of all these different factors, the fastest VPN for Australia may vary from user to user.
However, considering everything, I would give ExpressVPN the title of fastest Australian VPN for the following reasons:
It has consistently performed among the fastest VPNs I have tested (explained further in the ExpressVPN review).
ExpressVPN operates only high-performance servers with the best bandwidth channels.
ExpressVPN has recently added two more server locations, giving you a total of four different VPN server locations in Australia.
So while there are many factors to consider, ExpressVPN earns the title fastest VPN for Australia and it also performed very well in my tests for this guide. Below I'm using an ExpressVPN server in Sydney.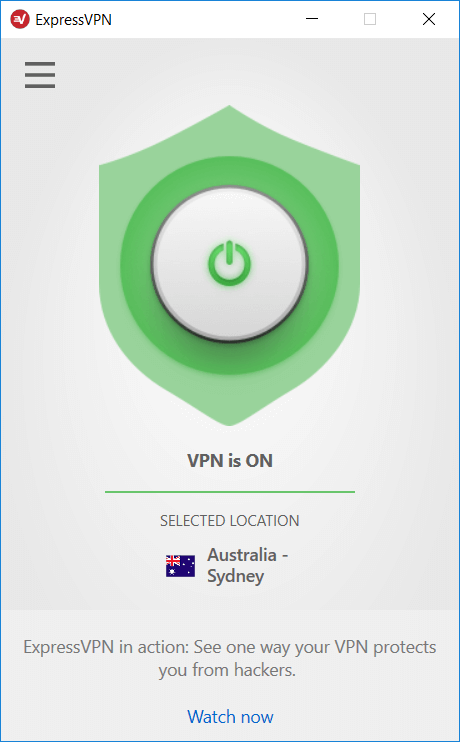 I have also found VPN.ac to offer excellent speeds, although they only offer two server locations in Australia at this time (Melbourne and Sydney). With the slow rollout of broadband in Australia, the biggest factor affecting speed may also be your internet service provider, rather than the VPN.
How do I setup a VPN for Australia?
No matter what your technical background is, setting up a VPN for Australia (or any location) is quite simple.
Here are the basic steps:
Decide which VPN service you want to use and pick a subscription plan (note: the discounts in the section above).
Purchase the plan and then download the software (VPN apps) for the devices you want to use with your VPN.
Connect to an Australian VPN server (or another location) and enjoy all the benefits of your VPN.
If you are completely new to VPNs and are not comfortable with installation and setup, both ExpressVPN and NordVPN offer 24/7 live chat support. You can access this any time through their respective websites, even if you do not yet have a VPN account.
Australian sport with a VPN
Many people who reside outside of Australia are looking for ways to access Australian sport events online. This is where a VPN comes in handy.
A VPN will give you an Australian IP address, which is usually necessary if you want to stream Australian sport from one of the major telecom providers.
For example, you will need an Australian IP address if you want to stream live Australian sport from the Seven network (now 7Plus). Popular sport events in Australia include:
Australian football
Cricket
Rugby
Soccer
To get the best possible streaming experience, it would be good to connect to the closest Australian VPN server to your location. More locations will also ensure one server is not over-crowded during high-bandwidth times.
Best VPN services for Australia Conclusion
As online privacy and censorship continue to get worse in Australia, it is more important than ever to protect yourself with a good, trustworthy VPN service. This will secure your data and electronic devices from third-party snoopers – such as your internet service provider – while also unlocking any blocked or restricted content.
While there are many VPN services in Australia, it's important to be careful in your decision as studies have shown that there are many unsafe VPNs currently on the market.
Here is an overview of the best VPN services for Australia based on extensive, hands-on testing and research. Check out the respective VPN review to see additional test result information.
---
---
---
---
---
---