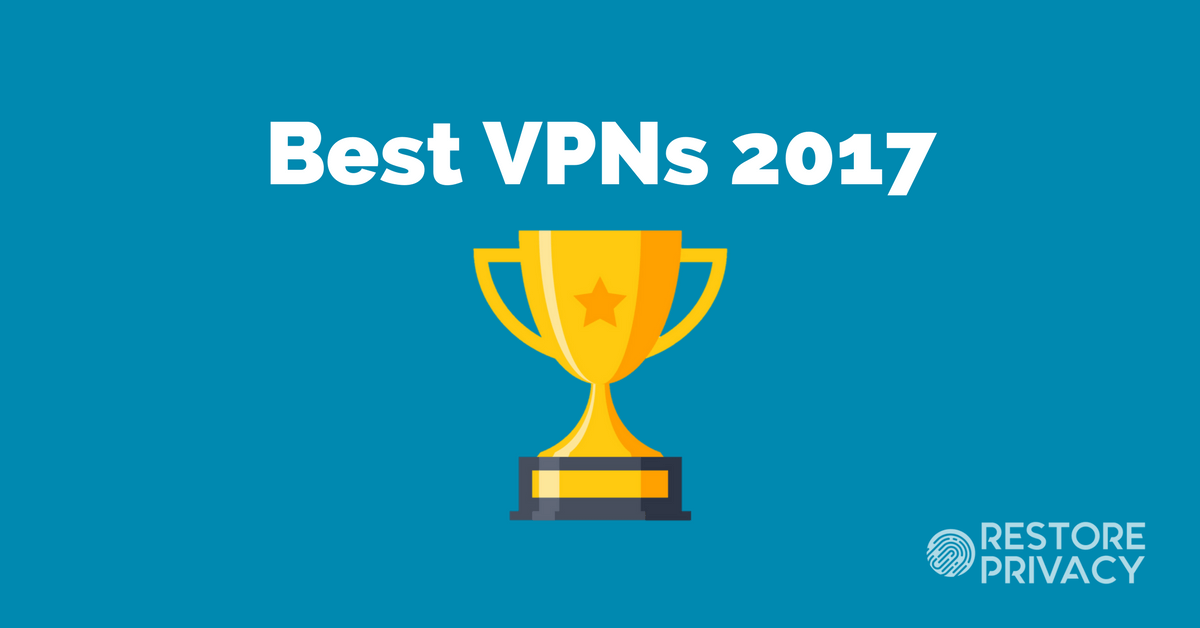 A good VPN service is now essential for protecting your online privacy – and naturally, you're looking for the "best VPN" that meets your unique needs.
But if you've been researching VPNs online, you should be careful. With the growing interest in online privacy, there has been an increasing number of VPN scams and shady VPN services popping up (see the VPN Warning List).
Making matters worse are false reviews, false marketing claims, and armies of shills that are paid to promote bad VPNs.
So to simplify this confusing topic, I researched and tested various VPNs and then categorized them by two main factors:
Test results – Every VPN reviewed on this website is tested for IPv4 leaks, IPv6 leaks, DNS leaks, WebRTC leaks, speed, reliability, and whether all the features work as advertised. If the VPN fails the tests, it does not get recommended.
Privacy jurisdiction – Where the VPN is legally based has a direct affect on customer privacy and data security. Using a VPN that is located in a safe privacy jurisdiction will better protect your privacy against external threats.
The Best VPN List below includes VPNs that passed all the tests and are located in privacy-friendly jurisdictions (outside of the 14 eyes surveillance countries):
While all five of these VPNs did well in testing, there are also a few other VPNs that may be good choices, but didn't quite make the cut (for various reasons). I refer to these as in the Other VPN considerations section below. We'll explain below why they did not make the list, but may still be a good option for some people:
But before we jump into the top recommendations…
A quick word of caution
VPNs can look perfect on the surface, but be an absolute disaster when you start testing the features.
Many cheap and free VPNs have been found to contain tracking, malware, and other privacy threats (see the VPN Warning List). That's why VPN comparison charts or tables may not give you the full picture. A VPN can check all the right boxes in a table or chart, but be a dangerous and insecure piece of junk when you start testing it.
This is especially true for popular VPNs that are marketed heavily by third parties (see the reviews for PureVPN or NordVPN).
So rather than relying on VPN marketing claims, the rankings below are based mainly on testing results and privacy jurisdiction. Trust and transparency are also important – even though they are difficult to quantify and measure.
So, without further delay, here are the top VPN recommendations for 2017.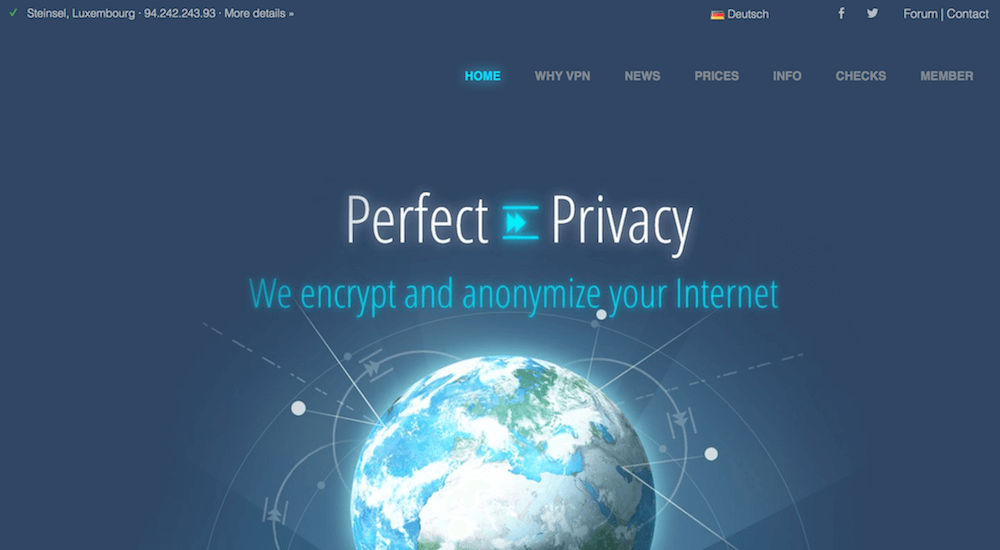 $9.75
After testing out many different VPN services, Perfect Privacy has risen to the top of the list and is currently the top recommendation for 2017. You may have never heard of Perfect Privacy because they largely ignore marketing and instead focus on providing a high quality, privacy-focused VPN service. And unlike all the new VPNs currently flooding onto the market, Perfect Privacy has been around since 2008 offering a safe, reliable, no-logs VPN service.
Their VPN network is composed entirely of dedicated premium servers that provide you with exceptionally fast speeds, great reliability and plenty of bandwidth at all times (you can see real-time server bandwidth here). For features they offer multi-hop VPN chains, advanced firewall configuration options (DNS and IP leak protection), port forwarding, Socks5 and Squid proxies, obfuscation features to defeat VPN blocking, and a powerful TrackStop feature to block tracking, malware, and advertising domains. (Perfect Privacy's TrackStop filter is also featured in the Best Ad Blockers guide.)
See Perfect Privacy's full list of features here.
And while the price is on the higher end of the spectrum, this Switzerland-based, no-logs VPN service is one of the best VPNs for privacy, while also giving you an unlimited number of device connections.
---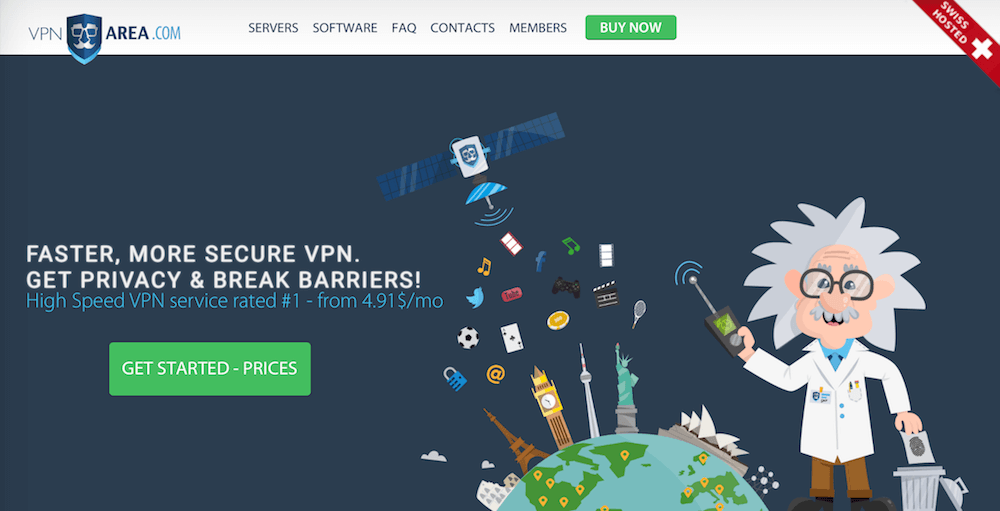 $4.92
VPNArea is not the biggest name in the VPN industry, but this Bulgaria-based provider did very well in testing for the review. It passed all privacy and security tests while also having excellent speed and reliability throughout the server network. VPNArea offers good privacy and security features as well as strong encryption. They further protect customer data with a strict no logs policy, Bulgaria jurisdiction, and server hosting (for business operations) in Switzerland.
VPNArea also has many servers optimized for torrenting and various streaming services (Netflix, BBC iPlayer, and others). See the full list of features here.
While it doesn't offer as many advanced privacy features as Perfect Privacy, VPNArea still did well in testing, with no leaks found with their VPN applications. They have also recently added self-hosted DNS, which includes ad blocking. If you are looking for a privacy-focused VPN that isn't too expensive, VPNArea is a great option.
---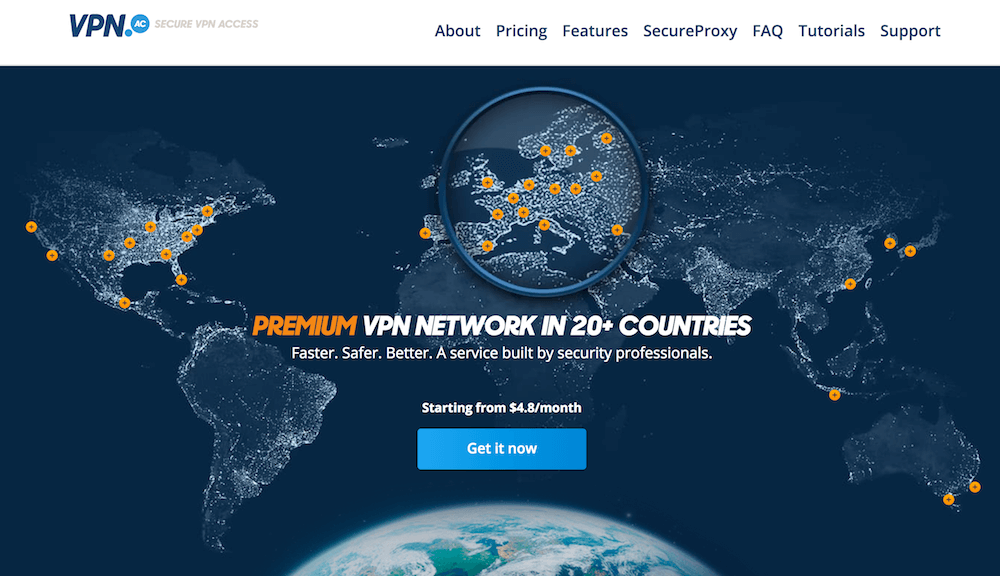 $4.80
VPN.ac is a smaller, low-profile VPN service with excellent overall quality and a focus on security and performance. It was founded by a team of network security professionals with a focus on security, strong encryption, and overall quality. Their VPN network is composed entirely of dedicated premium servers with secure, self-hosted DNS. This provides users with fast speeds, great reliability, and lots of available bandwidth (you can see real-time bandwidth stats for every server by selecting VPN Nodes Status at the top of the website.)
For a lower-priced VPN service, VPN.ac offers a very impressive lineup of features: maximum encryption strength, VPN obfuscation features, advanced IP and DNS leak protection, double-VPN server configurations, and more. All support inquiries are handled promptly by the network security professionals who built the infrastructure (no dumb cut and paste answers).
The only downside I could find are the minimal connection logs, which are erased on a daily basis. But when you consider everything in relation to the price, this is another excellent value for a premium VPN service. (See all VPN.ac features here.)
---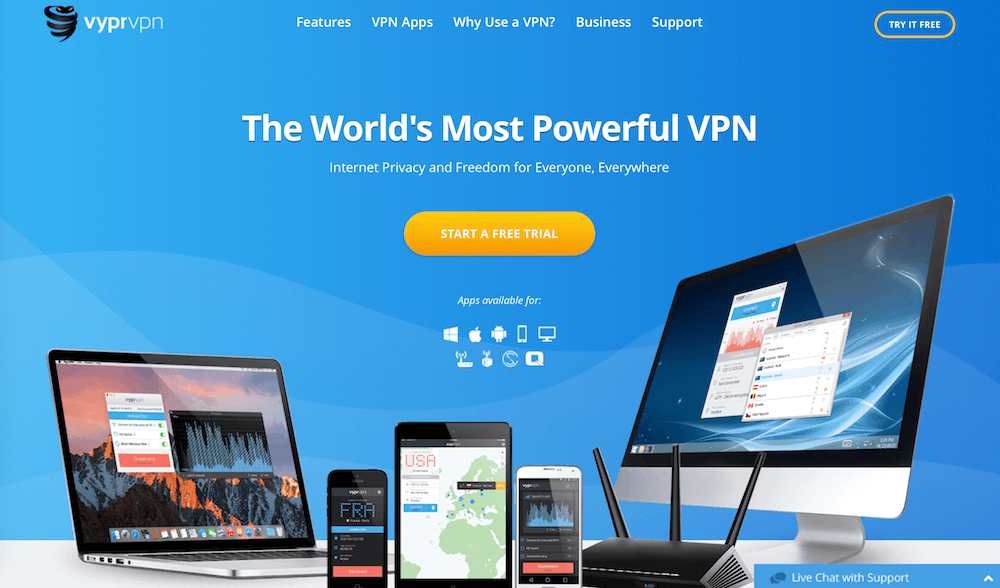 VyprVPN is a Switzerland-based VPN provider that puts a strong emphasis on server quality and performance.  Their VPN service is built entirely on a network of premium, self-owned servers, which also includes self-hosted, secure DNS. VyprVPN's server network gives you great security, excellent speeds, and rock-solid reliability. VyprVPN passed all privacy tests and offers one of the best values at only $3.75 a month (with 25% discount).
The only drawback that stands out from an otherwise exceptional service is their connection log policy. VyprVPN keeps connection data (but not usage or activity data) for 30 days. While the connection logs are a drawback, VyprVPN offers other benefits for user privacy, including a fast, ultra secure server network, excellent applications for many devices, strong encryption, and Switzerland jurisdiction.
See VyprVPN's full list of features here.
25% Discount – VyprVPN is offering RestorePrivacy visitors a 25% discount on annual plans. Just use the link/button below. You will also get a 3 day free trial to test everything out before being charged.
Try VyprVPN with a 3 Day Free Trial >>
---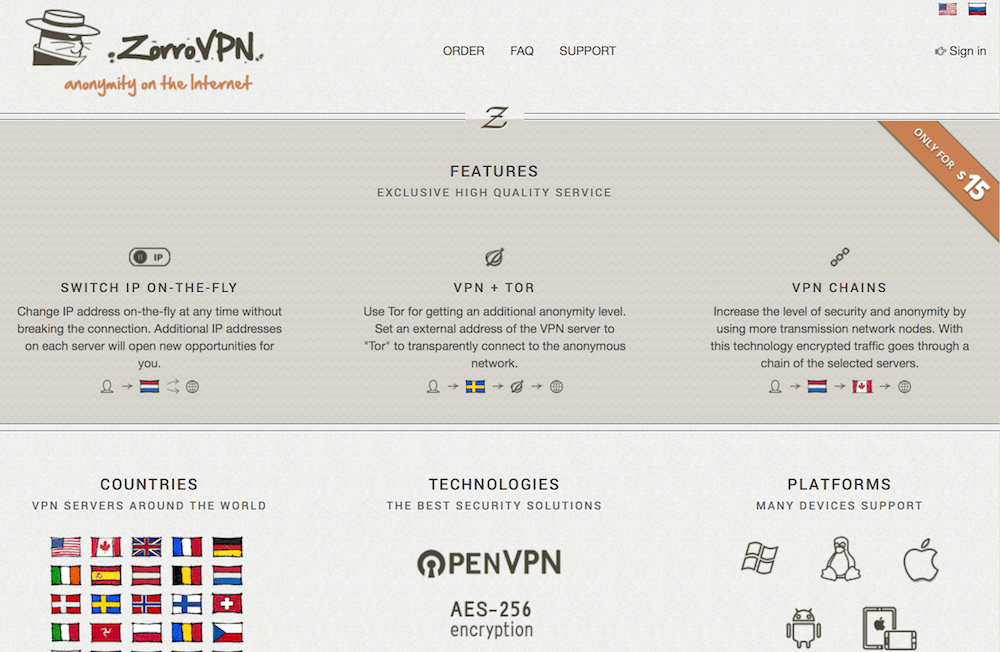 $8.90* (discount)
ZorroVPN is a smaller VPN service that provides you with features to attain the highest level of online anonymity. Their high-end server network allows you to create multi-hop VPN chains with every server (up to four hops). For an even higher level of anonymity, you can create a multi-hop VPN chain that exits onto the Tor (anonymous / onion) network. While this may seem complicated, these advanced features make ZorroVPN one the best VPNs for privacy.
The main drawback with ZorroVPN is that they don't offer any of their own applications. This means you'll need to use third-party software, such as Viscosity, or other open-source options. Setup is also slightly more complex than other VPNs (but still not overly complicated). And if you need help, the support team can assist you via email, Skype, chat, and even TeamViewer (direct remote assistance).
*Discount* ZorroVPN is offering RestorePrivacy visitors an 11% off discount. Just use the link/button below and then enter RESTOREPRIVACY as your coupon code during checkout.
Try ZorroVPN and Get 11% Off >>
---
Other VPN consideration
In addition to the five VPNs listed above, there are a few other options that may be worth your consideration.
These four VPNs seem to be OK choices, despite some noted drawbacks:
The main issues with these VPNs are jurisdiction and testing results, but there are other concerns as well.
Here are the pros and cons and why they did not make the cut to be on the best VPN list above.

IPVanish is a good VPN service that offers you extremely fast speeds, good reliability, and pretty good applications. IPVanish's fast speeds and no logs policy make it a good option for:
Like some of the other recommended VPNs, IPVanish owns and operates their entire server network. This cuts out middle men and third parties while further protecting and securing your data.
The main drawbacks identified in the IPVanish review were jurisdiction (United States) and brief IPv4 leaks during reconnection (Windows and Mac OS apps). While no leaks are best, brief reconnection leaks (not constant) may not be too concerning for some people. (And a simple solution for this problem is to enable VPN-only access to the internet through your firewall – we'll have a guide on that coming out soon.) I also did not find the Mac OS app to be quite as reliable as the Windows version.
Despite the drawbacks of US jurisdiction and brief IP leaks (during reconnection), IPVanish is worth consideration. I have used it in the past, mainly because they keep no logs and have impressive speeds. (See their full list of features here.)
---

Private Internet Access is another decent, US-based VPN service, but with a few notable drawbacks. The main benefits to PIA include: low price ($3.33 per month), no logs, and pretty good speeds. Considering everything, PIA appears to offer a good value for your money.
When I tested out their VPN service for the PIA review, however, I discovered IP leaks when the Windows client was reconnecting as well as connection problems on some servers. PIA users are also reporting a growing problem of PIA being blocked by various websites.
I found the support to be lacking with very delayed response times. Lately I have seen many angry customers posting directly on the PIA forums and in other online forums about "awful customer service" (no replies to support issues). See this screenshot from the PIA forums and this screenshot from the PIA reddit page.
Overall, for a low-cost VPN service, PIA does OK, but an upgrade would probably be a good idea if you can afford it. (See all the PIA features here.)
Visit Private Internet Access >>
---

AirVPN is another decent option based out of Italy. I do not have a review and detailed writeup, but I personally used the service for a brief time before switching to another provider.
While the app worked ok (they call it Eddie), it's not very user-friendly, especially if you are new to VPNs. Speeds were also hit or miss on servers in Europe. Although I never had a problem with the support department, others complain about rude service.
Overall, AirVPN is a mixed bag.
On one hand they offer great privacy and security features, but it's lacking in other areas. AirVPN is also not in a good privacy jurisdiction, with Italy being a member of the 14 Eyes surveillance alliance. Overall I did not find the service to be too impressive, especially considering some of the other alternatives on this page. (See all the AirVPN features here.)
---
If you're serious about privacy…
Start using a VPN whenever you go online. And if you're new to VPNs and how it all works, check out the Ultimate VPN Guide and Tutorial.
Wherever you may be living, the trends with online privacy are clearly getting worse. In just the past year we have seen many alarming developments.
Internet service providers can now legally record your online activities and sell this information to third parties and/or hand it over to government agencies. This is now taking place in the United States, United Kingdom, Australia, and parts of Europe.
Both government and corporate surveillance also continue to get worse throughout the world – regardless who gets elected into office. Large telecoms have been openly collaborating for years with national surveillance agencies to collect your private data and online activities – see the NSA prism program.
But the good news is that there are very effective solutions to these problems. You can protect yourself right now.
Using one of the best VPNs listed on this page will protect your privacy, secure your electronic devices, and give you unrestricted access to everything online.
Recap – Best VPNs for Privacy, Security, and Speed
---
---
---
---
---
---
Last updated 18 July 2017: I have completely removed ExpressVPN from the "other considerations" section of this page. In my opinion, they continue to mislead people with their contradictory "no logs" statements, when they are in fact keeping connection logs. Furthermore, I also discovered they are using numerous fake server locations.