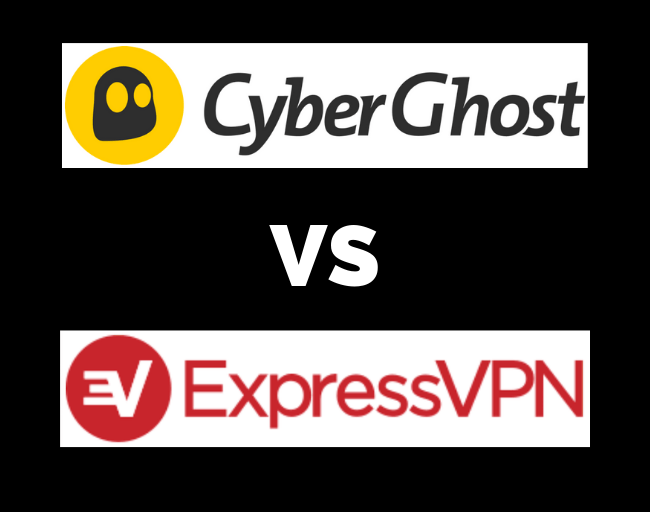 CyberGhost and ExpressVPN are both very large VPN providers that are often recommended on various websites. In this CyberGhost vs ExpressVPN comparison guide we'll take a close look at each provider as well as in-depth test results, which will reveal a clear winner. Here's a brief overview:
CyberGhost may be cheaper, but ExpressVPN is the clear winner in terms of speed and security – by a long shot (as revealed in our tests below). Unlike with ExpressVPN, extensive testing of CyberGhost revealed a number of concerning issues, such as slow speeds, a non-functioning ad blocker on HTTPS sites, and logs that are being collected through their apps, despite their "no logs" claims. The clear winner in this ExpressVPN vs CyberGhost comparison was ExpressVPN.
ExpressVPN coupon: Get 49% off + 3 months free
CyberGhost – Learn more in the CyberGhost review, or keep reading for the test results.
ExpressVPN overview
ExpressVPN is based in the British Virgin Islands and has a great track record as a secure, privacy-focused provider with no logs. As discussed in the no logs VPN guide, ExpressVPN has been tested and verified to keep no logs. It is also a great Netflix VPN offering some of the best speeds of any VPN provider tested – see the results in my review of ExpressVPN.
The ExpressVPN apps are user-friendly and very secure. They utilize a "network lock" kill switch that will block all traffic if the VPN connection drops. ExpressVPN utilizes very secure encryption and also works well in China and other restricted networks – see the China VPN guide.
If you are looking for a fast, secure, and user-friendly VPN that just works well, ExpressVPN is a solid choice (and currently the #1 recommendation in the best VPN service report).

Jurisdiction
British Virgin Islands

Logs
No logs

Price
$6.67
+ Pros
User-friendly and very secure apps
Exceptional speeds throughout the server network
30 day money-back guarantee
Split tunneling feature (for Mac OS, Windows, and routers)
Works with Netflix and other streaming services
24/7 live chat support
– Cons
Slightly more expensive (but currently offering a 49% discount)
---
CyberGhost overview
CyberGhost VPN is a service based in Romania, but owned by an Israeli company called Kape (formerly Crossrider). When you look into the history of CyberGhost's parent company, you find that it is well-known for producing malware and spyware, which I discussed in my review of CyberGhost VPN. The fact that they purchased and are now operating CyberGhost VPN is somewhat concerning, given the history.
In terms of performance, I found CyberGhost VPN to be pretty slow, especially in comparison to ExpressVPN. Their ad blocker also does not seem to function very well as it is incapable of blocking anything on HTTPS websites. Overall, there are many better options to consider.

Jurisdiction
Romania*

Logs
Connection logs

Price
$3.99
*But owned by an Israeli company called "Kape" (formerly Crossrider), which has a history of producing malware.
+ Pros
User-friendly applications
Competitive price
Live chat support
– Cons
Poor speeds and performance
CyberGhost's website uses invasive session recording scripts
False "no logs" statements
Broken ad blocker for HTTPS sites
Selling "lifetime VPN" subscriptions through third-party websites
---
Price: CyberGhost vs ExpressVPN
In this section we'll take a close look at both price and value (what you get for your money).
CyberGhost price – CyberGhost is definitely cheaper than ExpressVPN, with their cheapest plan coming in at $3.50 per month for the two-year subscription.

CyberGhost refund policy – CyberGhost recently modified their refund policy to make it variable. If you go with a one-month CyberGhost VPN subscription, you will have a 14 day refund window. If you go with a CyberGhost subscription that is 6 months or more, you will get a 45 day refund window.
Now we will compare CyberGhost to ExpressVPN.
ExpressVPN price – ExpressVPN offers reasonable prices, but they are still more expensive than CyberGhost. Fortunately, you can use this 49% off coupon, which lowers your ExpressVPN subscription to $6.67 per month and also includes three months free. Here are the reduced prices with the discount: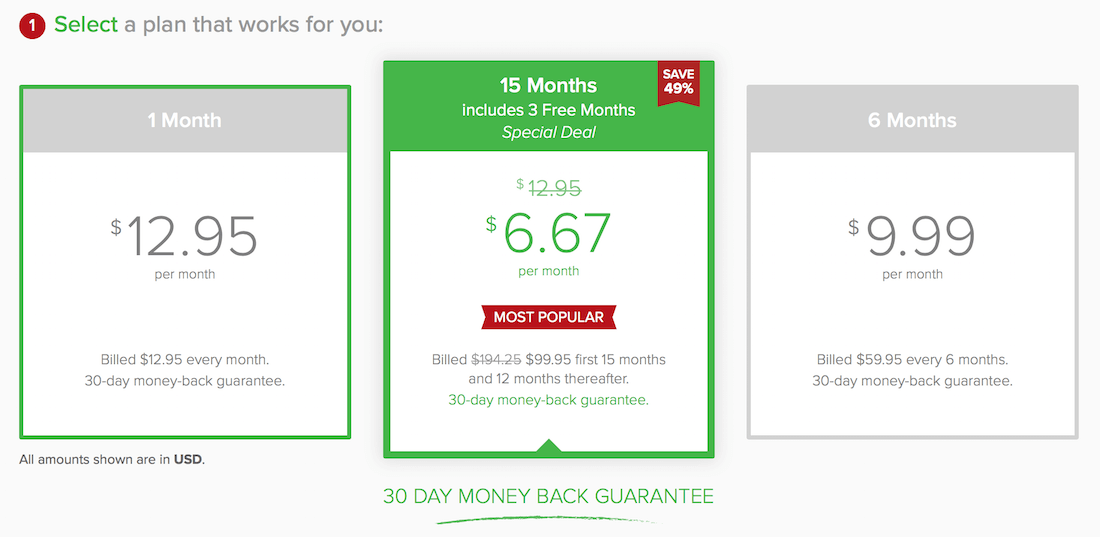 ExpressVPN refund policy – ExpressVPN provides a 30 day money-back guarantee on all subscription plans. There are no exceptions, fine print, or special rules for receiving your money back, simply request a refund within 30 days.
Value consideration – While CyberGhost is certainly cheaper than ExpressVPN, in terms of value, it comes up short. The reason for this is simple: in my testing it simply did not work well and offered very mediocre speeds, much slower than ExpressVPN. So even though ExpressVPN is more expensive, you get more for your money with a fast, secure, well-functioning VPN service.
Price and Value Winner: CyberGhost is cheaper, but ExpressVPN offers a better value.
Speed test: ExpressVPN vs CyberGhost
Speeds are a huge consideration for VPN users. After all, what good is a VPN that is simply too slow and interferes with everything you do online?
In my recent review of ExpressVPN, I could consistently get speeds that were close to my full baseline (non-VPN) speed of 100 Mbps. Here are a few examples of the ExpressVPN speed test results:
Nearby server in Milan, Italy at 94 Mbps download speed:

Here is another nearby server in Switzerland with a 92 Mbps download speed:

With all nearby servers ExpressVPN servers, I could consistently get amazing speeds. It is one of the fastest VPN providers I have tested, and it consistently performs at this level.
ExpressVPN long-distance servers – I also tested a few long-distance servers that were much further away from my geographic location in Europe. Once again, the results were excellent given the increased distance (higher latency).
Here is an ExpressVPN server in Washington, D.C. at 78 Mbps download speed:

I found similar results for other ExpressVPN servers in the US and Canada.
CyberGhost VPN speeds – In comparison to ExpressVPN, I found that CyberGhost does not offer very good speeds. Let's examine the results.
Here was a test using a CyberGhost server in Switzerland with a download speed of only 22 Mbps: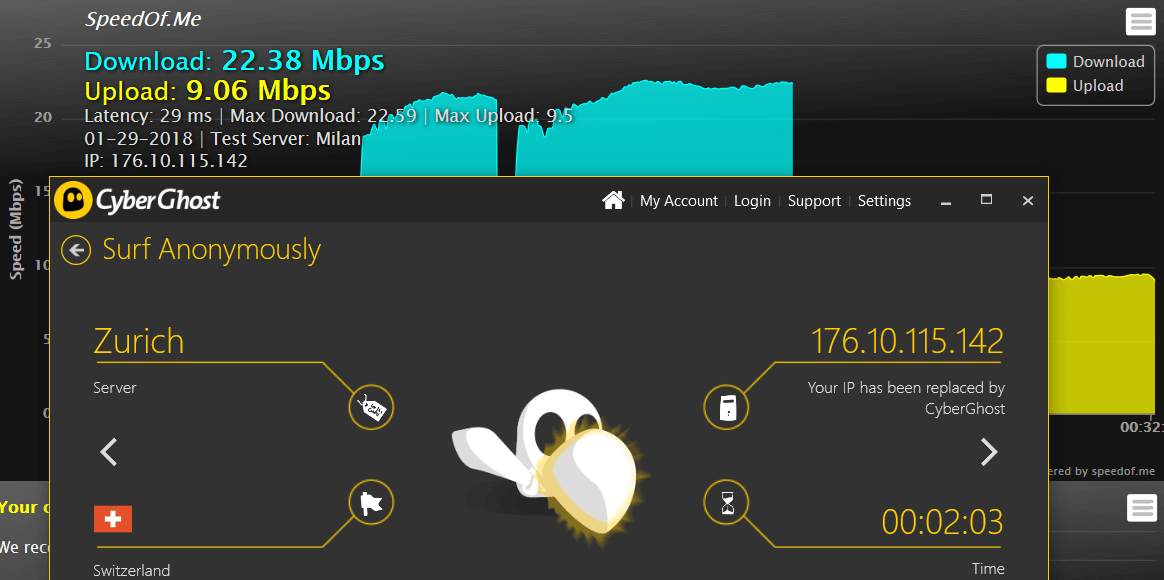 This was about 70 Mbps slower than ExpressVPN's Switzerland server.
Nearby servers with CyberGhost were not that great. I could typically get around 20 Mbps to 50 Mbps with servers in my general location that should have been much faster.
Here was a long-distance speed test using a server in New York, at a speed of 5 Mbps: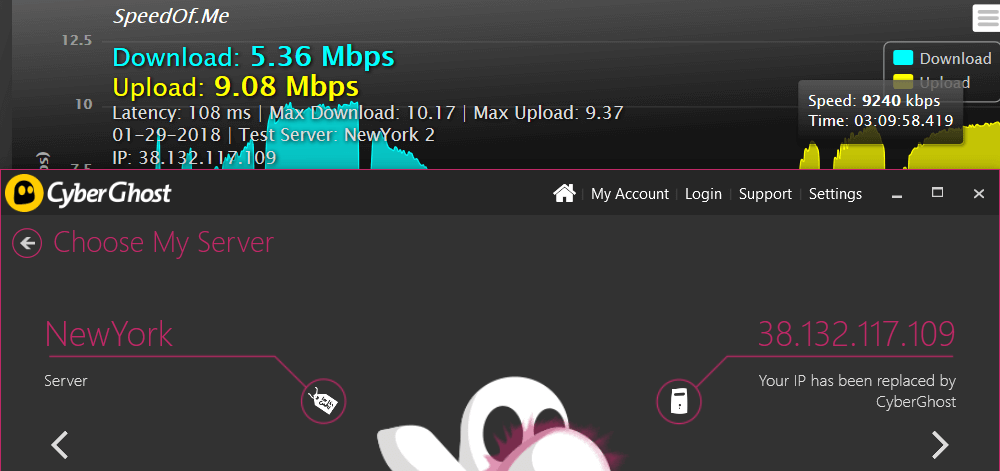 The slower speeds in the US may have been due to overloaded servers with CyberGhost.
Note: Due to the big difference in speeds, ExpressVPN is also the best VPN for torrenting among the two.
Speed winner: ExpressVPN
Features: ExpressVPN vs CyberGhost
While CyberGhost has a few more "features" than ExpressVPN, such as ad blocking, my testing of these features show that they do not work well. ExpressVPN focuses more on speed, performance and security, but they still have some great features.
ExpressVPN features – Here are some of the main features with ExpressVPN:
Network lock – This is an advanced leak protection setting to ensure all traffic is blocked if anything disrupts the VPN connection (thereby keeping your data secure).
Always works with Netflix – Although not a "feature", it is noteworthy that ExpressVPN consistently works with Netflix and other streaming services that consistently block VPNs. (ExpressVPN is currently rated the #1 best VPN for Netflix.)
Split tunneling – This feature allows you to split your traffic by application, with some applications going through the encrypted VPN tunnel, and others connecting to the regular (unencrypted) internet. This is available for Windows, Mac OS, and routers.
24/7 live chat support – This is always helpful if you need assistance with anything at all.
Here I'm using ExpressVPN to stream US Netflix from my location in Europe.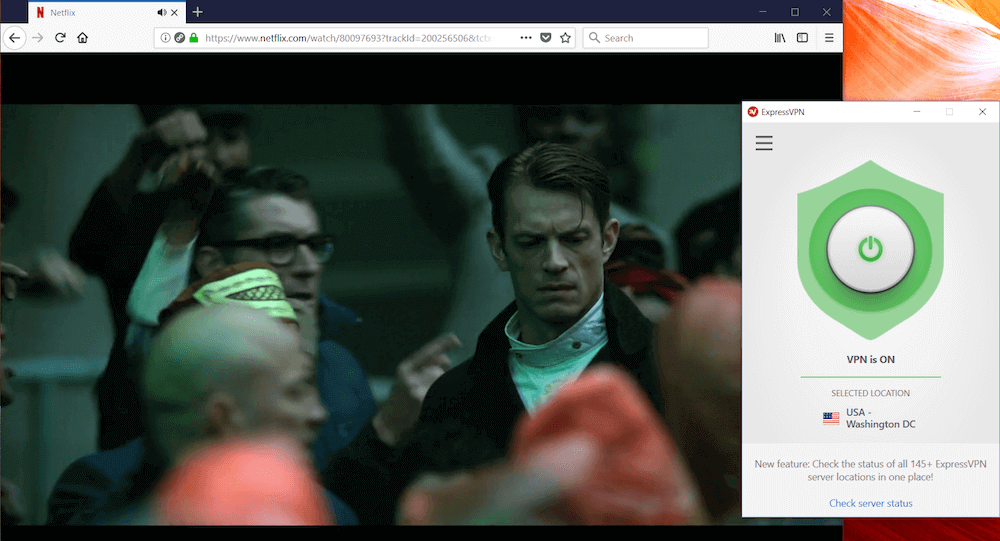 You can learn more about ExpressVPN's features in my review of ExpressVPN.
CyberGhost features – CyberGhost also offers some interesting features, but they do not all work correctly:
Ad blocking – In my tests for the VPN ad blocker guide, I found that CyberGhost's ad blocker was completely broken on all HTTPS websites.
User profiles – CyberGhost's apps have different user profiles, which you can use for torrenting, browsing, etc.
Leak protection – Like ExpressVPN, CyberGhost also leak protection features.
Unlike ExpressVPN, however, I've seen reports that CyberGhost does not work well with Netflix. Here is one such complaint:

Netflix is always a cat-and-mouse game with VPNs. Check out the Netflix VPN guide for the latest test results and recommendations.
Features winner: ExpressVPN
Security: ExpressVPN vs CyberGhost
In terms of security, both ExpressVPN and CyberGhost passed the basic leak tests (an explanation on testing procedures can be found in the VPN test guide).
Here was the CyberGhost VPN leak test results: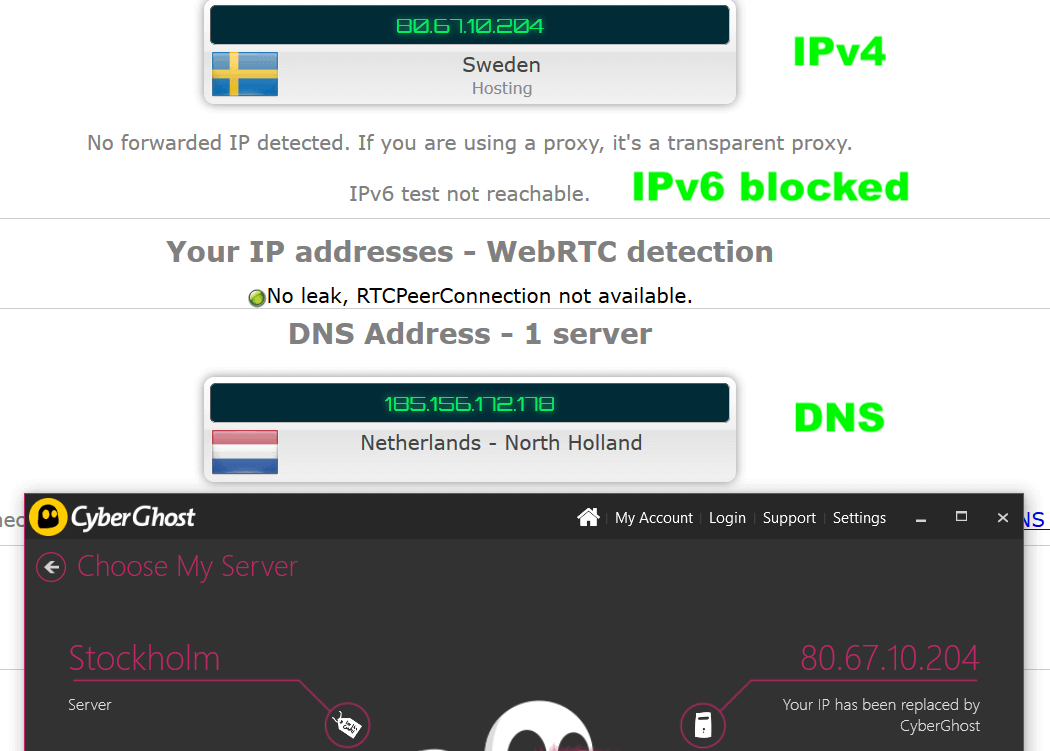 I did not find any leaks with CyberGhost's Windows or Mac OS apps.
Just like with CyberGhost, I did not find any leaks with ExpressVPN's Windows or Mac OS apps: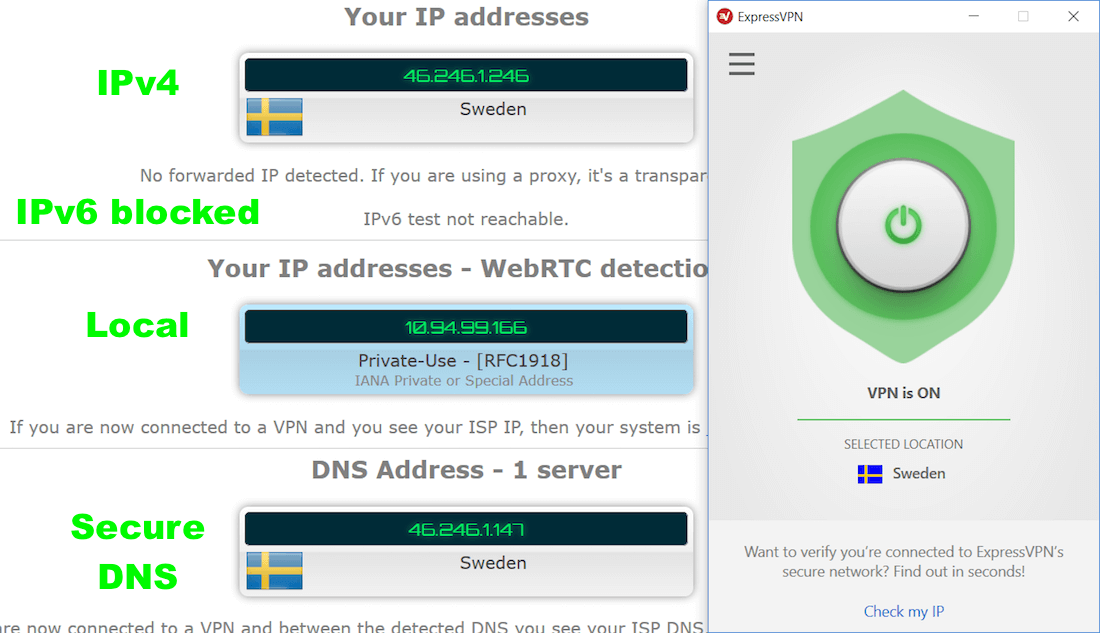 Another important security consideration is the kill switch – or "network lock" as ExpressVPN calls it.
Based on my tests, it seems that ExpressVPN has the more secure kill switch. I tested its functionality in a number of different use cases and it worked well. ExpressVPN's network lock will even block traffic if you switch network interfaces and your DNS settings change (most VPNs do not protect against this).
Security winner: ExpressVPN
Privacy: CyberGhost vs ExpressVPN
CyberGhost – In terms of privacy, CyberGhost has a few issues that I noticed:
CyberGhost claims to have a "no logs" policy, but in their privacy policy you find that the CyberGhost apps are collecting statistical data from their VPN users.
I found that CyberGhost's website uses aggressive and invasive tracking measures. I observed session recording scripts for Hotjar on their site, which record everything a visitor does.
CyberGhost's ad blocker does not stop tracking on any HTTPS site, as we covered before.
If you are looking for a good VPN for privacy, CyberGhost would not be recommended.
ExpressVPN – ExpressVPN is a solid choice for privacy. It is one of the few no logs VPN services that has been tested and verified. You can read about how ExpressVPN had one of their servers seized in Turkey – and why this proved their no logs claims – in the no logs VPN guide.
Although ExpressVPN does use Google Analytics on their site (as does CyberGhost), they do not use any invasive session recording scripts like CyberGhost does with Hotjar.
ExpressVPN's privacy features ensure your identity and online activities stay secure and out of the hands of third parties.
Privacy winner: ExpressVPN
Conclusion: ExpressVPN wins
ExpressVPN is the clear winner in the ExpressVPN vs CyberGhost VPN comparison.
CyberGhost isn't a horrible service, but it did not do very well in the last update to the CyberGhost VPN review, which is why it is currently not recommended.
If you want to give ExpressVPN a shot, there are currently offering the following discount coupon:
---
ExpressVPN Coupon
Sign up for the 12 month plan, and get 3 months FREE (49% Off)
Get 49% Off ExpressVPN
(Discount is applied automatically.)
---
If you are looking for a VPN that is around the same price as CyberGhost, then NordVPN would probably be a good fit. Check out the NordVPN coupon page for the latest discounts and deals. Additionally, you can find the latest deals on ExpressVPN on the ExpressVPN coupon page.
For additional recommendations, you can check out the best VPN service report.
Last updated on March 9, 2019.