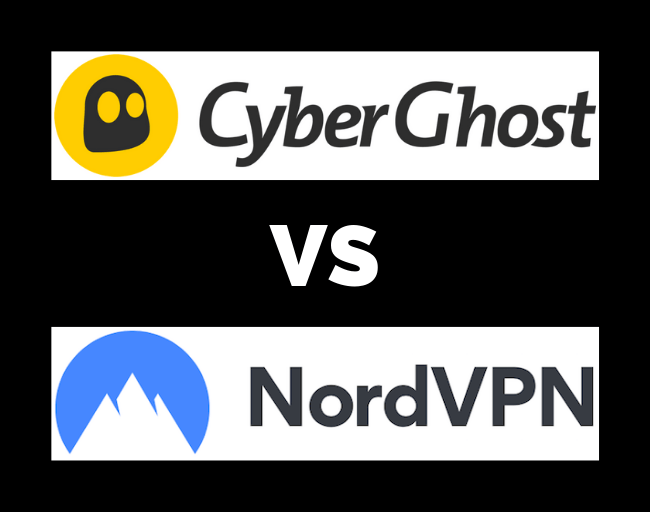 In this Cyberghost vs NordVPN comparison guide we put both VPN services through extensive testing and also took a close look at each company – this revealed a clear winner. Here is a brief overview of the findings:
CyberGhost and NordVPN are both large, popular providers, but NordVPN outperforms in nearly every area. NordVPN offers faster speeds than CyberGhost with both nearby and long-distance servers. While CyberGhost is simple and easy to use, NordVPN offers better features, secure apps, and it is also user-friendly. Even though CyberGhost has cheaper prices for short-term plans, NordVPN has the lowest prices with its current three-year deal.
CyberGhost VPN overview
CyberGhost is a VPN service based in Romania, but owned by an Israeli company called "Kape Technologies" – formerly Crossrider. This is important to know because Crossrider has a horrible reputation for producing malware/spyware, as we discussed in the review of CyberGhost.
When I took a close look at the CyberGhost website I found they were using session recording scripts (Hotjar) that violate user privacy. CyberGhost's ad blocking feature also fails to block any advertisements or tracking on HTTPS websites, which I showed in the VPN ad blocker guide. CyberGhost is also falsely claiming to be "no logs", even though they explicitly state the user data that is collected in their privacy policy – see the no logs VPN guide for better options.
As for the VPN itself, I also identified a few issues. The main problems were slow speeds and poorly-functioning features (the ad blocker).

Jurisdiction
Romania*

Logs
Connection logs

Price
$3.99
*But owned by an Israeli company called "Kape" (formerly Crossrider), which has a history of producing malware.
+ Pros
User-friendly applications
Competitive price
Live chat support
– Cons
Poor speeds and performance
CyberGhost's website uses invasive session recording scripts
False "no logs" statements
Broken ad blocker for HTTPS sites
Selling "lifetime VPN" subscriptions through third-party websites
---
NordVPN Overview
NordVPN is an excellent all-around VPN service that lives up to its good reputation. In my review of NordVPN I found it to offer great speeds, very secure applications, and a good ad-blocking feature that also works on HTTPS websites (unlike CyberGhost's ad blocker).
NordVPN also offers some great privacy features. These include Tor-over-VPN servers, double-hop VPN servers, advanced leak protection settings, and obfuscation features to defeat VPN blocking. I found NordVPN's applications to be user-friendly and very secure (no leaks).
In terms of price, NordVPN is also a great choice. They are currently offering a NordVPN coupon to reduce prices down to $2.99 per month for the three-year plan. All NordVPN plans come with a 30 day money-back guarantee.

Jurisdiction
Panama

Logs
No logs

Price
$2.99
(with discount)
+ Pros
User-friendly apps
30 day money-back guarantee
Double-hop VPN servers
Tor-over-VPN servers
Live chat support
No logs
Works with Netflix
Ad blocking feature (CyberSec
– Cons
Speeds somewhat variable (but still good)
75% discount only available for 3-year plans
---
NordVPN Coupon
Get 75% off NordVPN today (drops the price down to only $2.99 per month)
Get 75% Off NordVPN Here
(Discount will be automatically applied with the link above.)
---
Price: NordVPN vs CyberGhost
NordVPN – NordVPN offers better prices than CyberGhost, but you will need to commit to a longer-term plan. Here are the current NordVPN price plans for different subscription lengths: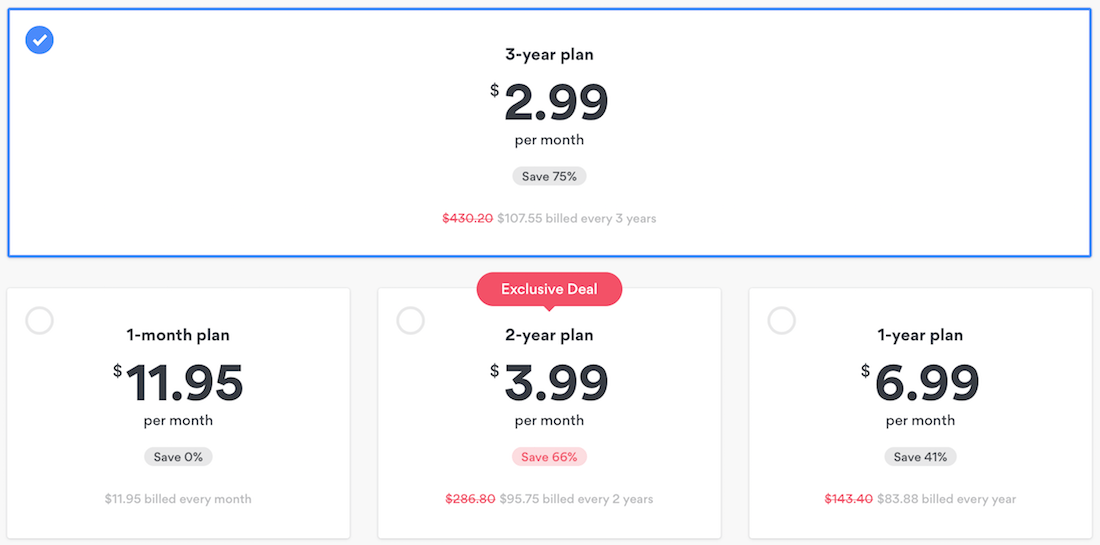 The three year plan is the best deal by far, because it gives you a 75% discount and lowers the rate to only $2.99 per month. This makes NordVPN one of the best values in the VPN industry. And as we mentioned before, all plans come with a 30 day money-back guarantee. To get the best prices, use the NordVPN coupon for your subscription.
CyberGhost – In comparison to NordVPN, CyberGhost's prices are slightly cheaper for short-term plans, but NordVPN comes in the cheapest at $2.99 for the three-year plan.

CyberGhost refund policy – It appears that CyberGhost recently changed their refund policy to make it variable. According to the latest information I found on their FAQ page, users will only get a 14 day refund window on one-month subscriptions, but a 45 day refund window for subscriptions 6 months or greater. This is different from NordVPN, which gives you a 30 day refund window on all subscription plans.
PRICE WINNER: NordVPN with the $2.99/mo plan (when you use the NordVPN coupon)
Speed test: NordVPN vs CyberGhost
We'll start with speeds from NordVPN.
NordVPN offers great speeds, which I verified with numerous speed tests in the latest update to the NordVPN review. I could regularly get around 90% or more of my maximum baseline internet speed, which varied from 95 Mbps to 110 Mbps.
Here is a speed test I ran with a NordVPN server in Denmark, getting 94 Mbps download speed (nearly maxing out my baseline speed):

I got great speeds from all nearby NordVPN servers.
Even with longer-distance servers, I still found NordVPN speeds to be good: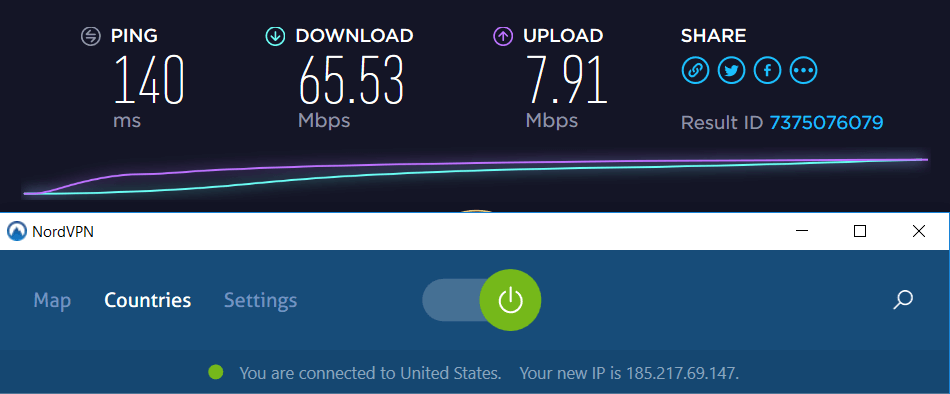 While I did find the speeds with NordVPN to be somewhat variable with servers in US, it was still easy to find a fast and reliable server without any hassle.
CyberGhost speeds – In comparison to NordVPN, CyberGhost did not perform very well in terms of speed or reliability.
Here was a nearby server in Italy where I could only get about 22 Mbps with CyberGhost: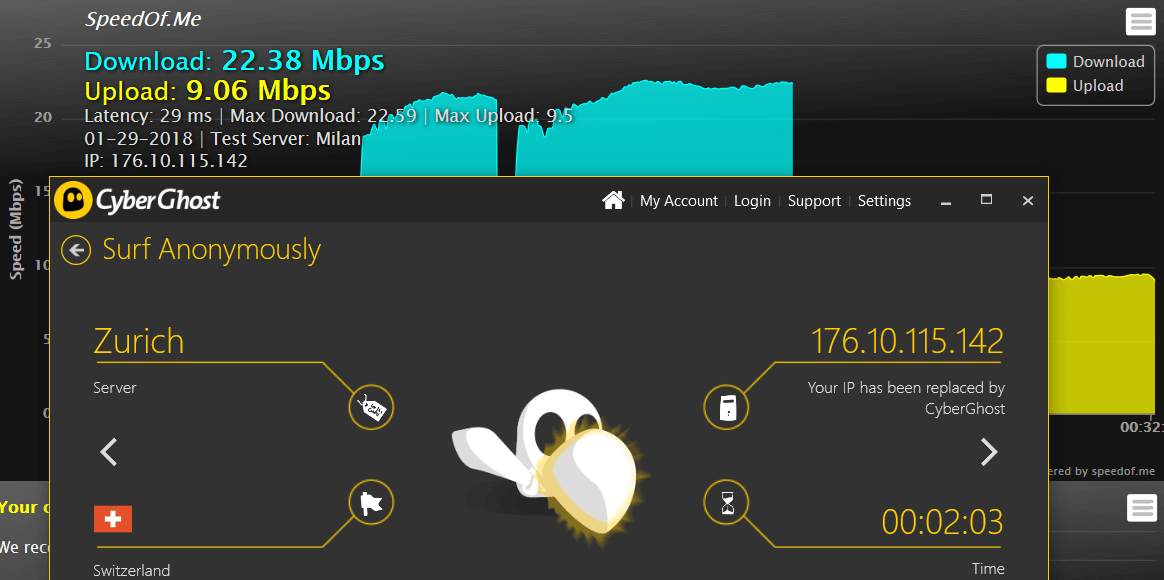 This was a fraction of my baseline speed, although some nearby CyberGhost servers were slightly better.
With long-distance servers, CyberGhost also did not perform very well in comparison to NordVPN.
Here I am only getting about 5 Mbps with a CyberGhost server in New York: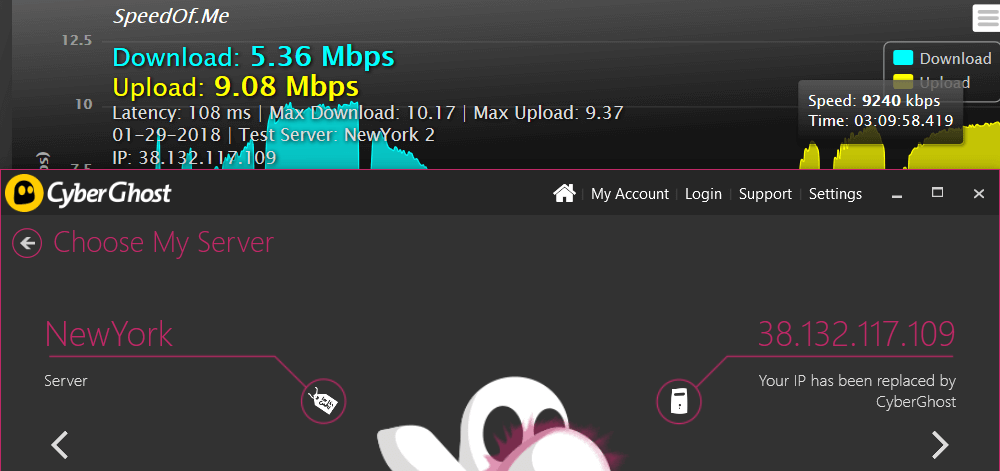 Overall I found that CyberGhost offers much slower speeds than NordVPN.
SPEED WINNER: NordVPN
Features: CyberGhost vs NordVPN
CyberGhost and NordVPN both offer interesting features, but with NordVPN, the features consistently work well.
CyberGhost features – One of CyberGhost's main features is the ad blocker. But as I demonstrated in the ad blocker VPN guide, CyberGhost's ad blocker does not even work on HTTPS sites. Even worse, it blocks adds on HTTP sites only by using traffic manipulation, rather than through DNS requests.
I have also read reports that CyberGhost does not work with Netflix, but I have not tried this myself to see if it works.

Check out the Netflix VPN guide for additional options.
NordVPN features – NordVPN offers some great features, and unlike with CyberGhost, all the features work correctly. Here are a few of the features that I really liked with NordVPN:
Ad blocking feature that works on HTTP and HTTPS websites (called CyberSec)
Tor-over-VPN servers
Double-hop VPN servers
Netflix works well (I tested it in the VPN Netflix guide)
Excellent leak protection features (two-level kill switch)
You can read more about the features in my review of NordVPN.
FEATURES WINNER: NordVPN
Security: NordVPN vs CyberGhost
In terms of security, I did not find any leaks or problems with either NordVPN or CyberGhost. They both seem to do well.
NordVPN leak tests – I ran NordVPN through some basic VPN test procedures to identify any problems, and everything checked out fine (no leaks or issues):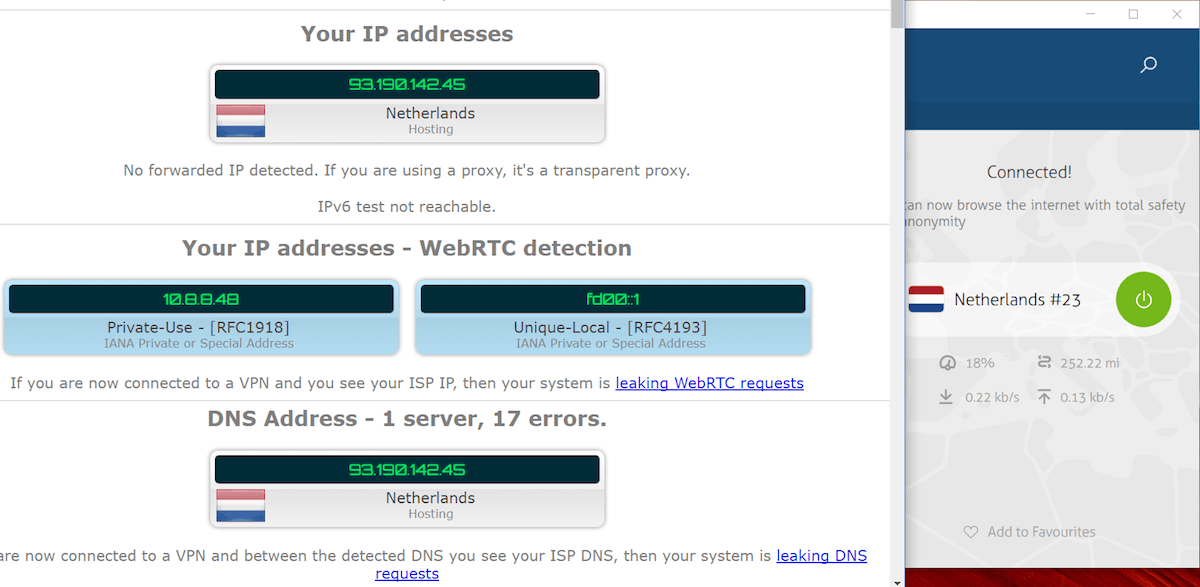 No security problems with NordVPN.
CyberGhost leak tests – Just like with NordVPN, I did not identify any leaks or security issues when testing out CyberGhost VPN.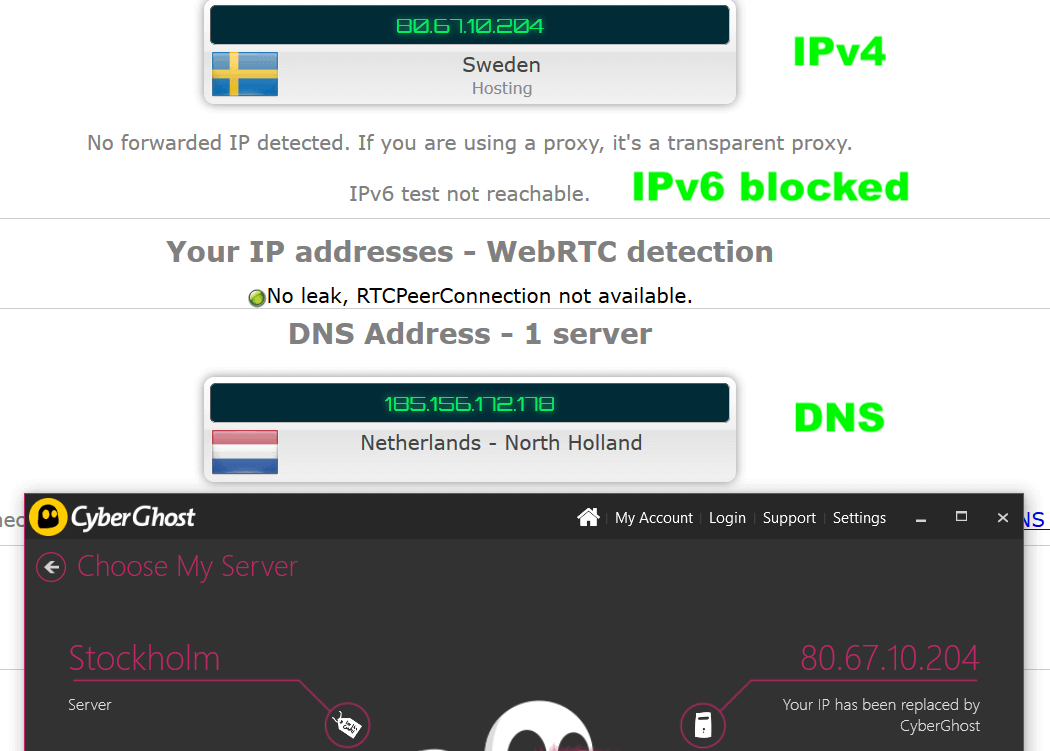 Both CyberGhost and NordVPN passed these basic VPN tests, but the Winner goes to NordVPN because its ad blocker works on HTTPS sites.
SECURITY WINNER: NordVPN
Privacy: CyberGhost vs NordVPN
One of the biggest differences between CyberGhost and NordVPN is in the area of privacy.
CyberGhost: As I mentioned at the beginning of this article, there are quite a few alarming issues with CyberGhost in the area of privacy:
I caught CyberGhost actively utilizing session recording scripts on their website, which act like a surveillance camera recording everything a person does on the website (explained in the CyberGhost review).
CyberGhost falsely claims to be "no logs" when their privacy reveals that their applications collect user data – and you do not have the option of opting out.
CyberGhost is owned by an Israeli company with a history of producing malware. (Also note that Israel is not a good jurisdiction for privacy, which is explained further in the 5/9/14 Eyes VPN guide.)
Overall CyberGhost does not do well in the area of privacy, which is why I do not recommend using their VPN service.
NordVPN: NordVPN does significantly better than CyberGhost in the area of privacy. Here are a few highlights:
NordVPN has a genuine no logs policy.
NordVPN is based in Panama, which is a good jurisdiction for privacy.
NordVPN's website is not using any session recording scripts (at the time I conducted the review of NordVPN).
NordVPN is also the clear winner in the privacy category.
PRIVACY WINNER: NordVPN
Conclusion: NordVPN wins
The clear winner in this comparison is NordVPN. Here is an overview of the test results from this NordVPN vs CyberGhost VPN comparison:
Price: NordVPN
Speed: NordVPN
Security: NordVPN
Features: NordVPN
Privacy: NordVPN
If you want to give NordVPN a try, be sure to use the NordVPN coupon for maximum savings. You can also see the ExpressVPN vs NordVPN guide, which is another popular comparison report. (Note: you can also save money with the ExpressVPN coupon, which is currently still valid.)
Finally, if you want to check out additional VPNs that performed well, see the best VPN service report for all the latest results.
Stay safe!