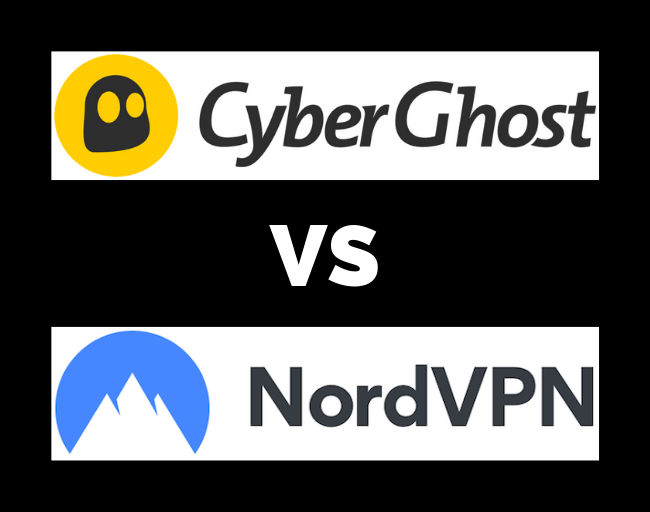 In this new and updated Cyberghost vs NordVPN comparison guide, we put both VPN services through extensive testing and also took a close look at each company. The results revealed a clear winner.
Here's what we will cover in this NordVPN vs CyberGhost comparison guide:
Price
Speed tests
Features
Security
Privacy
Netflix and streaming
Value
Now let's examine the results!
1. NordVPN vs CyberGhost Price
NordVPN – NordVPN offers slightly better prices than CyberGhost, but you will need to commit to a longer-term plan. Below are the current NordVPN price plans for different subscription lengths.
Note that the best prices are with the 70% discount on three-year subscriptions.

The three year plan is the best deal with the lowest prices. NordVPN is one of the best choices if you want a cheap VPN, but do not want to sacrifice on quality. And as we mentioned before, all plans come with a 30 day money-back guarantee. To track the latest prices and deals, I also have a NordVPN coupon page.
CyberGhost – In comparison to NordVPN, CyberGhost's prices are slightly cheaper for short-term plans, but is about the same monthly price with the two-year plan at $3.50/month.

Previously, CyberGhost offered a 7 day free trial VPN, but this has been discontinued in favor of a longer refund policy.
CyberGhost refund policy – According to the latest information I found on their FAQ page, users will get a 14-day refund window on one-month subscriptions, but a 45-day refund window for subscriptions 6 months or greater. This is different from NordVPN, which gives you a 30 day refund window on all subscription plans.
Price winner: This is basically tied, with the cheapest monthly rates both being around $3.50
2. NordVPN vs CyberGhost Speeds
Speeds are a big consideration when choosing which VPN is best for your needs. For the NordVPN vs CyberGhost speed tests below, I was using AES-256 encryption and the OpenVPN protocol with all tests. My baseline (non-VPN) speed was about 160 Mbps.
First I tested CyberGhost. Here was my speed with the CyberGhost server in Germany: 78 Mbps.

Considering my baseline speed was around 160 Mbps, this is not a good speed test result, but it's also not horrible.
Next, I tested a NordVPN server in Germany and was able to get much faster speeds: 149 Mbps.

NordVPN clearly beats CyberGhost with speeds by a long margin on servers in Germany.
For the next test I used a CyberGhost server in the UK. Once again, the results were not great, at only 56 Mbps.

I then tested a NordVPN server in the UK. The results were just as good as before at around 150 Mbps.

Other tests between NordVPN and CyberGhost with nearby servers in Europe revealed similar results. NordVPN consistently came out on top. With these speeds, NordVPN earns the title best UK VPN.
I also tested servers in the United States.
Here was the CyberGhost VPN server in New York: 76 Mbps.

And here is the speed test for a NordVPN server in New York: 148 Mbps.

With all servers tested in the United States, NordVPN was faster than CyberGhost.
You can see more speed tests in the respective reviews. NordVPN is currently one of the fastest VPNs I have tested. It has greatly improved speeds over the past year. Additionally, NordVPN now supports the WireGuard VPN protocol, which is faster than OpenVPN and IKEv2.
Update: NordVPN now supports WireGuard for even faster speeds
One important update to this guide is that NordVPN now supports the WireGuard VPN protocol. This protocol offers even faster speeds than legacy protocols with updated security. We tested out NordVPN's implementation of the WireGuard protocol, which they call NordLynx, and were blown away with the performance.
Here we are testing a NordVPN server in Seattle using NordLynx and getting download speeds of 445 Mbps.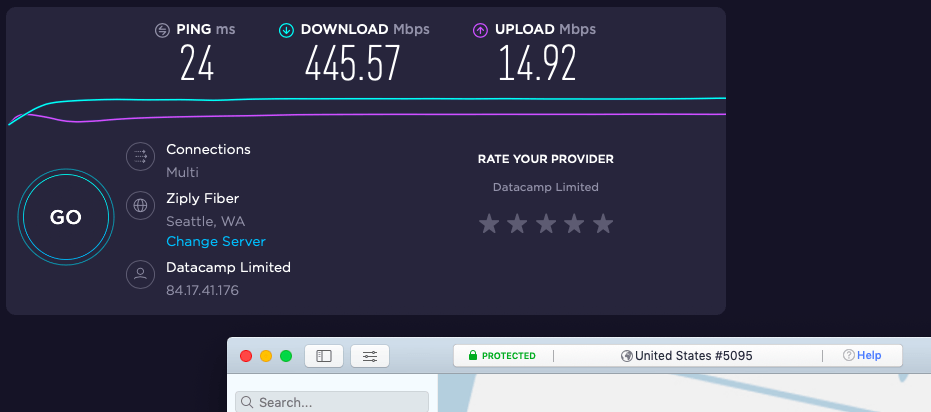 NordVPN is currently the fastest VPN we have tested, beating out CyberGhost by a large margin.
Speed Winner: NordVPN
3. Features: CyberGhost vs NordVPN
CyberGhost and NordVPN both offer interesting features, but with NordVPN, the features consistently work well.
CyberGhost features – One of CyberGhost's main features is the ad blocker. But as I discussed in the CyberGhost VPN review, the ad blocker does not even work on HTTPS sites. Even worse, it blocks ads on HTTP sites only by using traffic manipulation, rather than through DNS requests. But since most sites are now HTTPS, the ad blocker is essentially useless.
CyberGhost also offers different "profiles" that are tailored to different use cases for the VPN, such as torrenting, browsing, etc.
NordVPN features – NordVPN offers some great features, and unlike with CyberGhost, all the features work correctly. Here are a few of the features that I really liked with NordVPN:
CyberSec – This is an ad blocking feature that works on HTTP and HTTPS websites. It also blocks trackers and malware domains.
Double-hop VPN servers (31 to choose from, and the speeds are great)
Tor-over-VPN servers
Obfuscated servers – These servers will conceal your VPN traffic as regular HTTPS encryption. This is a useful feature if you need a good VPN for China, or anywhere else that VPNs are blocked.
Netflix works well (discussed more below)
Excellent leak protection features (two-level kill switch)
VPN with dedicated IP is an add-on feature for $70 per year
The CyberSec feature is one of my favorites because it will effectively block ads, tracking, and even malware domains. This is enabled directly in the VPN client and it will work immediately. Additionally, blocking ads will also speed up page load speeds, in addition to protecting your privacy.

In addition to all of the features listed above, NordVPN also offers dedicated P2P servers. These offer the fastest speeds if you need a good VPN for torrenting.
Features winner: NordVPN
Note: You can get more details on all available NordVPN features here.
4. Security: NordVPN vs CyberGhost
In terms of security, I did not find any leaks or problems with either NordVPN or CyberGhost.
NordVPN leak tests – I ran NordVPN through some basic VPN test procedures to identify any problems, and everything checked out fine (no leaks or issues):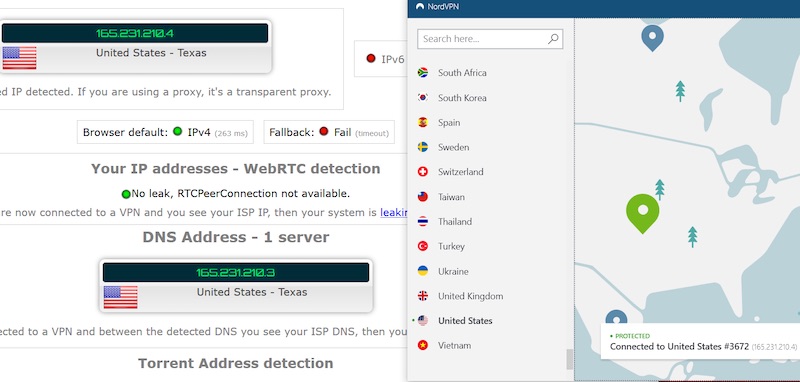 I did not find any leaks in the NordVPN apps that I tested.
Encryption: NordVPN uses an AES-256-GCM cipher with HMAC SHA256 hash authentication, and Perfect Forward Secrecy through a DHE-4096 key exchange.
CyberGhost leak tests – Just like with NordVPN, I did not identify any leaks or security issues when testing out CyberGhost VPN.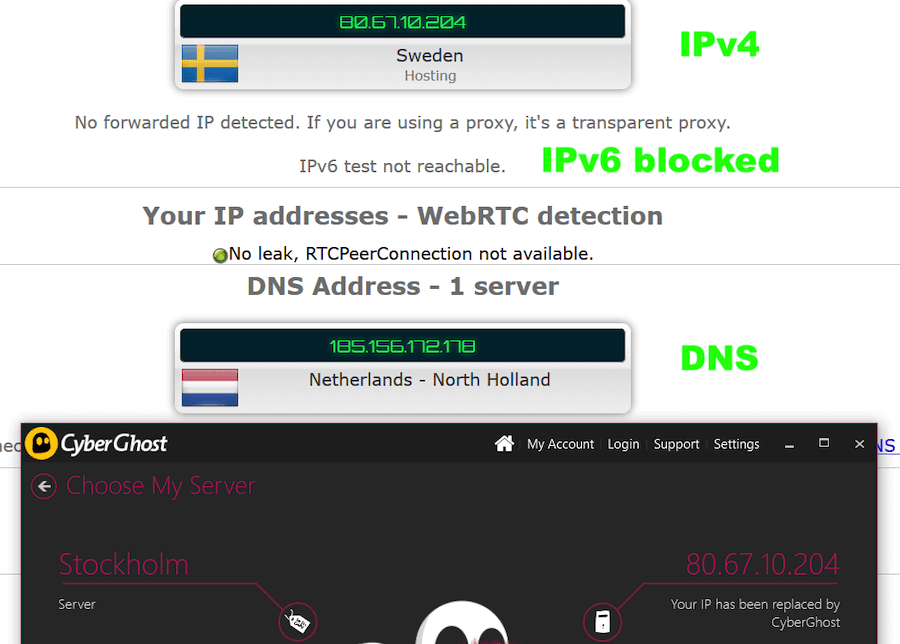 Encryption: CyberGhost uses an AES-256-CBC cipher with SHA-256 hash authentication and ECDH-4096 key exchange.
Aside from leak tests and encryption, there are also other security aspects to consider.
Infrastructure, audits, and security practices
NordVPN is currently undergoing a huge overhaul to further improve security across the entire VPN. Here is NordVPN's security plan, much of which is already complete:
Ongoing security audit – This has already been partially completed by Versprite, an independent cybersecurity firm. Additionally, there will be ongoing testing to ensure the highest standards remain in place.
Bug Bounty program – NordVPN launched a public bug bounty program to reward anyone who finds security problems or vulnerabilities with NordVPN software.
Infrastructure security audit – NordVPN is currently conducting a full infrastructure security audit to include hardware, software, backend code, and more.
Vendor security assessment – NordVPN is assessing all data centers that they use and raising their standards in this area.
Diskless servers – NordVPN will be one of the few VPNs that runs all their servers in RAM-disk mode. This ensures no data can be physically stored on their servers. Some VPNs, such as ExpressVPN, already do this. (NordVPN has already completed this with most servers, but will be finished later in the year.)
In terms of security, NordVPN is really raising the bar. This is especially true when you consider the third-party security audits and ongoing penetration testing.
I have not seen CyberGhost announce any audits, bug bounty programs, vendor security assessments, and they do not run servers in RAM-disk.
Security winner: NordVPN
5. Privacy: CyberGhost vs NordVPN
One of the biggest differences between CyberGhost and NordVPN is in the area of privacy.
CyberGhost: As I mentioned at the beginning of this article, there are quite a few alarming issues with CyberGhost in the area of privacy:
I found CyberGhost to be utilizing session recording scripts on their website, which act like a surveillance camera recording everything a person does on the website (explained in the CyberGhost review).
CyberGhost falsely claims to be "no logs" when their privacy reveals that their applications collect user data – and you do not have the option of opting out.
CyberGhost is owned by a company with a history of producing malware (Kape Technologies, formerly CrossRider.) This is discussed more in this article on CyberGhost, Kape, and Private Internet Access, which are now all under the same company.
Overall CyberGhost does not do well in the area of privacy.
NordVPN: NordVPN does significantly better than CyberGhost with privacy. Here are a few highlights:
NordVPN has a genuine no logs policy. It is one of the few no-logs VPNs that have been audited and verified by an independent third party.
NordVPN is based in Panama, which is a good jurisdiction for privacy.
NordVPN's website is not using any session recording scripts (at the time I conducted the review of NordVPN).
NordVPN is also the clear winner in the privacy category.
Privacy winner: NordVPN
6. NordVPN vs CyberGhost Netflix and streaming
In the category of Netflix streaming, there is once again a clear winner. First, we'll look at CyberGhost.
CyberGhost claims to work with Netflix. In the CyberGhost VPN client, you can connect to either the US Netflix or UK Netflix server. However, after connecting to CyberGhost's US Netflix server, I was blocked by Netflix.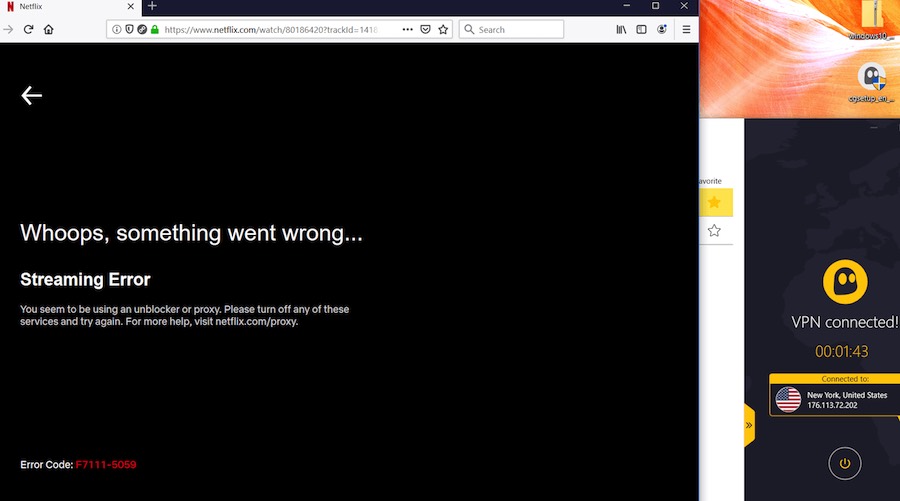 CyberGhost does not appear to be a good VPN to use with Netflix when the dedicated Netflix server is getting blocked. Additionally, we found it to not work well with BBC iPlayer and was blocked with the servers we tested. (See these best VPNs for BBC iPlayer instead.)
Next up was NordVPN, which has always worked well with Netflix. Sure enough, NordVPN unblocked Netflix without any problems at all. Here I'm streaming Netflix through a NordVPN server in the US.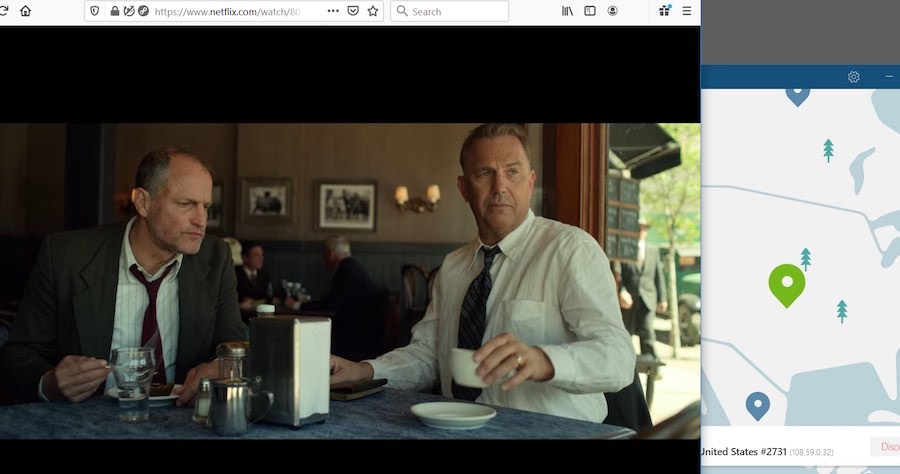 NordVPN unblocks all major Netflix regions around the world, including US Netflix, UK Netflix, Canada Netflix, Australia Netflix, and many other regions. It also works well with other streaming services such as BBC iPlayer, Amazon, and Hulu. If you need a good VPN that works with Netflix, NordVPN is one of the best choices.
Netflix and streaming winner: NordVPN
7. Value: Is NordVPN or CyberGhost better?
Lastly, we will examine the question of value.
Does NordVPN or CyberGhost offer the best value for your money?
Recall that the cheapest price for each of these VPNs was about $3.50 per month. Given that the price is nearly the same, we will next examine which VPN works better.
Based on all of the test results, it is clear that NordVPN comes out on top. It is a better value for your money.
Conclusion: NordVPN wins
As you can see, the clear winner was NordVPN. Here is an overview of the test results from this NordVPN vs CyberGhost VPN comparison:
Price: Tie
Speeds: NordVPN
Features: NordVPN
Security: NordVPN
Privacy: NordVPN
Netflix and streaming: NordVPN
NordVPN is consistently one of our top recommendations in various privacy and VPN guides. It continues to perform well in all our tests, while also innovating and leading the VPN industry.
Avoid CyberGhost?
Given the current state of CyberGhost and the fact that it is now owned by a company with history of producing malware, I will not be recommending it on Restore Privacy. There are many better VPNs available and there's no point in taking a risk with your private data.
If you want to give NordVPN a try, be sure to use the NordVPN coupon for maximum savings.
---
NordVPN Coupon
Get 70% off NordVPN today (drops the price down to only $3.49 per month)
70% Off NordVPN Here
(Discount will be automatically applied with the link above.)
---
Looking for other comparison guides?
You can also see the ExpressVPN vs NordVPN comparison, which is another popular report. Another popular comparison is the NordVPN vs IPVanish guide.
So that wraps it up. This concludes our comparison of CyberGhost versus NordVPN. NordVPN clearly came out on top and is making a strong run to be the best VPN for 2020. Let's hope it continues to improve in this competitive environment.
Stay safe and secure!