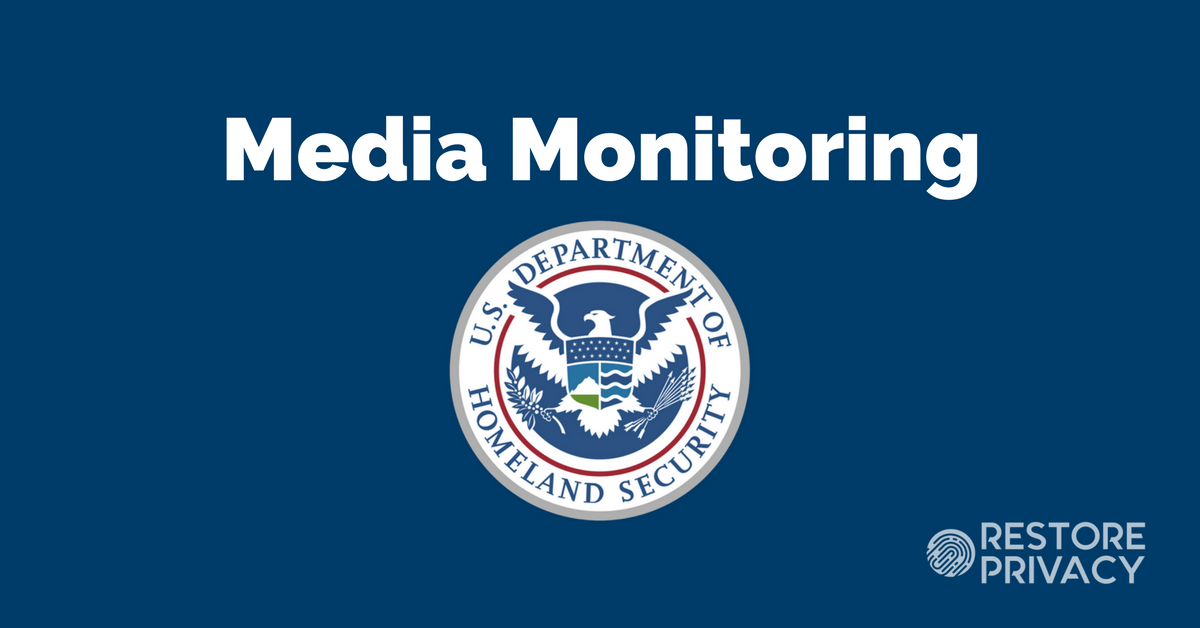 The United States Department of Homeland Security plans to compile an international journalist database to track 290,000 "media influencers" and their contact information, past coverage, location, sentiment and much more.
This the new monitoring database is frighteningly reminiscent of the government surveillance in George Orwell's 1984 based on how the government plans to monitor media outlets with this new monitoring system.
What exactly does "media monitoring" entail?
On April 3, 2018, the Department of Homeland Security posted a request for a contractor on U.S. Federal Business Opportunities website, FedBizOpps.gov, where bids are accepted for private contracts. The DHS sought a contractor who would compile bloggers, journalists, editors etc., into a database that would be searchable based on a number of identifiers. These identifies include the "ability to analyze the media coverage in terms of content, volume, sentiment, geographical spread, top publications, media channels, reach, AVE, top posters, influencers, languages, momentum, circulation."
The solicitation has since been removed but thankfully it was archived and still available here and in full here.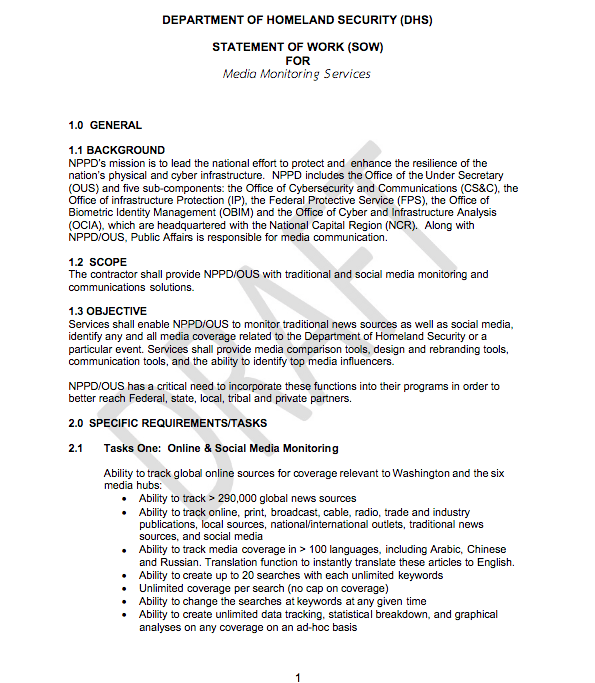 The DHS requested that "Services shall provide media comparison tools, design and rebranding tools, communication tools, and the ability to identify top media influencers."
The information sought regards anything related to the Department of Homeland Security and or a specific event. "Task Five" of the description is noteworthy as it mandates the contract to provide: "24/7 Access to a password protected, media influencer database, including journalists, editors, correspondents, social media influencers, bloggers etc."
Homeland Security defense
The DHS defended their plans in a Tweet by DHS Press Secretary Tyler Q. Houlton who remarked that any reporters who see their media monitoring endeavor as anything beyond standard practice "tin foil hat wearing, black helicopter conspiracy theorists":
Despite what some reporters may suggest, this is nothing more than the standard practice of monitoring current events in the media. Any suggestion otherwise is fit for tin foil hat wearing, black helicopter conspiracy theorists. https://t.co/XGgFFH3Ppl

— Tyler Q. Houlton (@SpoxDHS) April 6, 2018
Snopes asked for clarification to the DHS spokesperson's Tweet on whether their defense meant that the DHS is already monitoring the media. The DHS's Houlton responded, "You are embarrassing yourself with these questions and wild conspiracy theories. Just like you monitored the media to find this story, DHS does the same. Enjoy your weekend." The DHS's belittling of public inquiry makes this situation all the more questionable.
Tyler Houlton's inflamed replies leads to the question: why is monitoring the media "standard practice" for a department that claims to ensure "homeland security"?
Chilling effect
Throughout the world journalists and media influencers already face dangers inherent with their nature of work. This new "media monitoring system" could further stifle their work and cause journalists to be on guard with the message they put out.
This also brings to mind a phenomenon known as the chilling effect, which is described by Wikipedia as follows:
A chilling effect may be caused by legal actions such as the passing of a law, the decision of a court, or the threat of a lawsuit; any legal action that would cause people to hesitate to exercise a legitimate right (freedom of speech or otherwise) for fear of legal repercussions.
The chilling effect is indeed a real consequence of the mass surveillance that has taken over much of the world. As awareness about mass surveillance grows, people become more hesitant to speak out, research controversial topics, or exercise their rights within the context of the law. See this fascinating research paper, which documents this problem.
Note: The solution to the chilling effect is to go "full encryption" with different privacy tools, rather than being "chilled" into passivity by these developments. These tools include secure messaging apps, a secure browser, and a VPN (virtual private network) to encrypt and anonymize your online activity.
Government surveillance at this level could also be seen as a violation of human rights and brings to mind a statement by U.N. Special Rapporteur Frank La Rue:
Communications surveillance should be regarded as a highly intrusive act that potentially interferes with the rights to freedom of expression and privacy and threatens the foundations of a democratic society.
Is this another assault on the 1st Amendment freedom of speech and press?
Time will tell.
Freedom of press
This level of surveillance appears to institutionalize a new level of monitoring and is especially alarming amidst recent trends of international infringement of freedom of press such as journalist deaths, threats, and historic declines in freedom.
The Freedom of Press 2017 report from Freedom House defines free press as, "a media environment where coverage of political news is robust, the safety of journalists is guaranteed, state intrusion in media affairs is minimal, and the press is not subject to onerous legal or economic pressures."
Is this plan for in-depth surveillance of the press considered minimal?
How important is this media monitoring finding?
We have become accustomed to politicians who attack the press – especially if it shines a light on political corruption or scandal. Is the solicitation for highly efficient and in-depth media surveillance something to pay closer attention to? Whether this is a truly "standard" measure is unclear without knowing what the government plans to do with this surveillance tool.
CNN's tone on the topic dismisses the issue altogether calling it an attempt at "media analysis".
"Given this administration's denigration of most media outlets, I understand why the timing of this bid might look suspicious," John Kirby, a CNN military and diplomatic analyst said in an e-mail. "But from what I can tell, this is nothing more than an attempt at media analysis. It's not at all different from what I have seen other agencies undertake to better understand the communication landscape. In fact, it would be PR malpractice not to put something like this together."
Here's the headline from CNN, which repeats DHS's accusation about "conspiracy theorists" who question these developments.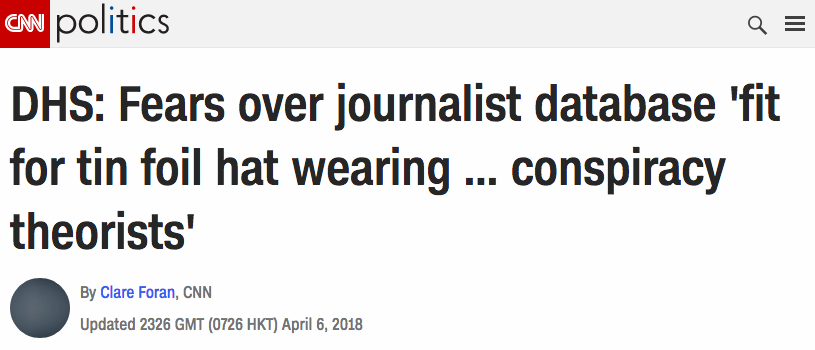 Media outlets have been scrutinized in other ways as well. In March 2018, US Lawmakers attempted to restrict media by petitioning that TV station Al Jazeera to register as foreign agents under US law due to coverage that was said to "undermine" US law.
Journalist Michelle Fabio urges you to call your representatives if you are in the U.S. to let them know that freedom of press needs to be protected.
Above all, stay informed on how the press is being treated because that corresponds to the information you receive and ultimately, your level of freedom.
This also illustrates the need for journalists, bloggers, and independent thinkers to use privacy tools to protect their communications and secure their privacy online.