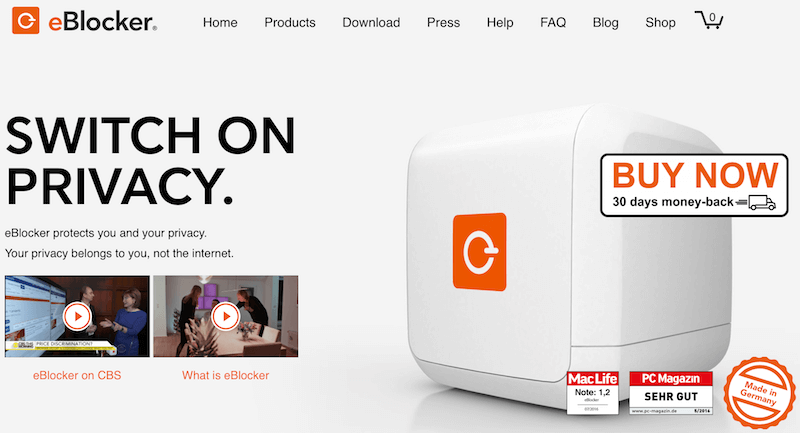 UPDATE: July 2019
Unfortunately, I learned that eBlocker is struggling to sustain operations and has officially gone into bankruptcy proceedings. From their website (translated from German):
Unfortunately, the eBlocker GmbH has filed for bankruptcy and the operation is discontinued. Detailed information can be found here.

Here are the key points in the overview:

Sales, support and office operations are suspended and all employees are dismissed.
eBlocker filter list updates will be available until the end of 2019.
With the last eBlockerOS Update 2.4 we have created the possibility that filter list updates can additionally / alternatively be used from free, public sources. This will keep you safe even if we can not provide updates next year.
The knowledge base with frequently asked questions and a guide to using public filter lists can be found here: eBlocker.github.io/help/

We very much regret this development and thank you again for the trust you have placed in us.

Best Regards
Your eBlocker team
https://eblocker.github.io/help/
---
---
With the growing threat from malicious advertisements, tracking, and a general loss of online privacy, protecting yourself online is now more important than ever. Ad-blockers, browser extensions, and other privacy tools are available, but there hasn't been a good all-in-one solution… until now.
Enter the eBlocker. This smart device plugs into your router and provides a powerful and highly customizable privacy and security solution for all your devices. In a world of mass online surveillance, advanced tracking, malware, and obnoxious advertisements, the eBlocker is a great all-in-one solution.
The main drawback is the price, at around $200. But as with all things, you should consider the value of the product – what you get for your money. In this review we'll cover all of eBlocker's unique features as well as the different alternatives currently available. Is eBlocker the right choice for you? Continue reading to find out.
eBlocker discount: You can get $25 off the purchase price by visiting eBlocker using the button below and then entering the discount code rp25off at checkout. You will also get a 30 day money-back guarantee.
What is eBlocker?
eBlocker is a simple plug-and-play device that integrates with your router to block ads, stop trackers, hide your IP address, and protect all your devices without separate software installations. It provides a number of customizable privacy and security solutions right out of the box, which we'll cover in detail below. Setup is simple: connect it to your router and it starts working immediately.
Here's the eBlocker that was tested for this review.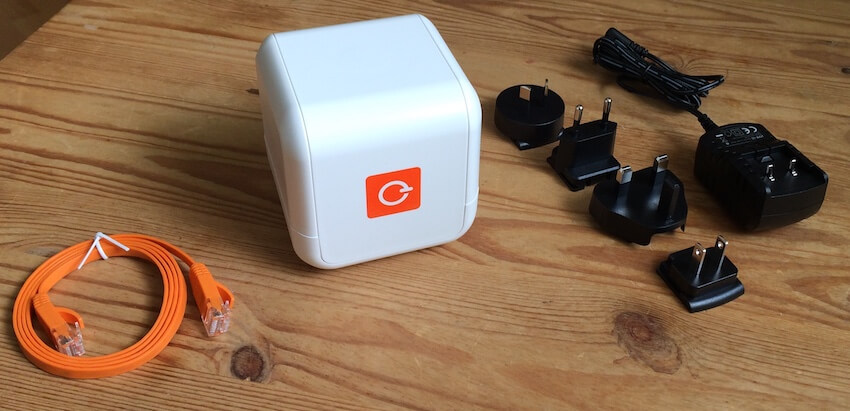 One of eBlocker's biggest advantages is that it offers blanket protection for your devices. It does this through integrating with your router, and thereby protecting all devices on your network, without the need of installing software.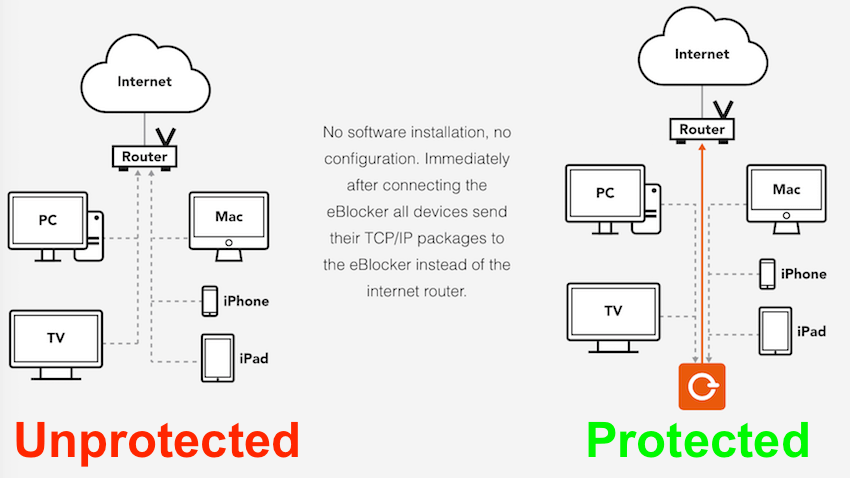 If you take a look at the different trends with technology and privacy, you notice three things:
More devices are connecting to your home network (TVs, tablets, gaming systems, etc.)
Companies are increasingly using aggressive/malicious surveillance and tracking techniques to monitor and record your online activity.
The dangers of malicious advertisements also continues to grow. Hackers are using ads as attack vectors to infect devices with malware, spyware, and ransomware (no clicks required!).
eBlocker is perfectly equipped to handle these trends.
Block advertisements, trackers, malware and more
Ads aren't just annoying, they're dangerous. Last year Google took down 1.7 billion ads, which included:
over 900,000 ads containing malware
112 million "trick to click" ads that install dangerous software/viruses onto your device
80 million fraudulent ads that "deceived, misled, or shocked" users
Why are there so many dangerous ads? Ads are simply a tool to take your data, track your activity and behavior across the internet, and sell you more stuff. Your data is valuable because it allows companies to target you with ads, charge you more for online products, and monitor/predict what you do online.
Ads are also attack vectors for installing malware, spyware, and ransomware onto your devices. Malware can be hidden in ads and then loaded onto your computer when you access a web page (no clicks required!). Many major websites have been hit with this problems, from the New York Times to BBC.
Security experts are sounding the alarm because the "bad ad" statistics are getting worse every year.
Experiencing the internet without all the annoying ads, trackers, pop-ups and click-bait spam is like a breath of fresh air. Within your internet browser, on any connected device, you can click the small orange icon in the top-right corner to reveal the full eBlocker dashboard.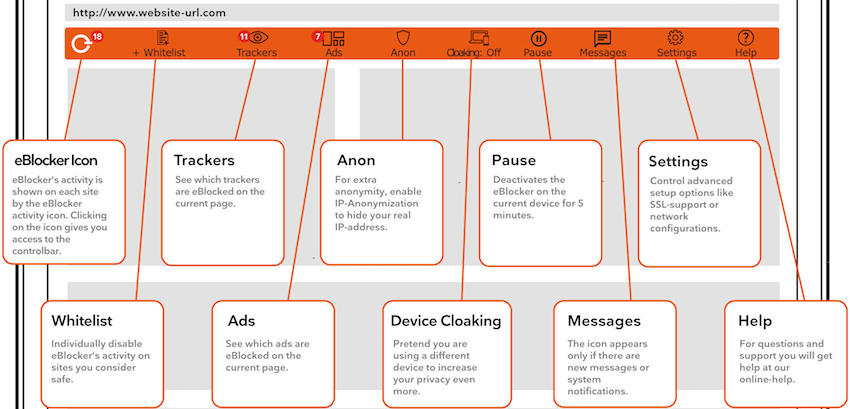 Despite eBlocker being simple and user-friendly, it also offers many advanced features.
Hide your IP address
Every device that connects to the internet has a unique IP address. By anonymizing (or hiding/replacing) your real IP address, you can achieve a higher level of anonymity online. Aside from providing more privacy, hiding your IP address also allows you to access blocked content and anything else that is geographically restricted.
eBlocker provides you with two options for IP anonymization:
The Tor network, which is configured with the eBlocker by default.
A VPN (virtual private network), which is a service you would have to purchase separately.
IP Anonymization with Tor – In general, Tor is not the best option for IP anonymization. While it can be good for privacy if configured and used properly, the Tor network has some disadvantages:
Slow speeds – usually too slow for daily internet use, especially when streaming videos
IP Leaks – your IP address can leak out of the Tor network, especially when using Windows or applications that connect to the internet (besides your browser)
In testing out eBlocker with Tor, I also identified IP address leaks. This is a known issue with Tor and has nothing to do with eBlocker. For both privacy and performance, you would be better off using eBlocker with a good VPN.
eBlocker with a VPN
Configuring an eBlocker with a VPN provides you with a number of advantages in terms of privacy and security. With this option, every device that connects to your router/eBlocker will have its IP address hidden and replaced with the VPN server's IP address. This provides you with a high level of anonymity and security whenever you connect to the internet through your router/eBlocker setup.
eBlocker is easily configurable with a VPN, all you need to install is the OpenVPN configuration file. The following VPNs have been tested and are compatible with eBlocker:
Installing a VPN onto eBlocker is fast and simple with the configuration wizard. Just access the IP-Anonymization tab in the Settings area, select VPN Network and then New VPN Provider. All you need is the OpenVPN configuration files from your VPN provider, your username and password.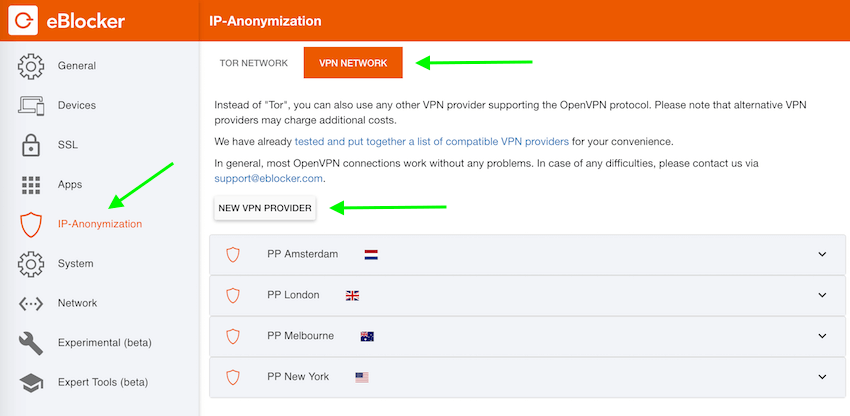 Advantages – Installing a VPN directly on to your eBlocker allows any device in your household to utilize the VPN network. This is a big advantage because normally you would have to go through separate software installations for all your different devices.
For testing eBlocker with a VPN, I used Perfect Privacy, which is a Switzerland-based VPN service. (See also the Perfect Privacy review.)
In testing download speeds, there weren't any noticeable delays or connectivity issues (but this can vary depending on which VPN provider you choose).
In testing for IP address leaks, eBlocker with Perfect Privacy was very secure. Here are the IP leak testing results when connected to a VPN server in Amsterdam.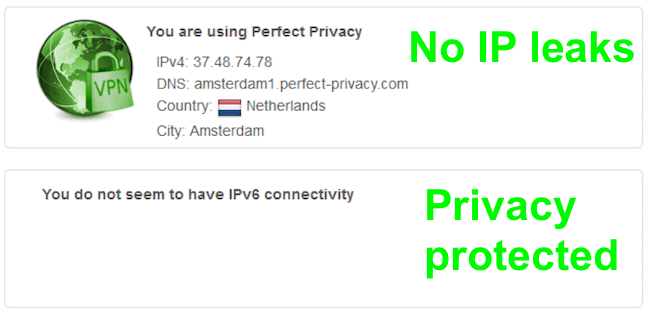 Device cloaking
Another nice feature eBlocker has is the ability to cloak (conceal) the true identity of your device. In other words, if you're using a MacBook laptop, you can instead choose to cloak your online identity with a different device, such as an Android or Windows PC. Simply select the device you want from the eBlocker dashboard.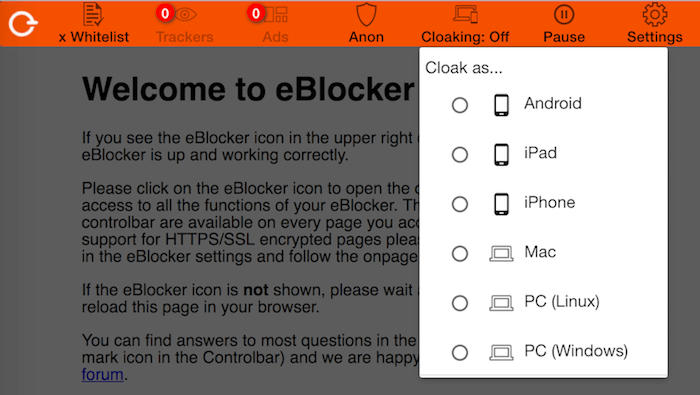 Why use device cloaking? 
One of the biggest reasons to use cloaking is to save money with online purchases. Many companies use algorithms and tracking to determine the maximum price they can charge you based on your operating system, browsing history, and unique profile.
Changing prices for different people buying the same thing at the same time is known as price discrimination – and it affects everyone. Using eBlocker's cloaking option can potentially save you a lot of money, especially on expensive items (such as flights and hotels).
Another reason to use device cloaking is for added privacy. I tested eBlocker's cloaking ability at amiunique.org – which creates a fingerprint based on your browser, operating system, and other inputs. When using a Windows PC, I was able to successfully cloak my operating system and browser using all the different options (Android, Mac, Linux, iPhone, iPad). eBlocker's cloaking feature worked perfectly.
(Note: you will need to enable SSL in eBlocker to run these cloaking tests, since the testing site uses https.)
eBlocker refund policy and discount
eBlocker offers a 30 day money-back guarantee. This may be reassuring for anyone interested in trying it out, but unsure if it's worth the price. But regarding the price, there is some good news…
eBlocker is currently offering a discount to RestorePrivacy visitors. Purchasing through the links/buttons on this page and using the eBlocker discount code rp25off will give you $25 off.
eBlocker setup
After you order your eBlocker, you'll get a small package including: the eBlocker, power cord, outlet adapters, ethernet cable and paperwork (license key and manual).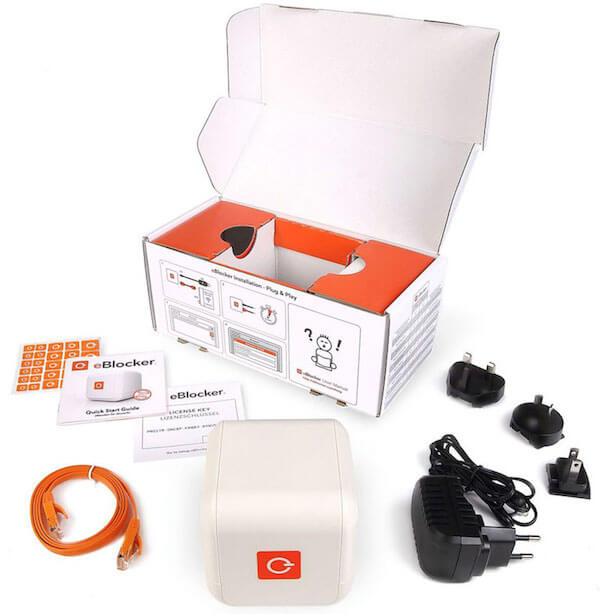 Setting up eBlocker is quite simple:
Connection – First, connect your eBlocker to your router or switch, with the orange LAN cable. Then, connect your eBlocker with the adaptor and the power supply.
Automatic configuration – Wait 5 minutes for your eBlocker to automatically configure itself. Then open an internet browser and go to http://setup.eblocker.com
Start – The eBlocker icon should now appear in the top right corner of your browser. Click on the icon to open the dashboard. Then click on the Settings (gear icon), enter your information and enjoy your new eBlocker.
eBlocker comes with a one year license, but you also have the option to purchase a lifetime license.
Tip: if you're having any issues with setup, you can probably find all the answers you need in the instruction manual or support forum on the eBlocker website.
eBlocker alternatives
As of now, there are no products on the market that are comparable to eBlocker. You can find other privacy solutions, but no all-in-one solution quite like the eBlocker. This is especially the case when you consider eBlocker's ability to:
support multiple users at the same time
integrate easily with Tor or a VPN for maximum online anonymity
protect/secure all your devices without additional software or configurations
Nonetheless, there are other privacy tools that duplicate some of eBlocker's features:
Various browser plugins – There are a variety of free browser plugins to block ads, but they come with some tradeoffs. First is the trust issue with some of the free solutions – which may be selling your data. Second, this solution won't work well for all browsers and all devices. Third, by installing more extensions/plugins you will actually be easier to track and identify due to browser fingerprinting.
VPN with a built-in ad-blocker – Using a VPN with a built-in ad/malware-blocker is a good option, but it has some drawbacks. The main trade-off is that you won't get all the other features that go with eBlocker, such as device cloaking, whitelist options, and real-time ad and tracking stats. The only VPN that offers a powerful and customizable advertisement, tracking, and malware blocker is Perfect Privacy, with the TrackStop feature.
VPN on a router for protecting multiple devices – The closest option to an eBlocker would be installing a VPN on a router. If you did this with Perfect Privacy, and then activated the TrackStop filter, then your entire network would be protected against ads and tracking (you can also filter social media tracking as well).
For a complete explanation and setup instructions, see here: Ad Blocker on a Router with a VPN (Perfect Privacy)
Regarding eBlocker alternatives, here's a comparison chart from the eBlocker website: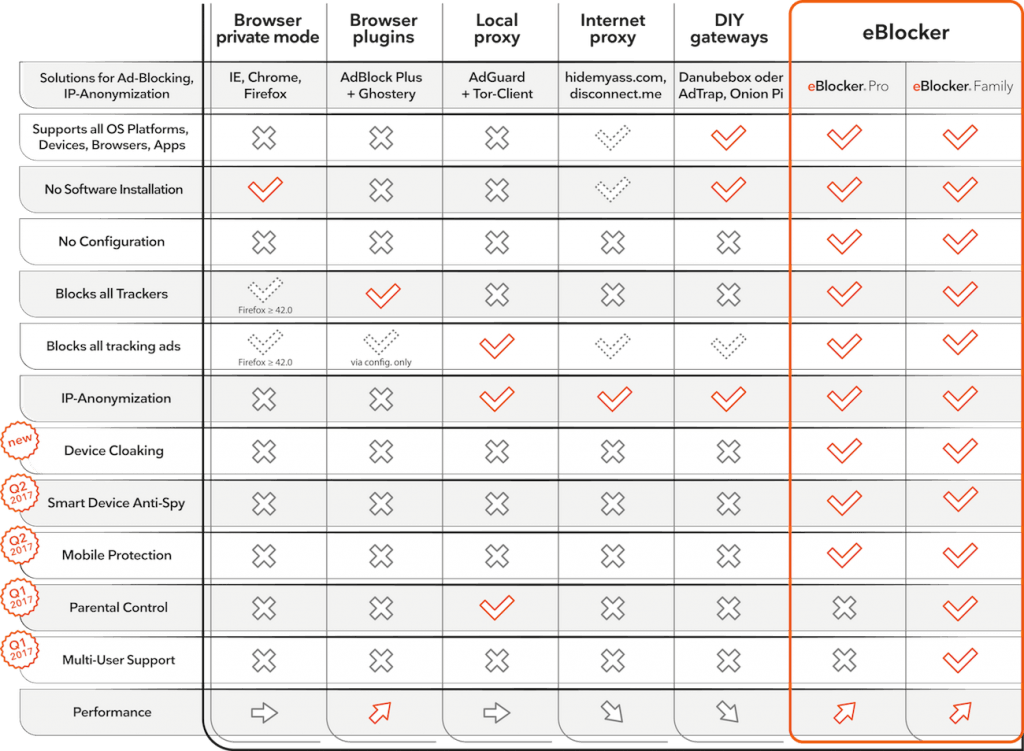 eBlocker info – company and support
Company – eBlocker is the product of a few German privacy/tech enthusiasts located in Hamburg, Germany. This small startup launched via Kickstarter and has garnered a great deal of worldwide attention. One aspect about the company that is very appealing is that they continue to innovate and update their product. Just for 2017, here are the current (and planned) feature updates:
eBlocker Family (with customizable parental controls)
Multi-user support
Mobile protection
Smart device anti-spy
Support – I found the support department to be fast and helpful. I tested all the features for this eBlocker review and asked the support team many questions. My questions were usually answered in under 24 hours.
Review conclusion
eBlocker earned a perfect 5 out of 5 rating in this review. It's a device that will be useful to anyone – regardless of their technical background. It's simple and easy to setup, but also provides advanced settings and customizable features. Here's the final breakdown:
Pros +
Simple and user-friendly
Support for all devices
Block trackers and tracking ads
Device cloaking
IP Anonymization with Tor or VPN
Multi-user support
Customizable features/settings
Excellent customer support
30 day money-back guarantee
Continuous updates and improvements
Made in Germany
If you're looking for a complete privacy solution that is simple, powerful, and capable of protecting all your devices, then eBlocker is for you. eBlocker's support team is also top-notch, providing fast and helpful assistance if you need it.
You can try eBlocker risk free with a 30-day money back guarantee.
eBlocker Review and Tutorial 2017