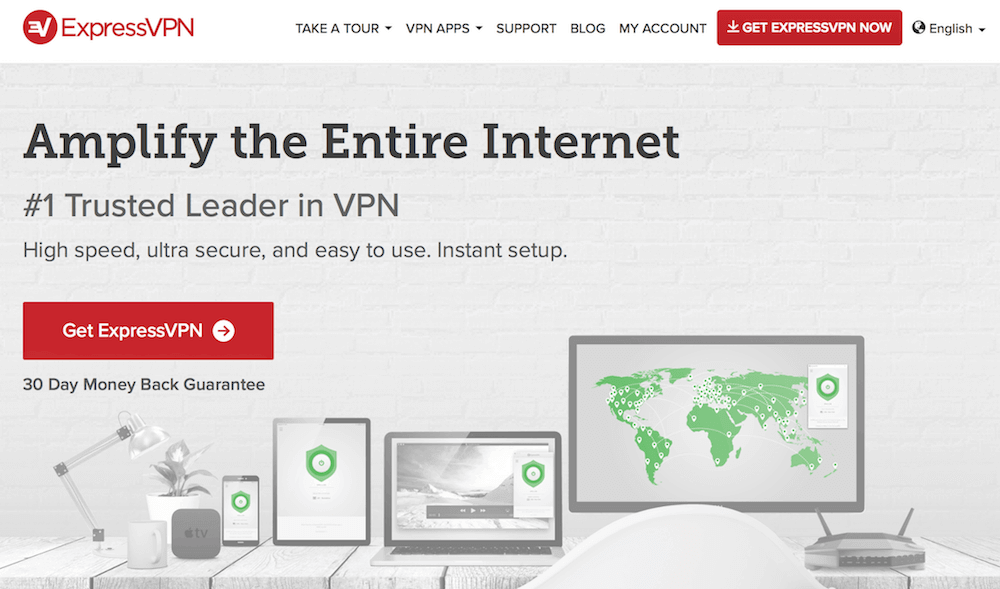 ExpressVPN Review and Test Results
Performance

Features

Support

Value
Review of:
ExpressVPN is a British Virgin Islands-based VPN service that offers a nice lineup of reliable apps with decent performance. Despite maintaining minimal connection logs, ExpressVPN may be a good choice for those seeking a stable and user-friendly service that will protect your privacy.
However, there are also some drawbacks to consider:
Somewhat limited on features
Network lock (kill switch) does not block all non-VPN traffic
Apps that are configured to report crash statistics and send data to third parties (but users can opt-out)
Despite some of these drawbacks, ExpressVPN is still a high-quality service that is definitely worth considering. If you want a simple and user-friendly application, ExpressVPN would be one of my top recommendations. They also offer 24/7 live chat support for anyone needing assistance, and a 30-day money back guarantee.
Exclusive discount – ExpressVPN is offering an exclusive 49% discount, which brings the price down to $6.67 per month. You can pick up the discount through the website link here >>
+ Pros
User-friendly and reliable apps
30 day money-back guarantee
Good selection of servers
Split tunneling feature (for Mac OS, Windows, and routers)
Works with Netflix
24/7 live chat support
– Cons
Connection logs (IP addresses not logged)
Limited to 3 connections per subscription

Connections
3

Jurisdiction
British Virgin Islands

Privacy Tests
Passed all tests

Protocols
OpenVPN
IPSec/L2TP
PPTP

Multi-hop
No

Obfuscation
Yes*

Logs
Connection logs
*Built into applications (not configurable).
Visit ExpressVPN and Get 49% Off >>
ExpressVPN company and jurisdiction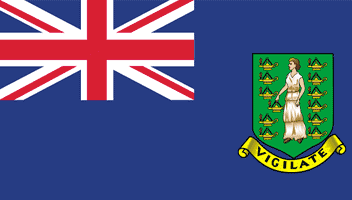 ExpressVPN is based in the British Virgin Islands (BVI). Overall this seems to be a decent privacy jurisdiction, but there is one drawback…
The British Virgin Islands are officially a British Overseas Territory (see here), which puts them under UK influence. This connection between the BVI and UK is concerning because the UK is a leading member of the Five Eyes surveillance alliance and a habitual offender of online privacy (see Investigatory Powers Act).
It's difficult to determine exactly how much a VPN's jurisdiction affects people. But as a general rule, it's best to choose a VPN located in a good privacy jurisdiction. The British Virgin Islands are not an awful jurisdiction, but also not ideal.
ExpressVPN price and refund policy
ExpressVPN has cordially extended a reduced price to Restore Privacy readers. Previously, the cheapest price you could get ExpressVPN for was $8.32 per month.
Through this discount link you can now get ExpressVPN for $6.67 per month.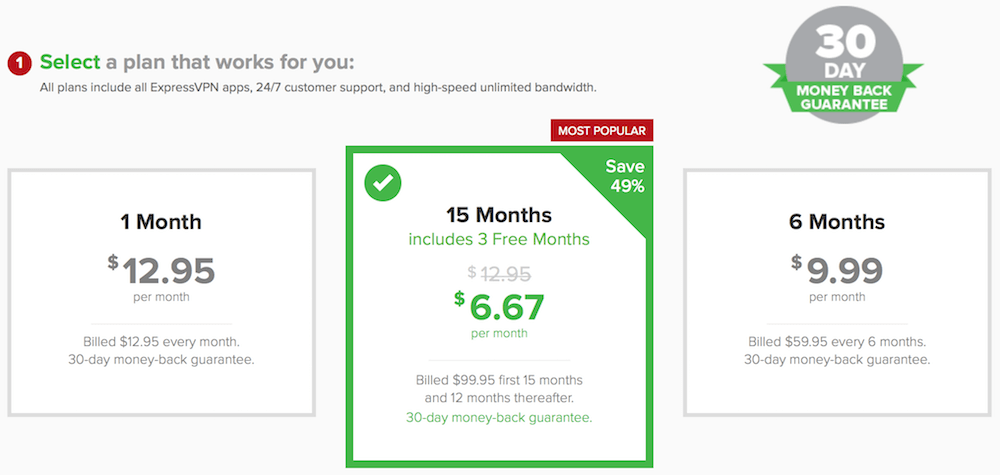 When considering price, the key question is always value – what you get for your money.
For some, this may be a good value (depending on your needs and uses for a VPN). Many people use ExpressVPN in China and other locations where VPNs are blocked. The feedback I've seen has usually been positive. Nonetheless, there may be alternatives that work better for your situation.
ExpressVPN refund policy – ExpressVPN offers one of the best refund policies in the industry. They give you a 30 day "no questions asked" money-back guarantee, without any stipulations or hidden clauses. This gives you ample time to test out their service to see if it will work for your needs.
ExpressVPN Apps
ExpressVPN offers a nice lineup of apps for different devices and platforms.

For this review, I tested the ExpressVPN apps on Windows, Mac OS, Android and iOS (iPhone).
Overall I found all of their apps to be well-designed and also user-friendly despite some drawbacks, which we'll cover below.
Here is a screenshot of the Windows client with the server locations screen on the right: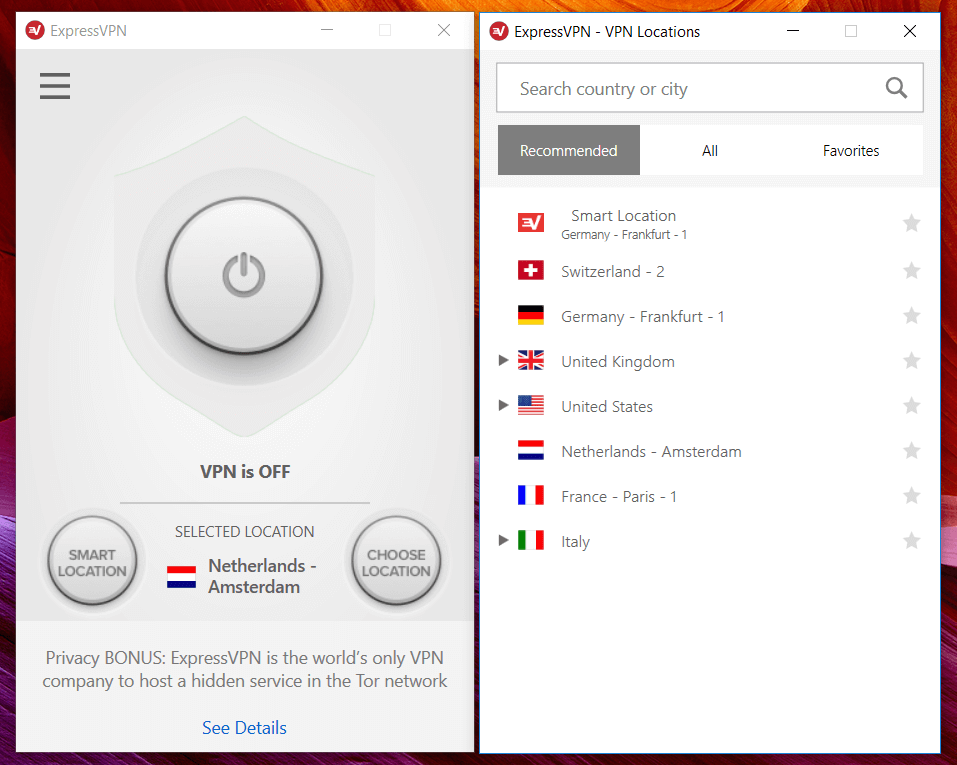 While the ExpressVPN apps do offer some great benefits, it also has some drawbacks.
ExpressVPN app problems
Testing and research identified the following issues:
Apps are configured to collect and share data with ExpressVPN and third parties (Apple, Microsoft, and Google)
Only three connections allowed per subscription
Somewhat limited on features (no multi-hop configurations)
The kill switch (network lock) does not block all non-VPN traffic (such as when switching VPN servers)
We'll closely examine each of these points below.
Logs and data collection
In previous reviews, I was critical of ExpressVPN for contradictory statements on their logging policies. However, they have recently overhauled their website. There no longer appears to be any contradiction between their statements on logs and their privacy policy.
We'll further examine the privacy policy below, but first, we'll take a look at the apps.
After downloading the ExpressVPN apps you'll notice that they are configured to collect diagnostic data. I found this to be the case with the Windows, Android, Mac OS and iOS clients.
It's important to note that the user can always opt-out, but in some cases the data sharing option is enabled by default.
Here's the Mac OS app, where this data collection option is automatically enabled: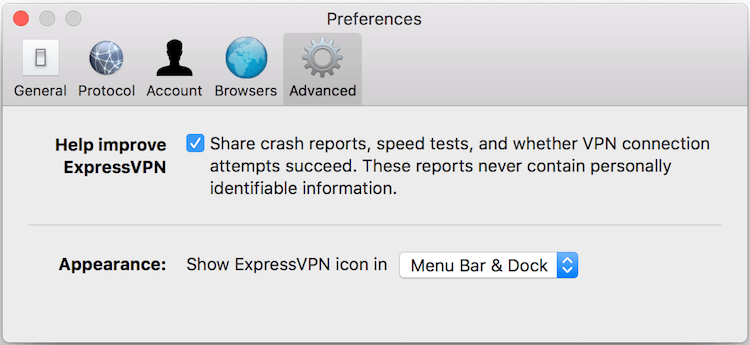 And the ExpressVPN Android app is also configured in this way: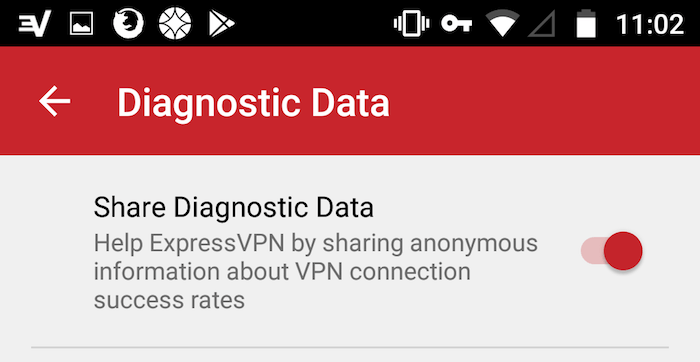 When you examine the Privacy Policy you learn more about what exactly is being collected and the third parties involved in that process.
Here are a few relevant excerpts: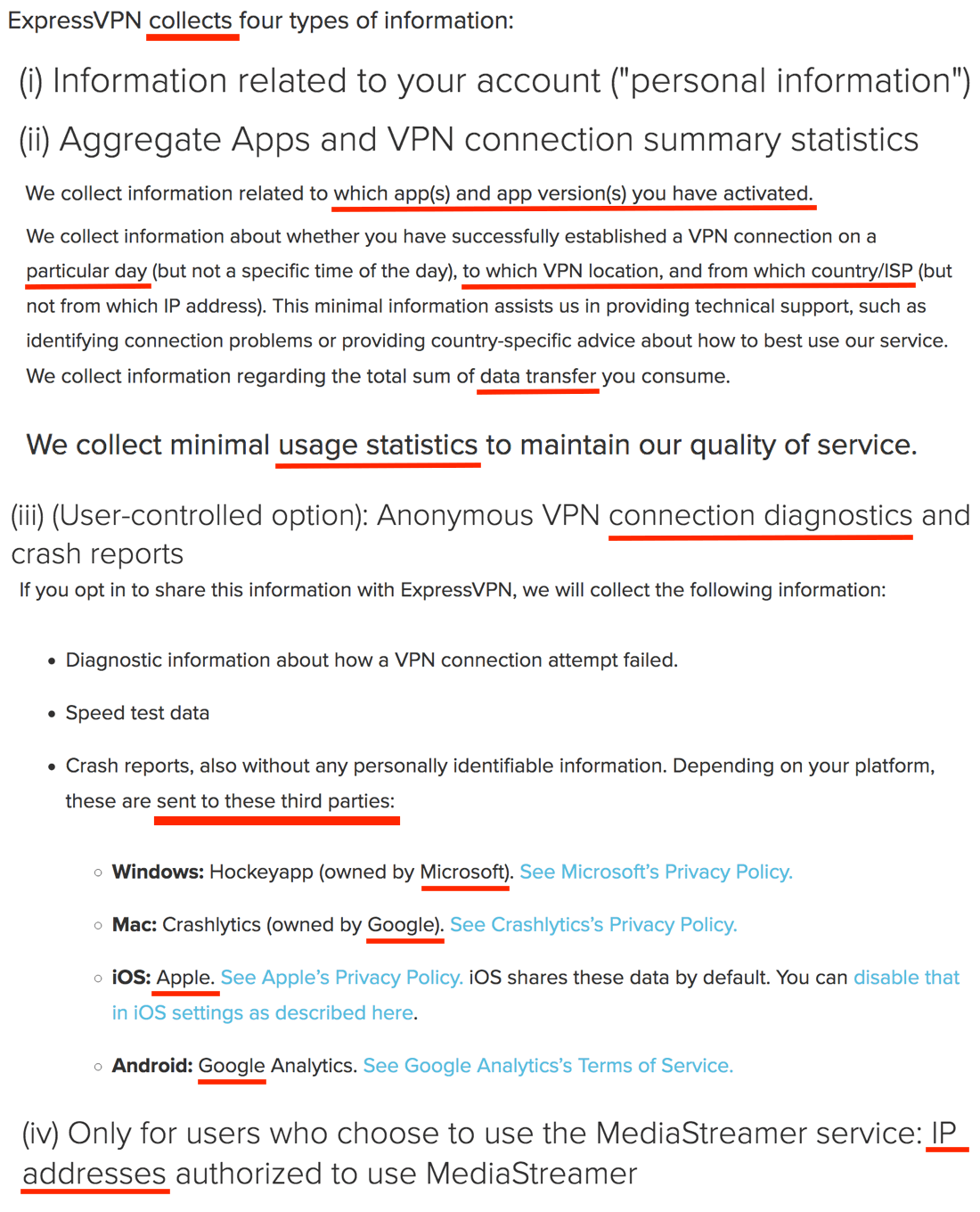 For some, it may be concerning that ExpressVPN collects crash reports via third parties such as Microsoft, Google, and Apple.
It should be noted, however, that this is anonymized data (crash reports) that cannot be linked to an individual user. Additionally, users can simply opt-out from sending crash reports.
With the exception of the MediaStreamer service, IP addresses are not being collected. Many VPNs that keep connection logs also record the source IP address of the user (VyprVPN and VPN.ac both do this). Considering this, ExpressVPN's logging policies seem to be fairly minimal, despite utilizing third-party apps for crash statistics.
You can read the details of the Privacy Policy on ExpressVPN's website.
Only 3 connections allowed
One drawback with ExpressVPN is that you are limited to only three connections with your subscription.
If you try to connect more than three devices you will be greeted with this message: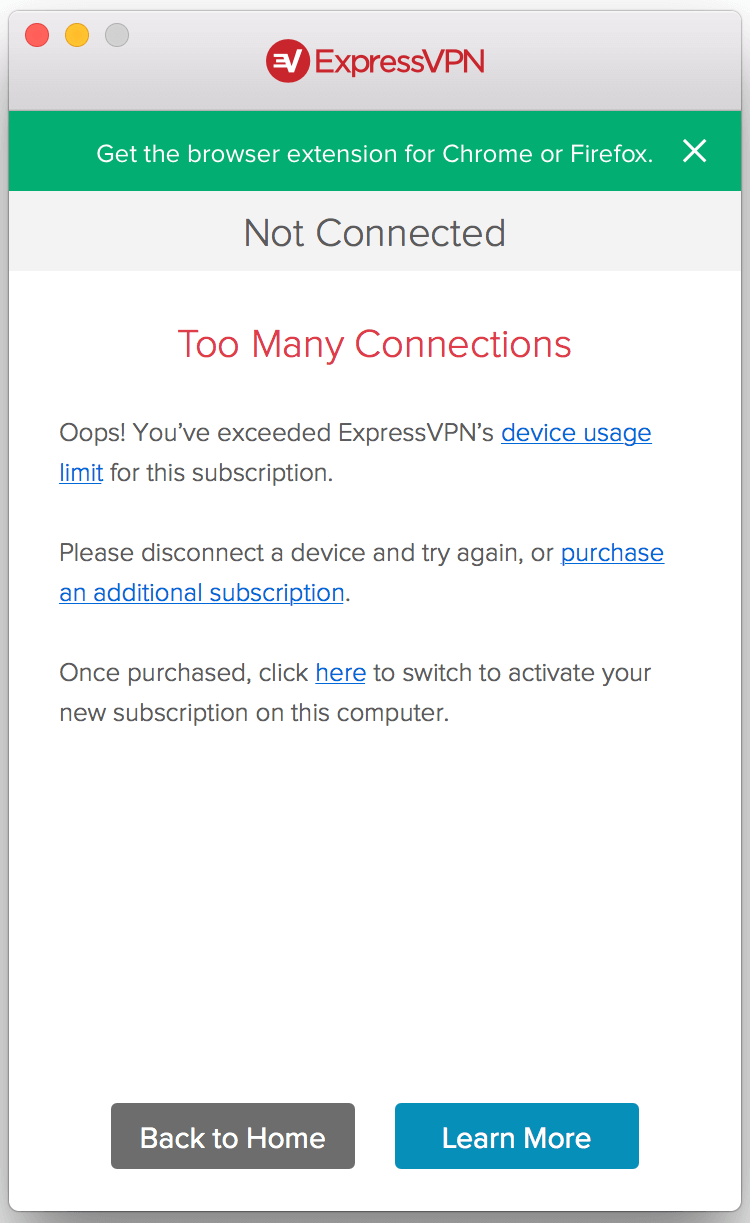 If you click "learn more" you will be taken to a sales page instructing you to buy another subscription in order to connect more devices.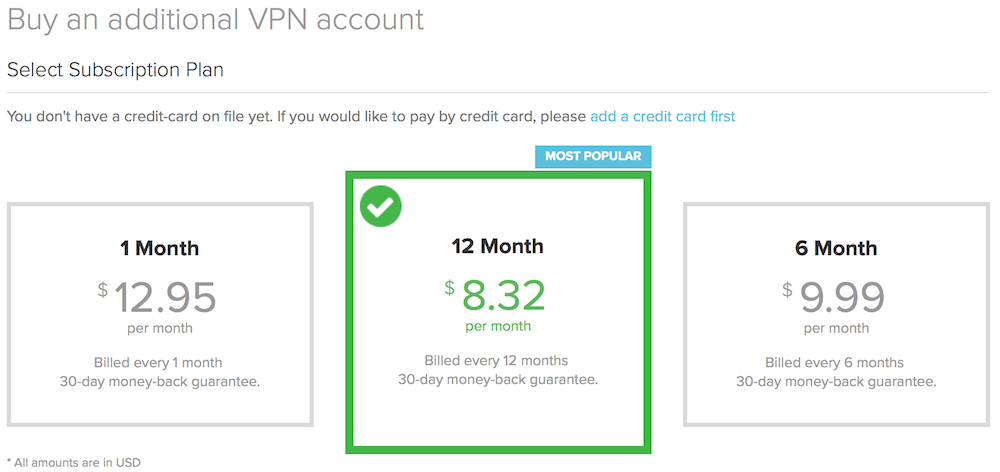 TIP: One way to extend the benefits of a VPN to more devices is to use a VPN on a router. This will only count as one connection, regardless of how many devices are on the VPN-secured network.
For comparison, here are the connection limits with a few other VPN providers:
ExpressVPN privacy and security testing
I ran the the ExpressVPN Windows, Mac OS and Android apps through some basic VPN tests to identify any issues/problems. The main testing sites I used were ipleak.net.
Results – ExpressVPN passed all tests. I did not identify any leaks, bugs, or problems with their apps. Based on my testing, ExpressVPN creates very high-quality applications that will keep you secure and protect your privacy.
Below are a few of the different testing results.
ExpressVPN Windows
Here is a test with the ExpressVPN Windows client while connected to a server in Sweden.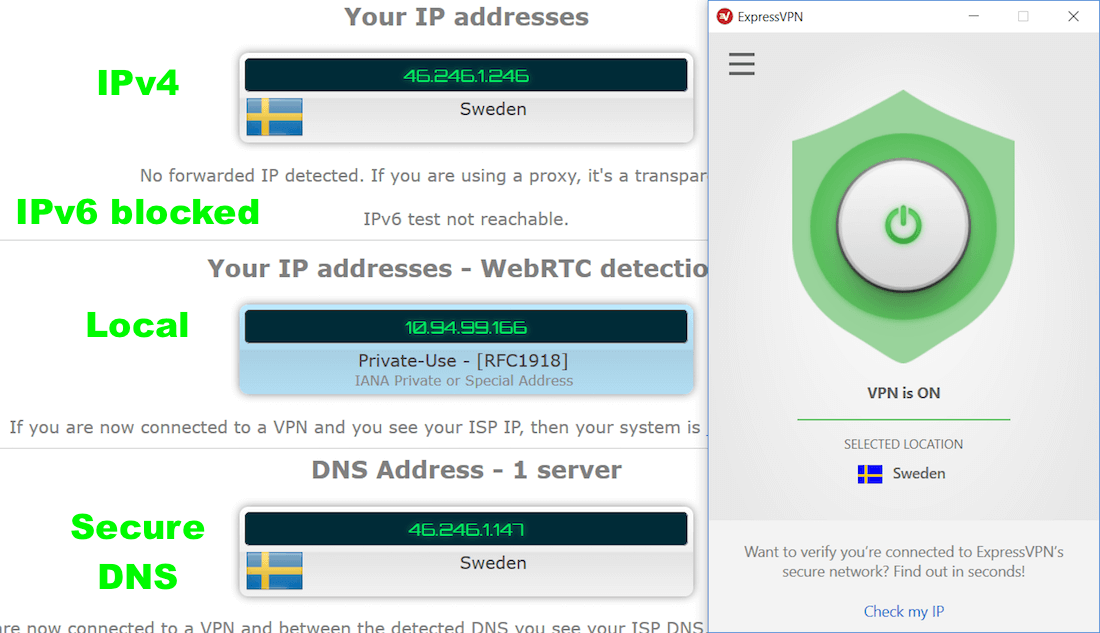 ExpressVPN Mac OS
Now moving on to the ExpressVPN Mac OS client, the results were the same: no leaks.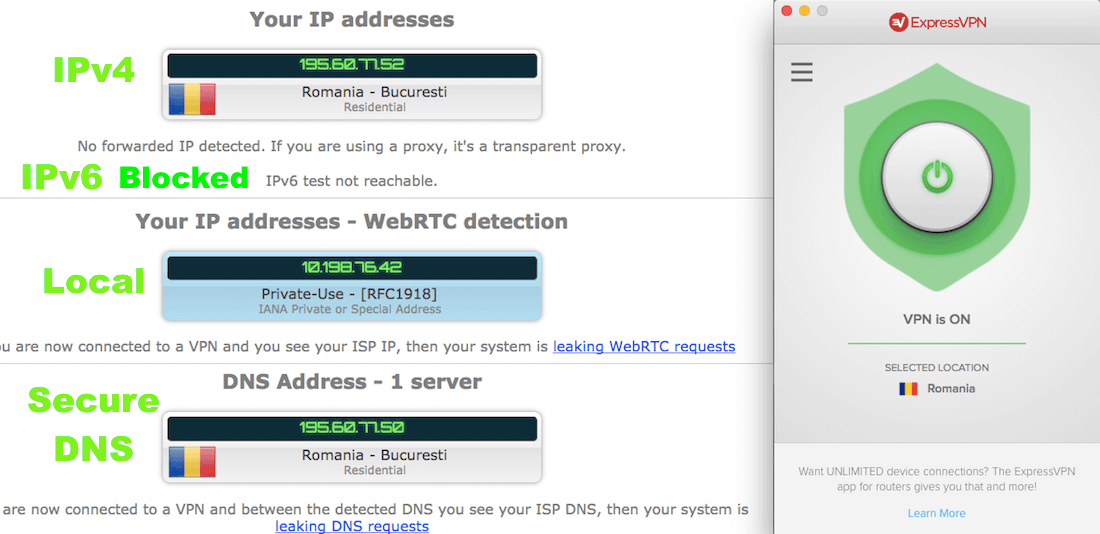 Security updates – ExpressVPN has informed Restore Privacy that they have added additional protection to their Windows and Mac OS applications since this review was first updated in early October. Overall, the company has been very proactive about identifying and fixing vulnerabilities that could affect their users.
DNS leak protection update – ExpressVPN has also recently updated their applications to patch a rare DNS leak that may occur when switching network interfaces with an active VPN (such as switching from an ethernet cable to WiFi). They published a detailed blog post explaining the vulnerability, and how their software protects you against this problem: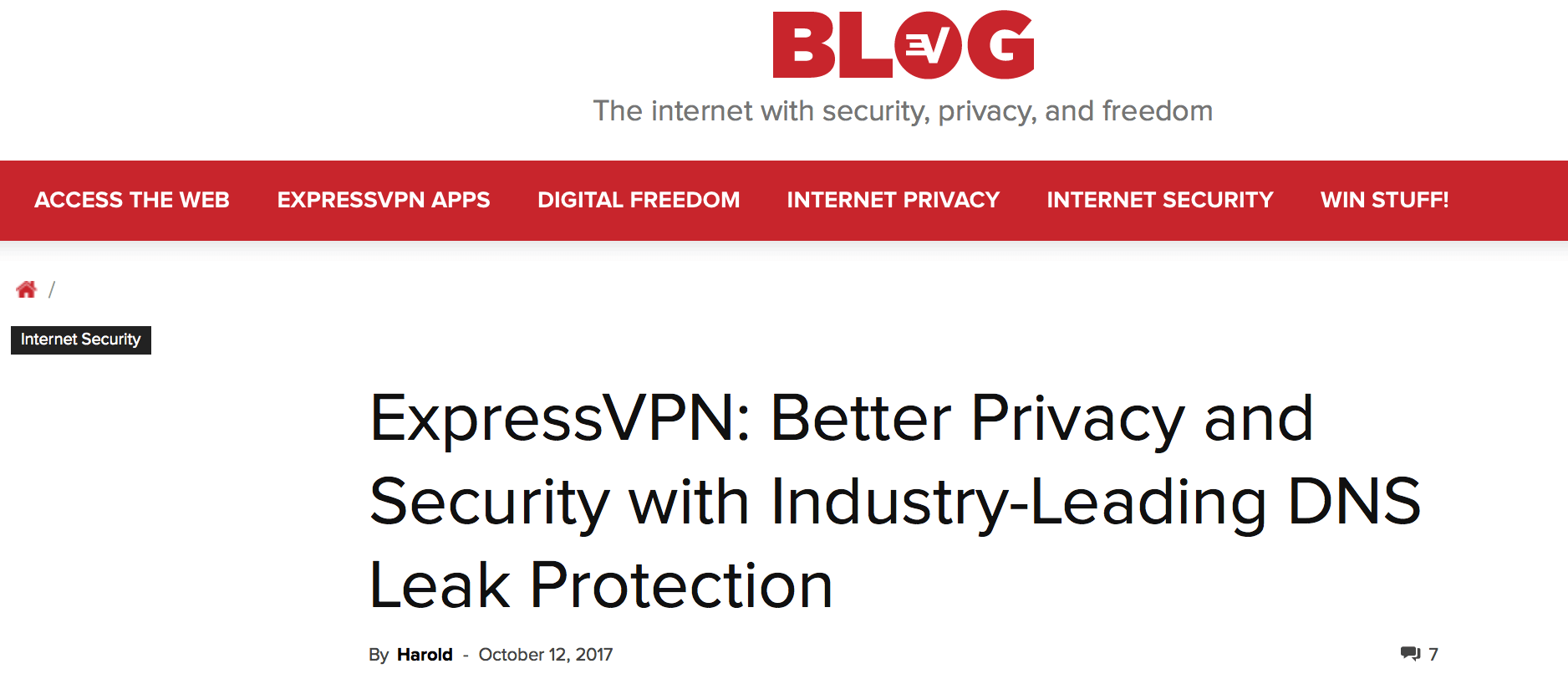 WebRTC leak protection update – ExpressVPN has also updated their Windows VPN client to patch WebRTC vulnerabilities. This is a browser vulnerability that most VPNs ignore. However, ExpressVPN has updated their software to ensure IP addresses aren't exposed via WebRTC leaks. I tested this and found the software to be secure (no WebRTC leaks).
Conclusion – ExpressVPN does an excellent job in the areas of privacy and security. They continue to update and improve their applications, protecting users against leaks and other vulnerabilities. The one drawback I found was with how the kill switch works, which I will explain in detail below.
Kill switch (network lock)
ExpressVPN provides a kill switch for their Windows and Mac OS clients.
They refer to this feature as a "network lock" in the settings area.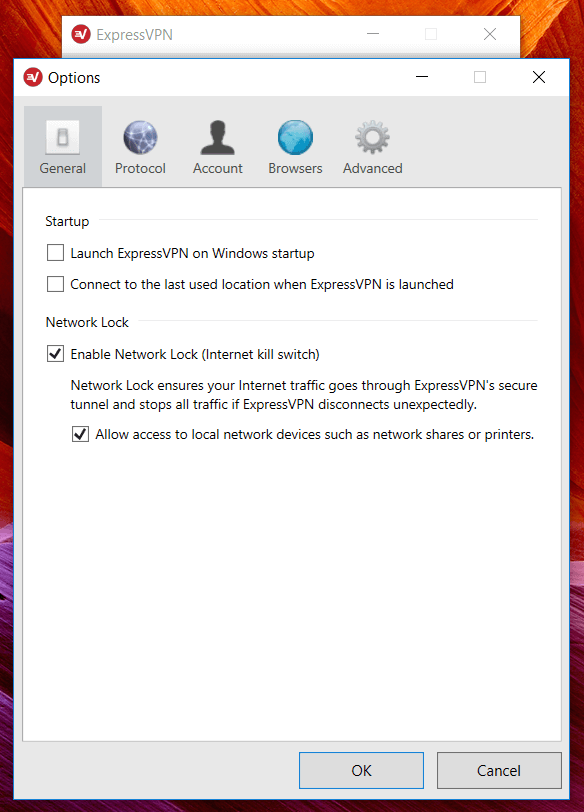 In testing out the network lock feature I found one flaw: it does not block all non-VPN traffic. In other words, the network lock is only designed to protect you "if ExpressVPN disconnects unexpectedly".
So what this means is that every time you switch servers (disconnect and reconnect to a new VPN server) your traffic will be exposed. If you have any downloads, torrents, or anything else running in the background, this would expose your IP address when switching servers.
Both Windows and Mac OS by default have numerous apps sending data in the background (you can observe this with any firewall/traffic monitor such as GlassWire or Little Snitch). Therefore, any time you switch servers with ExpressVPN, this background traffic will hit your ISP.
I verified this problem with support and also found that ExpressVPN further clarifies the issue on their website.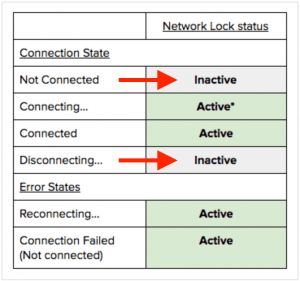 The ExpressVPN support also informed me that there is no way to modify the network lock to block all non-VPN traffic. For that, you would need to setup custom firewall rules.
This may be a drawback for those wanting a fully-functioning kill switch that will block all non-VPN traffic.
Alternatives – The VPNs below offer a full kill switch that effectively blocks all non-VPN traffic:
In testing out the network lock I also learned that it blocks IPv6 connectivity and prevents DNS leaks when the connection is active. Therefore, if you disable the network lock, you will have IPv6 and DNS leaks – even when the VPN connection is active and stable.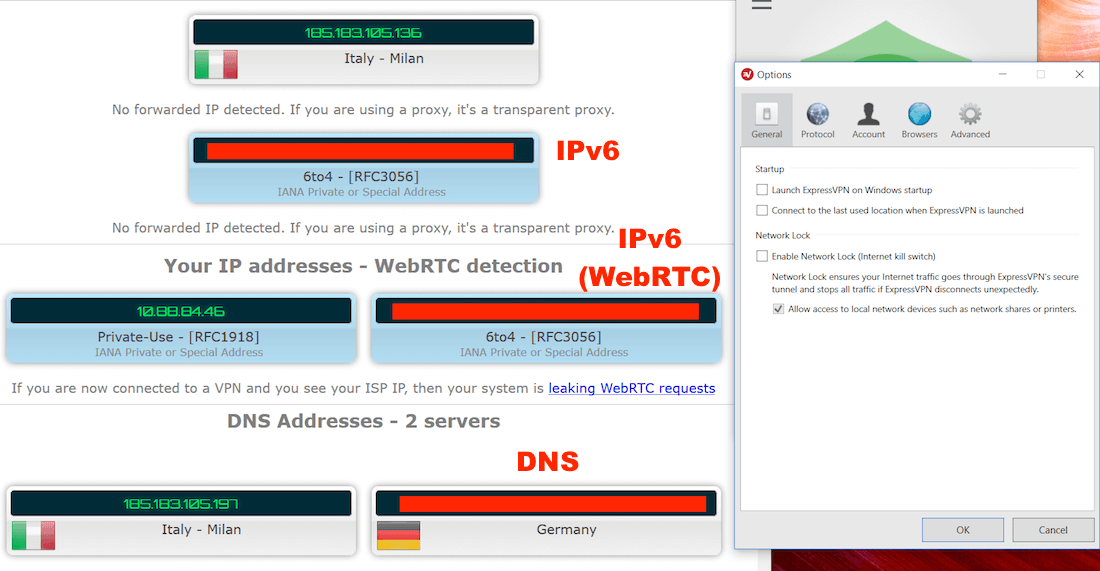 With the screenshot above, you can see that the ExpressVPN windows client is active in the background and the connection is stable (top of the green shield on the right), but network lock is disabled. So with VPN connection active and stable, there were still DNS leaks, WebRTC leaks, and IPv6 leaks.
TIP: Always ensure that the "network lock" feature is enabled (and it should be by default). Additionally, the kill switch should protect you in most cases. If you want to block all traffic when switching servers, you could also create firewall rules to allow only traffic through the VPN.
ExpressVPN speed test results
Overall ExpressVPN did well with speed tests, although the speeds were not always consistent. My baseline speed (without a VPN) was about 100 Mbps. Testing location: Western Europe.
Overall, ExpressVPN did well in speed testing. Below are a few of the speed test results using different ExpressVPN servers around the world.
Nearby server in Frankfurt, Germany: 74.5 Mbps download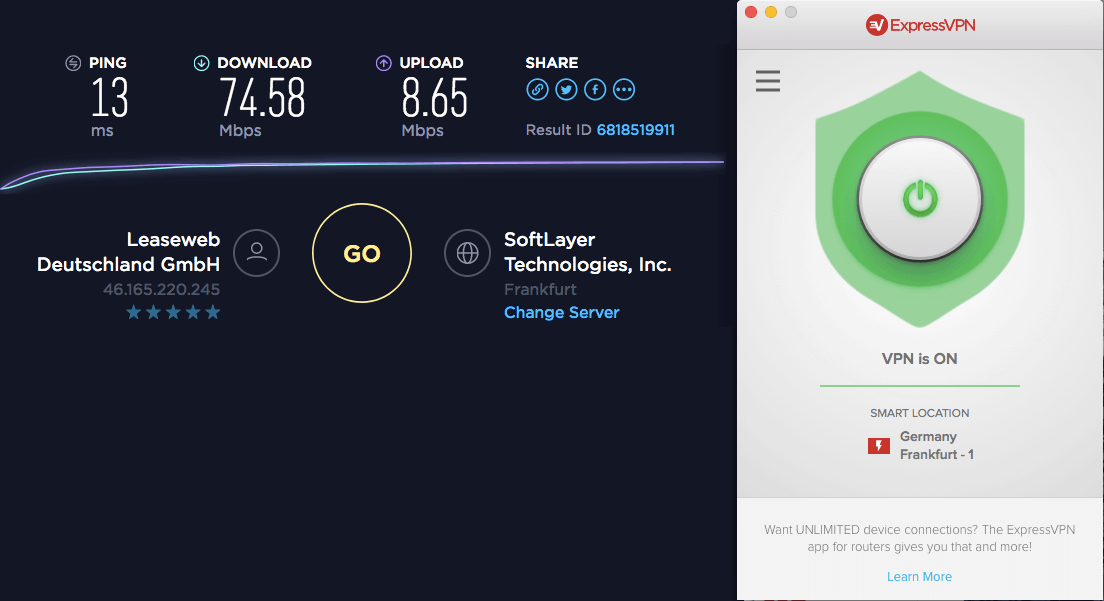 Here is a VPN server in Sweden: 56 Mbps download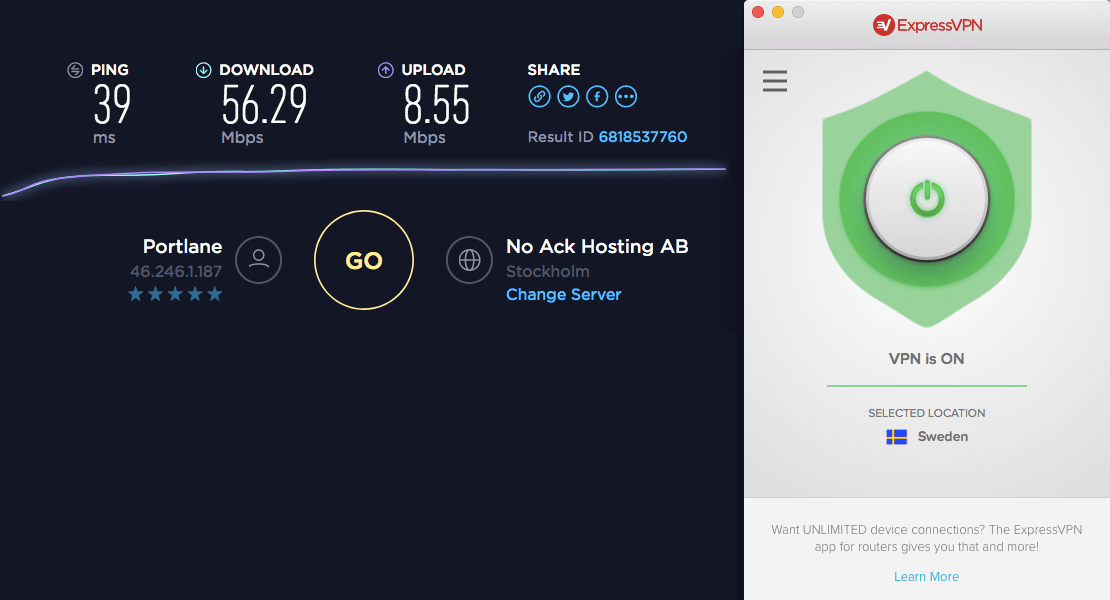 And finally, I tested a server that was much further away in the United States. Still the speed was great at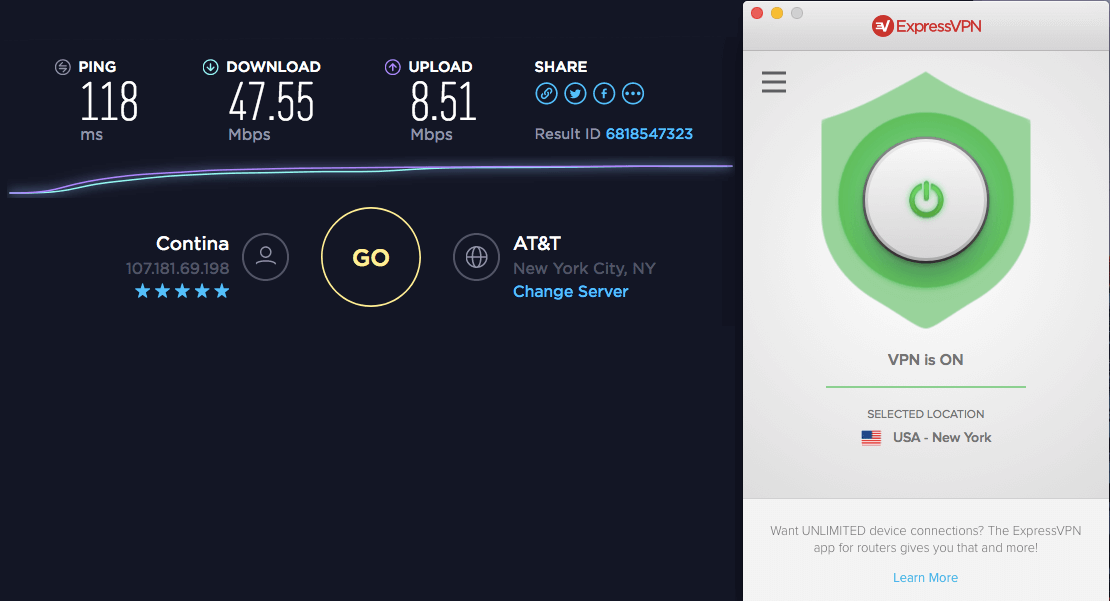 It's important to note that there are numerous factors affecting speeds, especially now that internet service providers are manipulating and throttling VPN traffic.
Given these speed test results, ExpressVPN would be an excellent choice for streaming media or torrenting. This is one reason why ExpressVPN is the top recommendation in the VPN for Kodi guide. For torrenting, they do not impose any limitations or restrictions, while also being located in a jurisdiction that is not subject to DMCA (copyright violation) laws.
ExpressVPN encryption
ExpressVPN offers a few different encryption protocols within the preferences: OpenVPN, L2TP, or PPTP. Here is a screenshot from the Mac OS client.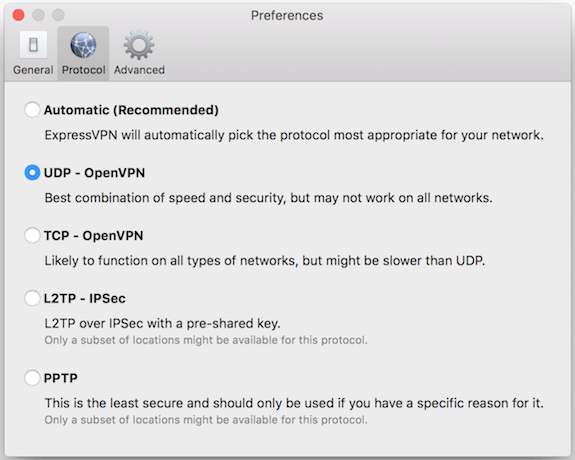 One annoying issue I found is that even when you select a specific encryption protocol, the Windows and Mac OS clients always revert back to "Automatic" when you close and reboot the app.
No native Mac OS support – Another issue I discovered is that ExpressVPN does not support the native IPSec/IKEv2 configuration for Mac OS and iOS.
The built-in IKEv2 Mac OS and iOS VPN setup is very stable and leak-proof – see the best VPNs for Mac OS guide for more info. Unfortunately, this is not an option with ExpressVPN at this time.
VPN split tunneling
ExpressVPN offers a split tunneling feature with their Mac OS and Windows applications, as well as their router app.
This feature basically allows the user to select which apps will go through the VPN, and which can bypass the VPN to the regular (unencrypted) internet.
This feature can be found in the settings area of the Windows and Mac OS clients. By default, all traffic and applications are routed through the VPN. In the settings, you can select three different options:
All apps use the VPN
Do not allow selected apps to use the VPN
Only allow selected apps to use the VPN
If you click the second or third options, a pop-up window appears, allowing you to select the specific apps.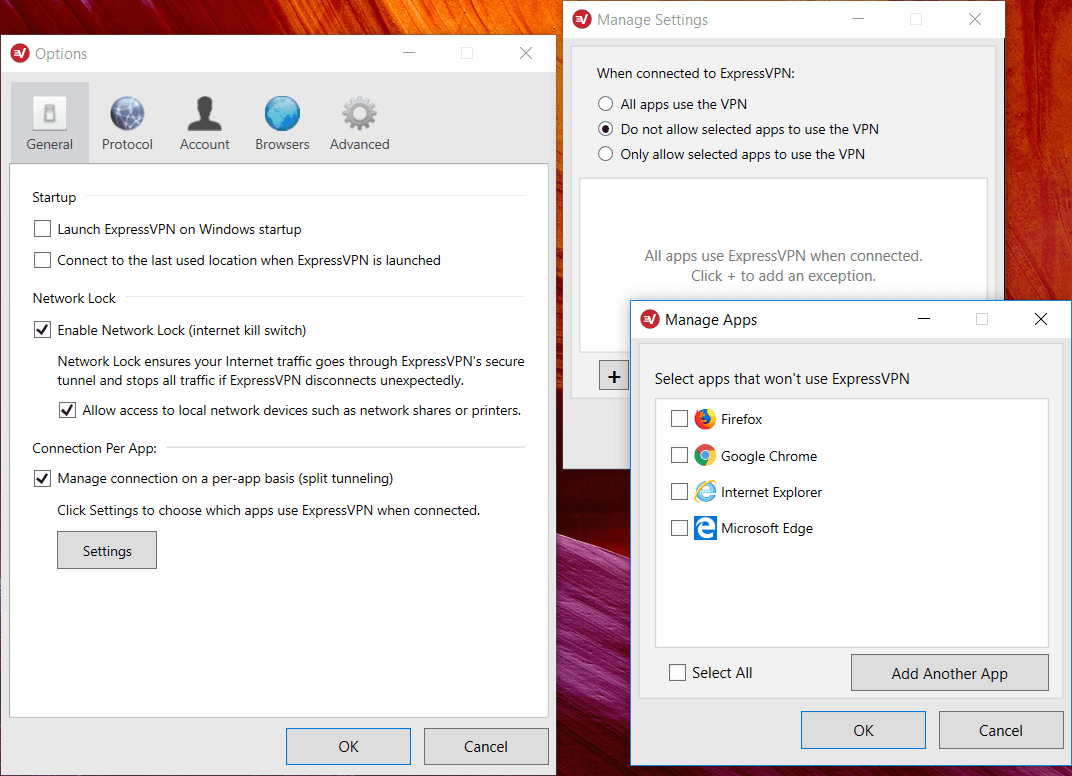 Many people want a split tunneling feature for various applications or uses. ExpressVPN is one of the few providers that offers this feature.
ExpressVPN servers
ExpressVPN offers a good selection of servers from around the world.
While I previously criticized ExpressVPN for the use of "virtual" server locations, they have since clarified all virtual locations on their website (where the physical location does not match the "virtual" location). While there are drawbacks to "virtual" server locations, these are generally only used for remote geographic regions, such as Bhutan or Sri Lanka.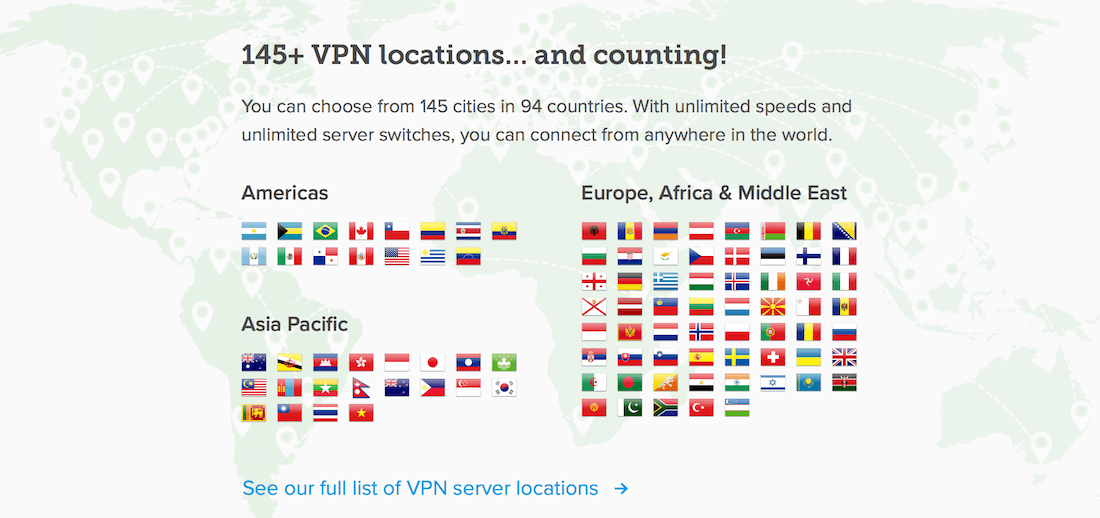 If you want to use IP addresses from remote regions of the world, ExpressVPN would be a decent choice.
You can see all the different locations on the ExpressVPN website.
ExpressVPN support
I tested out ExpressVPN's support repeatedly for this review. In all my interactions I found the support department to be friendly and helpful.
You can get access to 24/7 live chat support directly on their website: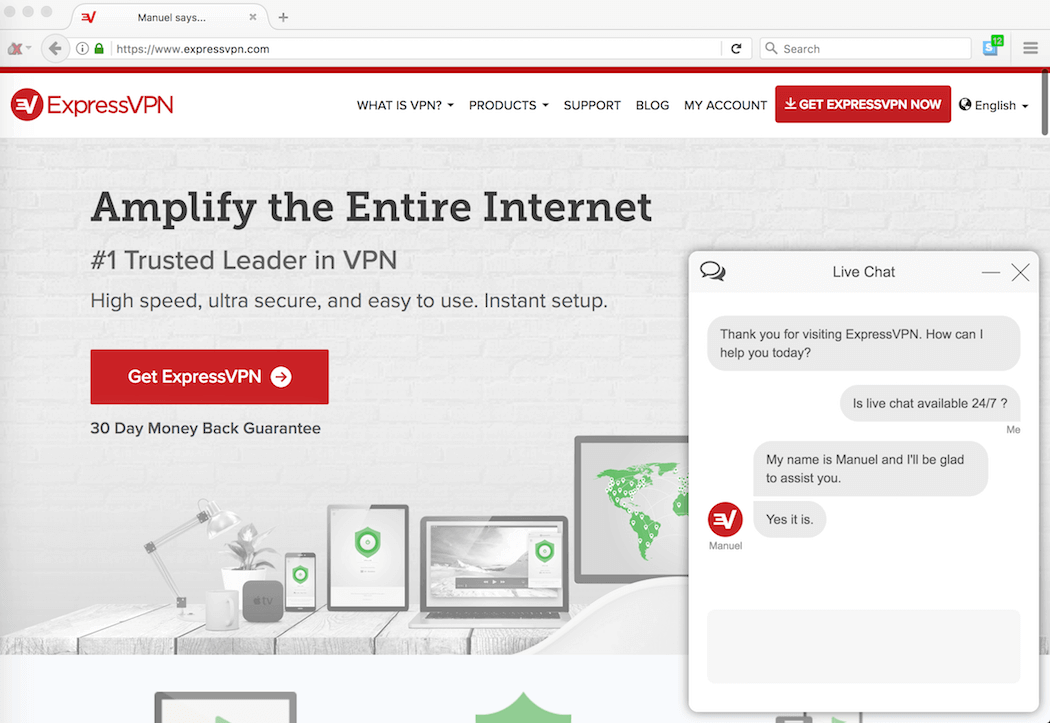 Support with larger VPNs can often be hit or miss.
With ExpressVPN, it seems to be pretty good (as of now).
ExpressVPN alternatives
ExpressVPN has made some great improvements since the last review, and I commend them for this. They have:
Clarified all "virtual" server locations on their website.
Removed all contradictory statements concerning logs.
Reduced the price down to $6.67 per month (with this discount link) – down from $8.32 per month.
While there are still some concerning issues, it is clear that ExpressVPN is moving in the right direction. Nonetheless, you may still want to consider some alternatives:
VPN.ac, which offers more advanced encryption options, a better kill switch, double-hop server configurations, great apps, and a cheaper price (read review).
Perfect Privacy, which has very advanced Windows and Linux clients, an excellent advertisement and tracking blocker, and NeuroRouting. The main drawback is the higher price, but you also get an unlimited number of device connections and a trusted no logs provider (read review).
For more of a discussion on these options, see the Best VPNs guide.
ExpressVPN review conclusion
ExpressVPN has made some great improvements since the last review and overall it is high-quality VPN service. However I also identified some drawbacks: the kill switch does not block all non-VPN traffic, it is somewhat limited on features, and crash statistics are collected through third-party apps.
For some, however, these issues may not be a deal-breaker. ExpressVPN is still a reliable, go-to service with a great reputation. The new discounted pricing and 30 day refund window may be worth it if you are on the fence.
Visit ExpressVPN and Get a 49% Discount >>
---
Alternatives to ExpressVPN: