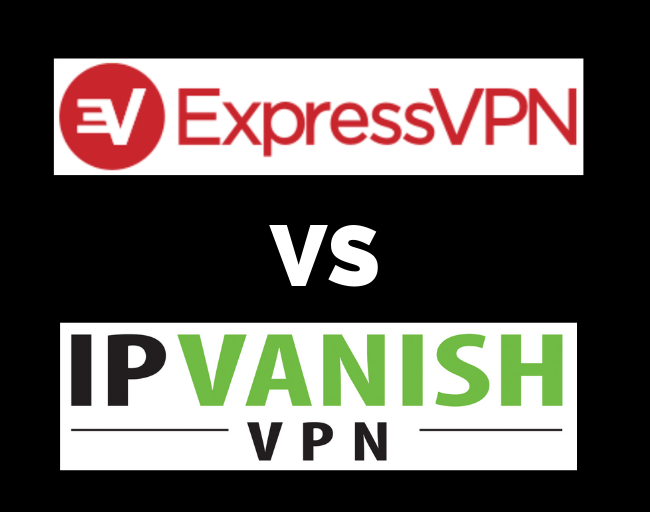 IPVanish and ExpressVPN are both large, well-respected VPN services that are known for speed. To help you decide which VPN is best for you, I put together this 12-part ExpressVPN vs IPVanish comparison guide based on extensive test results and the latest information.
As you'll see with the test results below, there was a clear winner that came out on top in most categories. Here's what we'll cover in this IPVanish vs ExpressVPN comparison:
Speed – Numerous servers tested in Europe and North America
Reliability – Testing the VPN apps on Windows, Mac OS, Android, and iOS
Features – Checking to see if all of the features work correctly
Connections – How many connections come with a subscription?
Security – Do any of the apps leak IP addresses or DNS requests?
Logging policies – What is the logging policy?
Jurisdiction – Where is the VPN located and how does this affect data security?
Torrenting – Which VPN is best for torrenting?
Netflix & streaming – Which VPN is best for Netflix and other streaming services?
Price – Which VPN offers the lowest prices?
Payments & refunds – Payment options and refund policies
Value – Which VPN offers the best value for your money?
Winner: ExpressVPN
The winner in this IPVanish vs ExpressVPN comparison was ExpressVPN. ExpressVPN came out on top in eight categories, two categories were a tie, and IPVanish was the winner in two categories. Now let's examine the test results and comparison categories!
1. Speed test: ExpressVPN vs IPVanish
In terms of speed, both IPVanish and ExpressVPN are very comparable.  Each offers excellent speeds throughout their server networks.
ExpressVPN speed test results
I found ExpressVPN to have consistently fast speeds for all server locations tested.
My baseline (non-VPN) speed for testing was about 100 Mbps and my physical testing location was in Europe. When testing nearby servers with ExpressVPN, speeds were excellent and near my full baseline speed.
Italy server: 94 Mbps

All of the ExpressVPN speed tests that I conducted with nearby servers exceeded 90 Mbps, which is excellent. You can see all the test results in the ExpressVPN review.
Long distance speed tests with ExpressVPN servers in the US and Canada were also great (tested from my location in Germany). Even with latency over 100 ms, I could get nearly 80 Mbps connecting to a US server in Washington DC:

Overall, ExpressVPN is one of the most consistently fast VPNs that I've tested. Now we'll take a quick look at IPVanish speed tests to see how they compare to ExpressVPN.
IPVanish speed test results
IPVanish also did well in the speed category.
Just like with ExpressVPN, IPVanish gave me great speed test results with nearby servers. Here I'm hitting about 95 Mbps with an IPVanish server in Frankfurt, Germany.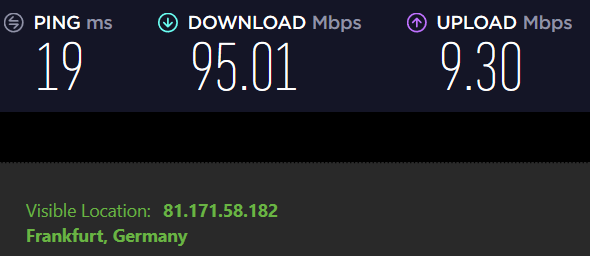 I was able to achieve over 90 Mbps with all nearby IPVanish servers in Europe, including the UK. You can see all the test results in the IPVanish review. Whether you are in Europe or you're looking for the best VPN for the UK, both ExpressVPN and IPVanish offer good speeds for this region.
Now we'll move on to the long-distance test results for IPVanish servers in the US and Canada. Once again, the speeds were comparable to ExpressVPN.
Here I'm testing an IPVanish server in Dallas at about 73 Mbps, which is excellent considering the long distance between me and the server: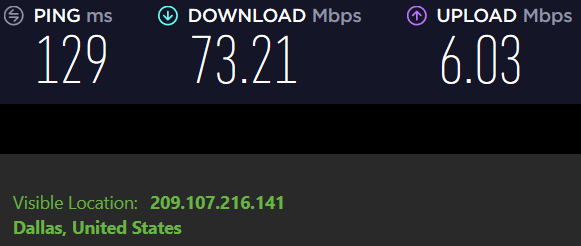 I also tested servers in Canada and other parts of the United States. IPVanish offered consistently fast speeds, all above 70 Mbps, which is impressive. Based on the North America speed test results, both IPVanish and ExpressVPN would be good considerations if you need a VPN for Canada or a VPN for USA.
In previous ExpressVPN vs IPVanish comparisons, ExpressVPN was the winner in the speed category. But with IPVanish's recent improvements, I have to declare this category a tie. Both VPNs offer consistently fast speeds based on the latest test results.
Speed winner: Tie
2. Reliability: ExpressVPN vs IPVanish
Another aspect of performance that is important to measure is reliability, which includes connection stability. After all, speed is not the only factor.
ExpressVPN reliability
When it comes to reliability, I've found ExpressVPN to always be a solid choice. The ExpressVPN apps I tested with Windows, Mac OS, Android, and iOS, simply work well without any issues. Connections are fast, stable, and uninterrupted.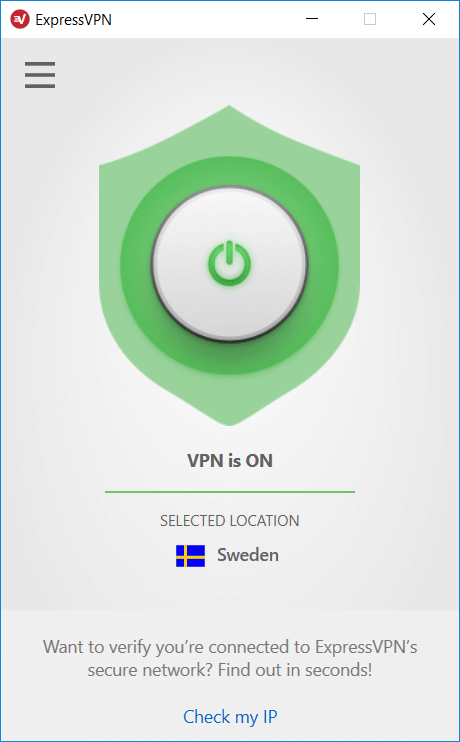 ExpressVPN delivers on reliability. The VPN apps are quick to establish a connection and deliver consistent speeds without interruptions.
IPVanish reliability
Overall I found IPVanish to be very reliable in all testing for the review. However, when testing the apps more for this IPVanish vs ExpressVPN comparison, I did notice some issues.
In general, IPVanish takes a bit longer to establish a connection in comparison to ExpressVPN. The IPVanish Windows app, for example, would sometimes take several seconds to establish a connection: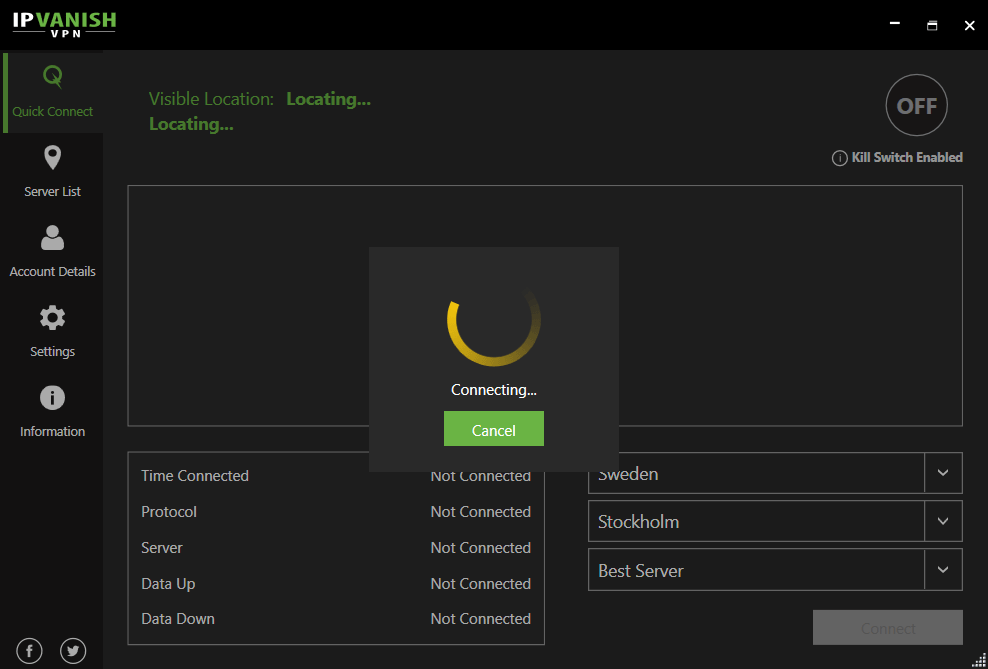 Once IPVanish established a connection, speeds were good, but the IPVanish apps did not offer the reliability as those from ExpressVPN.
Reliability winner: ExpressVPN
3. Features: ExpressVPN vs IPVanish
In terms of VPN features, ExpressVPN comes out on top.
ExpressVPN features
ExpressVPN has a nice lineup of features for different types of users. One popular feature is the split tunneling option, which allows you to manually configure which apps on your computer use the encrypted VPN, while also allowing apps to bypass the VPN. This may be useful with certain applications or situations where you cannot use a VPN. Here I'm using the split tunneling feature with the ExpressVPN Windows app: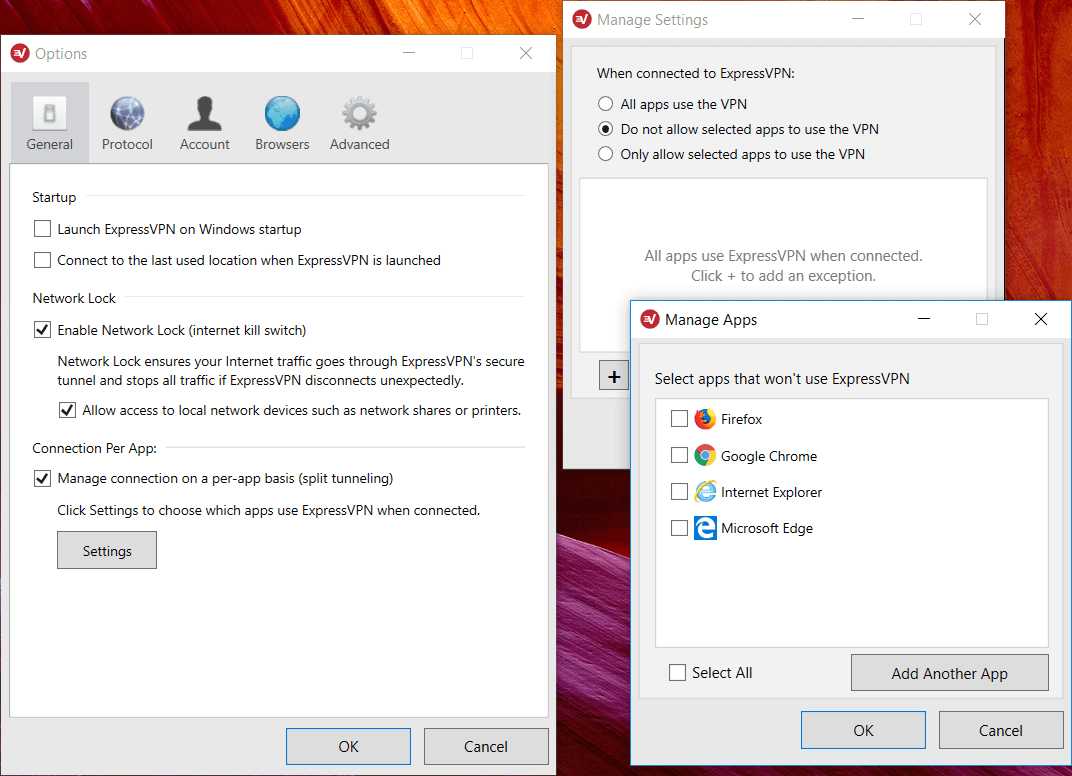 Here are some of the other features you get with ExpressVPN:
Secure, self-hosted DNS (protects you against DNS leaks and third-party DNS snooping)
Obfuscation features (gets around network restrictions and VPN blocking)
Support for Smart TVs and gaming systems (through the MediaStreamer smart DNS feature)
Browser extensions that are open source and integrated with HTTPS Everywhere (available for Firefox and Chrome)
Continuous access to streaming sites (while most other VPNs are getting blocked)
Advanced leak protection for IPv4 and IPv6 leaks, as well as DNS and WebRTC leaks
The obfuscation features are useful in any situation where VPNs are getting blocked, such as those who need a VPN for China.
IPVanish features
In comparison to ExpressVPN, IPVanish is a little light on features. It does not offer any split tunneling feature or browser extensions. With regard to unblocking streaming sites, IPVanish also does not do well, but we'll examine this more below.
Here are the features offered by IPVanish:
Obfuscation feature to defeat VPN blocks (they refer to this as "Scramble")
IP and DNS leak protection (but no WebRTC leak protection)
Kill switch to block non-VPN traffic
IPVanish is somewhat limited on features in comparison to ExpressVPN.
Features winner: ExpressVPN
4. Connections: ExpressVPN vs IPVanish
In the connections category there is a big difference, with IPVanish coming out on top.
As discussed in my review of IPVanish, it is a great VPN if you need a lot of connections. As described on the IPVanish website, you can have "10 simultaneous connections on multiple devices." This is one of the best connection policies you'll find anywhere, although there are a few VPNs that offer an unlimited number of connections, such as with Perfect Privacy.
ExpressVPN offers only three simultaneous connections, a big difference from IPVanish:
With a single subscription, you can connect three devices to ExpressVPN at the same time, regardless of platform (including virtual machines). In short, you can install ExpressVPN on any number of devices, but only three devices can be connected at any one time.
The key word here is simultaneous i.e. how many simultaneous connections do you plan on using? For most people, using more than one or two simultaneous connections is not realistic. If you have numerous people in your household that plan on using the VPN, this may be a consideration.
Connections winner: IPVanish
5. Security: ExpressVPN vs IPVanish
I also ran both IPVanish and ExpressVPN's apps through a number of different tests to check for IP address leaks and DNS leaks. Both did well.
IPVanish test results – With IPVanish, I did not find any leaks with the Windows, Mac OS and Android apps. Here is one test with the Windows app for the IPVanish review: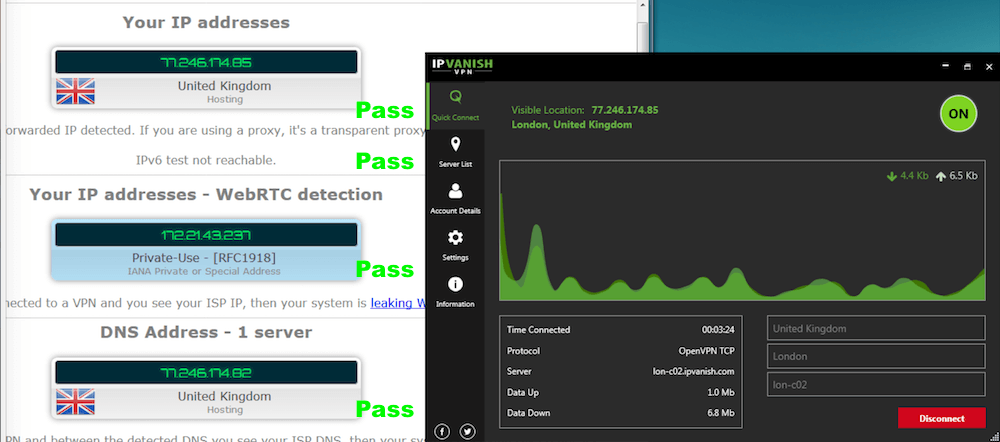 I also tested the kill switch to see if it effectively blocked traffic when the VPN connection dropped. Everything worked well.
ExpressVPN test results – ExpressVPN also passed all security tests. There were no leaks or security issues identified with any of the apps.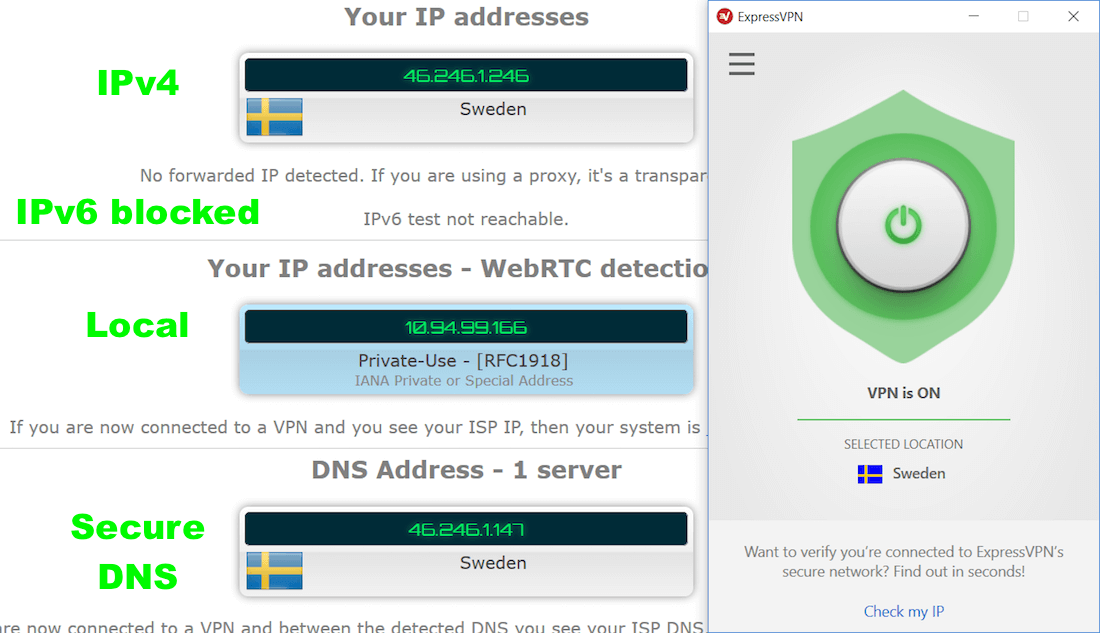 In comparison to IPVanish, I liked ExpressVPN's kill switch feature better, which they call "Network Lock". The Network Lock also alerts you when the connection has been interrupted and the feature is active.
Encryption – Both ExpressVPN and IPVanish use the OpenVPN protocol with 256-bit AES encryption by default in their apps.
Security winner: Tie
6. Logging policies: ExpressVPN vs IPVanish
Even though ExpressVPN and IPVanish both claim to have "no logs" policies, each has a unique history with their logging claims. First we will start with the good, before moving on to the not-so-good.
ExpressVPN – ExpressVPN is one of the few verified no logs VPN services.
We discuss this in the no logs VPN guide more, but basically, ExpressVPN's logging claims were proven when authorities in Turkey tried to force ExpressVPN to hand over customer data. After ExpressVPN refused, authorities then seized one of ExpressVPN's servers in Turkey, but they still weren't able to obtain any customer data.
This case with ExpressVPN proved that:
ExpressVPN is truly a no logs VPN provider.
ExpressVPN does not cave in to government agencies demanding user data.
ExpressVPN servers do not contain any data that could de-anonymize users.
You can get more information on this and other examples in the no logs VPN guide.
IPVanish – Unfortunately, the logging case with IPVanish is not so reassuring. In 2018, news broke about IPVanish logging one customer's connection data and providing this to US authorities who were investigating a crime.
When I reached out for comment on the case, IPVanish explained that this was from a case in 2016, when it was under different ownership and management. Here is the statement IPVanish gave me, which references the new owner of IPVanish (StackPath):
That court case was from 2016 – long before StackPath acquired IPVanish in 2017. IPVanish does not, has not, and will not log or store logs of our users as a StackPath company. We can't speak to what happened on someone else's watch, and that management team is long gone. In addition to not logging, StackPath will defend the privacy of our users, regardless of who demands otherwise.
For those who want a true no logs VPN provider that has been verified, ExpressVPN would be the better choice.
Logging policy winner: ExpressVPN
7. Jurisdiction: IPVanish vs ExpressVPN
Jurisdiction is a big factor for most people when choosing a good VPN service, and in this area, ExpressVPN and IPVanish are very different.
IPVanish jurisdiction: United States
IPVanish is based in the United States, which is a member of the infamous Five Eyes surveillance alliance. This is indeed a drawback because it puts IPVanish (and its customers' data) under the jurisdiction of the United States. On a positive note, however, because IPVanish is officially a no logs VPN service, there should not be any data available.
ExpressVPN jurisdiction: British Virgin Islands
Unlike with IPVanish, ExpressVPN is based in a good jurisdiction that respects privacy. The British Virgin Islands are an independent country in the Caribbean, with a long history of privacy and secrecy. This further ensures data security for ExpressVPN customers. ExpressVPN takes this category by a long shot.
Jurisdiction winner: ExpressVPN
8. Torrenting: IPVanish vs ExpressVPN
In terms of performance, both IPVanish and ExpressVPN are good choices for torrenting. They both are exceptionally fast and have secure apps. Either should be a good choice for torrenting large files over extended periods of time.
One important caveat, however, is with the jurisdiction. Because IPVanish is based in the US, it is subject to strict DMCA copyright violation laws. This means it is legally obligated to prevent and mitigate copyright infringement on its network. IPVanish gets around this issue by having a zero logs policy, which prevents it from acting on any DMCA complaint. Nonetheless, the US jurisdiction is a drawback for torrenting.
With ExpressVPN being located in the British Virgin Islands, it is not subject to any copyright infringement legislation. ExpressVPN is not legally obligated to act on any DMCA request or copyright action against their users. You can also check out the best VPN for torrenting guide for additional details.
Torrenting winner: ExpressVPN
9. Netflix and streaming: IPVanish vs ExpressVPN
In terms of streaming Netflix, there is one VPN that always works, and another that almost never works (and they admit this).
ExpressVPN is arguably the best VPN for Netflix. It consistently works with Netflix and provides excellent speeds for HD streaming, no matter where you are located. Here I'm accessing American Netflix through an ExpressVPN server in Washington, DC from my location in Europe: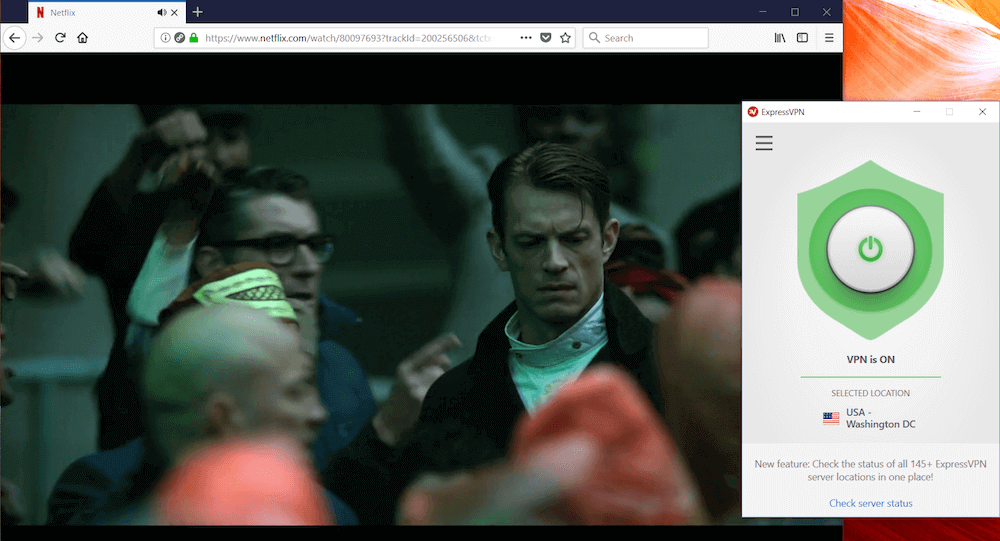 IPVanish, on the other hand, is not a good VPN for Netflix, and they openly admit this. When I chatted with an IPVanish service representative asking why I could not access Netflix on any IPVanish server, he stated:
Netflix has been very vigilant recently in trying to block our services.
IPVanish has never been a good choice for Netflix streaming.
Netflix winner: ExpressVPN
10. Price and value: IPVanish vs ExpressVPN
In terms of price, IPVanish has a slight edge over ExpressVPN.
IPVanish offers the following three pricing tiers when you use this discount coupon. (The cheapest price for IPVanish without the coupon is $6.49/month with the 1-year plan.)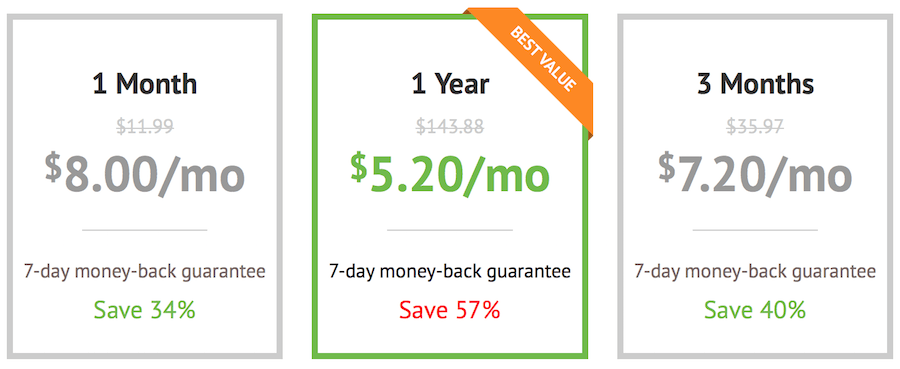 IPVanish's prices are about average, coming in slightly above NordVPN (another popular VPN service), but also below ExpressVPN as we'll examine below. (You can see the latest deals on the IPVanish coupon page.)
ExpressVPN is slightly more expensive than IPVanish, even when you use the 49% discount coupon, which also includes three months free. (The cheapest price for ExpressVPN without the coupon is $8.32 per month.)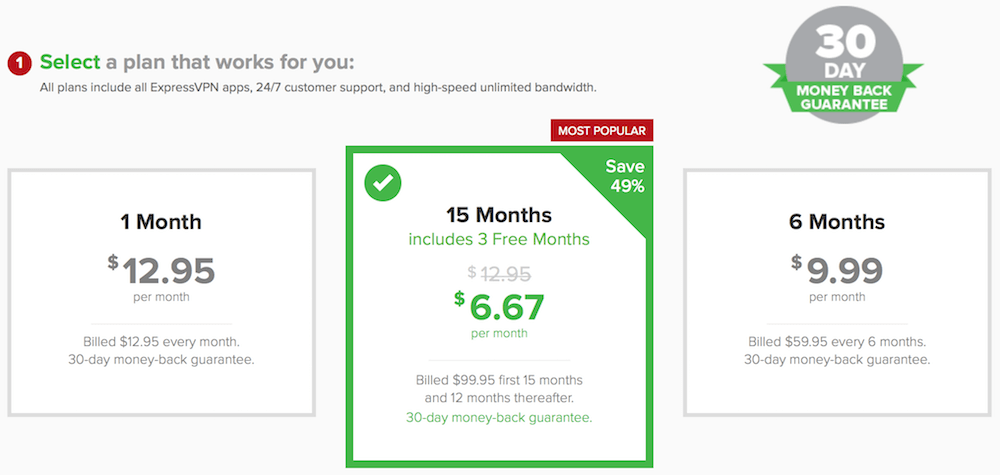 (See my ExpressVPN coupon guide for more of a discussion about coupons, discounts, and trials.)
Looking at price alone, IPVanish comes out on top, but we'll also examine the question of value at the end.
Price winner: IPVanish
Free trials? Neither IPVanish nor ExpressVPN offers a completely free trial. One other option, however, is NordVPN, which offers a 7 day trial, as I explain in the NordVPN coupon guide. (See also the free trial VPN guide.)
11. Payments and refunds: IPVanish vs ExpressVPN
There is another clear winner in terms of payment options and refund policies, and that is ExpressVPN.
ExpressVPN payment options and refunds
ExpressVPN supports all major payment options, including numerous credit cards, PayPal, Bitcoin, as well as other payment processors: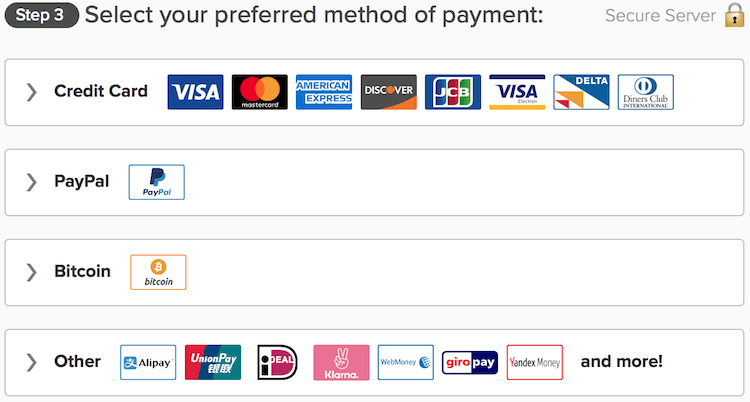 All payment options are entitled to the full 30-day refund, including Bitcoin.
ExpressVPN refund policy – ExpressVPN offers a 30 day money-back guarantee, which does not include any hidden clauses or exceptions. The refund policy/money-back guarantee is very straightforward: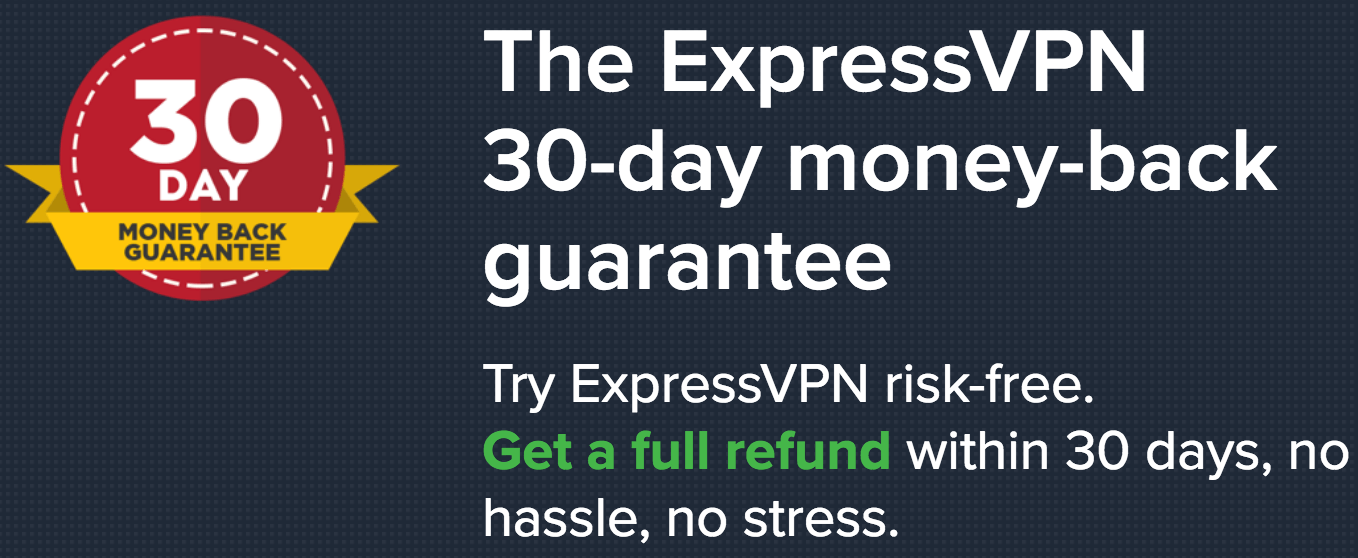 This is the best refund window you will find in the VPN industry, where seven days is the norm. You can get all the details on the ExpressVPN website here.
Support – ExpressVPN provides 24/7 live chat support.
IPVanish payment options and refunds
IPVanish also offers a variety of payment options, but they do not support any type of cryptocurrency payments, such as Bitcoin:

As I explained in my review of IPVanish, they dropped the option to pay with Bitcoin due to high transaction fees and fluctuating Bitcoin prices.
IPVanish refund policy – IPVanish offers a 7 day money-back guarantee on all of their subscriptions. This is the standard refund window for the VPN industry, but it also significantly shorter than ExpressVPN's 30 day return window. You can get more details about the refund on the IPVanish website here.
IPVanish support – IPVanish provides email support and a customer service hotline during US business hours (Monday – Friday).
ExpressVPN offers more payment options and a much longer refund window.
Payments and refunds winner: ExpressVPN
12. Value: IPVanish vs ExpressVPN
Last up we have the question of value: Does IPVanish or ExpressVPN offer the best value for your money?
IPVanish is cheaper, it offers good speeds, and comes with 10 connections per account, but it is also has some drawbacks. In comparison with ExpressVPN the drawbacks outweigh the pros:
Less reliable than ExpressVPN
History of logging user data (see IPVanish logs case)
Based in the US (bad privacy jurisdiction)
Blocked by Netflix and other streaming services
7 day refund policy, with limited payment options
In comparison to IPVanish, ExpressVPN also has a few cons, such as fewer connections (three simultaneous connections) and it is slightly more expensive. On a positive note, ExpressVPN does have many benefits:
Premium speeds and reliability
Lots of features
Continues to work with Netflix and other streaming services
Excellent no logs policies, company jurisdiction, and solid track record
24/7 live chat customer support, with a 30 day money-back guarantee (no questions asked)
Considering all factors, I would argue that ExpressVPN offers the better value.
Value winner: ExpressVPN
ExpressVPN vs IPVanish conclusion
Here is a quick recap of the results for this ExpressVPN vs IPVanish comparison:
Speed – Tie
Reliability – ExpressVPN
Features – ExpressVPN
Connections – IPVanish
Security – Tie
Logging Policies – ExpressVPN
Jurisdiction – ExpressVPN
Torrenting – ExpressVPN
Netflix & Streaming – ExpressVPN
Price – IPVanish
Payments & Refunds – ExpressVPN
Value – ExpressVPN
Overall winner: ExpressVPN
As is clear from all test results and analysis, ExpressVPN is the clear winner in the ExpressVPN vs IPVanish competition.
Whichever VPN you decide to go with, be sure to get the best prices using the following discount links:
Coupon to get 49% off ExpressVPN and 3 months free
Coupon for 20% off any IPVanish subscription plan
And if you want to check out additional VPN providers, you can see the latest recommendation in the best VPN report.
---
Last updated on July 18, 2019 with the latest test results and information.