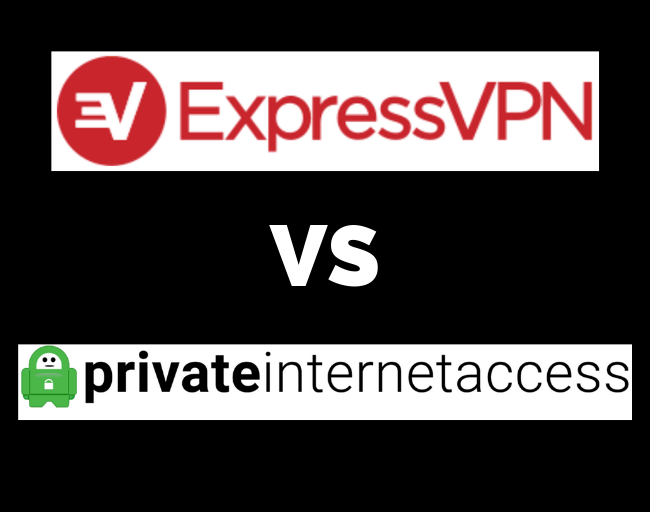 ExpressVPN and Private Internet Access are both popular VPN services with many users around the world. With that being said, I'm only recommending one in this ExpressVPN vs PIA comparison, because there's a clear winner.
Important updates to this guide:
In a surprising move, Private Internet Access has been acquired by Kape Technologies, a company with a history of producing malware and adware (explained more below).
New speed tests between Private Internet Access and ExpressVPN reveal a clear winner in every location tested.
Here are the different categories we're going to examine in this ExpressVPN vs PIA comparison:
Company and jurisdiction
Speed
Reliability
Price
Features
Support
Streaming
Security
Let's get started.
1. Company and jurisdiction: PIA vs ExpressVPN
The big news in this category is the merger between Private Internet Access and Kape Technologies. I covered this issue in a separate article, but some of the alarming issues I found were:
Kape (formerly Crossrider) is a company known for producing malware and adware (not respecting privacy and security)
Kape plans to change its name (again) to "Private Internet" when the merger is complete

While some people may not see a problem with this merger, the fact that Kape has such a dodgy history has prompted some PIA users to cancel their subscriptions.
PIA Jurisdiction: PIA is based in the United States. The US is a Five Eyes country and that is not good for privacy. There have also been numerous cases of US tech companies being forced to log and hand over customer data, while also being prohibited from disclosure due to gag orders. The US and UK are probably the two worst jurisdictions for privacy in the world.
Unlike PIA, ExpressVPN has not announced any mergers or acquisitions with other cybersecurity companies. It is a big provider in the VPN space and I do not see it getting bought out or merging anytime soon, but you never know what could happen.
ExpressVPN Jurisdiction: ExpressVPN is based in the British Virgin Islands. The BVI is a great offshore jurisdiction is not a member of any surveillance alliances, while also being politically and legally independent from external influence.
Company and jurisdiction winner: ExpressVPN
2. ExpressVPN vs PIA speed tests
After extensively testing both services for the respective reviews, there is a clear winner in terms of VPN speeds, and that is ExpressVPN.
All speed tests were carried out using OpenVPN with 256-AES encryption on a 160 Mbps wired ethernet connection. First we'll examine tests with nearby PIA and ExpressVPN servers.
Here is a nearby ExpressVPN server in Switzerland at 150 Mbps:

I also tested nearby PIA servers, such as this one in Austria that gave me about 85 Mbps:

Next I tested servers in the United Kingdom.
Here is an ExpressVPN server in the UK, again giving me about 147 Mbps:

With Private Internet Access, my speeds were about half as fast as ExpressVPN.
Here's a Private Internet Access server in the UK, but with only about 65 Mbps:

This isn't horrible, but it's certainly not the best VPN for the UK in terms of speed.
Additionally, I also tested a few servers in the United States, but again, ExpressVPN was considerably faster.
Here is an ExpressVPN server in New York at 141 Mbps:

In comparison, here is the PIA server in New York at about 63 Mbps:

When comparing Private Internet Access to ExpressVPN, there was a clear winner in terms of speeds. ExpressVPN was consistently faster than PIA and offers the best speeds.
These test results also line up with user feedback I have received via comments and emails. ExpressVPN is consistency faster than Private Internet Access, although PIA also does not have horrible speeds. If performance is your top priority, then ExpressVPN would be the one to go with.
Winner for speed: ExpressVPN
3. Is PIA or ExpressVPN more reliable?
When discussing reliability, I consider the following areas:
Apps – Do the VPN apps suffer from bugs or crashes?
Connections – Are the connections reliable, or does the VPN client randomly disconnect?
Speeds – Are speeds consistent?
First we'll look at ExpressVPN.
ExpressVPN is definitely a reliable VPN service. The applications are very stable and do not suffer from dropped connections, buts, or crashes. In short, everything just works.
Here is a screenshot of the ExpressVPN Windows client I tested out.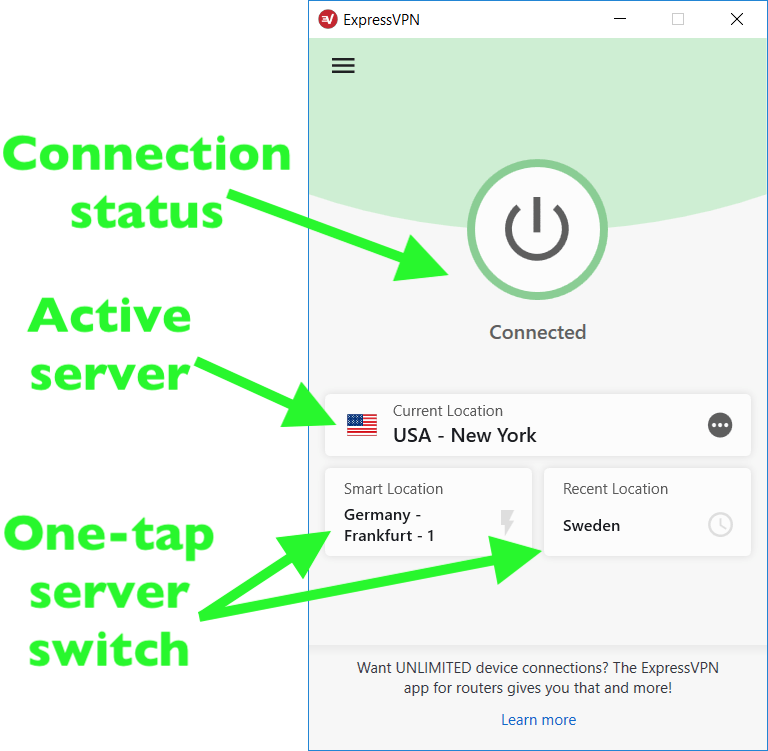 And as we already covered above, speeds are very consistent. Now let's examine PIA in terms of reliability.
PIA reliability – PIA is also pretty reliable. In the latest PIA review, I found the applications to work well without any bugs, crashes, or other problems. Below I'm adjusting preferences on the PIA client.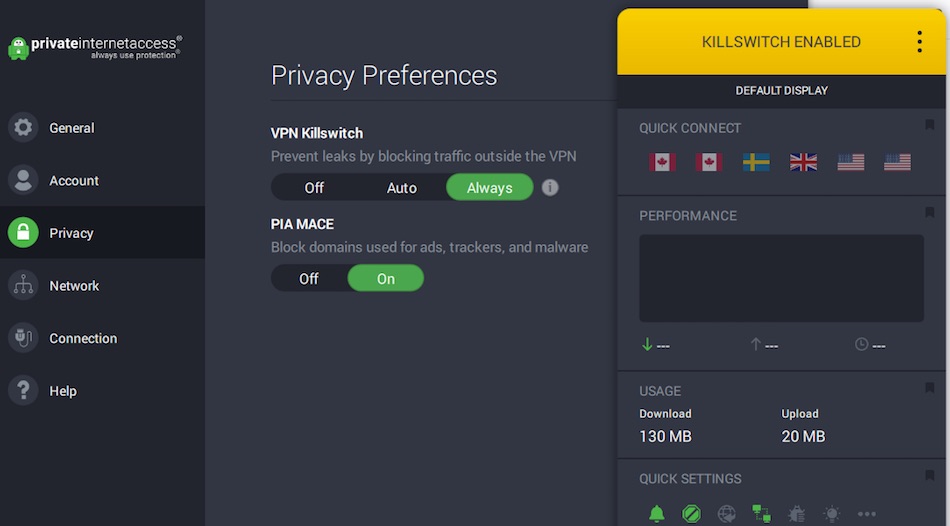 While speeds weren't as fast as ExpressVPN, Private Internet Access still has consistent and reliable performance. Therefore in the reliability category, it's a tie between ExpressVPN and PIA.
Winner for reliability: Tie
4. PIA vs ExpressVPN: prices and refund policies
Below we will examine the prices and refund policies. While it is clear that ExpressVPN is the more expensive option, the key question is always value (what you get for your money).
Private Internet Access price
PIA is certainly cheap, with their current discount pricing that drops the monthly rate down to $3.49 with the two-year subscription plan:

In terms of value, PIA is also not a bad choice. While the VPN is fairly limited and basic, the price is also quite reasonable, especially with the two-year plan. It is a simple and cheap VPN, rather than a premium product.
PIA refund policy – Private Internet Access gives you a 7 day money-back guarantee. This is significantly shorter than ExpressVPN, which offers a 30 day money-back guarantee on all plans, including monthly subscriptions.
ExpressVPN price
ExpressVPN is without a doubt more expensive, with their default subscription coming in at $8.32 per month for the annual plan. Fortunately, they are also offering an ExpressVPN discount coupon that includes three months free and drops the price down to $6.67 per month. The coupon will be automatically activated when you click this discount link, which gives you the following prices on the checkout page.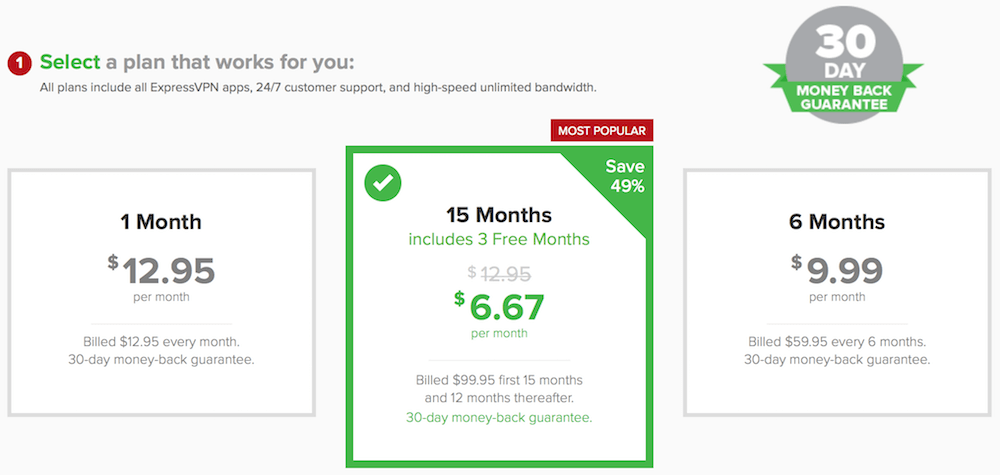 While ExpressVPN is more expensive, when you consider the overall app quality, security, speed, and access to all major streaming sites (covered below), it does offer a better value in my opinion.
ExpressVPN refund policy – ExpressVPN offers a 30 day money-back guarantee. The refund is a "no questions asked" policy and does not include any hidden exceptions or clauses. This is the best you will find in the VPN industry.
Winner: Tie (PIA is cheaper, but ExpressVPN offers the best value and refund policy.)
5. Features: ExpressVPN vs Private Internet Access
Both ExpressVPN and Private internet offer some decent features, but there is a winner in this category.
PIA features – The main features with Private Internet access are:
PIA MACE, which is a basic ad blocker
Kill switch (IP leak and DNS leak protection)
PIA claims to work with different streaming services, but I've found it to get blocked (more on this in the streaming section).
ExpressVPN features – The main features with ExpressVPN are:
Split tunneling (available on Windows, Mac OS, and the routers application)
Kill switch and leak protection (IPv4, IPv6, and DNS)
Obfuscation features (configured to break through restrictive networks, such as China and anywhere else that VPNs may be blocked)
Large selection of applications for all devices
And while it is not necessarily a "feature" per se, it is important to note that ExpressVPN is one of the few VPNs that still works with Netflix and other streaming services. Furthermore, it earned the title as the best VPN for Kodi because it offers great apps that you can use on any device. The high-performance network is also important for streaming, which is where ExpressVPN really delivers.
The obfuscation features are also important if you need a good VPN for China, where VPNs are routinely blocked. In this area, PIA is not an option, but ExpressVPN continues to work with obfuscated servers.
Winner with features: ExpressVPN
6. Does PIA or ExpressVPN have better support?
The support category is a big factor to consider. For those who may want help setting up and configuring their VPN, this can be a deciding factor.
In the support category, ExpressVPN is the clear winner.
ExpressVPN provides 24/7 live chat support directly available through the website (no login required). I've tested the support on various occasions and found it to be professional and prompt (no long wait times).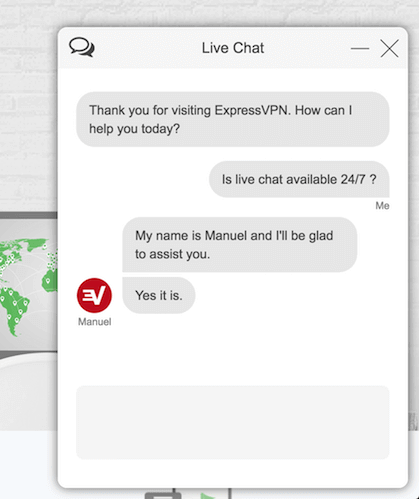 If you want a VPN service that offers great support, ExpressVPN would be a good choice.
PIA support – Unlike ExpressVPN, Private Internet Access does not offer live chat support. Your only option for reaching someone from the support department is through email or perhaps through social media. On a positive note, I found PIA support staff to be fairly responsive, replying to my email within 24 hours. But in some cases, it took some back-and-forth to get to the root of the issue, which lasted a few days before getting fixed.
One big drawback I found, however, is that my refund took a long time to process. My request had to go through multiple people with long delays.
In the past, I have seen many complaints about PIA support, but they seem to have improved that area over the past year. Nonetheless, ExpressVPN is still the clear winner in the support category.
Support winner: ExpressVPN
7. Streaming: Private Internet Access vs ExpressVPN
Many people are turning to VPN services to unblock streaming websites, such as Netflix, Amazon, or Hulu. As an expat who watches Netflix, this is an area where I'm regularly testing VPNs.
First up is PIA. I found that Private Internet Access could not unblock Netflix. Here you can see Netflix is blocking me when connected to a PIA server in the US.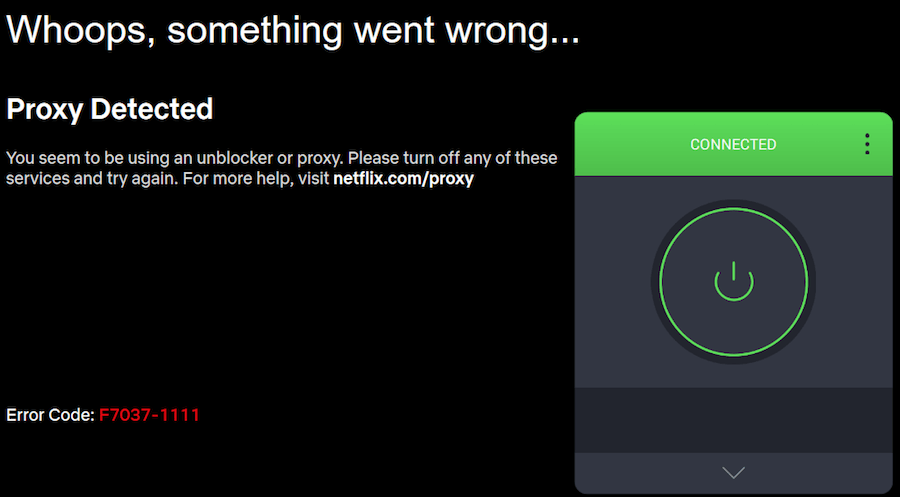 While PIA now claims to be a good VPN for streaming, my results say otherwise.
Next up is ExpressVPN. ExpressVPN was able to unblock Netflix for me without any issues. The streaming quality was perfect and there were no problems with playback.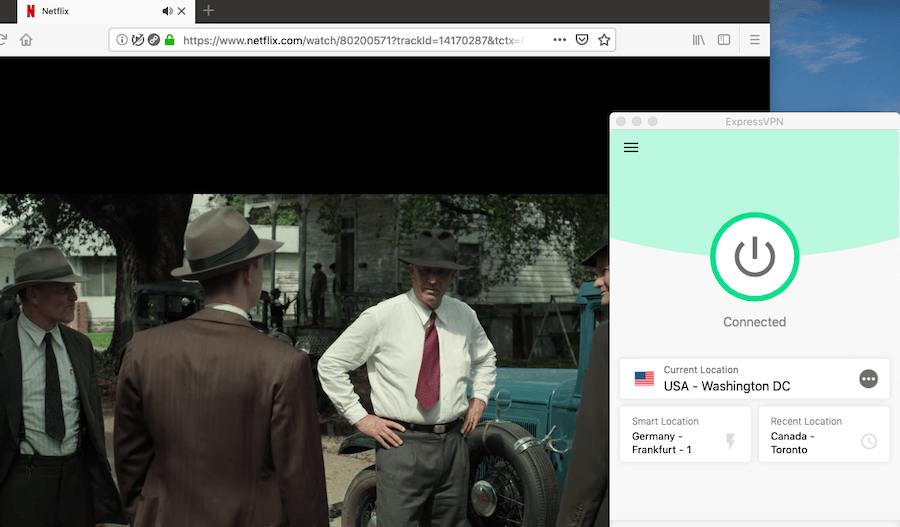 ExpressVPN is currently the best VPN for streaming Netflix that I have tested and personally use.
Streaming winner: ExpressVPN
8. Security: ExpressVPN vs PIA
Both PIA and ExpressVPN do well in terms of security.
ExpressVPN utilizes very strong encryption standards: an AES 256-bit cipher with a 4096-bit RSA key and SHA-512 HMAC authentication. ExpressVPN apps also utilize the "Network Lock" kill switch feature we discussed earlier.
For servers, ExpressVPN runs all servers in RAM-disk mode, which they call the TrustedServer feature. This offers a higher level of security over standard hard drives.
PIA also provides strong encryption standards, but also allows the user to modify data encryption, authentication, and handshake. Below you can see the encryption preferences in the PIA client.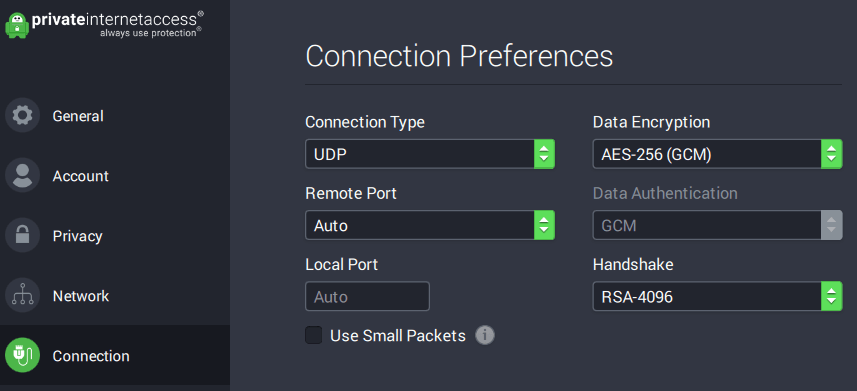 While the customization may appeal to some users, PIA does not offer stronger encryption or more security over ExpressVPN. In fact, one can utilize a lower level of encryption with PIA.
PIA also does not run all servers in RAM-disk mode. ExpressVPN is the winner for this category.
Security winner: ExpressVPN
Conclusion: ExpressVPN wins
The clear winner of this ExpressVPN vs PIA comparison is ExpressVPN.
Despite being more expensive, I still think it offers a better value, especially when you consider the overall quality of the applications, excellent reliability, and great speed throughout the VPN server network.
Here's a recap for each category in this Private Internet Access vs ExpressVPN comparison:
Company and jurisdiction – ExpressVPN
Speed – ExpressVPN
Reliability – Tie
Prices and Refunds – Tie (PIA is cheaper, but ExpressVPN has the best refund policy)
Features – ExpressVPN
Support – ExpressVPN
Streaming – ExpressVPN
Security – ExpressVPN
Consequently, I would recommend going with ExpressVPN if you can afford it. They do have a coupon for those interested:
ExpressVPN Coupon
Sign up for the 12 month plan, and get 3 months FREE (49% Off)
Get Three Months Free + 49% Off ExpressVPN >>
(Discount is applied automatically through the link above.)
If you want to give Private Internet Access a try, you can also get the discount pricing with the two-year plan.
Perhaps you are still on the fence and want to consider other options. If that is the case, be sure to check out the latest test results of the best VPN services.