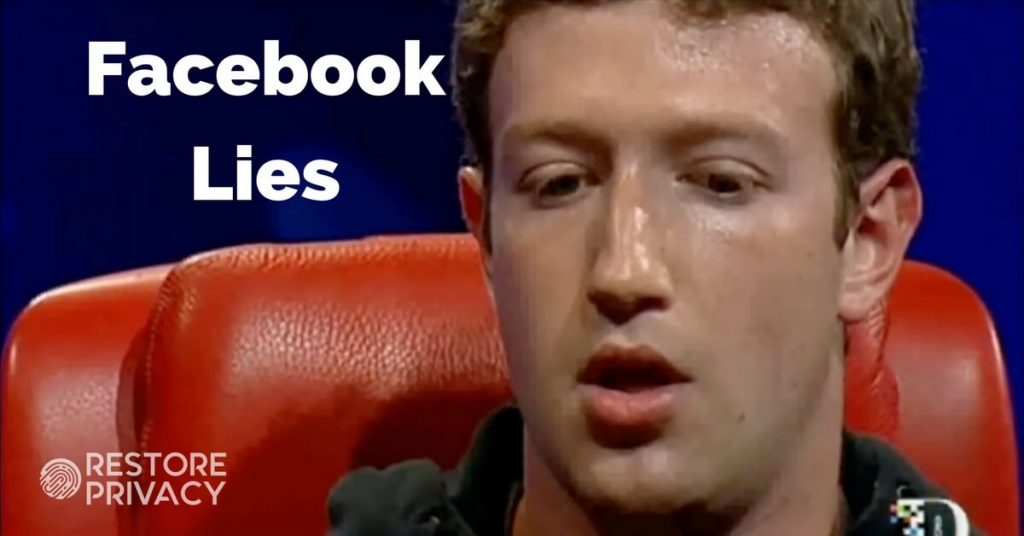 There seems to be a lot of angst and shock with the latest Facebook scandal involving a British political consulting firm called Cambridge Analytica. The media is whipping people into a frenzy, but at the same time missing the bigger picture.
Readers of Restore Privacy should be able to see through the manufactured noise with this latest scandal.
Facebook has always been a platform built for data collection – and nothing will change that.
Edward Snowden put it well when he described Facebook as a surveillance company rebranded as "social media". The biggest joke with Facebook is that Zuckerberg and company will continue to fool billions of people into using their data collection service while laughing all the way to the bank.
The truth is that your data is the lifeblood of Facebook. If Facebook suddenly stopped collecting your private data and sharing it with third parties, then it would cease to exist as the second largest online advertiser (behind the other giant data collector, Google).
And aside from advertising, Facebook is an extremely powerful tool used for government surveillance. It is a documented fact that Facebook has been cooperating with the US government since 2009 for surveillance – see the PRISM program.
Therefore the truth is actually quite clear: Facebook is a company that is entirely built to violate your privacy to fulfill both corporate and government objectives.
Mark Zuckerberg has been lying to you for years.
Mark Zuckerberg is lying to you
With the latest scandal, Zuckerberg has been making the rounds attempting to do damage control and convince people that Facebook somehow cares about privacy or something. Apparently, he has also agreed to testify before Congress regarding the latest fiasco.
But rather than paying attention to any of this noise, your time would be better spent seeing how Zuckerberg is lying to you.
I came across the video below, which does a good job analyzing Mark Zuckerberg's body language and deception tactics. The second half of the video is especially interesting, where Zuckerberg breaks out into a profuse sweat and begins nonsensical rambling when asked a simple question about privacy.
Update: YouTube has censored this video and deleted the creator's account. I was able to find a copy and download it to the site for your viewing:
Video credit: This video was originally posted by "Lombard Body Language", whose YouTube account was deleted.
It is clear that Zuckerberg has trained himself to carefully craft his talking points, body language, and lies. You will see the same tactics anytime Zuckerberg is interacting in front of a camera – especially if he is lying about Facebook and privacy issues.
The guy is lying through his teeth.
Facebook will never change
Facebook exists to spy on you.
It is just as much a part of the surveillance state as the NSA and GCHQ, although it fulfills a different role and also makes tons of money at the same time. If it wasn't serving as a data collection tool, then Facebook would simply cease to exist.
Therefore Facebook will never change because it cannot change.
Don't be confused with all the noise in the media. Don't ponder whether Zuckerberg and company "care" about your privacy. Don't waste time trying to somehow make Facebook more private.
The only solution is to delete Facebook and never go back.
But even that's not really a solution because evidence suggests that Facebook never deletes your data.
Even worse, we know that Facebook is creating shadow profiles to track and monitor people who don't even use Facebook. This is done through advanced tracking and Facebook mining the data of your friends and acquaintances to get information on you.
There is no way to "opt out".
The only real solution is to prevent third parties from acquiring your data through better online privacy measures.
Facebook won't stop tracking you and collecting data. Google will not start caring about your "right" to privacy. Government agencies will continue spying on you through all means available, including your internet service provider. Surveillance is all about control – and nothing will be changing with Facebook.
But the choice is yours. You can surrender your data and suffer the consequences or you can start taking basic steps to restore your privacy and stay safe online. If this is new to you, check out the Simple Online Privacy guide or the Privacy Tools page to get started.
Stay safe and be smart.
You are being watched.
---