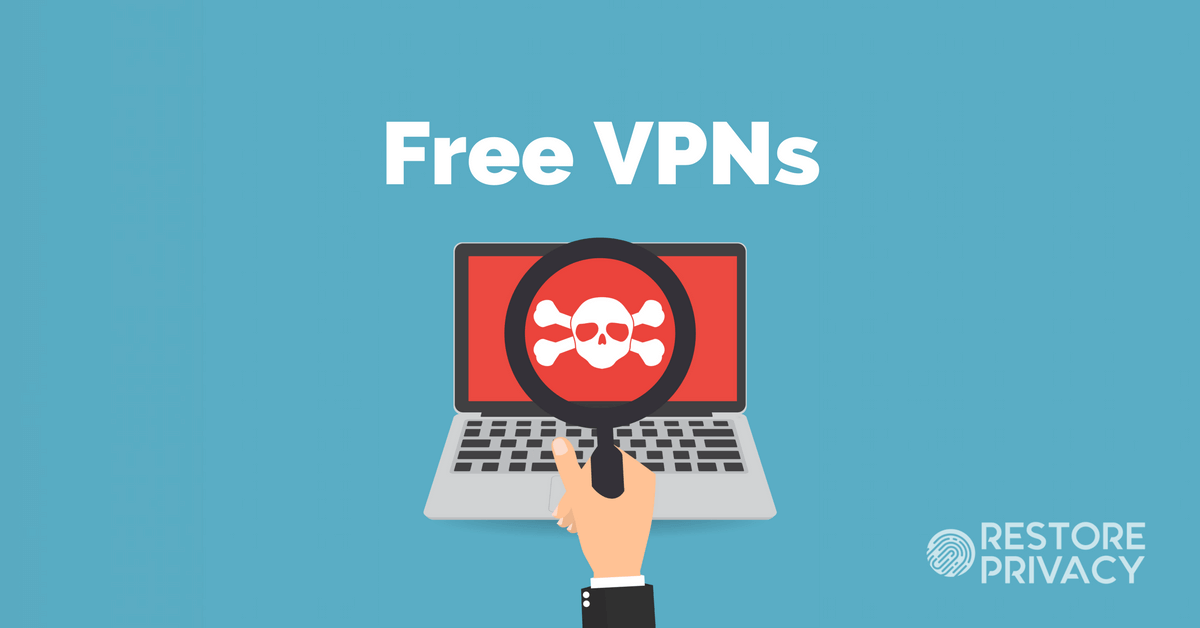 Are free VPNs safe?
In general, the answer is no.
My testing and research has found that free VPNs are a privacy and security nightmare.
With the troubling developments in government and corporate surveillance, more people are looking for solutions and privacy tools.
Unfortunately many of these "solutions" will actually make you less secure while endangering your online privacy. Scammers and shady VPN companies from around the world are cashing in on the growing interest in online privacy – offering dangerous products that steal your data.
The problem is that most people simply don't know what to watch out for. This guide aims to shed some light on the dangers and risks of free VPNs, while also giving you some better alternatives.
Here are the seven hidden dangers of free VPNs.
#1 Embedded malware
Malware can come in many different forms – but at the end of the day it's all about making money off you and your data. Malware hidden inside VPNs can steal your data, which can then be used to:
hit you with targeted ads and spam emails
hijack your online accounts
steal your money (bank and credit card details)
steal your digital goods or products
lock or encrypt your devices in exchange for a payout (ransomware)
The number of free VPNs containing malware is truly frightening. The CSIRO study found that nearly 40% of free Android VPNs contain malware. Even worse, many of the most dangerous free VPNs are highly rated and trusted by millions of people.
Here is one such example that I recently tested using VirustTotal.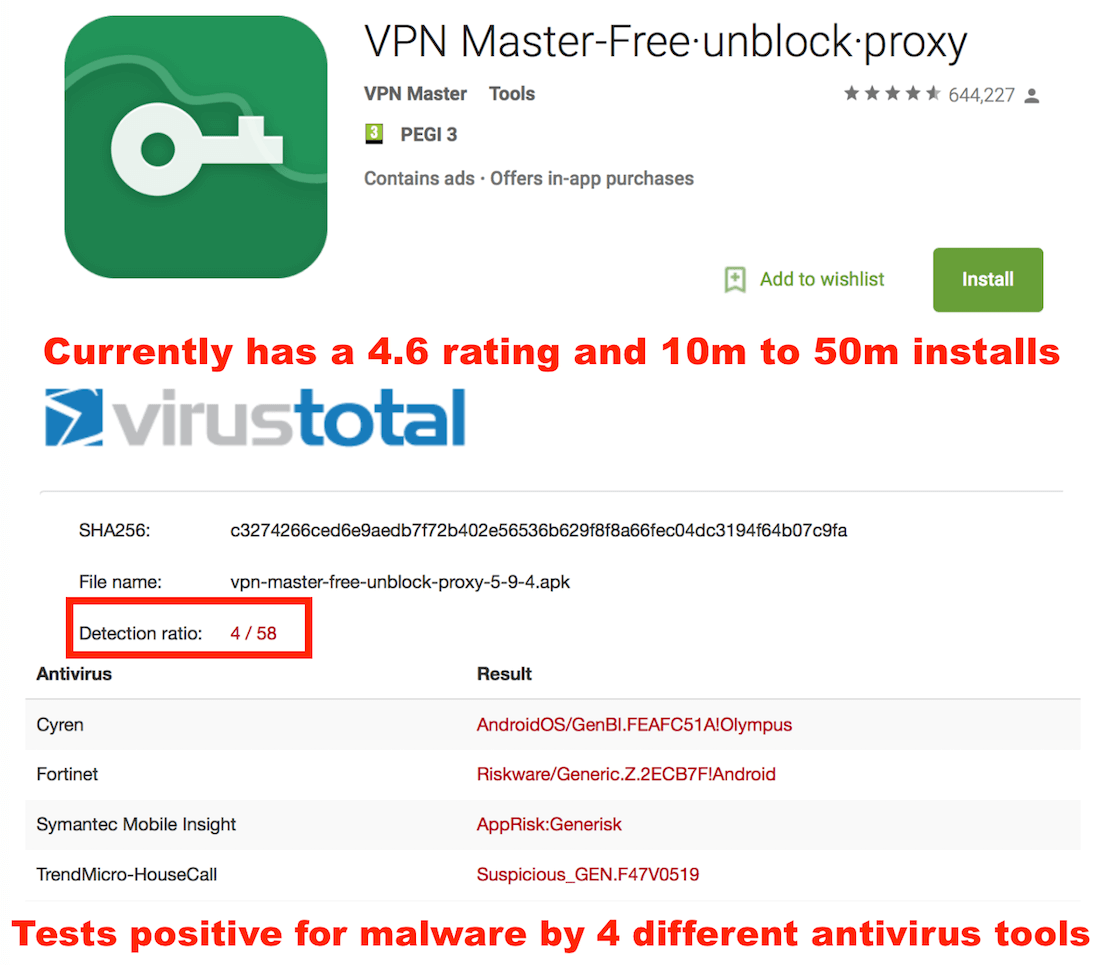 Millions of people are trusting free VPNs to protect their privacy and secure their devices.
But testing results show that these free VPNs are dangerous to use and a serious threat to your privacy and security (but most "reviews" will never tell you that).
#2 Hidden tracking
Just like with malware, hidden tracking aims to collect your private data, which can then be sold to third parties. The CSIRO study analyzed 283 VPNs and found that 75% of free VPN apps contained tracking.
Let's examine one example.
Betternet's Android VPN app, for example, was found to contain 14 different tracking libraries, while they promise to "protect your privacy and security" (see the Betternet review for more details).

Trackers are just tools to collect your data.
Instead of protecting you against these invasive privacy threats, most free VPNs are selling you out.
#3 Third party access to your data
Trusting a free VPN to protect your privacy is kind of like trusting the wolf to guard the chickens.
Let's take a closer look at one popular example – Opera's "free VPN" service. (Note: Opera is not actually a VPN at all, but instead a web proxy; but we will examine it anyway due to its popularity.)
When you examine the Opera Privacy Statement you can see that their "free VPN" service is actually just a data collection tool. And they know most people will focus on the word "free" instead of reading the fine print.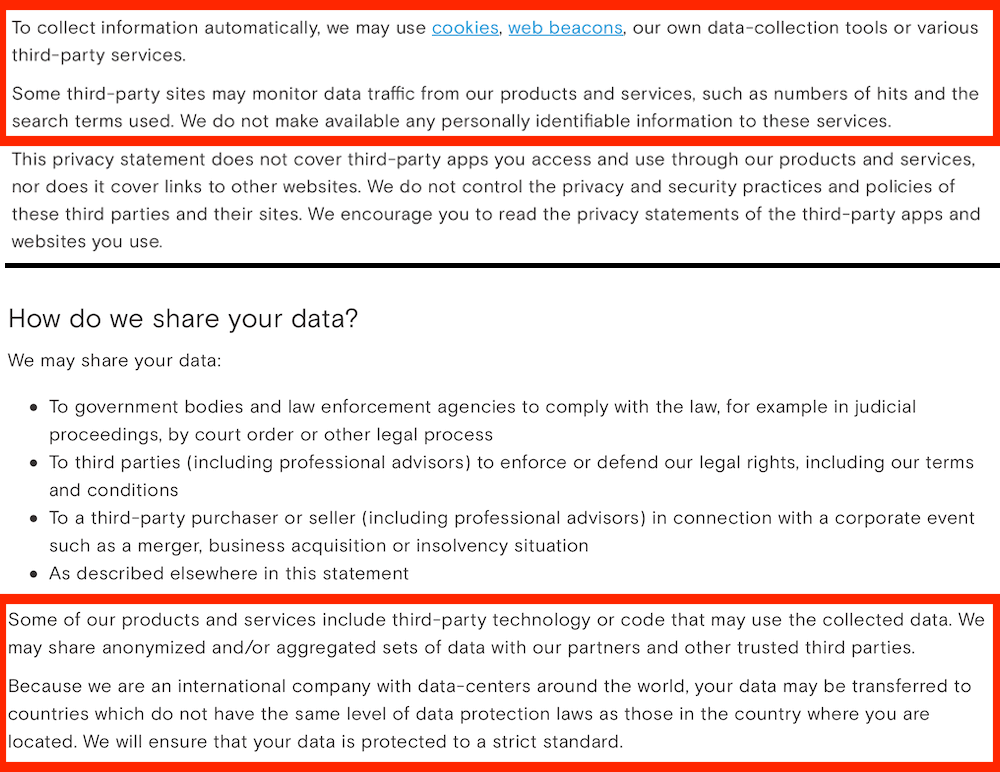 Offering free products that collect your data is a very popular business model – just ask Facebook or Google. Sadly, corporate surveillance is also alive and well with most free VPNs.
And speaking of Facebook, they are also cashing in on the free VPN scam. Facebook was recently caught collecting user data through a free VPN app called Onavo. According to some reports, this free VPN has been downloaded by 24 million users and collects data on people's app and website usage habits.
When you use these products you are giving away your privacy, risking your security, and probably making someone else rich.
#4 Stolen bandwidth
Some free VPNs will also steal your bandwidth.
One example of this is Hola. Hola was found to be stealing user bandwidth and then fraudulently reselling it through its sister company Luminati – see this article for more information.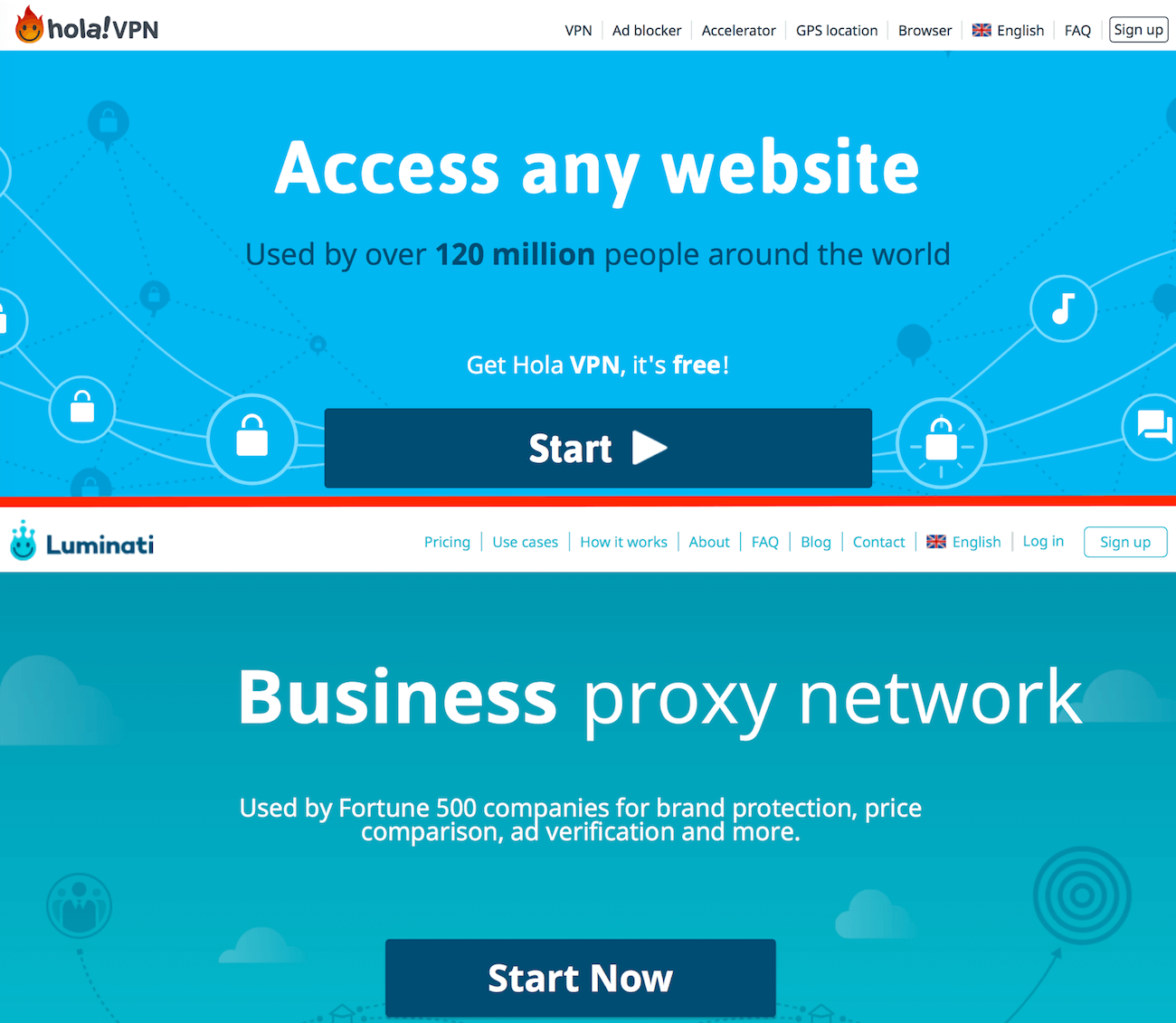 Until this issue came to light, millions of Hola users were unknowingly having their bandwidth stolen and resold to third parties. This put Hola's free VPN users at risk while other people used their bandwidth for their own devices (similar to a P2P network).
#5 Browser hijacking
There are many insidious ways for free VPNs to make money off their users.
One such technique is browser hijacking. This is when the VPN hijacks and redirects your browser to partnership websites without your permission.
Let's take a closer look at one such example: Hotspot Shield VPN.
Hotspot Shield was found to redirect HTTP requests to e-commerce sites, such as Alibaba and eBay, through its partner networks. The two partner networks in this example were Conversant Media and Viglink – two online advertising companies.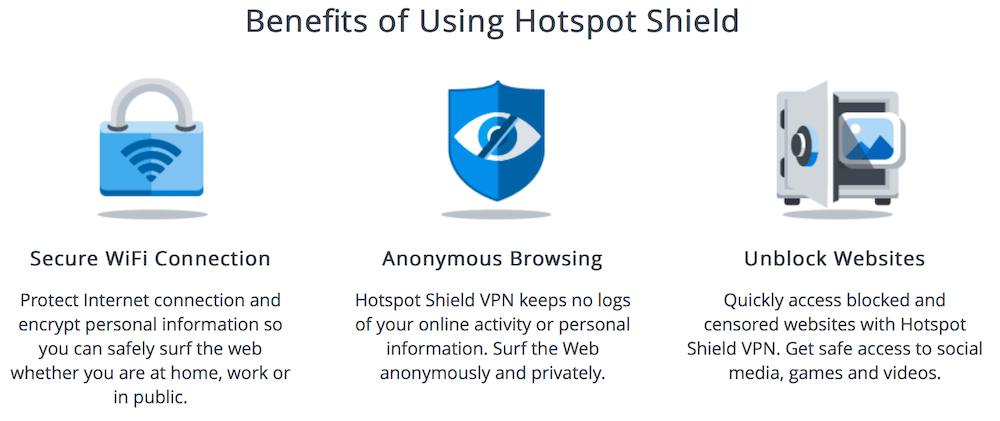 These claims appear even more dubious since Hotspot Shield has also been caught embedding tracking libraries into their free VPN (discussed more here).
#6 Traffic leaks
A good virtual private network should secure and encrypt all of the traffic between your device and the VPN server.
Unfortunately, I have found that many VPN services have problems with IP address leaks – i.e. when your IP address leaks out of the VPN tunnel (thus leaving you exposed). This is especially true with free VPNs.
Here is an example with Betternet's free VPN on Windows (see Betternet review).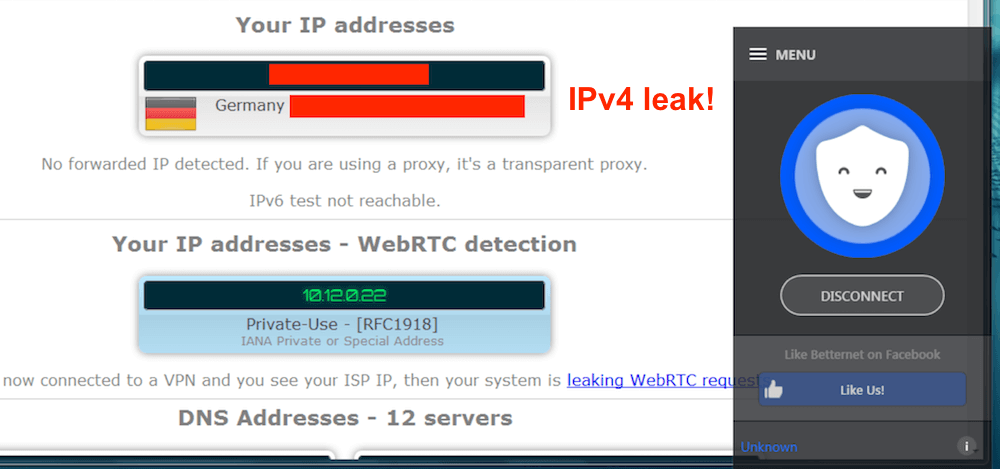 A VPN can leak both IPv4 and IPv6 addresses out of the tunnel. This leaves you exposed when using your VPN service – the exact opposite of protecting your privacy and security. (I have also found that many paid VPNs have IP leaks – see the PureVPN review for example.)
#7 Fraud
Perhaps the biggest danger of free VPNs is the risk posed to your identity and finances.
Using a free VPN puts you in a very dangerous position, simply because free VPNs partner with third parties and give them access to your data. This exposes you to all sorts of problems, from identity theft to financial fraud.
Below is an example I found online with Hotspot Shield, a VPN that grants third parties access to user data (as they clearly explain in their Privacy Policy). (Note: this case appears to involve the paid version of Hotspot Shield, but it nonetheless illustrates the risks of third party data sharing – a common theme with free VPNs.)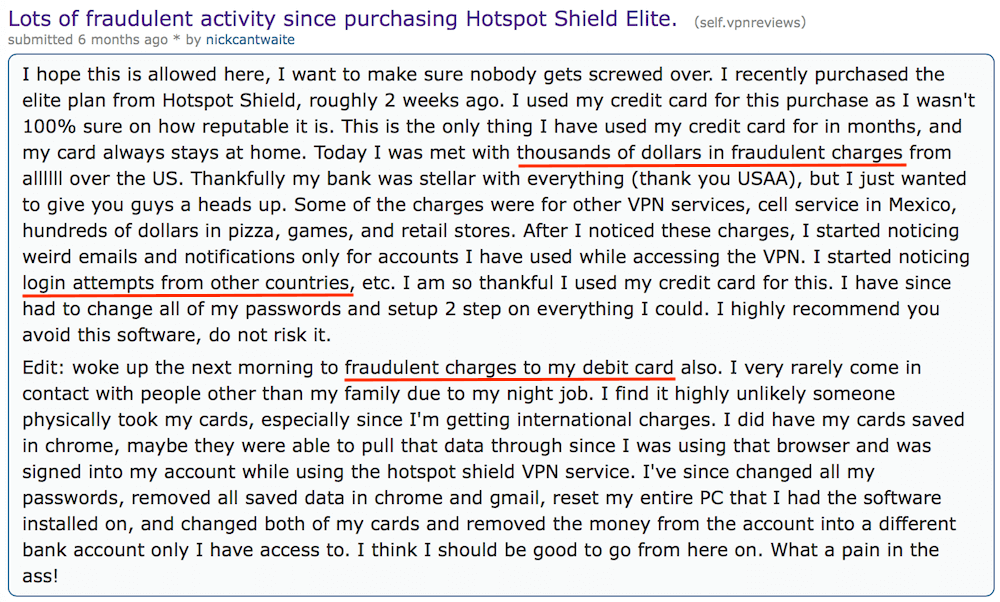 Unfortunately, most free VPNs rely heavily on relationships with third parties to share user data and thereby monetize the "free" software.
These are the risks you take when using free VPN services.
Free VPN alternatives
By now it should be clear that free VPNs are dangerous and risky. This leaves you with two options: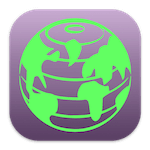 If you are strapped for money and need a privacy tool for securing your devices, the Tor network might be a good choice. Tor (The onion router) is a browser and anonymous network that utilizes different hops to protect user identity. But it does come with some known problems you should consider:
The Tor network is quite slow (1-4 Mbps), making it unusable for most purposes.
Many people consider Tor to be compromised – not offering adequate privacy protection.
Tor users can be exposed on Windows or from malicious nodes in the Tor network.
The next alternative is to use a good, safe, paid VPN service that has passed all the tests and will protect your privacy. Keep in mind, you generally get what you pay for with VPNs. Running a safe, secure, reliable and fast server network with good VPN apps and helpful support is not a cheap endeavor.
Important: Many paid VPNs are also dangerous and insecure (even if they are highly promoted by various websites). Be careful to avoid the growing number of VPN scams and steer clear of VPN providers with known problems.
Free VPNs conclusion: be smart
You are probably starting to see the big picture.
Free applications and products – from free VPNs to Gmail and Facebook – are all basically the same. They are abusing your privacy, putting you at risk, and making lots of money with your private data.
If you care about your privacy then it's time to consider alternatives to these dangerous free products. Achieving more security is worth the extra price – whether it's with a secure email provider or a premium VPN service.
Your privacy is too valuable to be given away for free.