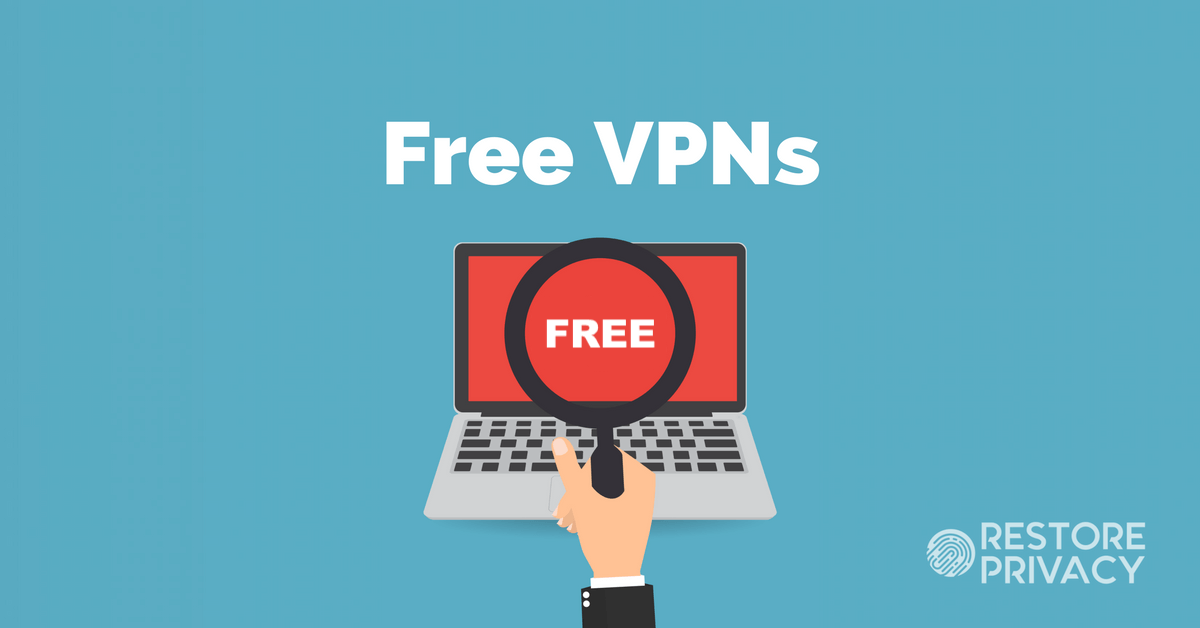 There's a lot of buzz surrounding free VPN services, but before you sign up, it's crucial to understand the details.
But first, what is a free VPN?
A free VPN is a service that gives you access to a VPN server network, along with the necessary software, without having to pay anything.
Is there a catch?
Absolutely – we'll explain this further below.
In this free VPN guide we'll cover the following topics:
The reality of free VPN services (nothing is free)
The seven hidden dangers of free VPNs
The best free VPNs
Free VPN alternatives
So let's get started!
Free VPN reality check
First thing's first: there is no such thing as a free VPN.
It's just like the old saying, "There's no such thing as a free lunch". In other words, someone is paying…
With every VPN service there are high recurring costs. Maintaining VPN servers around the world is expensive, in addition to support, updates, and application development.
So who is paying for all this with free VPNs?
Before we answer that question, let's define exactly what a free VPN actually is. I break free VPNs down into two distinct categories:
Unlimited free VPNs – These VPNs give you unlimited access to the free VPN network. Extensive testing and research have generally found this category to be dangerous (read malicious) and should probably be avoided. We'll examine the dangers of unlimited free VPNs further below.

Who pays? The VPN service in this case is usually monetizing the user in some way. This is mostly done by collecting user data and selling it to third parties. So basically you are still paying for the free VPN with your private data, which is being sold for profit.

Freemium VPNs – These VPNs are basically giving you a small "free sample" in the hopes that you upgrade to a paid VPN account. This generally means that the VPN will offer a limited amount of bandwidth over a given period of time. We will discuss a few examples further below.

Who pays? With freemium VPNs, the paying VPN customers will be left covering the costs for all the free VPN users. This is a drawback if you are a paying customer, since you will be footing the bill for all the free-riders and sharing network resources that you pay for. Additionally, the server network and speeds may also be put under strain from the free users.
As you can see above, there are problems with both of the free VPN business models.
But it's also clear that the second category – the freemium VPNs – are the safer of the two options. There are three freemium VPN services from this category that I have tested, which you can try right now:
If you choose one of the three VPN options above and then switch to a paid plan, remember that your subscription costs will also be paying for all the free VPN users.
For this reason, it may be best to avoid any VPN service that offers a "free" option.
So now let's take a close look at free VPNs from the first category – unlimited free VPNs.
Here are the seven hidden dangers of free VPNs.
#1 Free VPN malware
Malware can come in many different forms – but at the end of the day, it's all about making money off you and your data. Malware hidden inside VPNs can steal your data, which can then be used to:
hit you with targeted ads and spam emails
hijack your online accounts
steal your money (bank and credit card details)
steal your digital goods or products
lock or encrypt your devices in exchange for a payout (ransomware)
The number of free VPNs containing malware is truly frightening. The CSIRO study found that 38% of free Android VPNs contain malware. Even worse, many of the most dangerous free VPNs are highly rated and are being used right now by millions of people.
Here is one such example I found for the VPN Master article.
This free VPN app is called "VPN Master – Free VPN Proxy" and is officially listed in the Google Play store. Notice that it has a high rating (4.5) and about 100,000 downloads.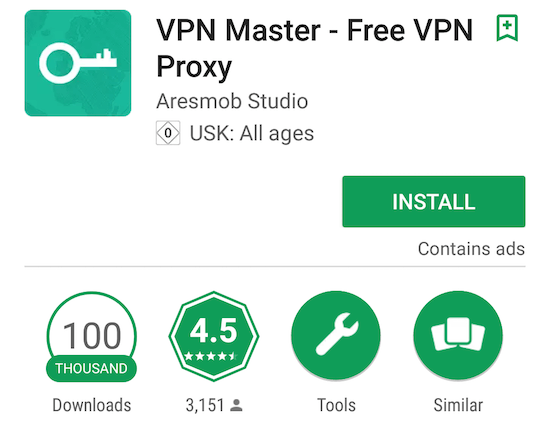 Unfortunately, the "VPN Master – Free VPN Proxy" app had eight positive hits for malware.
Below are the test results from VirusTotal: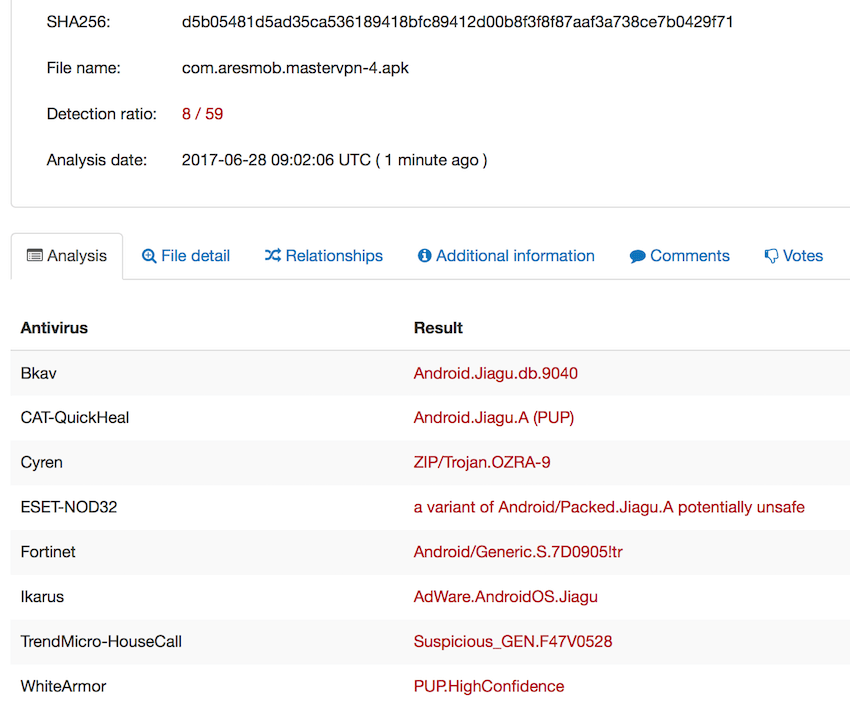 Note: This is why you should never trust ratings in the Google Play and Apple stores.
You may just end up with a highly-rated bag of malware.
#2 Free VPN tracking
Just like with malware, hidden tracking aims to collect your private data.
The CSIRO study analyzed 283 VPNs and found that 75% of free VPN apps contained tracking embedded in the source code. These tracking libraries are a way for the free VPN to collect user data, which can be valuable for advertising and analytics.
Let's take a quick look at one very popular example with Betternet, which is based in Canada.
The CSIRO study found that Betternet's free VPN app for Android contained 14 different tracking libraries.
This is ironic given that Betternet markets its free VPN as a "security and privacy" solution (see the Betternet review for more details).

Third-party tracking libraries hidden in free VPNs are just tools to collect your data.
This is the irony with most free VPNs – they are spyware disguised as privacy tools.
#3 Third party access to your data
Trusting a free VPN to protect your privacy is kind of like trusting the wolf to guard the chickens.
Let's take a closer look at one popular example – Opera's "free VPN" service. (Note: Opera is not actually a VPN at all, but instead a web proxy; we'll examine it anyway due to its popularity.)
When you examine the Opera Privacy Statement you can see that their "free VPN" service is actually just a data collection tool. And they know most people will focus on the word "free" instead of reading the fine print.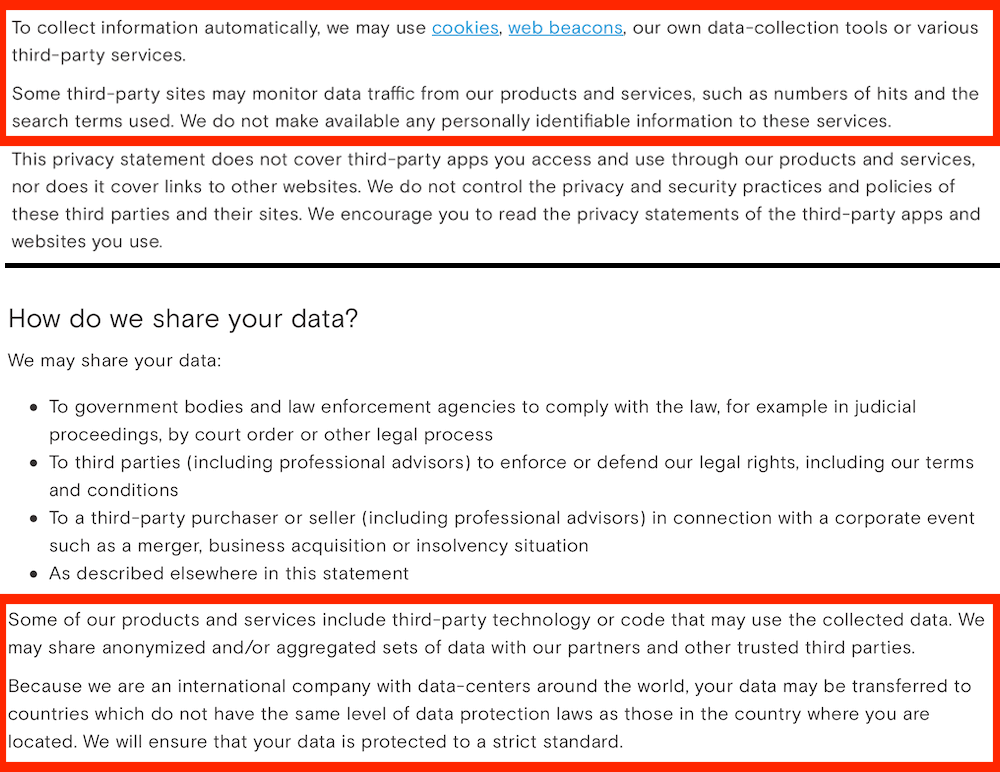 When working on the VPN Master article I even found one free VPN service that is owned by a Chinese data collection company.
The free Android VPN app called "VPN Master Free Unlimed Proxy" (sic) had nine positive malware test results and is owned by the Chinese data collection company TalkingData.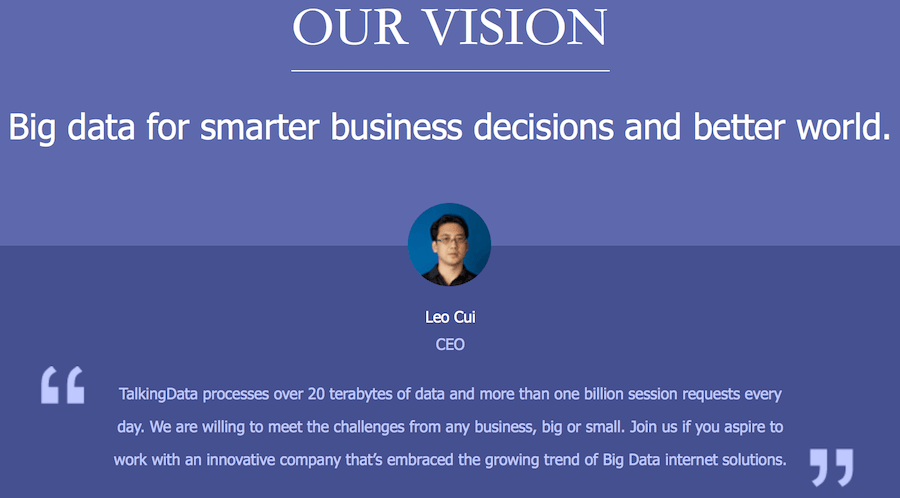 This is basically a three-step business model that anyone can follow:
Step 1: Offer a free VPN service and market it as a "privacy" solution.
Step 2: Collect user data through malware and tracking embedded in the VPN's source code.
Step 3: Sell the data to advertisers and other companies.
Offering free products that collect your data is a very popular business model – just ask Facebook or Google. (This is how Google and Facebook dominate the online advertising industry.)
And speaking of Facebook, they are also cashing in on the free VPN scam.
Facebook was caught collecting user data through a free VPN app called Onavo. According to some reports, this free VPN has been downloaded by 24 million users and collects data on people's app and website usage habits.
When you use these free products you are giving away your privacy, risking your security, and probably making someone else rich with your private data.
#4 Stolen bandwidth
Some free VPNs are also stealing your bandwidth and reselling it to others.
One example of this is the Israel-based Hola VPN service. Hola was found to be stealing user bandwidth and then fraudulently reselling it through its sister company Luminati – see this article for more information.
Here you can see the Hola free VPN website at the top of the graphic below. Directly under the red line is the Luminati site, which sells bandwidth for a "business proxy network".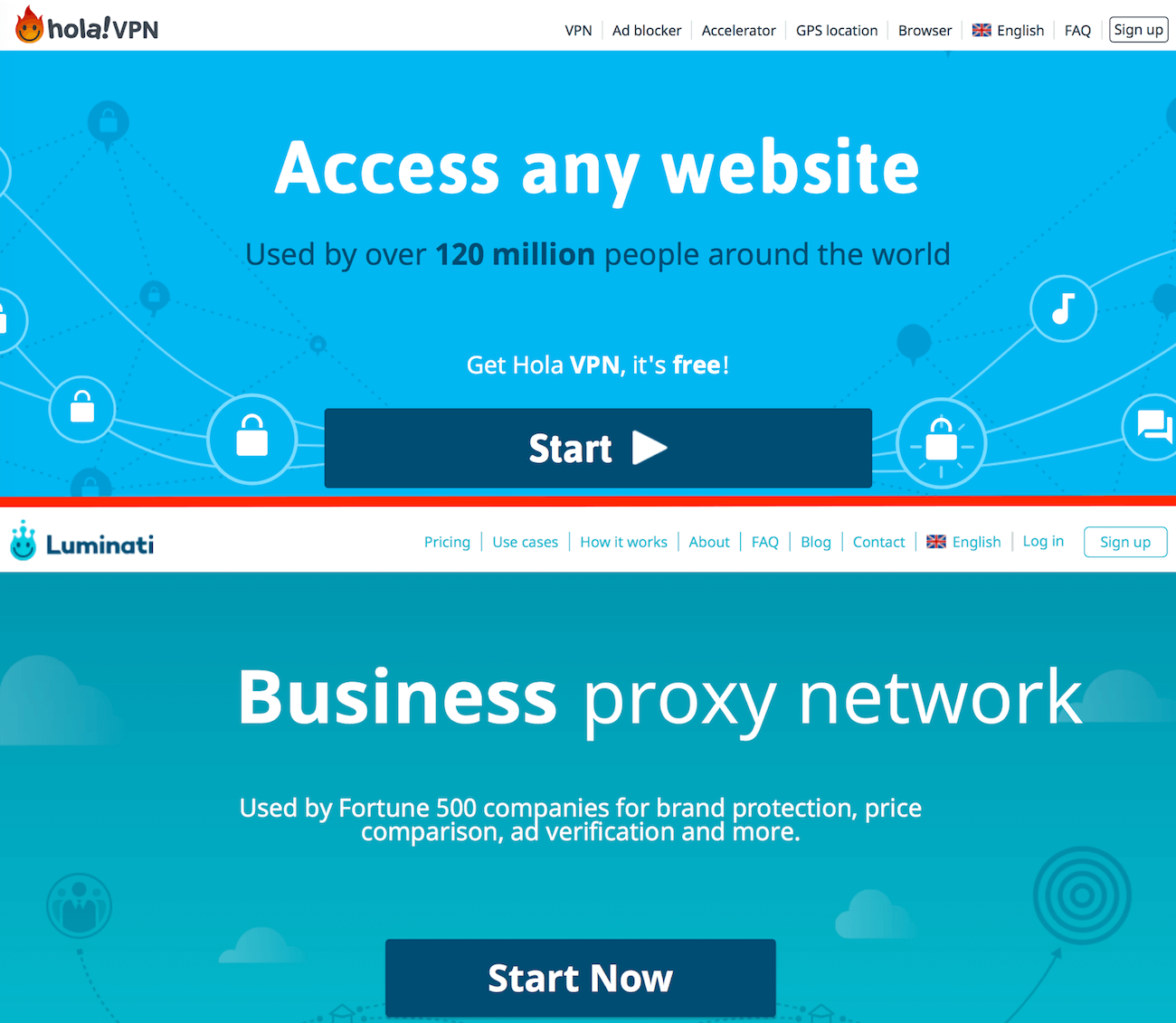 Until this issue came to light, millions of Hola users were unknowingly having their bandwidth stolen and resold to third parties.
This put Hola's free VPN users at risk while other people used their bandwidth for their own activities (similar to a P2P network).
#5 Browser hijacking
There are many insidious ways for free VPN services to make money off their users.
Another technique is with browser hijacking. This is when the VPN hijacks and redirects your browser to partnership websites without your permission.
Let's take a closer look at one such example: Hotspot Shield VPN.
Hotspot Shield was found to be redirecting HTTP requests to e-commerce sites, such as Alibaba and eBay, through its partner networks. The partner networks in this example were Conversant Media and Viglink – two online advertising companies.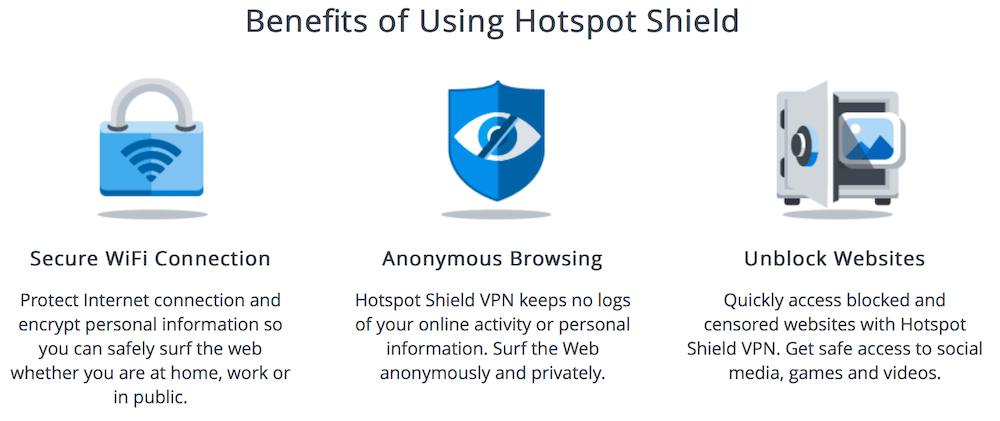 These claims appear even more dubious since Hotspot Shield has also been caught embedding tracking libraries into their free VPN (discussed more here).
Note: Hotspot Shield was formally called out in a report filed before the Federal Trade Commission, which claimed:
Contrary to Hotspot Shield's claims, the VPN has been found to be actively injecting JavaScript codes using iFrames for advertising and tracking purposes.
This is how free VPNs make money.
#6 Free VPN leaks
A good VPN should secure and encrypt all of the traffic between your device and the VPN server.
Unfortunately, I have found that many VPN services have problems with IP address leaks – i.e. when your IP address leaks out of the VPN tunnel (thus leaving you exposed). This is especially true with free VPNs.
Here is an example with Betternet's free VPN for Windows (see Betternet review).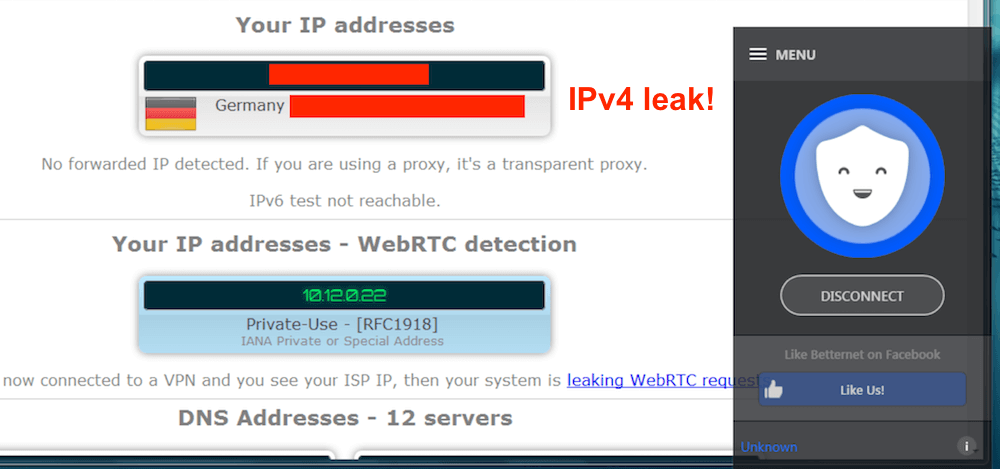 A VPN can leak both IPv4 and IPv6 addresses out of the tunnel. This leaves you exposed when using your VPN service, which defeats the purpose of even using a VPN.
You can check to see if your VPN has problems using this basic VPN test guide.
#7 Free VPN fraud
Using a free VPN may put you in a dangerous position, simply because free VPNs partner with third parties and give them access to your data. As we have seen with Betternet, some VPNs give third parties direct access to user data and then relinquish all responsibility if something bad happens, such as identity theft or financial fraud.
Below is an example I found online with Hotspot Shield, a VPN that grants third parties access to user data, as they clearly explain in their Privacy Policy. (Note: this case appears to involve the paid version of Hotspot Shield, but it nonetheless illustrates the risks of third-party data sharing – a common theme with free VPNs.)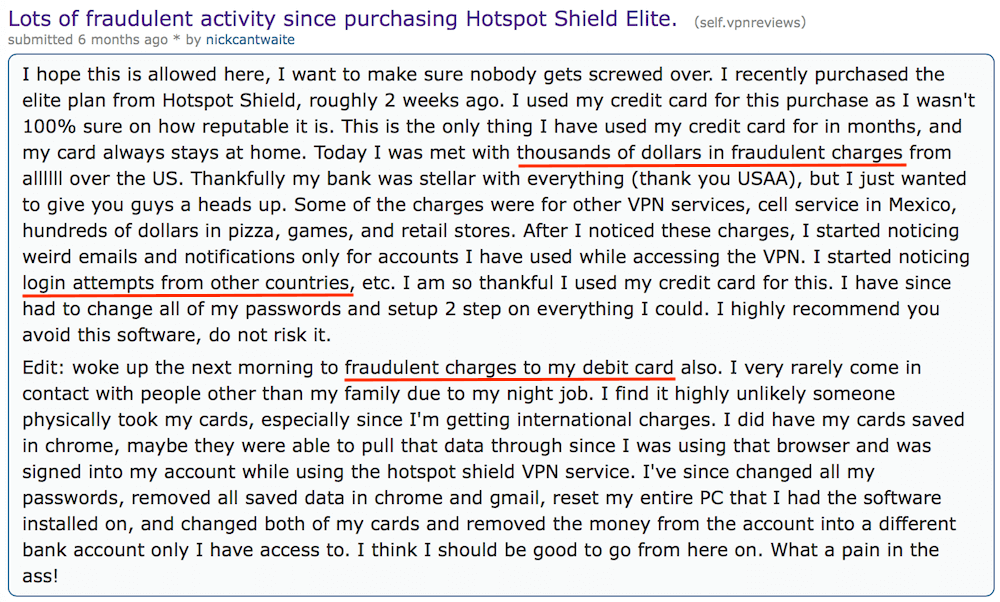 Unfortunately, most free VPNs rely heavily on relationships with third parties to monetize the "free" software. This is an obvious security threat and likely results in numerous cases of fraud, which we will probably never hear about.
Now that we have covered the seven hidden dangers of free VPN services, let's take a look at some other alternatives.
Best free VPN services
OK, so you still want to go with something free and you're wondering which is the best free VPN.
Recall from above that there are two categories of free VPN services:
Unlimited free VPNs – These generally monetize the user in some way and have been found to be quite dangerous, even if they are highly rated and offered in the Google Play or Apple stores.
Freemium VPNs – These free VPN services basically use the "free sample" business model. They give you a small amount of free VPN data in the hopes that you upgrade to a paid (premium) plan.
Of these two options, the second choice (Freemium VPNs) would be the better pick. With freemium VPNs, you are getting a limited amount of bandwidth backed up by a legitimate, safe VPN company.
I have tested out three different VPNs that offer a limited amount of free bandwidth. I would consider these to be the best free VPN services I have come across, despite some of their drawbacks.
TunnelBear free VPN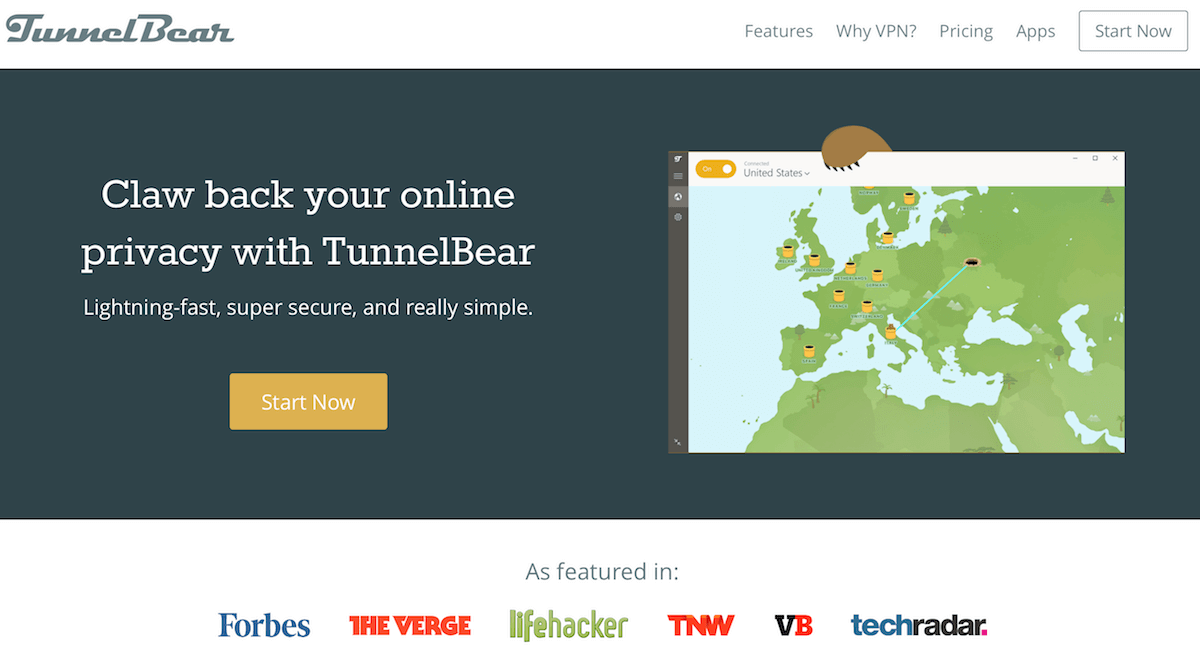 TunnelBear is a free VPN that is based in Canada and offers 500 MB of data per month. Most people will probably burn through 500 MB of data pretty quickly, which means you will need to upgrade to the paid VPN plan. See the details here.
When testing out TunnelBear VPN for the review, I found it to do quite well. Speeds were decent to above average throughout the network and the VPN applications I tested also worked well without any leaks bugs, crashes or other problems.
TunnelBear also offers some great features that are also available for the free VPN users:
Leak protection – Built into the applications is a feature called VigilantBear, which protects you against leaks which could expose your identity.
Obfuscation – They refer to this as GhostBear and it will hide your VPN use to look like regular internet traffic.
Browser extension – TunnelBear also offers a secure browser extension for both Chrome and Opera browsers. This can be used in conjunction with the desktop VPN, or on its own.
You can get more details in the TunnelBear review or check out the website to learn more >>

Jurisdiction
Canada

Logs
Connection logs

Price
$4.99
Windscribe free VPN
Another runner-up for the best free VPN is Windscribe. Like TunnelBear, Windscribe is also based in Canada. It offers user 10 GB of free data per month. If you upgrade to a paid VPN subscription with Windscribe you will be able to use the VPN with an unlimited number of devices. See the details here.
Windscribe does have some drawbacks that I discovered in testing for the Windscribe review. Namely, I found speeds to be fairly slow on many servers in the network. I also ran back-to-back testing to verify the speed deficiencies and found both ExpressVPN and VPN.ac to significantly outperform Windscribe, on both their free and paid VPN servers.
Check out the Windscribe review or visit the website for more info >>

Jurisdiction
Canada

Logs
Connection logs

Price
$4.08
TrustZone free VPN
Trust Zone is a VPN service based in Seychelles that offers a free VPN with 1 GB of data. Unfortunately, you are only given a three day window to try out the VPN service. This makes TrustZone's free VPN different from both TunnelBear and Windscribe, which reset your data allowance every month.
Overall I found TrustZone VPN to do pretty well in testing for the Trust Zone review. The biggest drawback with Trust Zone is that it is very limited on features and only offers a VPN client for Windows. To use Trust Zone with other devices and operating systems you will need to use third-party software.
You can get more details in the TrustZone review or check out their website here >>

Jurisdiction
Seychelles

Logs
Connection logs

Price
$3.33
You pay for the free VPN users
In economics there is a basic maxim that is known as the free-rider problem. We see this with free VPN services that offer both free and paid accounts, such as the three mentioned above.
The problem here is that the paying customers will be on the hook for the free VPN users (free-riders) who are using up bandwidth and network resources that the paid users also need. The more free VPN users there are, the more resources they will use up (bandwidth, support, etc.), at the expense of paying customers. This could lead to a shortage of bandwidth, delayed support, or other issues.
In essence, the freemium VPN services are offering a marketing tactic (free service), which the premium users are paying for. So if you don't want your subscription fees financing the free VPN users, it would be smart to avoid VPNs that offer a free tier.
Best free VPN alternatives
If you've decided to scratch free VPNs off your list, then you basically have two options remaining: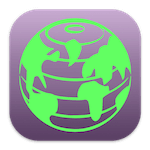 If you are strapped for money and need a privacy tool for securing your devices, the Tor network might be a good choice. Tor (The onion router) is a browser and anonymous network that utilizes different hops to protect user identity. But it does come with some known problems you should consider:
The Tor network is quite slow (1-4 Mbps), making it unusable for most purposes.
Many people consider Tor to be compromised – not offering adequate privacy protection.
Tor users can be exposed on Windows or exploited by malicious nodes in the Tor network.
The next alternative is to use a good, safe, paid VPN service that has passed all the tests and will protect your privacy. Keep in mind, you generally get what you pay for with VPNs. Running a safe, secure, reliable and fast server network with good VPN apps and helpful support is not a cheap endeavor.
Free trial VPNs – Although not necessarily free, there are some great VPNs with a free trial you can take advantage of. This allows you to try out the service risk free.
When searching for a good VPN be careful to avoid the growing number of VPN scams and steer clear of VPN providers with known problems.
To get more information on the top VPN recommendations that did the best in testing, check out the best VPN report.
For an overview of all the different VPN reviews, see the VPN reviews index.
Stay safe!