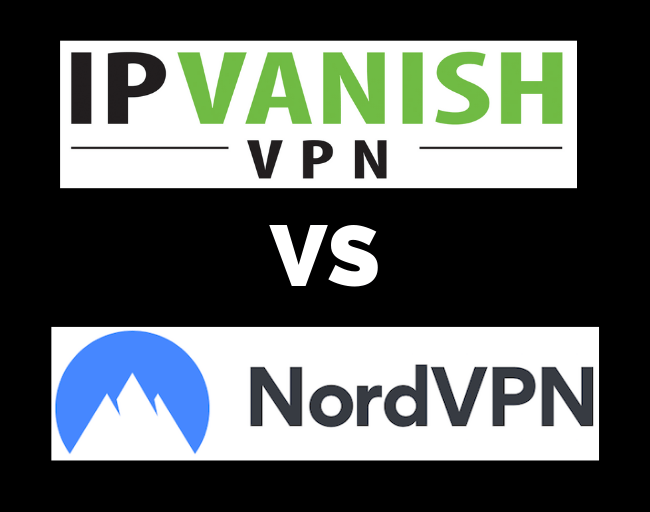 NordVPN and IPVanish are both very popular VPN services – but who comes out on top with the latest test results?
In this NordVPN vs IPVanish comparison, we'll answer this question by running each VPN through a barrage of tests to reveal a clear winner. As we'll see below, there was a clear winner in this comparison.
Here's everything we will cover in this IPVanish vs NordVPN guide:
Speed testing
Features
Price
Support
Streaming (Netflix and more)
Logs and privacy
Now we will go into a brief overview of each VPN service in this NordVPN vs IPVanish comparison. First up is IPVanish.
1. NordVPN vs IPVanish speed
On average, NordVPN and IPVanish have very comparable speeds, with IPVanish having the slight edge. My baseline connection speed was about 150 Mbps.
First up I tested NordVPN.
Here I'm testing a NordVPN server in Germany, which gave me 74 Mbps: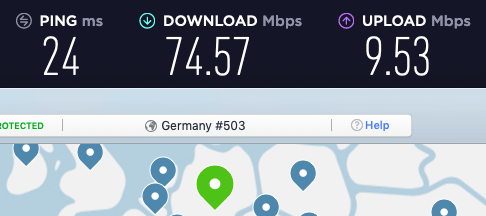 Next up an IPVanish server in Germany.
Here I'm testing an IPVanish server in Germany: 95 Mbps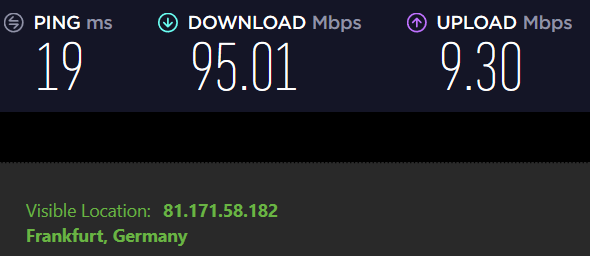 You can see that IPVanish has an edge over NordVPN.
Next I tested a NordVPN server in the UK, which gave me about 81 Mbps: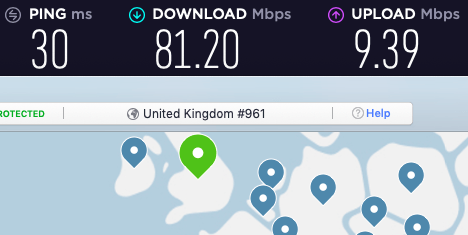 Now for IPVanish.
Here's an IPVanish server in the UK, which gave me over 91 Mbps: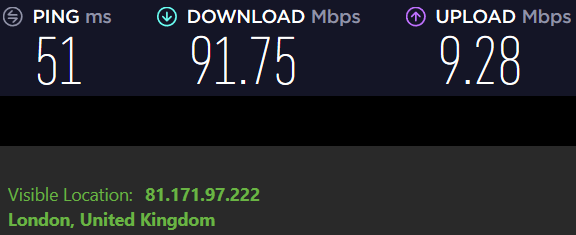 Not too bad, but also not a huge difference.
I also ran some tests with servers in the United States.
Here is a speed test with a NordVPN server in New York, giving me around 53 Mbps: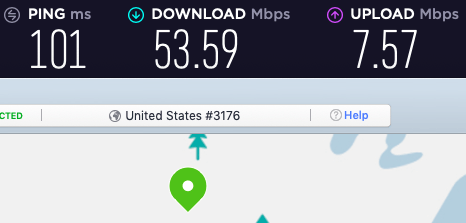 Next up is IPVanish.
Here I'm also testing an IPVanish server in New York, giving me about 85 Mbps.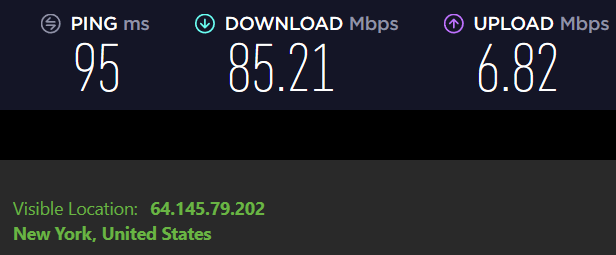 You can generally expect slower speeds when testing servers further away from your physical location.
Based on all of my speed tests, IPVanish has an edge over NordVPN. IPVanish was slightly faster in all tested server locations, although NordVPN wasn't too far behind. IPVanish is more consistent with speeds, whereas NordVPN can be somewhat variable in the performance category.
Winner for speed: IPVanish
2. NordVPN vs IPVanish features
In terms of features, NordVPN is the big winner.
I have been testing IPVanish since 2015, and it has never offered many features. This is somewhat strange, given that most other VPNs in the industry continue to adapt, grow, and offer new features for their user base. IPVanish, on the other hand, seems to be rather static, which may explain its declining market share.
Aside from basic leak protection settings and a large server network, which aren't really features, IPVanish doesn't have much to offer. Unlike NordVPN, IPVanish doesn't offer anything really unique with features.
NordVPN offers lots of different privacy and security features – and it continues to improve and get better:
Double-VPN server configurations – This will encrypt your traffic across two separate servers, thereby giving you a higher level of online anonymity.
Tor-over-VPN servers – These servers exit onto the Tor (anonymous onion) network.
CyberSec – This is an advertisement, tracking, and malware blocker that is configured directly inside NordVPN's apps. I found it to work alright when I tried it out for the review, although there are better VPN ad blockers available.
Obfuscated servers – These are useful for getting around VPN blocks, such as if you need a good VPN for China.
Leak protection settings – NordVPN offers built-in leak protection settings that seem to work well.
Streaming support – NordVPN works with many streaming websites (including Netflix).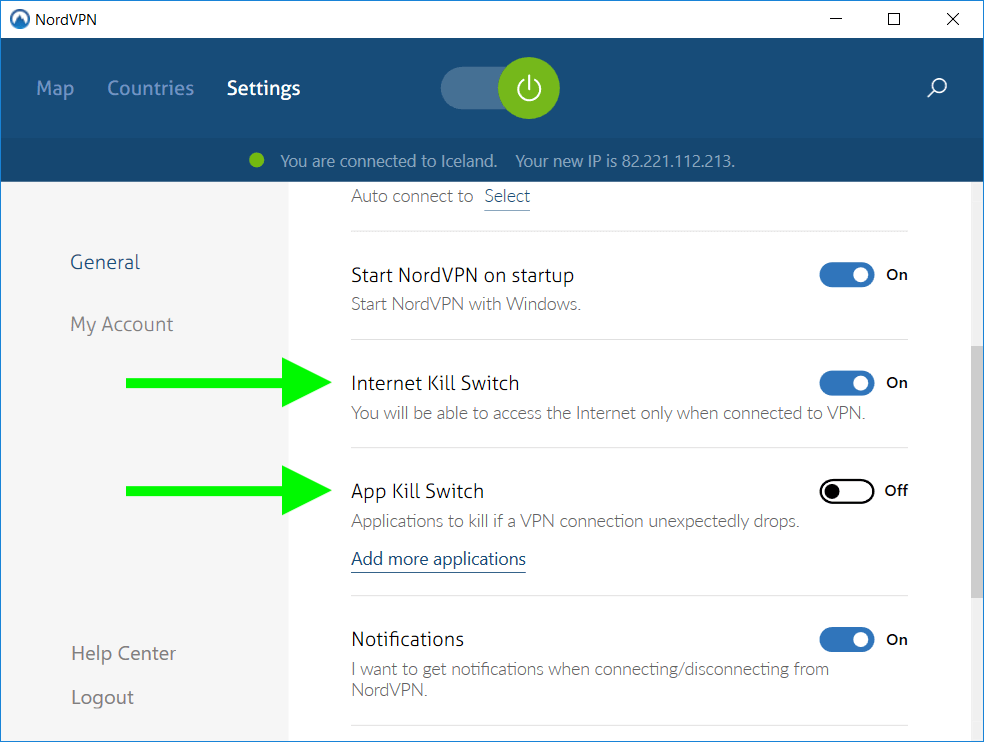 In comparison to IPVanish, NordVPN is the big winner in terms of features. It simply offers more and better features, whereas IPVanish remains a very basic VPN service.
Features winner: NordVPN
3. IPVanish vs NordVPN price
There is a clear winner in the price category and that is NordVPN, when you use the 75% discount coupon.
NordVPN offers a lower price and better value, in my opinion, when compared to IPVanish.
With IPVanish, you can use this 20% off coupon – which gives you the discounted prices below. (You can also check out my IPVanish coupon page, which is kept updated to reflect the latest discounts and offers.)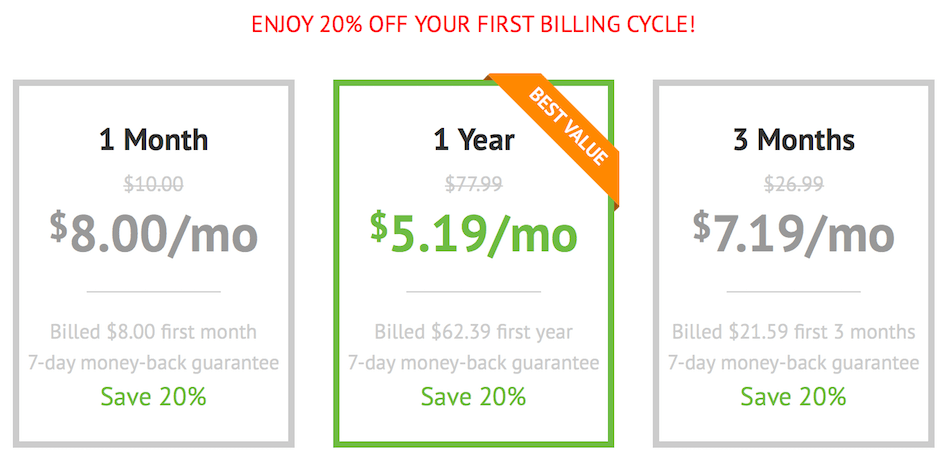 In comparison to NordVPN, IPVanish is quite a bit more expensive, with the lowest price coming in at $5.19 per month with the annual plan. NordVPN, in contrast, is only $2.99 per month – but that is with the three-year subscription.
IPVanish refund policy – IPVanish offers a 7 day money-back guarantee. This is significantly shorter than NordVPN, which provides a 30 day money-back guarantee on all plans.
NordVPN price
NordVPN also offers some great deals throughout the year.
Currently the best discount you can find on NordVPN is this coupon for 75% off. That brings the pricing down significantly, as you can see below: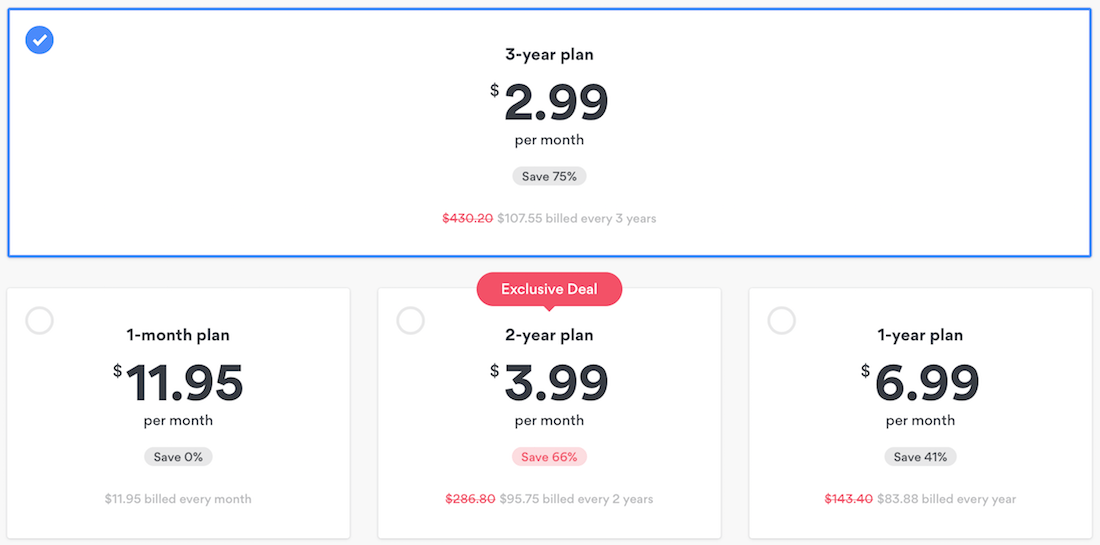 Although NordVPN is cheaper than IPVanish on a monthly basis, you do have to sign up for longer subscriptions to get the best savings.
NordVPN refund policy – NordVPN offers a 30 day money-back guarantee. This is about the best you will find in the VPN industry (much better than IPVanish's 7 day refund window).
Price winner: NordVPN
See also my NordVPN coupon page that also shows the latest deals and discounts with NordVPN.
4. IPVanish vs NordVPN support
NordVPN also wins in the support category.
I have dealt with both VPN services over the past few years, asking the support teams various questions when testing out the respective VPN services.
NordVPN – With NordVPN you get access to 24/7 live chat support, which is available directly through the website. I have always found the chat support team to be professional, friendly, and knowledgeable. I've never experienced any extended wait time.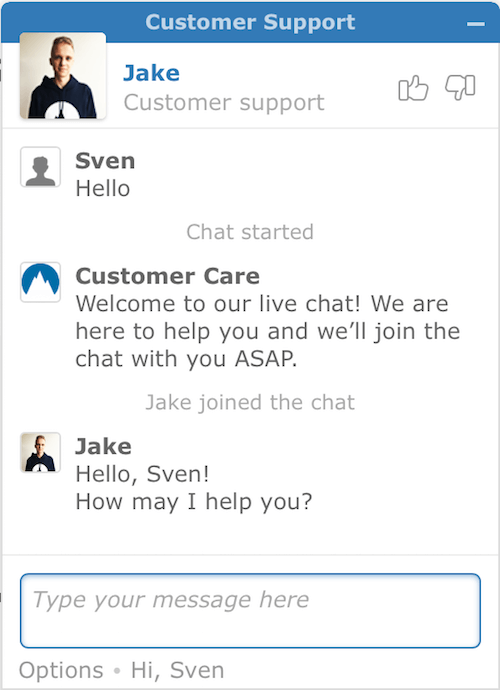 NordVPN chat support is always available if you need it.
IPVanish – IPVanish also offers decent support, but it can really be hit or miss. The IPVanish website occasionally has a chat option, but it's not 24/7. They do offer email support, and also a US phone number you can call during business hours (Monday – Friday).
Support winner: NordVPN
5. IPVanish vs NordVPN streaming (Netflix)
Many people are using VPNs to stream media and unblock content around the world. This is especially true for Netflix, which now restricts access based on your IP address (where they think you are located).
There are a handful of VPNs that still work with Netflix, but many are blocked.
Unlike with NordVPN, IPVanish does not work with Netflix. In my tests, all IPVanish servers I tested to access American Netflix were blocked. If you contact IPVanish, they will clearly tell you that it does not work with Netflix and will recommend going with a different VPN provider.
NordVPN, on the other hand, continues to work very well with Netflix. I've tested this out many times and have found NordVPN to be one of the best options if you want a cheap VPN for Netflix.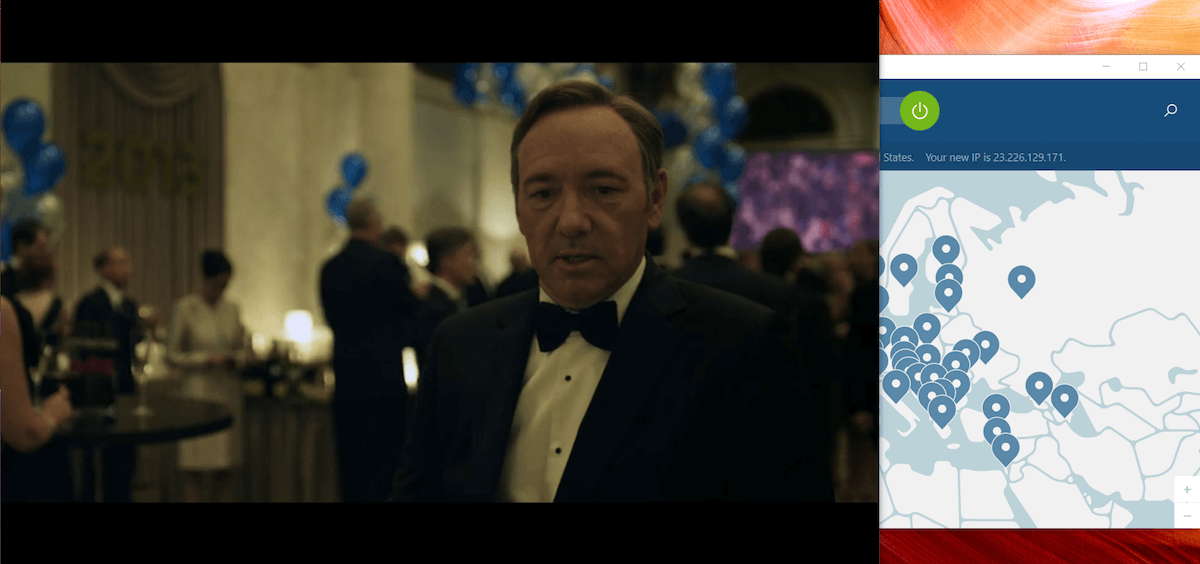 NordVPN also supports many different Netflix regions around the world, in addition to other streaming services, such as BBC iPlayer.
Streaming winner: NordVPN
6. NordVPN vs IPVanish logs and privacy
The last category we'll examine is logs – or what data the VPN is recording when you use their service. In this category, there is a big difference between NordVPN and IPVanish. Both NordVPN and IPVanish claim to be "no logs" VPN providers – but only one has been verified to be correct.
Last year I broke the news that IPVanish was caught logging customer data and providing this to the FBI. This case pertained to a criminal investigation, and when requested by the FBI, IPVanish violated their own "no logs" policy. IPVanish explained this was done under a different management/ownership structure, and they are still a "no logs" company today. (Note: IPVanish is now owned by J2 Global, as the disclosure in this article explains.)
Jurisdiction: With IPVanish being based in the United States, this puts the VPN under US law. It also means they can be pressured by US authorities to log user data, which is exactly what happened.
NordVPN, on the other hand, is one of the few verified no logs VPN providers. In November 2018, NordVPN underwent a full audit from PricewaterhouseCoopers, which verified NordVPN's no logs policy to be accurate. This is about as good as it gets for a no logs policy.
Jurisdiction: With NordVPN being based in Panama, they are much more protected from countries, such as the US and UK, that demand customer data and/or logging.
Logs and privacy winner: NordVPN
Conclusion: NordVPN wins
As you can see from this NordVPN vs IPVanish comparison, the winner is NordVPN.
However, there is no right answer here – either of these two VPNs may be the best choice for you. It all depends on your needs and uses for the VPN.
If you are really on the fence about which to buy, you could try both and cancel the one you don't like. Just remember, with NordVPN you have a 30 day refund window, but with IPVanish you have a 7 day window:
So now the choice is yours. If you are open to other options, you could also see my list of the best VPNs based on the latest test results. Stay safe!