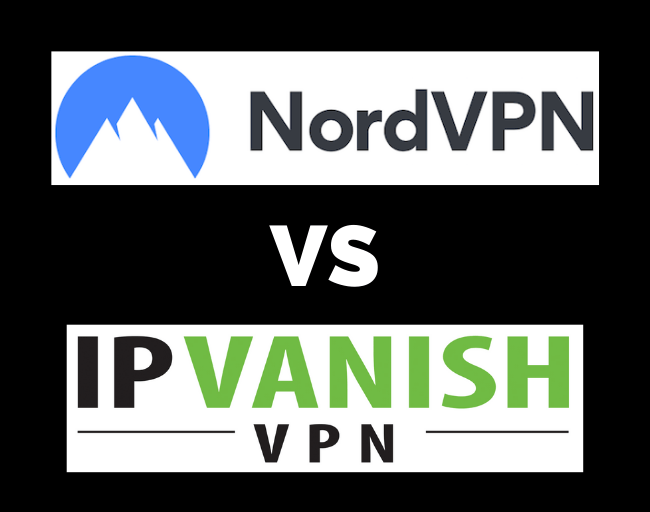 NordVPN and IPVanish are both very popular VPN services – but who comes out on top with the latest test results for 2020?
In this NordVPN vs IPVanish comparison, we'll answer this question by running each VPN through a barrage of tests. Here's everything we will cover:
Speed testing – Numerous servers tested in North America and Europe
Features – Which VPN offers the best features?
Price and Value – What are the prices and which VPN is the best value for your money?
Encryption and Security – Is NordVPN or IPVanish more secure?
Streaming – Which one works best for Netflix and streaming services?
Logs and Privacy – Examining the logging policies and privacy protections.
Support – Does IPVanish or NordVPN offers the best support?
In this IPVanish vs NordVPN comparison there was a clear winner in nearly every category. So let's examine the results
1. NordVPN vs IPVanish speed
In terms of speeds, there was a clear winner, and that was NordVPN.
For all speed tests, my baseline connection speed was about 155 Mbps. I used the OpenVPN protocol in the respective VPN clients with the speed test website www.speedtest.net.
First, I tested NordVPN and IPVanish server speeds near my location in Europe.
Here I'm testing a NordVPN server in Germany, which gave me about 149 Mbps:

This is excellent considering my baseline speed was around 155 Mbps.
Next, I tested an IPVanish server in Germany and was getting about 87 Mbps:

NordVPN clearly has the edge over IPVanish with faster speeds in Germany.
Next, I tested a NordVPN server in the UK, which was even better at about 150 Mbps:

Now for IPVanish.
Here's an IPVanish server in London, UK, which gave me about 65 Mbps:

There are a lot of people looking for the best UK VPN service, either due to privacy concerns or unblocking websites. In this case, NordVPN would be the best option in terms of speeds.
I also ran some tests with servers in the United States.
Here is a speed test with a NordVPN server in New York, giving me around 148 Mbps:

This is quite impressive when you consider the longer distances, yet I'm still getting close to 150 Mbps with NordVPN servers.
Next up is IPVanish.
Here I'm also testing an IPVanish server in New York, giving me about 65 Mbps.

I also tested NordVPN and IPVanish servers in Dallas, Texas.
Here's my NordVPN speed in Dallas: 149 Mbps

Again, you can see my ping (latency) is much higher due to the longer distance between me and the VPN server, but speeds are still great.
And here's the IPVanish speed for Dallas, Texas: 46 Mbps

Clearly, NordVPN offers better speeds than IPVanish with servers in the United States.
Lastly, I also tested server speeds in Toronto, Canada. This is another popular VPN server location.
NordVPN speeds in Toronto: 147 Mbps

And lastly, IPVanish's speeds in Toronto were about 78 Mbps:

NordVPN takes the prize with the best Canada VPN speeds.
Based on all of these tests, NordVPN is clearly faster than IPVanish.
Why is NordVPN faster than IPVanish?
I think there are two main reasons why NordVPN is faster than IPVanish:
NordVPN appears to have a larger server network with more bandwidth. This means there's more bandwidth (and speed) for their users.
NordVPN offers a CyberSec ad-blocking feature. This improves speeds by blocking ads and other tracking resources from loading, thereby improving page load speed and saving on bandwidth.
Winner for speed: NordVPN
Note: This is not an anomaly. NordVPN consistently outperforms other VPN services. See also in the NordVPN vs ExpressVPN comparison.
2. NordVPN vs IPVanish features
In terms of features, NordVPN is the big winner.
I have been testing IPVanish since 2015, and it has never offered many features. This is somewhat strange, given that most other VPNs in the industry continue to adapt, grow, and introduce new features for their users. IPVanish, on the other hand, seems to be rather static.
Aside from basic leak protection settings and a large server network, IPVanish doesn't have much to offer. You can see this by browsing the IPVanish website.
NordVPN offers lots of different privacy and security features – and it continues to improve and get better:
Double-VPN server configurations – This will encrypt your traffic across two separate servers, thereby giving you a higher level of online anonymity, like this:

CyberSec – This is an advertisement, tracking, and malware blocker that is configured directly inside NordVPN's apps. This feature seems to work really well. It will also improve speeds by blocking ads and other third-party resources from loading.
Obfuscated servers – These are useful for getting around VPN blocks, such as if you need a good VPN for China.
Leak protection settings – NordVPN offers built-in leak protection settings that worked well in testing.
Streaming support – NordVPN works with many streaming websites (including Netflix).
In the image below, you can see NordVPN's leak protection features. This is a two-level kill switch that can close apps and/or block Internet traffic if your VPN connection is interrupted for any reason.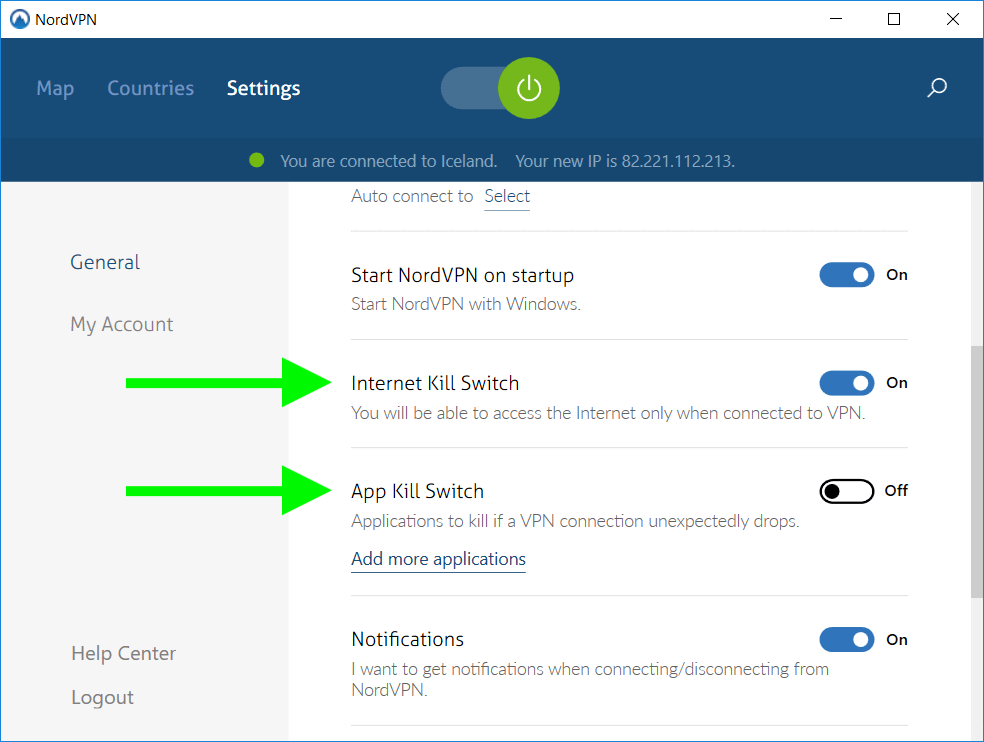 In comparison to IPVanish, NordVPN is the big winner in terms of features. It simply offers more and better features, whereas IPVanish remains a very basic VPN service.
Features winner: NordVPN
3. IPVanish vs NordVPN price comparison
There is a clear winner in the price category and that is NordVPN, when you use the 70% discount coupon.
First we'll look at IPVanish.
With IPVanish, you can use this 20% off coupon to get the discounted prices below. (You can also check out my IPVanish coupon page, which is kept updated to reflect the latest discounts and offers.)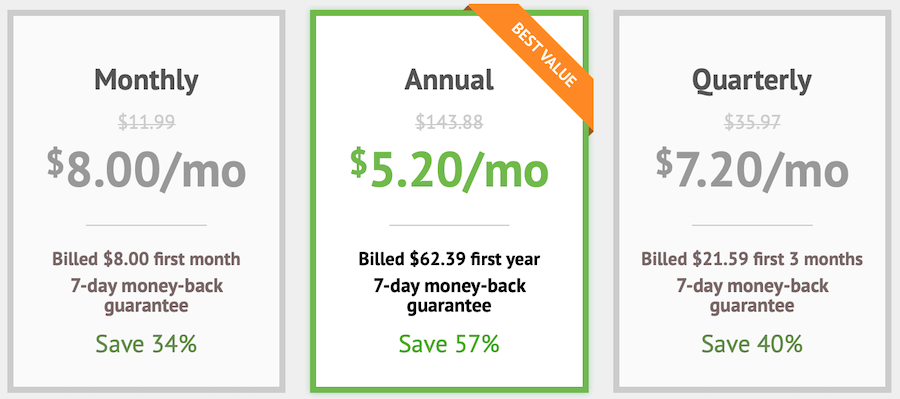 This means that the cheapest you can get IPVanish is $5.19 per month. In comparison to IPVanish, NordVPN is much cheaper at only $3.49 per month with the three-year plan.
IPVanish accept credit cards and PayPal, but they do not accept any cryptocurrency payments.
IPVanish refund policy – IPVanish offers a 7 day money-back guarantee. This is significantly shorter than NordVPN, which provides a 30 day money-back guarantee on all plans.
NordVPN price
NordVPN also offers some great deals throughout the year.
Currently the best discount you can find on NordVPN is with this coupon for 70% off. Here are the discounted prices:

Although NordVPN is cheaper than IPVanish on a monthly basis, you do have to sign up for longer subscriptions to get the best savings.
NordVPN supports all major payment options, with the exception of PayPal, and also accepts many different typos of cryptocurrency.
(See also my NordVPN coupon page that also shows the latest deals and discounts with NordVPN.)
NordVPN refund policy – NordVPN offers a 30 day money-back guarantee. This is about the best you will find in the VPN industry (much better than IPVanish's 7 day refund window).
So NordVPN is cheaper than IPVanish (with longer plans) and also offers a longer refund window.
Price winner: NordVPN
4. Encryption and Security: NordVPN vs IPVanish
Both NordVPN and IPVanish offer good encryption and security, but one has a slight advantage.
IPVanish: IPVanish encrypts traffic with an AES-256 cipher, SHA1 authentication, and a 2,048-bit key exchange.
NordVPN: NordVPN encrypts data with an AES-256 cipher, SHA256 hash authentication, and a 4096-bit key exchange to employ Perfect Forward Secrecy. In comparison to IPVanish, NordVPN deploys stronger encryption standards.
Additionally, NordVPN has rolled out a bug bounty program and a robust security plan for 2020 and beyond. This plan includes server infrastructure upgrades and running all servers in RAM-disk mode, which improves security and ensures no data can be stored (logged) on the server.
Encryption and security winner: NordVPN
5. IPVanish vs NordVPN support
I have dealt with both IPVanish and NordVPN's support periodically over the past few years. This was mainly done when testing out the VPNs for their respective VPN reviews.
NordVPN – With NordVPN you get access to 24/7 live chat support, which is available directly through the website. I have always found the chat support team to be professional, friendly, and knowledgeable. I've never experienced any extended wait time or problems getting support.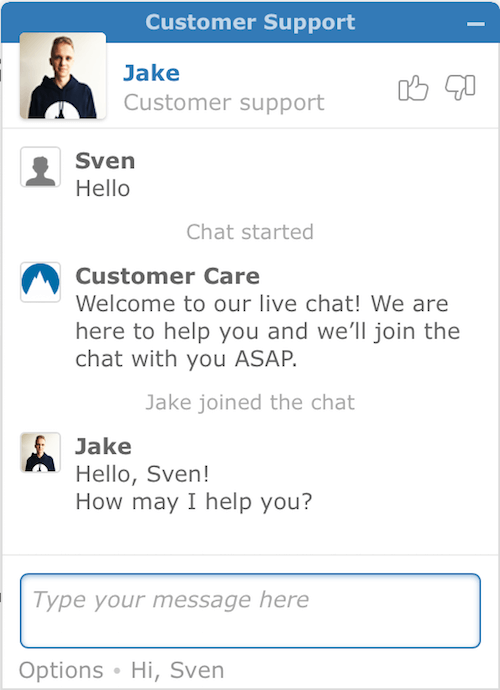 NordVPN chat support is always available if you need it.
IPVanish – Unlike with NordVPN, IPVanish does not offer 24/7 live chat support. In fact, their "chat" support appears to be a bot, rather than an actual human. The only option for reaching a human is to either send a message or call the hotline during available hours.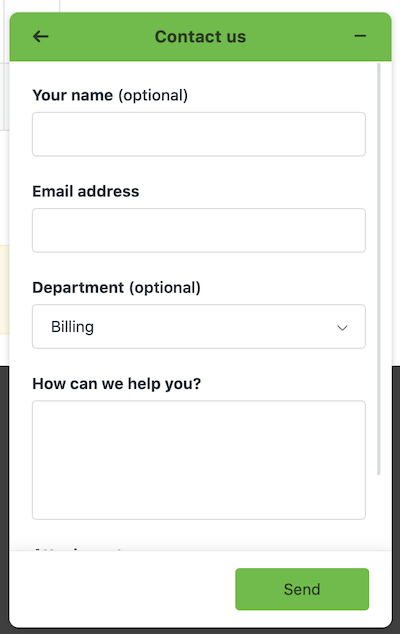 If you want 24/7 access to real (human) support technicians, then you will want to go with NordVPN.
Support winner: NordVPN
6. IPVanish vs NordVPN streaming (Netflix)
Many people are using VPNs to stream media and unblock content around the world. This is especially true for Netflix, which now restricts access based on your IP address (where they think you are located).
There are a handful of VPNs that work with Netflix, but many are blocked.
IPVanish – Although IPVanish has previously been blocked by Netflix, it now offers support for American Netflix. Additionally, IPVanish is also a great option if you need a VPN for Kodi, with dedicated apps for Kodi streaming.
Unlike NordVPN, however, IPVanish does not do well with unblocking BBC iPlayer or Amazon Prime.
NordVPN – NordVPN also works well with Netflix. I've tested this out many times and have found NordVPN to be one of the best options if you want a reliable VPN for Netflix.
Here I'm streaming Netflix through a NordVPN server in the US.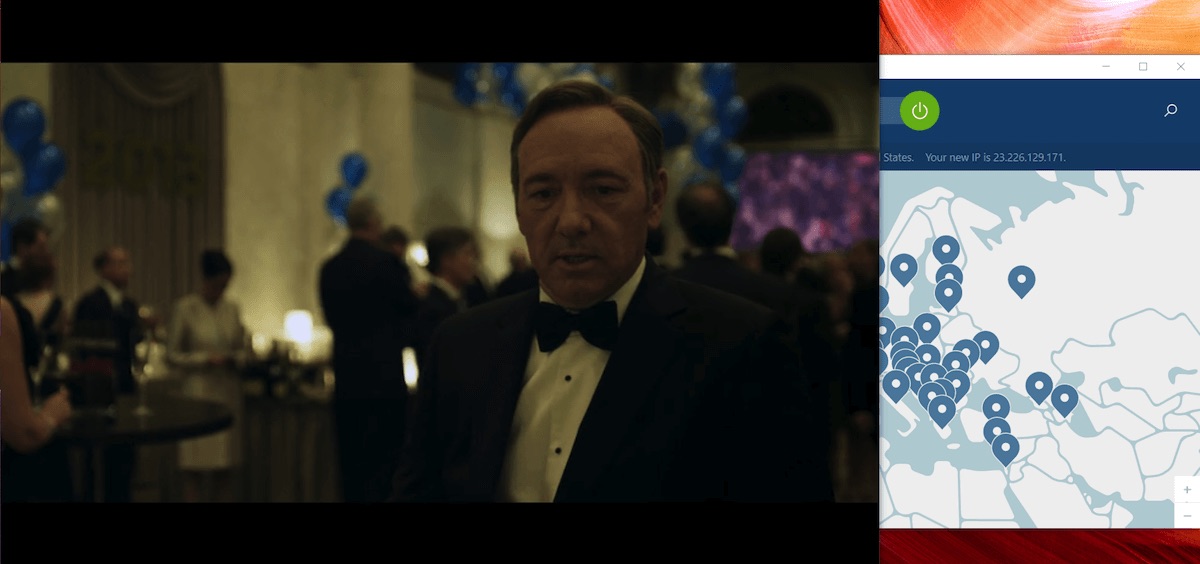 NordVPN also supports many different Netflix regions around the world. Additionally, NordVPN works well with other streaming services such as BBC iPlayer and Amazon Prime.
If you want a VPN for streaming American Netflix, both NordVPN and IPVanish will work. If you want access to numerous Netflix regions around the world, BBC iPlayer, Amazon Prime, and other streaming services, NordVPN would be the best choice.
Streaming winner: NordVPN
7. NordVPN vs IPVanish logs and privacy
The last category we'll examine is logs – or what data the VPN is recording when you use their service. In this category, there is a big difference between NordVPN and IPVanish. Both NordVPN and IPVanish claim to be "no logs" VPN providers – but only one has been verified to be correct.
IPVanish logs case
A few years back I broke the news that IPVanish was caught logging customer data and providing this to the FBI. This case pertained to a criminal investigation, and when requested by the FBI, IPVanish violated their own "no logs" policy. IPVanish explained this was done under a different management/ownership structure, and they are still a "no logs" company today.
(Note: IPVanish is now owned by J2 Global, as the disclosure in this article explains.)
Jurisdiction: With IPVanish being based in the United States, this puts the VPN under US law. It also means they can be pressured by US authorities to log user data, which is exactly what happened. The US is a Five Eyes surveillance country and not a good jurisdiction for privacy.
NordVPN's no-logs claims verified by third-party audit
Unlike with IPVanish, NordVPN has been verified to truly be a no-logs VPN. It is one of the few verified no logs VPN providers. In November 2018, NordVPN underwent a full audit from PricewaterhouseCoopers, which verified NordVPN's no-logs policy to be accurate. This is about as good as it gets for a no logs VPN provider.
Jurisdiction: With NordVPN being based in Panama, they are much more protected from countries, such as the US and UK, that demand customer data and/or logging.
Logs and privacy winner: NordVPN
Conclusion: NordVPN wins
As you can see from this NordVPN vs IPVanish comparison, the winner is clearly NordVPN.
This seems a bit lopsided, but NordVPN was truly the winner in every category:
Speed – NordVPN had faster speeds in every location tested
Features – NordVPN offers more (and better) features than IPVanish.
Price and Value – NordVPN is much cheaper, but you need to go with a longer subscription plan.
Encryption and Security – NordVPN offers stronger encryption standards and security
Streaming – NordVPN works with US Netflix and many other streaming services
Logs and privacy – NordVPN is an audited no-logs VPN provider. IPVanish was caught logging users for the FBI.
Support – NordVPN offers 24/7 live chat support.
While NordVPN is the clear winner in this IPVanish vs NordVPN comparison, either of these two VPNs may be the best choice for you. It all depends on your needs and uses for the VPN.
If you are really on the fence about which to buy, you could try both and cancel the one you don't like. Just remember, with NordVPN you have a 30 day refund window, but with IPVanish you have a 7 day window.
Here are discount links to get the best prices for each VPN service:
So now the choice is yours. If you are open to other options, you could also see my list of the best VPNs based on the latest test results. Stay safe and secure in 2020 and beyond.