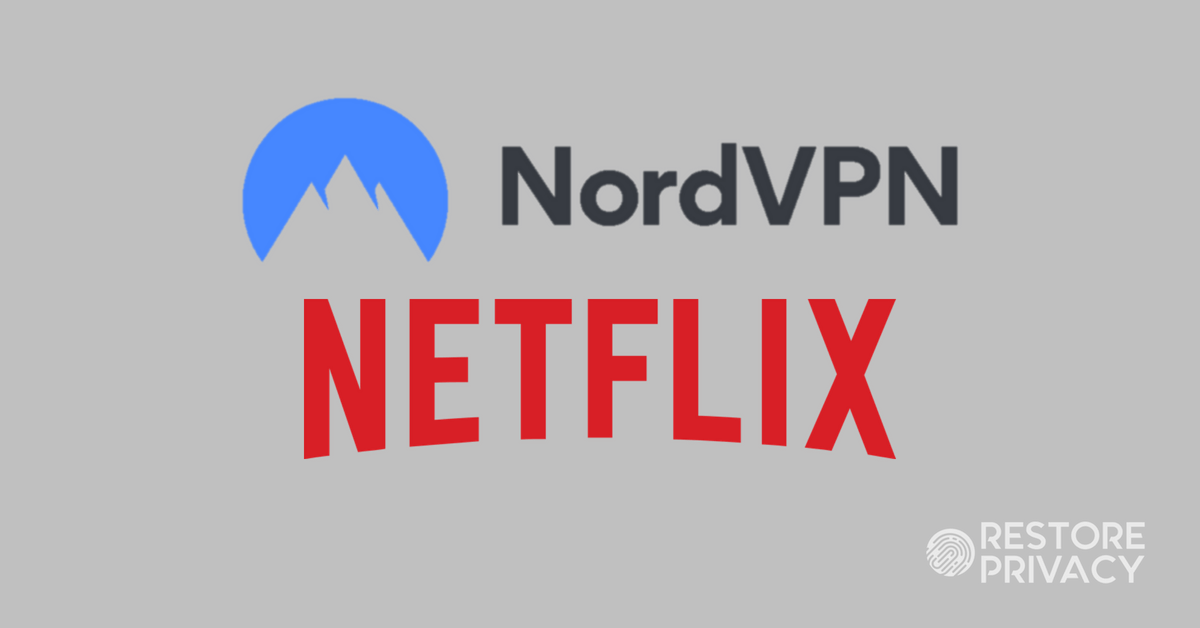 Are you wondering how well NordVPN performs with Netflix? This is an important question since many VPNs are either blocked or too slow to stream Netflix well.
In this NordVPN Netflix guide we put NordVPN to the test with real-world Netflix streaming tests using a variety of different server locations. We will also give you some tips and tricks to getting the most out of Netflix with NordVPN.
So let's get started.
Does NordVPN work with Netflix?
As revealed in the test results below, NordVPN works well with Netflix and passed all of the tests.
Here were the two main findings:
NordVPN was able to unblock Netflix with all of the US servers tested.
NordVPN offers good download speeds for streaming Netflix (averaging between 40 and 60 Mbps form my testing location in Europe).
Overall NordVPN remains one of the best VPNs you will find for Netflix because it consistently works and the speeds are great. If you're ready to give NordVPN a try yourself, you can get a huge discount on select plans with the coupon link below.
NordVPN Netflix Coupon
Get 75% off NordVPN (drops price down to $2.99 per month)
75% Off Coupon Here >>
(Coupon is applied on checkout page.)
NordVPN US Netflix
For this guide I tested NordVPN with US Netflix using a number of different server locations.
The first tests that I ran were to see if I could simply unblock US Netflix using NordVPN.
Here were the testing variables for all of the NordVPN servers I tested:
Physical testing location: Germany
Non-VPN internet speed: about 100 Mbps
Netflix region tested: US (American Netflix)
As you can see, I was running all tests on NordVPN's servers in the United States from my location in Germany, using a 100 Mbps connection. Despite the long distance between me and the VPN servers I tested, NordVPN still performed very well.
Here I am watching an episode of House of Cards through a NordVPN server in New York; everything worked well. There were no interruptions, buffering, or playback errors: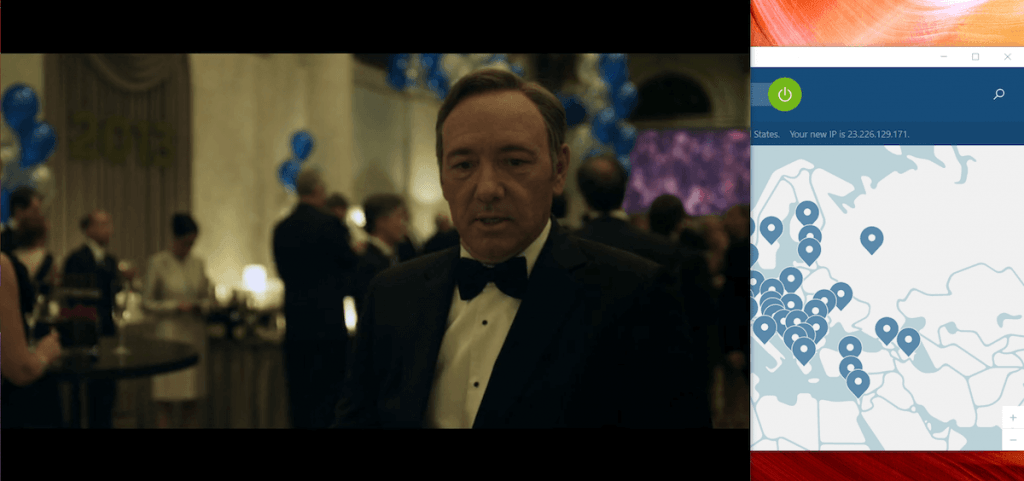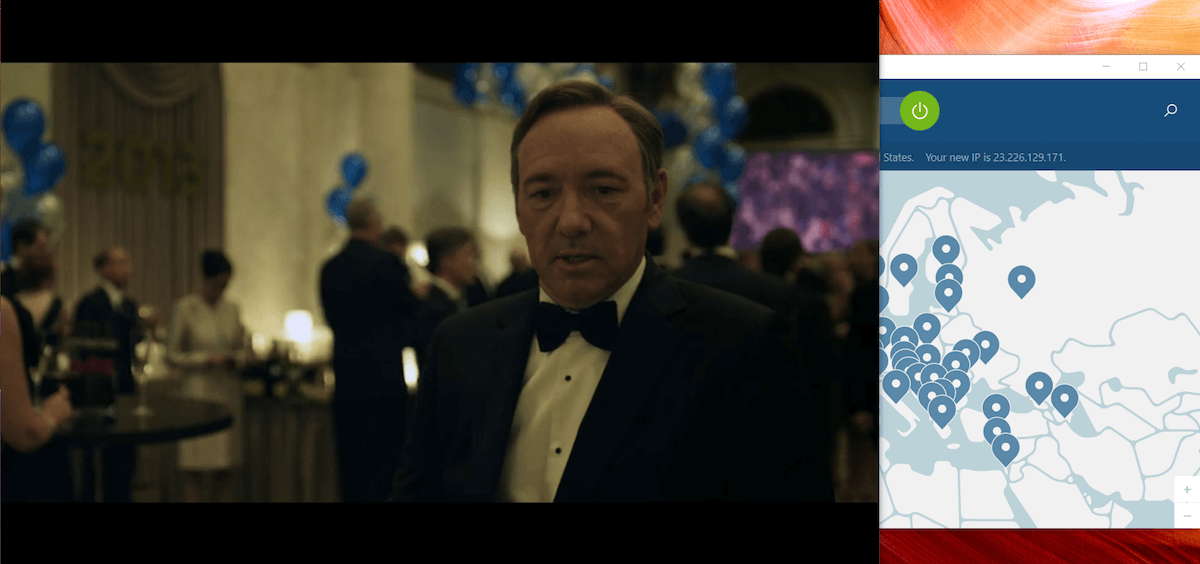 Watching Netflix through NordVPN at different times of the day also found the same results: great streaming quality with no interruptions.
I tested a variety of different NordVPN servers, such as New York, Chicago, and Virginia – everything worked well. NordVPN was always able to stream Netflix (no blocks) and the quality was always excellent (no interruptions or buffering).
NordVPN Netflix speed test
In the second round of tests I wanted to see how fast NordVPN could perform on Netflix servers.
There is one specific speed test site that is run by Netflix and tests real-world download speeds using the Netflix server network – see https://fast.com.
Overall, NordVPN did very well with the Netflix speed test results. I tested out NordVPN using the Windows app, which automatically connects you to the best server in terms of distance and available bandwidth. This is ideal for maximizing performance to stream Netflix.
This was for the same United States server I used to watch the House of Cards episode above: 55 Mbps (streaming from my location in Germany with a 100 Mbps line):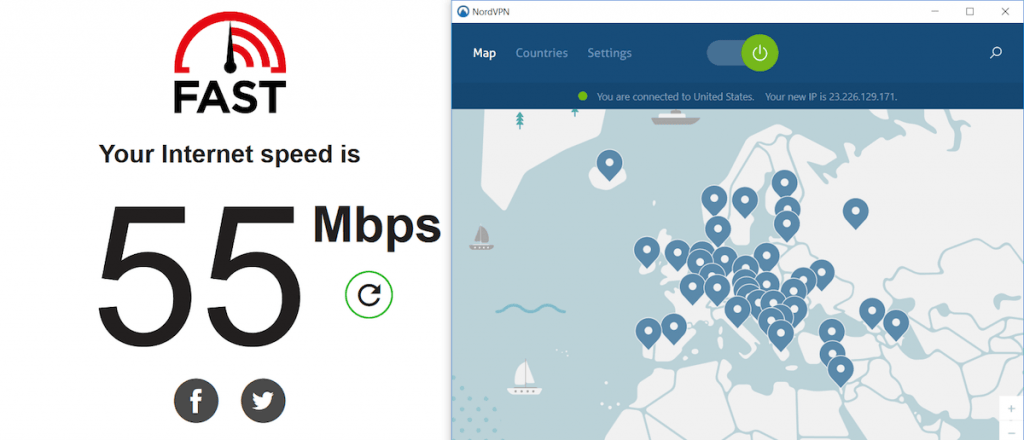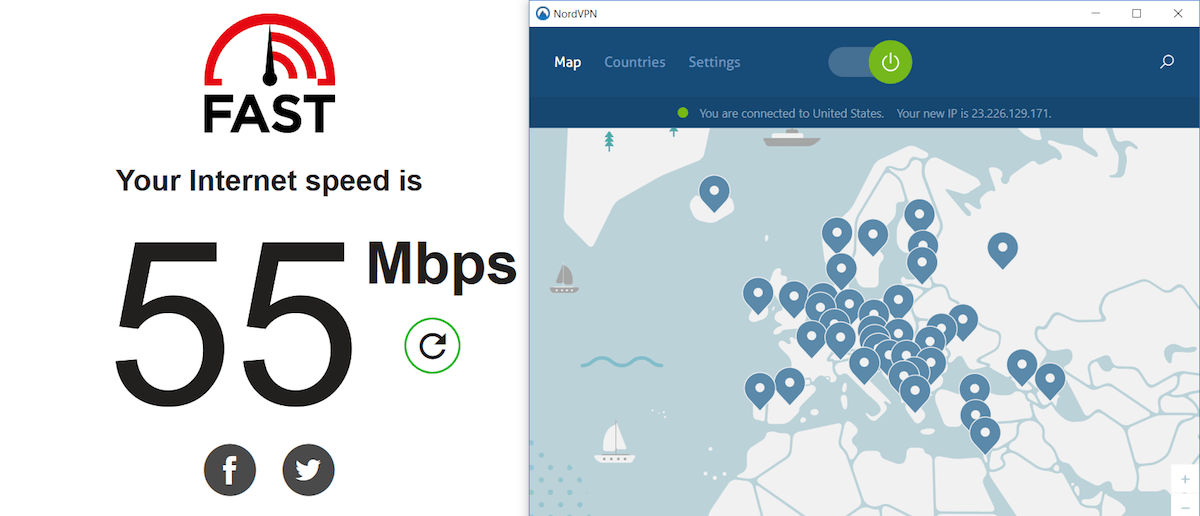 I tested a few other servers on the United States east coast and the results were consistently good – in the 40 to 60 Mbps range, which is more than enough for streaming Netflix with ultra HD video quality.
As explained in the Best VPN for Netflix guide, you only need 5 Mbps for HD quality and 25 Mbps for ultra HD quality. NordVPN gave me plenty of bandwidth for high-quality HD streaming.
Based on all of these tests, NordVPN is an excellent VPN to use for streaming Netflix.
How to use NordVPN with Netflix
To use NordVPN with Netflix, simply follow these four steps:
Purchase a NordVPN subscription (be sure to use the 75% discount coupon for maximum savings)
Download and install the NordVPN app for your device
Connect to a designated NordVPN Netflix server
Open Netflix and enjoy streaming
If you are having trouble using NordVPN with Netflix, you can find detailed instructions guides on the NordVPN website.
Additionally, there is 24/7 live chat available through their website, which may also be useful for setting up or general questions.
NordVPN Netflix regions
NordVPN currently works with many different worldwide regions, according to their website. Unfortunately, I could only test American Netflix with my account, but here are the other Netflix regions you can access with NordVPN:
Netflix US
Netflix UK
Netflix Canada
Netflix France
Netflix Netherlands
Netflix India
You may also be able to access other Netflix regions that are less common – but no guarantees since I could not personally test this.
Tips for using NordVPN with Netflix
Here are some general tips for using NordVPN with Netflix:
Connect to the closest server – Connecting to the closest server possible will minimize latency and should generally improve performance. One example I often use is that if you're in Europe and want to access American Netflix, you would be much better off connecting to a server in New York than Los Angeles.
Connect to a server with fewer users – This will ensure you have plenty of bandwidth for high-quality Netflix streaming. Fortunately, NordVPN's apps do this automatically, so you don't have to worry about it.
Try different servers – If you are having issues with a specific server, which may get blocked, simply try connecting to another NordVPN server. This should generally solve the problem and allow you to get through to Netflix.
Troubleshoot with support – If you are having any other issues when using NordVPN with Netflix, simply contact NordVPN support and they should be able to help you.
NordVPN Netflix conclusion
NordVPN is definitely a good VPN service for using with Netflix. Not only can it consistently unblock Netflix with different servers, it also offers excellent speeds and reliability.
NordVPN is also a great choice if you want to access other Netflix regional services – although US Netflix will offer the largest selection of content.
If you don't already have a subscription to NordVPN, you can start now with the coupon below and get the best savings.
Also remember, all plans come with a 30 day money-back guarantee, which gives you lots of time to test out the service with Netflix and make sure everything works well for your situation.
NordVPN Coupon
Get 75% off NordVPN (drops price down to $2.99 per month)
75% Off Coupon >>
Do you have a question or comment about streaming NordVPN with Netflix? Drop us a line below.