NordVPN Review Summary
Total (4.4 / 5.0)

Performance

Features

Privacy

User-friendliness

Support

Value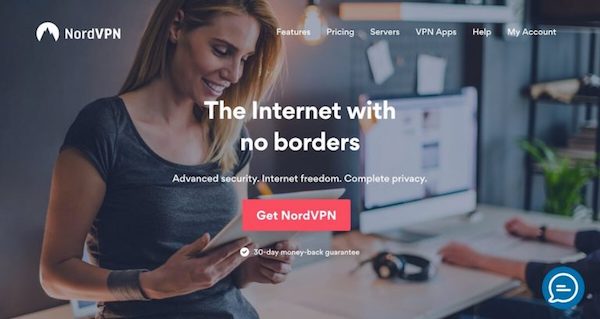 Good for
+ Online privacy and security
+ Streaming Netflix and other content
Summary:
NordVPN is a solid VPN service that offers a great value with the current discounted prices. In the past year it has made huge improvements by adding more servers, updating their apps to protect users against leaks, and adding new features, such as ad blocking. While there are still areas of improvement, this is a great VPN service to consider, especially with a 30 day money-back guarantee and the discount below.

Jurisdiction
Panama

Connections
6

Protocols
OpenVPN
IPSec/L2TP
IPSec/IKEv2
PPTP

Logs
Zero logs

Privacy Tests
Passed all tests

Price
$2.75
(with discount)

Refund
30 days

Support
Live chat
Email
+ Pros
User-friendly apps
30 day money-back guarantee
Double-hop VPN servers
Tor-over-VPN servers
24/7 live chat support
No logs
Works with Netflix
Competitive price
Ad blocking feature
– Cons
Variable speeds with some servers
NordVPN Coupon
Get 77% off NordVPN (drops price down to $2.75 per month)
77% Off Coupon
NordVPN and CloudVPN Inc. (USA)
One interesting update to this review is that NordVPN is now using a US-based "proxy service" for processing payments and developing their apps. If you purchase a subscription of NordVPN through PayPal, you will see your payment is going to CloudVPN Inc.

CloudVPN Inc. is a legal business based in Wyoming, which also uses a New York address. The developer information for the NordVPN app in the Google Play Store shows NordVPN as a US-based VPN service: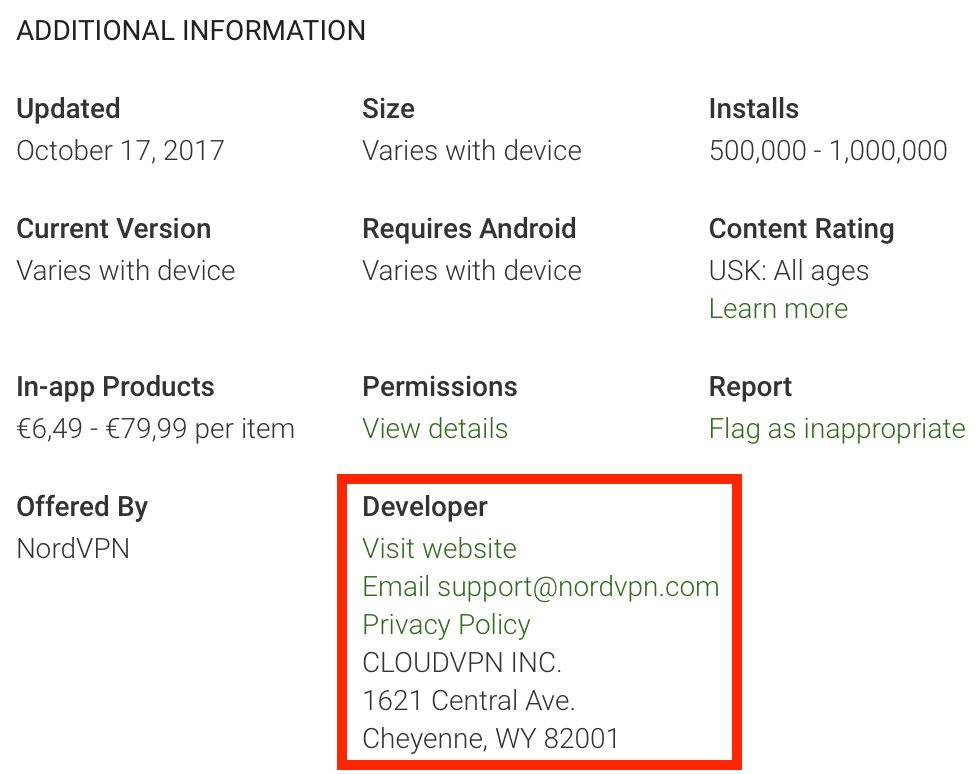 Clarification – NordVPN has provided us with more information on this issue. According to NordVPN, their service is still based in Panama, but CloudVPN Inc. serves as "a proxy based in the US, which in a nutshell acts only as our payment processor and has nothing to do with the actual service."
Overall I don't find this too concerning, but you can get more details on the NordVPN website (under Privacy Policy).
NordVPN price
NordVPN is now extending a discounted three-year subscription price to Restore Privacy readers. While the duration is certainly long, the savings are indeed significant, at only $2.75 per month.
Below are the standard prices without the discount: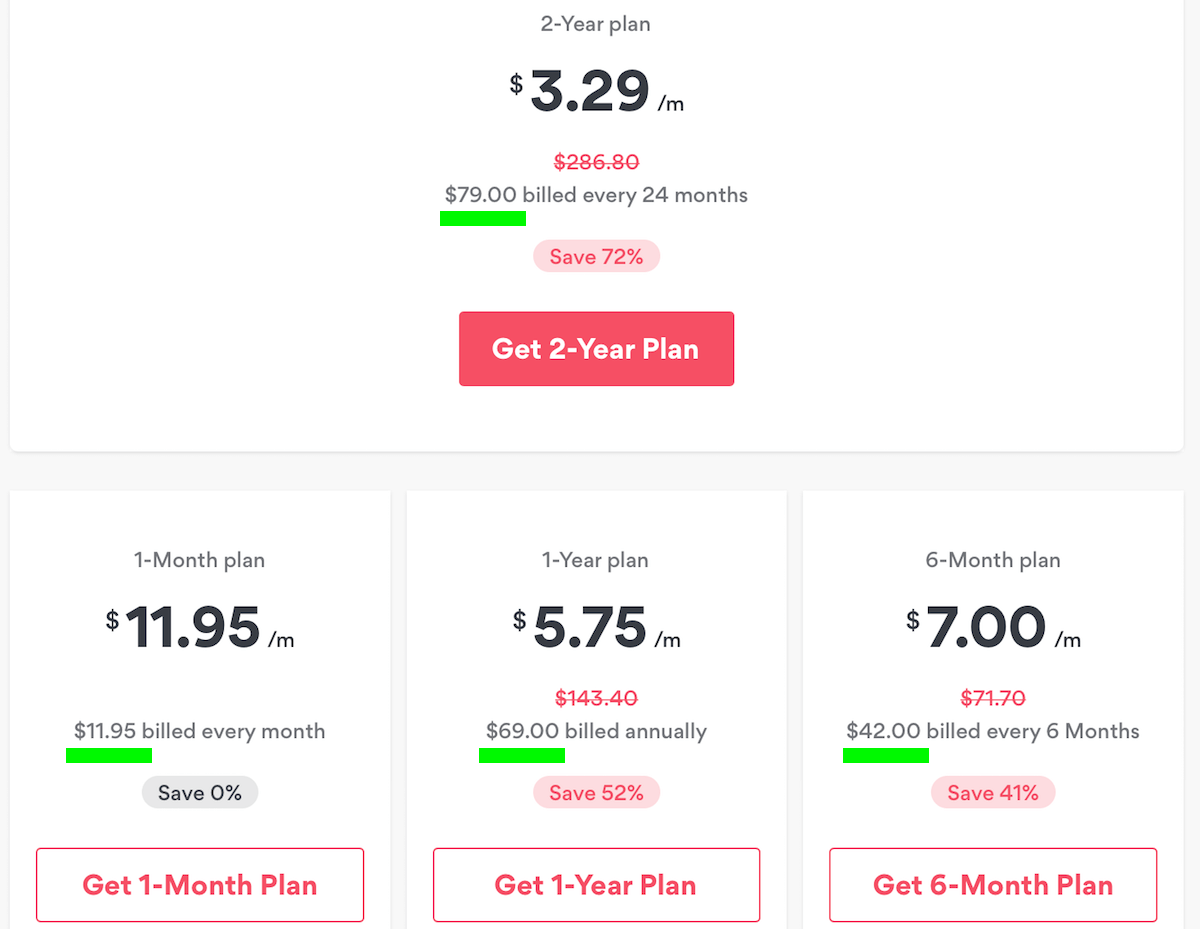 Also note, NordVPN provides a 30 day refund window, which is actually quite generous for VPN standards.
I put their refund policy to the test and they were quick to issue me a refund, within a few hours of my request (explained further below).
If you are interested in other discounts, you can check out the VPN coupons page, which also includes the following:
Additionally, I am maintaining a NordVPN coupon page with information on the latest promotions.
To get the details on the different NordVPN pricing plans, see their discounted pricing here >>
NordVPN servers
NordVPN boasts a large server network, which currently includes about 2,800 servers in 59 countries.
In previous reviews I found many NordVPN servers to be overloaded with users.
However, NordVPN has significantly expanded and updated their network since the last review, resulting in less congestion and more bandwidth. You can see real-time bandwidth stats for every server on the NordVPN website (see Servers in the navigation menu at the top).

With such a large selection of servers, you can easily find one with enough bandwidth for the region you are seeking.
Additionally, the NordVPN app will automatically connect to the least-congested server in a given country, which helps to optimize performance.
Nordvpn Netflix
NordVPN continues to work well with Netflix, while most VPNs are getting blocked by the service.
With NordVPN you can get full access to American Netflix, UK Netflix, and other regions as well. It is definitely a solid Netflix VPN considering the server selection and generally good performance.
You can check Netflix availability for the region you want to use on the NordVPN website.
Virtual server locations
For this review I also checked a number of different servers to verify the true server location. Some VPNs use what they refer to as "virtual server locations". One example of this would be a server in Singapore spoofing a location of Sri Lanka. This is easy for VPNs to do because they can declare any location they want for a range of IP addresses they purchase.
To check for virtual server locations, you can ping the server from different worldwide locations – see the steps outlined in this guide.
I tested various NordVPN server locations, such as Russia, Turkey, Chile, Costa Rica, Malaysia, South Korea, and India. You can get the server URL from the NordVPN website (see Servers from the navigation menu). Everything checked out.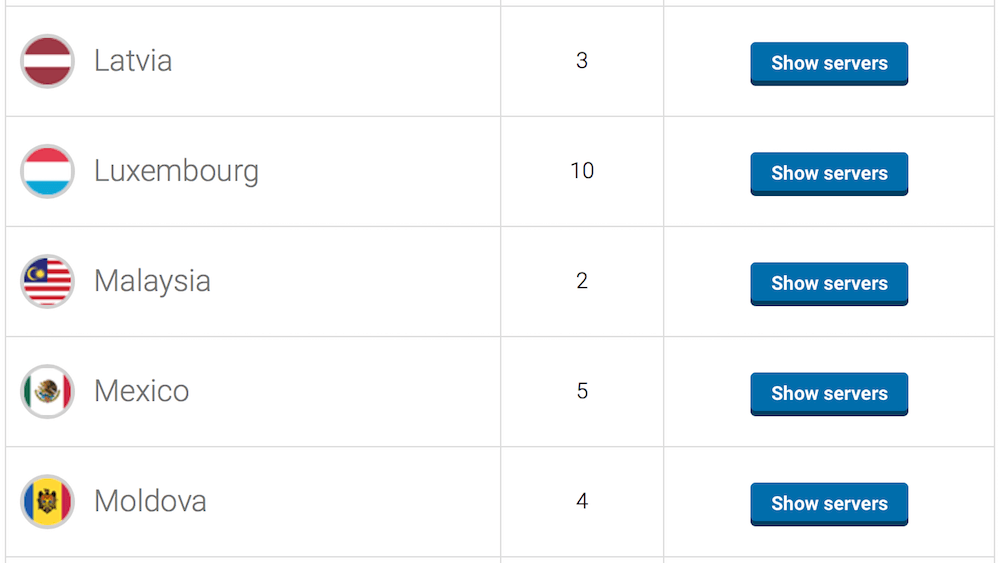 After testing numerous servers, it does not appear that NordVPN is using virtual server locations.
Note: Just to clarify, I was not testing for physical (dedicated) servers vs. virtual (VPS) servers – I was only checking the actual server location. The virtual vs dedicated server issue is a different topic entirely.
It is difficult to verify whether a VPN is using virtual or dedicated servers with certainty. However, two VPNs that explicitly claim to use only dedicated servers are VPN.ac and Perfect Privacy.
NordVPN speed test
NordVPN offers decent speeds on many servers, although there does seem to be variability.
My benchmark performance for speed testing was about 100 Mbps through my ISP connection.
Physical testing location: Germany.
When testing servers in my general region (Europe), I could usually get between 20 and 60 Mbps. Overall the speeds were good.
Here I am testing a server in the UK where the speeds were pretty good at about 44.6 Mbps.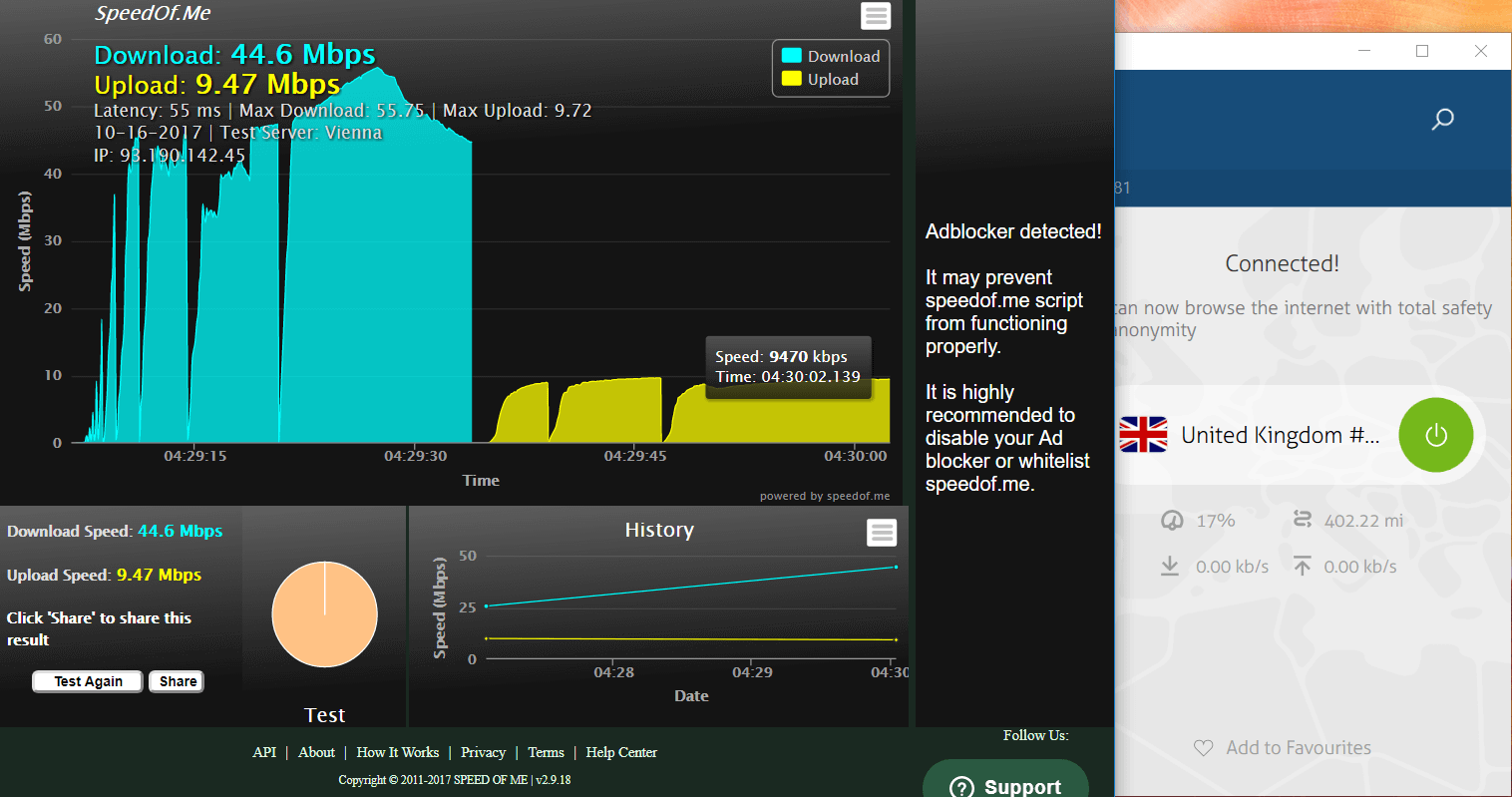 However, with other nearby servers, speeds were also somewhat variable.
With this NordVPN server in Amsterdam, the max download speed hit 32 Mbps but then dropped down to about  18 Mbps.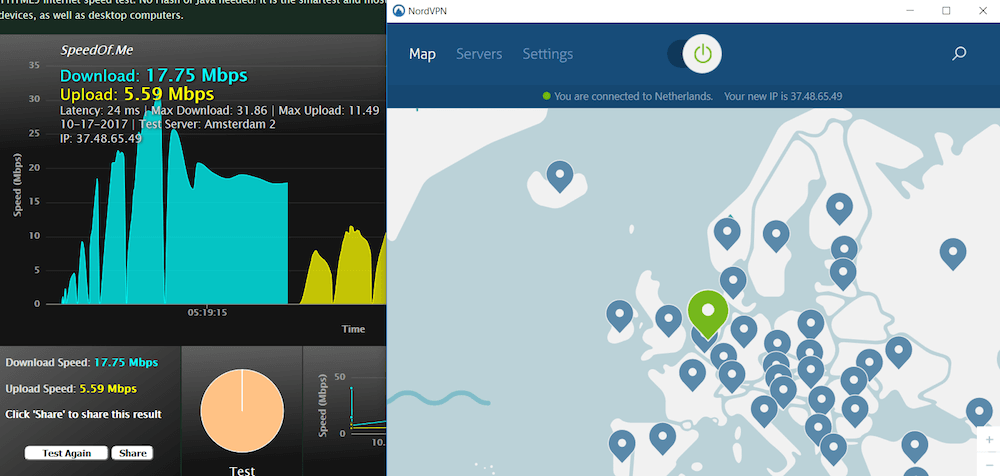 Overall, speeds have improved since the last NordVPN review, although performance can vary on some servers.
User feedback – The feedback I've received from other NordVPN users regarding speed and reliability has been somewhat mixed. Some find the speeds to be excellent, others find NordVPN to be somewhat lacking (there are many variables that affect speed).
High-Performance Alternatives
If you want a VPN that will offer the best performance in terms of speed and reliability, I have found the following three VPNs to do very well in testing with excellent speeds throughout the server network:
Given that both ExpressVPN and NordVPN are two of the most popular VPNs available, I created a detailed ExpressVPN vs NordVPN test report explaining the differences.
The one drawback with these three alternatives is that they are more expensive than NordVPN, but they also seemed to do better in the performance category.
NordVPN privacy test results
Once again, NordVPN has made some excellent improvements in the areas of privacy and security in the past year. Unlike in previous reviews, extensive testing did not find any obvious leaks with the Windows or Mac OS apps.
I tested the Windows and Mac OS clients using some basic VPN tests and checks with the site ipleak.net.
Overall the test results were good for the Windows and Mac OS clients:
No IPv4 leaks
No IPv6 leaks
No DNS leaks
No leaks – here is a test result showing everything working correctly with the NordVPN client (no leaks).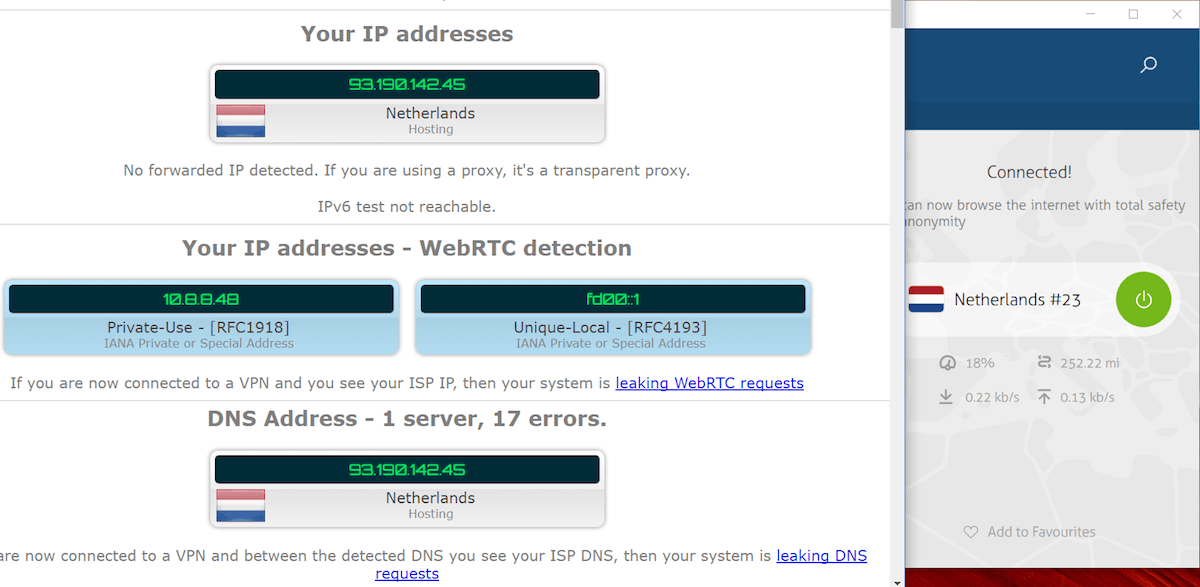 You can see in the image above that the NordVPN Netherlands server is providing me with an IPv4 address and handling DNS requests. Additionally, you can see that IPv6 is being blocked and the WebRTC addresses are just local (no leaks).
With the latest update to this review, it is clear that NordVPN has made some great improvements with its applications on both Windows and Mac OS.
NordVPN features
NordVPN offers some solid features to enhance user privacy and security.
NordVPN CyberSec
NordVPN recently rolled out a "CyberSec" feature, which is a malicious sites filter and an ad blocker. I found it to work well in testing, effectively blocking various advertising domains.
Two other VPN services that also offer a similar feature include:
NordVPN's CyberSec feature seemed to do well with blocking ads.
NordVPN kill switch
NordVPN is one of the few VPNs that is now offering two different kinds of kill switches. A kill switch is important because it blocks traffic if the VPN connection drops, which protects you from de-anonymization and your regular traffic being exposed.
In the screenshot below you can see the two different kill switches:
Internet Kill Switch – This will block all traffic if the VPN connection drops (recommended).
App Kill Switch – This will close applications if the VPN connection drops, but will not block any traffic.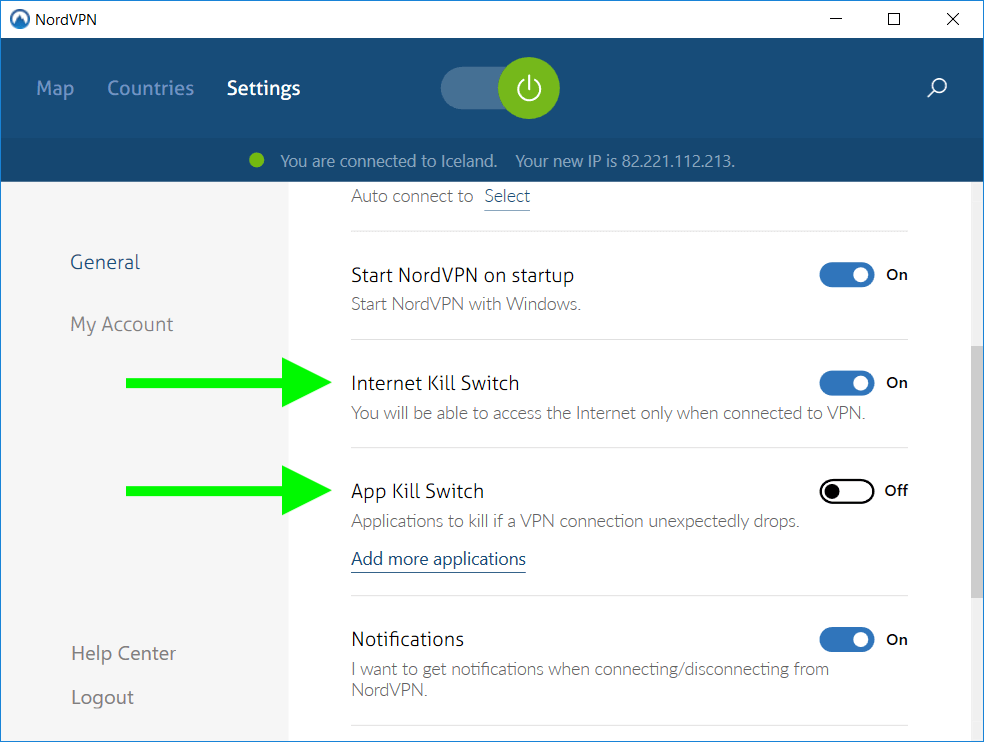 The addition of NordVPN's Internet Kill Switch was a recent development.
If you are concerned about IP address leaks it would probably be best to use the "Internet Kill Switch" as this will offer the most protection.
I tested the Internet Kill Switch and found it to effectively block traffic when there was not an active connection to a VPN server.
Tor (Onion) Over VPN
Despite the drawbacks of the Tor network (namely slow speeds and the potential for IP address leaks), it can still be combined with a VPN for more privacy. I also tested this setup with ZorroVPN for the ZorroVPN review. Additionally, Perfect Privacy also allows for direct Tor connectivity with any server in their network (Tor over VPN).
NordVPN offers three servers that exit onto the Tor (onion) network:
Netherlands
Sweden
Latvia
Unfortunately, I found the Onion over VPN servers to be unusually slow. Granted, the Tor network is known for slow speeds, but this was quite bad at under 1 Mbps (570 Kbps):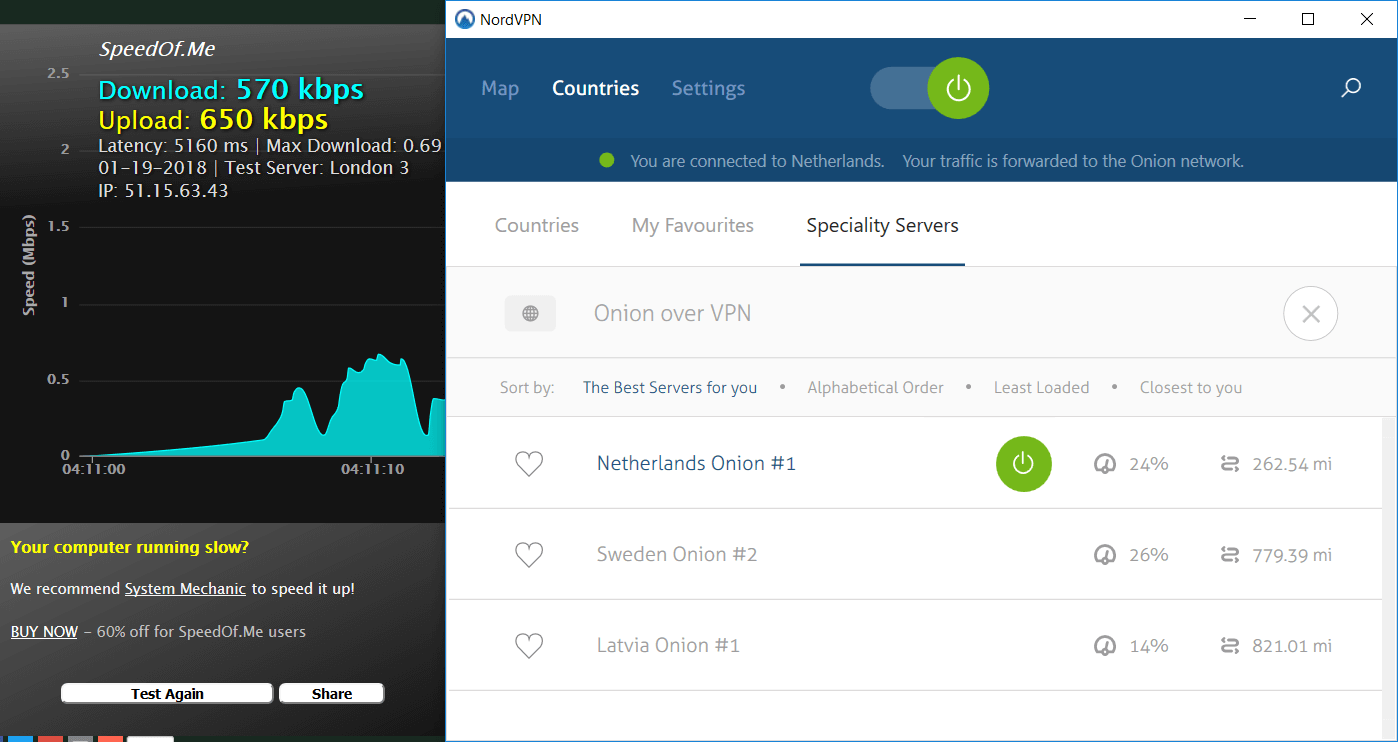 This isn't too concerning, however, simply because this is a known issue with the Tor network and not the fault of NordVPN.
If you want the highest standards in online anonymity with great performance, you may want to check out NeuroRouting, which is a new development from Perfect Privacy.
Double VPN (multi-hop)
Using a multi-hop VPN chain offers many advantages over a standard VPN setup (single server). If a server were to be targeted (monitored), a multi-hop VPN configuration would add further protection by helping to conceal incoming and/or outgoing traffic.
NordVPN currently offers 16 double-hop VPN configurations, which they list on their website. The drawback here is that these are not self-configurable. In other words, you can't create your own custom multi-hop configuration.
In the screenshot below I am testing out the "United States – Canada" server configuration. My download speed was about 10 Mbps, which isn't too good. However, also note the distance between my physical location and the servers (transatlantic) and the fact that traffic is getting re-routed and encrypted over two separate servers.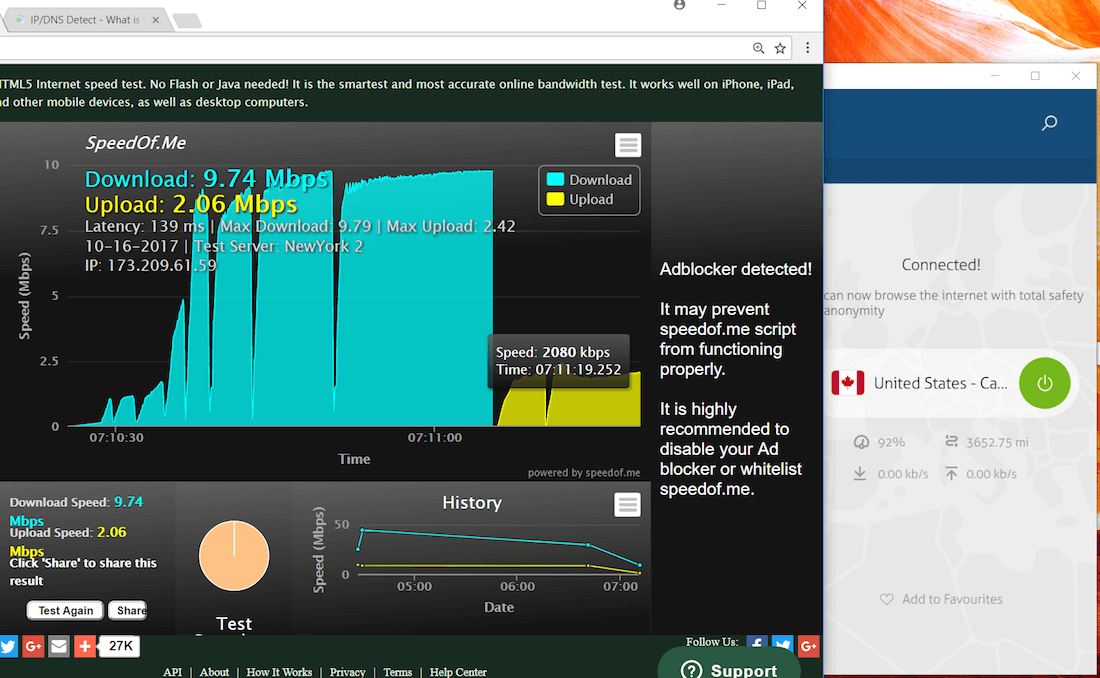 You can learn more about the different features offered by NordVPN on their website here.
You can also get more information on this topic with the multi-hop VPN guide.
NordVPN dedicated IP address
NordVPN also gives you the option to get a dedicated IP address. They offer dedicated IP addresses in the following locations:
United States (Buffalo, Los Angeles, Dallas) – $70
Germany (Frankfurt) – $70
United Kingdom (London) – $70
Netherlands (Amsterdam) – $70
The cost is for one year access to the dedicated/static IP. Despite the higher cost, NordVPN is among the best VPNs for a static IP. You can purchase a dedicated IP address by contacting NordVPN's support to arrange the IP location and have them add it to your account.
NordVPN router
NordVPN seems to be a good option for a VPN router. Their website includes detailed setup guides for various router models. You can also get assistance via the NordVPN live chat support.
You can also get preconfigured VPN routers that will work with NordVPN right out of the box. These are offered by Flashrouters and you can see the full lineup of NordVPN routers here.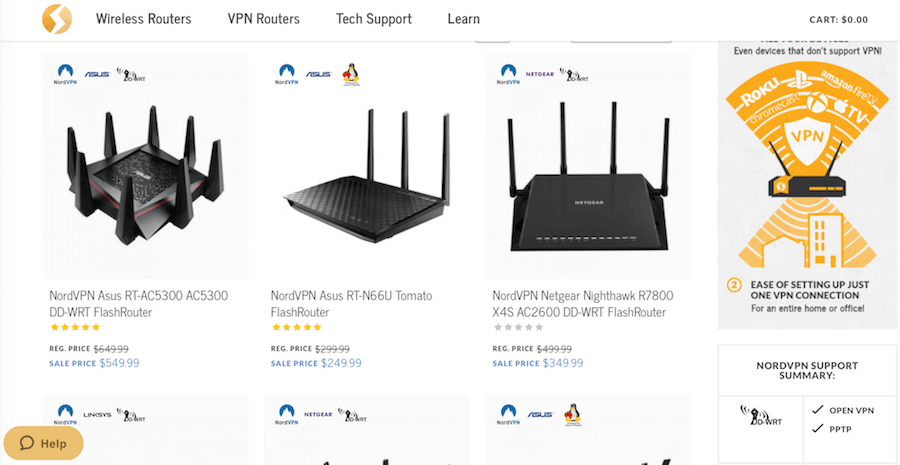 Another advantage to using a VPN on a router is that it will only count as one connection, regardless of how many devices connect to the router. This can free up more connections to use with other devices, since NordVPN limits users to five connections per subscription.
NordVPN support
In previous NordVPN reviews I found the support to be quite poor (email tickets with delayed responses). Fortunately, they have brought back chat support and the representatives are fairly helpful.
I initiated a few different chats to bring up various issues. It didn't take long to connect with a representative (generally a few minutes) and the support team was helpful in answering my questions.
You can access the chat support through the NordVPN website at the bottom right corner of the screen.
NordVPN has significantly improved in the support category in the past year, which is great to see.
NordVPN refund
As we discussed above, NordVPN offers a 30 day refund window, which is quite good for the VPN industry.
If you read the exact refund policy from NordVPN, however, it contains some interesting points (in bold below):
If you wish to claim a refund, you can do so within 30 days following your purchase of NordVPN service. We want you to be fully satisfied with our services. However, we will troubleshoot an issue you experience first. There are several nuances to a VPN service configuration and we solve 99% of issues encountered. NordVPN reserves the right to suspend, terminate, or refuse service to anyone at any time for any reason. No refunds will be considered for accounts deleted for violation of our Terms of Service.
NordVPN reserves the right to suspend "anyone at any time for any reason." While it is true that VPNs need to protect their network from abuse, this seems a bit over the top.
On a positive note, NordVPN (CloudVPN Inc. in the United States) was fast to refund my money through PayPal: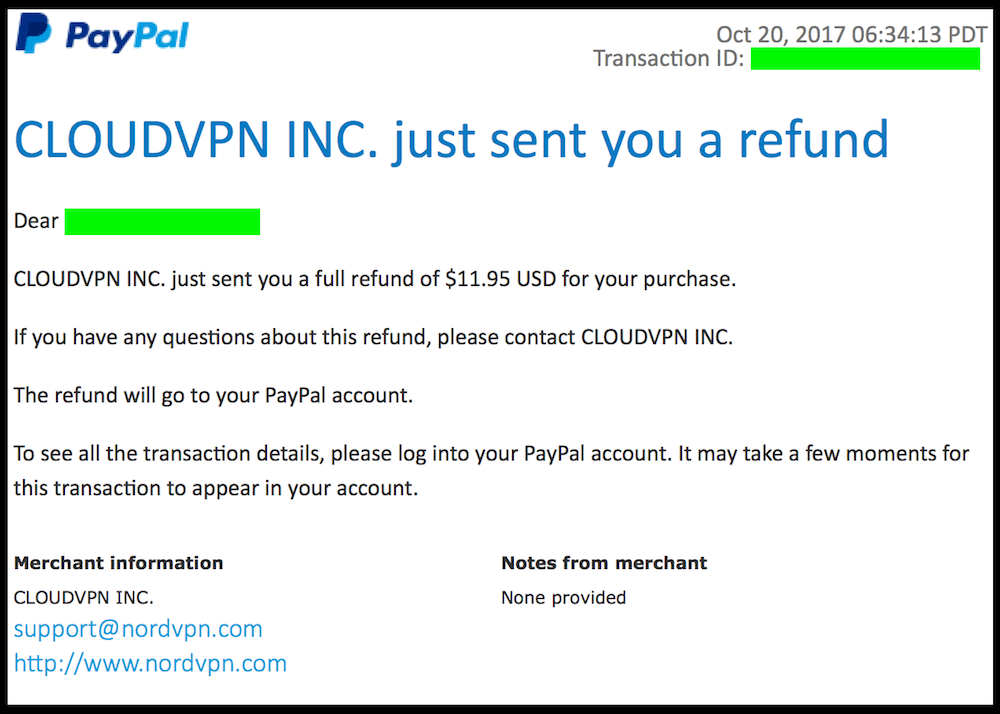 Within a few hours of my request, I received the refund from CloudVPN Inc. (NordVPN).
Note: Some people complain about having to go through troubleshooting before the refund is issued. Nonetheless, NordVPN still honors the 30 day window.
NordVPN Review Conclusion
NordVPN has made some great progress since the last NordVPN review. Namely, they have improved their applications, expanded their server network (which also improved performance), fixed the kill switch, and introduced new features (CyberSec and ad blocking).
Given all of these updates, improvements, and added features, NordVPN scored much higher in this review than in previous versions. It is a VPN that continues to improve, which is a very good sign with the long-term viability of the business.
And lastly, the 30 day refund window is also a big advantage, along with the discounted pricing to drop the monthly rate even further.
Visit NordVPN and get 72% Off >>
---
---
Alternatives to NordVPN: