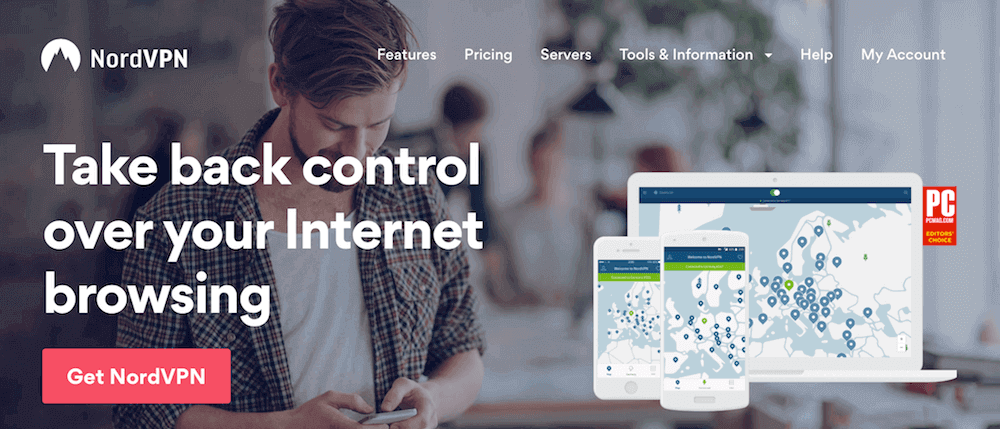 NordVPN Review and Test Results
Performance

Features

Support

Value
Review of:
NordVPN is an overall decent VPN service that has made some improvements since the last review. However, if you are using a VPN mainly for privacy or security, you may want to consider some alternatives. Here are the drawbacks identified in this NordVPN review:
IPv6 WebRTC leaks
Kill switch does not block traffic
Fluctuating speeds
Frequent disconnects (with some servers)
Appears to be owned by a US company (CloudVPN Inc.)
To get more information on NordVPN, you can visit the NordVPN website here>>
If you are open to alternatives, you can check out the Best VPNs list for the latest recommendations on the top VPN providers.

Connections
6

Price
$5.75

Jurisdiction
United States / Panama*
(unclear)

Privacy Tests
IPv6 WebRTC leaks
Kill switch does not block traffic
See the Best VPNs List for Alternatives >>
NordVPN = CloudVPN Inc. (USA) ?
One interesting update to this review is that NordVPN now appears to be owned by the United States company CloudVPN Inc. People who are trying to avoid US VPN services (Five Eyes) may find this concerning. This is also important since many "review" sites recommend NordVPN because it is not based in the United States. But let's take a closer look…
After purchasing a one month NordVPN subscription through PayPal, I was given the following details:

And the email confirmation: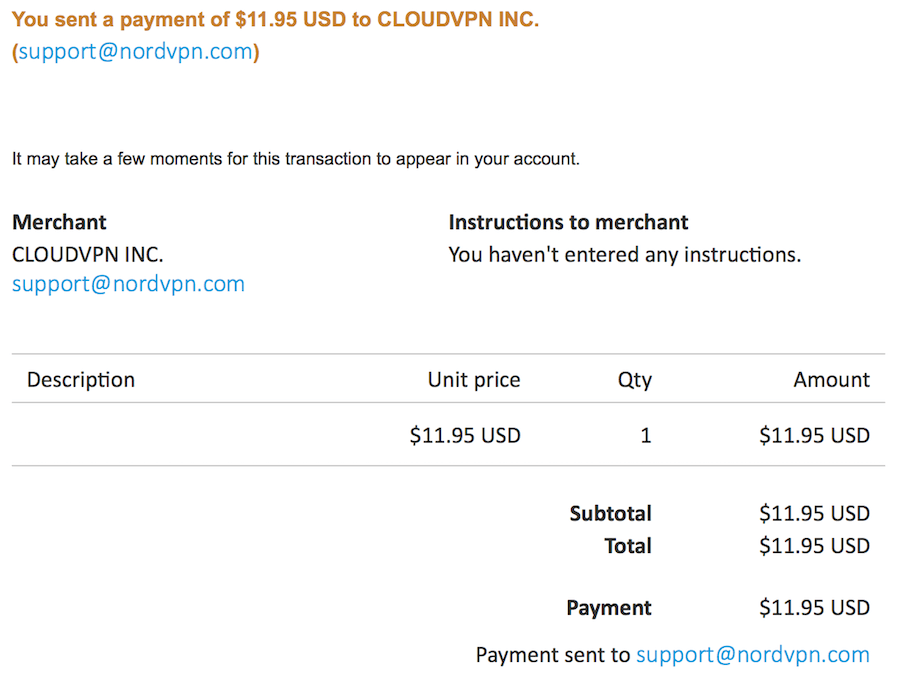 The company newsroom of CloudVPN (mirror 1) includes a collection of NordVPN blog posts, with their official website being listed as nordvpn.com.
Furthermore, the official NordVPN app in the Google Play Store lists CloudVPN Inc. as the developer in the United States (mirror 1).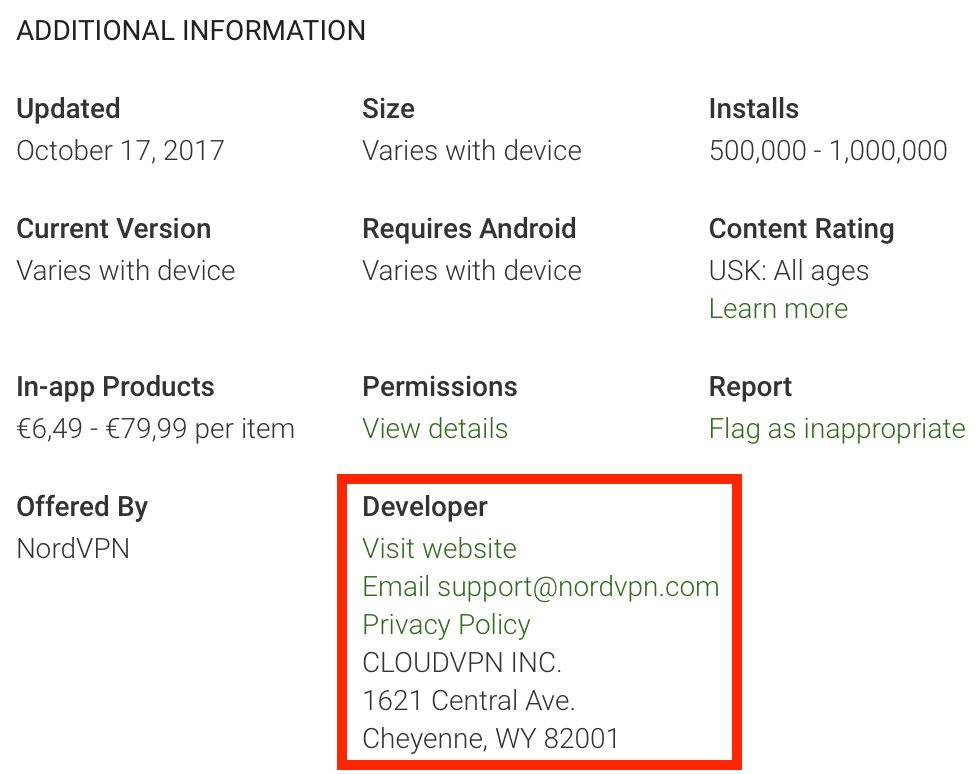 As you can see above, CloudVPN Inc. is a legal business based in Wyoming, that also uses a New York address (mirror 1).
And finally, NordVPN is now requiring their affiliates to fill out W-9 forms for the IRS (Internal Revenue Service). This tax requirement only applies to US-based businesses and VPN providers, such as IPVanish and Private Internet Access. The evidence clearly suggests that this is now a US VPN provider.
Is this a problem?
Not necessarily.
However, many people want to avoid US VPN providers due to unfavorable laws, practices and surveillance agencies (NSA) that affect user privacy and security.
US authorities have also coerced overseas "no logs" VPN providers to log and hand over customer data. For these reasons and more, a VPN service in the US (or UK) may not be the best idea – but it all depends on the user.
NordVPN servers
NordVPN boasts a large server network, which currently includes 1,330 servers in 60 countries.
In previous reviews I found many of NordVPN servers to be overloaded with users. This seems to be less of a problem right now – server loads have improved. You can see bandwidth stats on the NordVPN website.
However, during peak traffic times, NordVPN servers can still be pretty loaded.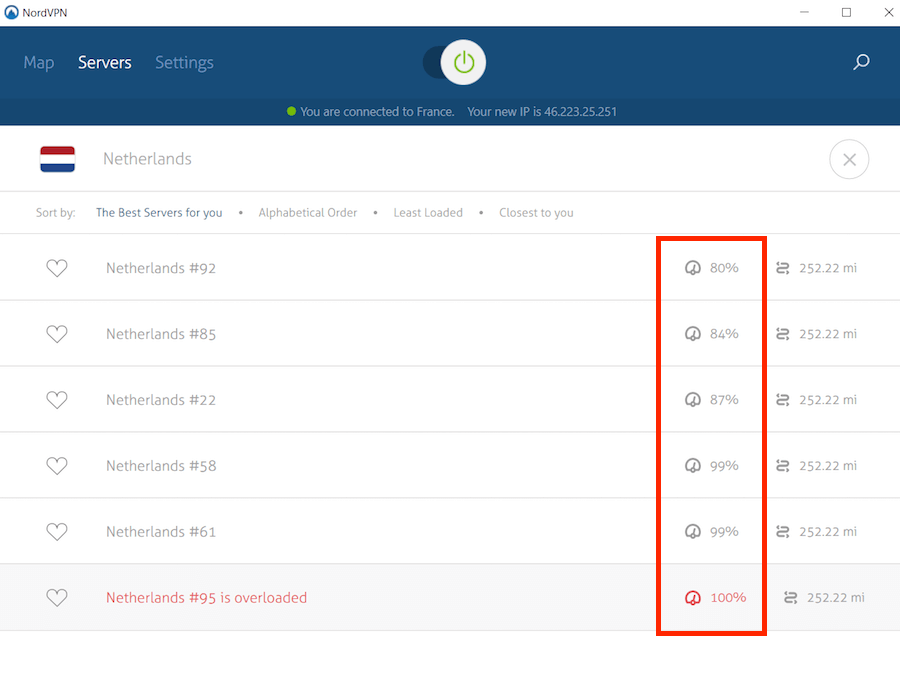 In contrast, some VPNs have a smaller server network consisting of dedicated, physical servers that provide good bandwidth throughout the day (no virtual servers). Here you can see two examples showing real-time bandwidth on smaller server networks:
Now we'll examine the features and how they performed in testing results.
NordVPN speeds and reliability
One recurring problem I have found when testing NordVPN over the years is that it frequently disconnects or has problems with not connecting. With the latest round of testing for this review, NordVPN's applications seem to be slightly more stable.
However, I still experienced random connection problems with some servers. Here is one example showing recurrent connection errors with the Ireland server.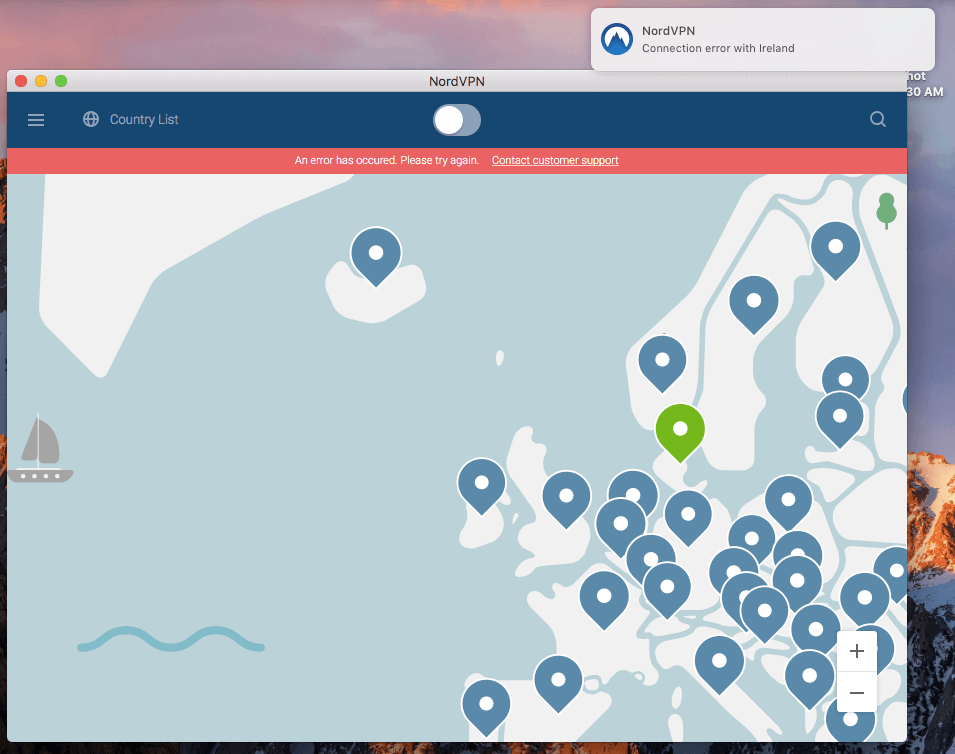 I also found that speeds could vary considerably, even for servers in the same geographic region.
With this NordVPN server in Amsterdam, the max download speed hit 32 Mbps but then dropped down to 18 Mbps.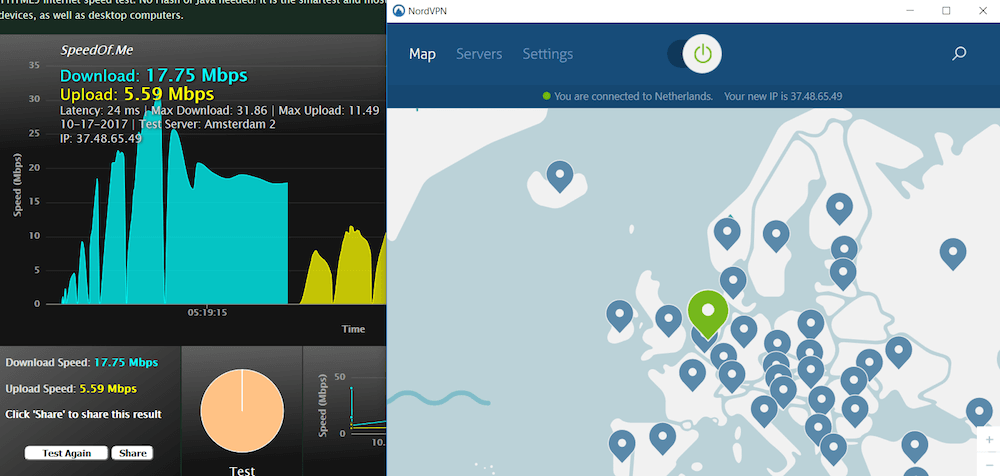 I found many of the NordVPN servers in the UK to be overloaded. Not surprisingly, the speeds were variable, here's one test where the speed is under 1 Mbps (900 Kbps).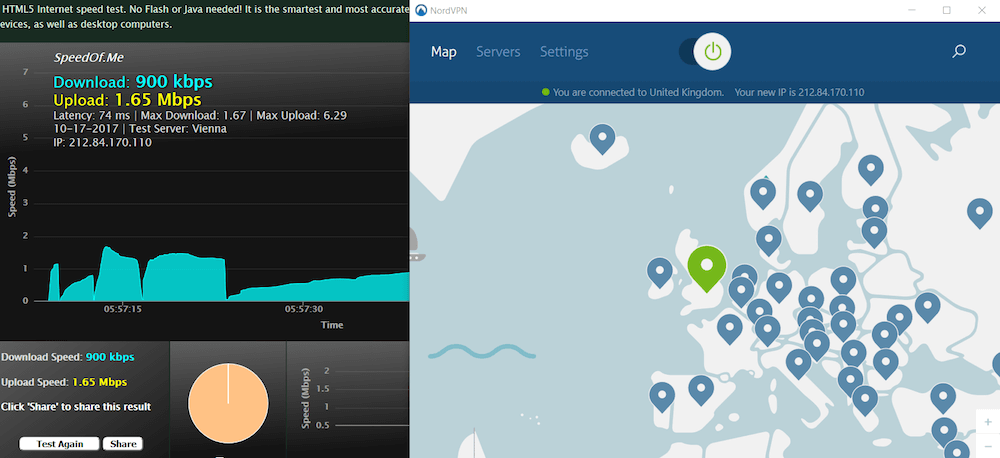 Servers I tested in the United States and Canada were also hit or miss. Sometimes the speeds were OK (20-40 Mbps), but other times they were quite poor (1-5 Mbps).
With servers in Europe, I could occasionally get between 30 and 60 Mbps (if they weren't overloaded).
Based on my testing, the best word to describe NordVPN server speeds would be variable.
This matches up with user feedback I have received: some people are happy with NordVPN's performance, but others aren't.
NordVPN WebRTC leaks
In previous NordVPN reviews I was critical of the fact that their application would actively leak IPv6 addresses. Fortunately, they finally implemented IPv6 leak protection earlier this year. While I no longer detected active IPv6 leaks, I did find WebRTC leaks in testing both the Windows and Mac OS clients.
IPv6 leaks via WebRTC (WebRTC leaks)
Running some basic VPN tests and checks using the site ipleak.net identified IPv6 WebRTC leaks with the Windows and Mac OS clients. The WebRTC leaks seemed to occur randomly (not with every NordVPN server).
Ex. 1) IPv6 WebRTC leaks with the Windows client: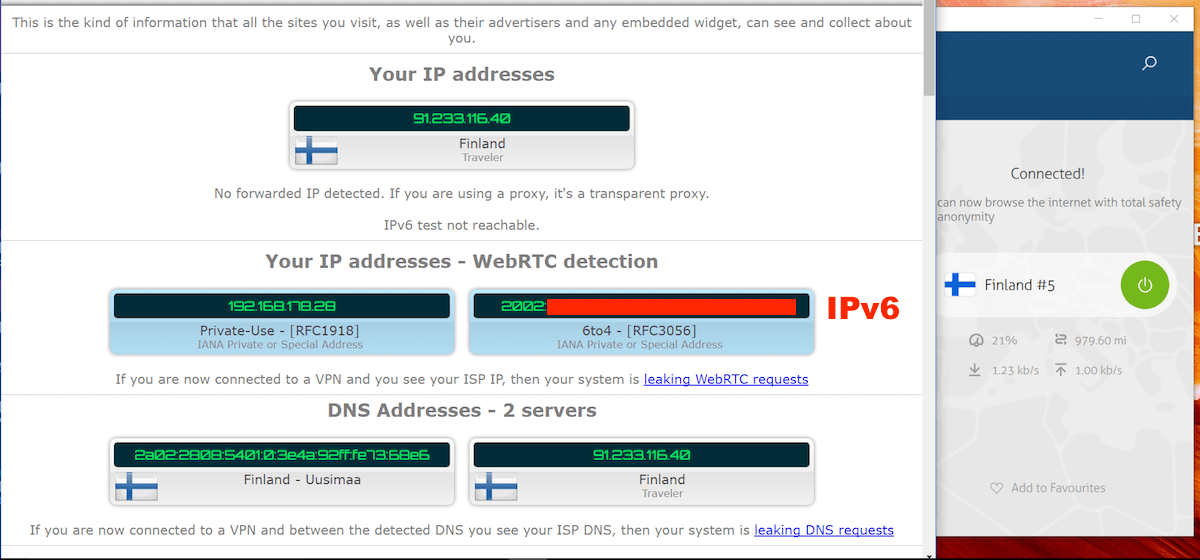 Ex. 2) IPv6 WebRTC leaks with the Windows client: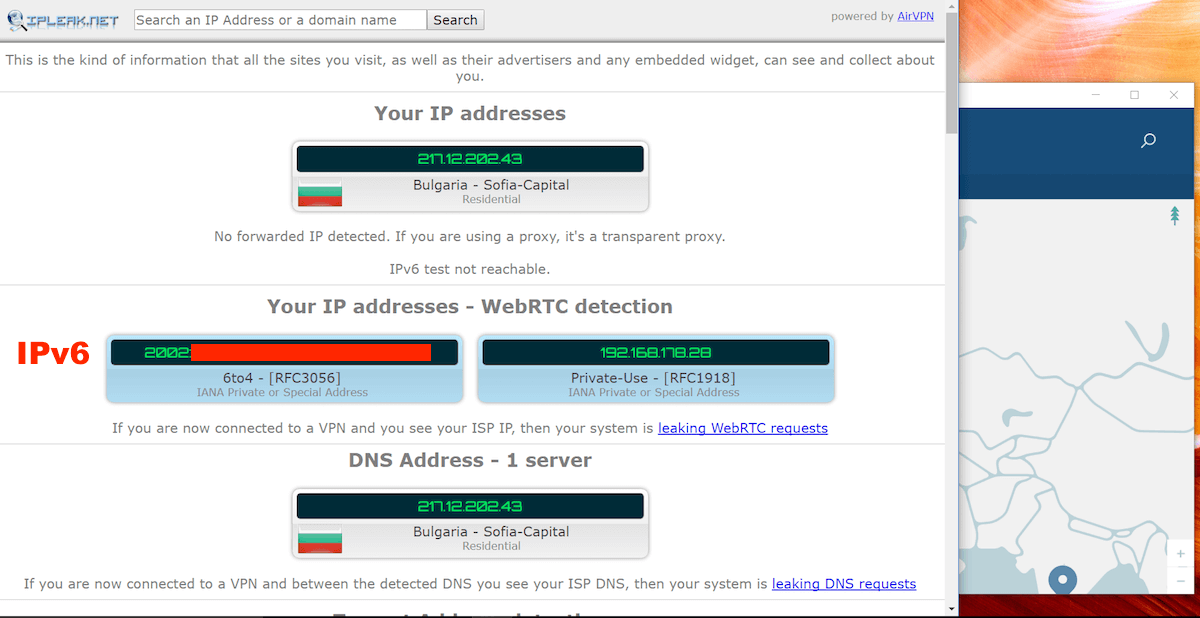 Ex. 3) IPv6 WebRTC leaks with the Mac OS client: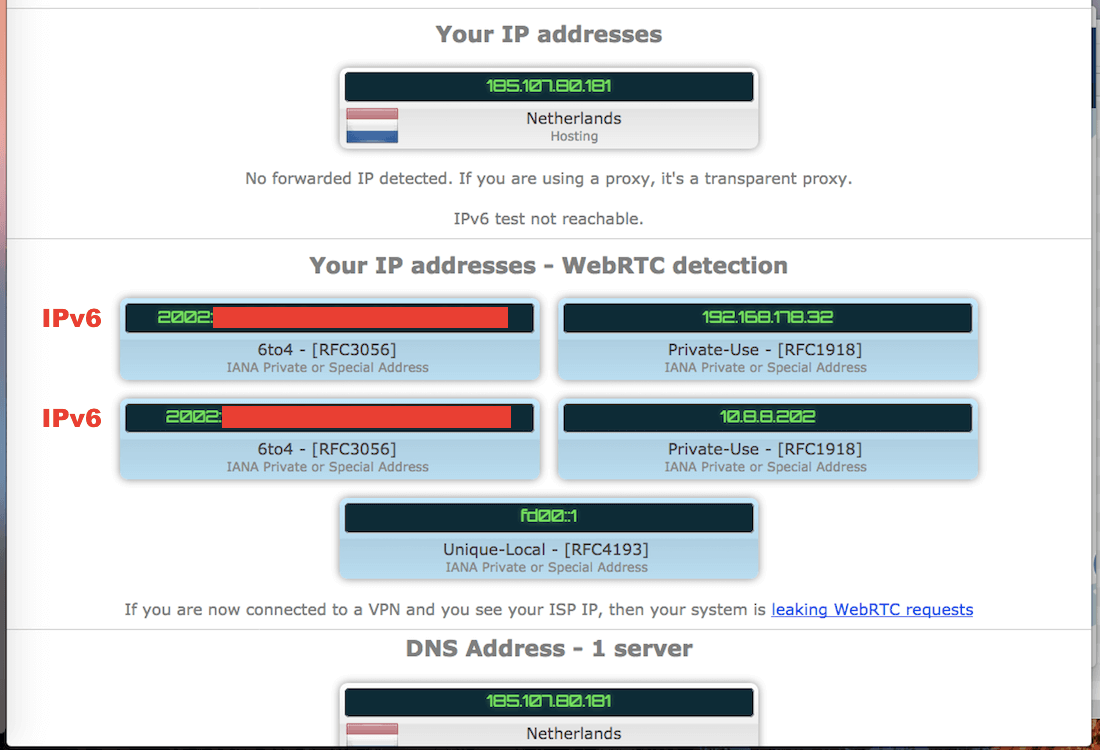 Ex. 4) IPv6 WebRTC leaks with the Mac OS client: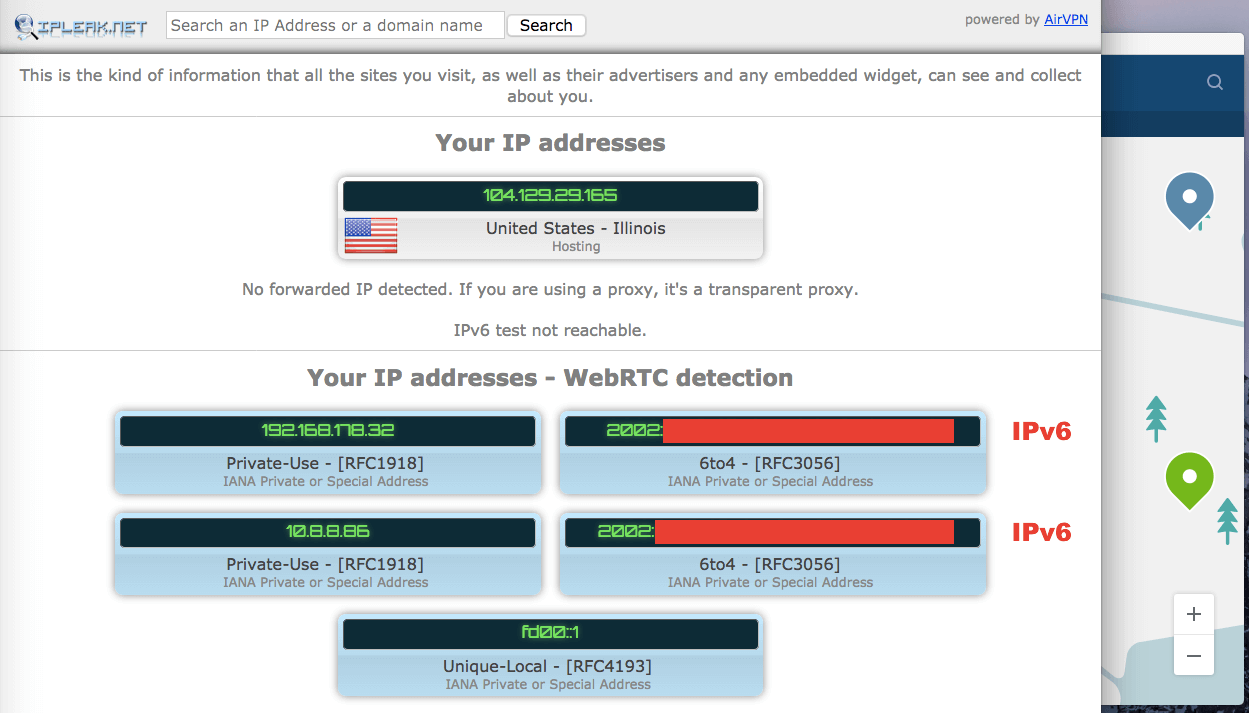 Note: In the screenshots above, you can see the local (non-leak) IPv4 addresses, and the public IPv6 addresses (leaks) are redacted in red. Additionally, there are many factors that affect WebRTC leaks, such as your network, browser, and browser settings (therefore testing results may vary).
I did not find WebRTC leaks with every server – it seemed to be a random issue.
WebRTC leaks affect Firefox, Chrome, and Opera browsers. While you can disable WebRTC in a given browser, the leaks are still not a good sign (especially since many people won't know to do this).
I also checked both the Windows and Mac OS clients for IPv4 and IPv6 leaks, as well as DNS leaks. I did not find any other issues, problems, or leaks.
NordVPN features
NordVPN offers some decent features, although not everything worked correctly in testing for this review.
They recently rolled out a "CyberSec" feature, which is a malicious sites filter and an ad blocker. Two other VPN services I've tested also offering this feature include:
The CyberSec feature seemed to do fine with blocking ads. Nonetheless, I ran into a few problems with other features that warrant further discussion.
NordVPN kill switch problems
In testing out NordVPN over the years, I've never been a fan of their "kill switch" feature.
Rather than blocking all non-VPN traffic through the firewall, NordVPN's "kill switch" simply closes designated applications, while still letting all traffic through.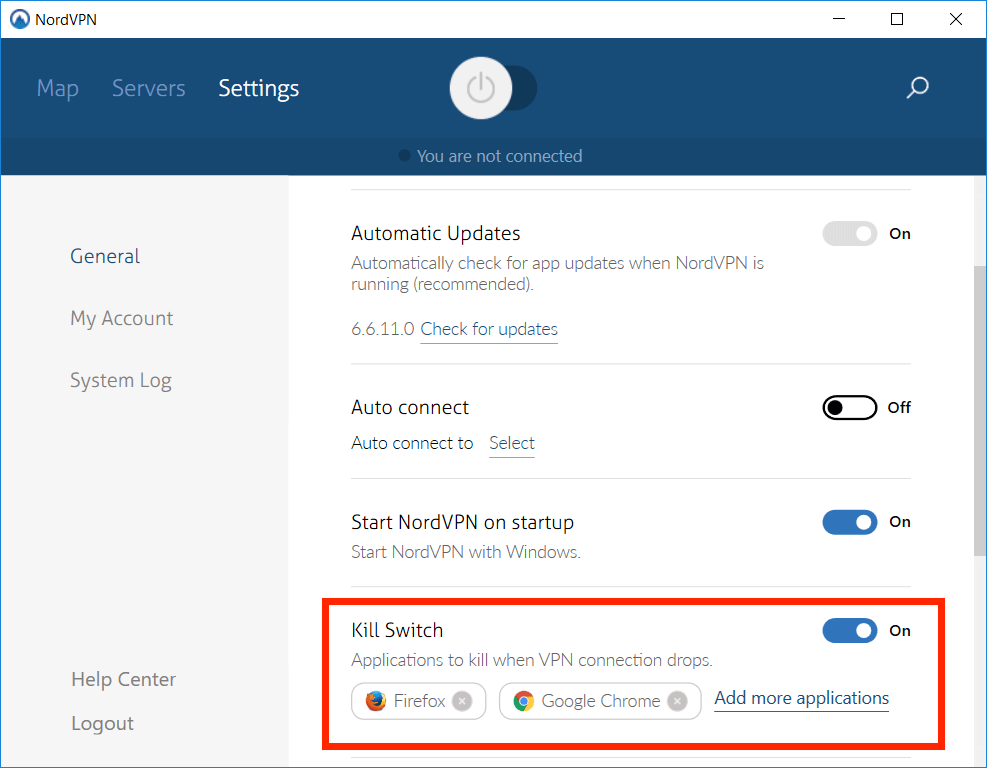 This creates the following problems:
The kill switch does not actually "kill" the traffic, it just closes the pre-selected applications. Background apps, torrents, or streams may still be sending data, thereby exposing your IP address if the connection drops. (Use a third-party firewall/traffic monitor such as GlassWire or Little Snitch to see all the background apps sending data on your OS.)
Every time you switch servers, the kill switch will either shut down your apps (email, browsers, etc.) or your traffic will be exposed. (Because the traffic is not blocked.)
Every time the VPN unexpectedly disconnects, the applications connected to the kill switch will be shut down, and you could lose what you're working on.
VPNs that offer kill switches that actually block traffic include: VPN.ac, Perfect Privacy, VPNArea, and ExpressVPN.
Tor (Onion) Over VPN
Despite the drawbacks with the Tor network (namely slow speeds and the potential for IP address leaks), it can still be combined with a VPN for more privacy. I also tested this setup out with ZorroVPN for the ZorroVPN review.
Unfortunately with NordVPN, I found the Onion over VPN servers to be unusably slow. Granted, the Tor network is inherently slow, but generally not this slow.
Double VPN (multi-hop)
Using a multi-hop VPN chain offers many advantages over a standard single VPN setup. If a server were to be targeted (monitored), a multi-hop VPN configuration would add further protection to the VPN user by concealing incoming and/or outgoing traffic.
NordVPN currently offers 16 double-hop VPN configurations, which they list on their website. The drawback here is that these are not self-configurable. In other words, you can't create your own custom multi-hop configuration.
When testing this feature, some of the Double VPN servers would not connect – this seemed to be a random problem (perhaps due to server loads). However, I did manage to establish a connection with "United States – Canada". Despite the server being overloaded at 92% bandwidth, my download speed was about 10 Mbps.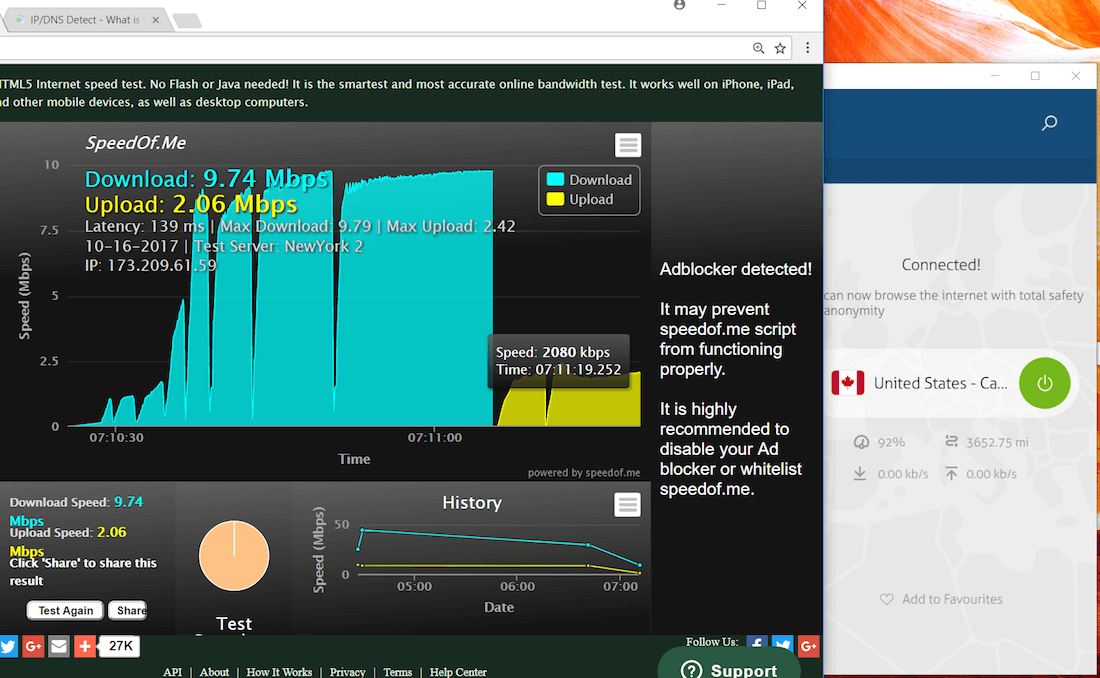 Other VPNs offering multi-hop VPN configurations include:
ZorroVPN – Self-configurable multi-hop with up to four servers, also allows configuration with Tor network and proxies.
Perfect Privacy – Self-configurable multi-hop (Windows and Linux) or dynamic NeuroRouting multihop (all devices) – can also be used with the Tor network.
VPN.ac – Offers 18 double-hop (double VPN) configurations, in addition to obfuscation features.
NordVPN support
In previous NordVPN reviews I found the support to be quite poor (email tickets). Fortunately, they have added chat back (again) and the representatives are fairly helpful. I have seen some complaints about the NordVPN support in various forums, however, I found it to be OK.
I initiated a few different chats to bring up various issues. It didn't take long to connect with a representative, although they did not do the best job giving me specific answers to various questions.
You can access the chat support through the NordVPN website at the bottom right corner of the screen.
NordVPN Windows and Mac OS testing
Overall the NordVPN Windows client seemed to work alright. Aside from the connection problems (which are likely related to the network) and the WebRTC leaks, the Windows client performed reasonably well.
However, the Mac OS client was very buggy.
Occasionally, if the connection dropped, the NordVPN Mac OS client would often crash. If it was unable to reconnect, the application would continually ping the operating system, creating thousands of alerts, while also freezing up. I've never seen a VPN do this in Mac OS: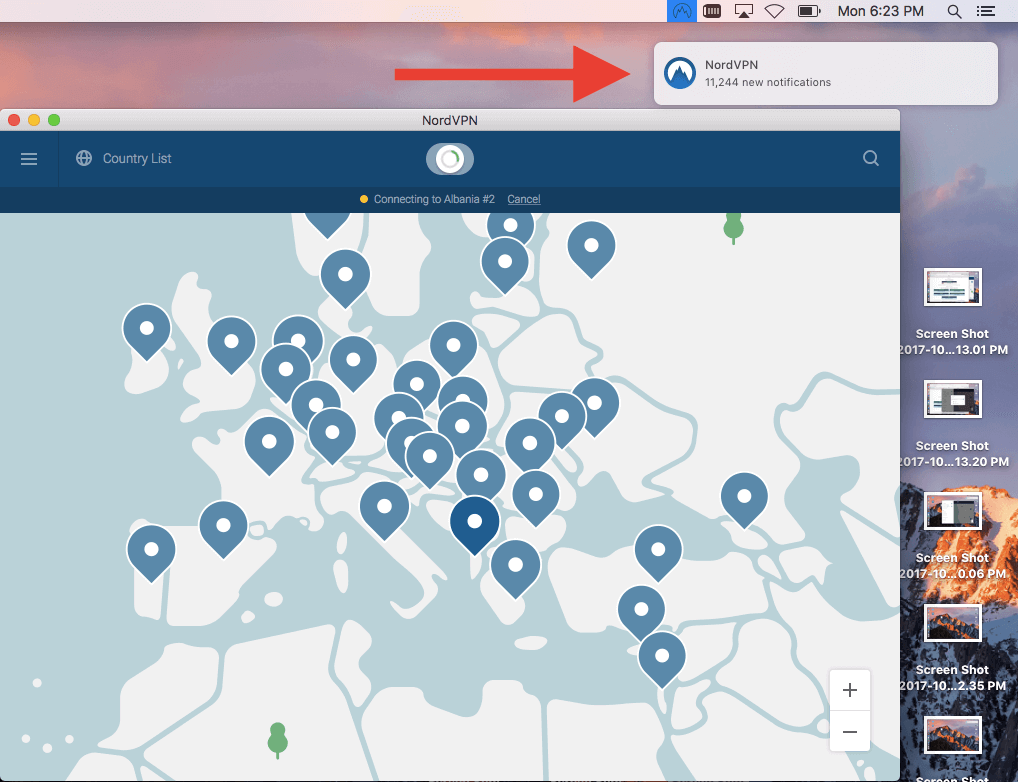 When this happened, the Mac OS client would not respond, and the only solution would be to force quit the NordVPN app.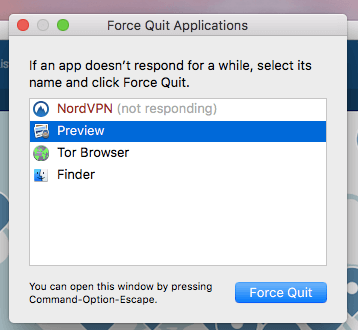 Unfortunately for Mac OS users, many VPNs do not offer very good clients that work well. (See the best VPNs for Mac guide for alternative options.)
NordVPN user reviews
Over the past few months I have received mixed reviews from NordVPN users – both via comments and emails.
Some people report great speeds and reliability, others report terrible speeds and other problems. It definitely seems to be a mixed bag when it comes to user feedback and reviews.
30 day window
I have also come across posts in online forums where users state that everything worked great during the 30 day return window. But, after the refund window expired (beyond 30 days), the service took a nose dive in terms of speed and reliability. This review on reddit describes the issue with NordVPN:

Some suggest that NordVPN may be allocating more bandwidth to users who are still in the refund window (but I have no proof of this and it seems impossible to verify).
Nonetheless, this would explain these different NordVPN reviews on reddit that all seem to describe the same turn of events.

It's difficult to vouch for the reviews on reddit or anywhere else with NordVPN. But there seems to be a pattern here.
NordVPN trial
If you are interested in testing out NordVPN, you can get a 3 day trial on their website.
The trial offer gives you the opportunity to test the servers, download speeds, and apps for yourself.
However, as others have pointed out online, performance may change after the trial of NordVPN is over (but I have not verified this).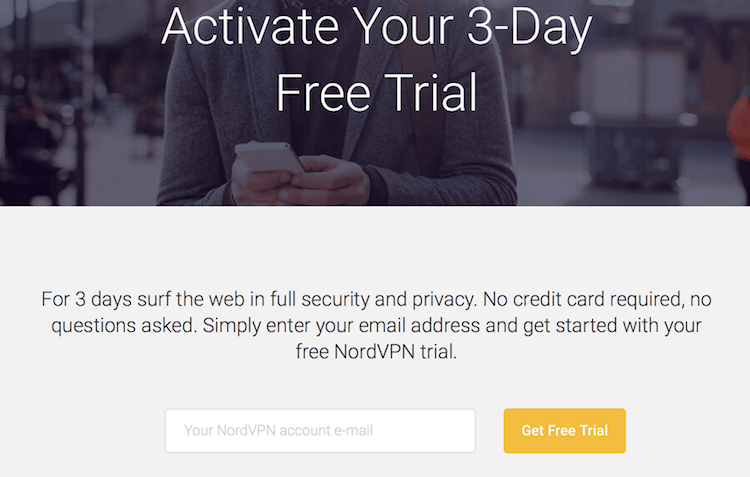 To get the trial of NordVPN all you need to do is provide an email address.
If you are looking for other VPNs that offer a trials, here are three options that performed better in testing:
VPN.ac one week trial – VPN.ac offers a paid one week trial for $2.00. From the homepage, just click on the FAQ button at the top – the first FAQ includes a link for the one week trial. (VPN.ac review)
VyprVPN free trial – You get a 3 day free trial, but you do need to enter your payment details. If you don't cancel at the end of the 3 window your subscription will be activated. But the good news – you will also get 25% off your subscription plan. (VyprVPN review)
ExpressVPN – While not necessarily a free trial, ExpressVPN does offer a 30 day refund window. Their VPN service did well in testing (although it also had IPv6 WebRTC leaks). The speeds were good and the support is also top notch. (ExpressVPN is also offering a 49% discount for RestorePrivacy readers.)
If you want to go ahead with the trial of NordVPN, you can get more information on their website.
NordVPN refund
As we discussed above, NordVPN offers a 30 day refund window.
If you read the exact refund policy from NordVPN, it has some interesting points (in bold below):
If you wish to claim a refund, you can do so within 30 days following your purchase of NordVPN service. We want you to be fully satisfied with our services. However, we will troubleshoot an issue you experience first. There are several nuances to a VPN service configuration and we solve 99% of issues encountered. NordVPN reserves the right to suspend, terminate, or refuse service to anyone at any time for any reason. No refunds will be considered for accounts deleted for violation of our Terms of Service.
NordVPN reserves the right to suspend "anyone at any time for any reason." While it is true that VPNs need to protect their network from abuse, this seems a bit over the top.
If you think you may end up wanting to refund your subscription, paying through PayPal is an additional safeguard. PayPal usually seems receptive to customers if there is any kind of dispute about the service or refund.
NordVPN Review Conclusion
NordVPN has made some progress since the last review – namely, they have patched the active IPv6 leaks and the network seems slightly more stable and less congested.
Nonetheless, this review still identified the following problems with NordVPN:
WebRTC leaks (IPv6)
Kill switch does not block traffic
Fluctuating speeds
Frequent disconnects (with some servers)
Appears to be owned by a US company (CloudVPN Inc.)
NordVPN does seem to be improving in some areas, but it is still not yet up to standard, and does not earn a recommendation. To get more information on NordVPN, you can visit the NordVPN website here>>
If you are up for alternatives, you can check out the Best VPNs list for the latest recommendations on the top VPN providers.
Stay safe!
Alternatives to NordVPN: