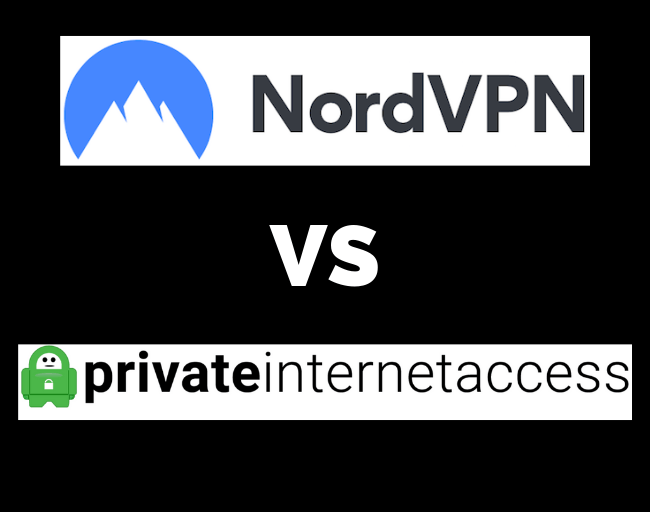 NordVPN and Private Internet Access (PIA) are both huge names in the VPN industry – and choosing between these providers can be challenging.
To help you decide which is the best fit, I put both VPNs through extensive testing and analysis for this NordVPN vs PIA comparison report.
Here's what we'll cover:
Speed – Numerous servers tested in Europe and North America
Features – Does NordVPN or PIA offer the best features?
Connections – How many connections come with a subscription?
Security – Do any of the apps leak IP addresses or DNS requests?
Logging Policies – What is the logging policy?
Jurisdiction – Where is the VPN located and how does this affect data security?
Netflix & Streaming – Which VPN is best for Netflix and other streaming services?
Price – Which VPN offers the lowest prices?
Payments & Refunds – Payment options and refund policies
Value – Which VPN offers the best value for your money?
Overall Winner: NordVPN
1. NordVPN vs Private Internet Access Speed Test
Both NordVPN and Private Internet Access had decent speed test results in their respective reviews.
Note: All speed tests between NordVPN and PIA were conducted using OpenVPN with AES-256 encryption. My baseline (non-VPN) speed was about 160 Mbps.
With nearby servers in my general location (Europe), NordVPN performed very well – much faster than PIA.
Here was a NordVPN server in the UK with 150 Mbps download speed:

NordVPN is a great VPN for the UK with consistently fast speeds for this region.
Now turning our attention to PIA. Here was a PIA speed test in the UK giving me about 65 Mbps:

I also tested some other regional servers in my area with both PIA and NordVPN.
Here was a nearby NordVPN server in Switzerland giving me about 150 Mbps:
And then here's a nearby Private Internet Access server in Austria (which is even closer to my location than Switzerland) at about 85 Mbps:

Next I tested some servers in the United States.
Here was the NordVPN server in New York, at around 148 Mbps:

Once again, these are amazing speeds, especially considering the longer distance. NordVPN is still giving me close to my baseline speed in these tests.
Next up, the PIA server in New York was slower than NordVPN, at about 63 Mbps:

Other speed tests with PIA servers in the US yielded similar results around 60 Mbps. You can see the results I posted in the PIA review.
Meanwhile, NordVPN continued to give me excellent speeds with all servers I tested in the US and Canada. All results were 140 Mbps or faster with NordVPN. Here was another NordVPN server in Dallas, Texas at 149 Mbps:

With these fast speeds in North America, NordVPN is one of the best VPNs for USA.
As you can see from these results, NordVPN is faster than Private Internet Access with all the server locations I tested. If performance is your top priority, then NordVPN would be the better choice of the two.
Conclusion on speeds: In previous NordVPN reviews, speeds were somewhat hit or miss. However, in the past year, NordVPN has significantly improved speeds throughout its server network. PIA previously had better speeds, but speeds seem to have gotten worse over the past year.
Winner for speed: NordVPN
2. Features: NordVPN vs PIA
While both NordVPN and Private Internet Access offer various features, there was a clear winner in this category, and that is NordVPN.
First we'll look at Private Internet Access. PIA offers a good lineup of basic features that include:
Leak protection settings
Different encryption settings
An ad blocker called PIA MACE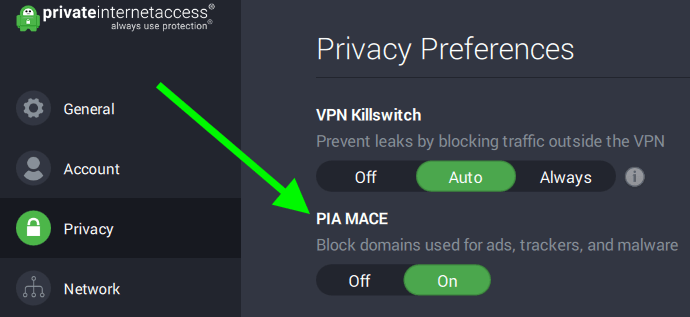 Overall I would describe Private Internet Access as a good minimal VPN. It doesn't do anything spectacular, especially in the features category, but it is consistent and reliable.
In contrast to PIA, NordVPN offers numerous privacy and security features for different types of users:
Double-VPN servers (your traffic is encrypted twice over two different VPN servers)
Tor-over-VPN servers (your traffic is encrypted via the VPN, then encrypted over the Tor network)
Leak protection settings and a kill switch for both applications and traffic (via the firewall)
CyberSec feature to block domains for ads, tracking, and malware
Obfuscated servers to hide VPN traffic as regular HTTPS encryption (useful if you need a reliable VPN for China or anywhere else that VPNs are blocked)
Full access to Netflix and other streaming services (PIA was blocked, as discussed below)
Here's a look at NordVPN's fully-featured Windows app and the CyberSec feature: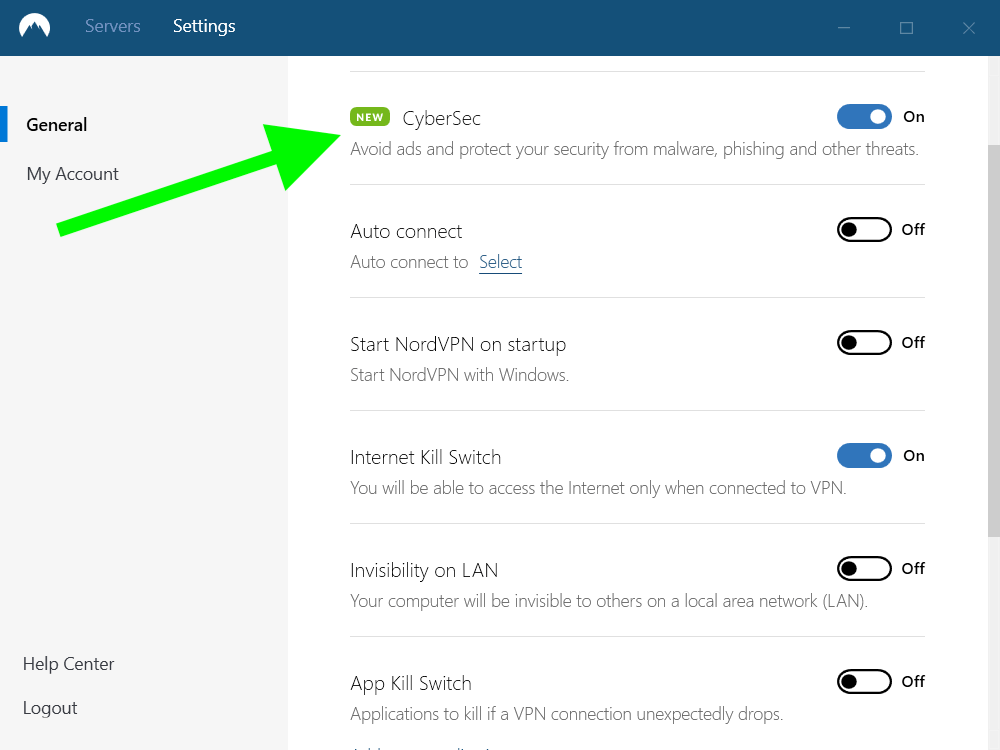 Additionally, the double VPN feature offered by NordVPN is great for those looking for an additional layer of protection. This will route your traffic across two encrypted servers.

NordVPN's also offers the Tor-over-VPN servers, which route traffic first through a VPN server, then onto the Tor network. Unlike with NordVPN, PIA does not offer any features like this and is not a multi-hop VPN.
The clear winner in the features category is NordVPN.
See all of NordVPN's features here.
Features winner: NordVPN
3. Connections: NordVPN vs Private Internet Access
Does NordVPN or Private Internet Access give you the most connections with your subscription?
The answer is Private Internet Access. In March 2019, PIA decided to increase prices on all subscription plans while also increasing the number of connections to ten. As explained on the PIA website:
This price increase will allow us the ability to provide you with new features without sacrificing security or privacy.  Visible changes include the new look of our Desktop application as well as the increase of our device limit from 5 to 10.
In terms of connection policies, this is very good. IPVanish also offers 10 connections, which is above the industry average of five.
NordVPN offers six connections with every subscription, which they explain on their website:
With a single NordVPN account, you can connect up to 6 devices simultaneously without compromising your online security and privacy of one device for another.
PIA is the winner for this category since it offers four more connections than NordVPN. However, I'm not sure how useful six, or even ten connections are to the average user.
Connections winner: Private Internet Access
4. Security: NordVPN vs PIA
Both NordVPN and Private Internet Access offer secure applications that you can trust to encrypt your data. I did not find any IP address leaks or DNS leaks with either of these two providers.
PIA encryption: For encryption, PIA uses an AES-256 cipher with SHA256 for authorization and an RSA-4096 handshake. PIA also allows users to adjust VPN protocols and encryption within the VPN client (Windows and Mac OS).
NordVPN encryption: Similar to PIA, NordVPN also uses an AES-256 cipher with SHA256 authorization and an RSA-4096 handshake. Both PIA and NordVPN offer solid encryption standards.
As we covered above, NordVPN offers some great security features, to include double-VPN servers and Tor-over-VPN servers. Both of these provide you with a higher level of security with your data being double-encrypted. Additionally, NordVPN also offers two different types of kill switches:
App-level kill switch (closes any app if the VPN connection drops)
Internet kill switch (blocks all internet traffic if the VPN connection drops)
Private Internet Access also offers a good kill switch and leak protection features, but it does not offer any double-encryption options like NordVPN. Therefore the winner for the security category is NordVPN.
Additionally, PIA is now owned by a company Kape Technologies, a company with a history of producing malware. This has prompted many longtime PIA users to switch to another VPN service. I discussed the PIA merger with Kape Technologies more in another article.
PIA is also working on a private search engine, but it's still under the same parent company, unfortunately.
Security winner: NordVPN
5. NordVPN vs PIA with logging policies
In terms of logging policies, both NordVPN and PIA are good options. NordVPN and Private Internet Access have had their logging policies verified with real-world tests.
Private Internet Access was proven to be a no logs VPN provider on two separate occasions:
In 2016, PIA was subpoenaed to provide data logs for a criminal case, but they went on record claiming they do not have data logs and could only provide the IP addresses of their servers (but no customer data).
A similar case happened in June 2018, when PIA's "no logs" policies were again tested and verified with a criminal case in court.
NordVPN has had its privacy policy tested and verified via a formal third-party audit. The no-logs audit was conducted by PWC in Zurich, Switzerland, and validated NordVPN's no-logs claims. I examined the audit and it indeed verifies that NordVPN's "no logs" claims are true and accurate.
Because both NordVPN and PIA are proven no logs VPN services, this category is a tie.
Logging policy winner: Tie
6. Jurisdiction: Private Internet Access vs NordVPN
Jurisdiction is a key consideration that affects the safety of your data. As we've seen with cases in the United States, government agencies can force VPNs and email services operating there to collect user data. This has happened before with Riseup and also Lavabit – and probably many more examples we'll never learn about.
In terms of jurisdiction, NordVPN has a better location than PIA because it is based in Panama. Panama is not a member of any international surveillance alliances, unlike the United States, which is part of the Five Eyes surveillance alliance.
Private Internet Access is based in the United States. The United States is generally considered to be a bad privacy jurisdiction due to mass surveillance practices, data collection, and cooperation between other surveillance states.
If you are concerned about the jurisdiction your VPN service falls under, NordVPN would be the better choice in this case (see also the  article for more info).
Jurisdiction winner: NordVPN
7. NordVPN vs PIA Netflix and streaming
In terms of streaming Netflix through your VPN, NordVPN is definitely a better option than Private Internet Access.
When I tried to stream Netflix through various Private Internet Access servers, I kept getting the proxy error message. PIA was getting blocked by Netflix: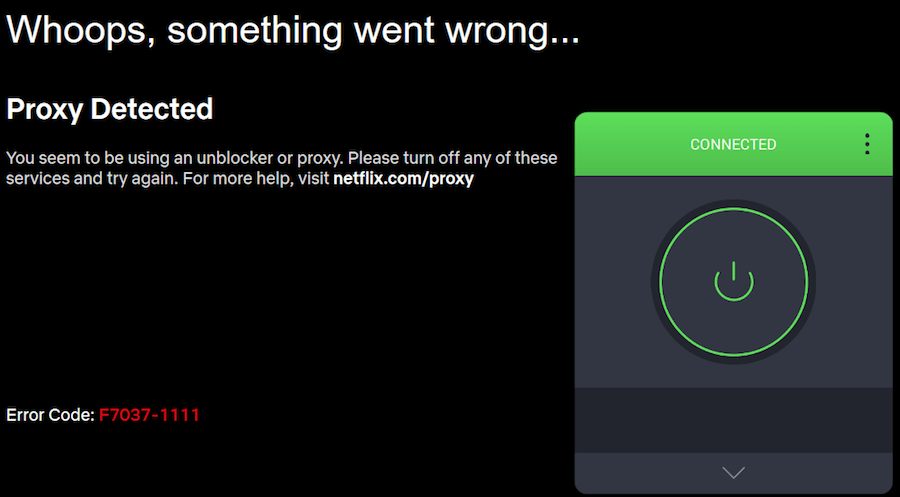 Although streaming Netflix through a VPN is often hit-or-miss with most VPNs, there are a few VPN services that consistently work with Netflix. This is because some VPNs invest resources into acquiring (and maintaining) IP addresses that work with Netflix.
NordVPN is a great choice if you want to stream Netflix. Below I'm streaming Netflix through a NordVPN server in New York: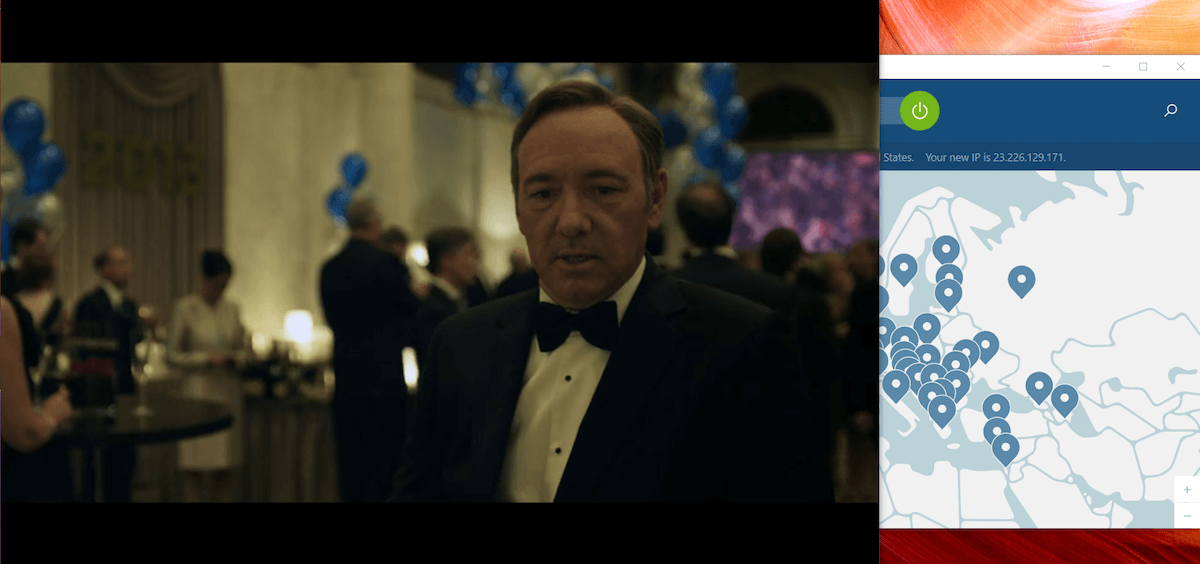 Additionally, NordVPN also works well for many different Netflix regions around the world, as well as with other streaming services. NordVPN is the clear winner in the streaming category.
Of course, there are a handful of VPNs that unblock Netflix, but NordVPN is the winner in this category.
Netflix and streaming winner: NordVPN
8. PIA vs NordVPN price comparison
Both NordVPN and PIA are cheap VPN services with affordable prices.
As we noted above, however, Private Internet Access recently increased prices, which they justified by offering 10 connections per subscription and improving their VPN apps. Here are the current prices of PIA:

Before the price increase, PIA was the cheaper option with the lowest monthly subscription cost.
NordVPN, however, now has the same price as PIA. The 70% NordVPN discount reduces the prices as follows:

The one drawback here is that you have to commit to a three-year subscription in order to lock in the cheap rate of $3.49 per month. The same holds true for PIA, which restricts the biggest discount to their two-year plan. (There are also other NordVPN discounts to consider with different prices and subscription lengths.)
Price winner: TIE
9. Payments and refunds: PIA vs NordVPN
With the payments and refunds category, there is a tie. Here's why:
PIA offers more payment options, but
NordVPN offers the best refund window
Private Internet Access supports cryptocurrency payments, PayPal, credit cards, and even gift cards.
NordVPN also supports a variety of cryptocurrency payments and credit card options, but they do not support PayPal or gift card payments.
In terms of refunds, NordVPN is the clear winner with the 30 day money-back guarantee. The 30 day refund window applies to all NordVPN subscription plans, including the one-month plans.
With Private Internet Access, you only get a 7 day refund window with your subscription. For some people, this may not be enough time to really test out the service to see if it meets your needs.
Therefore NordVPN is the clear winner in the refund category, with PIA coming out on top with payment options.
Payments and refunds winner: Tie
10. Does PIA or NordVPN offer the best value?
Value is a subjective determination that's hard to measure. Essentially, the question is: Which VPN service offers the best value for your money?
I would argue that NordVPN is a better value. While NordVPN is about the same price as PIA, it offers significantly more features
Advanced privacy and security features (Double-VPN servers and Tor-over-VPN servers)
Much larger server network than PIA
Two types of kill switches
Good VPN apps for all major devices and operating systems
24/7 live chat support (PIA only offers email support)
The support category is definitely noteworthy. PIA does not offer any live chat support and their email support has been pretty slow in previous reviews. With NordVPN, you get 24/7 live chat support directly through their website.
Another big factor that differentiates these two companies is jurisdiction. Being based in the United States (five eyes) is a major drawback for PIA. If US authorities were to force PIA to log or disclose customer data (such as the case with Lavabit), PIA would not be able to disclose this information to their customers due to gag orders. PIA also does not provide a warrant canary, which would alert PIA customers to potential breaches of data and/or government interference in the business.
Value winner: NordVPN
Conclusion: NordVPN wins
At the end of the day, both Private Internet Access and NordVPN are good VPN providers, but NordVPN is the clear winner in this PIA vs NordVPN comparison. Here's an overview of the categories we looked at and the winner:
Speed – NordVPN
Features – NordVPN
Connections – PIA
Security – NordVPN
Logging Policies – Tie
Jurisdiction – NordVPN
Netflix & Streaming – NordVPN
Price – Tie
Payments & Refunds – Tie
Value – NordVPN
Whichever VPN you decide to use, be sure to get the best deals with these discounts:
And if you have experience using NordVPN or PIA, feel free to drop a comment below.
---
---