Perfect Privacy Review Summary
Total (4.6 / 5.0)

Performance

Features

Privacy

User-friendliness

Support

Value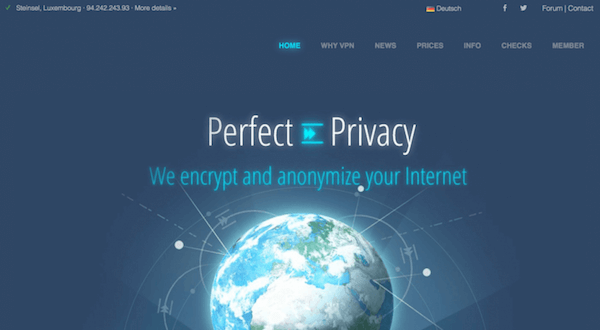 Good for
+ Advanced online anonymity and security
+ Speed and performance
Summary:
Perfect Privacy is a truly unique VPN service offering the most advanced online anonymity and security features you will find anywhere (see for example NeuroRouting and TrackStop). Their network consists entirely of dedicated premium servers that are always running in RAM-disk to ensure no data is ever stored or available to third parties (100% no logs). The one downside is the Swiss price tag – but if you want a powerful, high security VPN service to achieve the highest levels of online anonymity, then it's worth every penny.

Jurisdiction
Switzerland

Connections
Unlimited

Protocols
OpenVPN
IPSec/L2TP
IPSec/IKEv2
PPTP

Logs
Zero logs
(with no restrictions)

Privacy Tests
Passed all tests

Price
€8.95

Refund
7 days

Support
Email
User forum
+ Pros
Multi-hop VPN chains, up to 4 servers (self-configurable)
NeuroRouting (dynamic, server-side multi-hop that can be used with all devices)
Stealth VPN (OpenVPN with Stunnel, SSH, Obfusproxy)
Dedicated premium servers operating only in RAM DISK mode
Full IPv6 support (provides both IPv4 and IPv6 addresses)
Customizable firewall/port-forwarding options
TrackStop advertisement, tracking, and malware blocker
– Cons
Higher price
Full VPN Manager client not available for Mac OS (but BETA client available, along with other installation options)
Perfect Privacy price and refund policy
When you examine the pricing options, it is clear that Perfect Privacy is on the higher end of the scale.


But before you get alarmed by the Swiss price tag, it's good to consider what you're actually getting for your money (the true value). Regarding the value, Perfect Privacy offers three unique advantages over most VPNs:
Unlimited – Your subscription gives you an unlimited number of connections – whereas most VPN services limit the connections (devices) to between three and six. This allows you to protect every single device in your house with only one subscription.
Trackstop – Included in your VPN subscription is a very powerful and customizable advertisement, tracking, and malware blocker, which is called TrackStop. This filter will block thousands of harmful domains at the VPN server level, and it will protect every single device that connects to the VPN network (no need for extra browser add-ons, extensions or plugins). Using Perfect Privacy on a router will block ads and tracking on your entire home network. (They have also recently added a parental filter, which is useful for families.)
Multi-hop + NeuroRouting – With the VPN Manager client (Windows, Linux, and Mac OS) you can create a multi-hop cascade of VPN servers (up to 4), to give you more online anonymity and security. Additionally, Perfect Privacy has released their new NeuroRouting feature. This feature is activated server-side and dynamically routes all traffic across numerous hops in the VPN network (discussed further below and also explained in this article). This unique feature acts very similar to the Tor network and is not offered by any other VPN service.
Of course there are other benefits and unique features, but these three stand out.
Payment options – Aside from PayPal and major credit cards, you can also pay with Bitcoin and more than 60 different payment options through Paymentwall. You can even send cash in the mail to their accounting department in Latvia if you want a completely anonymous payment option.

Refund Policy – Perfect Privacy offers a full 7 day money-back guarantee, without any tricks or bandwidth clauses. This allows you to test everything out.
You can find all the details of the refund here in the Terms.
Company information and jurisdiction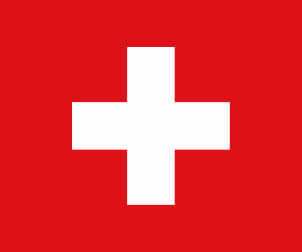 Unlike all the shady new VPNs flooding onto the market promising to make you "anonymous", Perfect Privacy has been offering premium privacy solutions since 2008. Despite being a smaller company, Perfect Privacy is a major player in online privacy and security. It leads the way in developing advanced security features, with the latest example being their NeuroRouting feature.
According to the website, the parent company is Vectura Datamanagement Limited Company, based in Zug, Switzerland. As we have discussed before, Switzerland is an excellent privacy-friendly jurisdiction. Privacy is guaranteed under the Swiss Federal Data Protection Act (DPA) and the Swiss Federal Data Protection Ordinance (DPO). This legal framework offers further protection for Perfect Privacy customers and their data.
According to the website, the "Technical Implementation" part of the company is based in Panama under the name "Webinvest International SA." This is also good because Panama is a solid choice for privacy and is not a close partner with any surveillance alliances.
This legal/corporate setup, plus a strong zero logs policy, is a solid combination for protecting customer privacy and data.
Platforms and applications
The unlimited number of connections, plus support for all different devices and platforms, allows you to use your VPN subscription with everything (no restrictions or limitations).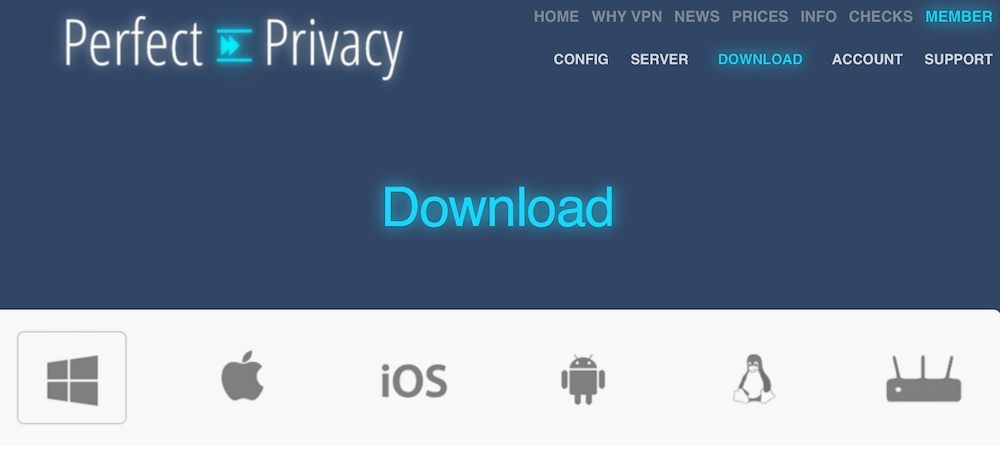 Perfect Privacy supports all devices and platforms. You can find detailed step-by-step installation guides in the Perfect Privacy members area. With every platform, you will be given different setup options, allowing you the freedom to use the VPN in the best way to suit your needs.
Custom applications – Perfect Privacy offers custom applications for:
Windows
Linux
Android*
Mac OS (available in BETA, but works excellent based on my testing – download here)
*Note – You will not find the Perfect Privacy Android app in the Google Play Store. This is because Perfect Privacy will not agree to Google's application requirements, which would infringe on user privacy and give Google information about exactly who is using the app. Consequently, you will need to download the Android APK file directly from the member's area here.
Full support – In addition to using the custom Perfect Privacy applications, you can also use Perfect Privacy with third-party clients or natively with the operating system:
Windows – OpenVPN GUI, Viscosity, and native IPSec/IKEv2
Mac OS – Tunnelblick and native IPSec/IKEv2
Linux – OpenVPN on Linux Terminal
Android – OpenVPN Connect app and native IPSec/L2TP
iOS – OpenVPN Connect app and native IPSec/IKEv2
You can also install the VPN software on your router to protect all of your devices and secure your entire network. See the VPN routers guide for various options.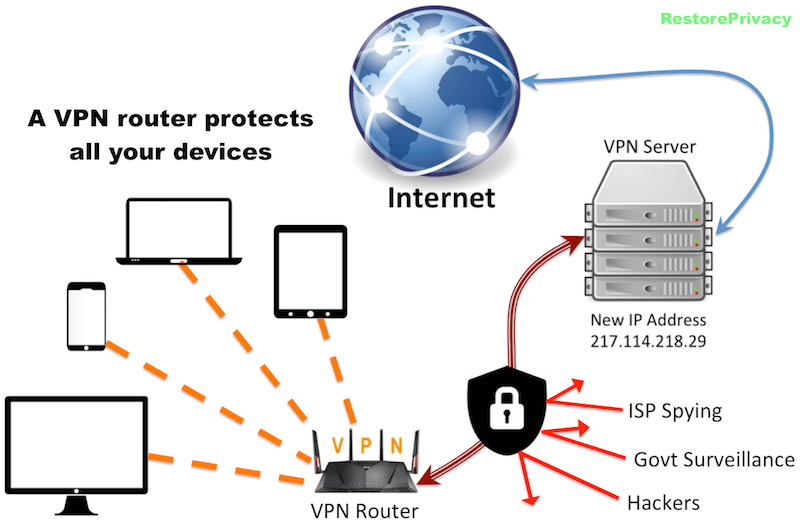 Perfect Privacy is ideally suited for use on a router because of the server-side features you can activate (no need for extra software). This provides blanket protection for every device that connects to your router. Here are three features that are useful for a router and home network:
TrackStop – Block ads, tracking and malware domains for your entire home network.
NeuroRouting – Gives you a dynamic multi-hop VPN for every device that you use on your router (no extra software needed).
Parental filter – The parental filter blocks domains that are harmful for children (pornographic and violent websites). These domains are blocked at the VPN server level, far away from your network. This is a great feature for anyone with children accessing the internet.
Router setup guide – The guide I created below walks you through setting up Perfect Privacy on an Asus router. (Note, there are many different Asus routers you can use, from low-cost models to very high end).
Perfect Privacy features
Perfect Privacy basically offers two different kinds of features. I will refer to these as server-side features and application features.
Server-side features – These are the features that are activated server-side and will be enabled whenever you access the VPN network with any device and using any encryption protocol. The three main server-side features are TrackStop (which currently includes seven different filters) NeuroRouting, and port forwarding.
You can access all server-side features from the member dashboard here.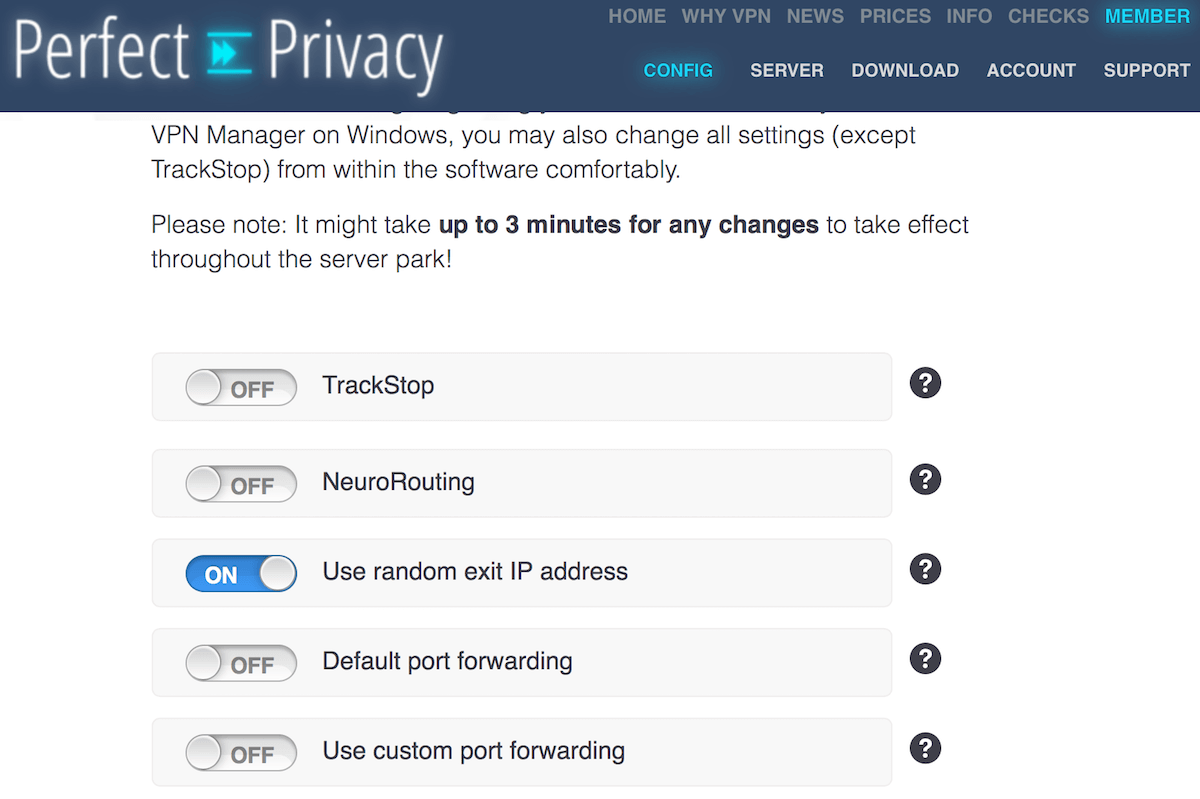 We will cover TrackStop and NeuroRouting in detail below.
Application features – Perfect Privacy also offers many different features and settings that are controlled from within the application. We will discuss these in the Windows, Mac OS, and Android sections further below.
TrackStop – Block tracking, ads, and malware domains
Another advantage of Perfect Privacy is the built-in advertisement, tracking, and malware blocker, which is called TrackStop. Using a VPN with an ad blocker is a smart choice due to the growing dangers of malicious ads and tracking.
Ads can now affect many devices, even if you don't click anything:
Tracking – Think of every ad as a digital surveillance camera. These ads are quietly recording your browsing history, keystrokes, and page views, and then sending this data off to third parties. Advertisement domains are building up vast amounts of information on your activities to target you with specific ads based on your profile and data.
Malware – Online ads, which are usually fed in through third-party domains, are an increasingly common attack vector for delivering malware. For example, malware hidden in the pixels of an image can infect your device in seconds when a website loads (this is even happening to major websites, including the New York Times and BBC).
Ransomware – Another form of malware, ransomware is a growing problem whereby your entire device will be locked up or encrypted, and then held as "ransom" unless you pay some hacker for the decryption key (which may or may not work). This is affecting all devices from computers to tablets, phones, and even smart TVs.
Data – Ads are also a huge drain on your data and CPU – slowing down your device and burning up your data. This is especially true since many ads now include video and/or sound.
The only solution is to block ads (tracking) on all your devices.
To show you TrackStop an action, I took before and after screen shots from the DailyMail website, which blasts readers with lots of ads.
Without TrackStop activated (NOT safe):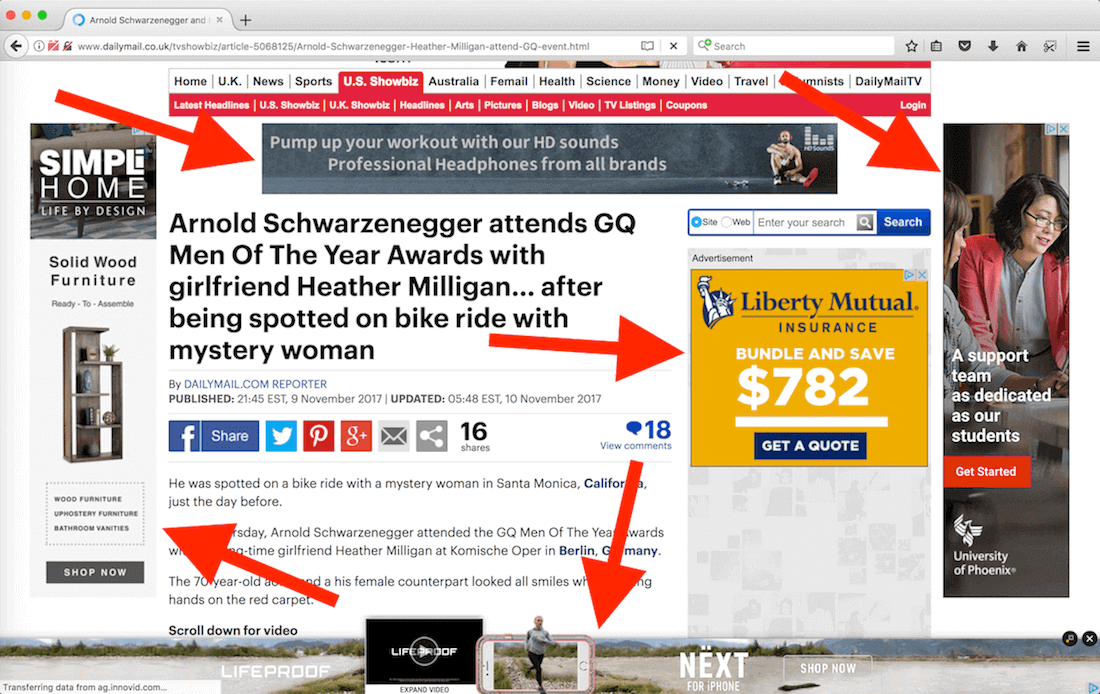 With TrackStop activated (safe):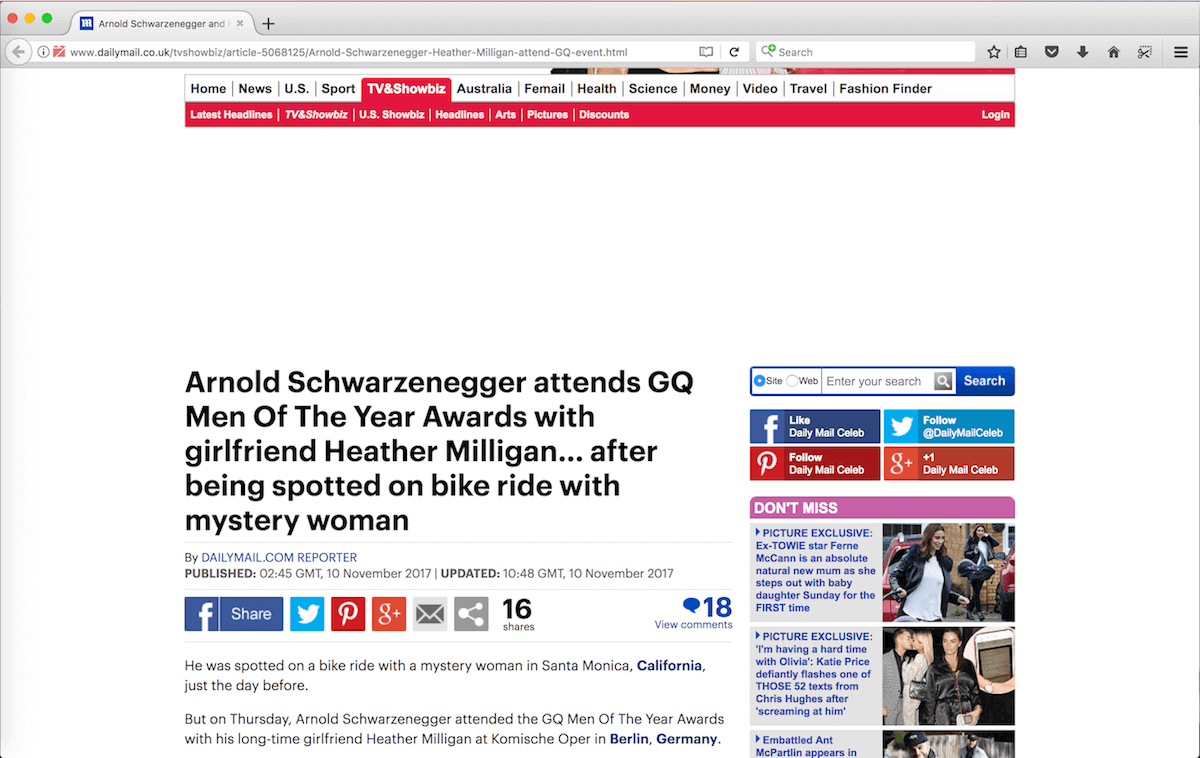 Aside from the annoyance and tracking dangers, online ads can also use up a huge amount of bandwidth and processing power from your computer. Therefore blocking ads can significantly improve overall performance and also save you money on mobile data.
You can activate the following filters directly in your membership dashboard:
Tracking and Advertisement filter: block over 30,000 tracking and ad domains
Fraud filter: block over 45,000 known malware domains and 20,000 phishing domains
Facebook filter: block Facebook domains and their data tracking software
Google filter: block Google domains (over 400 different domains)
Social Media filter: block various social media domains
Parental filter: block pornographic, gambling, and violent websites and ads that are not suitable for children
Fake news filter: this filter blocks a list of websites that is published on GitHub. (I'm not really a fan of the "fake news" filter, simply because there is so much disagreement as to what is considered "fake news" – but you can be the judge.)
TrackStop will protect every device that connects to the VPN – without having to install separate ad-blocking software, add-ons or browser extensions. It is simple and powerful.
Note: TrackStop offers many advantages over the free "ad blockers" you see everywhere. First, many of these ad blockers are collecting and selling your data (exactly like free VPNs and other "free" products that monetize the user). Second, browser add-ons make you easier to identify and track due to browser fingerprinting. Third, these different add-ons do not work on all browser and devices. And finally, the ads/tracking may not actually be getting blocked, even though they are not appearing in your browser (in other words, you are still being tracked).
More info about TrackStop here.
Multi-hop VPN Cascades
One unique feature of Perfect Privacy is the "multi-hop cascade" option. With the Windows, Linux, and Mac OS clients you can create custom VPN cascades utilizing up to four servers. This is one of the most powerful tools available to give you more security and online anonymity.
Each consecutive hop re-encrypts your traffic and assigns a new IP address before exiting to the regular internet.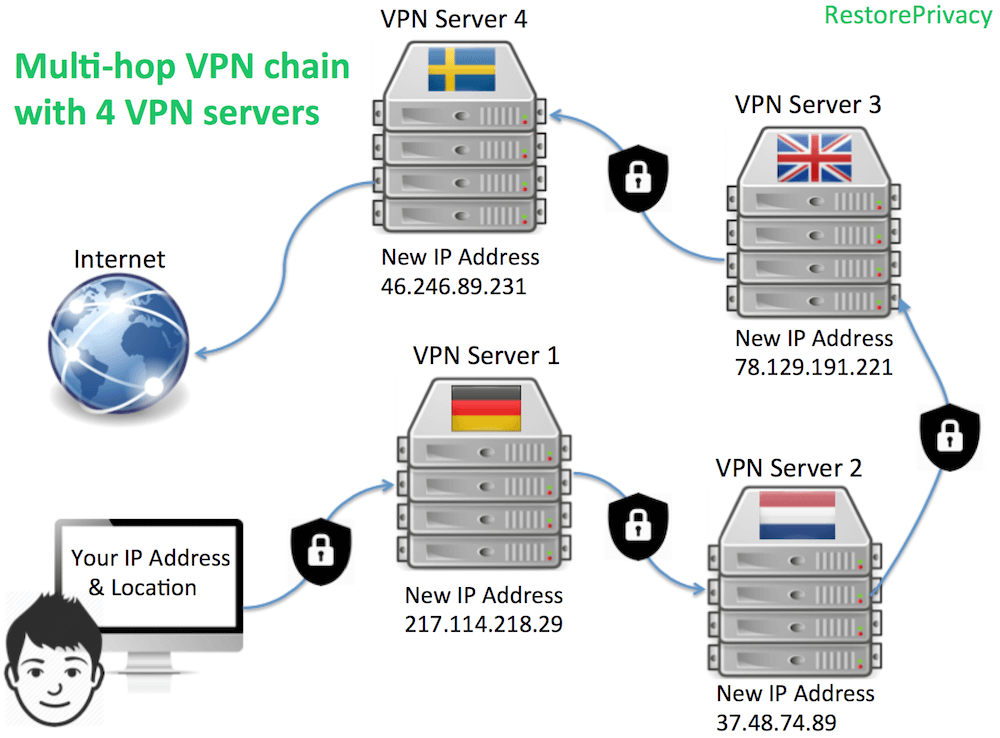 While there are other VPNs that offer multi-hop VPN cascades, these are usually limited to only two servers (double-hop). ZorroVPN also offers up to four hops, but only by creating a custom OpenVPN configuration and then importing the config file into your VPN client.
Perfect Privacy is the only VPN on the market with the technology that allows you to dynamically create custom VPN cascades directly through the VPN client with up to four different servers.
I've also found performance can still be quite good when creating a chain of nearby servers (speed tests below).
Why use a multi-hop VPN cascade?
Even if a VPN service doesn't keep logs and works hard to protect user privacy, VPN servers can still be monitored (logged) for incoming/outgoing traffic by external authorities, third parties, or perhaps even the datacenter itself.
A VPN cascade gives you multiple layers of encrypted protection against an adversary.
To enable the multi-hop feature with Perfect Privacy, simply select the cascading option within Settings and then choose how many "hops" you want to have (up to 4).
From there, you can begin selecting the different VPN cascade servers from the main window, one at a time. The order of the cascade will be shown by the numbers on the far left (1-4). You can also modify the encrypted VPN server chain without dropping your connection – simply add or remove servers.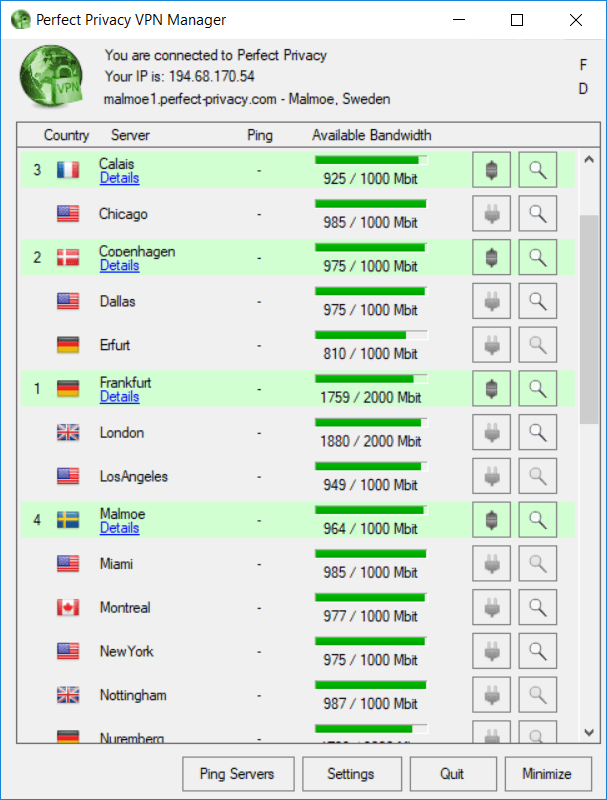 Frankfurt >> Copenhagen >> Calais >> Malmo
These advanced privacy features are slightly more complex to use, but they offer you a very high level of security and online anonymity.
NeuroRouting
After months of development and testing, Perfect Privacy announced a major breakthrough that takes the multi-hop VPN concept even further. Perfect Privacy engineers created a system to dynamically route all traffic through their VPN network based on machine learning algorithms – a new feature they call NeuroRouting.
NeuroRouting is basically a dynamic, simultaneous, server-side, multi-hop VPN configuration. This feature enables you to utilize the entire VPN server network to route all traffic dynamically. Since the concept may seem a bit convoluted, we'll break it down a bit more:
Dynamic – Your internet traffic is dynamically routed across multiple hops in the VPN server network to take the most secure route. The routing path is based on TensorFlow, an open source software for machine learning. Your data remains secured and encrypted in the network as long as possible before exiting onto the regular internet. Being based on TensorFlow, the network continually learns the best and most secure route for a given website/server.
Simultaneous – Each website/server you access will take a unique path. Accessing multiple different websites will give you numerous, unique multi-hop configurations and different IP addresses at the same time. Each different IP address you broadcast to a website will correspond with the last hop in the server chain for a given URL.
Server-side – This feature is activated server-side, meaning whenever you access the VPN network, regardless of the device or app you're using, NeuroRouting will be active (unless you disable it from the member dashboard). This also means it will work on any device – from routers to Mac OS and Android. Finally, NeuroRouting works with OpenVPN (any configuration) as well as IPSec/IKEv2 (the built-in configuration for Mac OS and iOS).
In the image below, the user is connected to the Reykjavik, Iceland VPN server with NeuroRouting enabled. He is accessing four different websites at the same time, located in the US, Panama, Bulgaria, and China. The user will broadcast four different IP addresses at the same time, corresponding to the last server in the chain before each website.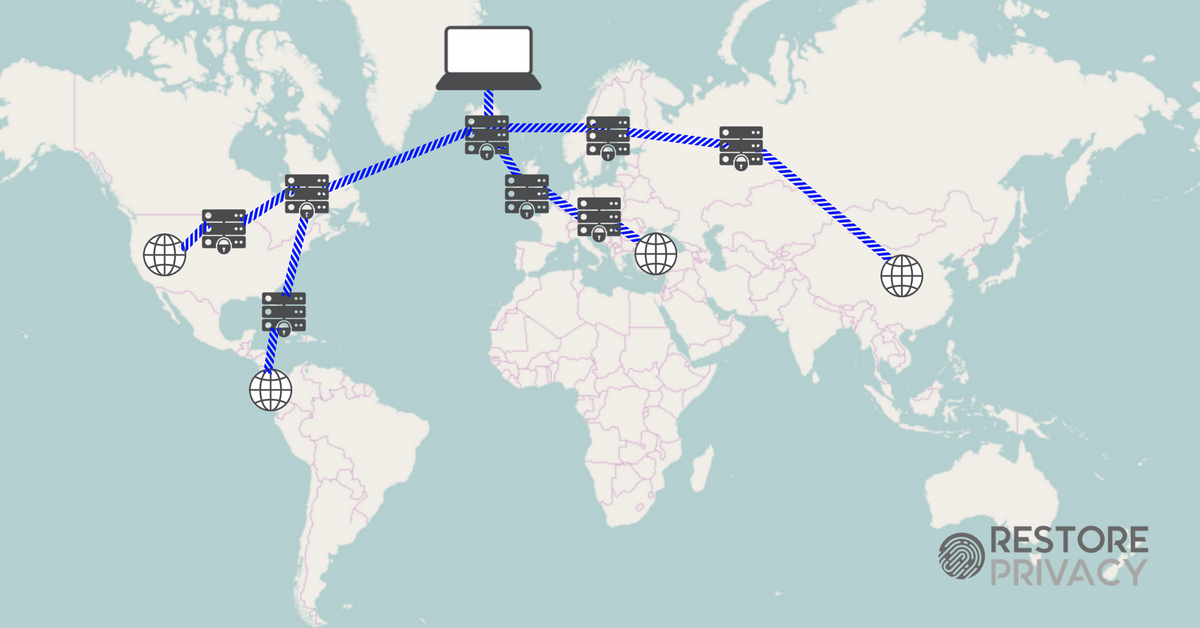 To enable NeuroRouting, simply turn it "on" in the member dashboard. This advanced feature is activated with one click.

After enabling the feature, it will be active after about three minutes throughout the server network.
NeuroRouting Test Page – I also created a NeuroRouting test page, which demonstrates and tests the dynamic routing capabilities. The test page is now live and can be found here.
TrackStop and NeuroRouting are two of the best features in my opinion – and they both work server-side on every device you use with your VPN.
Perfect Privacy Windows
The Perfect Privacy Windows client offers more features than any other VPN I've tested or reviewed with Windows.
It appears simple at first glance, but it is a powerful application when you look under the hood.
To optimize speed and connect to the closest server, you can run a real-time ping test, and then rank order the servers by the fastest ping. Real-time bandwidth for every server is also displayed right in the application.
Here is a screenshot of the Windows client where I'm connected to the Basel, Switzerland server: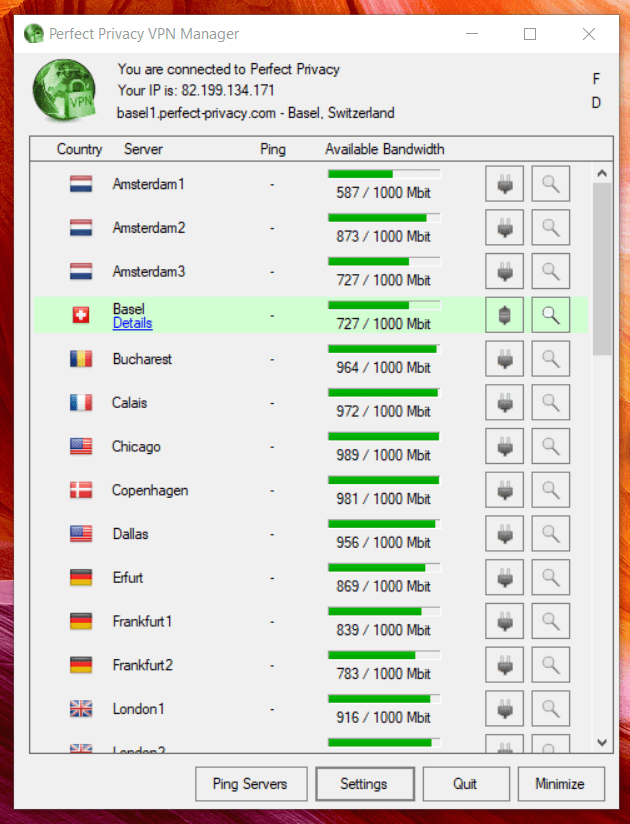 As you can see in the screen shot above, Perfect Privacy offers excellent bandwidth at all times.
You can check out the real-time bandwidth that is available on Perfect Privacy servers here.
From the Settings tab you can also configure different startup options and features. You can configure the client to start with Windows and connect to a designated server.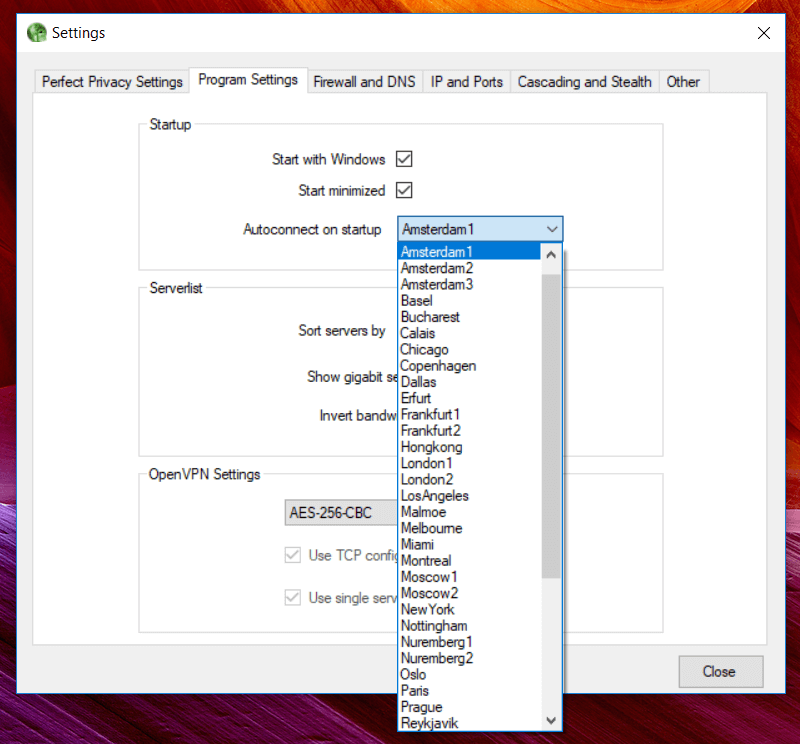 Kill switch
The Perfect Privacy Windows client offers the most advanced leak protection features (kill switch) that I have come across in testing various VPNs.
In the image below, you can see that the Windows client gives you three levels for the firewall and DNS leak protection: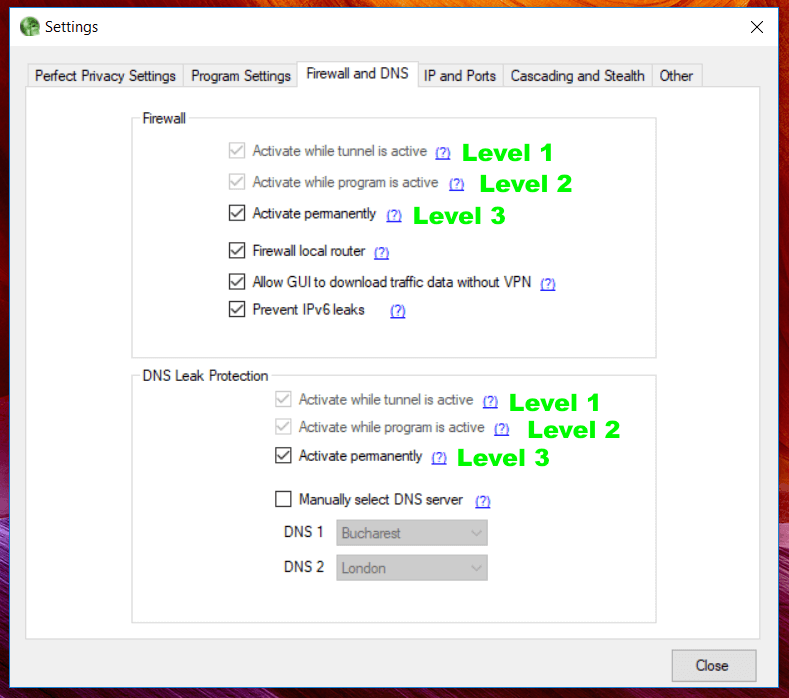 Most VPNs offer a level 1 or level 2 kill switch. Perfect Privacy gives you the highest protection with a level 3 kill switch, which will permanently block all non-VPN traffic whether the VPN is active or not. In essence, the software makes a change to the Windows firewall, to only allow traffic through the VPN.
I tested the kill switch extensively with the Windows client. Indeed, it did block all regular (non-VPN) traffic, even when the VPN client was closed.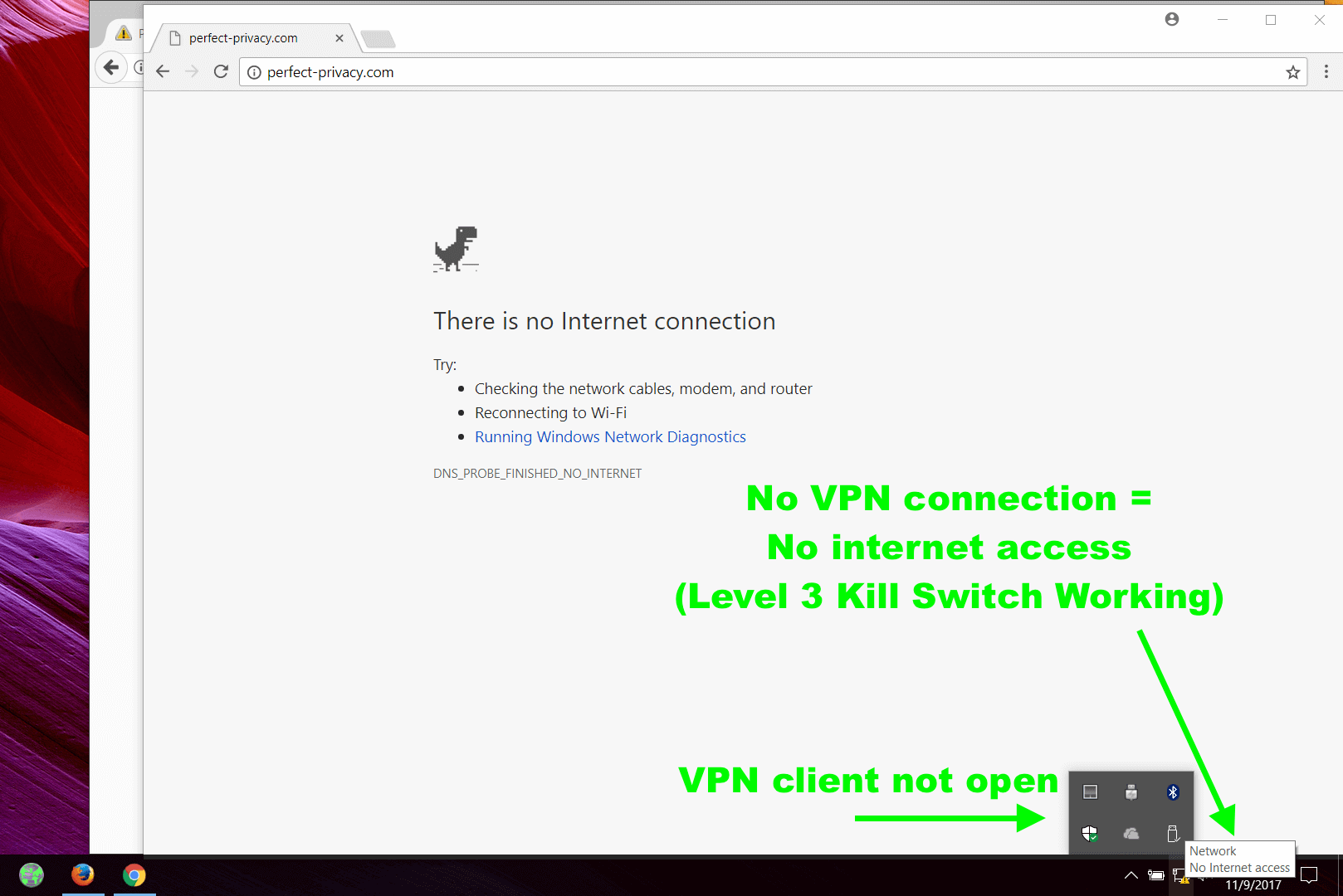 The kill switch worked perfectly in testing.
Stealth VPN (obfuscation)
Perfect Privacy has added a powerful lineup of obfuscation features, which they refer to as Stealth VPN.
Obfuscation conceals your VPN traffic, which is necessary with restricted networks or any location that does not allow (or discourages) VPN use. This is a must-have feature in countries such as China or with various work or school networks that do not allow VPNs.
As you can see below, the Perfect Privacy Windows client offers four different obfuscation options: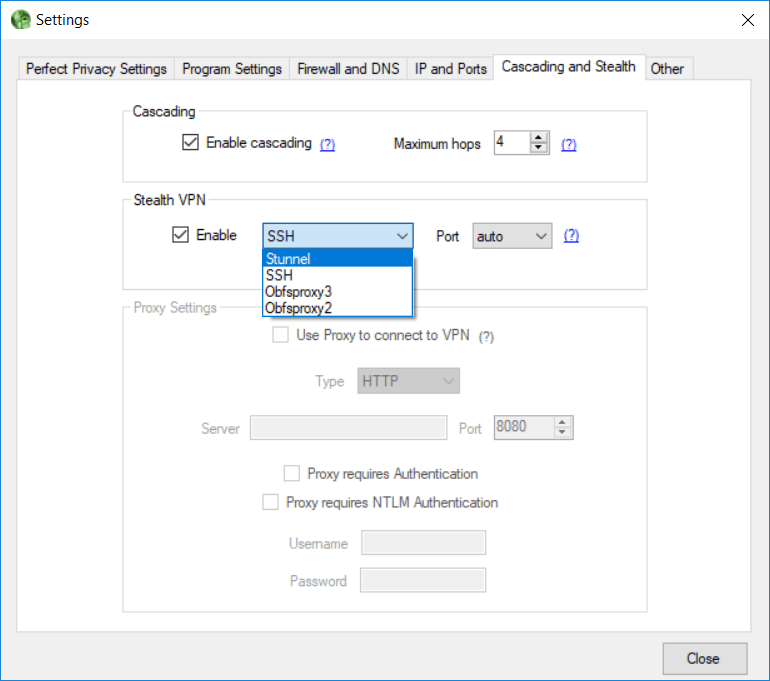 Stealth VPN masks packets to look like normal HTTPS traffic, thereby concealing your use of a VPN while also defeating restrictions and deep packet inspection (DPI).
Works in China – China continues to crack down on VPNs because they don't want people evading censorship and restrictions (Great Firewall of China). Back when I had codes for test accounts of Perfect Privacy (no longer available), I got one reply confirming that it works well in China.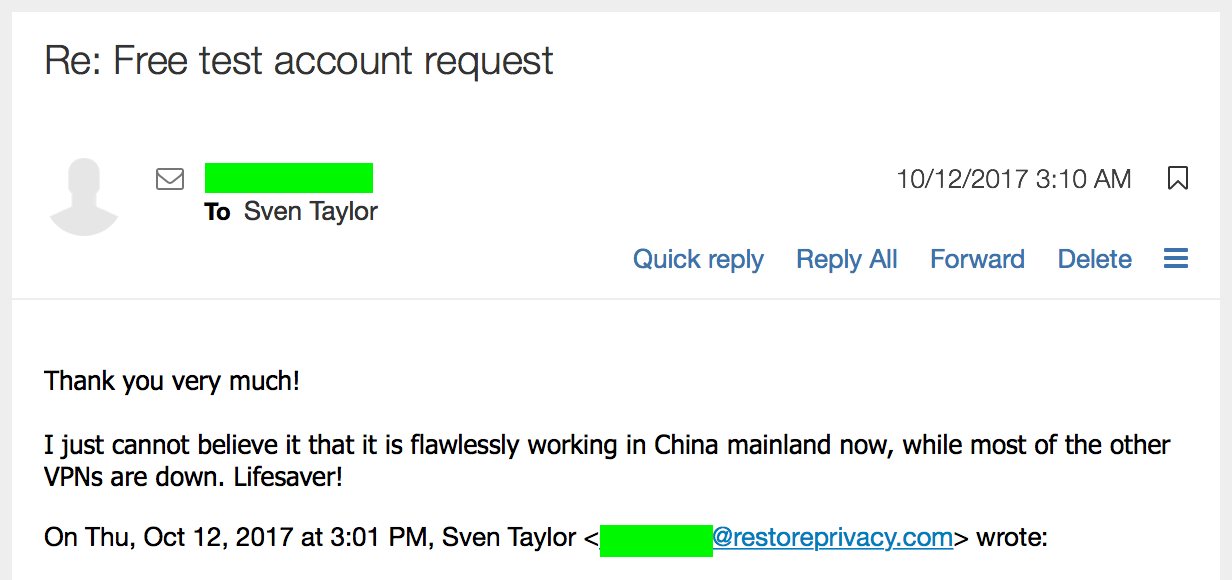 Finally, there are also reports of internet service providers blocking or throttling VPN connections in the US and Europe.
Perfect Privacy's Stealth VPN would solve that problem.
Perfect Privacy Mac OS
There are basically three different options for using Perfect Privacy with Mac OS:
IPSec/IKEv2 – This is the native (built-in) Mac OS VPN configuration that offers a simple, stable, leak-proof setup.
Third-party VPN clients – These include Tunnelblick and Viscosity. The drawbacks with third-party clients is that they do not offer any kill switch.
Mac OS BETA client – You can download the BETA client from the forums. I've found it to work quite well, even though it is still in BETA (no leaks with the latest version).
IPSec/IKEv2 – The first option using the IPSec/IKEv2 encryption cipher is a good, simple setup. The advantage with this option is that it integrates the VPN directly with the Mac OS firewall. When you enable the "connect on demand" setting from your Mac OS Network Preferences, you get a 100% leak-proof, always-on VPN. All apps will be forced through the VPN, and if the VPN connection drops, nothing will get through the Mac OS firewall (very secure).
You can get step-by-step installation instructions here. While IKEv2 is not quite as strong of an encryption cipher as OpenVPN, it is still a great option because it integrates with the native firewall and won't leak your data.
With "connect on demand" selected, no VPN connection = no internet. Screenshot from my Mac OS desktop: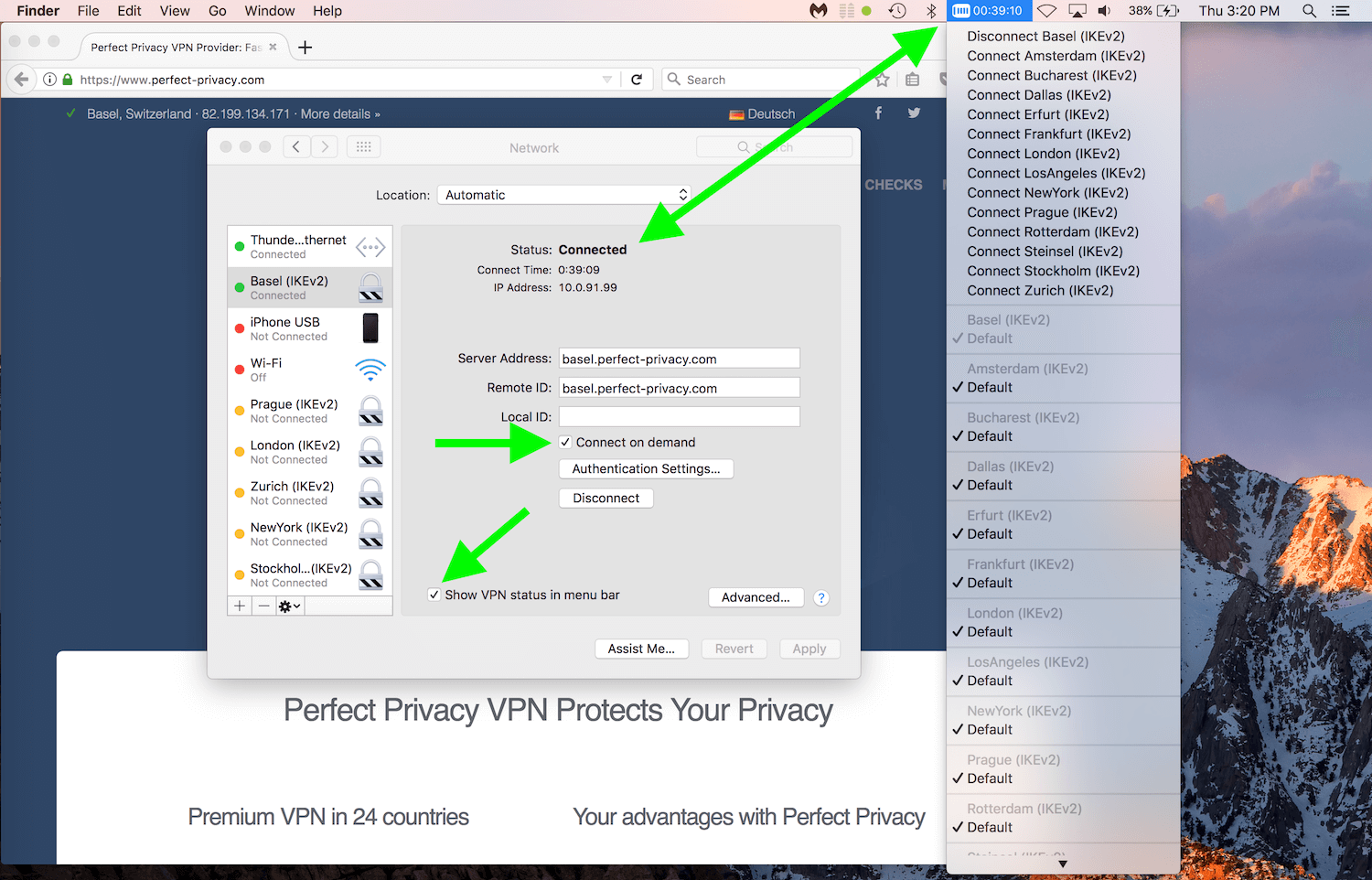 While, you won't get all the application features that Windows offers, you can activate both TrackStop and NeuroRouting to use with this IKEv2 configuration. Additionally, the Mac OS firewall kill switch acts as a Level 3 kill switch (on all the time) to keep your data secure.
Third-party clients – Two popular third-party clients for Mac OS users are Tunnelblick (free) and Viscosity (one-time $9 license fee). Both of these clients work with the OpenVPN encryption cipher, rather than the IKEv2 option above.
The main drawbacks with these third-party OpenVPN clients is that they don't have a kill switch. This creates a risk for data leakage anytime you interrupt the VPN connection, such as with switching servers or your system going to sleep/waking up. However, you can create a kill switch with firewall rules or a third-party firewall/traffic monitor, such as Little Snitch.
Mac OS BETA client – You can also try the Perfect Privacy Mac OS BETA client, which is available for download here. While they state the client is for testing purposes only, I found it to work well without any leaks.
Below I created a multi-hop VPN cascade using four servers in Europe.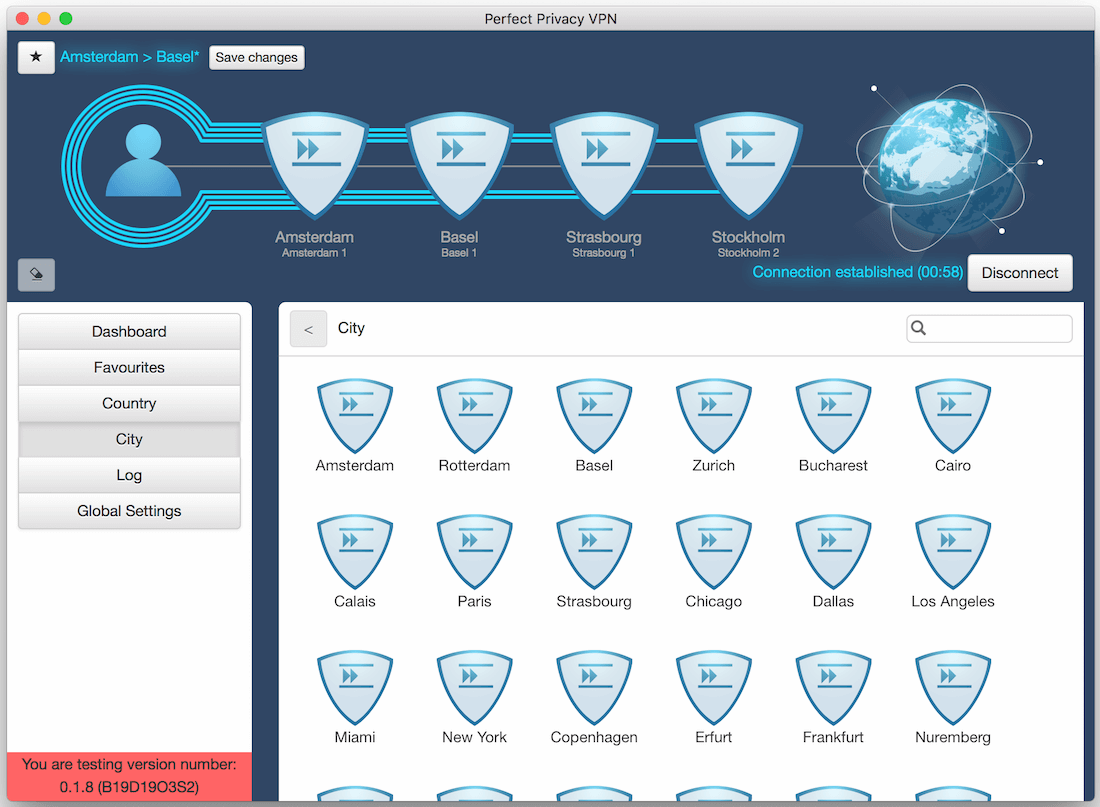 I do not know when the full Mac OS client will be released, but the latest BETA version I tested works well.
Perfect Privacy Android
There are many different ways to use Perfect Privacy with Android devices:
Built-in IPSec VPN configuration (always-on, leak-proof setup that establishes a VPN connection whenever you have internet connectivity)
Third-party OpenVPN apps
Perfect Privacy Android client (based on the Strongswan VPN client)
I tested out the Perfect Privacy Android client for this review. It performed well, did not have any leaks, and was very easy to setup and use. As mentioned above, it cannot be found in the Google Play Store since Perfect Privacy will not agree to infringe on user privacy. The APK file can be downloaded directly from the member's area.
Perfect Privacy Android app: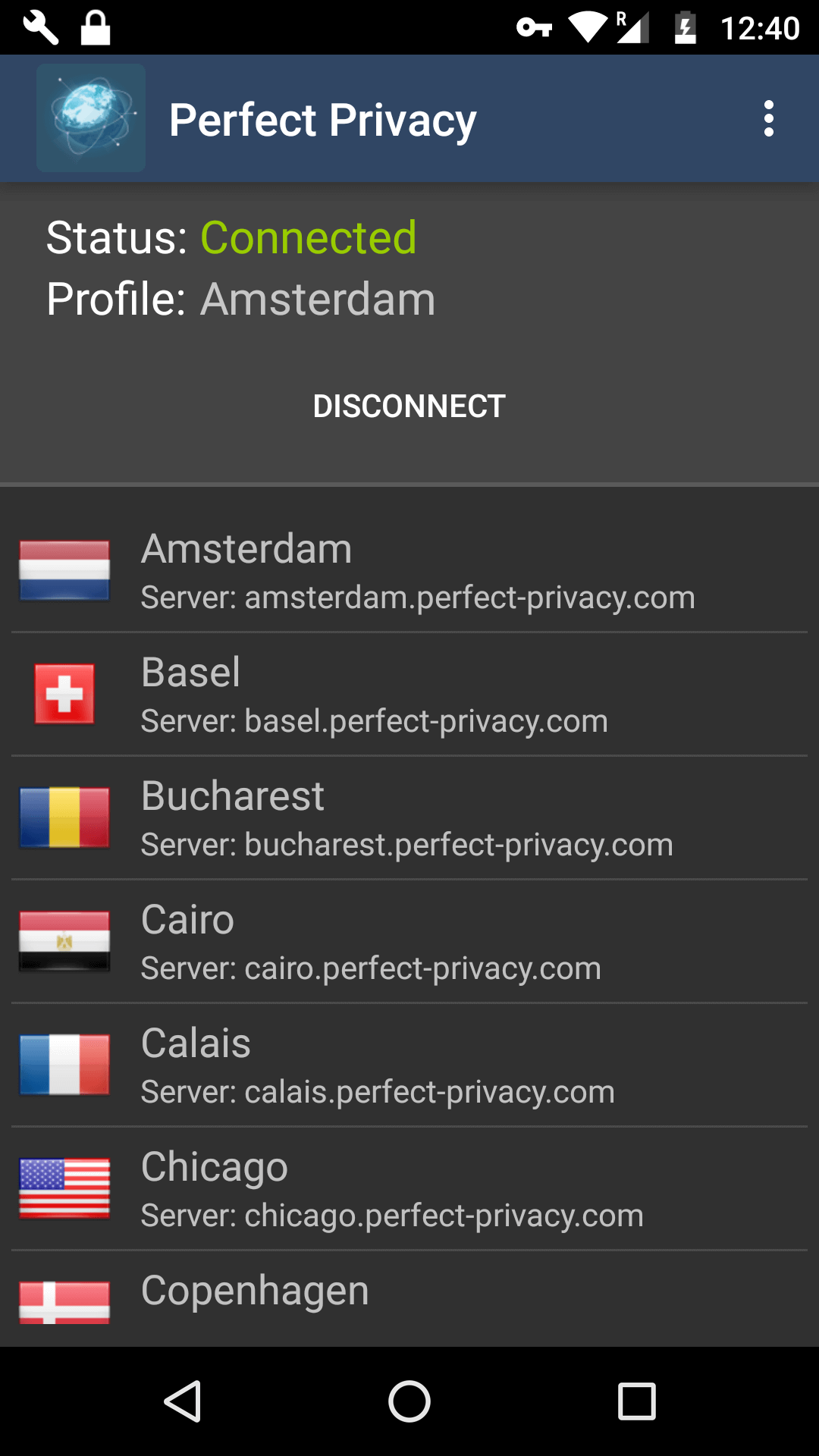 Leak test results with the Android client (no leaks):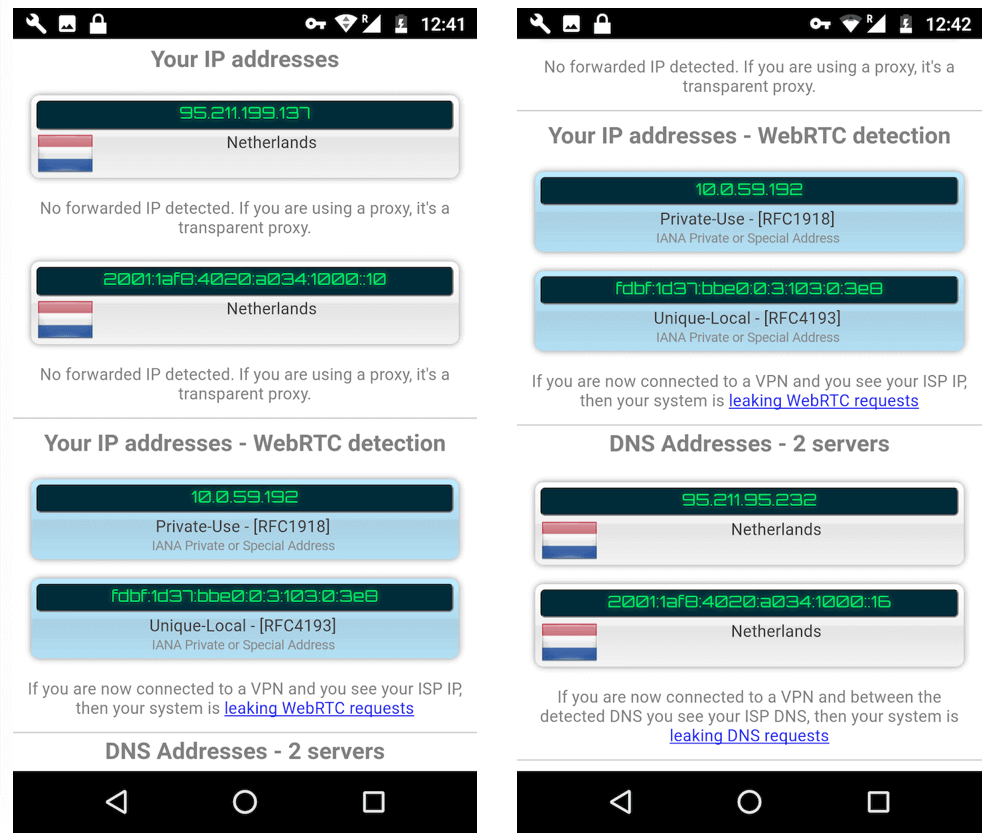 Note: While the Android client works well, those who want an always-on VPN configuration (level three kill switch) could instead use the built-in IPSec Android configuration (no app). Instructions for this setup can be found here.
Perfect Privacy servers
When you examine the Perfect Privacy server page, you can see that the network is somewhat smaller compared to other VPNs. The reason for this is fairly simple.
Perfect Privacy uses only dedicated (bare-metal) servers, instead of cheap virtual servers that are often logged by the datacenter (server host). Many of the larger VPN services maintain huge networks of virtual servers, which is much cheaper than using dedicated, physical servers. These larger VPNs usually emphasize server quantity instead of server quality.
While their network is somewhat smaller, Perfect Privacy's dedicated premium servers offer some important advantages:
More security – low-quality virtual (rental) servers are often logged by the datacenter (host), even when the VPN is claiming to be a "no logs" service.
More speed – you can expect better speeds and better bandwidth on dedicated premium servers.
More reliability – Better bandwidth also means better reliability across the network (fewer dropped connections).

On a positive note, Perfect Privacy continues to expand their network as their service grows in popularity. In just the past few months they have added servers with full IPv4/IPv6 support and gigabit bandwidth channels to:
Sweden
Denmark
Germany
Netherlands
Switzerland
Another important consideration for server speed and reliability is the users-per-server ratio.
Larger VPNs often have overloaded servers, which results in slow speeds, dropped connections, and overall poor performance. In other words, most VPNs do not have bandwidth that looks this good: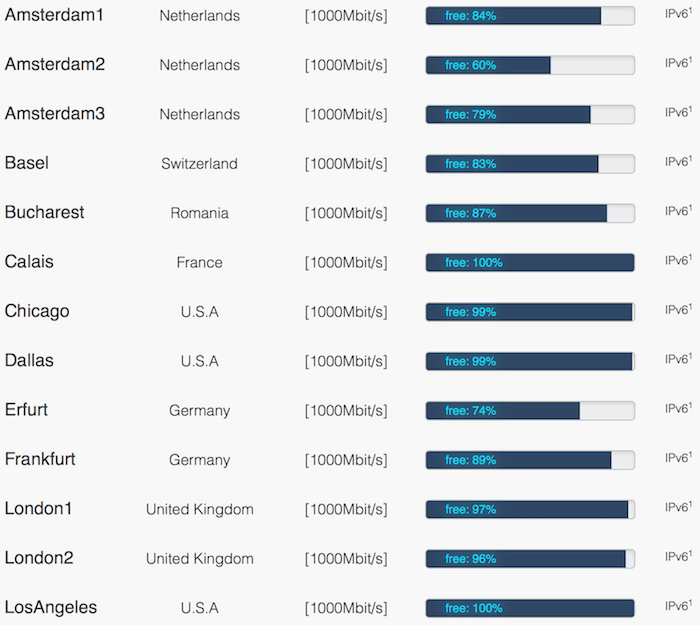 To provide additional protections for customer privacy, all of Perfect Privacy's servers run in a RAM disk mode. This is an additional security measure that protects customer data if anything were to ever happen to the servers. If the power goes, all data is gone (nothing is ever stored – no logs).
Advantages of the Perfect Privacy server network:
High bandwidth/speed (Gigabit channels)
Absolutely no leaks (IP, DNS, WebRTC)
Full IPv6 support (you get both an IPv4 and IPv6 address)
Excellent users-per-server ratio
Good server selection in 20+ countries
All servers operating in RAM disk mode (absolutely no saved data or logs)
Network consists entirely of dedicated premium server (no virtual servers)
Highest level of network security
Perfect Privacy Speed
Extensive testing of different Perfect Privacy around the world found the speeds and reliability to be excellent.
I suspect the great performance is mainly due to the server quality and high bandwidth. Of course there are many factors affecting speed (also discussed here).
Nearby server (in Frankfurt): 87.5 Mbps download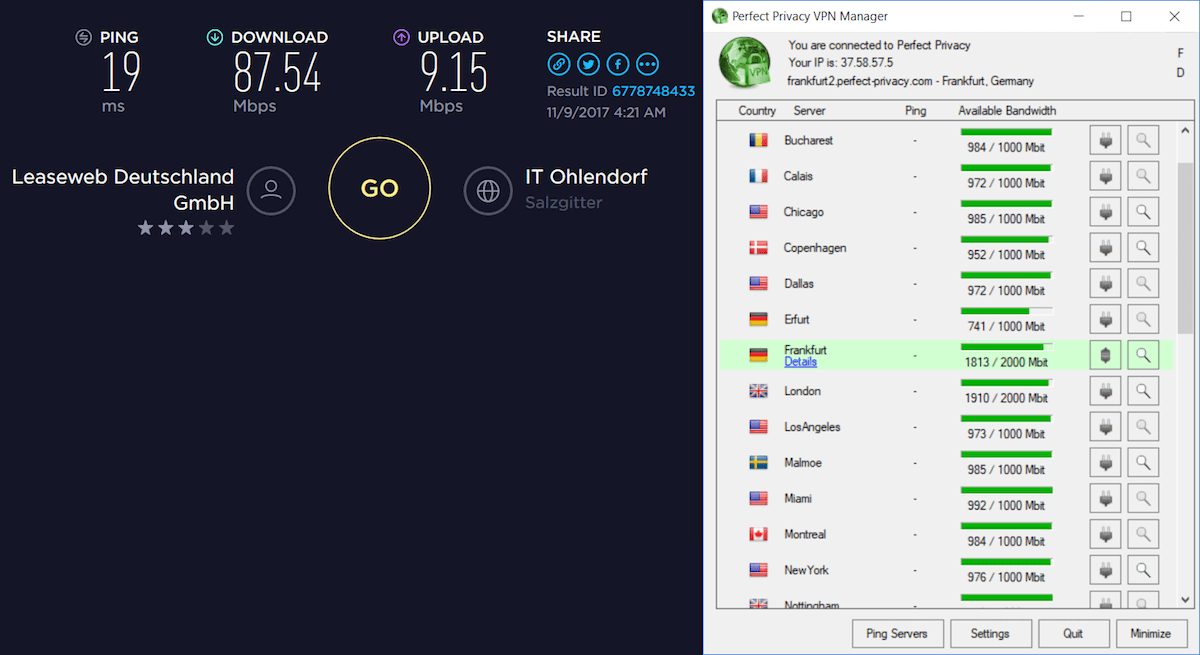 Server in London: 70 Mbps download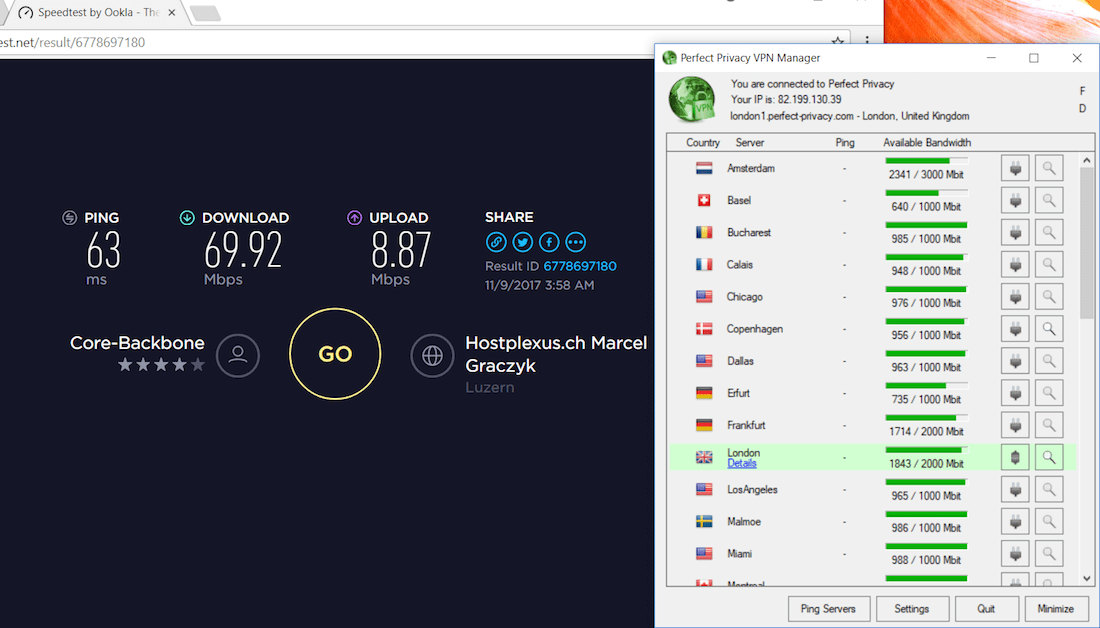 I was most impressed with speeds offered by transatlantic (long-distance) connections.
Here is a test with the New York server: 68.5 Mbps download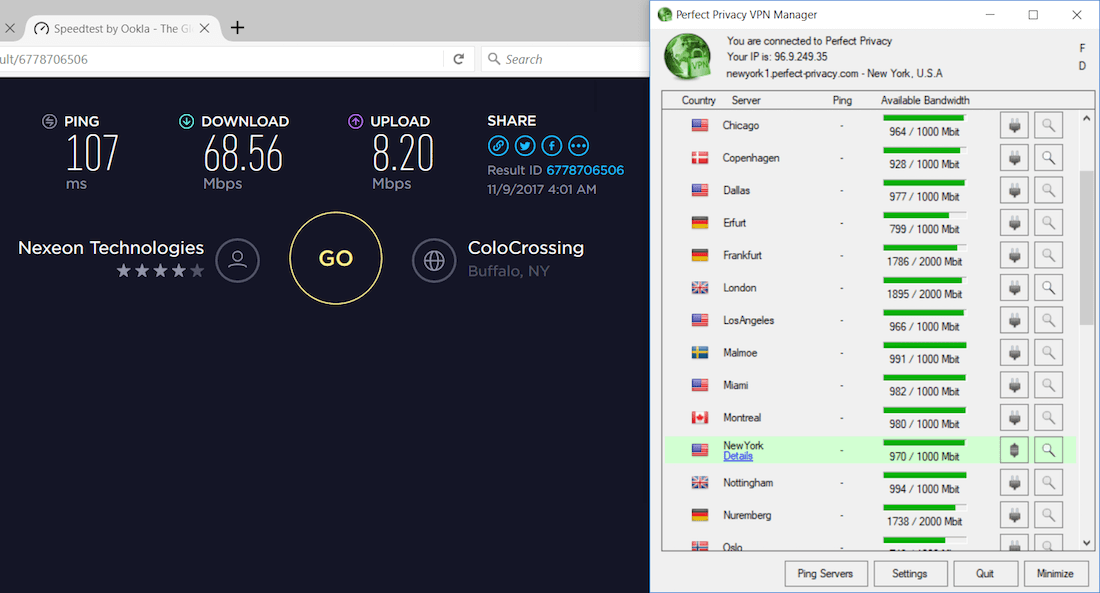 And a Dallas (USA) VPN server: 69 Mbps download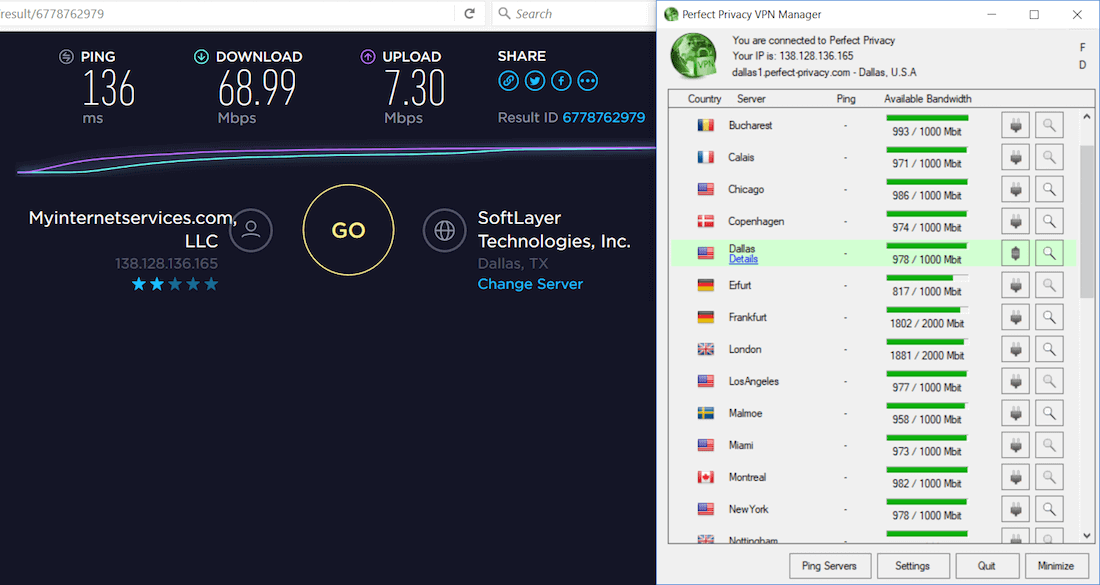 Multi-hop VPN speed tests
I also tested a few different multi-hop VPN configurations and found the speeds to be quite good considering the different hops an increased latency.
Triple Hop: Frankfurt >> Copenhagen >> Calais: 34 Mbps download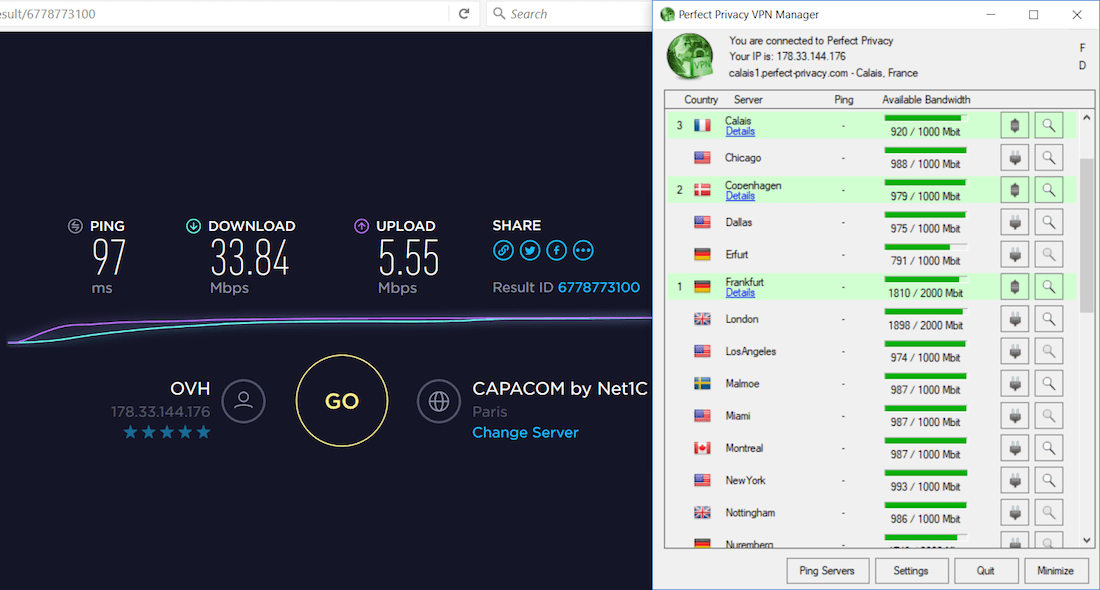 Quadruple Hop: Frankfurt >> Copenhagen >> Calais >> Malmo: 25 Mbps download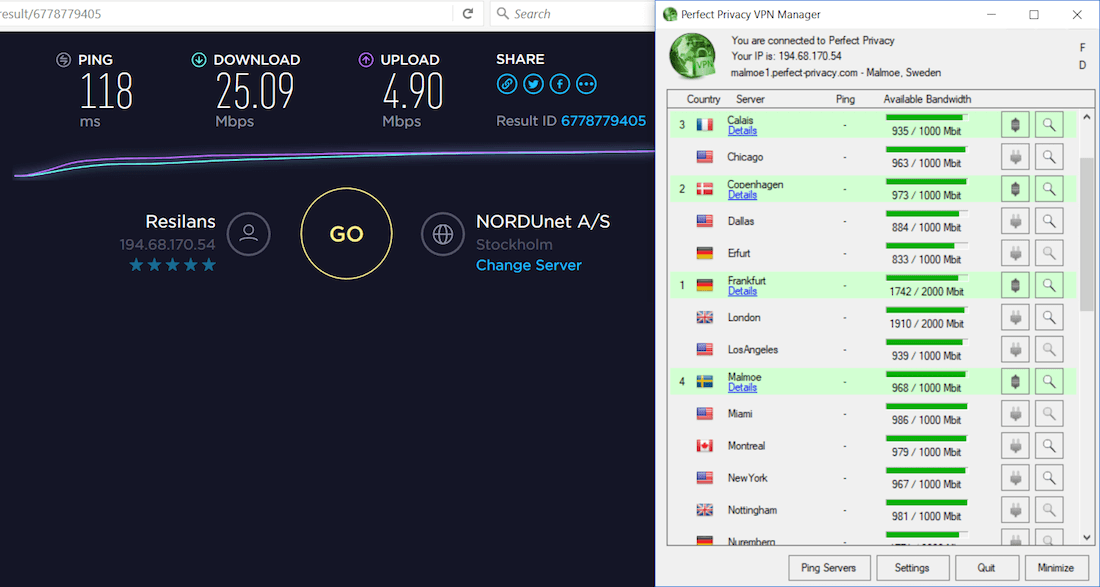 It should be noted that there's generally a performance tradeoff when maximizing various privacy features. For example, using a multi-hop VPN cascade (or NeuroRouting) will drop your speed simply due to increased latency.
Overall these are excellent results.
I even had one commenter claim that he hit 600 Mbps download speeds with a 1 gigabyte fiber connection (my ISP connection is limited to around 100 Mbps).
Zero logs, zero restrictions
When it comes to customer privacy and logs, Perfect Privacy is tough to beat.
They keep absolutely no logs and do not enforce any restrictions whatsoever, in terms of bandwidth or number of connections. They clearly state their logging policy on their website:
No logging of any user specific data or activity. No data is kept. We do not monitor, review, log or store your communication/connection data.

On none of our servers are any logs which would enable a de-anonymization.
Many VPNs claim "no logs" but then enforce various restrictions (such as connection or bandwidth restrictions) that would require logging.
These policies have also passed the test when Dutch authorities seized two of their servers in Rotterdam last year. Their no log policies and premium servers (always running in RAM disk mode) ensured no customer data was compromised.
Important note: There are many VPNs right now that are falsely claiming to be "no logs" when they are in fact collecting customer data. (There are many examples of this, including Betternet and PureVPN). There are also VPNs that are flat-out lying about their logging policies – so be careful and read the fine print.
Privacy and security test results
As with all VPNs reviewed on this website, I thoroughly tested the Perfect Privacy on Windows, Mac OS, and Android for:
IP address leaks (both IPv4 and IPv6)
DNS leaks
WebRTC leaks
Kill switch protection
Features (do the privacy and security features work as advertised)
Results: Everything passed without any leaks or problems to report.
Here are the results when connected to a Chicago VPN server. Notice IPv4, IPv6, and DNS addresses are all being supplied by the VPN server (no third parties):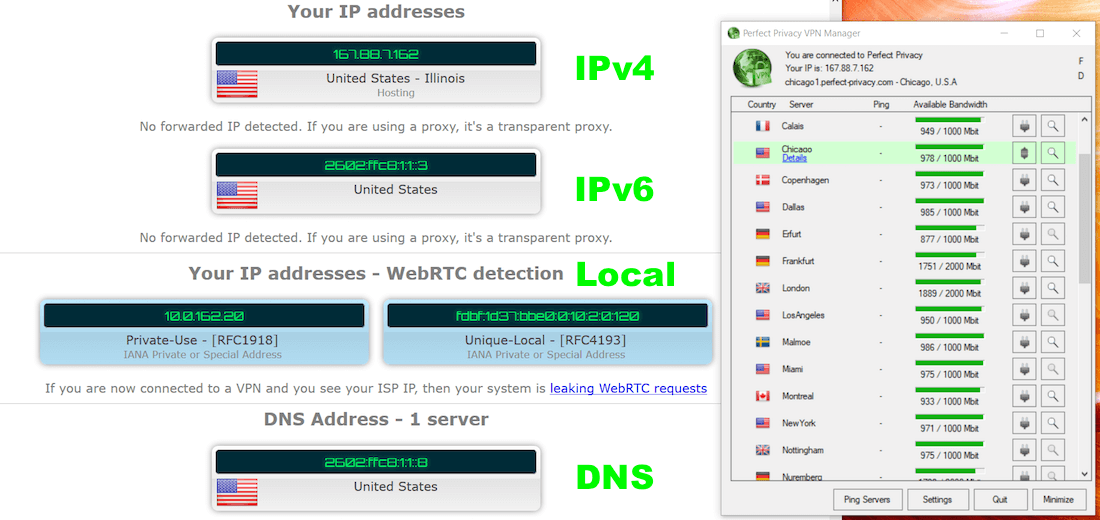 Below is a testing result with a multi-hop VPN chain – notice all tests correspond to the last server in the chain: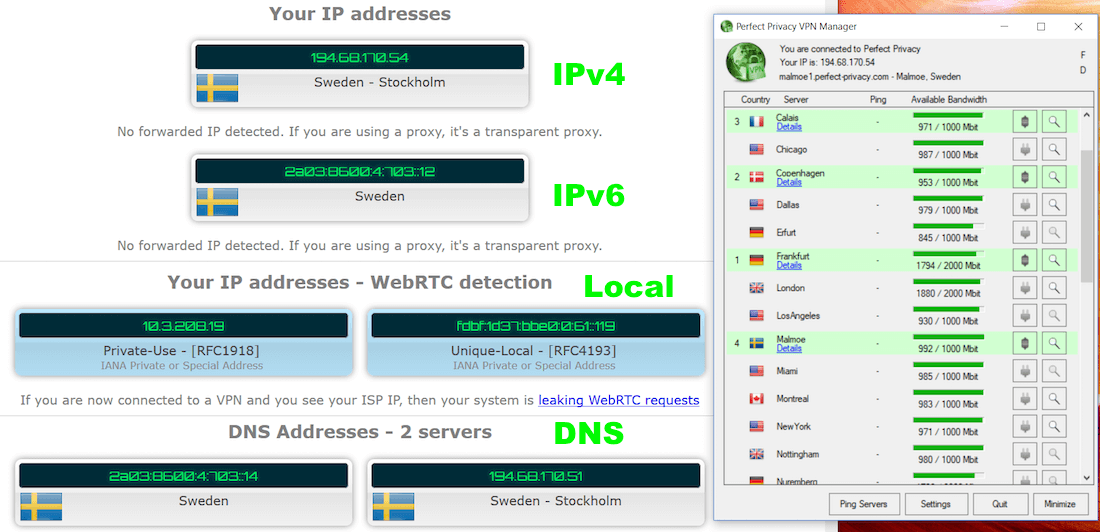 Here is a leak test using the built-in IKEv2 setup on Mac OS (no leaks):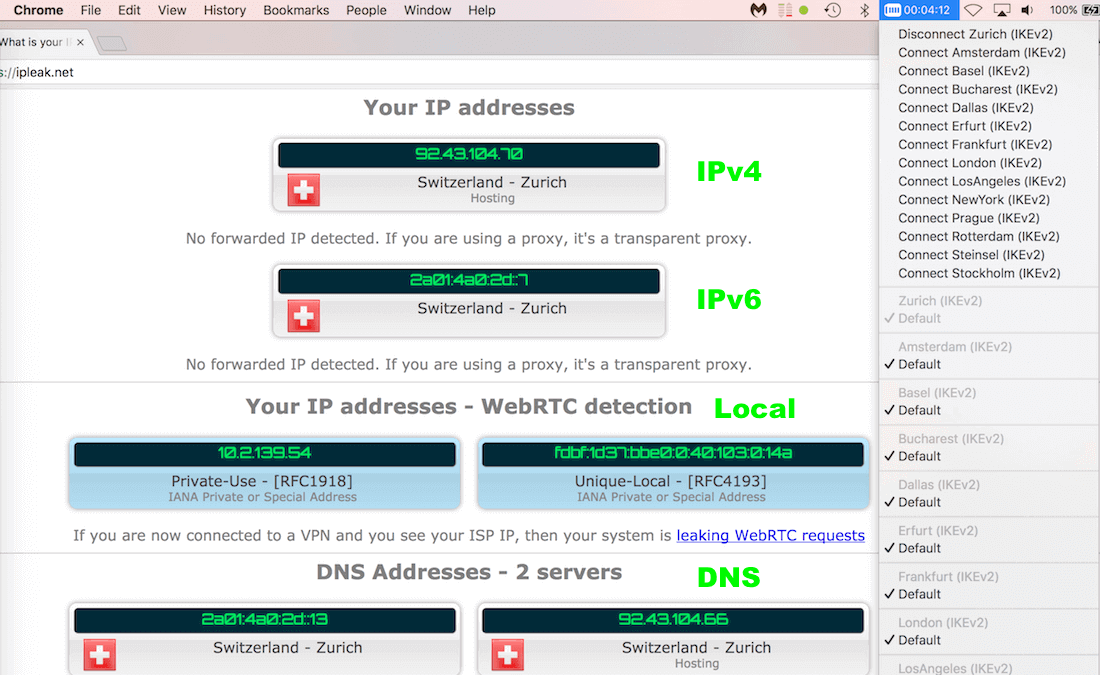 For this Perfect Privacy review I tested servers throughout Europe, Asia, North America, and Australia: no problems to report.
Results for Windows, Mac OS, and Android:
No IP leaks
No WebRTC leaks
No DNS leaks
Kill switch and firewall features worked perfectly
Perfect Privacy also has a warrant canary on their website – see here. This page keeps people updated on any government actions that may affect user privacy, such as warrants, court orders, gag orders, or other law enforcement action.
Most VPNs do not provide this information, as doing so would be illegal in the United States and many other countries. Here is further clarification from their website:
Note that Perfect Privacy is based in Switzerland we are not subject to US based laws. Furthermore all Perfect Privacy employees are located in countries where there are no laws that would prevent us from disclosing any kind of incident with full transparency. This warrant canary is purely in the interest of transparency and accountability.
This is another reason why jurisdiction is important when choosing a VPN service.
Support
Perfect Privacy offers different channels for support.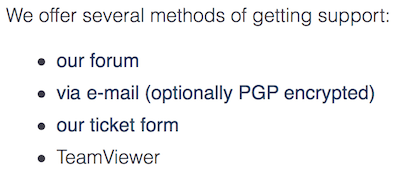 Being a smaller company with fewer employees, there is no 24/7 live chat support. However, in my experience I have found the email support to be fast and professional.
There is also a user forum, which you can access from the website. The most active part of the forum is in German.
Tip: If you have an issue, I would recommend emailing the support department directly rather than posting a question in the forums (for a faster response).
Is it worth the high price?
Perfect Privacy is geared mostly to those who are seeking a high level of security and online anonymity.
Given the massive advancements in surveillance technology around the world, many people are looking for more advanced privacy solutions. Perfect Privacy absolutely delivers in the areas of advanced security and online anonymity with multi-hop VPN chains, NeuroRouting, TrackStop, and obfuscation features.
That being said, it may not be the best choice for everyone.
Some people want a VPN mainly for streaming Netflix and other services. In this case, VPNArea or ExpressVPN may be better options (most VPNs are blocked by Netflix, including Perfect Privacy).
If cost is your primary concern, you can find cheaper solutions with VPN.ac ($4.80 per month) and VyprVPN ($3.75 per month). Although, these alternatives won't offer the advanced features that Perfect Privacy gives you.
There's no getting around the fact that Perfect Privacy is an expensive VPN service (and they don't offer any discounts). However, considering everything, I believe it is still a great value for five main reasons:
Unlimited – provides you with an unlimited number of device connections
High security – highest standards for network security, encryption, features, and server quality
High performance – excellent speeds and reliability
NeuroRouting – dynamic multi-hop VPN chains for all devices
TrackStop – actively block tracking, ads, malware and phishing domains at the VPN server level
Perfect Privacy review conclusion
After testing numerous VPN services over the past few years, Perfect Privacy remains my top VPN recommendation. Since I first tried their service in 2016, I have been personally using it every day with both computers and mobile devices. The server-side features of TrackStop and NeuroRouting provide maximum protection for all devices – whether you're using an Android mobile with the IPSec/L2TP configuration, Mac OS with IKEv2, or Windows with the VPN Manager app.
Their latest addition with the NeuroRouting feature once again illustrates that Perfect Privacy remains on the cutting edge of privacy and security technology, far ahead of other VPNs. With mass surveillance and tracking technologies continuing to advance throughout the world, it's important to use a VPN that continues to evolve and stay at the forefront of these developments.
Here's the final breakdown for this Perfect Privacy review:
+ Pros
Multi-hop VPN chains, up to 4 servers (self-configurable)
NeuroRouting (dynamic, server-side multi-hop that can be used with all devices)
Stealth VPN (OpenVPN with Stunnel, SSH, Obfusproxy)
Dedicated premium servers operating only in RAM DISK mode
Full IPv6 support (provides both IPv4 and IPv6 addresses)
Customizable firewall/port-forwarding options
TrackStop advertisement, tracking, and malware blocker
– Cons
Higher price
Full VPN Manager client not available for Mac OS (but BETA client available, along with other installation options)

Connections
Unlimited

Price
€8.95

Jurisdiction
Switzerland

Privacy Tests
Passed all tests.

Protocols
OpenVPN
IPSec/L2TP
IPSec/IKEv2
PPTP

Multi-hop
Up to 4 servers
Self-configurable
+ NeuroRouting

Obfuscation
Stunnel
SSH
Obfsproxy3

Logs
No logs
(with no restrictions)
---
Review Appendix: Setup and General Tips
OK. You've purchased your subscription – now what?
Here are some general tips I have from my own experience in using and testing Perfect Privacy over the past year:
Google ReCaptcha – One annoying issue with Google is that it will force you through the ReCaptcha validation process if it notices multiple users on the same IP address (which is good for your privacy, and bad for Google's tracking efforts). The best solution to this problem is to use Startpage (stop using Google), which gives you all Google search results, but without the ReCaptcha and tracking. I have also found that enabling NeuroRouting seems to make this issue go away.
Conflicting VPN software – If you have other VPN software on your computer, it is usually best to uninstall it before installing Perfect Privacy. Using different VPNs may cause issues with your operating system and firewall.
Conflicting antivirus software – Antivirus software often conflicts with VPNs. First, the best software for Windows is simply the native Windows Defender. Additional software, such as Norton or Kaspersky, usually doesn't add any benefit and will likely interfere your VPN. You can usually add a rule or exception to the antivirus software in this case for the VPN.
TrackStop – You can enable TrackStop from your member dashboard to block tracking and advertisement domains. I would also recommend turning on the "Fraud" filter, which blocks malware and phishing domains. TrackStop will improve page load speed and overall performance, while also saving you money on mobile data (because ads use up lots of bandwidth). When you use Perfect Privacy on a router (instructions here), activating TrackStop will block ads and tracking on your entire home network (no need for separate VPN or ad blocking software with any connected devices!).
NeuroRouting – While NeuroRouting is a great feature for privacy and security, it should not be used if you want to maintain an IP address in a specific location or want to maximize speeds with a certain VPN server. You can activate or disable NeuroRouting directly in the member dashboard. I'd recommend using NeuroRouting by default, as it provides a very high level of security and anonymity. Note, you can also use NeuroRouting in conjunction with multi-hop VPN chains (via the Windows, Linux, or Mac OS clients).
Windows users – Windows users should use the Perfect Privacy VPN Manager app. It may be a good idea to quickly review the features here before using it for the first time. This is a very advanced and powerful VPN client.
Mac OS users – One of the best options for Mac OS users is the built-in IKEV2 configuration because it integrates perfectly with the native Mac OS firewall (no leaks) – see setup instructions here. This is what it looks like (screen shot). The IKEv2 setup gives you a level three kill switch (no VPN connection = no internet) and is very fast and stable. As an alternative, you could also use Tunnelblick in combination with Little Snitch for a kill switch. Little Snitch is a third-party firewall software, which allows you to create a kill switch to block non-VPN traffic. The Mac OS BETA client can also be used and downloaded here (although they state it is only for testing, I've found it to work quite well).
Linux users – The full VPN Manager app works with Ubuntu 13.10, Ubuntu 14.04 and Linux Mint 17. You can also use Perfect Privacy with Terminal. There are many how-to Linux guides available here.
Android users – The Android app works very well and is simple and easy to use. You can download the APK file here for direct installation. For an always on setup, you can also use the built-in IPSec configuration, which integrates with the Android OS and forces everything through the VPN. See instructions here. (Activate TrackStop to block ads and save your mobile data.)
iOS users – You can use an OpenVPN app or the built-in IKEv2 configuration and select "connect on demand". As discussed above, this forces all traffic through the VPN connection. (Activate TrackStop to block ads and save your mobile data.)
Support – If you have an issue, I'd recommend contacting support directly via email. There is also lots of good information in the forums, although most threads are in German (Google translate may be handy).
That's it.
Stay safe!
Alternatives to Perfect Privacy: