| | |
| --- | --- |
| VPN | ProtonVPN |
| Based in | Switzerland |
| Logs | Timestamps |
| Price | $8.00/mo. + |
| Support | Email |
| Refund | N/A |
| Website | ProtonVPN.com |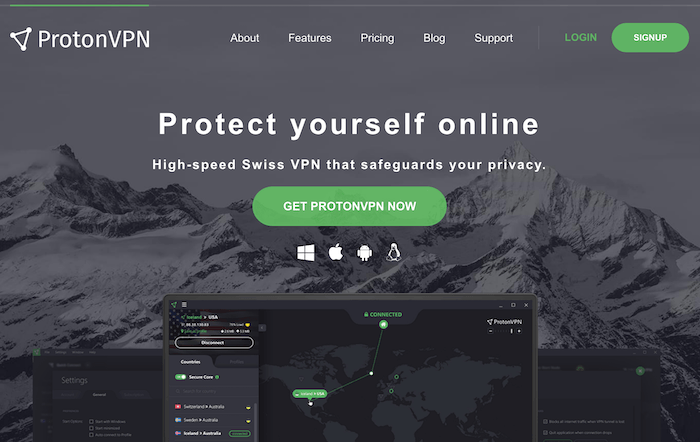 Best Alternatives:
#1 ExpressVPN
#2 NordVPN
ProtonVPN is a newer VPN service from the makers of ProtonMail, a Switzerland-based email service.
In this new and updated review, I put ProtonVPN through extensive testing to examine all aspects of the service:
How fast is ProtonVPN with servers throughout the network?
Do all the features work correctly?
Does ProtonVPN have any problems with IP address leaks or DNS leaks?
How responsive is the ProtonVPN support staff?
Does ProtonVPN unblock Netflix?
All of these questions are definitively answered in this ProtonVPN review, with screenshots posted below for verification.
Overall ProtonVPN has made huge improvements in a number of different areas since the last review, but there are still a few noteworthy drawbacks that we'll cover below.
ProtonVPN overview
Here is a brief overview of my test results and research findings for this ProtonVPN review:
Pros of ProtonVPN:
Useful privacy features (no leaks)
Good privacy jurisdiction, minimal logs
User-friendly VPN apps
Works well with Netflix
Responsive and professional support (via email)
Cons of ProtonVPN:
ProtonVPN is slow
ProtonVPN is expensive
Limited payment options and no direct support for cryptocurrency payments
Signup can be frustrating and invasive
No full refund policy
Ties to US investors and US research institutions
Proton accepted €2 million from the EU in March 2019
Pros of ProtonVPN
Here are the PROs that I found for this ProtonVPN review.
1. Useful privacy features (and no leaks)
ProtonVPN has some useful privacy and security features.
First, it offers good leak protection settings with the Windows and Mac OS apps I tested. In addition to the kill switch and DNS leak protection, both the Windows and Android clients also offer a split tunneling feature. This allows you to route traffic for certain applications outside of the VPN tunnel.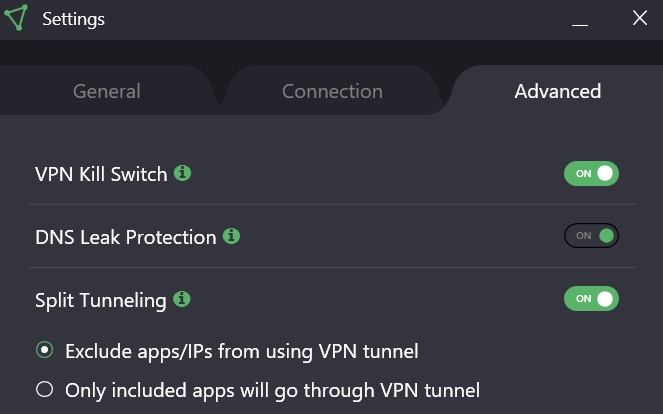 ProtonVPN also offers different settings for auto connect, protocol selection (UDP or TCP), and startup options. Regarding the kill switch and leak protection settings, everything seemed to be working well without any major issues, aside from occasional connection errors.
I ran the Windows and Mac OS apps through some basic VPN tests to identify potential leaks or flaws. Everything checked out (no leaks):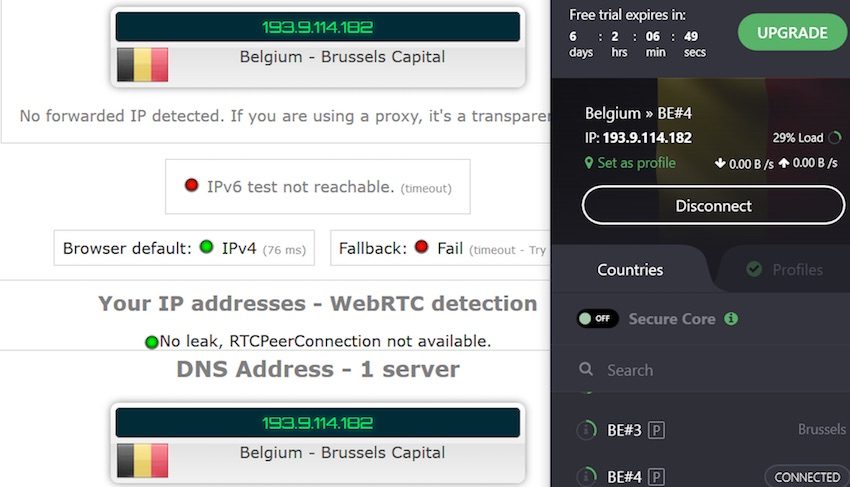 The screenshot above is with the ProtonVPN Windows client; the Mac OS client also did not have any leaks that I could find.
What is ProtonVPN secure core?
The "secure core" feature is just a double-hop VPN server configuration routed through ProtonVPN servers in Switzerland, Sweden, or Iceland. While multi-hop VPNs are a great feature, they are not unique to ProtonVPN.
Both Perfect Privacy (review) and ZorroVPN (review) give you the ability to create self-configurable VPN cascades with up to four servers (on every server in their network).
With ProtonVPN, you are can select between various double-hop VPN configurations, which include "secure core" servers. You do not have the ability to create your own multi-hop configurations (not self-configurable).
There are a few other VPN providers that offer double-hop VPN servers like ProtonVPN:
Interesting claims – ProtonVPN makes some interesting claims on its website regarding the "Secure Core" feature:
ProtonVPN's unique Secure Core architecture allows us to defend against network attacks that other VPNs cannot defend against.
Perhaps, but the "secure core" feature is just a double-hop VPN configuration through a country that ProtonVPN considers to be "secure". You would arguably get more privacy and security with a self-configurable three or four-hop VPN cascade via Perfect Privacy or ZorroVPN.
First, servers are located in specifically selected countries with very strong privacy laws (Iceland, Switzerland, and Sweden).
Iceland and Switzerland seem good, but Sweden is a member of the 14 Eyes mass surveillance alliance. There have also been reports that the Swedish government intends to increase data retention, further erode privacy protections, and also target VPNs operating in Sweden.
Secure Core servers are also located in extra high security datacenters to ensure strong physical security. ProtonVPN infrastructure in Switzerland and Sweden are located in underground datacenters, while our Iceland servers are located within a former military base.
I'm not sure having servers "underground" or in a "former military base" offers any tangible benefit – but it's good to hear they take server security seriously.
Therefore, even though ProtonVPN is based in Switzerland, we cannot know for sure that our VPN servers in other countries such as the US or the UK are not being monitored and user privacy compromised.
Correct – but that holds true for any server in the world, including all "secure core" servers.
Ok, moving on. Let's see how "secure core" servers performed in speed tests.
Here is a nearby (low latency) secure core configuration via Switzerland > UK: 12 Mbps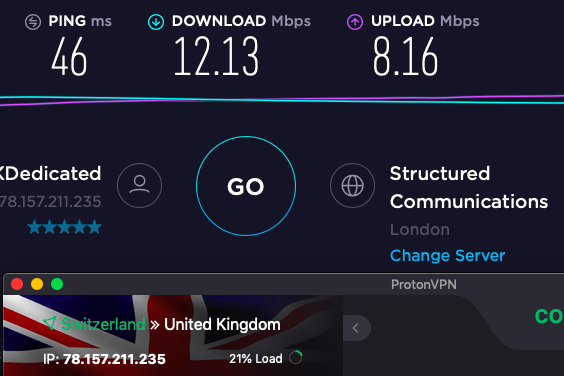 While slower speeds are to be expected when routing traffic over two hops, this is still quite slow compared to other VPNs offering double-hop VPN configurations. (This was actually one of the faster secure core configurations I tested from ProtonVPN, with the average speed being 7-10 Mbps.)
I decided to run a comparison test with VPN.ac. While VPN.ac did not have the exact same double-hop locations as ProtonVPN, I did find one that was fairly close, with slightly more latency (which means it should be slower).
Comparison test with VPN.ac's UK > Netherlands servers: 122 Mbps

Even with higher latency and longer route than ProtonVPN, VPN.ac offers significantly more speed.
We'll cover more speed tests below in the CONs section (spoiler: they weren't good).
Lastly, ProtonVPN also offers Tor-over-VPN servers. I did not bother testing these, simply because I knew they would be slow (due to the slow Tor network). Another service that offers Tor-over-VPN servers isNordVPN, based in Panama (described more in the NordVPN review).
2. Good privacy jurisdiction, minimal logs
ProtonVPN is based in Switzerland under the company ProtonVPN AG. Switzerland is a good privacy jurisdiction and is not part of the five eyes, nine eyes, or 14 eyes surveillance alliances. As noted on the ProtonVPN website:
We are headquartered in Switzerland which has some of the world's strongest privacy laws. Switzerland is also outside of EU and US jurisdiction and is not a member of the fourteen eyes surveillance network.
While ProtonVPN officially falls under Switzerland jurisdiction, I did find some interesting background information about the company's US origins, which we'll cover further below.
ProtonVPN logs policy
ProtonVPN refers to itself as a "no logs VPN service" on its website:

There are some interesting parts when you read through the ProtonVPN privacy policy, however:
Data that ProtonVPN records from VPN sessions:
Each time a user connects to the Service, we only monitor the timestamp of the last successful login attempt. This gets overwritten each time you successfully log in. This timestamp does not contain any identifying information, such as your IP address or your location; it only contains the time and date of the login.
Data that ProtonVPN retains:
Active accounts will have data retained indefinitely until they are requested to be deleted by the user.
Data that ProtonVPN shares:
ProtonVPN AG may share your data with other companies within the Proton group of companies, which includes Proton Technologies AG, ProtonLabs, and other Proton affiliated companies (for example, if you are both a ProtonVPN and ProtonMail user).
The data sharing part is actually interesting.
ProtonVPN does not disclose exactly who these "Proton affiliated companies" are and where they are located. Last summer it was revealed that one of Proton's affiliate companies is ProtonVPN LT, UAB, a company based in Lithuania with ties to other companies. Shortly after this was revealed, the name was changed to Cyber Alliance UAB, but ProtonVPN claimed this was a "mistake".
Overall ProtonVPN seems to do well with privacy, considering the Switzerland jurisdiction and "no logs" policy.
3. User-friendly VPN apps
ProtonVPN has a very nice lineup of apps that are user-friendly and fully-featured.
The layout and design is great, and I also like the dark-mode theme. Here I'm testing out one of the secure core configurations on the ProtonVPN Windows client: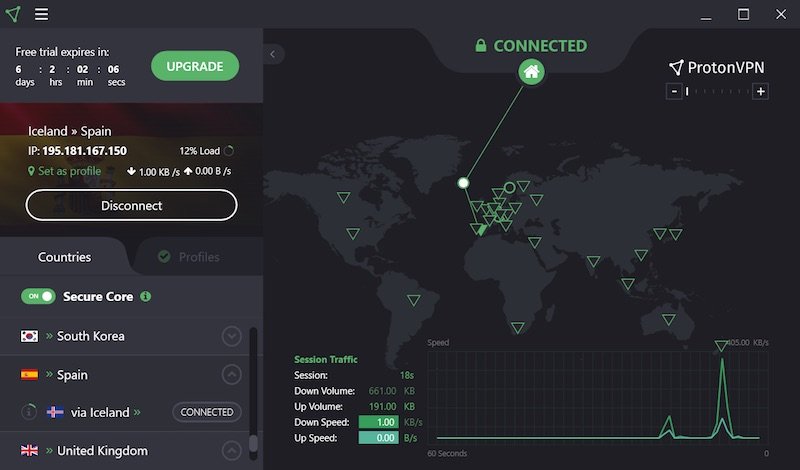 If you are a Plus subscriber, you can toggle back-and-forth between the secure core servers and the regular (single-hop) servers.
In general, connections were pretty quick to establish and there weren't any major issues.
One minor issue, however, is that the ProtonVPN Mac OS app still seems to be a little buggy. The Mac OS client was later released after ProtonVPN rolled out the Windows client in 2017.
Buggy ProtonVPN Mac OS app
The ProtonVPN Mac OS app seemed to have some kind of bug with the kill switch. I would occasionally get this error when trying to connect to some servers: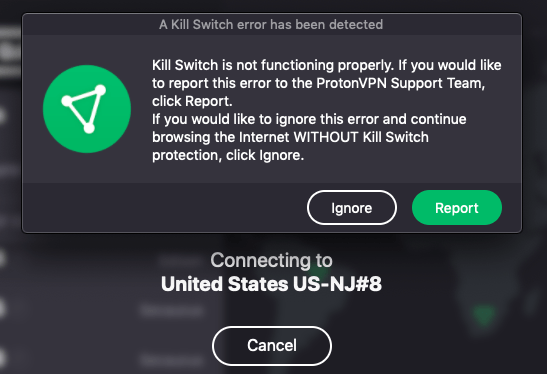 The kill switch error seemed to occur randomly with the Mac OS client. (No kill switch errors were noticed on the ProtonVPN Windows client.)
Update: ProtonVPN staff said these errors may be related to other VPN apps installed on the device. I will test this more with the next ProtonVPN review update.
Another bug I noticed with the ProtonVPN Mac app is that it would not remember login credentials, even though that option was enabled. ProtonVPN is certainly not the best VPN for Mac, but it's also not the worst.
Overall ProtonVPN has a nice lineup of VPN apps, despite some of the bugs with the Mac OS client.
4. ProtonVPN works with Netflix
ProtonVPN also works with US Netflix. As they state on the ProtonVPN website:
ProtonVPN users can securely watch US Netflix when connected to any ProtonVPN Plus server located in the US. These servers are available for Plus and Visionary Plan subscribers. For the fastest and most reliable connection, please connect to the server that is closest to your current location.
I tested US Netflix with a ProtonVPN server in New York and did not have any problems getting through. The speeds weren't great, but they were adequate for the short test I ran.
Note: ProtonVPN only supports US Netflix at this time (no other Netflix regions).
To see other VPN services that unblock Netflix regions around the world, check out the best VPN for Netflix guide.
5. Responsive support (via email)
ProtonVPN offers support via email. Their website also has various FAQ articles and guides, which are useful for standard questions.
I used the contact form on their website to submit various inquiries to test out support's response time.

Overall I was happy with the prompt replies. My inquiries were usually answered on the same day they were submitted.
With previous ProtonVPN reviews, I was critical of their support due to very delayed response times (several days). Although I've seen a few complaints about delayed support on reddit, I did not experience that in my interactions.
Some people prefer a VPN with live chat support (such as ExpressVPN, NordVPN, VPNArea, and others), which is indeed useful if you want instant help. While ProtonVPN does not offer live chat, their support team seems to be on top of their game.
Cons of ProtonVPN
Now we'll take a look at some of the cons of ProtonVPN:
1. ProtonVPN is slow
For a higher-priced VPN service, ProtonVPN was surprisingly slow.
All speed tests for this ProtonVPN review were carried out with a baseline connection speed of about 160 Mbps from my location in Western Europe. All tests were carried out using 256-bit OpenVPN UDP and the most up-to-date ProtonVPN client.
Now let's examine the results:
ProtonVPN server in Austria: 25 Mbps
ProtonVPN server in the UK: 20 Mbps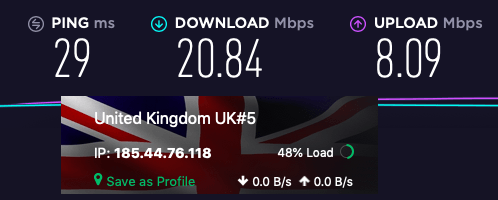 At this point I was pretty surprised how slow the speeds with ProtonVPN were, especially given my baseline connection speed of about 160 Mbps. It seems the speeds have gotten worse since my last ProtonVPN review.
Repeating the tests with the same ProtonVPN server did not improve anything, so I decided to run some back-to-back comparison speed tests with ExpressVPN to further clarify performance.
Comparison speed test with an ExpressVPN UK server: 147 Mbps

Compared to the 20 Mbps with ProtonVPN, this is a huge difference to say the least.
I decided to run some more comparisons to see if this was an anomaly or the norm with other servers throughout ProtonVPN's network.
ProtonVPN server in Milan, Italy: 27 Mbps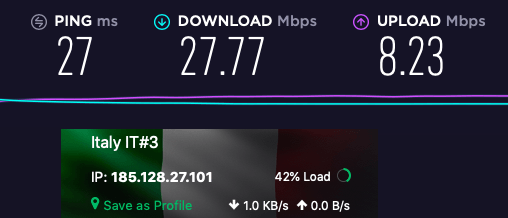 Comparison speed test with an ExpressVPN server in Milan, Italy: 151 Mbps

Once again, ExpressVPN was about 5.5 times faster.
ProtonVPN's server in Switzerland gave me the best speeds of any server at tested. Even still, I was only able to get about 51 Mbps:

Comparison with an ExpressVPN server in Switzerland: 150 Mbps

Unfortunately, speeds in the United States with ProtonVPN were also pretty bad.
Here is a ProtonVPN server in New York at just under 7 Mbps:

Comparison with an ExpressVPN server in New York: just under 144 Mbps:

Other servers in the United States had similar speed test results.
As a final example, here is a ProtonVPN server in Virginia at around 7 Mbps:

And a comparison with an ExpressVPN server in Washington, DC (neighboring Virginia) at 126 Mbps:

I also ran tests of ProtonVPN secure core servers, and they were even slower – but that is to be expected due to traffic being routed over two different hops. In comparison to ProtonVPN's "secure core" speeds, I've found double-hop VPN speeds to be better with both NordVPN and also VPN.ac.
For the comparison speed tests with ExpressVPN, I worked to control all variables, so the speed tests were:
all conducted on the same machine and operating system
conducted at the approximate same time (back-to-back tests)
using 256-bit OpenVPN UDP (faster than TCP)
Additionally, I did not connect to any ProtonVPN servers that were overloaded, such as all the ProtonVPN free servers.
I've seen mixed reviews from Proton users with regards to speeds. While ProtonVPN's speeds may be fine for standard browsing and low-bandwidth activities, there are certainly faster options to consider. ExpressVPN outperformed ProtonVPN in every comparison test I ran – usually by a very wide margin.
Am I the only one having problems with ProtonVPN speeds?
Answer: No
Here is a quick selection of recent complaints from other ProtonVPN users:

Another:

Another:

Another:

Another:

Another:

You get the point.
2. ProtonVPN is expensive
If you want all of the standard features, including access to the full server network, then you will need to purchase a "Plus" or "Visionary" plan, which costs $8 to $30 per month. This makes ProtonVPN rather expensive with their paid plans.
The paid subscriptions are broken down into the different plans you see below. This is with "annual" payments being selected – if you choose "monthly" the plans are even more expensive.
ProtonVPN annual prices: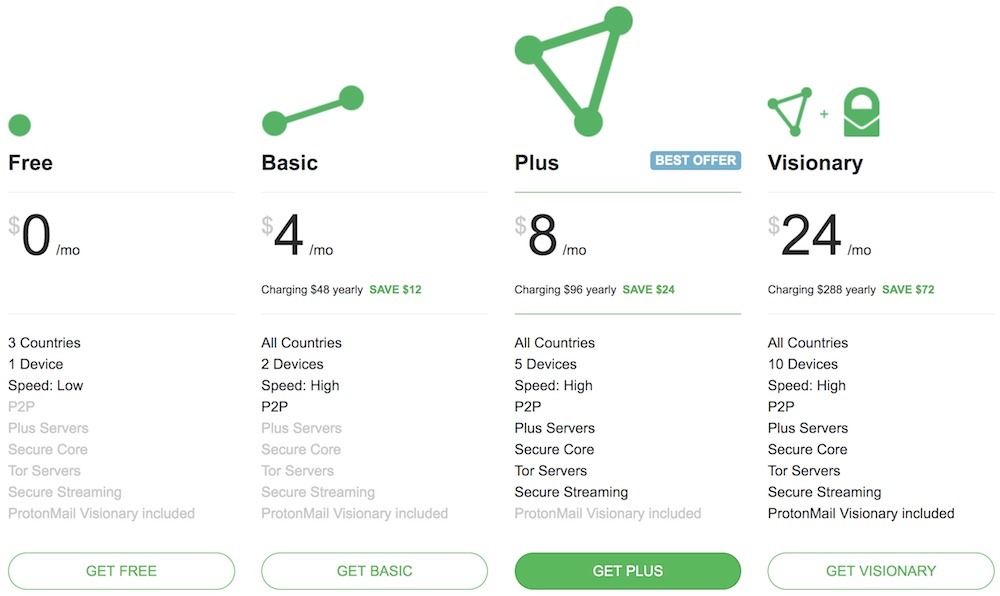 ProtonVPN also offers a free plan, which comes with:
servers in three countries
1 device allowed
slow speeds
As discussed in the free VPN guide, free VPNs are not recommended and can be quite dangerous. One study found that 38% of free Android VPNs contained malware and 84% suffered from data leaks. ProtonVPN's free plan likely does not have those issues and is considered more trustworthy, but I did notice the free servers were overloaded with users.
For this ProtonVPN review I went with the "Plus" plan so I could test the different "secure core" servers.
Why is ProtonVPN so expensive?
ProtonVPN is certainly not a cheap VPN, and one reason for that might be the free VPN service.
ProtonVPN seems to be a very popular free VPN service, which is evident from the overloaded free VPN servers and all the "free VPN" marketing they do. This means that there are a lot of free VPN users who are using up resources (infrastructure, bandwidth, support, etc.) – and all of this must be paid for by ProtonVPN's paying customers.
In other words, the paid ProtonVPN users are subsidizing all of the free users, which might explain why subscription costs are so high. If you're a free user, it's not a bad deal, but if you're paying customer, then you're paying for the free riders.
Speaking of prices, the "visionary" plan is the most expensive VPN subscription I've ever seen at $24 per month for the annual rate, or $30 per month with the monthly rate. Granted, this also comes with a ProtonMail account, but that still doesn't justify the cost in my opinion. After all, Tutanota has free accounts with up to 1 GB of storage, with paid accounts for only €1.00 per month. (And it offers a higher level of security, as one of the best secure email services.)
I would not recommend signing up for the "visionary" plan for two reasons. Aside from being insanely expensive, it also puts all your eggs in one basket, thereby breaking the compartmentalization rule. If Proton were to be compromised, this would mean your private email data AND browsing data (via the VPN) would be compromised.
If you're looking for deals and discounts on VPNs, check out the VPN coupons page.
3. No direct support for cryptocurrencies, limited payment options
For years, ProtonVPN has been claiming that they support cryptocurrency payment options, but this is not very honest. They make paying with cryptocurrency about as difficult as possible, while still being able to tell people who complain on reddit that they "support" Bitcoin payments.
Here's how that works.
When you select the paid subscription you want, you do not see any support for cryptocurrencies, gift cards, or other payment methods. You are only given two options: PayPal or credit cards.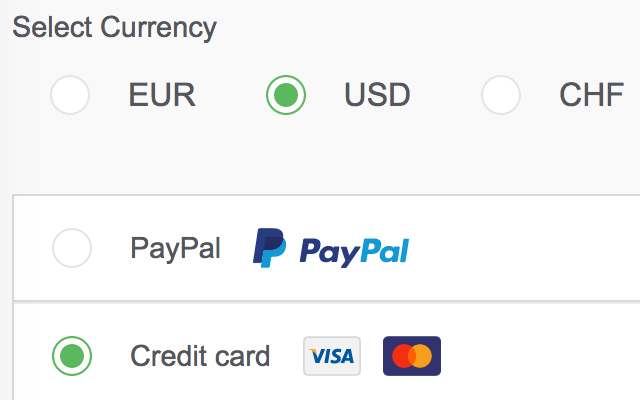 If you didn't already know there was a convoluted way to pay with Bitcoin, you would be left thinking it's not an option. After all, there is no mention of Bitcoin or other payment options anywhere on the payments page.
After doing some searching (with a private search engine), I found that Proton has a page explaining how one can go about paying with Bitcoin:
At this time, Bitcoin payments for ProtonVPN are available only for the existing accounts. If you have a Free ProtonVPN account which you'd like to upgrade to one of our Premium plans by using Bitcoins, you can do so from the Dashboard category in your ProtonVPN account. If you don't have a Free VPN account and you would like to subscribe to a premium ProtonVPN plan with Bitcoins, please contact us through the following link:

https://protonvpn.com/support-form

While paying for VPN with Bitcoins, please note that it may take up to 36 hours in order for the Bitcoin payment to process.
This is pretty ridiculous. With other VPNs I've tested, you can pay with Bitcoin and have an active account in a matter of minutes. With ProtonVPN, there's no direct support for cryptocurrencies on their checkout page, and paying with Bitcoin can take up to 36 hours for account activation.
Some VPN providers, such as Perfect Privacy, support all forms of anonymous payment and even let you send cash in the mail. In my recent review of Private Internet Access, I paid with Bitcoin and was using my account within minutes. PIA also supports payment with gift cards, which can be purchased anonymously with cash.
This brings us to our next point:
4. Signup can be frustrating and invasive
Next, I attempted to signup for a free account, which I planned to convert to the "Plus" account after first testing the free servers.
Using a popular and reputable secure email provider (not ProtonMail), I attempted to create an account, but was locked out with this message:

Proton was blocking my secure email provider from registering. Of course, Proton makes signup easy if you are a ProtonMail customer and want to link the VPN to your email. No thanks.
This left only two options:
Use my phone number for verification (terrible for privacy); or
Cycle through different email providers until I found one that wasn't blocked by Proton
Regarding phone verification, this is the same practice used by some invasive tech companies and it is used to link your personal identity to accounts. Proton also utilizes phone verification if you signup for their email. If you signup for ProtonMail through Tor, they force you to use phone verification.
I have not seen other VPNs use phone verification and I consider this to be invasive, especially for a business offering privacy tools.
Update: ProtonVPN staff explained that, "email and phone verification is only required for Free accounts, which is required for anti-abuse reasons."
5. No full money-back guarantee
Another out-of-the-ordinary issue is ProtonVPN's policy on refunds.
With ProtonVPN, there is no full money-back guarantee where you will be refunded the full amount you paid if you aren't satisfied. Instead, they offer "prorated" refunds for any unused time on your subscription:
You may cancel your account with a refund for any unused portion of the service period within 30 days of the initial purchase. Here, any unused portion of the service period refers to the prorated remaining full days of the subscription period.
Most VPNs have some form of money-back guarantee or refund policy. The average seems to be about 7 days. Some VPNs offer a longer refund window, however, such as ExpressVPN and NordVPN, with a full 30 days on all plans. With these other VPN providers, you can cancel your account on the very last day of the refund window and still get a 100% refund.
6. Ties to US investors and US research institutions
Another interesting aspect of ProtonVPN and ProtonMail is the company's history. As I discussed in the secure email guide, ProtonMail has extensive ties going back to the United States, which is ironic since the company really likes to promote its Swiss credentials.
According to the official story, Proton's roots are in Switzerland:
The idea of ProtonMail was born in the CERN cafeteria. All of us were scientists working on the Large Hadron Collider, the world's largest proton collider. That was the origin of the name ProtonMail.
That all sounds good, but it seems to contradict their true origins in the United States. If you dig deeper, you find that ProtonMail was actually developed and advised at MIT – the Massachusetts Institute of Technology in the United States. According to one article in 2014:
The company is advised by the MIT Venture Mentoring Service and is developed, in part at MIT. Earlier this year, ProtonMail was a semi-finalist in the 2014 MIT 100K Startup Launch competition.
Now let's look at the money behind Proton. In 2014 ProtonMail held a crowd-funding campaign where they stated:
We firmly believe that ProtonMail can only succeed in its mission if it remains independent. By raising money through crowd funding, we can ensure that our first and only priority is protecting the privacy of our users.
Less than a year later, however, Proton received a $2 million "investment" from a US-based firm called Charles River Ventures (CRV). CRV is an interesting company that seeks to get a "strong ownership stake" in various startups.
Looking back in 2014, ProtonMail was promoted in US news as "The Only Email System The NSA Can't Access" – see this Forbes article from May 2014, with staff working at MIT:
While half the team is now at MIT, some are still in Switzerland where the ProtonMail's servers are housed for extra protection.
This is all quite ironic since Proton has a history of bashing other VPN providers for their ties to the United States. In this blog post, Proton criticizes both Private Internet Access and VyprVPN for having operations in the United States.
Proton staff have informed me that they no longer have staff or operations at MIT.
7. Proton Technologies AG accepts €2 million from the EU
Another interesting fact about ProtonVPN and its financing is that it accepted €2 million from the EU in March 2019:
We are happy to announce that the European Commission has awarded €2 million to Proton Technologies AG, the parent company of ProtonMail and ProtonVPN, to develop a suite of encrypted services.
Proton explains this as a positive development on their blog, but there are a few concerning issues I see here.
First, accepting large sums of money from government agencies, particularly the EU, could undermine Proton's independence. In the blog post referenced above, Proton assures their users that "control of the company therefore remains with our team" – but with so much money coming from government sources, this is still concerning.
Second, government cooperation with private tech companies has a bad track record. Just take a look at the PRISM program, which describes the close cooperation between the NSA and private tech companies to carry out mass surveillance and data collection.
Third, the EU has a horrible track record when it comes to internet freedom. One glaring example of this is the recent passage of Article 11 (link text law) and Article 13 (censorship machine and content filters). The EU is the enemy of an open and free internet – and ProtonVPN is taking their money.
I don't think this is ideal, but there are surely different ways to look at government funding for privacy technology.
ProtonVPN review conclusion
While ProtonVPN has made big improvements since the last ProtonVPN review, there are still a number of concerning issues that stand out.
So is ProtonVPN recommended?
Not really.
ProtonVPN may be a good option if you need a free VPN and you can tolerate the limited server selection (three countries) and slow speeds. If you want to upgrade to a paid plan, however, I would recommend considering other options.
If you are looking for the highest levels of privacy, then Perfect Privacy would be a good consideration. For amazing speeds, strong encryption, and access to Netflix and other streaming services, ExpressVPN is tough to beat, especially with their three months free coupon. If you want double-hop VPN servers like "secure core", you could also consider VPN.ac or NordVPN (also offering a 70% discount coupon).
The best VPN services list includes the latest recommendations test results.
---
---
The comments section has been updated to be for user reviews only. If you have used ProtonVPN, feel free to share your honest review (good or bad) below.