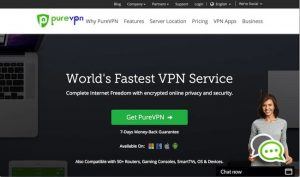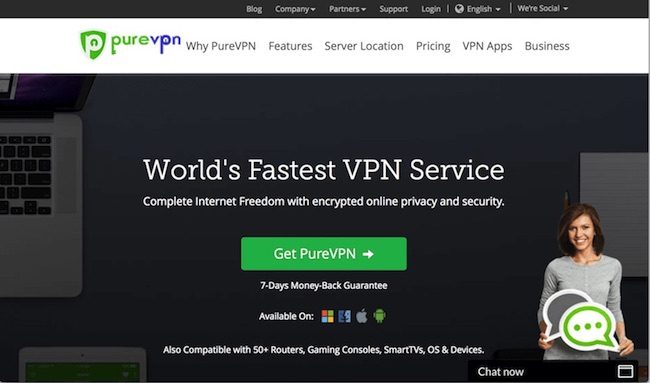 In this PureVPN review we will reveal some alarming information uncovered through research and extensive testing of the PureVPN applications.
In short, I found a number of issues when testing PureVPN's apps, including IP address leaks, DNS leaks, buggy applications, slow speeds, and connection problems.
Another issue worth mentioning is that PureVPN was found to be collecting customer data for US authorities, which was used in a criminal case, despite claiming to have a "zero log policy".
Due to all of these issues and considering everything uncovered in this PureVPN review, I would strongly recommend considering VPN alternatives. See thebest VPN report.

Connections
5

Price
$2.99

Jurisdiction
Hong Kong

Privacy Tests
IPv4 and IPv6 leaks
DNS leaks
Broken kill switch
– Cons
IPv6 and IPv4 leaks
DNS leaks
Broken features (kill switch)
Questionable sales tactics
Slow speeds
Contradictory statements with "no logs" claims
Connection problems with many servers
---
Alternatives to PureVPN:

Review
(
ExpressVPN
)

Review
(
NordVPN
)

Review
(
VPN.ac
)
---
PureVPN & Gaditek
According to PureVPN's website, it is officially operated under the business GZ Systems Limited, which is based in Hong Kong. But is PureVPN being operated out of Hong Kong?
If you dig a bit deeper, you will find a company called Gaditek, based in Karachi, Pakistan. PureVPN appears to be owned and operated by Gaditek, which lists PureVPN as one of its brands: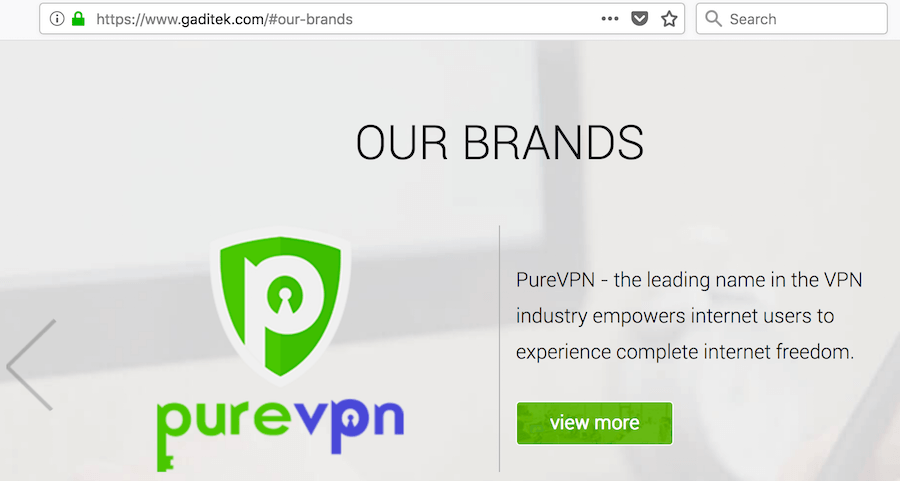 Whether PureVPN is operated in Pakistan or Hong Kong does not really matter, since they have been found to be working with authorities in different jurisdictions (United States).
There are also people who allege that Gaditek (PureVPN) is operating a network of VPN review sites, where PureVPN is consistently ranked as the top recommendation. See this report on Github for further information.
PureVPN price
PureVPN utilizes a number of questionable sales tactics on its website. You can see they are using the scarcity tactic "limited time offer" while also displaying alleged sales numbers on the left of the screen.

The sales numbers are suspicious – "457 People bought the 2 Year today!".
Update: I came across a forum post alleging that PureVPN was simply using a random number code to generate fake sales figures. This was captured in the screenshot below. Notice the "random_num" and "increment_num" code in the screenshot below: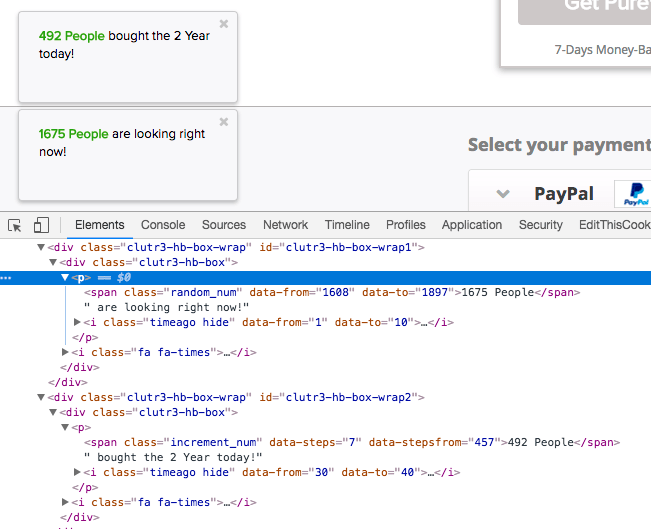 It appears that PureVPN has now scrubbed all evidence of this from their site and they are no longer using fake sales figures.
PureVPN Refund Policy – 3 GB or 100 sessions = VOID
PureVPN claims to offer a "7-days Money-Back Guarantee" refund on their website.
But this refund policy contains some fine print:

If you exceed 3 GB of bandwidth or exceed 100 sessions, your "7-days money-back guarantee" is voided. Keep that in mind.
Update: PureVPN has now revised their refund policy. It reads as follows:
If you aren't satisfied with PureVPN's service for any reason whatsoever, then you can claim a refund within 7 days of your order date.
Of course, there is no way to know if PureVPN will actually follow their own policies. As we have learned with the logging case, PureVPN may not always follow their own policies.
PureVPN download problems
After purchasing the one month plan, I was sent an email with my username and password. I proceeded to the PureVPN homepage and attempted to log in to the member area with the username and password from my email.
But it didn't work.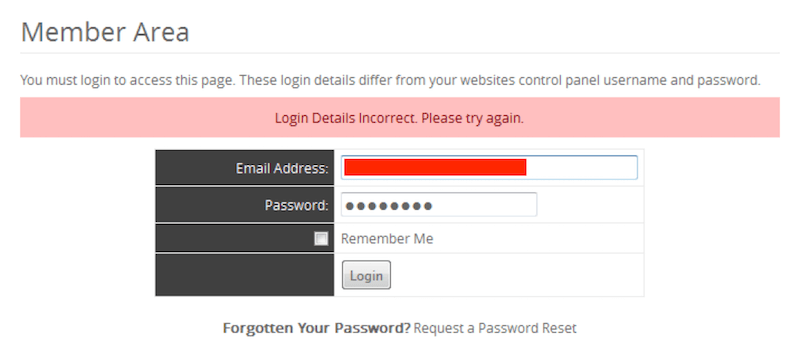 After several attempts, I finally gave up and initiated the chat support. Our conversation basically went like this:
Me: I can't log in.
PureVPN: Can you give me your username?
Me: Sure, it's ….
PureVPN: Yeah the servers are down. You can't log in right now.
Me: Ok, so how long is this going to take?
PureVPN: "Try again in a few hours, happens once ina while" (sic)
I eventually got logged in and was able to download the VPN software.
PureVPN not connecting
My first attempt to use the PureVPN client did not work well. After logging in to my account through the PureVPN Windows client, I had the following options to choose from: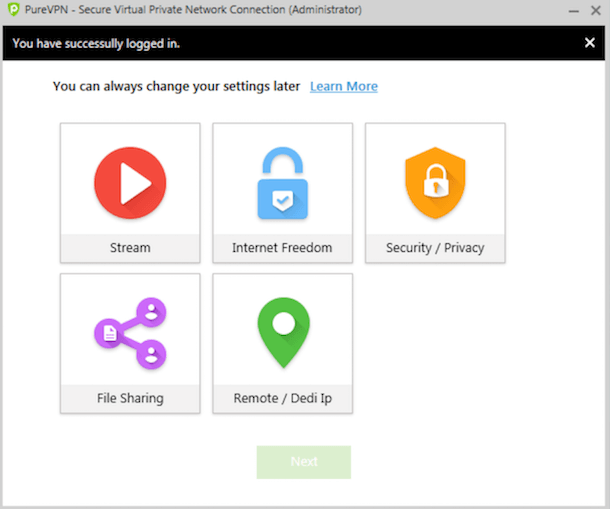 I decided to go with "Security / Privacy" and was then assured I was only "1 Click Away" from "optimum security." I scrolled through the location options and clicked on the Netherlands, which is geographically close to my location and normally works well with different VPNs.
The client then attempted to connect and I was informed, "Please wait, this might take a while" – which seemed like a bad sign.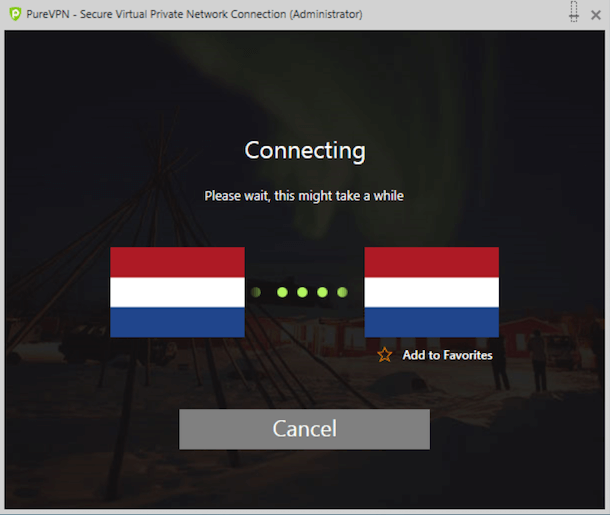 Sure enough, after some time had passed, I was informed that the connection failed. Then I tried again. And again. And again. But no luck.
I kept getting the same error message after the connection failed repeatedly.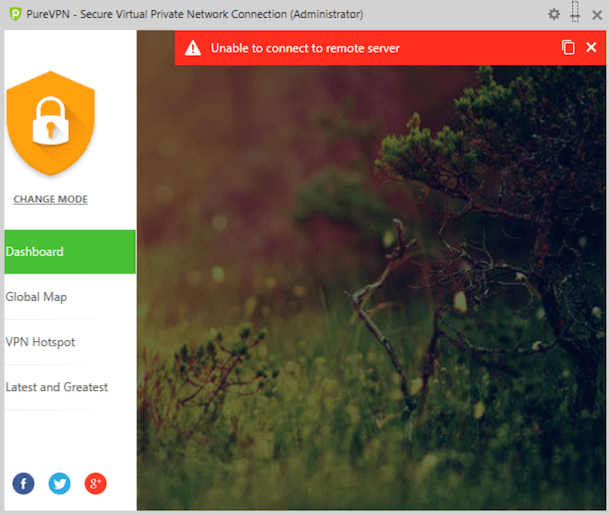 So maybe it was just a problem with the Netherlands. I then decided to try another nearby location: Belgium.
Once again, numerous attempts… and no connection.
Then I tried Germany… same problems – no connection.
At this point, I decided to try the United Kingdom. Luckily, I finally got through. Here's the connection screen.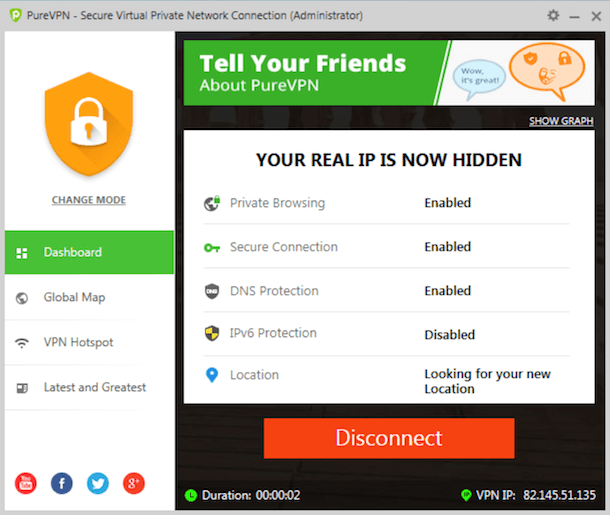 Notice the default settings for the "Security / Privacy" mode: "IPv6 Protection" is disabled, but at the same time, the application tells me "YOUR REAL IP IS NOW HIDDEN" – we'll test this below. The default mode does have "DNS Protection" setting enabled, along with a few other "security" features, which we'll now examine in detail.
PureVPN IPv4 leaks, IPv6 leaks, and DNS leaks
PureVPN did not do well in testing.
This screenshot pretty much sums up the testing results: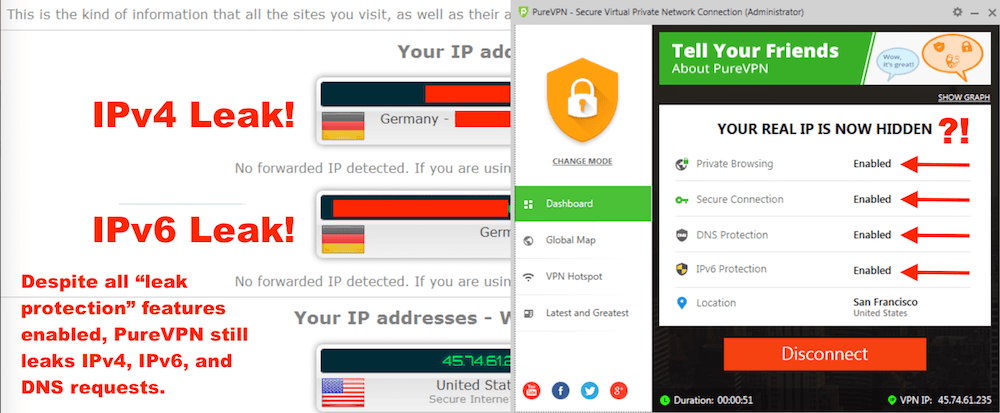 On the right side you can see the PureVPN Windows client, which tells me:
My "real IP address is now hidden"
I have a secure and private connection
DNS protection is enabled
IPv6 protection is enabled
I am assigned the IP address: 45.74.61.235 (bottom right corner)
On the left side of the screen (in the background) is the IP address testing site ipleak.net, which reveals:
My real IPv4 address is leaking out of the VPN connection (not hidden)
My real IPv6 address is leaking out of the VPN connection (not hidden)
My DNS requests are leaking out of the VPN connection (DNS not protected)
My connection is neither secure nor private
The only test that matched up was the WebRTC leak test, which you can see matches the IP address in the PureVPN client (bottom right corner).
To verify results, I repeated all the tests above on the Perfect Privacy IP address test page. Both testing websites produced the same results – IPv4 and IPv6 leaks. Perfect Privacy's DNS leak test tool also found problems:

I discovered similar results across different PureVPN servers, although most of the servers tested were in Europe.
Broken Kill Switch – Through extensive testing I also found PureVPN's kill switch did not work on the Windows client (I didn't bother testing it on Mac OS).
In other words, when the VPN connection dropped, regular internet traffic was not blocked (kill switch fail).
Update: PureVPN has informed me that the DNS leaks are no longer present, although I could not confirm these claims.
Why this is bad
Many people use VPNs and assume everything is working correctly after a connection is established. In this sense, the VPN is giving them a false sense of security if it is actually leaking their IP address.
If people are using a VPN to protect their privacy, and they're left completely exposed, this could put them in a very dangerous situation. This is particularly the case for journalists or activists in oppressive countries.

PureVPN is promising to protect user privacy and security, but these test results show otherwise.
You can test your VPN using the steps and tests outlined here.
Support
I decided to give the support team a shot at solving all of these problems. I was quickly connected to a representative via their website.
Unfortunately, the support was not very helpful. The representatives were polite, but it seemed they were reading from a script with canned answers. Their "solution" for these extensive problems was to try downloading the application again from a different source.
Despite trying various solutions, I continued to find IP address leaks and DNS leaks with the PureVPN Windows client. The problems were not solved.
PureVPN servers
In testing various PureVPN servers, I experienced:
slow speeds
connection problems with many servers (would not connect or frequent dropped connections)
Usually these issues are caused by overloaded servers. But there's no way to know for sure with PureVPN, because they do not provide a server status page (such as this) with real-time bandwidth information.
PureVPN's "virtual" server locations
One issue I recently uncovered is that some VPNs are using fake server locations, including PureVPN. As one example, PureVPN's "Aruba" server (aw1-ovpn-udp.pointtoserver.com) is actually located in Los Angeles, California.
PureVPN refers to some of their servers as "virtual servers" on their website. When you look at their server page, you find many server URLs include "vl" which appears to stand for "virtual location." Testing with ping tests and traceroutes reveals that the "vl" locations are indeed fictitious (not actually located in the stated country).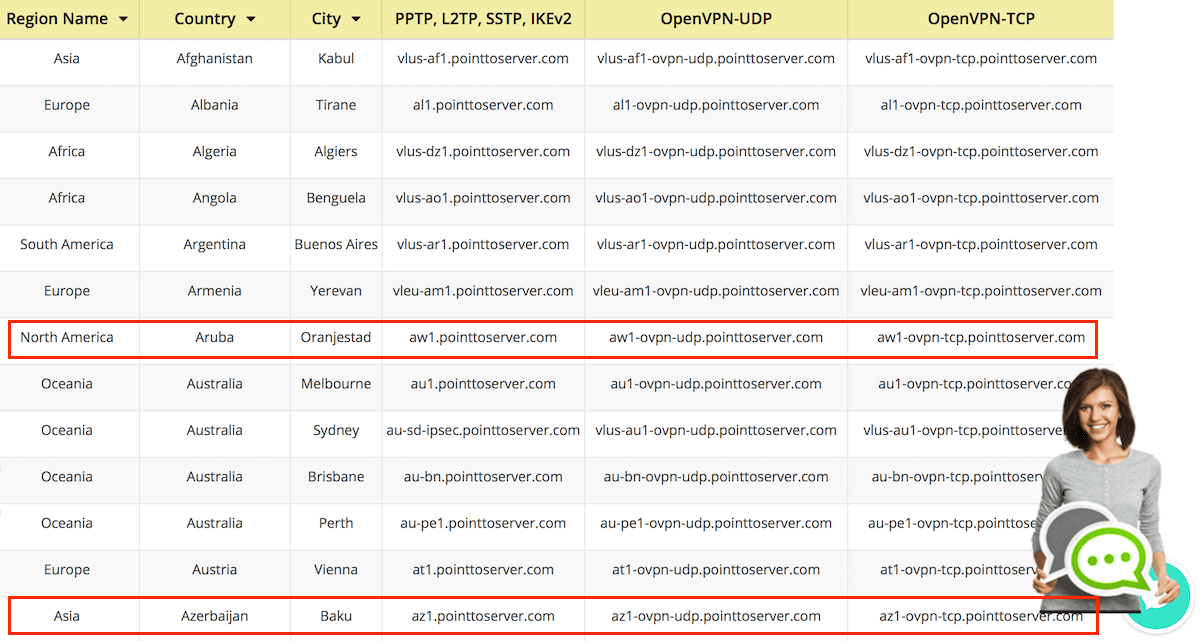 In addition to all the "vl" (virtual) locations, I also found many of the non-vl servers to be in fictitious locations, such as Aruba and Azerbaijan in the photo above.
Virtual locations may or may not be a problem depending on your situation. Some VPNs use virtual locations because they are not able to obtain secure server hosting in a given country. Others may use virtual locations to simply save money.
PureVPN speed
PureVPN did not perform well in speed tests.
Here are just a few of the PureVPN server locations tested and the corresponding results:
Netherlands: could not connect
Germany: could not connect
Belgium: could not connect
United Kingdom: 3.7 Mbps download; 1.8 Mbps upload (but often would not connect)
Iceland: .74 Mbps (740 Kbps) download; .61 Mbps upload
Denmark: 2.4 Mbps download; 1.9 Mbps upload
New York, USA: 3.7 Mbps download; 1.3 Mbps upload
These results are definitely not good, especially if you need bandwidth for streaming. But even worse than the speeds were all the connection problems.
PureVPN Logs
If you recall from the Refund Policy, PureVPN will void your refund if you:
Exceed 3 GB of bandwidth; or
Exceed 100 sessions
Additionally, PureVPN enforces connection limits on subscriptions (only 5 connections allowed).
Therefore it should be obvious (from these policies) that PureVPN is maintaining logs, which at a bare minimum includes bandwidth information and connection data.
PureVPN is another VPN service that tells you they don't keep logs but then explains information that is "kept" when you examine the privacy policy. (Many VPNs do this by the way – see for example ProtonVPN, CyberGhost, Windscribe, and Betternet.)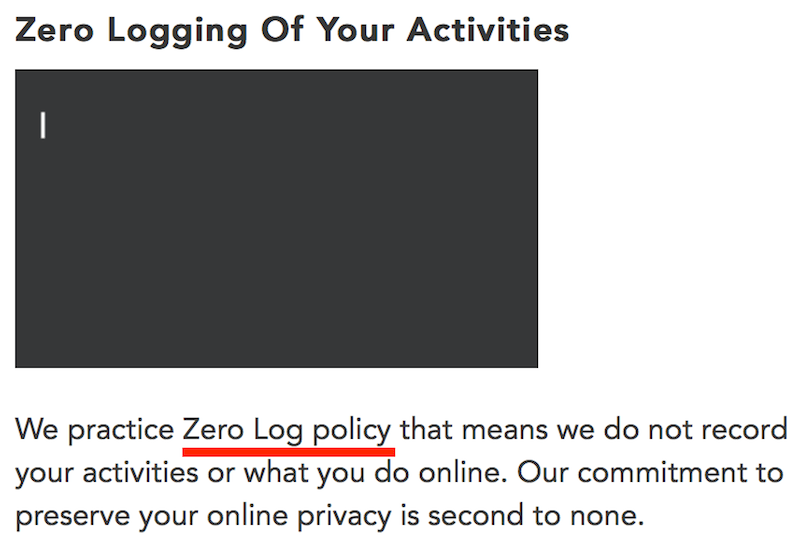 Now let's take a look at the privacy policy. Notice the contradiction.

"Keeping" connection and bandwidth information somehow is not considered keeping logs, according to PureVPN.
You can draw your own conclusions here.
Update on logs
The United States Department of Justice released an official report describing how PureVPN assisted in a criminal investigation by logging customer data and handing it over to the FBI.
PureVPN cooperated with US authorities in collecting customer data despite having a "zero log policy", which they claim to have on their website. For more information, see the article VPNs Are Lying About Logs.
PureVPN review conclusion
Overall PureVPN did not do well in testing for this review.
Despite being a service that is marketed heavily online, it fails miserably when it comes to protecting user privacy, based on the test results above. Consequently, it may be wise to consider different alternatives. Check out the best VPN test report for additional information.
---
Alternatives to PureVPN:

Review
(
ExpressVPN
)

Review
(
NordVPN
)

Review
(
VPN.ac
)
---
User reviews:
We have updated the comment section to be for user reviews. If you have used PureVPN, feel free to share your honest review (good or bad) below.
---