| | |
| --- | --- |
| VPN | PureVPN |
| Based in | Hong Kong |
| Logs | No logs (audited) |
| Price | $3.33/mo. |
| Support | Chat + Email |
| Refund | 31 days |
| Website | https://www.purevpn.com/ |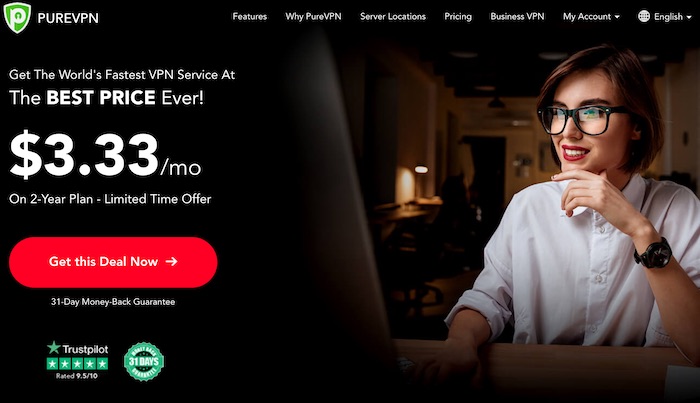 PureVPN is a popular, heavily-marketed VPN service based in Hong Kong. In previous PureVPN reviews, I found numerous problems through extensive testing. In this new and updated review, I set out to answer the following questions:
How well do the new PureVPN apps perform?
Does PureVPN still suffer from data leaks?
How fast is PureVPN with servers around the world?
Is PureVPN worth the price?
What is the history behind the company?
While PureVPN has improved a bit since the last review, there were still many problems identified.
PureVPN overview
Here is a brief overview of my findings for this PureVPN review.
Pros of PureVPN
Low cost
Live chat support
Cons of PureVPN
PureVPN connection problems (not connecting)
Inconsistent speeds (often slow)
DNS leaks
Clunky apps
Logs user data and provides to FBI (despite the "no logs" policy)
Bad reputation and track record
Additional research findings
Run by Gaditek in Pakistan (with Ivacy VPN)
Does PureVPN work with Netflix?
Does PureVPN work well for torrenting?
PureVPN Pros
1. PureVPN is cheap (low cost)
PureVPN is a low-cost VPN service with their current prices. You can see how much PureVPN costs below for the different subscription plans:

To get the best savings, you'll need to go with the two-year plan. PureVPN is indeed an inexpensive VPN with these prices, but the key question is value. (How much do you get for your money?)
You'll see in the screenshot above that PureVPN is using "LAST SOLD 35 sec ago" alerts. These numbers may be fake, as PureVPN was caught using fake random number generators on their sales page before (evidence further below).
PureVPN does not support cryptocurrency payments (Bitcoin)
One drawback with PureVPN is that they do not currently support Bitcoin or other cryptocurrency payment options. Here are the available payment options from their website:
Credit cards
PayPal
Alipay
PaymentWall
BlueSnap
Gift Cards (Gift card payments are non-refundable!)
I asked PureVPN about this and they told me they closed Bitcoin support a few weeks ago. The chat representative did not offer any explanation for doing this, but said it may be back at some point in the future.
If you want to pay for your VPN using Bitcoin or other cryptocurrency, there are better options available.
PureVPN refund policy
If you want a refund on your PureVPN subscription, you have 31 days to claim it. This 31-day refund window is pretty good. Here are the PureVPN refund terms:
If you aren't satisfied with PureVPN's service for any reason whatsoever, then you can claim a refund within 31 days of your order date.

Remember, we will first try to resolve your issue successfully before processing the refund request.

Auto-recurring can be changed or cancelled anytime by contacting our customer service at help@purevpn.com.
There are also some payment options that are non-refundable, such as gift cards, and Google Pay.
2. PureVPN offers live chat support
Another 'pro' for PureVPN is their live chat support. Live chat is available 24/7 and accessible through the PureVPN website in the bottom-right corner.
I tested out PureVPN's chat support and I was quickly connected to a representative every time.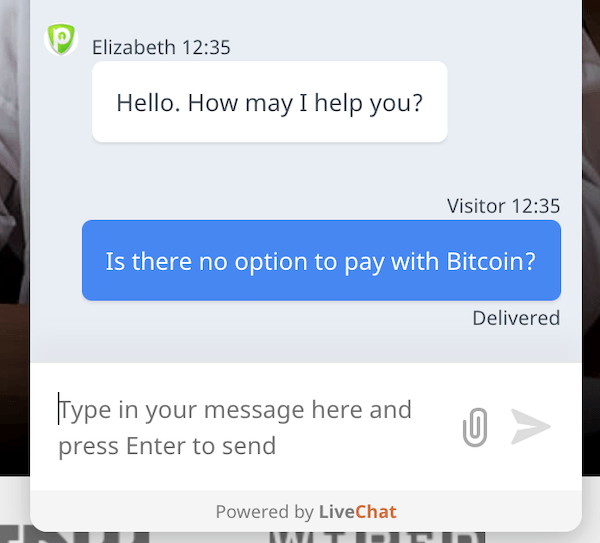 Overall, the chat representatives were pretty responsive and helpful with random questions I had.
Now let's move on to the cons…
PureVPN Cons
Here are some of the cons I found in testing and researching PureVPN.
1. PureVPN connection problems (not connecting)
Just like with the last time I tested and reviewed PureVPN, there were numerous connection problems.
Even with the new and updated apps, I was still having issues with PureVPN not connecting to many servers.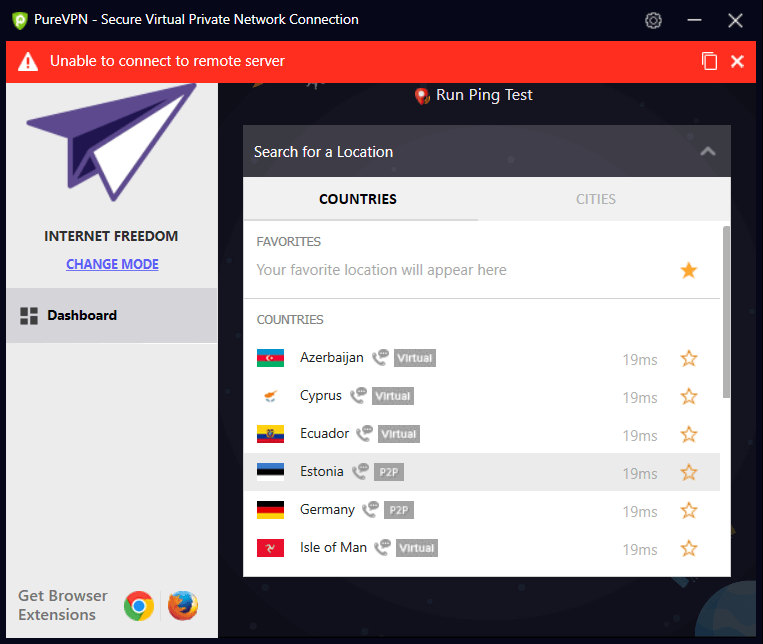 Above you can see I was getting the message, "Unable to connect to remote server" at the top of the app. This occurred with many servers I tested in Europe, such as Austria and Estonia (above).
Another connection problem I had with PureVPN is that it would apparently connect, but there would not be any bandwidth (100% packet loss). I'm not certain what was causing these connection problems with PureVPN – but it's also not too surprising. The last time I reviewed PureVPN, I also identified various connection problems.
2. PureVPN slow speeds
Another problem I found through testing is that PureVPN can have very slow speeds – often wildly inconsistent.
I ran dozens of speed tests for this PureVPN review. My baseline (non-VPN) speed for testing was 160 Mbps and my physical location was in Western Europe.
My baseline speed (with no VPN connected): 160 Mbps download; 9.5 Mbps upload

Now let's examine the PureVPN speed test results. First, I ran numerous tests with nearby servers in Europe. Theoretically, given the close proximity, these servers should give me speeds close to my baseline speed – but that was not the case.
Here's a nearby PureVPN server in Frankfurt, Germany under 5 Mbps:

Those are very bad speeds, to say the least – but this was the norm.
Here is another PureVPN server I tested in Amsterdam, around 2 Mbps:
Now, another PureVPN server I tested in Paris, France, around 6 Mbps:

Lastly, I tested a PureVPN server in Stockholm, Sweden, which actually gave me the best results of the servers in Europe, just under 50 Mbps. While this was the best result, it is still quite slow in comparison to other VPNs I've tested, such as ExpressVPN which gave me over 140 Mbps with every server in Europe.

Next I tested PureVPN servers in the United States.
Here is a PureVPN server in New York, which was also quite slow at around 21 Mbps: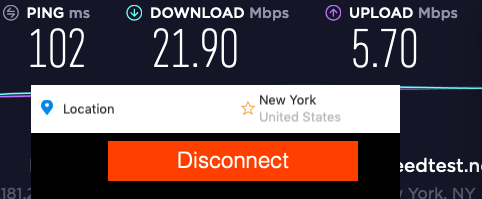 This PureVPN server in Chicago also had speeds around 20 Mbps:

Last up was a PureVPN server in Dallas, TX, also quite slow at around 7 Mbps:

Overall, these are not very good speed test results.
Why is PureVPN so slow?
PureVPN has always been slow for me in testing it for reviews – so this is not new or surprising. PureVPN may be slow due to server congestion. This is when you have too many people loading down the servers with excessive bandwidth, which results in slow speeds for everyone. Upgrading to better servers or renting more servers would help this problem.
I'm not sure exactly why PureVPN is so slow. Although speeds were slightly better with this review than the last review, there is still a long way to go.
3. PureVPN and DNS leaks
In the previous review, PureVPN had a serious problem with data leaks.
I found the PureVPN apps would constantly leak IP addresses as well as DNS requests. Here is an example of previous IPv4 and IPv6 leaks with PureVPN: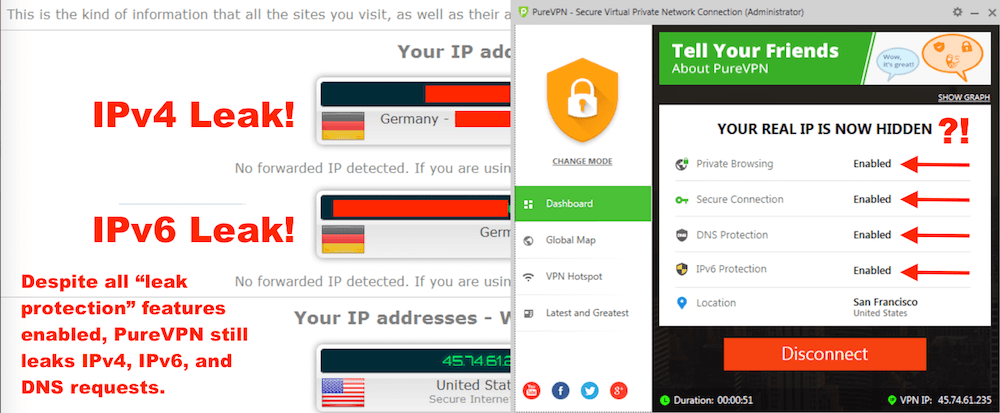 Now let's fast forward to today.
Before running any tests, I ensured that all leak protection settings were activated, as you can see below: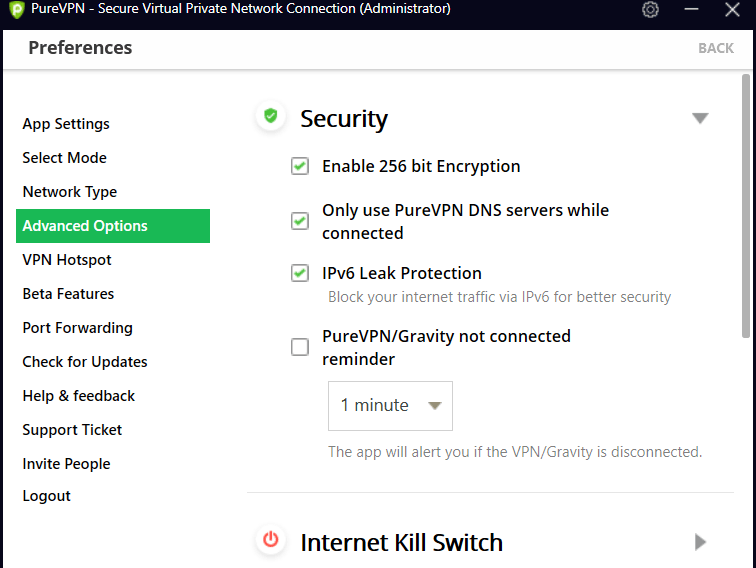 PureVPN is still leaking, but with this review, I only identified DNS leaks. I ran the PureVPN Windows and Mac OS apps through some basic VPN tests.
Here you can see I'm connected to a UK PureVPN server, but I was getting DNS leaks, whereby my DNS requests were getting out of the VPN tunnel and being handled by my ISP. This exposes my browsing history and general location to third parties.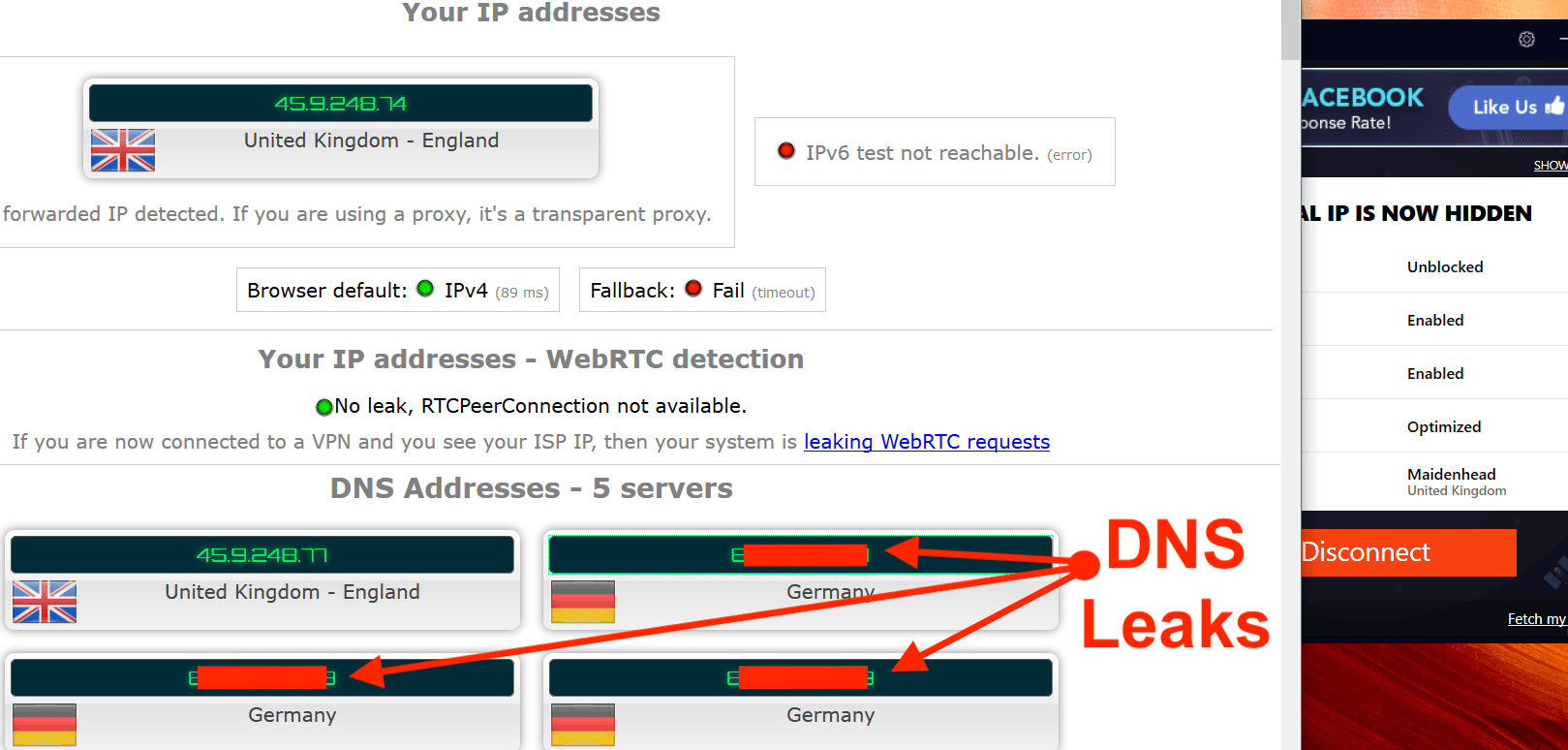 Note: These were active leaks when the connection was stable.
To identify leaks, I ran tests changing up the following variables:
Connecting to different PureVPN servers, including virtual locations
Changing the "mode" I was using "Security / Privacy, Stream, Internet Freedom, etc.
Changing up the protocol
I did not find DNS leaks with every server, protocol, and "mode" that I tested, but there were some clear cases where DNS requests were leaking out. This undermines the effectiveness of the VPN, while also exposing your data to third parties.
4. PureVPN's clunky apps
PureVPN informed me via email a few months ago that they had improved their VPN apps over the previous versions. That was the main reason for doing the new review, to see if the apps are better.
While the apps are an improvement over previous versions, I still found them to be rather clunky. For example, server selection can very very tedious:
First you need to select which "mode" you want to be in. You can choose from Stream, Internet Freedom, Security / Privacy, File-Sharing, and Dedicated IP.
Servers will then appear in a jumbled order based on Ping times. This can make it frustrating to choose the server you need.
Here I am again having server connection problems, but you can also see the servers are listed by country and not in alphabetical order.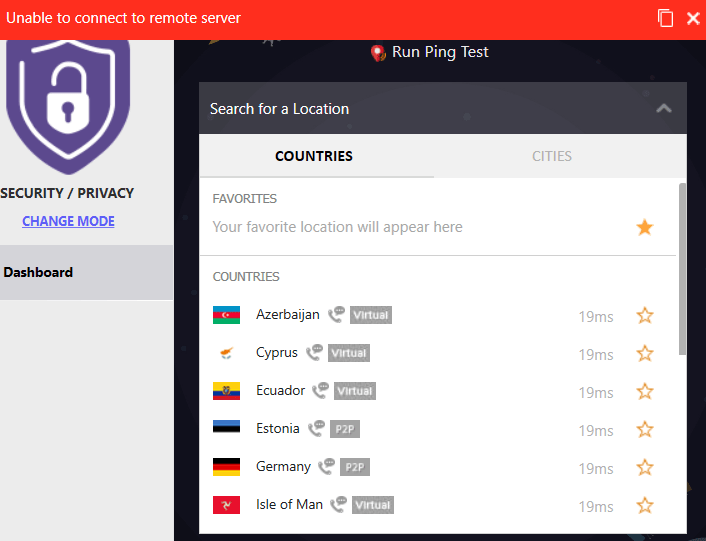 Depending on which "mode" you are using, choosing a server based on the city may not even be possible.
On a positive note, the PureVPN app does have an option to search for a specific server.
5. PureVPN logs user data and provides it to the FBI
As we have covered before here on Restore Privacy, PureVPN is an example of a VPN that was caught logging user data and handing this data over to the FBI.
For years, PureVPN has claimed to have a "zero log policy" and not keep any data. However, in 2017, news broke that PureVPN had not only logged user data, they had also provided this data to the FBI (Federal Bureau of Investigation) for a criminal case. The records of this were made public.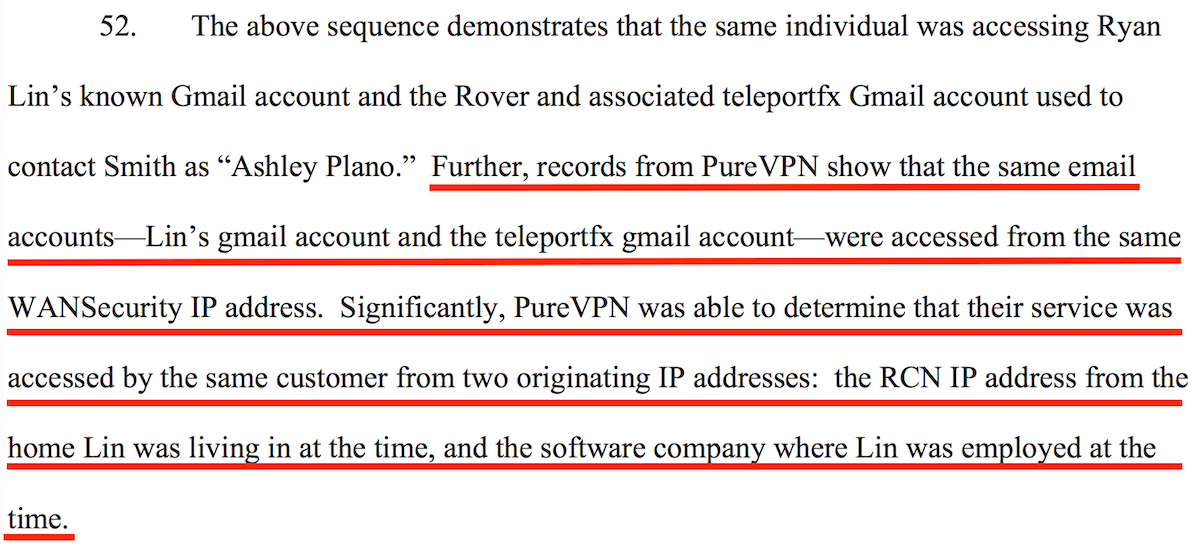 There was quite a bit of attention on PureVPN after this case came out. PureVPN claimed it was a limited event, however, but there's no telling if that is true.
It's also interesting to note that this all transpired despite PureVPN being based in Hong Kong with no legal obligation to comply with US authorities.
Update: PureVPN completes no-logs audit
On a positive note, however, PureVPN has completed a third-party no logs audit. The audit was conducted by Altius IT in June 2019. The auditors' report confirms that PureVPN now conforms with their no-logs policy and privacy protection procedures.
Will this help to salvage PureVPN's reputation and the damage caused by the logging case and cooperation with the FBI? Only time will tell – but that brings us to our next point…
6. PureVPN has a bad reputation and track record
One thing that is important to look at when considering trust is the VPN's track record and reputation.
With PureVPN, it isn't pretty. Aside from the logging case above, there have been other PureVPN scandals in the news. For example, PureVPN was in the news for data leaks (something I pointed out in 2017). I also found that PureVPN uses numerous virtual server locations. In other words, many of their exotic server locations are not where they claim, but rather are spoofed.
PureVPN virtual server locations
If you look at PureVPN's server list, you see a large number of servers that begin with "vl" – an abbreviation that stands for "virtual location".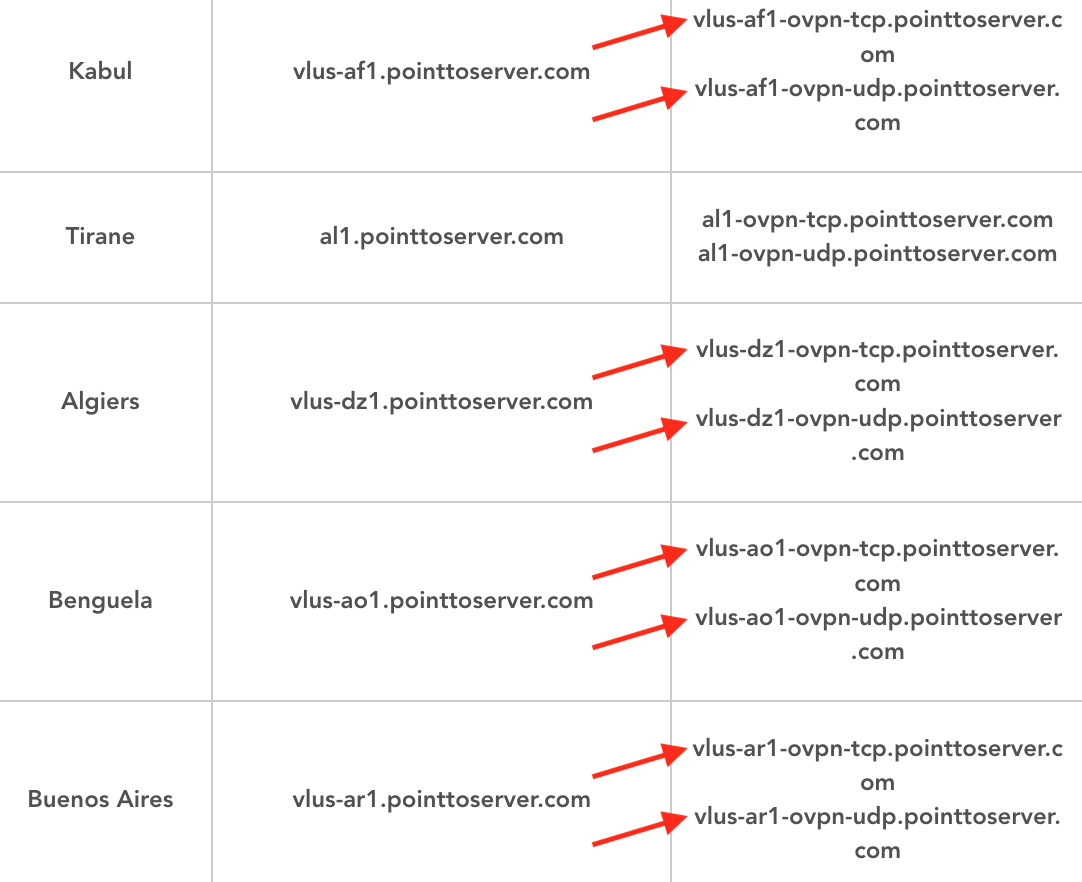 Using a small number of virtual server locations is probably OK to give users access to exotic locales. There are other reputable VPNs that do this. But when a large percentage of the network consists of these spoofed locations, it is problematic.
PureVPN caught lying about sales numbers
PureVPN was also caught lying about numbers to boost conversions on its sales page. PureVPN used to do this with text that stated, "492 People bought the 2 year today!"
Below you can see the fake sales numbers, along with the random number generator code to produce them:
increment_num from 457 "bought the 2 Year today!"
random_num from 1608 to 1897 "are looking right now!"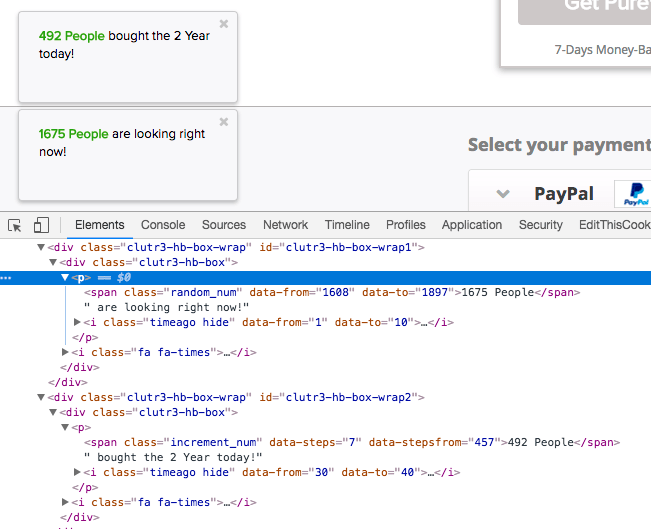 After this scam was exposed, PureVPN scrubbed their website to remove the code. Today, they are still using "LAST SOLD 35 sec ago" alerts.
Additional research findings:
Below are additional findings from my research of PureVPN for this review.
1. PureVPN connected to Gaditek in Pakistan (with Ivacy VPN)
According to PureVPN's website, it is officially operated under the business GZ Systems Limited, which is based in Hong Kong. But is PureVPN being operated out of Hong Kong?
If you dig a bit deeper, you will find a company called Gaditek, based in Karachi, Pakistan. PureVPN appears to be owned and operated by Gaditek, which lists PureVPN as one of its brands: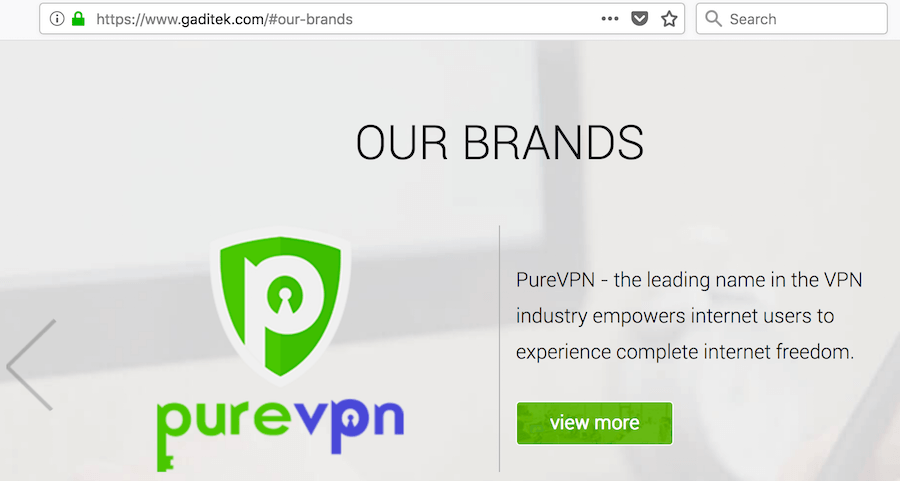 Whether PureVPN is operated in Pakistan or Hong Kong does not really matter from a legal perspective, since the company is legally based in Hong Kong, which is the jurisdiction it falls under.
There are also people who allege that Gaditek (PureVPN) is operating a network of VPN review sites, where PureVPN is consistently ranked as the top recommendation. See this report for further information.
PureVPN linked to Ivacy
For many years there have been rumors (and lots of evidence) that Ivacy is merely a rebranded (white label) version of PureVPN. This would not be too surprising since PureVPN offers a white label version of their product, which they advertise on their website.
Finally, in March 2019, Ivacy staff officially admitted that PureVPN has "minor stakes" in Ivacy. (We'll examine PureVPN more below.)
This isn't too uncommon, however, as there are other VPNs that appear to be independent but are owned by the same entity:
This article in PCMag describes how j2 Global owns IPVanish, StrongVPN, and Encrypt.me.
I also learned that the parent company of CyberGhost VPN (Kape) also owns ZenMate VPN.
Does PureVPN work with Netflix?
Unfortunately, PureVPN does not work well with Netflix.
The key problem I encountered when testing PureVPN with Netflix was buffering. Although I found that PureVPN could access American Netflix (not blocked), I did have buffering problems due to slow speeds.
Below I am in "Stream" mode while connected to one of PureVPN's US servers. As you can see, Netflix is not blocked, but the speeds were so slow that the stream was buffering (spinning red circle).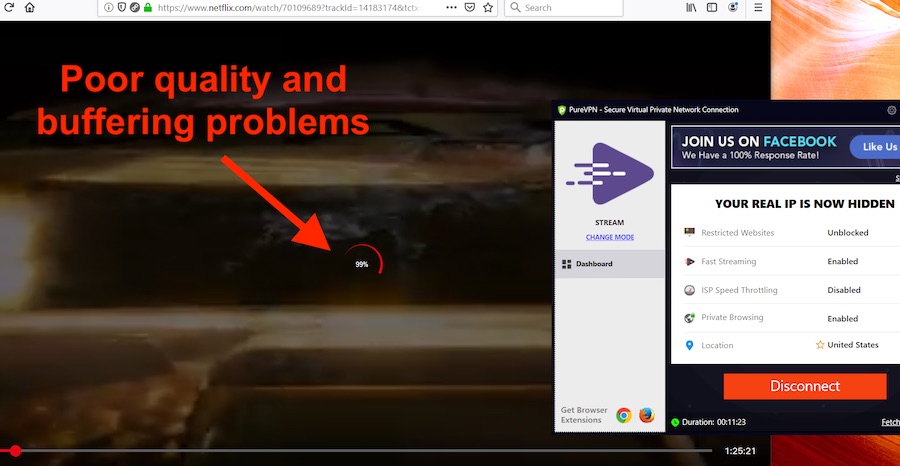 The Netflix buffering issue seemed to occur randomly.
For these reasons, I would recommend going with a different VPN for Netflix (not PureVPN).
Does PureVPN work well for torrenting?
Many people are looking for a safe, reliable, and fast VPN for torrenting. This is because torrenting is often a grey area (depending on what you are torrenting) and this can put you at risk for copyright infringement.
So is PureVPN a good option for torrenting?
I would argue no. PureVPN is not a good VPN for torrenting when you examine the three criteria from above:
Safe – PureVPN suffers from data leaks, which can expose your activities to your internet provider, and other third parties, such as copyright trolls. It only takes one leaked packet to expose your identity and online activities.
Reliable – PureVPN is not very reliable and suffers from connection problems.
Fast – PureVPN is certainly not fast, based on my own test results.
Considering these factors, PureVPN is not a good VPN for torrenting. You may want to consider other options.
PureVPN review conclusion
PureVPN has both pros and cons. On a positive note, it did better in testing than in the previous review. On a negative note, there are still many areas where PureVPN can improve. This is particularly the case in the performance area:
speeds
leaks
connection stability and reliability
Based on these factors, all research findings, and the test results, PureVPN does not earn a recommendation.
If you're open to other alternatives, you can check out my list of the best VPN services.
If you're looking for a cheaper low-cost VPN, then NordVPN is a good option. There are also other options to consider that are a bit more expensive, such as ExpressVPN. For a side-by-side analysis of these two VPNs, see the NordVPN vs ExpressVPN comparison.
Stay safe!
---
---
If you have used PureVPN, feel free to share your honest review (good or bad) below.