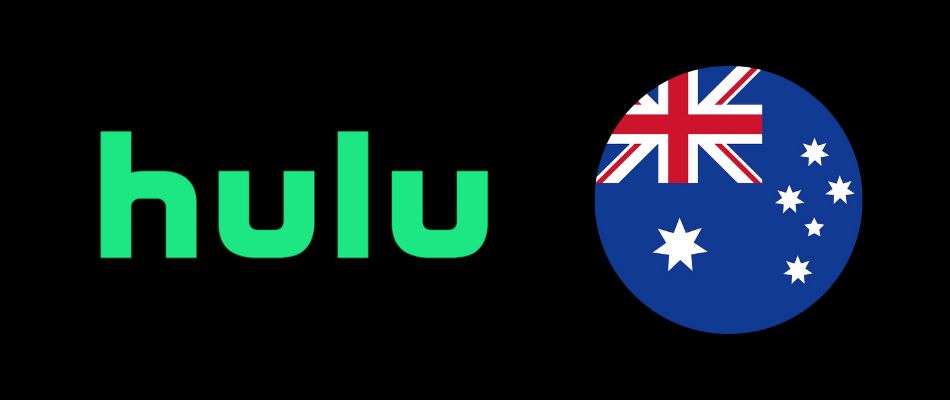 With 46+ million subscribers, Hulu is one of the most popular streaming services around. It's no wonder why, as it has an impressive library with a huge selection of classic movies and great TV shows. Unfortunately, you can't stream Hulu in Australia directly, as it is only available in the United States, Japan, and Puerto Rico. But there is an easy solution.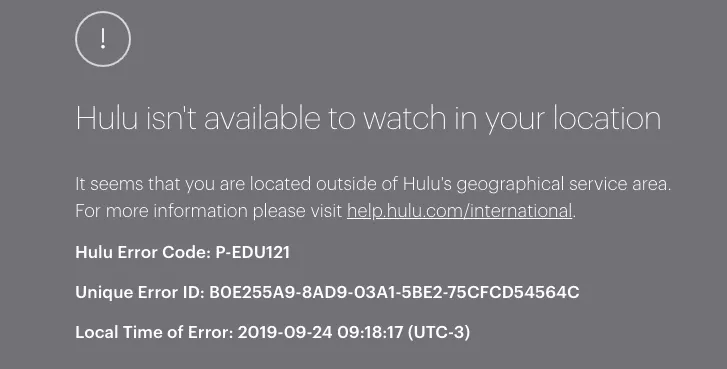 Because of numerous licensing laws, Hulu uses geo-blocking to prevent users from streaming in Australia. This is enforced even if you have a perfectly valid subscription, which seems ridiculous. Luckily, there is a way to bypass these restrictions and watch Hulu in Australia. This can be done by using a good VPN (virtual private network).
VPNs are a safe, legal, and reliable way to access various streaming services. However, they vary considerably in quality and security, and it can be hard to figure out which ones are the best for streaming. That's why we've done the heavy lifting for you. After numerous VPNs over the years, we've found the three best services that will let you watch Hulu in Australia without any problems.

---

---

---
Now let's examine how you use these privacy tools to unblock your favorite Hulu shows from Australia.
How to watch Hulu in Australia with a VPN (the easy way)
VPNs provide you with privacy and anonymity, which is necessary for accessing Hulu from Australia. They do this by encrypting your internet traffic when you connect to a VPN server from your streaming device. The result is that your identity and true location are perfectly concealed.
If you connect to a VPN server in the United States, for example, you will have a US IP address and virtually appear to be located in the US. This will basically give you safe and reliable access to Hulu while you are sitting in Australia (or anywhere else in the world).
So to simplify things, here is how you can watch Hulu from Australia in about 5-10 minutes:
Subscribe to a premium VPN service. We recommend NordVPN with this 63% off coupon.
Download, install, and launch the app on your streaming device.
Connect to a server that's located in the US.
We recommend that you use an LA server, as it will be the closest to Australia.
Go to Hulu and activate your subscription.
You'll either have to buy a Hulu gift card or create an American Virtual Card if you don't already have a Hulu subscription (but this is also easy).
Start watching your favorite shows!
How we found the best VPNs to watch Hulu in Australia with
During our research, we noticed that the best premium VPN services share these 5 features:
Receive consistent updates
Have fast and reliable servers that bypass streaming geo-restrictions
Are available on most of modern devices
Come with advanced privacy and security tools
Have professional live chat support 24/7
With that in mind, let's jump right in and cover each VPN in detail.
Nord VPN – Best VPN to stream Hulu in Australia
| | |
| --- | --- |
| VPN | NordVPN |
| Based in | Panama |
| Logs | No logs (audited) |
| Price | $3.29/mo. |
| Support | 24/7 live chat |
| Refund | 30 days |
| Website | NordVPN.com |
We believe that NordVPN is one of the best premium VPNs if you want to watch Hulu in Australia. There are a number of reasons. First, it offers 1,900+ US servers, all of which offer high-speed bandwidth, are reliable, and don't store user data. They are strategically placed in some of the most important locations, including Atlanta, Los Angeles, and New York. If you have a good internet service provider, you will be able to stream Hulu shows in 4K without any problems.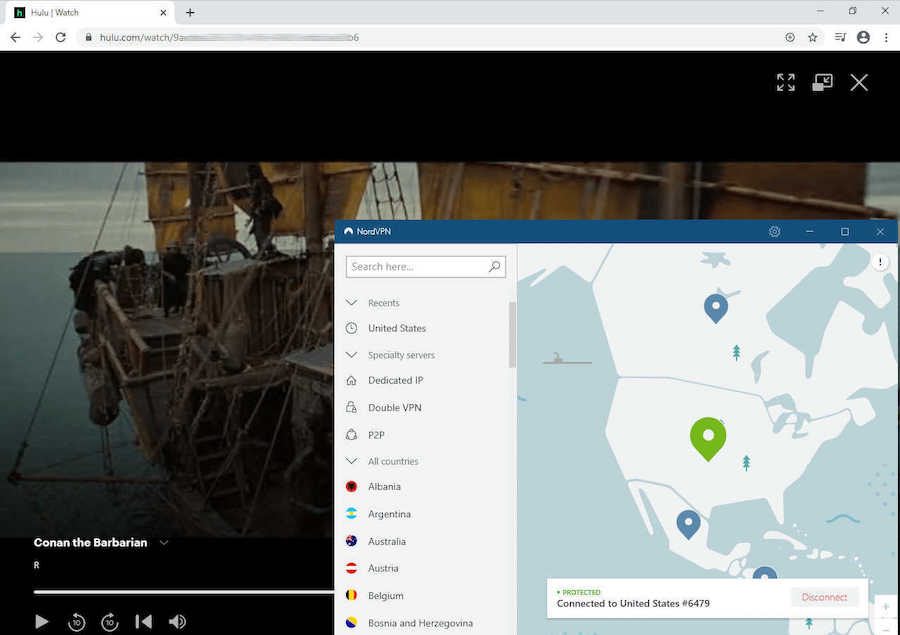 You could very easily argue that NordVPN is the fastest VPN available on the market. This is due to NordLynx, which is basically a beefed-up version of the WireGuard VPN protocol. Aside from amazing bandwidth speeds, it also provides instant server connection, strong encryption, and better reliability for streaming.
We have tested their claims by doing speed tests and comparing the results with other premium VPNs. You can see detailed results in ExpressVPN vs NordVPN article. Below, you can see the best bandwidth speeds with a NordVPN server in Seattle providing us with 445 Mbps.

What's equally as important as speed is that NordVPN provides users with airtight privacy. As it's located in Panama, the service can fully implement a no-logs policy. This is currently the best way to protect your privacy, as the companies that implement it don't collect any user data. This is possible because all of the NordVPN servers are run exclusively on RAM, leaving no trace of your whereabouts.
NordVPN's extra privacy and security tools:
Double-VPN servers – With this ON, NordVPN will route your internet traffic through two different servers. This gives you more protection.
Onion Over VPN – This combines NordVPN with Tor network to bring you the safest surfing experience possible. We don't recommend this if you want to watch Hulu in Australia, as this tool will significantly impact speed.
Threat protection – This feature eliminates malware, blocks trackers and annoying ads.
Obfuscated servers – These servers conceal the fact that you are using a VPN by making your internet traffic look like regular HTTPS encryption. This can be useful if you need a VPN for UAE (where VPNs are normally blocked).
P2P servers – NordVPN is the best VPN for torrenting when you use the fast and secure P2P servers that are optimized for fire sharing.
Privacy and speed wouldn't do much for the average user if the service wasn't also intuitive. Luckily, this is the case, as the interface is minimalistic and user-friendly.
+ Pros
User-friendly and reliable apps
Double-VPN and Tor-over-VPN servers
No logs (audited twice)
Strong encryption standards with full support for WireGuard
Works with Netflix and many other streaming services
Threat Protection feature to block ads, trackers, and malware domains
24/7 live chat support
Dedicated RAM-servers with 10 Gbps bandwidth channels
– Cons
Big discounts only available with long-term subscriptions
NordVPN's Cyber Deal is live:

Get 63% Off NordVPN plus an additional 3 months FREE:
(Coupon is applied automatically.)
If you want to go more in-depth, take a look at our NordVPN review.
---
Surfshark VPN allows you to stream Hulu on a budget
| | |
| --- | --- |
| VPN | Surfshark |
| Based in | The Netherlands |
| Logs | No logs |
| Price | $2.30/mo. |
| Support | 24/7 live chat |
| Refund | 30 days |
| Website | Surfshark.com |
Surfshark is a budget-friendly (cheap VPN) alternative to NordVPN that still holds up as one of the best premium VPNs. In the past few years, it has risen to the top of the industry, and that isn't a mere coincidence. With 3,200+ servers worldwide, 600 of which are in the US, Surfshark is an ideal service if you want to watch Hulu in Australia.
As you can see in the Surfshark vs NordVPN comparison, this VPN holds its own against any other market leader in most categories. Below is the Surfshark VPN app we used for testing with US servers.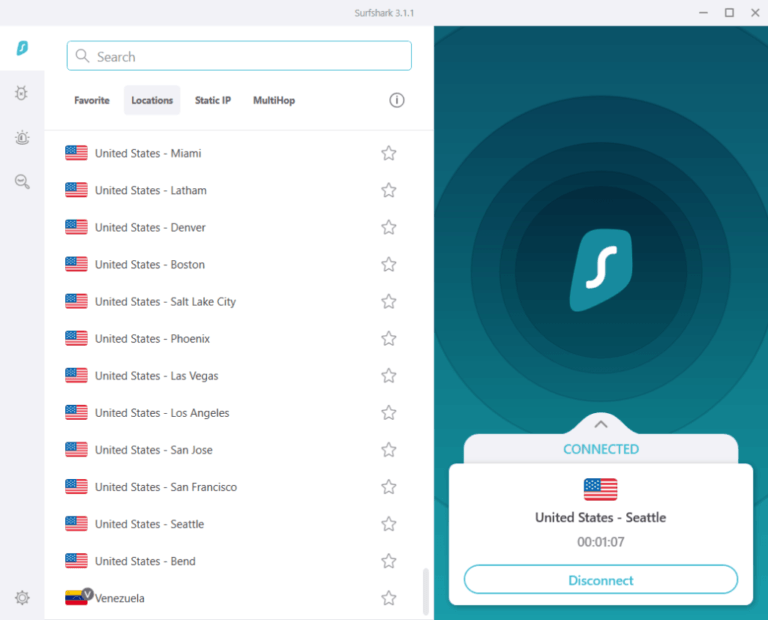 All of them operate in RAM mode, which means there's no way for Surfshark to store information about your activities online. This is known as a no-logs policy and is the gold standard in the world of VPNs. The company can adhere to it as it's based in the Netherlands, which doesn't have strict licensing laws.
Aside from giving you anonymity and privacy, their servers are also really fast. Depending on your internet speed, you should be able to watch your favorite shows in 4K without any problems.
Surfsharks privacy & security tools
As a premium service, Surfshark has invested a lot of time into developing tools that will further improve your browsing experience.
CleanWeb – protects you by blocking trackers, malware, and annoying ads
Double-VPN servers – reroutes your traffic through 2 servers for better encryption
Obfuscation – Usually, your ISP is aware that you are using VPN, although they can't see what you are looking at. Obfuscation gives you anonymity by disguising your traffic so that it looks like the usual HTTPS traffic. This is important to do in countries where VPNs are in a legal gray zone, such as China.
Split tunneling – A split tunneling VPN lets you select apps to bypass the VPN and connect directly online
With getting just one Surfshark subscription, you will have the option to connect from an unlimited number of devices simultaneously. This way, your whole family can be protected while you stream Hulu. In case you are still not sure, Surfshark offers a 30-day money-back guarantee with no strings attached.
+ Pros
Unlimited connections
User-friendly apps for all devices and operating systems
CleanWeb feature to block ads, trackers, and malware
Works great with Netflix and many other streaming services
24/7 live chat support
Strong encryption and security features (audited)
– Cons
Limited support for VPN routers
Average OpenVPN speeds (use WireGuard)
Surfshark VPN Coupon:

Get 82% off Surfshark VPN (drops the price down to $2.30 per month) plus 2 months FREE:
(Coupon is applied automatically.)
This was a brief overview of the service. You will find much more details in this Surfshark VPN review.
---
ExpressVPN – A reliable VPN to stream Hulu in Australia
| | |
| --- | --- |
| VPN | ExpressVPN |
| Based in | British Virgin Islands |
| Logs | No logs (audited) |
| Price | $6.67/mo. |
| Support | 24/7 live chat |
| Refund | 30 days |
| Website | ExpressVPN.com |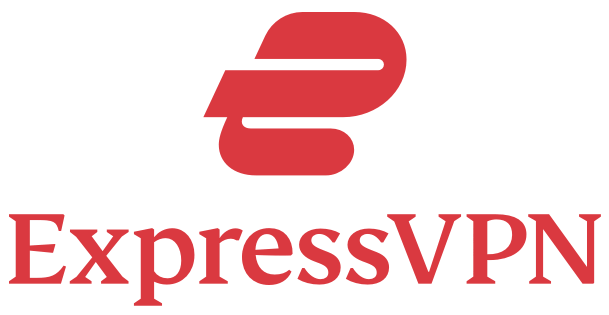 Lastly, we have one of the oldest premium VPNs around. By subscribing to ExpressVPN, you will get access to over 500 fast servers. Since the company adheres to the no-logs policy, they operate exclusively in RAM mode. ExpressVPN is the only service on our list that was externally audited and passed with flying grades. This means that all of the features have been independently tested.
Unlike Surfshark and NordVPN, ExpressVPN uses its own protocol called Lightway. It's very similar to WireGuard in terms of speed, reliability, and security, and much better than the OpenVPN protocol used by the majority of similar services.
ExpressVPN is available on most modern devices, including Linux, Android TV, and Amazon Fire TV. If the device doesn't support VPNs, it's good to know that you can install it directly on the router, which will circumvent this problem. The app is also available as a browser extension for Chrome, Firefox, and Edge. You can use ExpressVPN on 5 devices at the same time, so your whole family can watch different Hulu shows.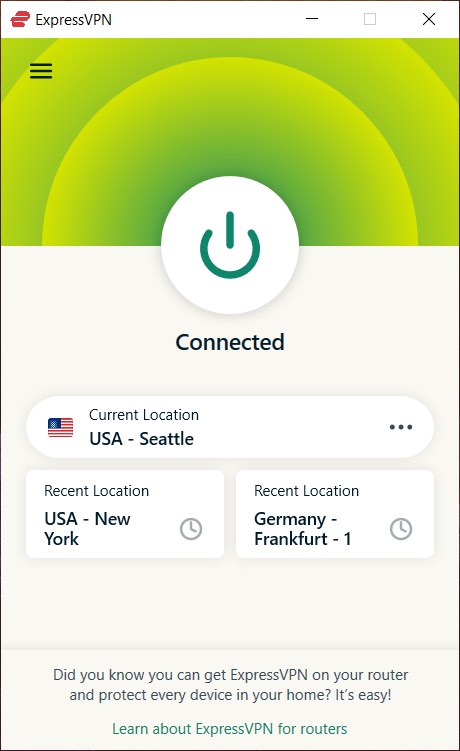 All of these features make this service excellent for streaming. Aside from Hulu, ExpressVPN is one of the best VPNs for Netflix as well.
Advanced features
ExpressVPN comes with 5 privacy & security tools that will protect you while using it.
Device Groups – Simultaneously connect devices to different servers around the world
Kill Switch – This feature will automatically disconnect you from the Internet in the unlikely event that ExpressVPN crashes. This way, your safety, and identity will remain intact.
MediaStreamer – This is a DNS service designed to upgrade the streaming quality on devices that don't have support for VPNs, like Xbox or PlayStation consoles.
Also, don't worry if you are inexperienced with VPN services. ExpressVPN has a professional 24/7 support service that will answer all of your questions. If you are still having doubts, you can try it out for a month and get a guaranteed refund if the service didn't rise to your expectations. Really, you have nothing to lose.
+ Pros
User-friendly and secure apps
Split tunneling feature (for Mac OS, Windows, and routers)
Works with Netflix and most streaming services
24/7 live chat support
Passed independent third-party audits for security and no-logs
Very large server network
– Cons
Above-average prices
Fewer features
Average OpenVPN speeds (use Lightway)
ExpressVPN Coupon:

Sign up for the 12-month plan and get 3 months added to your subscription for free.
(Coupon is applied automatically.)
You can find more details in our ExpressVPN review.
---
How to stream Hulu in Australia (detailed steps)
Now, we'll go into more details and give you a step-by-step guide so that you can watch Hulu in Australia. What you have to do is …
1. Pick a premium VPN service
All of the VPNs we've mentioned above are extremely reliable and allow you to stream shows at high speed from anywhere in the world (assuming you have a good baseline internet connection).
2. Subscribe, download and install your VPN
Surfshark, NordVPN, and ExpressVPN are available on most of modern devices. While NordVPN comes out on top, Surfshark and ExpressVPN aren't far behind.
If you want to use a VPN on your mobile phone, make sure to change your app store location as well. We'll show you how to do this on iPad, but the process is nearly identical for Android devices.
Visit Settings > Profile > Media & Purchases > View Account

Use a Touch ID or type in your password to pass the verification

Go to Country/Region > Change Country or Region and choose the US.

After passing the terms and conditions, you will need to give a US address and a phone number. Google is your best friend here. Click on Done and you will be set.
3. Connect to the server located in the US
For best performance, choose an LA server, as it is the closest to your location.
4. Visit Hulu and create an account
To do this, you will need to purchase a Hulu subscription. The best way to do this is by getting a gift card, which we'll cover in the next section.
5. Start streaming Hulu in Australia!
It's that easy.
How to get a Hulu subscription in Australia
Since Hulu is a paid service, you will need to subscribe to it to start streaming shows. Unfortunately, you can't use your credit card as Hulu will immediately detect that you are not from the US.
There are 3 routes that you can take. The simplest one is to ask a friend that lives in the US to share their Hulu account or create one for you. Since this method is pretty straightforward, we'll cover the other two.
1. Purchase a Hulu gift card
You can purchase a Hulu gift card online via services like Paypal or MyGiftCardSupply. Once bought, the service will send you a code via email that you'll need to use to activate a Hulu subscription.
Now, all you need to do is use a VPN, visit Hulu, redeem the code, and sign up!
Note: MyGiftCardSupply provides numerous methods of payment for non-US residents. These include Oxxo, Western Union, Perfect Money, and Bitcoin.
2. Use an American Virtual Card to stream Hulu in Australia
Alternatively, you can use an online service to create a virtual prepaid card that works in the US. We recommend using StatesCard. It has a simple sign-up process, but don't forget that you'll need to provide a personal document to confirm your identity.
After you make an account, you'll need to send some cash for a Hulu subscription. For this, you can use your credit card or PayPal. This process is usually done in a few minutes.
Now, it's time to visit the Hulu website and start the sign-up process. Go through the motions until you reach the payment section. Go to your StatesCard account and copy your virtual zip code and card details. Switch back to the payment page, choose Credit Card, and paste your StatesCard info to finish the process.
How much does it cost to watch Hulu in Australia?
Hulu offers multiple subscription plans that target users of varying incomes.
Hulu (with ads) – The basic subscription that gives you access to their library, with regular ad interruption. This plan will cost you 12.49 AUD/month.
Hulu (ad-free) – This one is similar to the basic plan, but you will experience Hulu without interruptions. You'll also be able to download TV shows so you can stream them later when you're offline. You can get an ad-free plan for 24 AUD/month.
Hulu & Live TV (with ads) – Along with access to Hulu's extensive library, you also get 75+ live TV channels. This includes extra content on Disney+ and ESPN+, and is yours for 110 AUD/month.
Hulu & Live TV (ad-free) – For 119 AUD/month, you can get the same plan but without ads.
Disney + Bundle – Get Disney+, Hulu, and ESPN+ all in one package for 15 AUD/month or 32 AUD/month, if you don't want ads.
My VPN isn't allowing me to watch Hulu in Australia
We've mentioned this before, but streaming services like Hulu don't tolerate the use of VPNs. They're constantly working on new ways to detect them and block the people using them. There are several reasons why you might be unable to stream Hulu in Australia.
1. Hulu has blacklisted your VPNs servers
If this happens, you don't really have a lot of options. You could either switch to another VPN service or wait for your VPN to solve this problem. This might not work if you're using a free service.
2. Your browser has cookies that show your actual location
To solve this, you'll have to clear cookies and cache from your browser. This process will delete all of your saved preferences and passwords, so be prepared. If this didn't work, you should try using a different browser.
3. The new IP address hasn't synced with your GPS location
Premium services like NordVPN or Surfshark will do this on their own, but other VPNs might require that you manually change location in your device settings.
4. Your real IP address is leaking
You should go to your VPN settings and check if the leak protection is turned ON.
These are 4 of the most likely scenarios, but there are also other things you can check. This guide will show you how to do a full VPN test.
Most VPNs are putting more and more resources into unblocking content. We see this for example with NordVPN and Atlas VPN, which both continue to expand their server network to accomadate streaming.
Note: If your issues persist, you should contact your VPNs customer support. All of the VPNs we've mentioned have a professional 24/7 support team.
I have a device that doesn't support VPN
Even in this day and age, we still have devices that don't let you install a VPN. This can be easily solved by using a VPN router to connect your device and stream Hulu in Australia. You can check out our recommendation of VPNs for Apple TV, which you can also use on other Smart TVs.
VPN routers are inexpensive and don't require a lot of knowledge to use. Still, you should check out our VPN router comparison guide to find some good recommendations and instructions on setting them up.
Can I stream Hulu in Australia with a free VPN?
There are a ton of free VPNs on the market. This can lead you to wonder why you should even use a premium service. While you may be tempted to save some money, we don't recommend using a free VPN service to stream Hulu in Australia. Here is why.
Services like NordVPN or Surfshark pour a lot of money into developing their service so that they can stay on top. On the other hand, free VPN providers can't compete with this, so they have to impose some restrictions. This translates to limited bandwidth, lack of servers, limited device support, and slow download speed.
When they're all put together, these restrictions create a frustrating streaming experience. You might force yourself to watch a show that keeps buffering, hoping that it would get better. After a few episodes, you find out that you've hit your monthly bandwidth limit and can't watch the next one. In short, it's just too much trouble for trying to save a bit of money.
We also can't forget that Hulu is constantly trying to detect and block VPNs. Suspicious servers are blacklisted regularly. This is a challenging problem for free VPNs, as they have a limited number of IP addresses at their disposal. On the other hand, premium VPNs have huge backlogs of IP addresses to fall back on, so you can continue streaming Hulu in Australia without interruption.
Unfortunately, there are more problems …
Dangers and risks of free VPNs
Studies show that most of the free VPNs are used to exploit their users and pose a threat to your privacy and security. A study that was done on 270+ free mobile VPNs has shown some alarming results:
Over 38% of free VPNs possessed some form of malware
More than 84% of free VPNs lack encryption and leak user data
75% of free VPNs contained third-party tracking libraries
This shows that a vast majority of free VPNs are simply not safe. Furthermore, they monitor your activity and then sell your personal information to ad companies. In the end, these "free" services need to find a way to generate income.
You can watch Hulu in Australia with these devices
Considering Hulu is one of the biggest US streaming services, it's logical that it supports a huge variety of devices. Here's a full list :
Apple TV – Hulu will work on the 4th generation and up.
Android TVs – this also includes devices like Nvidia Shield and Xiaomi Mi Box. To check if your device supports Hulu, just visit the Google Play Store.
Android phones & tablets – if your model runs at least Android 5.0 and has a resolution of 800 x 480px or greater, it will run Hulu.
Chromecast
Fire TV, Fire TV Stick & Fire tablets – With Fire OS 5, you can easily stream Hulu in Australia. Pairing with an Alexa device like Echo Show will allow you to use voice commands on Hulu.
Roku devices – Roku Smart TVs and Streaming Stick can also stream Hulu in Australia if you have firmware version 11.
Samsung TV – Most models made post-2016 will have Hulu, although you'll need TizenOS for it to work.
LG TV – Hulu will come preinstalled on devices that run webOS 3.5 and up.
PC & Mac
Playstation 4 & 5
Xbox 360, Xbox One, Xbox Series X/S
What should I watch on Hulu?
There are 4000+ titles on Hulu, so, naturally, it can be hard to figure out which ones are worth your time. Here are some of our recommendations.
Hulu Originals
Dopesick
Harlots
Only Murders in the Building
Pam & Tommy
Reservation Dogs
The Dropout
The Handmaid's Tale
Great Movies
All My Friends Hate Me
Aftershock
Not Okay
On the Count of Three
Petite Maman
Prey
Best Shows
Claim to Fame
Fresh
House of Dragon
Ramy
Rick & Morty
The D'Amelio Show
Best alternatives to Hulu
If you've tried everything but Hulu just isn't working, you might consider checking out other streaming services. These 3 have more than enough shows to last you a whole lifetime.
1. Netflix
Netflix is still one of the most popular streaming services around, so it's a perfect option if you can't stream Hulu. There are 5000+ TV shows and classic movies you can binge, so Netflix definitely has the biggest library available. However, shows like Dexter, Twin Peaks, and All America will require that you change your Netflix region to the US.
Netflix offers 3 different subscriptions:
Basic ($6.99 with Ads / $10.99 without) – stream on 1 device and download all shows in SD quality.
Standard ($16.99) – watch shows in full HD on 2 devices at the same time.
Premium ($22.49) – stream in 4K on up to 4 devices.
Just like with Hulu, you can also use a VPN for Netflix.
2. Amazon Prime
Amazon Prime has great originals such as ZeroZeroZero, Fleabag, and The Boys, which makes it a solid alternative to Hulu. There's a single subscription that you can pay monthly ($14.99) or annually ($139). With it, you can connect 3 devices simultaneously and watch your favorite series in full HD or 4k (if available). Using the best VPN for Amazon Prime will give you access to different regions around the world to unblock content libraries.
3. Disney Plus
While Disney Plus is mainly focused on a younger audience, there are some popular shows for adults as well. These are usually sci-fi/superhero shows like Ms. Marvel, Hawkeye, and The Mandalorian.
A subscription will cost you $11.99/month or $119.99/year. It includes streaming in 4K quality on 4 devices. If you aren't sure if Disney Plus has what you need, you can start a 7-day trial with no strings attached. Similarly, you can also use a VPN for Amazon Prime.
Watch Hulu in Australia FAQ

Is Hulu available in Australia?


Hulu isn't available in Australia because of various licensing and distribution laws. They are enforced by Hulu's IP identification system, which won't let you connect if you aren't inside the US or Japan.

By using a premium VPN service to change your IP address, you can bypass their restrictions and start streaming Hulu in Australia today.


Is Hulu available on Amazon Prime?


Amazon Prime doesn't have a package that includes Hulu, or any other streaming platform for that matter.


Is Hulu on Disney Plus Australia?


As of February 2021, Hulu became available as a part of a Disney Plus content hub called Star.

Unfortunately, this is a very limited version of Hulu, lacking most of the shows and Hulu Originals. It is still not known if Hulu will launch its service in Australia.


Can I stream Hulu in Australia for free?


Hulu is usually a paid service, but you can test it out with a 30-day free trial. With it, you can experience Hulu with and without ads.

Do not forget to cancel your subscription before the month ends, otherwise, you will be charged.

Can I watch Hulu on my Smart TV with a VPN?

That depends if your Smart TV supports VPNs. If it doesn't, you'll need a VPN router in order to watch Hulu in Australia.


Is using a VPN legal in Australia?


By itself, using a VPN in Australia is completely legal.

This guide on how to watch Hulu in Australia was last updated on January 4, 2023.