| | |
| --- | --- |
| VPN | Trust.Zone |
| Based in | Seychelles |
| Logs | No logs |
| Price | $3.33/mo. |
| Support | Email |
| Refund | 3 day trial |
| Website | Trust.Zone |
Trust Zone is a Seychelles-based VPN service that offers a basic, minimal VPN at a competitive price. Extensive testing for this review did not find any major issues with the service, although the only app they offer is for Windows.
If you are looking for a basic, minimal VPN that is also affordable and performs reasonably well, Trust.Zone is worth considering. But if you want a VPN that offers more features and custom apps for a wide selection of devices, then Trust.Zone is probably not for you. Check out some of the other options on the best VPN report if you are open to alternatives.
Trust.Zone Discount: You can now get 53% off Trust.Zone VPN here >>
(This drops prices to $3.33 per month.)

Jurisdiction
Seychelles

Logs
Connection logs

Price
$3.33
+ Pros
Competitive prices
Support for many devices and platforms
Good speeds and reliability
Free trial (but limited to 1 Gb of data)
P2P torrents allowed
– Cons
Very limited on features
Only offers Windows app
Only 3 connections per subscription
---
---
Alternatives to Trust Zone VPN

Review
(
ExpressVPN
)

Review
(
NordVPN
)

Review
(
VPN.ac
)
---
Company and jurisdiction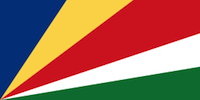 The company behind Trust.Zone VPN is Trusted Solutions Ltd.
The company is based in Seychelles.
Good privacy jurisdiction – Seychelles is a small chain of islands off the coast of Africa. It is not a member of any mass surveillance alliances (5 Eyes or 14 Eyes). Being a small independent island chain in the middle of nowhere, Seychelles appears to be a very good jurisdiction for a VPN service.
But other than that, I can't find any more details about the company.
Trust.Zone Price
Trust Zone offers very competitive prices with three different pricing tiers, in addition to the free trial.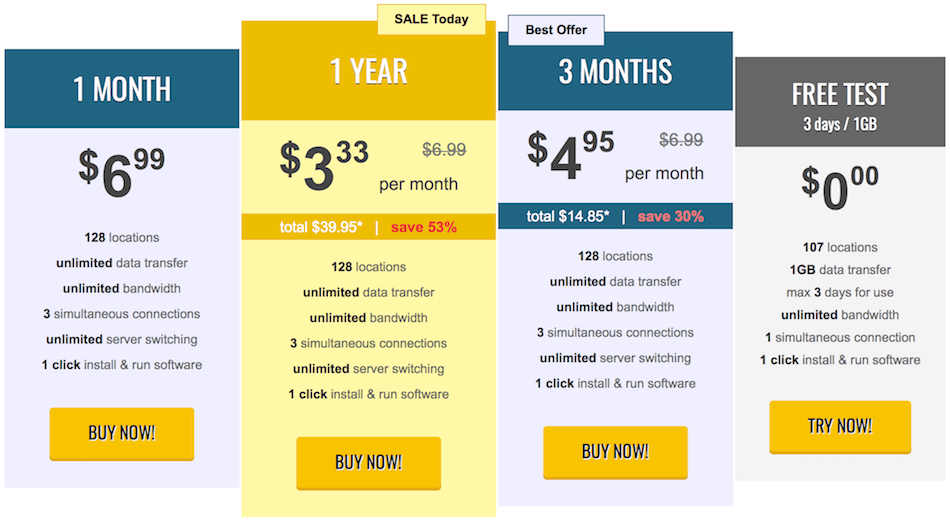 If you want an anonymous payment option, you can pay in Bitcoin. Right now, TrustZone is even offering a 10% discount with Bitcoin payments.
The prices are about as cheap as you'll find anywhere for a good VPN, but you can also find some great deals on the VPN coupons page. See for example the NordVPN coupon and also the ExpressVPN coupon.
Refund policy – Trust Zone offers a 10 day refund window, but only if you don't go over 1 Gb of data transfer (total download and upload).

The free trial  is probably the best option if you are on the fence about a the subscription, but still want to try out the service. This is better than using a risky free VPN service. Trust.Zone is a VPN with a free trial, but there are also others to choose from.
Supported devices and platforms
Trust.Zone supports a large variety of devices and platforms.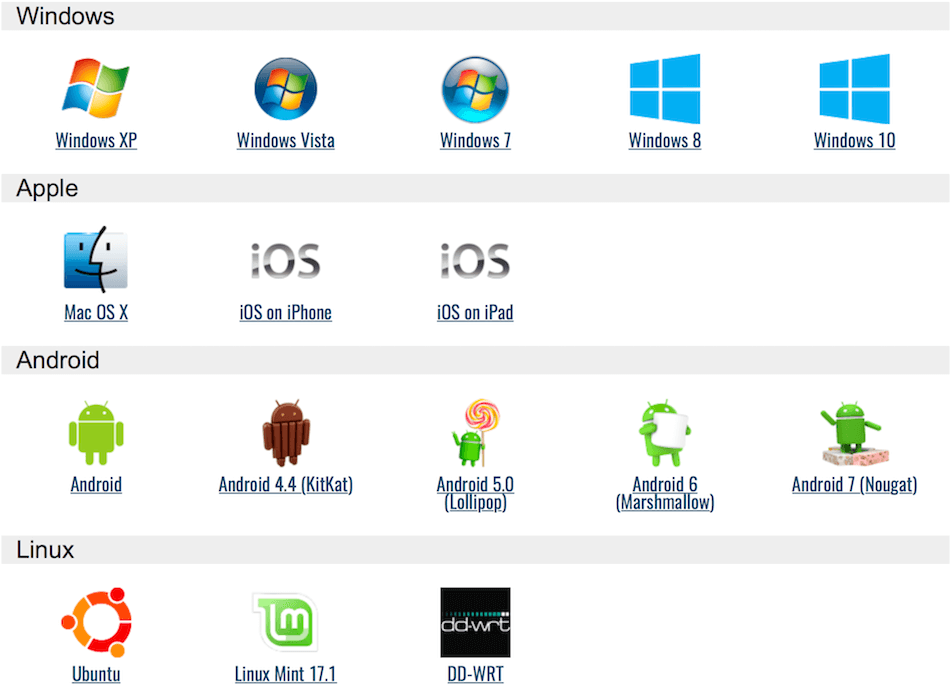 TrustZone also supports other devices, which are often not easy to configure with a VPN:

When you are setting up Trust.Zone on your device, you are provided with a Connection Wizard. This handy tool walks you through the process step-by-step:
Choose your operating system
Select a VPN protocol
Choose a server location
Follow the custom instructions, which are created based your previous selections.
You can also download a zip file with every VPN server configuration file.
Trust Zone Windows app
Trust Zone offers a VPN app, but it's only for Windows (XP, Vista, 7, 8, and 10). In testing I found the Windows app to work well. It never froze up or crashed, connections were fast and reliable. All privacy and security tests checked out perfectly without any leaks – no problems to report.
Here are a few screenshots of the Windows VPN app showing the main screen, server list, and settings tab: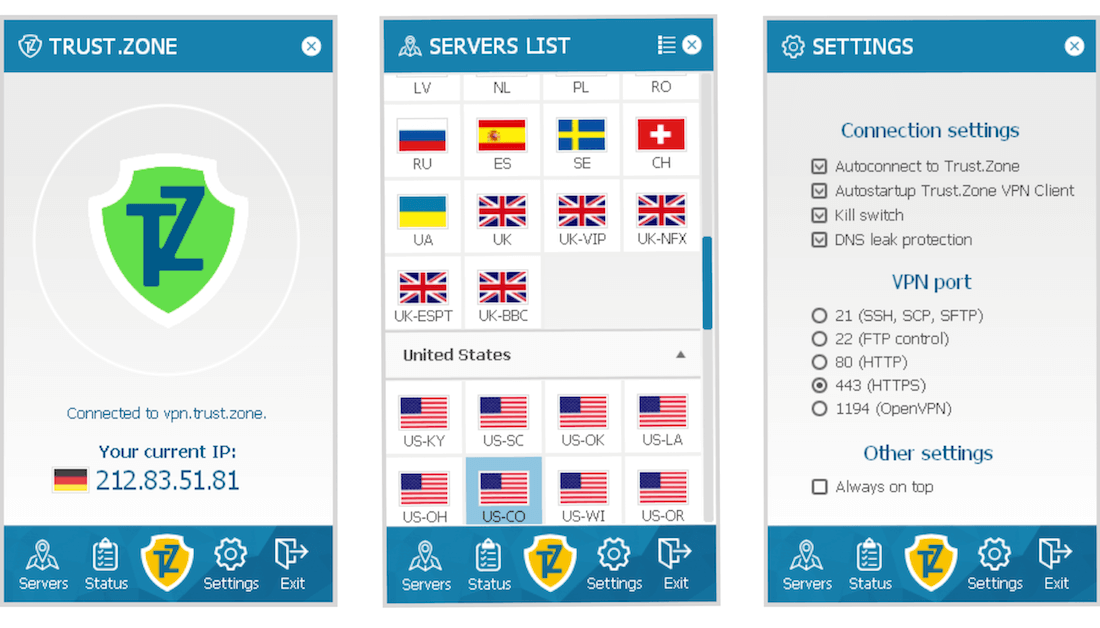 While the Windows VPN app is certainly not heavy on features, it does everything a basic VPN needs to do. As you can see in the settings, you have the important privacy and security features, while also being able to select which port you use.
For a lower-priced VPN, the app worked surprisingly well. You can get more information on their Windows app here.
Trust Zone with Android
If you want to use TrustZone with Android you have two options:
OpenVPN using the OpenVPN Connect app
L2TP/IPSec using the Android built-in VPN functionality
While L2TP/IPSec is not generally as secure as OpenVPN, for most people it is the best option because it will be leak-proof if setup correctly. Using OpenVPN is also possible, but it requires an app. And the vast majority of mobile VPN apps leak like a sieve.
Here are a few screenshots from testing Trust Zone on Android 7 using L2TP/IPSec: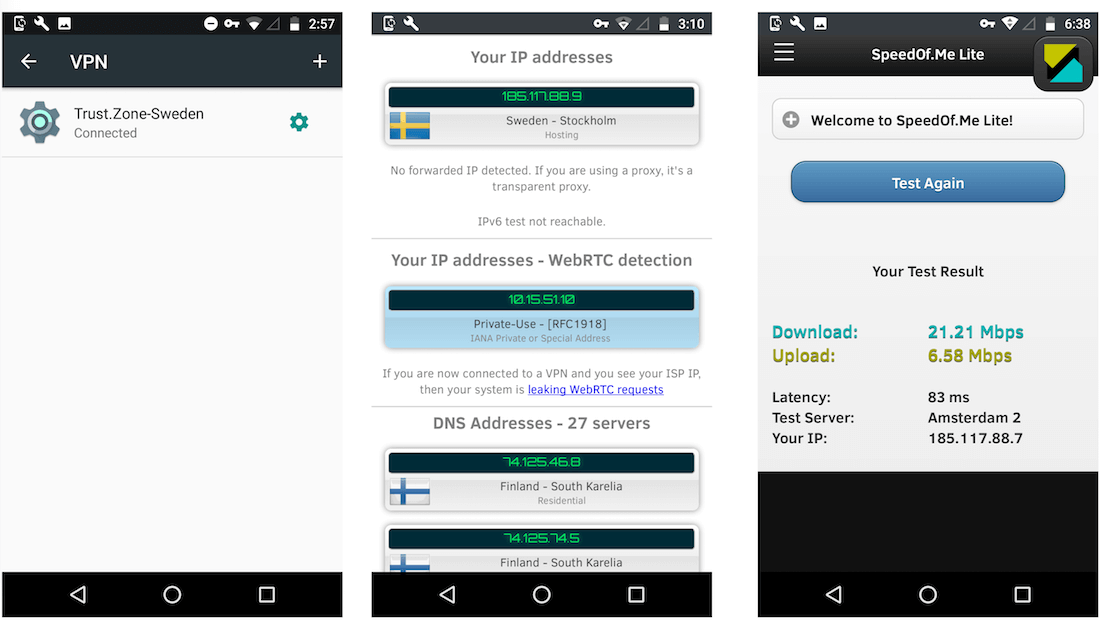 In testing out various VPN servers on Android, I did not run into any problems. The connection was fast and pretty reliable. As you can see with the middle screenshot above, I did not find any leaks (no IP leaks or DNS leaks). Overall, Android testing results were quite good.
Trust Zone VPN speed and reliability test results
Speed testing results were overall pretty good. I could typically get around 40-50 Mbps on all European servers. Unfortunately, I could never get beyond 50 Mbps despite having a 100+ Mbps connection.
I was impressed with some of the server speeds in the US, which are further away from my location in Europe and typically slower. But with Trust Zone's Massachusetts (USA) server, I could again get close to 50 Mbps.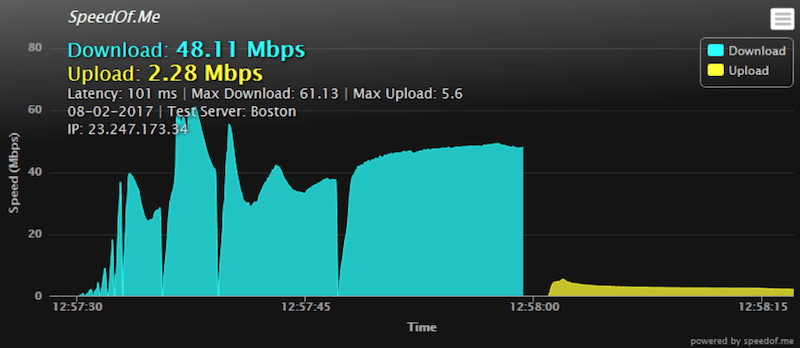 Connecting to a server in Queensland, Australia, I was able to hit 14 Mbps download, but the upload speed took a hit.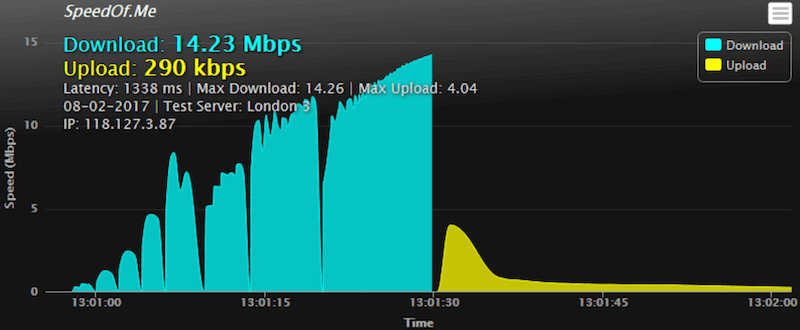 Reliability – While there were occasional hiccups and speed reductions, the overall reliability of Trust Zone VPN was pretty good.
Security and privacy testing results
Trust Zone did well in all tests for this review.
Windows – I thoroughly tested the Windows VPN app with different servers. I did not find any IP address leaks, DNS leaks, or WebRTC leaks.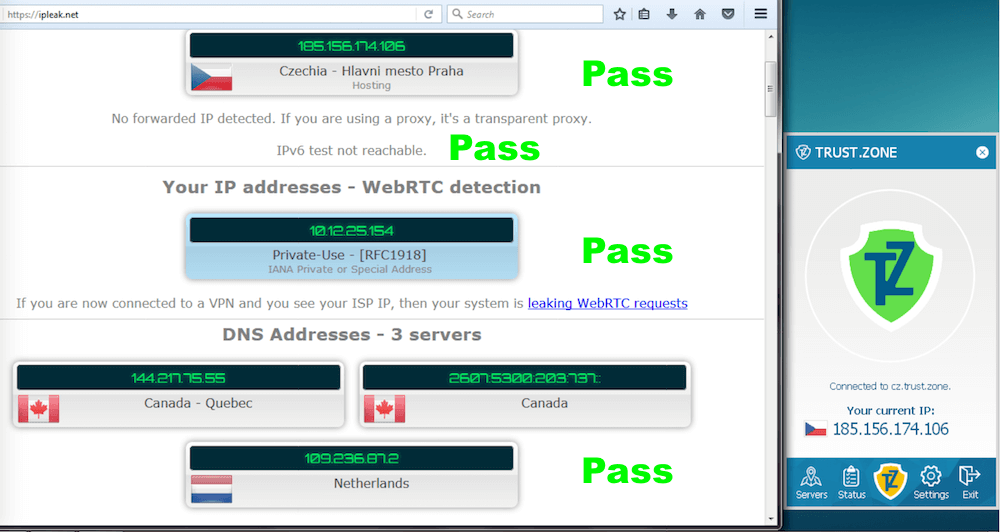 Mac OS X – I tested Trust Zone on the latest version of Mac OS Sierra using Tunnelblick, which is free, open source VPN client for Mac OS. I did not find any problems or leaks through extensive testing.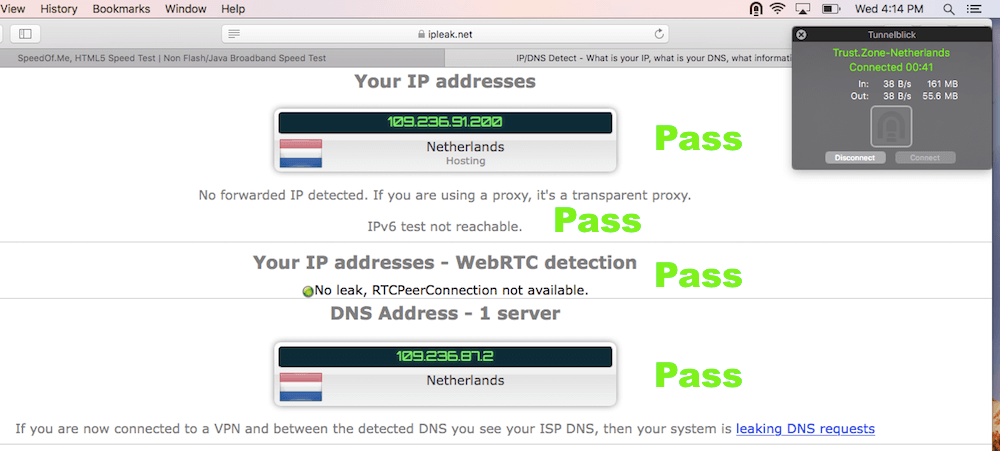 Android – As discussed above, I tested Trust Zone on android using the built-in IPSec configuration. I did not find any leaks or problems.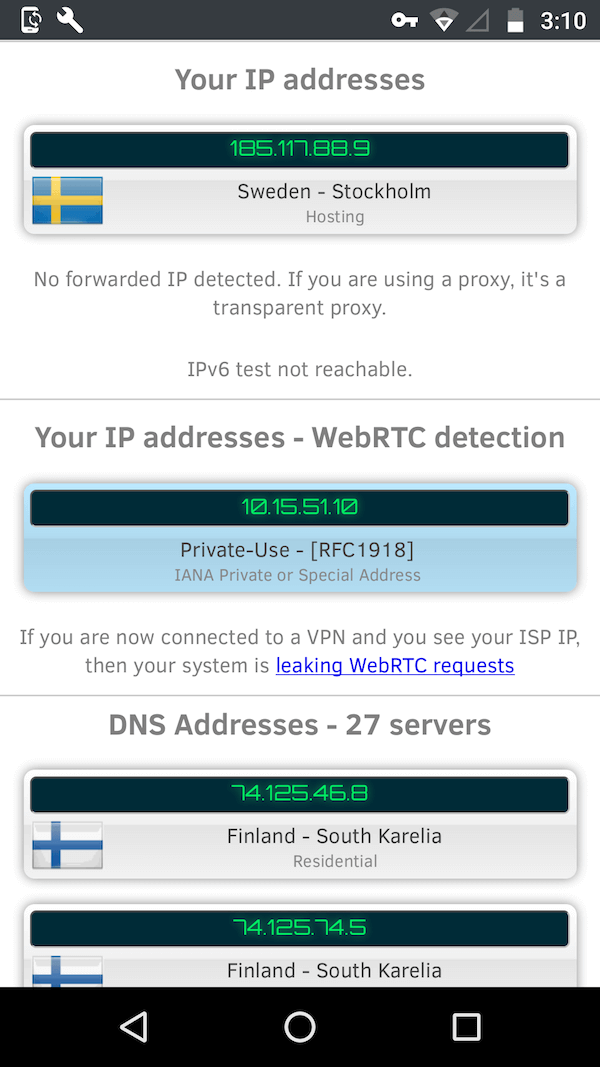 No IPv6 support
Despite not finding any leaks, Trust Zone makes it clear that they do not support IPv6 (internet protocol version 6 addresses). If you look in the settings, you do not see any option for IPv6 leak protection. But they do offer DNS leak protection and a working kill switch.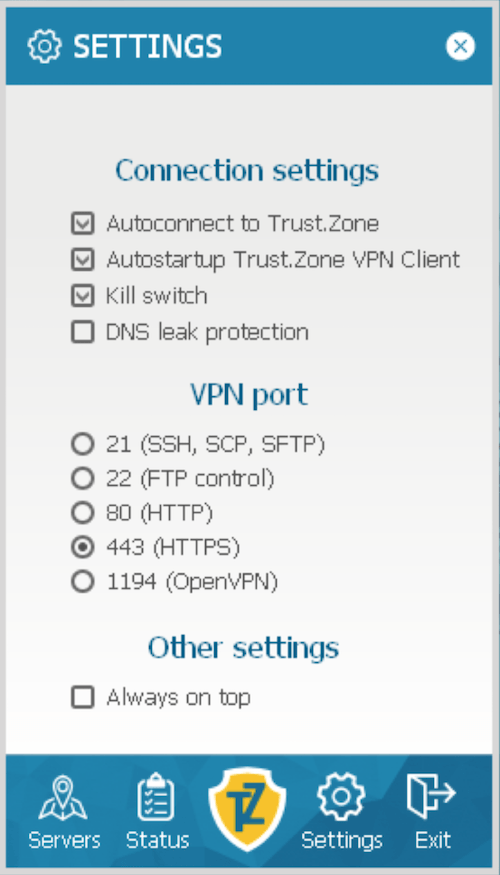 I clarified this with a member from support, who had this to say:
We do not support IPv6 and do not provide protection against IPv6 leaks. We recommend to turn off IPv6 if possible.
This isn't too big of a problem – they are also being honest. This is much better than a VPN that has some IPv6 leak protection "feature" that doesn't actually work (see PureVPN).
If you are looking for a VPN that fully supports IPv6, then Perfect Privacy may be a better option. Their VPN service provides you with both an IPv4 and IPv6 address. They also offer an excellent tracking and advertisement blocker that is built into their VPN service called TrackStop. (Lastly, you get an unlimited number of device connections – instead of just three.)
Trust Zone support
When testing out everything for this review, I sent the Support department a few different random questions. The response time was excellent (often under an hour), and the replies gave me all the information I needed.
Trust Zone does not offer live chat, but you can easily submit a support ticket within the members area of the site.

One drawback that has been noted in the comments section is that Trust.Zone support is not available on weekends. Additionally, some users have complained about it being down over the weekends.
Does Trust.Zone work with Netflix or in China?
Netflix – Although I did not Trust.Zone with Netflix, the latest information I have seen is that it is not working with US Netflix. To check the latest test results, see the best VPN for Netflix guide.
China – Trust.Zone claims their VPN works in China if you utilize port 443, although I cannot confirm if this is true or not. Check out the best VPN for China guide for additional options.
Connection logs
One drawback with Trust Zone's VPN is that they log connection data (bandwidth usage). This is easy to see in your members page, which shows how much bandwidth you have used.

One problem here is that TrustZone claims to do "no logging" on their homepage. As you can see, this does not line up with the bandwidth logs. They clarify this by stating "We do not log the activities of our users."
If you are looking for a true "no logs" VPN service, check out the no logs VPN guide for more options.
Trust.Zone review conclusion
If you're looking for a basic, cheap VPN that still performs well, Trust.Zone is hard to beat. In many ways it is like Private Internet Access, but with a much better jurisdiction (outside of the United States) and a free trial. For another great budget VPN service, NordVPN is very hard to beat.
Trust.Zone did well in all tests for this review. From a privacy perspective it offers many benefits: excellent jurisdiction (Seychelles), no leaks, good privacy features, and minimal logs (bandwidth). In terms of performance, I found it to be quite fast and very reliable.
And while it is somewhat limited on features, it offers a great value for the money at only $3.33 per month. They are also one of the few VPNs offering a free trial, which allows you to test everything before committing to a subscription.
---
Alternatives to Trust Zone VPN

Review
(
ExpressVPN
)

Review
(
NordVPN
)

Review
(
VPN.ac
)
---
If you have used Trust.Zone VPN, feel free to share your honest review (good or bad) below.
---
Trust.Zone Review Summary