TunnelBear Review (Rating: 3.8)
Total (3.9 / 5.0)

Performance

Features

Support

Value

Privacy

User-friendliness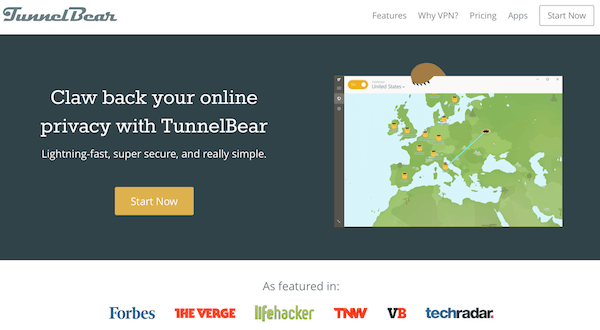 Good for
+ Basic, user-friendly VPN
Summary:
TunnelBear is a user-friendly, simple, and secure VPN service based in Canada and now owned by McAfee (cybersecurity company based in the United States). While it does have some drawbacks, overall TunnelBear performed well in testing for this review. I found the speeds to be good throughout the server network while also offering good reliability.

Jurisdiction
Canada

Connections
5

Protocols
OpenVPN
IPsec/IKEv2

Logs
Connection logs

Privacy Tests
Passed all tests

Price
$4.99

Refund
Free trial

Support
Email
+ Pros
User-friendly applications
Good speeds and reliability
Competitive price
Browser extension
Responsive and professional support
– Cons
Based in Canada (Five Eyes)
Contradictory "no logs" claims
Owned by US cybersecurity company (McAfee)
Tunnelbear VPN McAfee
Tunnelbear VPN is a service offered by Tunnelbear Inc. based in Toronto, Canada.
Shortly after this review was first published, TunnelBear was bought out by McAfee – the United States cybersecurity company.

Now that TunnelBear is owned by a giant American cybersecurity company, it's difficult to tell what the future will hold. According to its website, TunnelBear is still being operated out of Canada, even though it is now owned by a US company.
As we have covered before, Canada is not the best jurisdiction for a VPN because it is a member of the Five Eyes surveillance alliance.
However, it's also important to recognize that surveillance agencies operate globally, without respect to borders. Therefore having an "offshore" VPN may not actually provide you with more protection than a US VPN. (Plus, there are cases of overseas providers cooperating with US government authorities – see PureVPN, for example.)
TunnelBear apps
TunnelBear VPN offers applications for the following operating systems: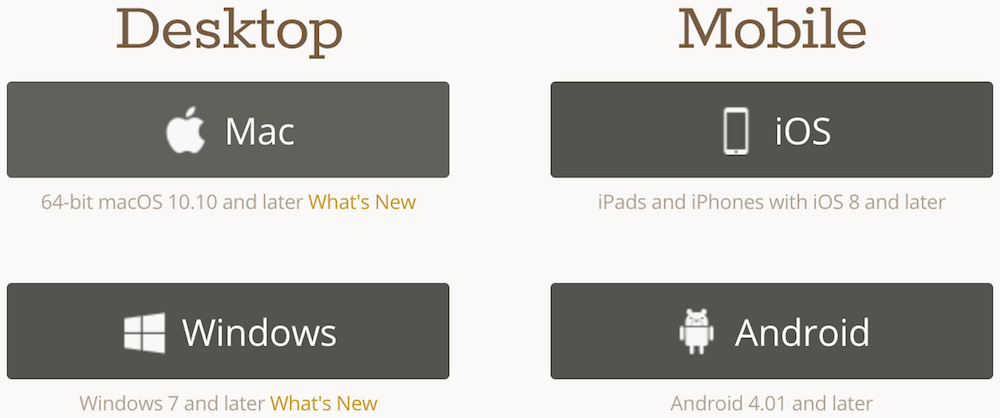 TunnelBear also offers browser extensions, which we will cover in detail further below.
Linux – TunnelBear supports Linux, even though they currently do not have a dedicated Linux app.
Routers – Using a VPN on a router is unfortunately not possible with TunnelBear VPN at the moment. See the VPN router guide for additional options.
Overall TunnelBear is somewhat limited when it comes to supporting a diverse array of operating systems and devices. For example, there is no option to download the OpenVPN configuration files for use on routers or with third-party VPN applications.
As an alternative, ExpressVPN (review) offers a large selection of applications and support for different devices, along with a 30 day money-back guarantee.
TunnelBear encryption
TunnelBear offers good data encryption using the 256-bit AES OpenVPN cipher for Windows, Mac OS, and Android. The IKEv2 cipher is used for iOS, which is the best option at the moment due to the iOS configuration settings. Here is an overview from the TunnelBear website.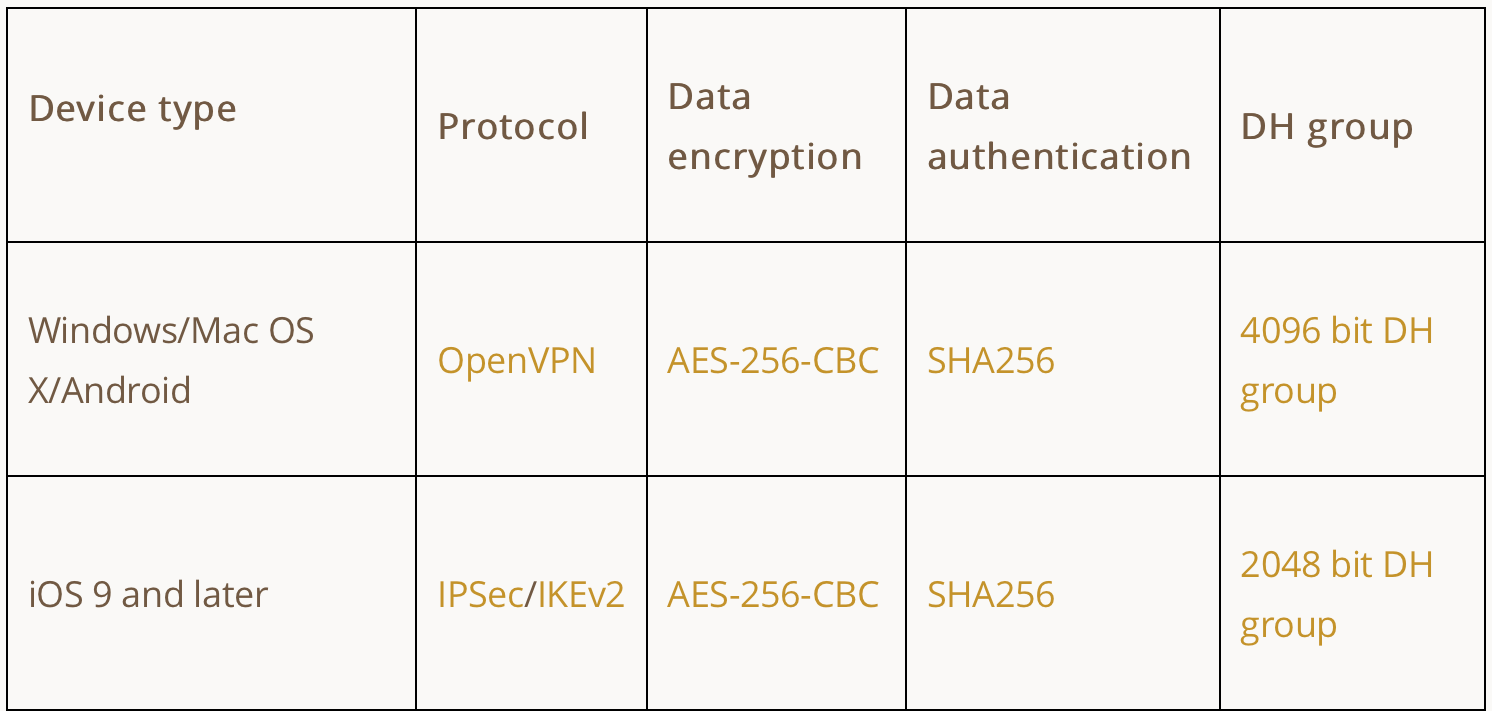 Both OpenVPN and IKEv2 are secure and reliable encryption ciphers. Each has pros and cons.
OpenVPN is open source, but it requires the use of a third-party client and is more CPU-intensive.
IKEv2 can be used natively on various devices (no app required) and runs with less CPU, but it is also not open source.
TunnelBear VPN price
The basic price tiers for Tunnelbear are free (limited to 500 Mb of data), $9.99 (monthly), and $4.16 (annually). These plans are respectively referred to as Little, Giant, and Grizzly in the pricing plans below.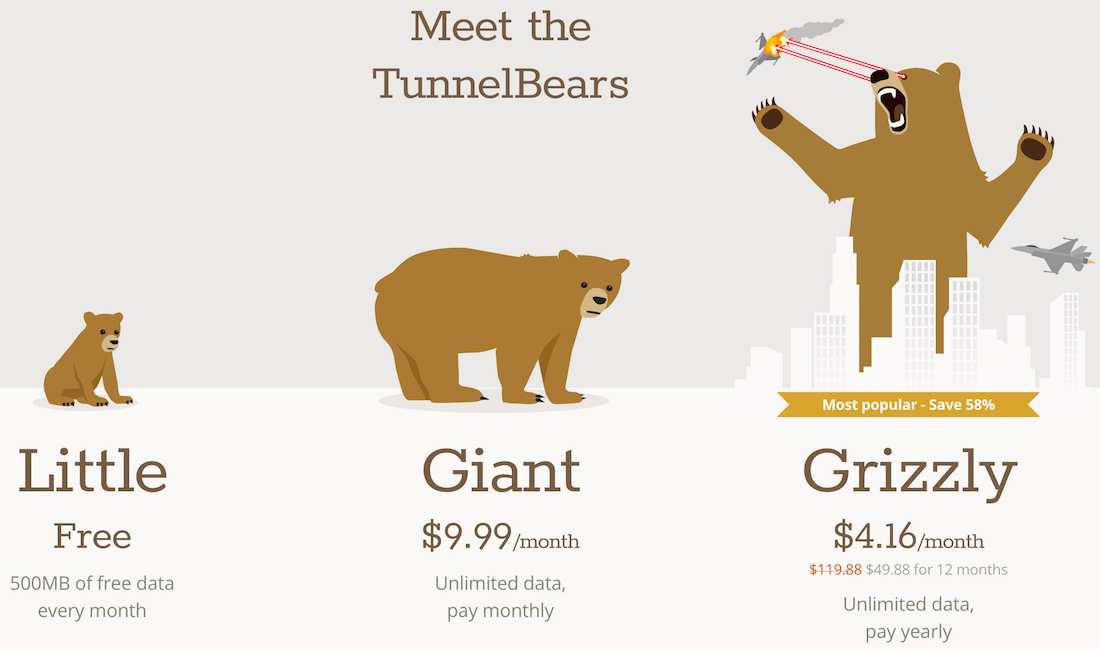 You can get more details about the different pricing plans on their website here.
TunnelBear refund
One interesting aspect of Tunnelbear is that there are no refunds. Most VPNs that offer a free trial or free version do not offer refunds, or at least give you a very limited window for a refund. For example, VyprVPN (review) offers a three day free trial, but after that, there is no refund.
The no refund policy is clearly explained on TunnelBear's website:

The official policy is that all payments are non-refundable – but they may grant certain exceptions depending on your situation.
As a comparison, there are also VPNs that do not offer any free trial, but they give you a long refund window. For example, two VPN services that offer a full 30 day refund policy are:
Note: there are a few other VPNs with free trials that range from a few days to a certain amount of bandwidth in a month.
TunnelBear free VPN
TunnelBear free VPN limits you to only 500 Mb of data per month, which for most people, won't last very long.
However, unlike with other free VPN services, such as Windscribe (Windscribe review), TunnelBear free VPN gives you access to the entire server network (with the exception of the Australia server).
More data – You can get more data by tweeting about TunnelBear.
This will give you an extra 1 GB of data, but that still probably won't last long for most people (solution = upgrade to the paid plan).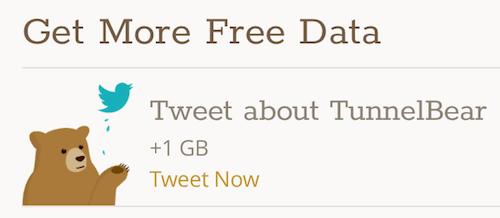 After running out of the 500 MB of free VPN data, you will get the alert below and then not be able to connect to any server.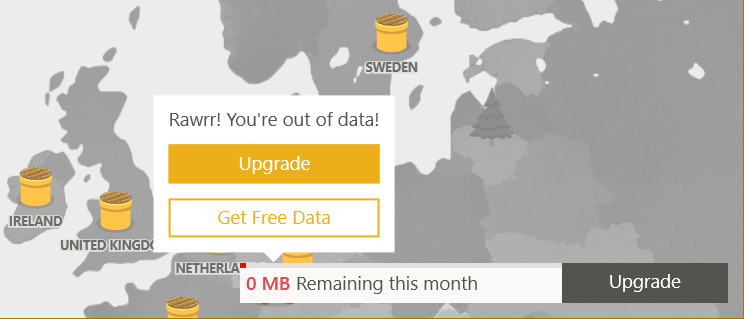 Consequently, you will probably need to upgrade to the paid VPN service. But the 500 MB of data will be enough for you to at least test out the VPN before buying.
You can get your free TunnelBear VPN account here >>
TunnelBear VPN leak protection
Overall, TunnelBear did well in testing.
TunnelBear offers a good leak protection option which is called VigilantBear. This feature acts as a kill switch to block all traffic when there is no active VPN connection and can be activated directly within the VPN application.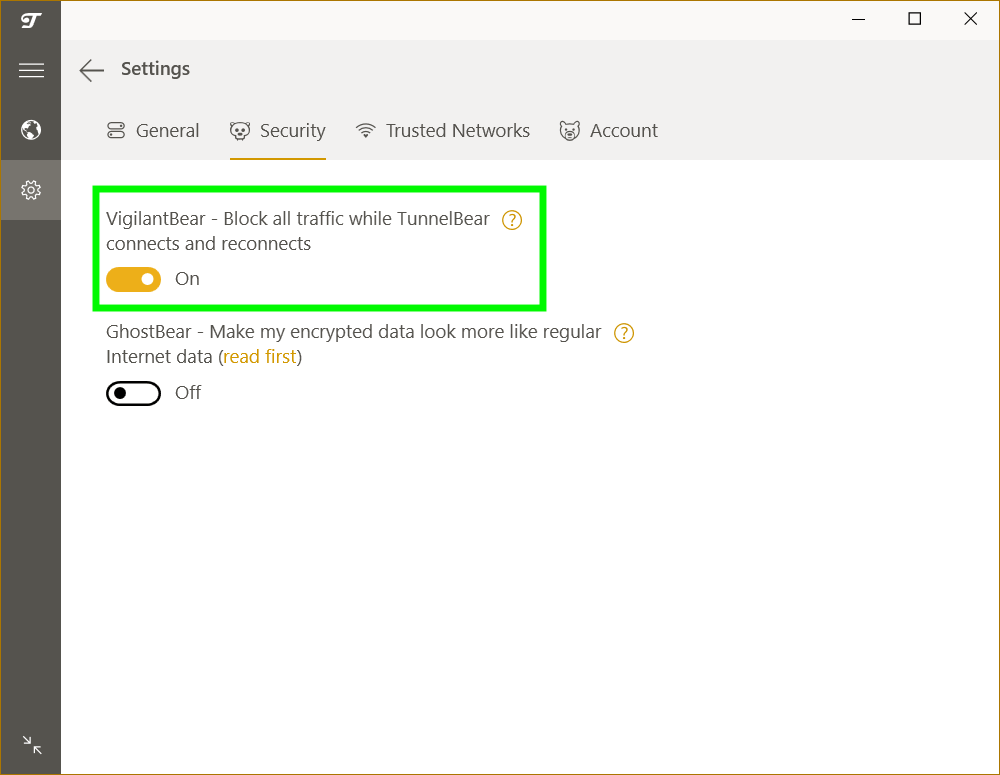 I tested this out and found it to work properly without any issues on Windows and Mac OS.
Windows – Here is a leak test using the TunnelBear Windows VPN client with a server in Norway (no leaks).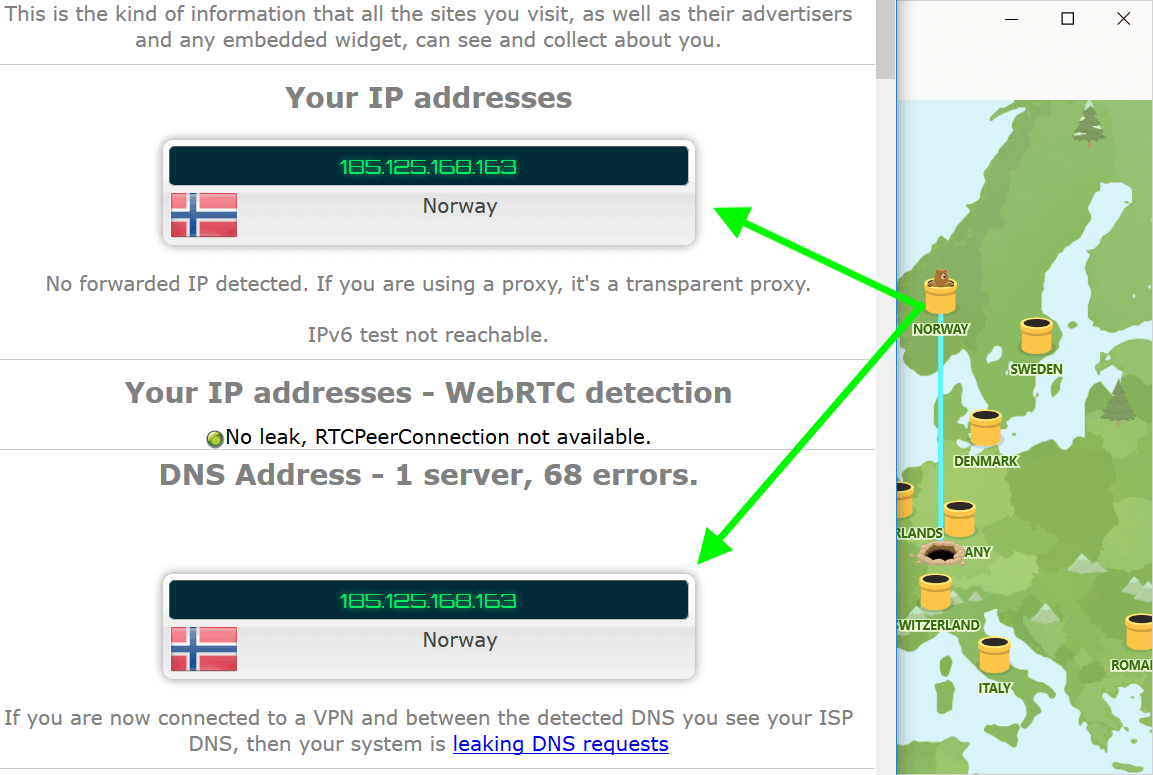 Testing for the TunnelBear Windows client was done using a Windows 10 desktop.
Mac OS – I really liked the look and feel of the TunnelBear Mac OS client. You can click a simple dropdown from the Mac OS dashboard to select your server or modify the settings. Everything worked well without any problems, bugs, or leaks to report.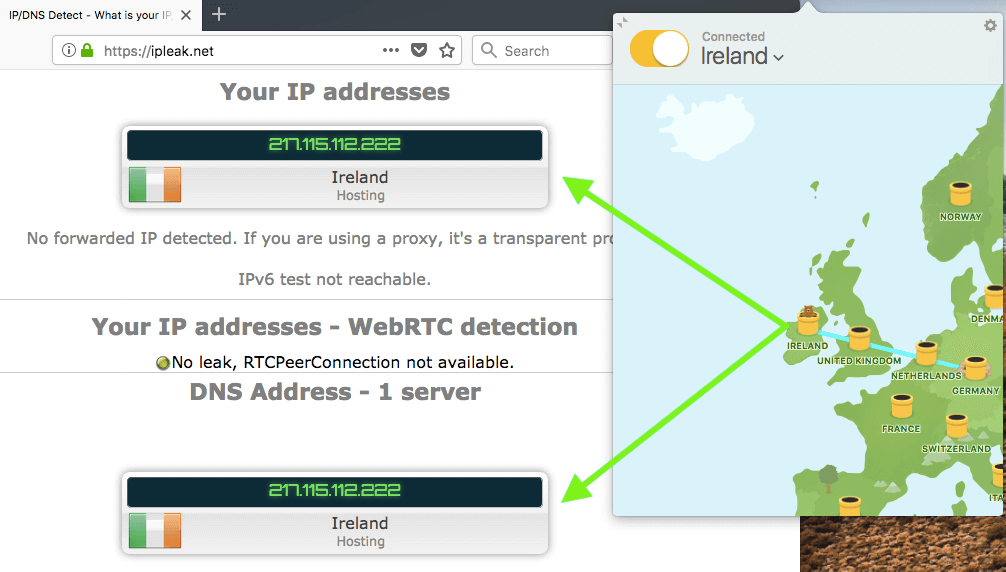 Testing for the TunnelBear Mac OS client was done using the latest version of Mac OS High Sierra.
It is important to remember to enable VigilantBear – the leak protection feature – to be protected against leaks. As of right now, it does not look like this feature is enabled by default.
You can test for leaks and any other issues using the VPN test guide.
Tunnelbear obfuscation (GhostBear)
TunnelBear provides an obfuscation (Stealth VPN) feature called GhostBear.
This basically hides (obfuscates) your VPN traffic to protect you against deep packet inspection (DPI) and VPN restrictions. Obfuscation is a must-have feature where VPNs are getting blocked. This is often the case in restrictive countries, such as China and Saudi Arabia, as well as with work or school networks.
There have also been reports of internet service providers interfering with VPN traffic. I've seen different websites claiming that this is happening in both the United States as well as some countries in Europe.
TunnelBear's obfuscation could potentially solve that problem.
The GhostBear obfuscation feature is available on Windows, Mac OS, and Android. You can enable the GhostBear feature under Settings > Security as seen below with the TunnelBear Windows client.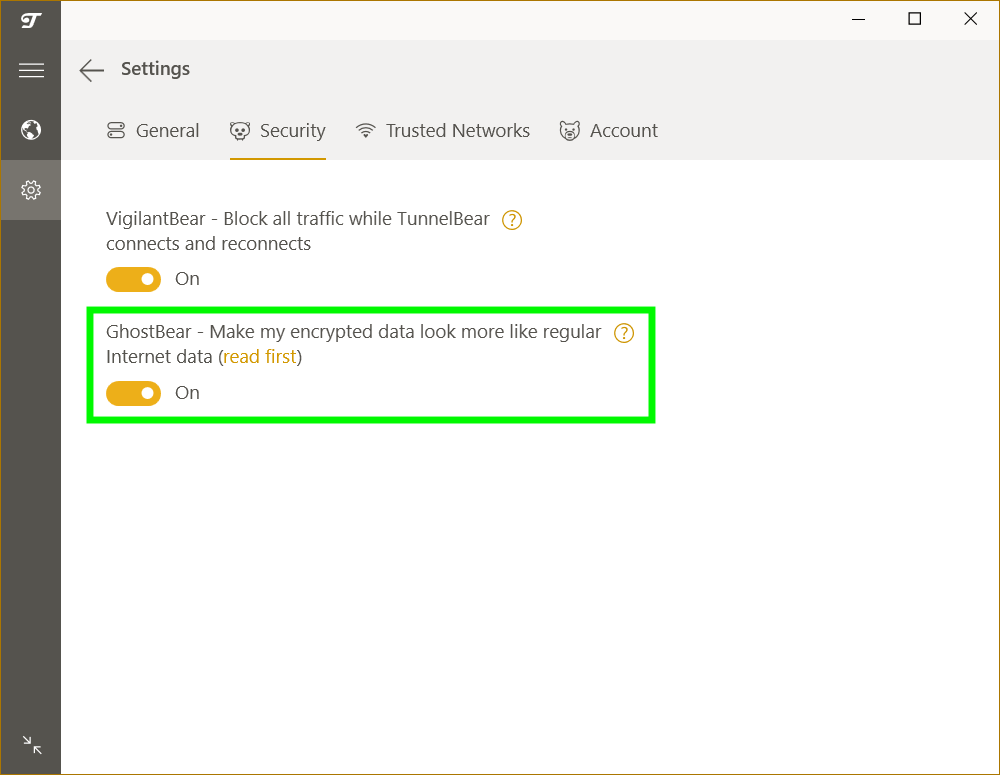 Tunnelbear uses Obfsproxy as its primary obfuscation feature.
Note: If the VPN is working well for you without any issues, you probably don't even need to use GhostBear or other obfuscation techniques.
You can get more information on the GhostBear obfuscation feature on the TunnelBear website.
TunnelBear speed tests
TunnelBear did pretty well in speed tests.
My baseline speed (without a VPN) for testing was about 100 Mbps. Before discussing the results, it's important to remember that there are many factors that influence speed. Some of these factors are controlled by the VPN, such as server quality and bandwidth load. Other factors, however, are outside of the VPN's control, such as your network settings, computer CPU, and potential interference from your internet provider.
With that disclaimer, let's take a look at the TunnelBear speed test results.
Nearby VPN server
Here was a nearby server I tested in Switzerland, which gave me a download speed of 54 Mbps.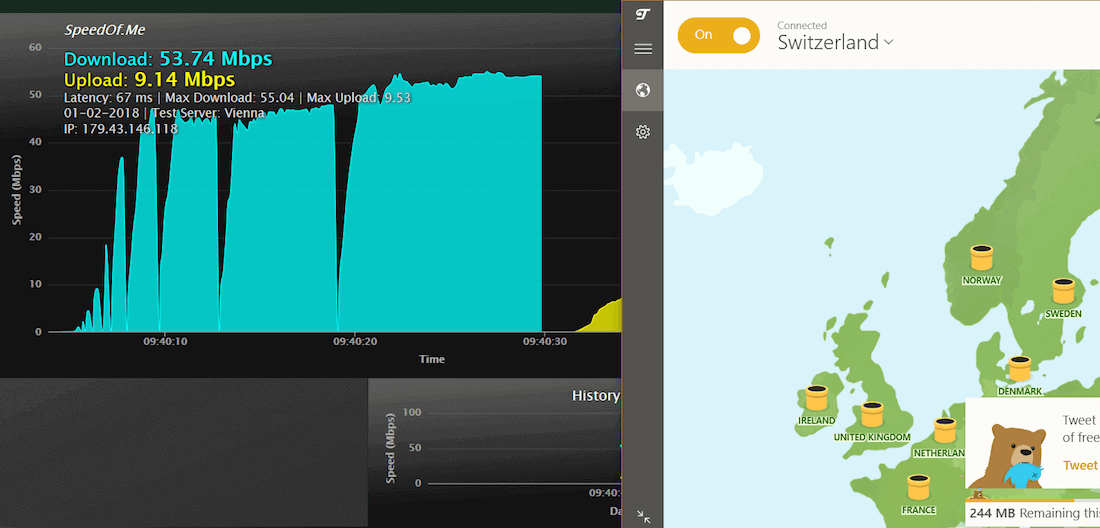 I also ran some back-to-back comparison speed tests with TunnelBear and ExpressVPN.
France VPN server
TunnelBear's speed with a VPN server in France was about 34 Mbps.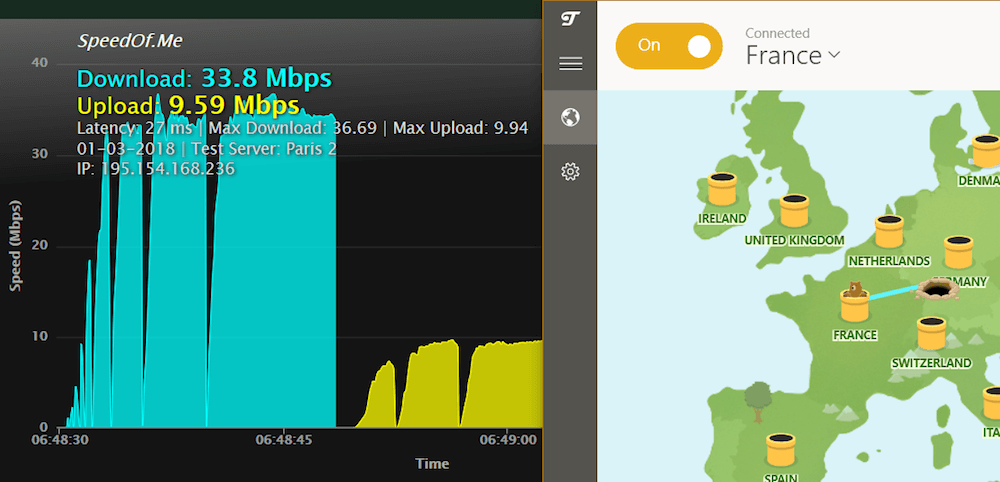 Immediately after running the test with TunnelBear I ran a test with ExpressVPN.
ExpressVPN's server speed in France was about 65.5 Mbps.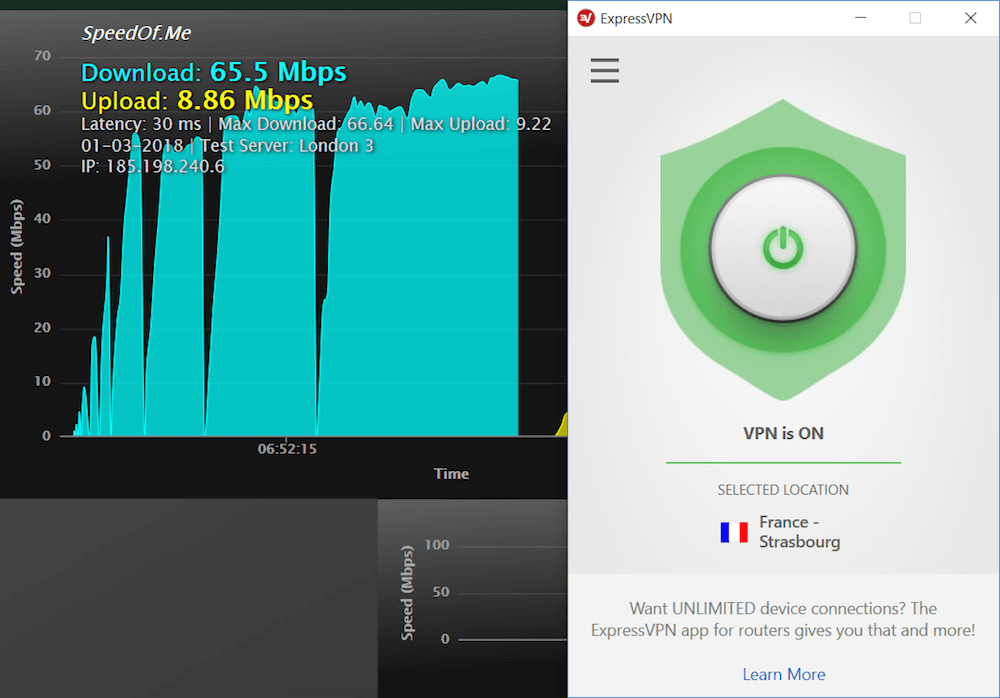 I also tested a few VPN servers in the US.
With TunnelBear, the speeds were still decent considering the distance between my location (Europe) and the VPN server in the US.
Here are the comparison results.
TunnelBear US server: 13.87 Mbps download speed.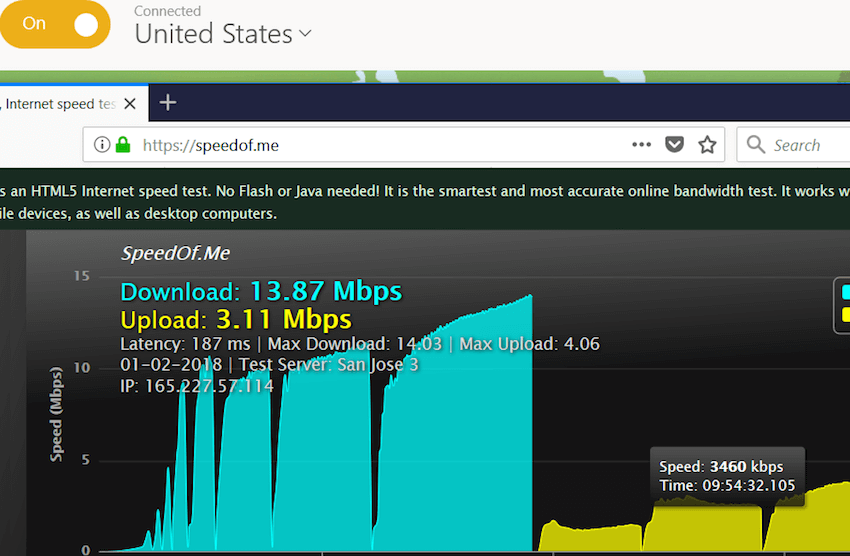 And now for the comparison speed test.
Here is the ExpressVPN US server: 33.39 Mbps download speed.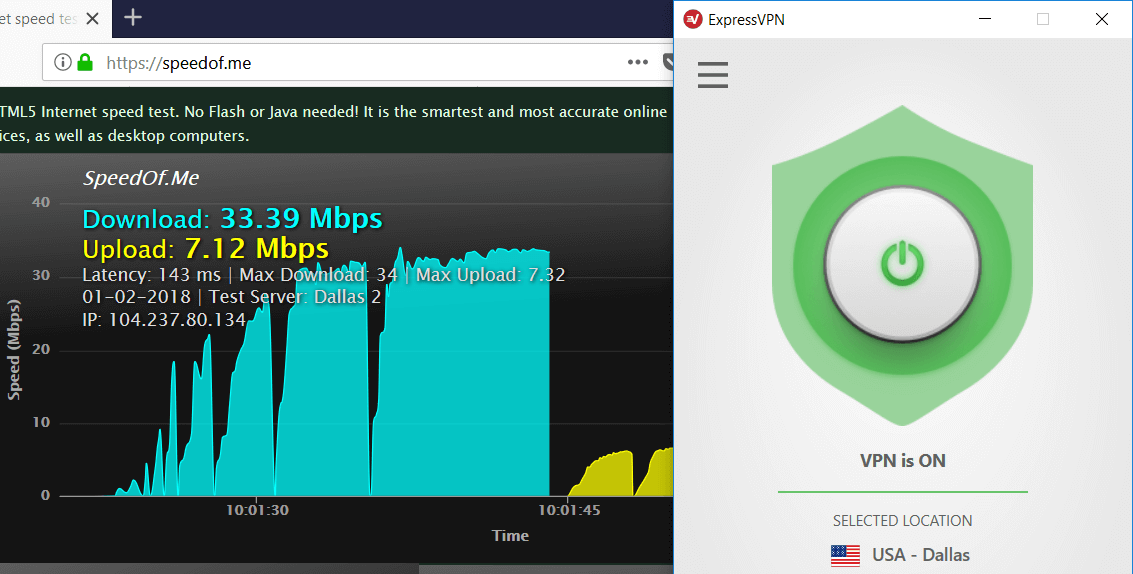 Overall I found TunnelBear to offer pretty good speeds.
Aside from the screenshots above, I also ran tests with other servers in Europe as well as Canada and Australia. The results were decent throughout the server network. I did not have any issues with dropped connections or other network problems.
In comparison to ExpressVPN, however, TunnelBear is not quite as fast with the tests I ran.
TunnelBear Chrome
The TunnelBear Chrome extension is a lightweight encrypted proxy that you can easily control from the browser window. I tested the TunnelBear Chrome extension for this review and found it to work well.
You can download the browser extension and test it out for free directly from their website here.
Why use the Chrome extension when you can already use the desktop VPN client?
Here are a few reasons that TunnelBear gives you: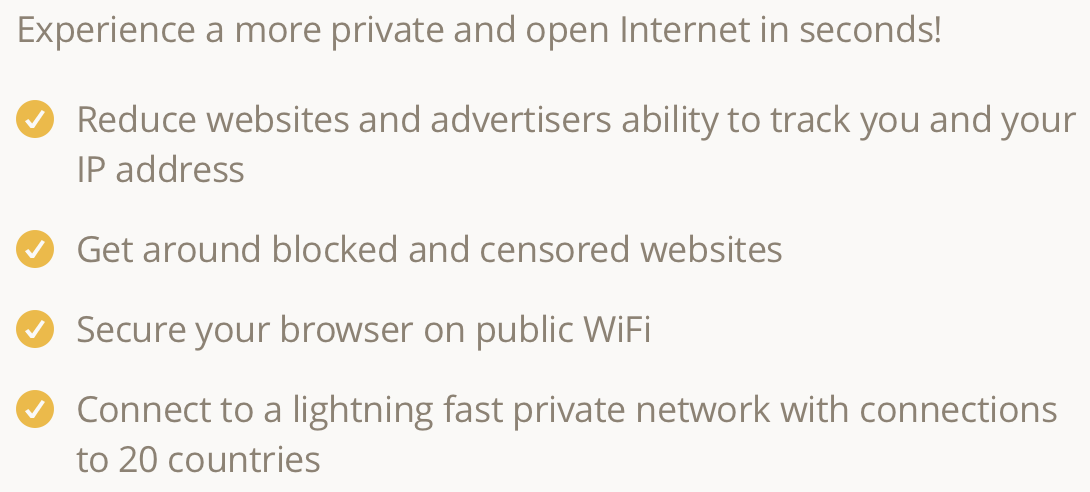 In addition to the benefits listed above, you can also layer your encryption by using one server location with the VPN client, and then using a different server with the TunnelBear extension.
Additionally, you could also use this as a split tunneling option. In other words, you could encrypt your traffic over one server with a Chrome browser, and then encrypt traffic over a different server with a Firefox browser using the desktop VPN client.
Here is the TunnelBear Chrome extension in action, which you can see in the upper right corner of the browser.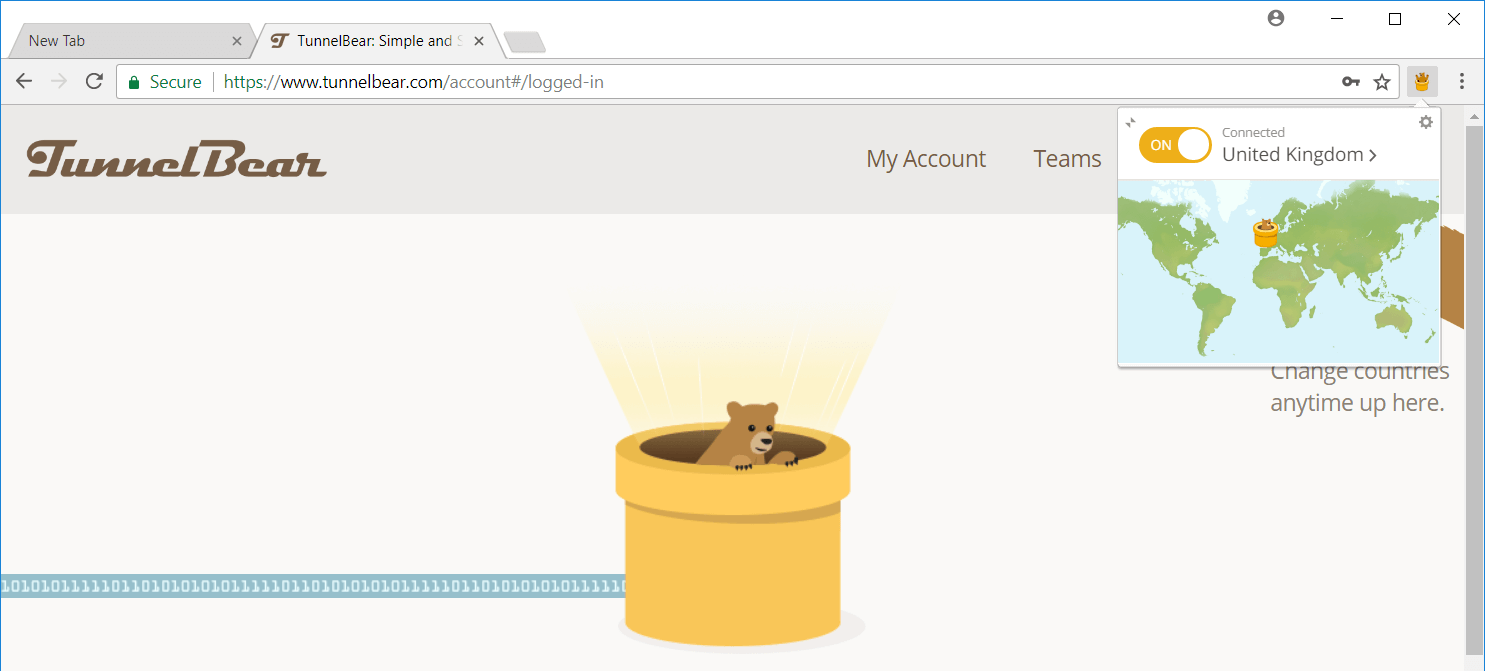 I also tested out running one VPN server on the desktop VPN client and using a different server through the Chrome extension. For everything done in the Chrome browser, this essentially creates a double-hop connection with traffic being encrypted across two separate servers. Your IP address and DNS requests would match up with the desktop client for everything outside the Chrome browser.
Here you can see that I'm connected to the Denmark server with the Chrome extension, while at the same time the desktop VPN is also encrypting all traffic through the Norway VPN server.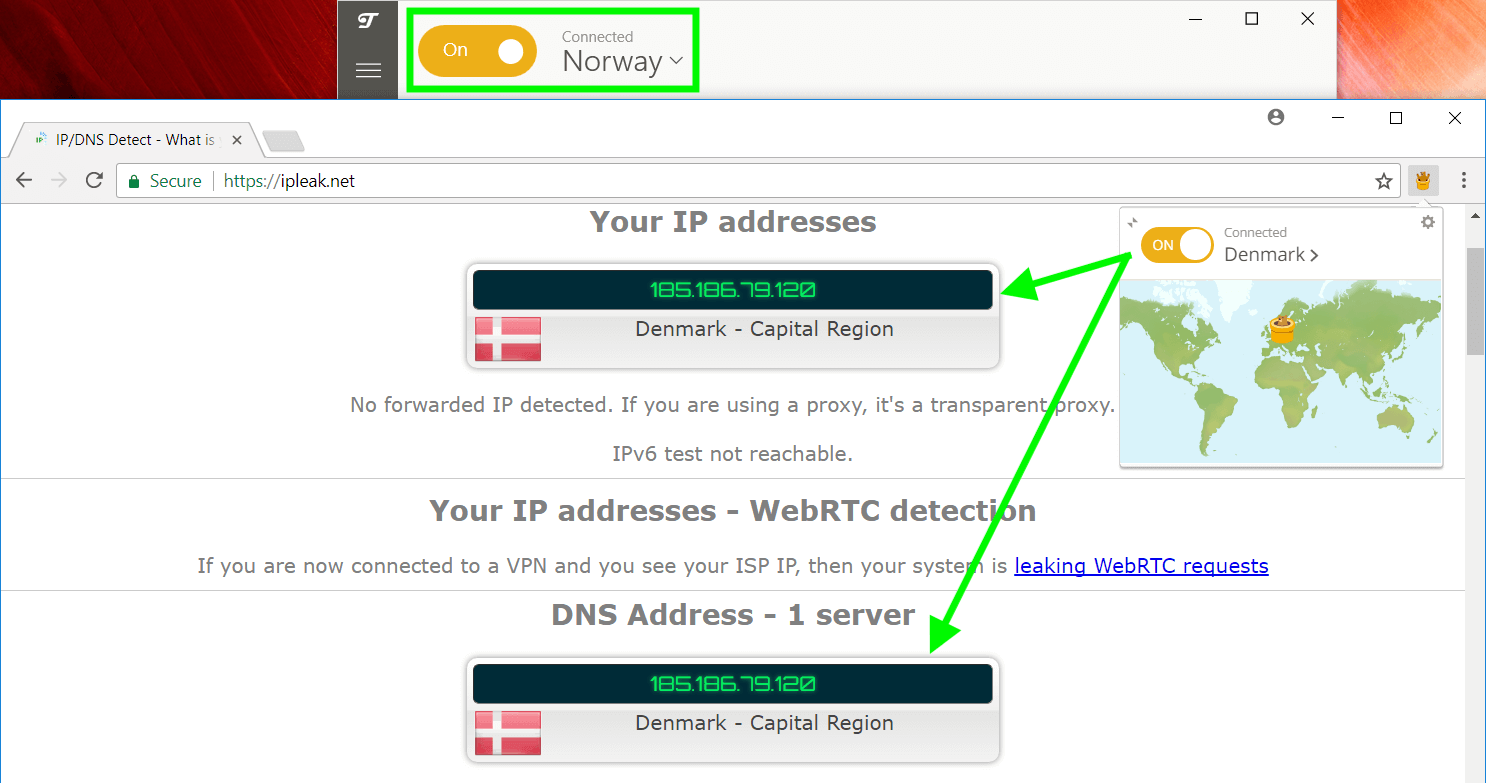 Firefox – TunnelBear told me that the Firefox extension is currently in development.
Opera – TunnelBear also offers a full Opera browser extension, which functions in the same way as the Chrome extension tested above.
You can get more information on the Chrome and Opera browser extensions on the TunnelBear website.
TunnelBear logs
Unfortunately, TunnelBear is another VPN service that claims to have a "no-logging policy" but then discloses data that is "collected" in their privacy policy.
Here is how the "no logging" policy is being marketed on the website: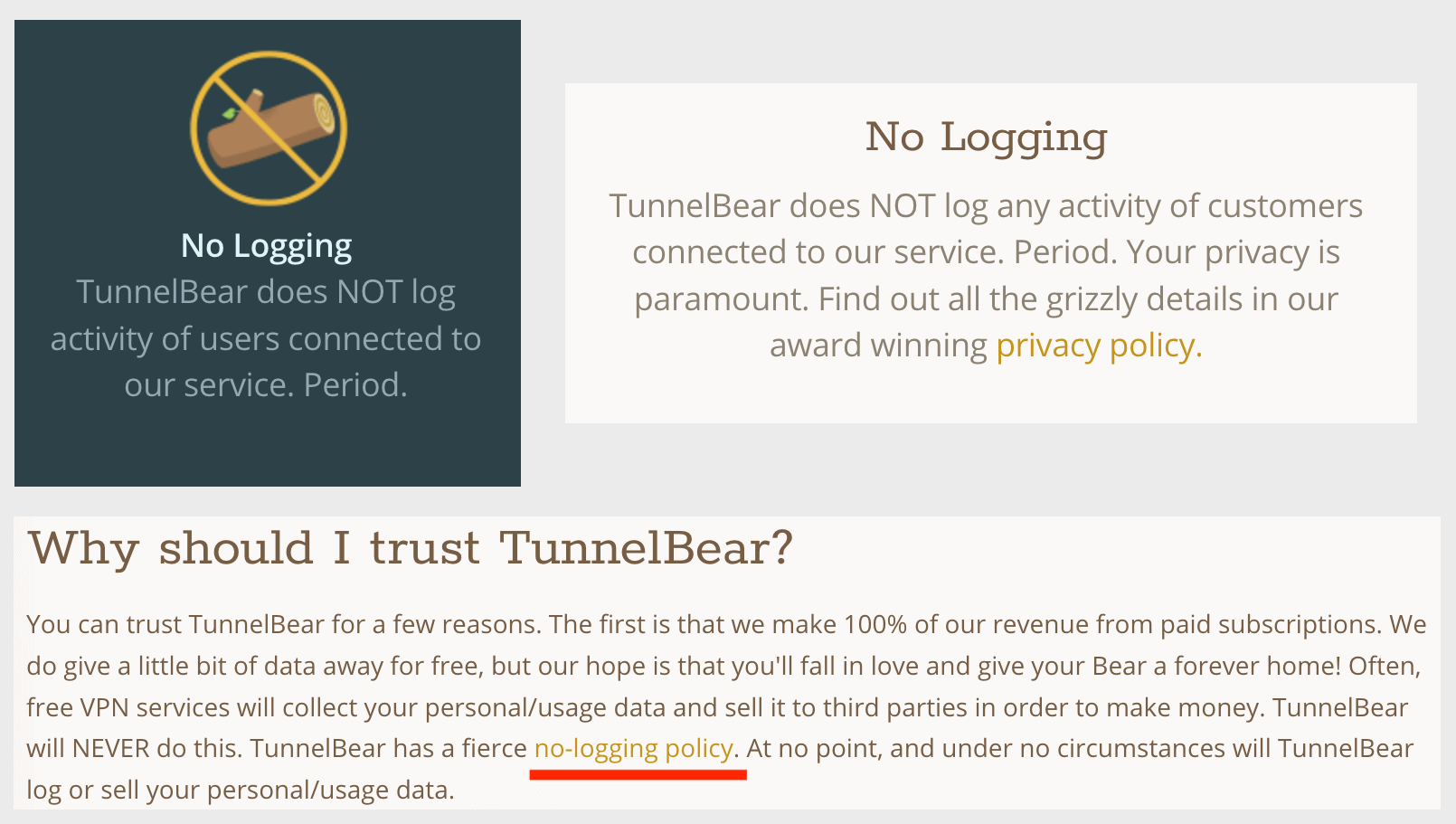 Now we will take a look at the fine print.
If you read the TunnelBear privacy policy, you find that TunnelBear "collects" (logs) the following data when you use the VPN service:
Operating system version
TunnelBear app version
Active for the month (1 or 0)
Monthly bandwidth usage
Below is a screenshot from TunnelBear's privacy policy, which explains exactly what the "operational data" is used for.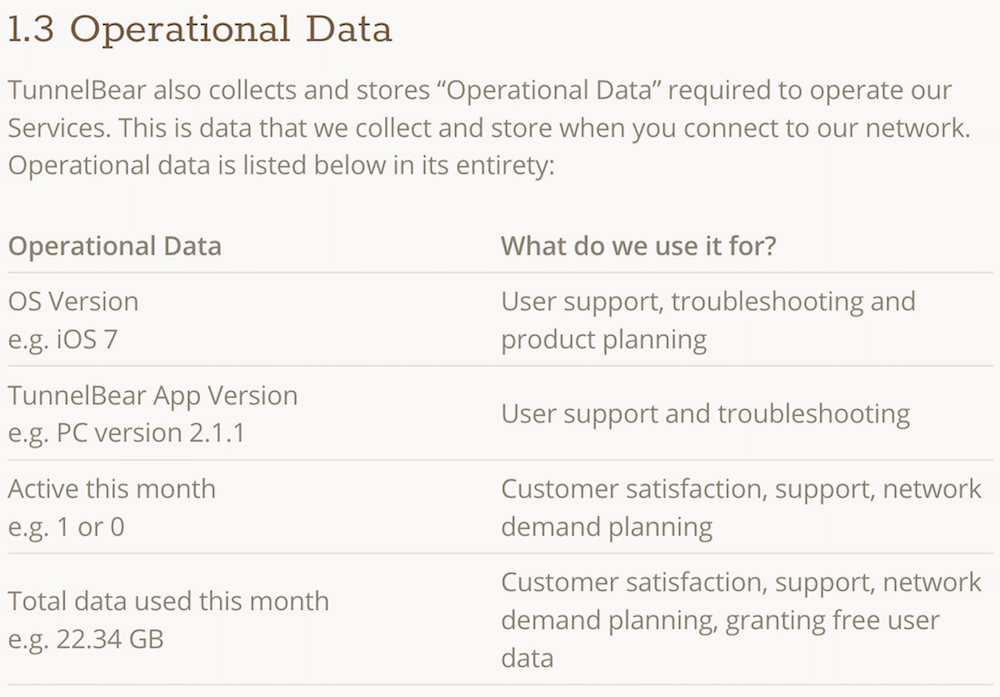 While logs are not necessarily a bad thing – and necessary for most VPN services to operate – the contradictory statements are somewhat concerning.
It would probably be better if TunnelBear replaced the "no logging" statements with "no activity logs" or something similar, which would be more accurate and align with their policies.
To be fair, there are many VPNs playing "word games" when it comes to logs – especially since there is no definition of what "no logs" really means. This is further explained in the article VPNs are Lying About Logs, which focuses mostly on an example where a "no logs" VPN service logged customer data and handed it over to the FBI (US authorities).
TunnelBear servers
TunnelBear offers a decent selection of servers around the world.
They currently have servers in 20 different countries.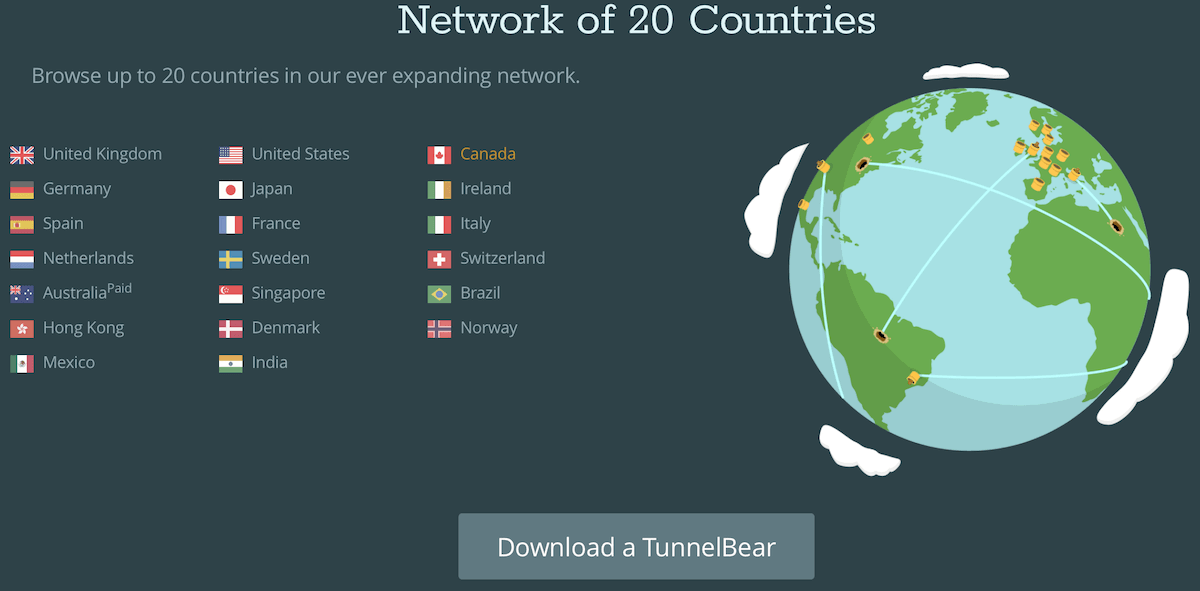 I did not see any kind of server status page that would display real-time bandwidth and server info.
You can get more details on the TunnelBear website.
TunnelBear VPN support
I sent TunnelBear support a few random questions while testing out everything for this review. With every inquiry, my question was answered within a few hours (sent during business hours).
Based on my interactions, the support team seems to be doing a great job of answering questions in a timely and professional manner.
You can get in touch with support directly from the TunnelBear website in the members area.

There is no option for live chat support, but that does not seem to be too concerning as the email support was very responsive. Additionally, it appears that TunnelBear handles all support with in-house professionals (no third-party support in the Philippines).
TunnelBear review conclusion
TunnelBear is a growing VPN service that offers user-friendly applications, good support, and decent performance throughout the VPN server network. I found the Windows and Mac OS applications to perform well in testing without any leaks or problems to report.
The bear theme feels be a bit overdone, but the underlying VPN seems to be a solid choice at a very reasonable price. For advanced users that want to use a VPN on routers and also with Linux, there are probably some better options worth considering. However, if you want a simple and user-friendly VPN application, TunnelBear would be a good choice.
---
Alternatives to TunnelBear VPN: