VPNs are becoming the must-have tool for both UK residents and expats abroad.
There are many reasons for this upward trend in VPN usage:
People in the UK who want more privacy (now that internet providers are snooping your data)
UK expats who want access to BBC iPlayer, Netflix, and other UK media
Anyone who wants more security when connecting to public WiFi hotspots
Access to blocked or restricted websites (there are many websites currently blocked or restricted in the UK)
But how do you find the best VPN for the UK amongst a vast sea of mediocre VPN providers?
This guide ranks the best VPNs for the UK (and UK expats) based on the following criteria:
Located in a good privacy jurisdiction (outside of 5/9/14 Eyes countries) to keep user data safe
Passed all tests with no leaks found whatsoever (no IP address leaks or DNS leaks)
Good performance throughout the server network (speed and reliability)
High-quality VPN apps with all features working correctly
Supports the OpenVPN protocol and strong encryption standards
Offers a money-back guarantee (between 7 and 30 days)
Trustworthy and well-established VPN provider with a good track record
So without further delay, let's examine the results.
Here are the best VPNs for the UK:
1. ExpressVPN – Best all-around VPN for UK
At the top of our list, holding the title of Best VPN for the UK, we have ExpressVPN. ExpressVPN is based in the British Virgin Islands, which is an excellent offshore privacy jurisdiction (not under UK influence). It is a verified no logs VPN service with an excellent track record going back many years.
ExpressVPN offers very secure VPN apps, which encrypt traffic using 256-bit AES encryption. Traffic is further secured against any leaks with the Network Lock feature, which prevents IP address leaks and DNS leaks. ExpressVPN operates a large network of high-bandwidth servers throughout the world, with secure self-hosted DNS.
If you enjoy streaming or torrenting, ExpressVPN is also one of the top choices. It currently ranks as the best VPN for Netflix, providing 24/7 access to all major Netflix regions with excellent speeds for HD streams. ExpressVPN also works well with other streaming services, such as BBC iPlayer, Hulu, and more.
ExpressVPN UK server locations
Berkshire
Docklands
East London
Kent
London
Wembley
ExpressVPN Coupon
Sign up for the 12 month plan, and get 3 months FREE (49% Off)
Get 49% Off ExpressVPN
(Discount is applied automatically.)
… or read the ExpressVPN review for detailed test results.
---
2. NordVPN – Low-priced UK VPN service
NordVPN is another great all-around VPN for the UK that is popular with many users. It's based in Panama (a great privacy jurisdiction) and is a verified no logs VPN provider with a good track record. It performed well for the NordVPN review without any leaks or problems identified.
For features, NordVPN offers double-hop VPN servers, Tor-over-VPN servers, strong leak protection settings, and an ad-blocking feature called CyberSec. The NordVPN apps are simple and user-friendly, while also boasting some great privacy features and settings. NordVPN also has a large lineup of obfuscated servers, making it a good choice for those who need a good VPN for China.
NordVPN is also one of the best value VPNs in the industry, currently offering a 75% discount, which drops the price to only $2.99/month. All plans come with a 30 day money-back guarantee as well as 24/7 live chat customer support.
NordVPN UK server locations
NordVPN 75% Off Coupon
Get 75% off NordVPN (drops the price down to only $2.99 per month)
Get 75% Off NordVPN
(Discount is applied automatically.)
… or read the NordVPN review for detailed test results.
---
3. VPNArea – Fast and reliable VPN for the UK
Another excellent VPN for the UK is VPNArea, which is based in Bulgaria. VPNArea has a great track record, going back to 2012, and is a no logs VPN service that does well in terms of privacy and security. The VPNArea apps are secure and the server network provides excellent performance, as I found in the VPNArea review.
VPNArea is also a great VPN for Netflix with dedicated Netflix server hubs that provide 24/7 access. It also supports BBC iPlayer, Sky Go, and other streaming services. If you want access to all UK media outlets, VPNArea is another great option, while still being excellent for privacy and security.
In terms of price, VPNArea also does quite well, with the discounted annual plan coming in at $2.99 per month. All plans come with a full 30 day money-back guarantee and they also provide 24/7 live chat support.
VPNArea UK server locations
London
Manchester
Coventry
Scotland
… or read the VPNArea review for detailed test results.
---
4. Perfect Privacy – Maximum security VPN for the UK
Another great option is Perfect Privacy. Perfect Privacy is a Switzerland-based, no logs VPN service that gives users an unlimited number of connections. While it is on the higher end of the price scale, Perfect Privacy offers some very advanced privacy and security features. These include multi-hop VPN functionality, advanced leak protection, full IPv6 support, and a powerful TrackStop feature that blocks advertising, malware, and phishing domains.
While Perfect Privacy's server network is not as large as with ExpressVPN or NordVPN, all of their servers are dedicated with high-bandwidth data channels. There are many locations throughout Europe, with a handful in North America and other regions. You can see real-time server bandwidth stats here.
Perfect Privacy offers dedicated VPN apps for Windows, Mac OS, Linux, and support for mobile devices and routers. While it is an expensive VPN service, it is one of the best you'll find for achieving the highest levels of anonymity and security.
If you are a UK expat who wants a VPN to stream UK media, Perfect privacy would not be the best choice since it's more of a privacy and security-focused service. (ExpressVPN or NordVPN are better alternatives for streaming.)
Perfect Privacy UK server locations
London (two dedicated high-bandwidth servers)
Nottingham
… or read the Perfect Privacy review for detailed test results.
---
5. VPN.ac – An affordable, security-focused VPN
Last up is VPN.ac, another great VPN for the UK, or anywhere else you may be located. VPN.ac is based in Romania, a favorable privacy jurisdiction, and it is run by a team of network security professionals. It is a fast, secure, and full-featured VPN with apps for all major operating systems and devices.
Similar to Perfect Privacy, VPN.ac runs only dedicated bare-metal servers, with high-bandwidth data channels. This provides great speeds, as I verified in the VPN.ac review. For features, VPN.ac offers double-hop VPN servers, numerous encryption options, leak protection, and secure proxy browser extensions for Firefox, Chrome, and Opera.
VPN.ac is well-priced at $3.75/month when you sign up for the two-year plan. All subscriptions come with a 7 day money-back guarantee, and they also offer a discounted one-week trial (see the FAQ page).
VPN.ac UK server locations
London (four dedicated servers)
Coventry
Manchester
Portsmouth
… or read the VPN.ac review for detailed test results.
---
What about VPNs based in the UK?
As a general rule of thumb, I do not recommend VPNs that are legally based in the UK.
The reason for this is because the UK is a very unfavorable jurisdiction for privacy, especially for companies that handle private data. Authorities in the UK have enormous power to coerce companies to collect and hand over customer data, which was greatly expanded with the Investigatory Powers Act. This means that a UK VPN service could be forced to log customer data, while also being prohibited from disclosing this to their users.
The UK is also an official member of the Five Eyes alliance, along with the US, Australia, Canada, and New Zealand. As a member, data collected by UK authorities is also available to the other Five Eyes member countries.
The risk of UK VPN providers logging customer data and handing it over to authorities is very real and should not be taken lightly. One noteworthy example of this was with HideMyAss (HMA), a VPN based in the UK that provided data logs to US authorities for a criminal investigation:
It appears that the FBI traced a hack into Sony back to an IP address owned by HMA and promptly got a UK court order, demanding logs from HMA an incident HMA dubbed the "LulzSec Fiasco" in a post on their blog on September 23rd, 2011.
The UK VPN provider HideMyAss eventually admitted to providing connection logs to authorities, which resulted in the criminal conviction of its users for hacking Sony Pictures.
When selecting the best VPN for the UK, jurisdiction is an important consideration. All of the providers in this guide are located in safe overseas jurisdictions with strong privacy protections in place.
Why use a VPN for the UK?
There are many reasons to use a VPN for the UK. Here are just three we will cover:
Privacy concerns and internet provider snooping
Accessing UK media (BBC iPlayer and UK Netflix)
Blocked websites
Torrenting, filesharing, and Kodi streaming
1. Privacy concerns and internet provider snooping
Leaked documents about the PRISM program in the United States illustrate the degree to which corporate and government agencies work closely together to monitor, track, and record your online activities. This alarming development is also unfolding in the UK.

In November 2016, the Investigatory Powers Act (also called the Snooper's Charter) officially became law in the UK. This bill massively expanded both monitoring and data collection of all UK residents, as well as persons of interest abroad (such as UK expats):
Internet Service Providers (ISPs) and phone companies are now required to record every website you visit and how long you were on the website over a period of 12 months, and provide that information to various agencies. (This information will be stored in a giant centralized database with everything under your name.)
Legalizes bulk data collection of all personal communications (phone/text and internet)
Legalizes real-time monitoring of everyone inside the UK, as well as large populations of people outside the UK.
Requires tech companies to record data from apps and devices, such as iMessage and WhatsApp.
Allows the government to force tech companies to hack into their customer's devices (phones, computers, tablets) to steal private information.
Allows for the targeted hacking of individuals, technology infrastructure, or even entire towns – if deemed necessary by UK officials.
Just like in the UK, Australia also ushered in massive data retention laws, which is discussed more in the best VPNs for Australia guide. This is a Western-wide trend we see progressing.
Most people assume they have some degree of anonymity when they are online. As you can see above, this assumption is false. Anyone in the UK who is not using a VPN is putting themselves at risk.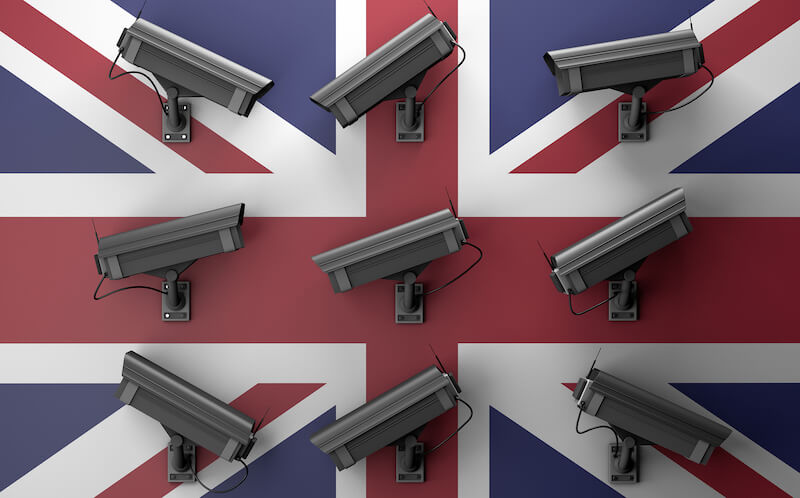 Even more alarming is a newer law making it illegal to view any "terrorist propaganda" online. What exactly qualifies as "terrorist propaganda" is anyone's guess. This legislation is truly frightening when you consider that punishments for visiting the wrong site – even just once – can include up to 15 years in jail.
While these trends are concerning, we also see the same unfolding in Australia as well as the United States. I highlighted the worst policies when discussing VPNs for USA and the growing need for data privacy.
2. Accessing UK Media, BBC iPlayer, UK Netflix, and more
Many UK expats and residents abroad are looking for a safe and reliable way to access UK media. This is especially true for watching the BBC iPlayer and UK Netflix.
A VPN is the best way to unblock UK media because it will allow provide you with a UK IP address, thereby making you appear to be in the UK. Simply connect to a VPN server in the UK (from anywhere in the world) and then stream any UK media you want as normal.
As mentioned above, the best VPN for streaming UK media is ExpressVPN. Another good option for streaming UK media is NordVPN, although it doesn't offer the speeds of ExpressVPN.
Of course, be careful with free VPN services, free proxies, and dodgy browser extensions, which usually function as insecure data collection tools. (This is how the free services pay for themselves, by collecting your private data and selling it to third parties.)
3. Blocked websites in the UK
There are now over 700,000 websites being actively blocked in the UK.
What types of websites are getting blocked? There are many different website categories getting blocked: torrenting, streaming, sports, adult content, music, videos, and more.
How are websites in the UK getting blocked?
These website blocks in the UK are being carried out by UK internet providers. To block websites, UK internet providers simply block the DNS request, which is the translation request your computer sends to your internet provider to look up the specific IP address of a website you want to visit. Here are the most popular UK internet providers that are blocking websites:
BT Internet: 9+ million users
Sky Broadband: 6+ million users
Virgin Media: 5+ million users
TalkTalk: 4+ million users
Additionally, there are also now age verification filters in place, which exposes your identity and the sites you visit to third parties. This is yet another reason to use a good VPN service if you are in the UK.
The growing problem of blocked websites is also unfolding in Canada, as I pointed out when discussing the best VPNs for Canada.
Solution: When you use a VPN service, however, your DNS requests are processed by your VPN provider and all your traffic is encrypted and anonymized with other users on that server. Not only will your UK internet provider not be able to block any website you're visiting, but it also won't be able to see anything you're up to online.
A VPN encrypts internet traffic and data, which makes it unreadable to your internet provider and other third parties.
4. Torrenting, file sharing, and Kodi in the UK
As we explained in the best VPN for torrenting guide, the punishments for copyright violations are getting downright absurd. These include massive fines and jail time for simply downloading, sharing, or torrenting copyrighted media. While some torrent clients offer encryption options, this will not keep you safe as your IP address can be exposed, especially with media companies actively monitoring torrent swarms and logging data.
Under the current law, people in the UK who are found guilty of pirating copyrighted material could face up to 10 years in jail.
The UK government is also cracking down on illegal streaming sites and streaming platforms, such as Kodi. Because television programs are big business for media companies and advertisers, unauthorized third-party streams fall under the copyright infringement laws (discussed more in the best VPN for Kodi guide). This means that even if you don't download anything, you can still face the heavy consequences of copyright infringement for accessing third-party streams.
While there may be a small performance tradeoff when using a VPN (due to encryption) a premium VPN service will still provide excellent speeds for torrenting, streaming, and any other online activity.
Are VPNs legal in the UK?
Perhaps you are thinking, "Sounds good, but are VPNs legal in the UK?"
The answer to that question is yes. VPNs are perfectly legal in the UK, and all Western countries, for that matter.
In fact, VPNs are legal and necessary encryption technology that most businesses use for network security. Additionally, companies with remote workers also rely on VPN technology to securely access internal servers. Even in China, where VPNs are regularly blocked (for censorship reasons), VPN technology is still perfectly legal for all users.
In short, there's nothing to worry about when using a VPN for the UK, especially since VPN services are becoming mainstream for all types of users. Unlike Tor, VPNs no longer come with any "stigma" of shady business, since they are now standard for streamers, torrenters, and average users who simply want more privacy and security online. Just be sure to pick a secure, fast, and reputable provider.
Get a UK IP address with a VPN
If you are a UK expat living abroad, or just someone who wants to access British streaming platforms, then a VPN is the ticket you need. Here's how to access UK streaming platforms like the BBC from anywhere in the world.
To watch your favorite British streaming platforms you'll need a UK IP address. To get a UK IP address from anywhere in the world, follow these steps:
Purchase one of the VPNs in this guide
Download and install the VPN software on your device
Connect to a UK VPN server
Access the British streaming site like normal and enjoy your show
Unfortunately, some VPNs are getting detected and blocked by British media sites like the BBC. On a positive note, there are some great VPNs that are still getting through to BBC iPlayer, UK Netflix, and other regional streams. For accessing all of these streams and more, your best bet would be ExpressVPN, NordVPN, or perhaps VPNArea.
Best VPN services for the UK
As a brief recap, be careful when selecting your VPN, especially since there have been cases where UK VPN services (such as HideMyAss) provided logs to authorities.
Based on the latest test results and in-depth analysis, below are the best VPNs for the UK in 2019, which all meet the following criteria:
Located in a good privacy jurisdiction (outside of 5/9/14 Eyes countries) to keep user data safe
Passed all tests with no leaks found whatsoever (no IP address leaks or DNS leaks)
Good performance throughout the server network (speed and reliability)
High-quality VPN apps with all features working correctly
Supports the OpenVPN protocol and strong encryption standards
Offers a money-back guarantee (between 7 and 30 days)
Trustworthy and well-established VPN provider with a good track record
---
---
---
---
---
---
---