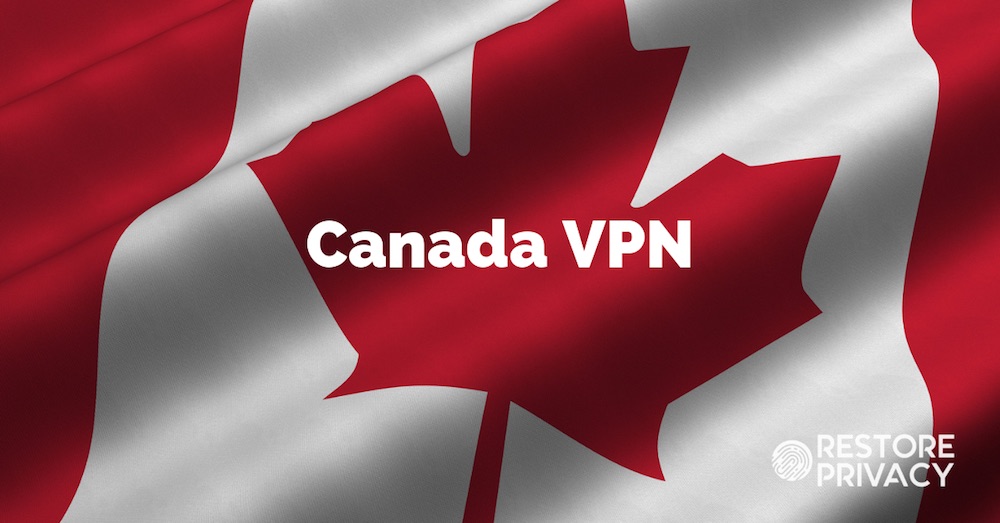 With a growing number of Canadians frustrated over content restrictions and the erosion of online privacy, many are now looking for a good VPN. But with all the VPNs on the market, how do you find the best VPN for Canada while also knowing which to avoid?
In this Canada VPN guide we'll show you which VPNs made the cut with excellent speeds, secure apps, and reliable connections – as well as a few you should avoid…
Alarming trends propel VPN usage in Canada
In the past few years, Canada has passed a number of laws that infringe on Canadians' right to online privacy. These trends are fueling the widespread adoption of VPNs in Canada:
Bill C-11 (Copyright Modernization Act) – This requires search engines and internet providers to retain logs of user activity in order to enforce copyright violation claims, such as with songs or movies.
Bill C-51 (Antiterrorism Act 2015) – This gave the CSIS (Canadian Security Intelligence Service) broad authority to hack and wiretap any device that connects to the internet.
Protecting Canadians from Online Crime Act – Also known as "lawful access" legislation, this further expands authorities' ability to monitor, track, and record Canadians' online activities.
We'll take a closer examination of each of these below, but now let's look at the best VPN services for Canada.
What is the best VPN for Canada?
The best VPN for Canada is currently ExpressVPN. It leads the pack in terms of performance, security, and reliability with a great lineup of apps for all major devices and operating systems. ExpressVPN is based in the British Virgin Islands and is a verified no logs VPN provider with an excellent track record. They are currently offering a three months free coupon for Restore Privacy readers (visible on checkout page).
The next best VPN for Canada is NordVPN. NordVPN is based in Panama and also has a strong commitment to customer privacy with a no logs policy. NordVPN offers a nice lineup of apps with a number of useful privacy features. It's one of the best budget VPNs with the 75% discount prices currently being offered.
As discussed in the best VPN service report, a VPN must meet all of the following criteria to be recommended here:
Located in a good privacy jurisdiction (outside of 5/9/14 Eyes countries) to keep user data safe
Passed all tests with no leaks found whatsoever (no IP address leaks or DNS leaks)
Good performance throughout the server network (speed and reliability)
High-quality VPN apps with all features working correctly
Supports the OpenVPN protocol and strong encryption standards
Offers a money-back guarantee (between 7 and 30 days)
Trustworthy and well-established VPN provider with a good track record
Now we'll take an in-depth look at the best VPNs for Canada that meet all of the criteria above:
ExpressVPN Canada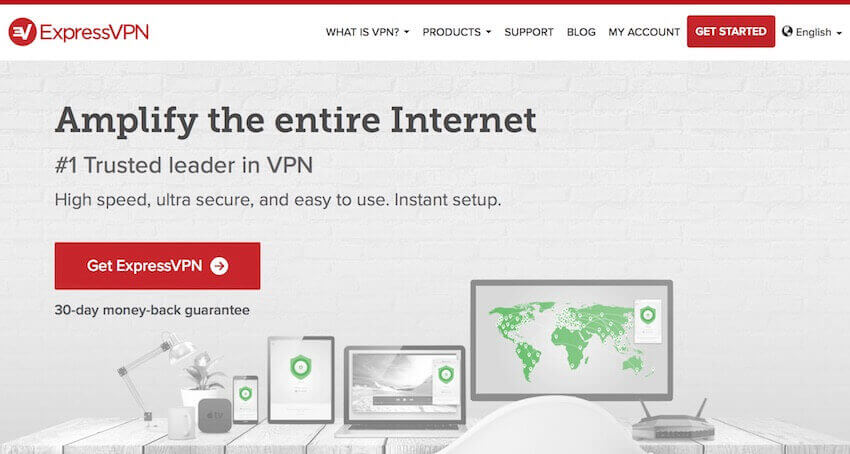 ExpressVPN is currently the #1 best VPN for Canada because it offers the best speeds and excellent security. ExpressVPN's apps include a Network Lock feature (kill switch) that integrates with the operating system firewall to block all non-VPN traffic if the connection drops. Traffic is encrypted via OpenVPN with 256-bit AES encryption, which offers optimal speed along with the highest levels of security.
As I found in my review of ExpressVPN, the server network offers consistently fast speeds with high-bandwidth channels, with all locations tested in Europe, Canada, and the United States. ExpressVPN currently has over 3,000 VPN servers in 94 countries around the world. And while many VPNs are getting blocked with Netflix and other streaming services, ExpressVPN continues to get through and is currently ranked the best VPN for Netflix (with 24/7 access).
ExpressVPN is based in the British Virgin Islands, which is an excellent privacy jurisdiction, outside of Five Eyes surveillance countries. ExpressVPN is also a verified no logs VPN provider, with an excellent track record going back many years. For support, they offer 24/7 live chat and email, as well as a 30 day money-back guarantee with all subscriptions.
ExpressVPN Canada servers
Toronto
Montreal
Vancouver
ExpressVPN Coupon
Sign up for the 12 month plan, and get 3 months FREE (49% Off)
Get 49% Off ExpressVPN
(Discount is applied automatically.)
---
NordVPN Canada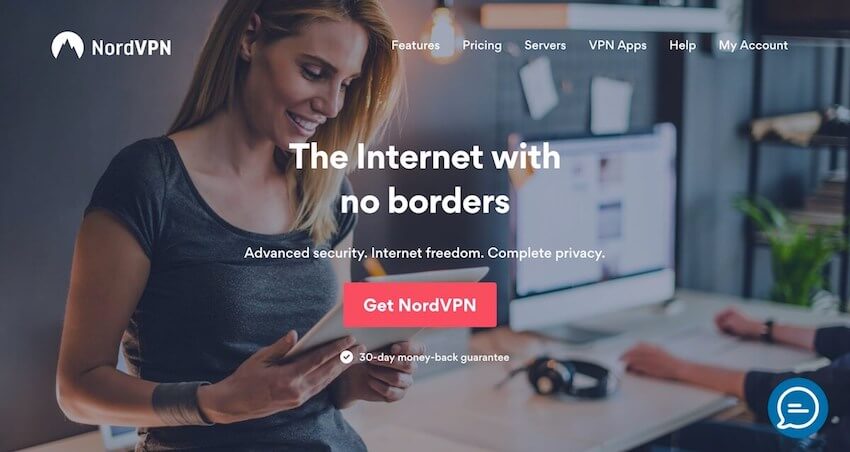 NordVPN is another great VPN for Canada. It is based in Panama and is a well-regarded no logs VPN service with a good track record. NordVPN has apps for all major devices and operating systems. For features, NordVPN offers double-VPN servers, Tor-over-VPN servers, as well as ad blocking and advanced leak protection settings.
While NordVPN doesn't quite offer the performance you'll get with ExpressVPN, it performed well for the NordVPN review with good speeds. NordVPN has over 5,200 servers in 61 countries, as well as different specialty servers for different use cases.
In terms of value and price, NordVPN is one of the best VPNs you'll find. Right now they're offering a 75% discount on the three-year plan, which drops the price down to only $2.99 per month. All NordVPN plans come with a 30 day money-back guarantee, and they also offer 24/7 live chat support.
NordVPN Canada servers
Montreal
Toronto
Vancouver
NordVPN 75% Off Coupon
Get 75% off NordVPN (drops the price down to only $2.99 per month)
Get 75% Off NordVPN
(Discount is applied automatically.)
---
VPNArea Canada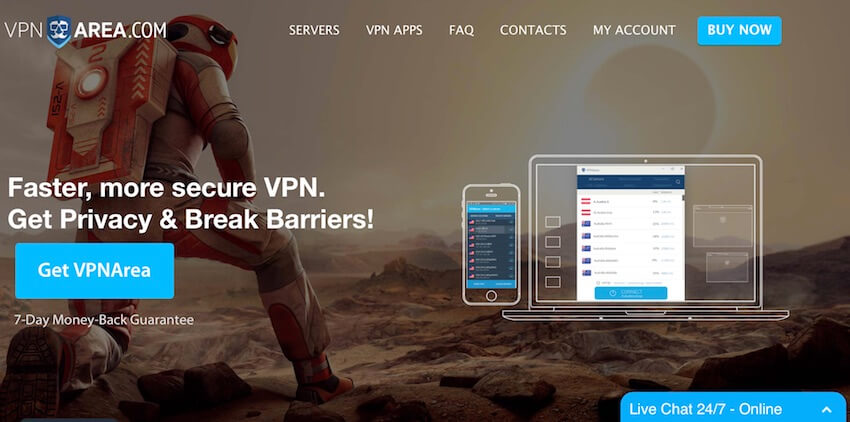 Despite not being a big name in the VPN industry, VPNArea is another great VPN for Canada. It offers very secure apps that utilize 256-bit AES encryption while also offering great performance. VPNArea performed well in testing for the VPNArea review and continues to roll be one of the top-performing VPNs.
In terms of privacy and data security, VPNArea also does quite well. It is based in Bulgaria, another good privacy jurisdiction, and has a zero logs policy and good track record. VPNArea is also a good VPN for Netflix and other services, with dedicated streaming server hubs in different regions.
For price and value, VPNArea is quite competitive, with a three-year plan at only $2.99 per month. All subscriptions come with a 7 day money-back guarantee, along with 24/7 live chat support.
VPNArea Canada servers
Montreal
Toronto
Vancouver
---
VyprVPN Canada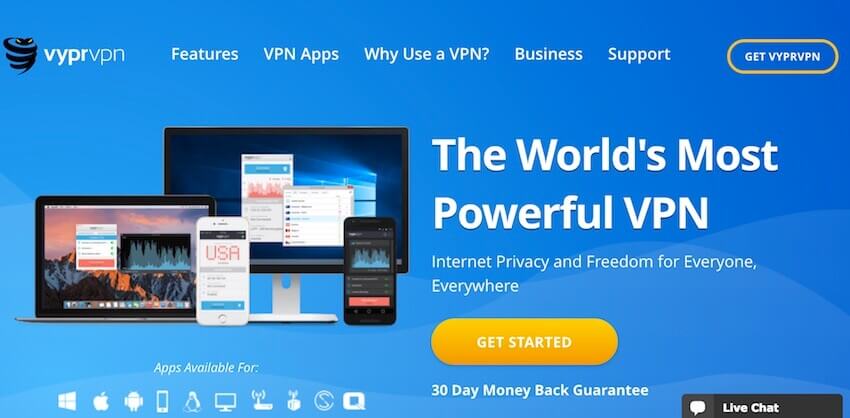 VyprVPN is another great Canada VPN in terms of performance and security. In the past year VyprVPN has transitioned to become a certified no logs VPN provider, with a full third-party verification audit. It is also based in Switzerland, which is one of the best jurisdictions for privacy.
As illustrated in the VyprVPN review, the servers I tested all performed very well with consistent speeds. VyprVPN utilizes the OpenVPN protocol with 256-bit AES encryption. They also offer a self-developed obfuscation protocol (also based on OpenVPN) that will allow users to easily get around VPN blocks. This makes VyprVPN a great choice for places where VPNs are blocked, such as work and school networks, or certain countries (see for example in the VPN for China guide).
One unique feature with VyprVPN is that they own and control 100% of the servers in their VPN network. In other words, they never rent servers from third parties. This provides VyprVPN users with better performance and a higher level of security for their data. Customer support is also great, with 24/7 live chat assistance as well as a 30 day money-back guarantee on all plans.
VyprVPN Canada servers
VyprVPN Coupon
Get 25% Off the Basic or Premium Subscription Plans
Get 25% Off VyprVPN Plans >>
(Coupon is applied automatically on checkout page.)
---
Perfect Privacy Canada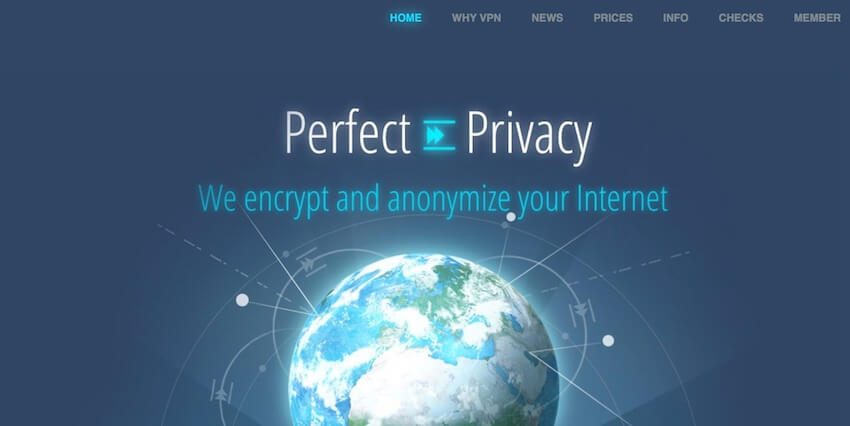 Last, but not least, we have Perfect Privacy. Perfect Privacy is a no logs VPN provider based in Switzerland that offers the highest levels of privacy and security. In terms of features, Perfect Privacy really stands out by offering multi-hop VPN cascades, advanced ad blocking filters, excellent leak protection, and dedicated high-speed servers.
One main drawback is the price, however, at around $10.50 per month. On a positive note, you get an unlimited number of device connections, which can be useful for power users. Perfect Privacy also may not work well with streaming services, such as Netflix, because it is more of a privacy and security-focused VPN.
While Perfect Privacy does have very high standards for its VPN server network, it's also somewhat limited on server locations, especially when compared to some of the other big players like ExpressVPN and NordVPN. Nonetheless, with high-capacity bandwidth channels, you should still get good speeds no matter where you are located.
Perfect Privacy Canada servers
---
What about Canadian VPNs?
You may have noticed that there are no Canadian VPN services (VPNs based in Canada) recommended above. The reason for that is simple: Canada is not a very good jurisdiction for privacy. Like the United States, Canada has passed many laws that infringe on peoples' right to privacy, which we'll cover more below.
Additionally, Canada is also a member of the Five Eyes surveillance alliance. This means that the Canadian government cooperates with the US, UK, Australia, and other governments to collect and share mass surveillance data. And speaking of Australia, VPN usage there is also growing, thanks to mandatory data retention laws and the loss of privacy (see the VPN for Australia guide).
While there's certainly nothing wrong with Canada, it would be wise to pick a VPN that's located in a better jurisdiction.
17 VPNs to avoid for Canada
Now that we've covered some of the best VPN services for Canada, we'll quickly go over a few VPNs you may want to avoid for various reasons.
Canadian VPNs
Aside from the concerns about privacy in Canada, the Canadian VPNs I have tested also had some drawbacks:
Windscribe: Mediocre speeds, connection logs
TunnelBear: Mediocre speeds, owned by a US cybersecurity company
Other VPNs that I do not recommend:
There are many new, shady VPNs coming online, as well as numerous VPN scams to watch out for. Proceed with caution, especially if the VPN is free or suspiciously cheap.
Why use a VPN for Canada?
There are numerous reasons to use a VPN for Canada. Here is a brief overview explaining why more Canadians than ever are using VPN services:
1. Surveillance concerns
Mass surveillance is more of a problem today in Canada than ever before. Bills such as the Antiterrorism Act of 2015 (Bill C-51) gave Canadian government agencies broad authority to snoop and record your online activities. Canada's neighbor to the south, the United States, may also be collecting data on Canadian expats and passing this on to their surveillance partners (discussed more in the VPN for USA guide).
2. Internet providers recording your activities
Aside from government agencies, internet providers are also snooping on Canadians' online activities. This is very easy to do by simply recording DNS requests, which reveal all the websites you visit and are sent to your internet provider in cleartext. When you use a VPN, however, the VPN servers will handle all DNS requests and they will be encrypted (hidden) from third parties.
Fortunately, full ISP surveillance is not yet the norm in Canada. In the UK, internet providers are forced to record all web browsing of their users and pass this data on to the government (see the UK VPN guide for more info).
3. Copyright violation laws
Canada is also home to harsh copyright violation laws. Thanks to the Copyright Modernization Act (Bill C-11), internet providers and search engines must record your activity. If you are suspected of infringing on any copyright, such as downloading music or movies, you can be hit with fines in the thousands of dollars. Time to get the best VPN for torrenting and keep your activity concealed.
4. Access geo-restricted media and websites
Another reason for people in Canada to use a good VPN is for accessing geo-restricted media and websites. For example, UK expats living in Canada may want to watch BBC, which blocks anyone who does not have a UK IP address. With a VPN, someone in Vancouver, for example, could connect to a VPN server in London and stream BBC iPlayer till their heart's content.
5. Get a Canada IP address
Lastly, there are also people outside of Canada who may want a Canadian IP address. This is required for anyone who wants to watch Canadian channels and media.
Are VPNs legal in Canada?
Yes. VPNs are perfectly legal and are used by people in Canada every day for privacy, security, and online freedom.
In fact, Canadian businesses use VPNs every day for data security, especially with remote workers or traveling employees. Even in places like China, VPNs are still legal for everyday use and achieving more online privacy and security.
From Canada to Europe and Australia, VPNs are quickly becoming popular as more people choose to restore their privacy with good VPN services and other privacy tools. In short, you don't have anything to worry about when using a good, trustworthy VPN, whether you're located in Canada or anywhere else.
How to get the best VPN speeds for Canada
The main tip for getting the best VPN speeds for Canada is to connect to a nearby server in your geographical region. For each of the Canada VPN services above, I also provided all of the server locations in Canada. If you are in Canada, connecting to one of these locations, or a nearby VPN server in the US, will offer the best performance.
For high-performance VPN services, such as ExpressVPN, speeds should be excellent with nearly all servers, whether you are connecting to one in Europe or North America. As a general rule of thumb though, you should expect some speed tradeoff for long-distance connections, such as connecting to servers in Australia from Canada.
WARNING: A VPN will not help if you have speed problems from your internet provider.
I have seen numerous complaints from people about Rogers, Bell, and other Canadian internet providers. Issues range from speed problems to connectivity.
If you are having speed issues, you may want to first verify the problem does not reside with your internet provider. (See the VPN test guide for speed testing websites.)
Privacy dead in Canada? Use a VPN
Is privacy officially dead in Canada?
Regardless of how you answer the question, the time to use a VPN is now.
As we pointed out in the introduction to this guide, there are a number of alarming laws that require or authorize surveillance, tracking, and/or some form of online snooping:
Bill C-11 (Copyright Modernization Act) – Passed in September 2011, the Copyright Modernization Act basically forces data collection by internet providers and search engines to enforce copyright claims. In other words, it forces you to sacrifice your online privacy so large digital media companies can go after someone for downloading music or videos.
Bill C-51 (Antiterrorism Act 2015) – The Antiterrorism Act of 2015 is also alarming. It provides Canadian authorities with sweeping authority to hack, record, and monitor practically any device that uses the internet in Canada. Of course, the issue of sacrificing privacy to combat "terrorism" is a worldwide trend and is not limited to Canada.
Protecting Canadians from Online Crime Act – This is the "lawful access" legislation that was passed in December 2014. While the legislation was proposed to theoretically protect people from "cyberbullying", it included many other provisions unrelated to its original intent. This bill broadly expanded the ability of authorities to access online data, phone records, and digital tracking with only a "reasonable grounds for suspicion."
People in Canada today can now be snooped and surveilled by internet providers, telephone companies, and a broad assortment of government agencies – and it's all perfectly legal.
The best and most effective solution to these problems is to start using a VPN right now. This will encrypt and anonymize your online activity, thereby making it unreadable to third parties.
Conclusion: Best VPNs for Canada in 2019
While Canada remains a great country with friendly people, it is also a place where online privacy continues to deteriorate.
Using a VPN for Canada will help you to restore your privacy, secure your data, and access any content you want from around the world, wherever you are located.
Here are the best VPN services for Canada that performed well in the latest round of testing and meet all of our criteria:
---
---
---
---
---
---
---