With the continual erosion of online privacy, more Americans than ever are looking to get the best VPN for USA to stay safe online.
Since March 2017, American internet providers have been legally allowed to record every website you visit. This information can then be sold to third parties, such as advertisers. Because your browsing history can reveal intimate and personal details, this is not only a huge privacy violation, it also puts you at risk.
Another reason to use a good VPN for USA is that public WiFi is a popular target for hackers. Using a VPN will encrypt and secure your connection, while also keeping your data safe. A VPN is also a great tool for unblocking websites and gaining access to geo-restricted content (such as American Netflix if you're living abroad).
VPN services continue to grow in popularity among Americans, US expats, and others throughout the world.
All of the VPNs for the US in this guide meet the following criteria:
Located in a good privacy jurisdiction (outside of 5/9/14 Eyes countries) to keep user data safe
Passed all tests with no leaks found whatsoever (no IP address leaks or DNS leaks)
Good performance throughout the server network (speed and reliability)
High-quality VPN apps with all features working correctly
Supports the OpenVPN protocol and strong encryption standards
Offers a money-back guarantee (between 7 and 30 days)
Trustworthy and well-established VPN provider with a good track record
When applying this criteria, very few VPNs make the cut to be recommended.
Here are the best VPN services for USA:
1. ExpressVPN – Best all-around VPN for USA
ExpressVPN still holds the top spot as the best VPN for USA. It is consistently among the fastest VPNs I've tested and it did well in all tests for the ExpressVPN review. ExpressVPN is based in the British Virgin Islands (an excellent privacy jurisdiction) and it is a verified no logs VPN provider.
In terms of security, ExpressVPN does very well. The ExpressVPN apps utilize 256-bit AES encryption and the OpenVPN protocol by default. Data is further secured with the "Network Lock" kill switch feature, which blocks all traffic at the network level if the VPN connection drops. This ensures no IP address leaks or DNS leaks under any circumstances, as I personally tested and verified.
Aside from security and privacy features, ExpressVPN is also one of the top choices for streaming. It provides 24/7 access to Netflix (and is currently the best VPN for Netflix) as well as BBC iPlayer, Amazon, and more. With the secure apps and high-performance server network, it is also an excellent choice if you need a safe VPN for torrenting. Check out the coupon below for maximum savings.
ExpressVPN US server locations
ExpressVPN currently has 20 different server locations in major cities through the United States. In some locations, such as Los Angeles and New York, they have multiple servers available. If you are in the US, connecting to one of these nearby servers will give you the best performance. You can see all server locations on the ExpressVPN website.
ExpressVPN Coupon 2019
Sign up for the 12 month plan, and get 3 months FREE (49% Off)
Get Three Months Free + 49% Off ExpressVPN >>
(Discount is applied automatically through the link above.)
… or read the ExpressVPN review for detailed test results.
---
2. NordVPN – Cheap and reliable VPN for USA
NordVPN is the runner-up as the best VPN for USA. It performed well in testing for the NordVPN review with good speeds, secure apps, and some great privacy features. NordVPN is based in Panama, a good offshore jurisdiction, and it is also a verified no logs VPN.
For privacy and security features, NordVPN offers double-VPN servers, Tor-over-VPN servers, an ad-blocking feature called CyberSec, and browser proxy extensions. NordVPN is also a great VPN for Netflix, with 24/7 access to many different Netflix regions, as well as other streaming services.
For the price, NordVPN is tough to beat. With their current three-year deal, you pay only $3.49 per month and get six simultaneous connections. NordVPN's customer service is also top-notch with 24/7 live chat support. All plans come with a 30 day money-back guarantee. Overall, NordVPN remains one of the best values available among low-cost VPN services.
NordVPN US server locations
NordVPN currently has 19 US server locations with a good geographic distribution. You can see the exact US VPN server locations on the NordVPN website.
NordVPN Official 70% Off Coupon
Get 70% off NordVPN (drops the price down to $3.49 per month)
70% Off NordVPN >>
(Discount is applied automatically through the link above.)
… or read the NordVPN review for detailed test results.
---
3. Perfect Privacy VPN for USA
Next up is Perfect Privacy, another great VPN for USA. Perfect Privacy is a high-end VPN service based in Switzerland that focuses on advanced privacy and security features. These include multi-hop VPN functionality, full IPv6 support, port forwarding, proxy support, obfuscation features, and a TrackStop feature to blocks ads, tracking, and malware domains. The TrackStop feature is very useful as it performs better than browser-based ad blockers (faster and less resource-intensive).
Perfect Privacy is a bit limited on servers in the US compared to other VPNs like NordVPN and ExpressVPN. Nonetheless, I found performance with all of their servers to be excellent in the Perfect Privacy review. If you want a high-end VPN with advanced privacy features, Perfect Privacy is worth the higher price. They also provide you with an unlimited number of device connections.
Perfect Privacy US server locations
Perfect Privacy currently has five high-bandwidth servers in the United States. Here are the US VPN server locations:
Chicago
Dallas
Los Angeles
Miami
New York
… or read the Perfect Privacy review for detailed test results.
---
4. VPN.ac for USA
Another great VPN service for the United States is VPN.ac. VPN.ac is based in Romania and is run by a team of network security professionals. They provide very high-quality applications with numerous encryption options and privacy features. Like NordVPN, VPN.ac offers double-VPN servers and proxy browser extensions.
Despite being a smaller service, VPN.ac has a good server network throughout the world, including the United States (locations below). Their VPN network is composed entirely of dedicated bare-metal servers that provide great performance and security. For a lower-priced VPN service (at only $3.75 per month), VPN.ac is a great value with many features and solid performance.
Support is handled in-house via email (no chat), but I've found them to be quite responsive.
VPN.ac US server locations
VPN.ac currently offers 14 different US VPN server locations. For a smaller VPN service that uses only dedicated, bare-metal servers, this is a great lineup. See the exact US VPN server locations on the VPN.ac website (click Nodes Status at the top of the page).
… or read the VPN.ac review for detailed test results.
---
5. VPNArea for USA
Last up we have VPNArea, another sold VPN for the US, even though it's not a well-known provider. VPNArea is based in Bulgaria and is a no logs VPN with a good track record. It has been operating since 2012 and provides secure and reliable VPN apps for all major operating systems and devices. The performance was also good in testing everything out for the VPNArea review.
For features, VPNArea offers DNS ad-blocking, leak protection settings, double-VPN servers, and dedicated servers for Netflix streaming, BBC iPlayer, and torrenting. Their customer support is also great with 24/7 live chat assistance and a 30 day money-back guarantee on subscriptions.
VPNArea US server locations
VPNArea offers nine US VPN server locations, which you can verify on their website. Additionally, VPNArea provides regional Netflix server hubs in the US and UK.
… or read the VPNArea review for detailed test results.
---
Why use a VPN for USA?
Perhaps you are wondering why it would be a good idea to use a VPN for USA?
Here are a few reasons we'll cover in detail below:
Data collection and privacy concerns
Corporate surveillance and data sharing
ISP spying
Torrenting, file sharing, and streaming
Data collection and privacy concerns in the United States
Many people in the United States are concerned about privacy.
This really started in 2013 after the Snowden revelations, but has further increased over the past few years.
Perhaps the most notorious surveillance entity is the National Security Agency, or NSA for short. The NSA is arguably the most powerful surveillance agency in the world. Below is the NSA headquarters in Maryland.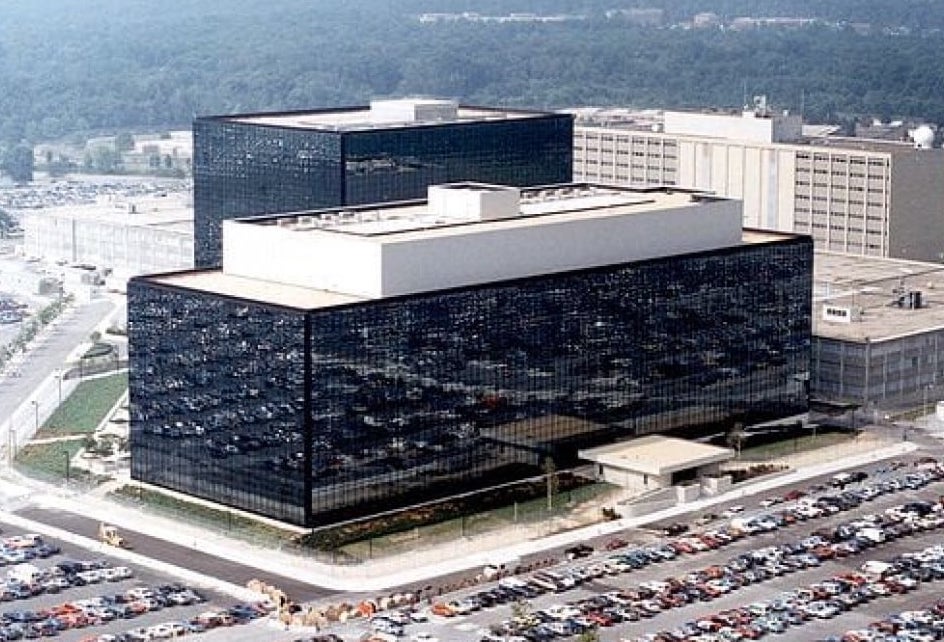 How extensive is the NSA's surveillance program and what's going on behind closed doors?
While there's no way to be certain what's going on at the NSA, there have been a few NSA whistleblowers who have sounded the alarm:
William Binney – William Binney was a high-ranking official within the NSA when he began voicing concerns and eventually speaking out about the NSA's warrantless surveillance programs. Binney claimed that the NSA "collects and stores information about every U.S. communication."
Edward Snowden – Edward Snowden is a former NSA contractor-turned-whistleblower who rose to fame in 2013. The Snowden revelations depicted the vast global surveillance network run between different governments (see 5/9/14 Eyes). Snowden also revealed that many private US tech companies are working to assist with these data collection efforts, as we'll discuss more below.
Given all of the available information, it's clear that online privacy is a growing concern for Americans.
While it's difficult to determine the extent of the NSA's powers, using a good VPN with strong encryption, along with other privacy tools, will go a long way to giving you more privacy and security online. For higher levels of online anonymity, you can also use multi-hop VPN services or even "chain" different VPNs together for more encryption using Linux virtual machines.
Note: These same mass surveillance trends are also being rolled out abroad. This is especially true for the United Kingdom, as we discussed with VPNs for the UK.
Corporate surveillance and data sharing
Another reason that more Americans than ever are using VPN services is to protect themselves from corporate surveillance, or spying/surveillance carried out by private companies. This is another huge issue in the US, where giant tech companies and telecoms have a long history of monitoring, tracking, and recording the digital activities of their customers.
In 2002 a technician at AT&T, named Mark Klein, accidentally uncovered a massive data collection point where the NSA was copying all internet traffic going through the company's network. This became known as the Room 641A scandal:
The room was referred to in internal AT&T documents as the SG3 [Study Group 3] Secure Room. It is fed by fiber optic lines from beam splitters installed in fiber optic trunks carrying Internet backbone traffic and, as analyzed by J. Scott Marcus, a former CTO for GTE and a former adviser to the FCC, has access to all Internet traffic that passes through the building, and therefore "the capability to enable surveillance and analysis of internet content on a massive scale, including both overseas and purely domestic traffic."
As Mark Klein described in this Frontline documentary, "it was a huge dragnet operation" to collect everything. He went public with the information a few years later in 2005.
In some countries, such as Australia, internet providers and telephone companies must also collect user data. As we covered in the VPN for Australia guide, mandatory data retention laws have drastically eroded the privacy of people in Australia. And this is also unfolding in the US…
Internet service provider (ISP) spying
Another concerning privacy issue is how internet service providers (ISPs) in the United States can now monitor and collect private browsing history. If you are reading this article in the United States (and not using a VPN) then your internet provider is likely recording every website you visit via DNS requests. This data can be passed off or sold to third parties.
In March 2017, legislation was passed that drastically changes online privacy in the US. This legislation basically deregulated internet providers while also giving them the authority to collect their customers' private data and sell this to third parties.
Why is this important?
Your browsing activity can reveal very sensitive and personal data about you, which can be damaging if misused. Advertisers, of course, want to collect as much data as possible to hit you with targeted ads and sell you more stuff. This data can also be used to fingerprint your identity and discern health status, private beliefs, social circles, and other intimate details.
With a good VPN for the US, however, your internet provider will not be able to see anything you're doing. All data will be encrypted and unreadable between your computer/device and the VPN server.
ISP blocks and throttling
Unlike parts of Europe, China, and the Middle East, internet censorship is not a huge problem (yet) in the United States. While there have been a few cases of censorship reported, the bigger concern is ISP throttling, which is when you internet provider throttles (restricts) your internet speed. This may occur depending on your activities, such as streaming and torrenting, or simply your bandwidth usage.
Now that net neutrality has basically been abolished in the US, internet providers are free to restrict the freedom of information exchange and charge based on what users are doing online. One simple solution for this is to use a good VPN with obfuscation features. This will encrypt all your traffic (making it unreadable) and conceal your VPN traffic as HTTPs (obfuscation). Should the United States go in this direction, a good VPN with obfuscation will be useful, just like when using a VPN in China.
Torrenting, file sharing, and streaming in the US
Another reason that many people in the US are using VPN services is for torrenting, file sharing, and streaming.
The United States is home to some absurd copyright infringement laws. The Digital Millennium Copyright Act (DMCA) legislation created federal laws that allow:
Fines up to $500,000 and up to five years in jail, or both a fine and jail for a first offense.
Fines up to $1,000,000 and as long as ten years in prison for repeat offenders.
And if you think this is just a silly law on the books that is not getting enforced, think again.

Internet service providers, such as Comcast, AT&T, Verizon, can hand over your data and connection logs to those who accuse you of copyright infringement. This is a huge business with copyright troll attorneys demanding large payments for alleged "damages" on behalf of the copyright holder. We see this also unfolding throughout Europe.
Another consequence of torrenting or file sharing without a VPN is that you could have your internet suspended for repeated DMCA offenses. In the US, internet providers will often send out DMCA notices if your IP address is found to be involved in copyright infringement. Three strikes and you might be booted from your ISP.
Note: The United States' neighbor to the north has also rolled out overzealous copyright laws. Torrenting and file sharing in Canada also carries hefty fines and potential jail sentences, with Canadian internet providers monitoring their users. I discuss these problems and solutions in my guide on VPNs for Canada.
The easy solution is to always use a VPN for torrenting, streaming, and anything else that may be a "grey area" in terms of copyright issues.
Are US-based VPN services safe?
As a general rule of thumb, it's best to exercise caution with VPNs that are located in bad privacy jurisdictions, such as the United States and other Five Eyes countries.
Aside from all of the privacy issues we covered above, the US government also utilizes National Security Letters and gag orders to force companies to hand over customer data, while prohibiting them from disclosure. These enforcement actions could be used against any company based in the United Sates, including VPN providers.
There are various cases of VPNs cooperating with government agencies demanding data. One such case in the US took place with IPVanish, a VPN service based in Texas. As explained in the IPVanish logs case, the FBI compelled IPVanish to provide logs (connection data) for one of their users who was suspected of committing crimes. Despite the initial resistance, court records reveal that IPVanish eventually complied with this data request.
This is one risk when using a US-based VPN service. Nonetheless, jurisdiction is just one consideration and everything depends on your threat model and unique needs. Choosing a VPN provider located in a favorable privacy jurisdiction may provide more data security (and peace of mind).
Are VPNs legal in the United States?
Perhaps you are ready to get a VPN for the US, but you have one lingering question: Are VPNs legal in the United States?
The answer to that is yes. VPNs are perfectly legal in the US and are used by thousands of businesses and private individuals every single day. Businesses routinely use VPN services for network security and with remote workers who need to securely access company servers. VPN technology – and encryption for that matter – could never be banned, simply because it is necessary for data security.
Some people may still be hesitant about VPNs and the perceived "stigma" associated with encryption and privacy tools. While there is a degree of stigma with Tor, VPNs are rapidly becoming mainstream for all different types of users – from people wanting to stream Netflix overseas to regular people who seek more privacy and security online.
VPNs will remain perfectly legal and are continuing to grow in popularity. That being said, be careful when choosing the best VPN for your needs. There are many VPN scams and also free VPNs that collect data for profit.
Best VPN services for the USA
As a brief recap, the table below highlights the best VPN services for the USA, the land of the free and home of the brave.
Despite being great VPNs for the US, none of these VPNs are actually located in the US, but rather in better overseas jurisdictions.
And here are the five best VPN services for the US:
---
---
---
---
---
---
---
This guide was last updated and revised on November 8, 2019.