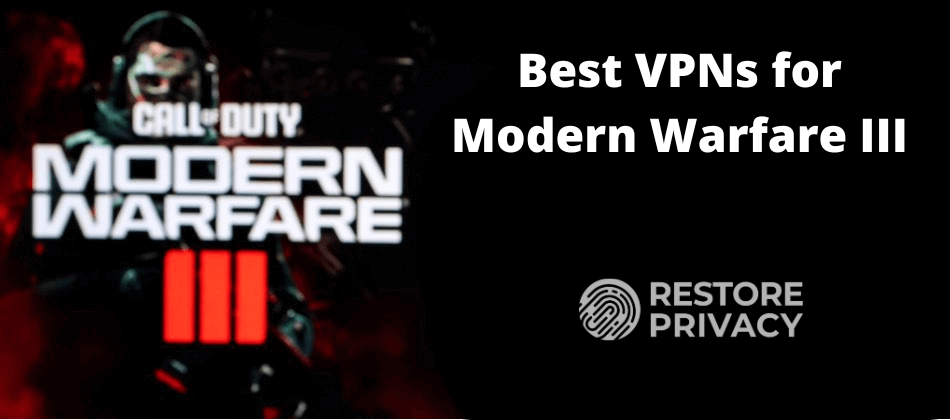 Are you tired of dealing with annoying lag, geo-restrictions, and security concerns while playing Modern Warfare 3? You're not alone! Many players also get frustrated by the game's skill-based matchmaking system (SBBM), as they are looking for a more casual gaming experience.
Using a VPN for CoD can solve these challenges and significantly improve your gaming experience. With it, you can join servers with less skilled players (bot lobbies) and get protection from DDoS attacks, which are becoming increasingly common. Another advantage is enhanced security, as a VPN encrypts your connection and ensures your data remains private.
Most importantly, a VPN for Modern Warfare 3 gives you the ability to bypass geo-restrictions. It allows you to connect to a server in a different location, granting access to regional content and gaming servers that would otherwise be unavailable. This can be particularly useful for accessing exclusive in-game content or joining friends in other countries for a gaming session.
Lastly, using a VPN can help you:
Avoid ISP throttling, as your internet service provider won't be able to monitor your online activities

Ensure a stable internet connection, allowing for smoother gameplay and a more enjoyable experience

Take advantage of native router support and compatibility with gaming consoles, making it easy to set up and use a VPN for Call of Duty Modern Warfare 3.
In this guide, we'll explore the benefits of using a VPN for Call of Duty. We will also do an overview of the top 4 MW3 VPNs that will help you transform your online battles.
Top 4 VPNs for Call of Duty Modern Warfare 3
Getting a premium VPN for Call of Duty is vital if you want to get the best gaming experience. We have found that these four services give the best performance:
These MW3 VPNs offer fast speeds, strong security features, and reliable connections, making them perfect choices for serious gamers. Additionally, they provide double VPN servers that can further improve your privacy and security, while minimally affecting your performance. Let's go through each one.
What to Look for in a VPN for Modern Warfare 3
With hundreds of services on the market, it can be challenging to find the ones that provide great performance. To separate wheat from the chaff, pay attention to the following criteria:
Robust Encryption – Make sure that your VPN has AES encryption, as it is of a military-grade standard and will protect your data from cyberattacks and DDoS attacks that can disrupt your gaming experience.

Leak Protection – If something goes wrong with your VPN, you'll want to make sure that your identity is still not compromised. This is why you need a solid kill switch and DNS, IPV6, and WebRTC protection tools.
No-Logs Policy – No-logs VPN services are crucial to ensure your privacy is protected, and many of our top recommendations have passed third-party audits.
Healthy Server Network – A MW3 VPN must have a global network with as many server locations as possible. This will improve the chances that you get an ideal performance when connected.
Fast Speeds – Advanced protocols like WireGuard and NordLynx will give you an edge by providing instant and blazing connection while also minimizing your ping and latency.
Compatibility – It's best to use a service that is available on as many platforms as possible. If you are playing Call of Duty on a gaming console, you must get a VPN that supports router installation, as they can't be directly installed on Xbox and PlayStation consoles.
Professional Customer Support – In our opinion, every premium service should give you 24/7 access to live chat support, so that you always have someone you can count on for troubleshooting.
Every Call of Duty VPN we will mention has these features, as do all Warzone VPNs.
NordVPN – Premium VPN for Modern Warfare 3
| | |
| --- | --- |
| VPN | NordVPN |
| Based in | Panama |
| Logs | No logs (audited) |
| Price | $2.99/mo. |
| Support | 24/7 live chat |
| Refund | 30 days |
| Website | NordVPN.com |
NordVPN is a premium VPN for Modern Warfare 3 players due to its impressive speeds, extensive server network, and advanced security features. It has 5,800+ servers in 60 countries, so you can use it to play CoD from anywhere. These servers are very fast and will give you minimum ping and latency.
NordVPN also has obfuscated servers, which disguises your traffic and prevent your ISP from detecting that you are using a VPN. This is particularly useful if you're trying to avoid speed throttling or surveillance from your internet provider. It's also great if you need a VPN for China, Russia, or the UAE (places that block VPNs).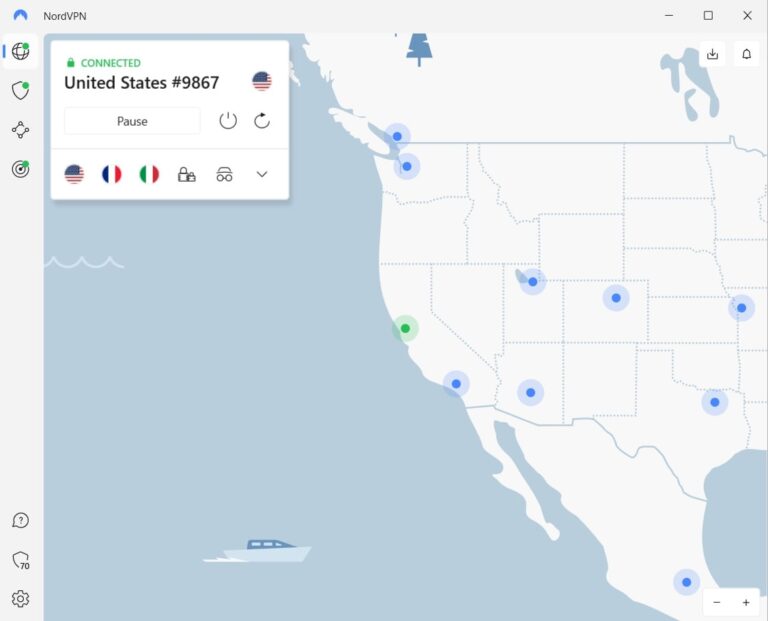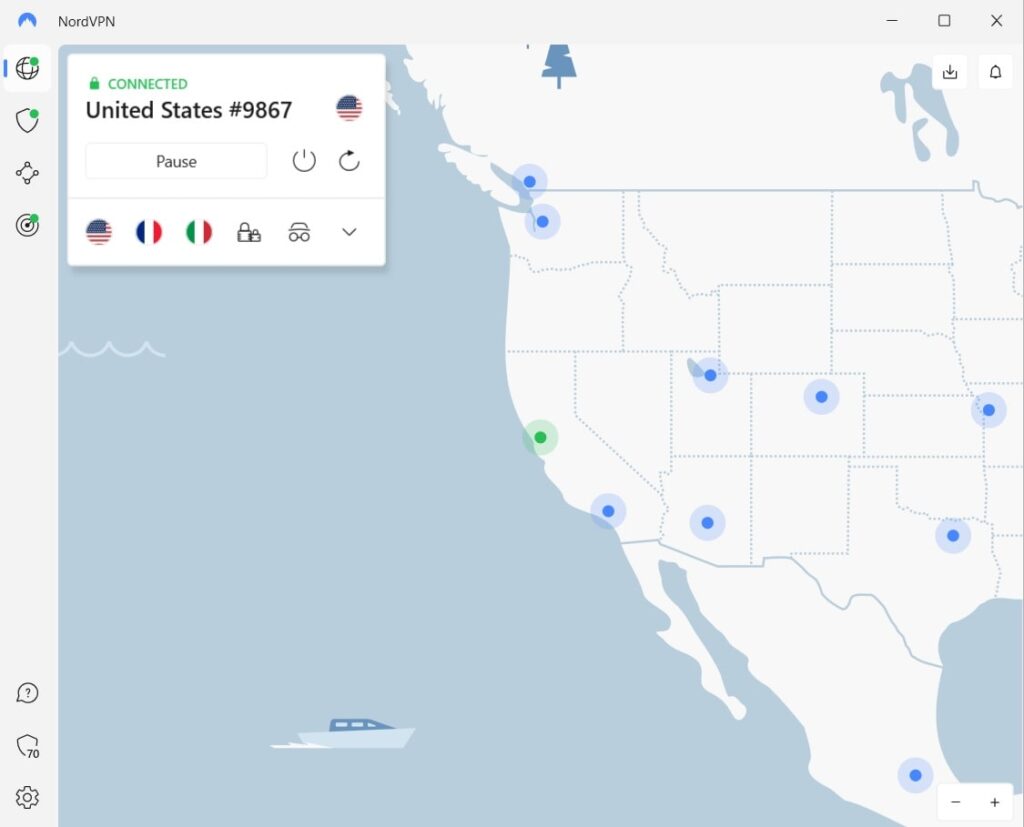 NordVPN gives you multiple VPN protocols to choose from. For the best gaming performance, choose NordLynx protocol. It will give you impressive speed and a stable connection, both of which are crucial for gaming. With it, you can enjoy your game to the fullest, even during peak gaming hours, without worrying about any issues. In our tests for the NordVPN vs ExpressVPN comparison, we hit 755 Mbps download speeds with NordVPN's US servers:

Security is another priority for NordVPN. It offers leak protection, RAM-only servers, and an audited no-logs policy to keep your data safe and confidential. This VPN also uses AES-256 encryption, which obscures your outgoing data, protecting you from hackers and preventing DDoS attacks.
NordVPN Advanced Features
Obfuscated servers – Conceals that you're using a VPN from your ISP, giving you more privacy. It will also help you avoid speed throttling.
Double VPN servers – Pass your outgoing traffic through VPN servers instead of one. This'll make you more secure, but will also have some impact on your speed.
Tor-over-VPN servers – Combines the power of Tor with NordVPN to bring you the safest online experience available. However, this isn't suitable for gaming, as your speed will be significantly affected.
AES 256 encryption – NordVPN brings a high-end security protocol, which will secure your data and protect you from brute-force attacks.
Threat protection – A tool that scans for and eliminates malware and trackers, while also blocking ads and malicious websites.
Split tunneling – Manage which apps can use VPN traffic to create a safer, and potentially faster, connection.
Meshnet – Lets you safely connect to other devices instead of a VPN server. With it, you can safely host LAN parties and share your files. Dedicated IP – Get an exclusive IP address, which guarantees low latency and fast speeds. Note that this is an additional feature that you will have to pay for. Here are some more dedicated IP VPNs that are worth considering.
See all NordVPN features here >>
In addition to fast speeds and excellent security features, NordVPN is also an ideal VPN for Netflix and other streaming platforms. It offers a dedicated Firestick VPN app and is also a great VPN for Amazon Prime, Hulu, BBC iPlayer, and more.
NordVPN has a 30-day money-back guarantee, allowing users to test it risk-free. This provides peace of mind, especially for new users who are still unsure if they want to commit. 24/7 chat support is available as well, so you can always get help with setting up. All in all, this is a perfect VPN for gaming.
+ Pros
User-friendly and reliable apps
Double-VPN and Tor-over-VPN servers
Passed numerous 3rd-party audits
Strong encryption standards with full support for WireGuard
Works with Netflix and many streaming sites
Threat Protection feature to block ads, trackers, and malware
Professional 24/7 live chat support
Consistently fast speeds
Dedicated RAM-servers with 10 Gbps bandwidth channels
– Cons
Big discounts only available with 2-year plans
NordVPN's Cyber Deal is live:

Get 69% Off NordVPN with the coupon below plus 3 months FREE, no activation code needed:
(Coupon is applied automatically; 30 day money-back guarantee.)
You can find out more about this VPN by checking our NordVPN review.
---
Surfshark – Affordable and Fast Modern Warfare 3 VPN
| | |
| --- | --- |
| VPN | Surfshark |
| Based in | The Netherlands |
| Logs | No logs (audited) |
| Price | $1.99/mo. |
| Support | 24/7 live chat |
| Refund | 30 days |
| Website | Surfshark.com |
Surfshark is the cheapest premium VPN for Call of Duty that offers unlimited connections, fast speeds, and strong security features. With over 3,200 servers in 100 countries, you'll be able to connect to bot lobbies around the world. Speed won't be an issue thanks to the WireGuard protocol, which will give fast speeds with low ping and latency, making it a perfect VPN for MW3. The Surfshark speed test result below came from our recent Surfshark vs NordVPN comparison.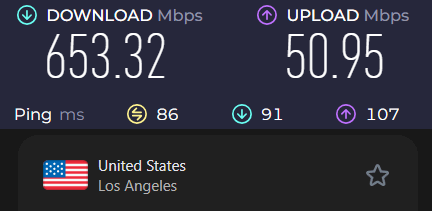 Security-wise, Surfshark offers a kill switch, DNS leak protection, and a split tunneling VPN that allows users to exclude specific apps from the VPN. This ensures that your gaming sessions remain secure and private, even if your connection drops. On top of that, this is an audited no-logs VPN with advanced AES encryption.
Surfshark also provides a CleanWeb feature. This is basically a VPN ad blocker that filters out ads, trackers, and malware, ensuring a clean gaming experience free from distractions. Surfshark's Multi- Hop VPN feature allows you to connect via multiple countries at once to take ID protection and footprint masking to the next level.
This is also an excellent VPN for streaming, as it can unlock all popular platforms and let you watch shows in the highest quality without buffering. It has unlimited simultaneous connections, so you can connect with multiple devices at once. This makes it a great VPN for multiple devices.
Surfshark also has a minimalistic UI, which makes it appealing to casual users.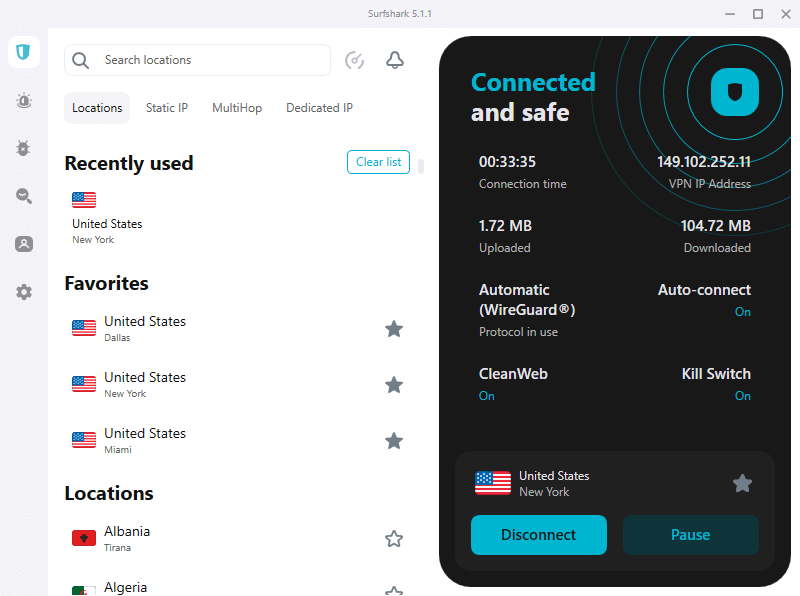 Surfshark Premium Features
Camouflage mode – Makes your VPN traffic appear like HTTPS. This way, your ISP will remain unaware that you are using Surfshark.
MultiHop – Double your encryption by making your outgoing traffic go through two VPN servers.
Kill Switch – If something goes wrong, a kill switch will protect your identity by disabling your Wi-Fi or exiting Surfshark.
CleanWeb – A protection tool that blocks intrusive ads and eliminates trackers and malware.
Split Tunneling – Lets you improve your safety by controlling which apps can connect to a VPN. With it, you can use Surfshark exclusively as a VPN for Call of Duty.
See all Surfshark features here >>
Surfshark also comes with a 30-day money-back guarantee, giving you the opportunity to test its performance and compatibility without any financial risk. Surfshark's customer support is also noteworthy. They offer 24/7 live chat support, so you can get immediate help whenever you encounter any issues or have any queries.
+ Pros
Unlimited connections
User-friendly apps for all devices and operating systems
CleanWeb feature to block ads, trackers, and malware
Works great with Netflix and many other streaming services
24/7 live chat support
Strong encryption and security features (audited)
– Cons
Limited support for VPN routers
Above average monthly prices
Surfshark Coupon:

Get 80% off Surfshark VPN (drops the price down to $1.99 per month) plus 5 months FREE:
(Coupon is applied automatically.)
Our in-depth Surfshark review covers everything that you need to know about this VPN.
ExpressVPN – Secure and Quick VPN for MW3
| | |
| --- | --- |
| VPN | ExpressVPN |
| Based in | British Virgin Islands |
| Logs | No logs (audited) |
| Price | $6.67/mo. |
| Support | 24/7 live chat |
| Refund | 30 days |
| Website | ExpressVPN.com |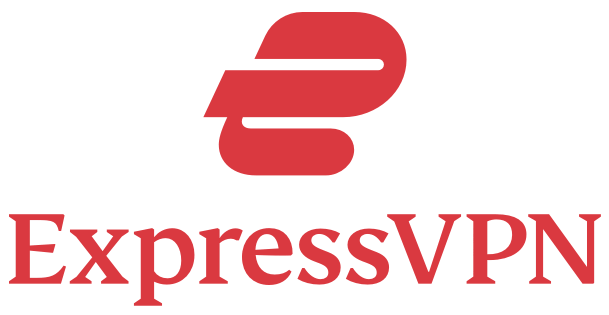 ExpressVPN is known for its fast and secure connections, making it an ideal choice for Call of Duty Modern Warfare 3 players. With over 3,000 servers in 105 countries, ExpressVPN ensures that you can find an optimal server location for the best gaming experience. You'll be able to connect to servers with less traffic, potentially minimizing lag and improving your overall performance.
This VPN has multiple fast protocols, the best of which is Lightway. It performs similar to WireGuard and NordLynx, so your security and speed won't be a problem. With that being said, it's not quite as fast as NordVPN or Surfshark, as we discovered in the Surfshark vs ExpressVPN comparison.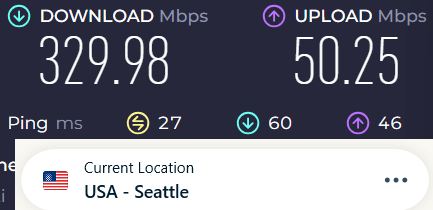 In terms of security, ExpressVPN offers advanced privacy features such as IPv6 leak protection, a kill switch, and AES encryption. These features will keep your data safe and private, preventing potential attacks and data leaks. This is also a no-logs VPN, so your user data won't be saved on their servers.
ExpressVPN is available on many platforms, and you can use it to play MW3 on PlayStation and other gaming consoles. To do that, you'll have to install it on a router, which we will cover later.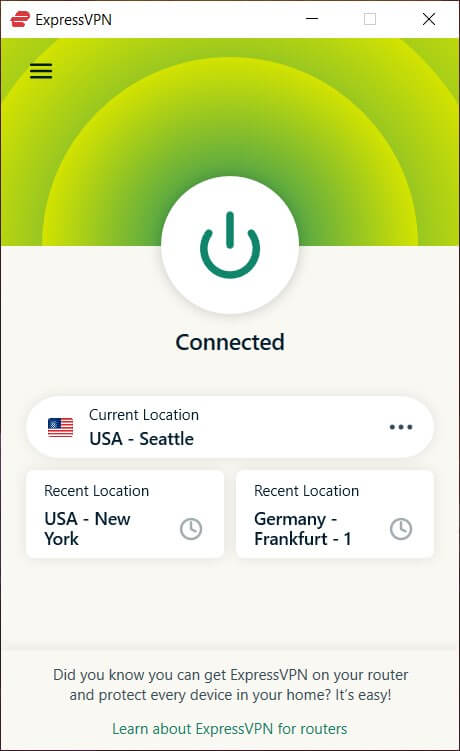 As it's custom with premium VPNs, this service has a user-friendly interface and many extra features that make it a top VPN for CoD.
ExpressVPN Additional Tools
Split Tunneling
Kill Switch
Threat Manager
MediaStreamer – A SmartDNS feature that allows you to unblock geo-restricted content on gaming consoles, as they don't directly support VPNs.
Device Groups – Connect each of your devices to a different server simultaneously.
Whether you're a casual gamer or a professional esports player, ExpressVPN will enhance your experience by providing fast, secure, and reliable connections. It has 24/7 live chat support that will quickly solve your problems and a 30-day refund policy, so you don't have to take any risks. Plus, the 30 day money-back guarantee can basically be used as a free trial VPN, allowing you to test it out and cancel within the 30 days if it doesn't meet your expectations.
+ Pros
User-friendly and secure apps
Split tunneling feature (for macOS, Windows, and routers)
Works with Netflix and most streaming services
24/7 live chat support
Passed independent third-party audits for security and no-logs
Very large server network
– Cons
Above average prices
Fewer features than other leading VPNs
ExpressVPN Coupon:

Sign up for the 12-month plan and get 3 months added to your subscription for free.
(Coupon is applied automatically.)
Have more questions? Our ExpressVPN review has all the answers.
---
IPVanish – A Solid Modern Warfare 3 VPN App
IPVanish offers low-latency servers and strong security features, making it an excellent choice for Call of Duty Modern Warfare 3 players. Its network of 2,200+ VPN servers in 75 countries ensures a fast and stable connection, regardless of your location. With it, you can quickly get bot lobbies or connect to foreign servers to play with your international friends.
This VPN supports WireGuard, so you can expect instant connections and very low ping. This will give you an advantage during intense MW3 battles, where every millisecond counts. We've done multiple speed tests, and here is the best speed we achieved.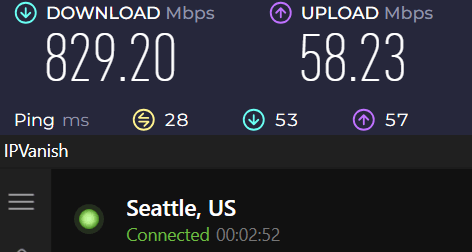 IPVanish provides many security features that will protect you while gaming. First, they use have strong AES encryption that will scramble your outgoing data and protect you from hackers. There are also multiple leak protection tools, such as DNS and IPV6, which will prevent your private info from ending up online. IPVanish has a powerful kill switch and also allows split tunneling.
IPVanish Extra Tools
AES 256-bit encryption – This is a military-grade encryption standard that is virtually unbreakable. It ensures that your data is encrypted and secure from prying eyes.

Kill Switch –This feature automatically disconnects your internet if the VPN connection drops, preventing your data from being exposed.

DNS Leak Protection: This prevents your DNS requests from being exposed to your ISP, ensuring your online activities remain private.

Split Tunneling
Unlimited Simultaneous connections
See all IPVanish features here >>
This service has a strong cross-platform support. You can install it on a router, which means that you can also use this MW3 VPN on gaming consoles that don't support VPNs directly.
Additionally, IPVanish offers a 30-day money-back guarantee, so you can test its performance and compatibility with Call of Duty Modern Warfare 3 without any risk. This guarantee gives you the freedom to try out the service and see if it meets your gaming needs, with the option to get a full refund if you're not satisfied.
+ Pros
Strong security features, multiple VPN protocols, and a kill switch

Extremely fast and reliable connection speeds

Wide range of reliable apps

Unlimited simultaneous connections

Audited, no-logs policy

Ability to unblock popular streaming services like Netflix, Disney+, and BBC iPlayer
– Cons
No cryptocurrency payment options
Based in the United States
IPVanish Coupon:

Get 81% off IPVanish (drops the price down to $2.49 per month):
(Coupon is applied automatically.)
Take a look at our IPVanish review for even more details.
---
How to Set Up a VPN for Call of Duty Modern Warfare 3 on PC
The process to set up a VPN for Call of Duty Modern Warfare 3 on a computer is quite simple.
1. Choose a Reliable VPN Provider
Every service we've previously mentioned in this blog post is an excellent choice. They provide good speeds, have strong security features, and a broad range of server locations.
2. Install and Open your VPN App
Most VPN providers offer apps for various platforms, so you should easily find a suitable app for your device.
Note: You should always connect to a VPN server before you start Call of Duty Modern Warfare 3.
3. Connect to a Gaming Server
For optimal gaming performance, we recommend selecting a server that is geographically close to the game server. However, things are a bit different if you want bot lobbies, which we will cover later.
Note: We highly recommend doing a speed test once you connect to a VPN server. It will reliably show you the quality of your connection. If something is off, just switch servers until you find the one that works perfectly.
4. Open Call of Duty Modern Warfare 3
5. Enjoy Playing MW3 on Optimized and Secure Servers
If you want to use a VPN on your console, the best way to go about it is to install it directly on your router. For this to work, you'll need one that is compatible with your VPN firmware. Here is our guide on top router VPNs that will also guide you through the whole setup process.
Can I Use a Free VPN for Call of Duty Modern Warfare 3?
Although the idea of using a free VPN for Call of Duty Modern Warfare 3 might be appealing, it's generally discouraged due to privacy and security concerns. A recent study of 270 free mobile VPNs revealed shocking statistics:
84% of free VPNs have weak or no encryption and leak user data
75% of services had third-party trackers that monitor users
38% of free VPN apps contained malware
In short, free VPNs don't offer the same level of security as premium VPNs, leaving your data vulnerable to potential threats. In many cases, they will sell your data to third parties, compromising your privacy and security.
Even if we ignore that, freebies usually have a terrible connection which is unsuitable for gaming. They also have bandwidth limits, so you can't use them consistently. At least, not as VPNs for Modern Warfare 3, since gaming requires a lot of traffic.
Instead of relying on a free VPN, we recommend subscribing to a premium service with a money-back guarantee. Every MW3 VPN we've mentioned provides fast speeds, strong security, and reliable gaming performance.
Common VPN Issues with Call of Duty Modern Warfare 3
If you are having problems with your VPN while playing Modern Warfare 3 gameplay, here are two things that you can troubleshoot.
1. Check your VPN Connection
Do a quick speed test to ensure that your connection is stable and secure. If you're still experiencing lag or your connection drops, change servers until you find the one with solid performance.
2. Compatibility Issues
Ensure that your VPN works with Call of Duty Modern Warfare 3 by checking the provider's website or contacting its support team. If it isn't, consider switching to one of the top 4 VPNs mentioned earlier.
We also have a complete guide on VPN test procedures.
Finding CoD bot lobbies
Many gamers are frustrated with Modern Warfare's skill-based matchmaking system, as they believe it makes the game too competitive. Luckily, you can use a VPN to find weaker players and start enjoying MW3 once again. Here are some ideas on how to do this.
1. Connect to Countries with Fewer Players
Aside from your skill level, CoD's matchmaking system uses your ping and location to connect you with other gamers. To get easier matches, look for VPN servers located in Eastern Europe, or countries like Turkey, Kenya, Nigeria, and Cambodia.
2. Connect to Servers in Different Timezones
A majority of gamers will play Modern Warfare 3 in the evening, which will make things more challenging. You will get the best chances by connecting to countries where it's very late or early in the morning. As an example, you can hop on a server in Africa from the US, and use an 8-hour time difference to get easier matches.
Can I Get Banned for Using MW3 VPN?
Modern Warfare 3 does not have any policies that would restrict players from using a VPN. However, some providers may trigger its anti-cheat system, which is designed to prevent hackers from playing. In this case, you can get a ban.
To avoid potential bans and enjoy bot lobbies, make sure to:
Stick to reputable VPN providers

Avoid employing it for any activities that may be considered cheating or exploiting the game's mechanics
By using a VPN responsibly and following the game's terms of service, you can enjoy the benefits of a secure and enhanced gaming experience without worrying about potential bans or legal issues.
Parting Words on MW3 VPNs
Using top VPNs for Call of Duty can significantly optimize your gaming by improving your security, bypassing geo-restrictions, and avoiding ISP throttling. They will give you a reliable connection with minimal ping and latency, which is crucial in the world of online gaming.
We found that NordVPN is the best Modern Warfare 3 VPN, but every service we recomended in this guide will give you a solid performance.
MW3 VPN FAQ
Do VPNs work in Modern Warfare?
Yes, premium VPNs work perfectly with Modern Warfare 3. They offer a variety of benefits, such as security, bypassing geographical restrictions, and enabling you to play against lower-ranked players. NordVPN is one of the fastest VPNs available and can help you get the most out of your gaming experience.
Are you allowed to use a VPN for Call of Duty?
Using a VPN in Call of Duty: Modern Warfare 3 is allowed and won't get you banned, according to the Security and Enforcement policy. In fact, many people prefer it as VPNs can reliably reduce your lag.
What VPN server should I use for CoD?
For optimal gaming experience in Call of Duty: Modern Warfare 3, choose VPN servers located in the Netherlands, France, Italy, Egypt, the US, and Japan. If you are looking for bot lobbies, connect to Turkey, Nigeria, Kenya, or Cambodia.
What are the main benefits of using a VPN for Call of Duty Modern Warfare 3?
Using a VPN when playing Call of Duty Modern Warfare 3 improves your security, lets you bypass geo-restrictions to access bot lobbies, and prevents ISP throttling. It will also reduce your latency and minimize ping.
Can I use a free VPN for Call of Duty Modern Warfare 3?
Given the limitations of a free VPN in terms of speed, server options, and security features, it is not recommended to use one for Call of Duty Modern Warfare 3. Instead, choose a premium VPN with a money-back guarantee for the best risk-free gaming experience.
The guide on the best VPNs for Call of Duty Modern Warfare 3 was last updated on November 6, 2023.