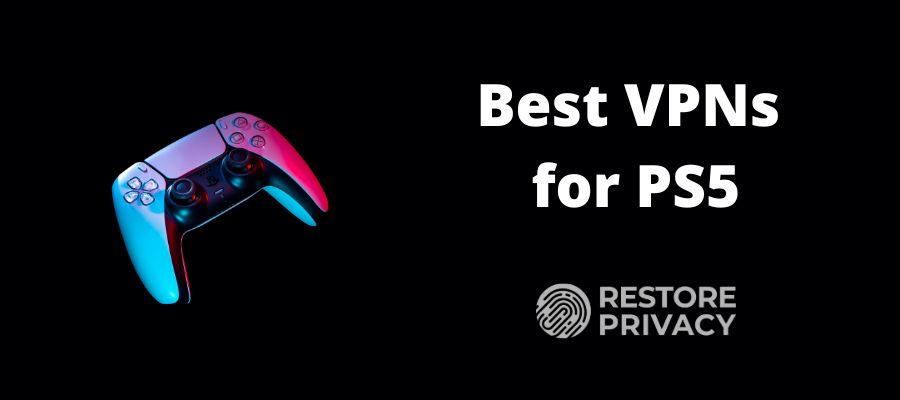 The PlayStation 5 (PS5) is a popular gaming machine that can do much more than simply run games. If you want to get the most out of your gaming system in 2023 and beyond, you'll need to be using the best VPN for PS5.
Today we're going to go over all the ways that a VPN (virtual private network) can make your PlayStation 5 more versatile and maybe even faster. We'll also go over the characteristics that make up a great PS5 VPN and give you short intros to the three best PS5 VPNs on the market.
So let's get to it!
Top VPNs for PS5
NordVPN – Best VPN for PS5, many easy setup options, fastest speeds for gaming, secure apps, plus extra privacy features (with a 68% off coupon)
Surfshark – Secure and budget-friendly VPN for PS5
ExpressVPN – Reliable VPN for PS5 with user-friendly apps
How a PS5 VPN can make things better
You may be surprised to see how many ways reinforcing your PlayStation 5 with a VPN can improve your life. Here are five big ones, in no particular order. You can use a PS5 VPN to:
Play in other regions. The game you want to play may not yet be available in your area. It may be geographically restricted like Battlefield 4 (banned in China) or Mega Man 5 (banned in Vietnam). A top PS5 VPN can bypass these restrictions and let you play anyway. (This is also why a VPN for China is useful.)
Shop in other regions. Games don't always release on the same day in every part of the world. A VPN can make it appear that you are located in a country where a game is already available. You may be able to buy it days before your friends and neighbors can.
Block DDoS attacks and hackers. You may have heard rumors of gamers paying hackers to sabotage the competition's system or launch DDoS attacks to jam up their competitor's internet connection. It happens. But VPN connections aren't easy to hack, and with their huge, high-bandwidth connections, VPN servers are much more resistant to a DDoS attack than your home internet connection.
Unblock streaming media. If you use your PS5 to stream video from services like Netflix, Hulu, Amazon Prime, Twitch, and so on, a VPN can bypass the geographical restrictions placed by those services, too. You'll end up with access to far more streaming services with a VPN.
Potentially reduce your Ping. If you are a gamer, you probably know the importance of a low ping or latency. Some Internet Service Providers (ISPs) limit the speed of a connection when they detect that you are gaming. When you use a VPN for gaming, your ISP won't be able to tell you are playing a game so won't cut your speed. It is also possible that your ISP and default DNS aren't configured for the maximum speed. A high-speed service like NordVPN might be able to do better, and give you a better ping despite the additional overhead imposed by the VPN itself.
You probably spotted at least one reason a VPN on PS5 would improve your life. So let's continue by talking about what characteristics you want to see in a PS5 VPN.
Ranking the best PS5 VPNs
To equip your PlayStation 5 with the best additional capabilities, a VPN needs to have certain characteristics. These are the characteristics we looked for when evaluating the best PS5 VPNs:
1. Performance. Even if you don't need to reduce your ping, you absolutely need a VPN service that won't harm your battlefield performance. The faster the better.
2. Reach. The gaming industry is a worldwide phenomenon. You want a VPN with a lot of servers in a lot of countries. To get access to a game server in South Korea, you may need to log in using a server physically located in South Korea. The greater the number of countries a VPN supports, the greater the odds that you will find a server that works for whatever you are trying to do.
3. Defense. As we discussed above, hackers love to steal user accounts, and hostile gamers may also target opponents with DDoS attacks at a crucial point in a battle. You need a defense against DDoS attacks. Reach and size both help, but the defense is stronger when a VPN has features like Threat Protection (NordVPN) or CleanWeb (Surfshark) that directly combat the most popular attacks you are likely to face.
4. Support. A VPN's support team is an often underappreciated part of any force. A PS5 VPN needs to have a strong support team behind it to overcome any last-minute issues. That means well-trained and responsive 24/7 live chat support so you aren't sitting offline waiting for an email while the battle rages.
With those characteristics in mind, let's look at our picks for the top PS5 VPNs of 2023.
Note: You can't directly use a VPN on PS5
The truth of the matter is that you can not directly use a VPN on a PS5. That is, there is no way to install VPN software on PS5 hardware. But you can use a PS5 with a VPN — and we'll explain how.
The tactical secret here is that the VPN connection needs to be between your PS5 and the internet. There are two ways to do this:
Install a VPN on your router, and connect your PS5 to the internet through the router
Install a VPN on your PC, then connect the PS5 to the internet through your PC
Don't worry if this sounds confusing. We're going to brief you on how it is done after we talk about the VPNs. We also have in-depth guides on setting up a VPN on a router, so your questions will be answered.
First, let's examine the best VPNs for PS5:
NordVPN – Best VPN for PS5 in 2023
| | |
| --- | --- |
| VPN | NordVPN |
| Based in | Panama |
| Logs | No logs (audited) |
| Price | $3.19/mo. |
| Support | 24/7 live chat |
| Refund | 30 days |
| Website | NordVPN.com |
Based on all of our testing and analysis, NordVPN leads the pack as the best VPN for PS5 in 2023. It offers extremely fast speeds, very secure apps, and a huge server network that is ideal for gaming and use with a PS5. It even outperforms other leading VPNs, including ExpressVPN and IPVanish, in many key areas.
A great general-purpose service, NordVPN rates at or near the top on every one of our key characteristics. Let's take a closer look.
Performance
With the deployment of their custom NordLynx VPN protocol, which uses the WireGuard VPN protocol, NordVPN became the fastest VPN we have ever tested. In recent tests, we were able to hit 445 Mbps with NordVPN servers in the United States, which makes it the fastest VPN for PS5:

In addition to being super fast, NordVPN unblocks almost any game or streaming media server you might want access to. It performs as the best VPN for Netflix with excellent speeds and support for 15+ Netflix regional libraries. But that's not all. It's also the best VPN for Firestick with a dedicated app in the Amazon Store. It works well for Disney Plus, Hulu, Amazon Prime Video, BBC iPlayer, and many other services. NordVPN apps are easy to use and reliable, meaning you won't be disabled in the middle of a battle due to some software glitch.
Here is the NordVPN desktop app we tested on Windows: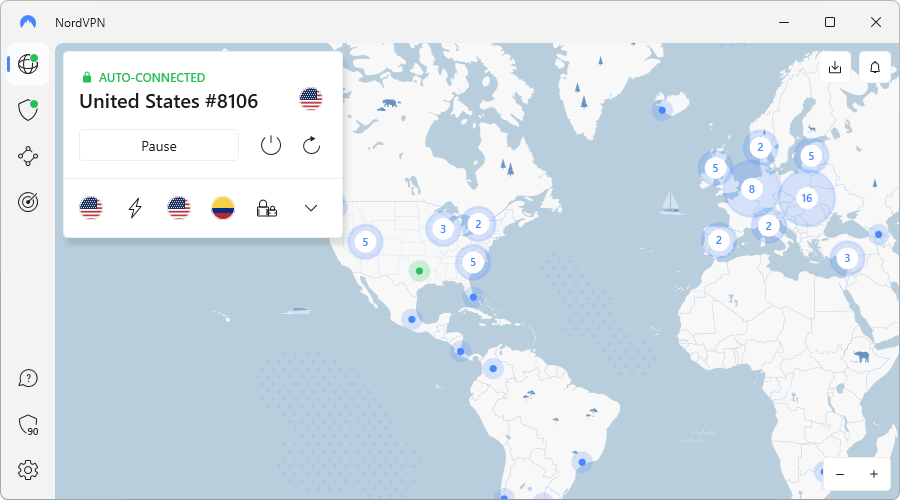 All of the NordVPN apps performed well in our tests, as you can see in the NordVPN review.
Reach
NordVPN has deployed 5,700+ servers in 60 countries worldwide. While other services may have servers deployed in more places, NordVPN has servers in all the key locations. The vast majority of the content and services you want access to will be located in a country where NordVPN has servers.
Additionally, NordVPN does not use any virtual server locations. All of NordVPN's servers run on dedicated, secure hardware. They are currently rolling out colocated (self-owned) servers with 10 Gbps bandwidth channels for even faster speeds.
Unlike most other VPNs, NordVPN also offers specialty servers for dedicated use cases. These include:
Double-VPN servers that encrypt internet traffic over two hops
P2P servers that are ideal for torrenting
Tor-over-VPN servers that add an extra layer of encryption through the Tor network
Obfuscated servers that conceal VPN traffic and help you get around blocks (such as with restricted networks)
Dedicated VPN servers for when you need a fixed IP address plus the security and privacy of a VPN
In terms of network size and performance, NordVPN has you covered.
See all NordVPN features here >>
Defense
NordVPN has solid defensive systems. Their apps are reliable and include a kill switch that keeps your identity from leaking onto the internet in case some hostile force (or some random glitch) takes down the connection between your PS5 and a server. They also offer a private DNS service that defeats your ISP's efforts to track where you go online.
They also bolster your defenses with Threat Protection. This advanced defensive system takes your security and privacy to a new level by blocking ads, trackers, malware, and even phishing domains. This VPN ad blocker can be enabled directly in the VPN app.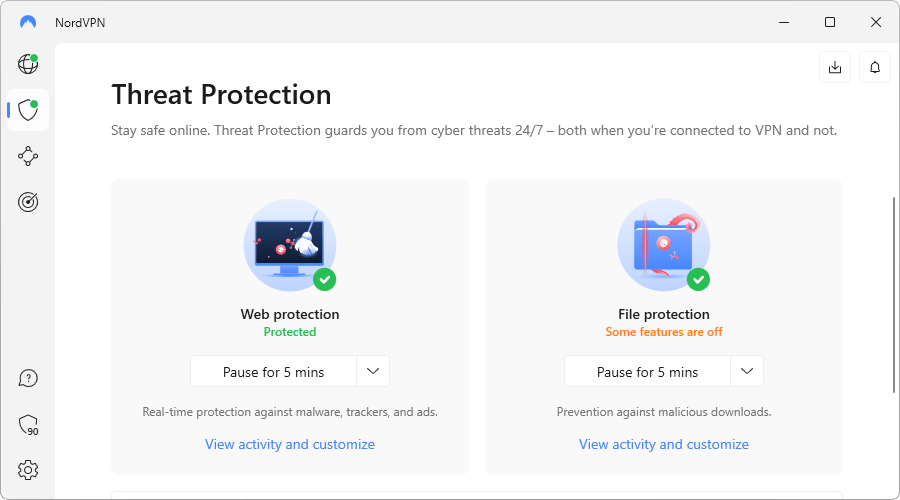 The final line of defense is NordVPN's no-logs policy and their 100% diskless servers (with no hard drives). No-logs means no data for hostile government agencies to demand about your online maneuvers. With all servers running in RAM (diskless), even if a NordVPN data center is infiltrated and a server seized, there will be no data for the enemy to analyze. These policies have also been audited twice by PWC, which makes NordVPN one of the few verified no-logs VPN services.
Support
NordVPN has a well-respected customer support squad. They're highly knowledgeable about every aspect of their product and can help you with connection problems or anything else that might impact your use of the service. The team staffs a responsive 24/7 live chat system so you can get help whenever you need it from anywhere in the world.
NordVPN offers big discounts if you sign up for a long-term subscription and a 30-day money-back guarantee so you can conduct an extensive test campaign before getting locked into a long-term deal.
+ Pros
User-friendly and reliable apps
Double-VPN and Tor-over-VPN servers
Passed numerous 3rd-party audits
Strong encryption standards with full support for WireGuard
Works with Netflix and many streaming sites
Threat Protection feature to block ads, trackers, and malware
Professional 24/7 live chat support
Consistently fast speeds
Dedicated RAM-servers with 10 Gbps bandwidth channels
– Cons
Big discounts only available with 2-year plans
NordVPN's Cyber Deal is live:

Get 68% Off NordVPN with the coupon below plus 3 months FREE, no activation code needed:
(Coupon is applied automatically; 30 day money-back guarantee.)
To learn more, check out our in-depth NordVPN review.
---
Surfshark – A fully-featured PS5 VPN for a low price
| | |
| --- | --- |
| VPN | Surfshark |
| Based in | The Netherlands |
| Logs | No logs |
| Price | $2.30/mo. |
| Support | 24/7 live chat |
| Refund | 30 days |
| Website | Surfshark.com |
Surfshark started out as one of the smaller VPNs in 2018, but it is taking the VPN world by storm. This VPN packs a punch with many privacy features, excellent VPN apps, a large server network, and a very low price. Here's how it does with the characteristics we want for a PS5 VPN.
Performance
Like NordVPN, Surfshark uses the WireGuard VPN protocol to give their network superior speed. They aren't quite as fast as NordVPN, but still blow away virtually every other VPN on the market, as you can see in the recent ExpressVPN vs Surfshark comparison. In our own speed tests, we were able to get up to 397 Mbps with Surfshark servers:

Surfshark's apps are simple to use and quite reliable.
When it comes to unblocking websites, streaming media, and gaming servers, Surfshark is just as good as NordVPN. Even if defeating geo-blocking systems isn't high on your priority list right now, it certainly can't hurt. Surfshark offers access to a huge library of streaming content, including numerous Netflix regions, Hulu, BBC iPlayer, Amazon Prime, DAZN, and more.
Reach
Like NordVPN, Surfshark also boasts a large server network. This includes 3,200+ servers in 65 countries around the world. They don't offer the range of specialized servers that NordVPN does, but all Surfshark servers support P2P file sharing and are capable of defeating online censorship efforts.
Surfshark also deploys their servers in the most popular locations, with over 500 servers in 20+ server locations within the United States alone. These guys are sharp and plan their server locations for optimal results.
Defense
Surfshark also has solid defenses. Reliable apps with kill switches protect you from inadvertent data leaks to the net. All Surfshark servers can connect to their private DNS, bypassing your ISPs default DNS and preventing them from spying on your activities. Here is the Surfshark VPN app we tested: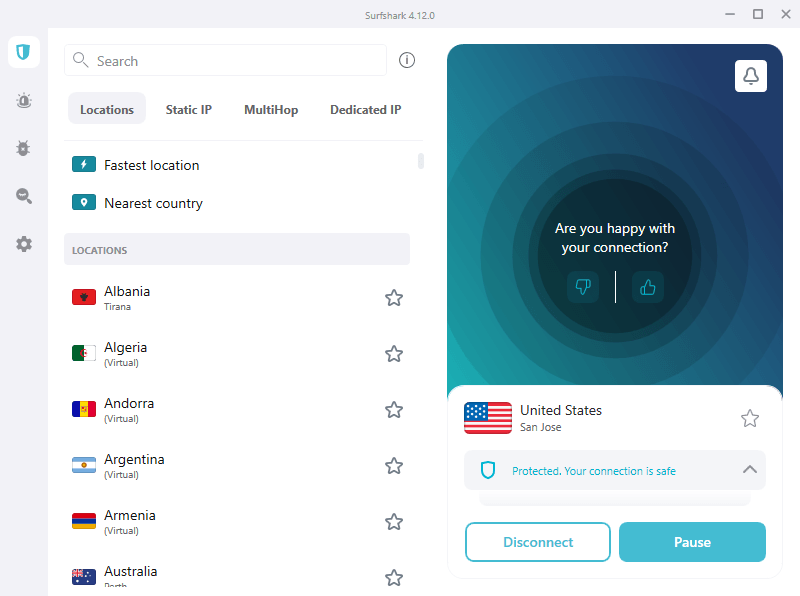 And like NordVPN, Surfshark also offers a VPN ad blocker, as we see with NordVPN vs CyberGhost. They call this feature CleanWeb and it blocks ads, trackers, and malware domains from loading on your device.
Surfshark does really well on the privacy front. It has a no-logs policy and runs all servers in RAM-disk without hard drives. Both Surfshark and NordVPN have double-VPN servers that may be useful for those wanting double encryption and more privacy.
See all Surfshark features here >>
Support
Surfshark support capabilities are excellent with 24/7 live chat available directly on their website. Their team is knowledgeable and responsive, and their live chat support means you're never stuck waiting hours (or days) for an emailed response to an urgent question.
Additional points
There are two additional things you should know about Surfshark before we wrap this up. First, this is technically a cheap VPN service, at less than $2.50 per month, but it also delivers on quality. Second, Surfshark supports an unlimited number of simultaneous connections on a single subscription. This is in contrast to the 5 or 6 simultaneous connections that most other companies provide, such as NordVPN and ExpressVPN. And in a household that runs a PS5 in addition to all your other internet-connected devices, having more connections could be a lifesaver.
+ Pros
Unlimited connections
User-friendly apps for all devices and operating systems
CleanWeb feature to block ads, trackers, and malware
Works great with Netflix and many other streaming services
24/7 live chat support
Strong encryption and security features (audited)
– Cons
Limited support for VPN routers
Above average monthly prices
Surfshark VPN Coupon:

Get 82% off Surfshark VPN (drops the price down to $2.30 per month) plus 2 months FREE:
(Coupon is applied automatically.)
To find out more about Surfshark, check out our full Surfshark review.
---
ExpressVPN – Secure and reliable VPN for PS5
| | |
| --- | --- |
| VPN | ExpressVPN |
| Based in | British Virgin Islands |
| Logs | No logs (audited) |
| Price | $6.67/mo. |
| Support | 24/7 live chat |
| Refund | 30 days |
| Website | ExpressVPN.com |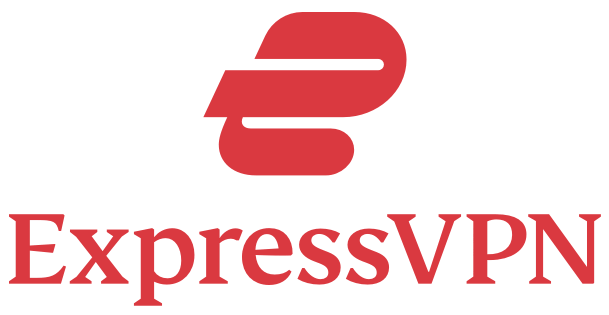 While ExpressVPN is a bit more expensive than our two other recommended VPNs, it is a solid performer and very reliable. We have been testing it for years and it continues to perform well in the latest results for the ExpressVPN review.
Performance
Recently, ExpressVPN introduced its Lightway VPN protocol, which is very similar to WireGuard. While Lightway has definitely boosted ExpressVPN's speed, it still came out behind in the NordVPN vs ExpressVPN report. Even still, we were able to get over 200 Mbps on many ExpressVPN servers, including the one in New York:

Another area where ExpressVPN shines is its high reliability. It offers clean, user-friendly VPN apps for all major devices and operating systems. The apps are very user-friendly and do not suffer from any bugs or errors. You can easily navigate to the different features, preferences, and available servers.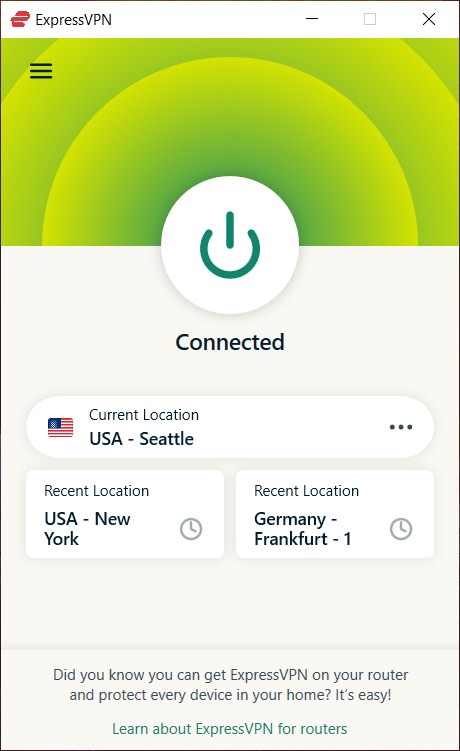 It also performs well with streaming media, with support for Netflix, Hulu, Amazon Prime, and more. Additionally, all ExpressVPN servers support P2P torrents with fast speeds, making this one of the best VPNs for torrenting.
Reach
ExpressVPN offers the greatest reach in this group, with about 3,000 servers in 94 countries worldwide. This is great, but whether it will be relevant to you depends on which countries you need access to. You can find out by checking this list of server locations on the ExpressVPN website.
Defense
ExpressVPN is also a no-logs service that has been audited, like NordVPN. It deploys defenses like a Network Lock (a kill switch) and a private DNS. ExpressVPN does not have any VPN ad blocker feature like we find with NordVPN and Surfshark, but it does have a great split tunneling feature. This allows you to route certain apps or websites outside of the VPN.
See all ExpressVPN features here >>
Support
Like our other two PS5 recommendations, ExpressVPN also offers proficient 24/7 live chat support. They also have numerous tutorial guides and videos on their website. We've used live chat support several times over the years and always received fast, professional responses.
ExpressVPN is more expensive than the other two services we cover here, but the price isn't outrageous, and you do get a full 30-day money-back guarantee to make sure you are happy with the service before committing.
To get the full story on ExpressVPN, see our ExpressVPN review.
---
How to use a VPN on PS5
OK, now that we have covered the best VPNs for PS5, let's see exactly how to set up a VPN to work with PS5. With this, you have two options:
Option 1: Installing a VPN on a router
Your PS5 connects to the internet through your home router. And you can install a VPN on some (but not all) home routers. The result is that you still get the benefits of using a VPN with your PS5, without having to install the VPN on the PS5.
Important: Be aware that only certain home routers can support a VPN. Before you go any further in this section, you might want to check out our ultimate guide to VPN routers and see if yours is listed.
If you don't already have a high-performance VPN router and want a quick solution, here are two options:
The Vilfo Router from OVPN in Sweden. This VPN router is a beast. It offers phenomenal speeds and tons of features that you simply do not find with consumer-grade routers. See our Vilfo router review for more details.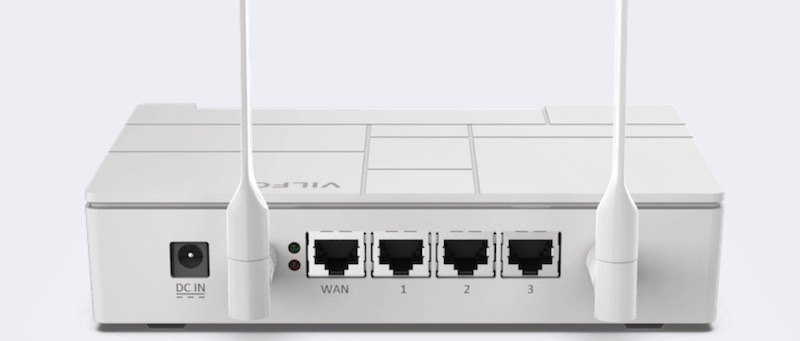 The Asus RT-AC2900 is another great option, for an excellent price. You can probably pick this up on Amazon for a lot less than the Vilfo. It gives you excellent speeds and has some good features with the stock firmware.
Even if your router can run a VPN, the exact steps for installing a VPN differ depending on the router manufacturer and firmware. That said, here are the basic steps you will need to go through:
Find the router manufacturer's instructions for installing a VPN on your router. If you don't have the router documentation handy, you can probably find the info you need on the router manufacturer's website.
Find your VPN's instructions for installing it on a router. Check the service's website to see if there are specific steps or settings you need to configure when using the VPN on a router. Or just open up a chat box and ask for help.
Log in to your router's administrative interface. The login credentials you need are often printed on the bottom of the router.
Find the VPN section of the interface. Configure the VPN as described in the posted instructions. If you plan to use the VPN to connect your PS5 to resources in a particular country, make sure to configure it to have access to its servers in that country.
Connect the PS5 to the router and get back to gaming or shopping or streaming videos.
Note: Most consumer-grade routers do not have enough processing power for VPNs, and consequently, are slow. This is why we recommend the two models above, which are both fast and powerful with VPN services.
If your router can run a VPN, and you don't experience any negative side effects (slow or no connections, high ping rate in games), this is a great way to go. With a VPN on the router, you are protecting your privacy on all the internet-connected devices in your home.
Installing a VPN on a PC
If you can't install a VPN on your router, you still have another option. That's to set up a VPN on a computer and connect the PS5 to the internet through that. Again, the details will vary a bit depending on the hardware and software you end up connecting. But here are the basic steps:
On your computer, download and install the VPN app.
Connect the PS5 to the computer using an ethernet cable. The performance of these cables varies and could impact your PS5 performance. It makes sense to invest in Cat6 or higher ethernet cables. These support signals at up to 1 Gbps or more, meaning they are as fast or faster than your PS5 or computer can put out.
On the computer, change the connection settings on your VPN. You want to be able to share the VPN connection with the PS5. To set this up on a Windows computer, you'll need to get into the VPN connection's Properties dialog box. From there you can go to the Sharing tab and check the network sharing option. It will probably say something like, Allow network users to connect through this computer's internet connection.
On the PS5, go to the Settings menu and click Network Settings, then Set up an Internet connection. Select the LAN cable option, then Easy setup. The PS5 should be able to do the rest for you, but stand by in case you need to change any settings or punch any buttons.
Once you get this running, you can control the VPN through its app on the computer. That will make it easy to switch to a different VPN server, VPN protocol, whatever else you need to do to accomplish the mission.
FAQs on using a VPN with PS5
We hope that the body of this article addressed any questions you might have when it comes to choosing the best PS5 VPN. That said, here are some of the most frequently asked questions about setting up a VPN with PS5.
Can you put a VPN on a PS5?
No, you cannot put a VPN on a PS5 directly.
The PlayStation 5 hardware does not support it. However, in the main body of this article, we describe two different ways you can give your PS5 VPN capabilities without having to install a VPN on the PlayStation hardware.
What is the best VPN for PS5?
Based on all of our own testing and analysis, we would have to say that the best VPN for PS5 is NordVPN. It has all the characteristics a PS5 VPN needs, as well as being the fastest VPN we have ever tested.
However, NordVPN isn't the only excellent VPN for PS5. Surfshark and ExpressVPN can both also get the job done. Each has its own unique characteristics that might lead you to choose one over the other, but all three are candidates for the title of your best VPN for PS5.
Can you use a free VPN for PS5?
If you are asking if a free VPN can work for the PS5, we have to say no. Every such VPN we've ever tested has lacked one or more of the characteristics that a PS5 VPN needs. And even with the best no-charge VPN, you will probably experience slow speeds, limited servers, and intermittent connectivity.
Worse, many free VPNs collect data and then sell it to advertisers and various third parties. That makes sense because a that VPN still needs money to pay its staff, buy servers, lease internet access, and so on. But you really don't want someone logging and selling your personal information. After all, there are enough things to worry about in a world of hackers and constant data breaches in the news.
So we're sorry. There is not a good free VPN for PS5.
Conclusion
I think by now you've seen why we believe you need a VPN to upgrade the capabilities of your PS5. In this PS5 VPN comparison, we looked at the main reasons why you need such a VPN, we answered your most common questions and even gave you basic instructions for hooking everything up.
All you need to do is decide which of these three VPNs you're going to try first. While any of these three VPNs will do the job, our top recommendation remains NordVPN, especially when you take advantage of the 68% off coupon.
Have fun and enjoy using your PS5 with a secure VPN service!
This PS5 VPN guide was last updated on July 18, 2023.