What better way to test out a VPN service risk-free than with a free trial VPN?
In this guide we are going to examine the best free trial VPN services, as well as a few VPNs to avoid.
Many people are looking for a free trial VPN in order to test the service without any risk and see if it meets their unique needs. Using a VPN with a risk-free trial is a great option, especially if you plan to cycle through different VPNs before finding the best fit for your needs.
In this report we'll examine two different types of VPN trials:
30 day risk-free trial VPNs – This gives you a full 30 day risk-free trial window to test out the service, but requires up-front payment. This may be the best option because it gives you a full month to test everything out. And if you aren't completely satisfied, simply cancel for a 100% refund.
Completely Free trial VPNs – These are usually limited to a short time window or limited bandwidth. This really limits your ability to test out the service and comes with more risk.
Whether you decide to go with one of the short-term free trial VPN services or a risk-free 30-day trial VPN, both options will allow you to test the VPN without any risk.
So without further delay, let's examine the best options.
Here are the best free trial VPN services:
1. NordVPN: Best VPN with a free trial (30 days)
NordVPN is a Panama-based, no logs VPN service offering a 30 day risk-free trial with all of their VPN subscriptions. It is a fully-featured VPN service with excellent performance, strong security, and a very reasonable price.
In terms of privacy and security, NordVPN is on the cutting edge. All VPN apps include built-in leak protection features (kill switch) to secure traffic. In addition to OpenVPN and IKEv2, NordVPN also supports the WireGuard VPN protocol through NordLynx. WireGuard delivers the latest in security and encryption, along with blazing fast speeds. Below I was able to hit speeds of 445 Mbps when testing out NordVPN with the WireGuard protocol: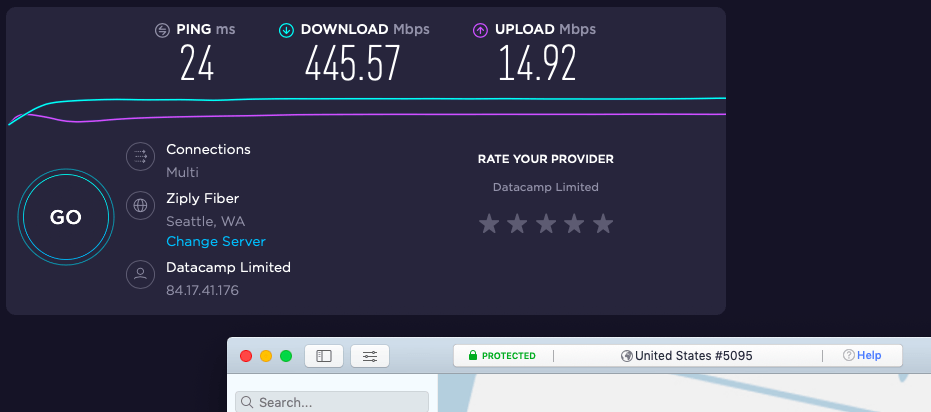 Aside from WireGuard, NordVPN has some other great security and privacy features to consider:
CyberSec feature to block ads, trackers, malware, and phishing domains
Double-VPN servers that encrypt traffic across two different locations
Tor-over-VPN servers that encrypt traffic with the Tor network, in addition to the VPN server
Obfuscated servers to get around VPN blocking (important if you are using a VPN in China or other restricted countries)
NordVPN also boasts a large network of over 5,400 servers spread across 59 countries. With NordVPN's network, all servers run in RAM-disk mode without hard drives. This means no data can ever be stored (or taken) from a VPN server. With secure and fast servers, NordVPN beats other leading VPNs with performance, as you can see in the ExpressVPN vs NordVPN speed comparison.
NordVPN is also a great service if you need a safe VPN for torrenting with secure and reliable connections. They offer 24/7 live chat support and a large knowledge base of guides and tutorial videos. Additionally, it is also a great VPN for streaming, with support for Netflix, BBC iPlayer, Hulu, Amazon Prime, Disney Plus, and more.
Audited: Like ExpressVPN, NordVPN is also a verified no logs VPN service. It passed two different audits by PWC AG that confirmed NordVPN is a true no-logs service. Additionally, NordVPN has passed a security audit by Versprite, which includes ongoing penetration testing and server audits.
With the 30 day risk-free trial, you will have plenty of time to test out NordVPN on all your devices to see if it's a good fit.
Check out our NordVPN review for more info.
---
2. Surfshark: Low-cost VPN with 30 day trial
Surfshark is one of the best VPNs in the low-cost category at only $2.49 per month. That makes it the cheapest VPN with a trial in this guide. Despite the lower price, Surfshark has a lot to offer.
First, Surfshark has many privacy and security features. Like NordVPN, Surfshark has a feature to block ads, trackers, and malware domains — they call this the CleanWeb feature. It also offers double-VPN servers for many locations around the world, as well as browser extensions.
If you want to stream media, Surfshark is a great choice. It supports numerous Netflix regions around the world and is also a good VPN to unblock Hulu, BBC iPlayer, and many other streaming services. Surfshark even has a dedicated app if you need a VPN for Firestick (available in the Amazon App Store).
If you want a VPN with a large server network, Surfshark fits the bill. They offer 3,200+ servers in 65 countries. And like NordVPN, Surfshark has also incorporated the WireGuard VPN protocol into their network. We hit speeds up to 397 Mbps in tests for the Surfshark review. It also beat out other leadings VPNs, as we noted in the Surfshark vs ExpressVPN comparison.
You get a lot for your money with a Surfshark subscription. The low price gives you all the features we described above, plus an unlimited number of connections. They also have 24/7 live chat support and a 30 day money-back guarantee.
Check out our Surfshark review for more info.
---
3. ExpressVPN: Reliable VPN with a free trial (30 days)
ExpressVPN is based in the British Virgin Islands and offers a 30 day risk-free trial. It's slightly more expensive than other options, but it gives you the best performance and very secure apps with built-in leak protection settings. ExpressVPN secures data using the OpenVPN protocol with AES-256 encryption, which offers the best mix of security and speed. They also have released the Lightway protocol, and while this is faster than OpenVPN, it's still not close to WireGuard.
ExpressVPN offers a large selection of apps for all devices – from computers and phones to routers, Smart TVs, and TV boxes. It is one of the few VPNs with a split tunneling feature, allowing you to route apps or websites outside the VPN tunnel.
If you want a VPN for streaming media and unblocking websites, ExpressVPN has you covered. With 160 server locations in 94 countries, you have a huge selection to unblock the media you want. ExpressVPN is also one of the few VPNs that work with Netflix, allowing users to stream numerous Netflix regions around the world.
Audited: ExpressVPN is a verified no-logs VPN service, having passed an independent audit by PWC that verified no logs are being kept. In addition to the no-logs audit, ExpressVPN also passed a security audit conducted by Cure53, which verified the security of their service. Lastly, ExpressVPN runs all servers in RAM-disk mode, similar to NordVPN and Surfshark.
Support: Customer service with ExpressVPN is top-notch. They provide 24/7 live chat support directly through their website. If you have any questions or issues, support is always available to help.
ExpressVPN is currently rated as the best VPN service and it continues to improve. Test it out with the 30 day risk-free trial to see for yourself.
Check out our ExpressVPN review for more test results and analysis.
---
4. Trust.Zone: Free trial VPN with no credit card (1 GB of data)
Trust.Zone is a Seychelles-based VPN service that offers a completely free trial with 1 GB of data – no payment info required. Trust.Zone is a basic VPN, but it still offers excellent performance, Netflix streaming, and strong security. If you want a VPN with a static IP address, then Trust.Zone is one of the cheapest options you will find.
In speed tests for the Trust.Zone review, I found the VPN to be quite fast with all servers tested. It is a good VPN for Netflix with US and UK regions supported. Trust.Zone works well for torrenting without any restrictions.
One of the main drawbacks with Trust.Zone is that it only offers apps for Windows and Android devices. While it may not be the best VPN for Android, the apps still offer all the basic features you would need with strong encryption. Other operating systems, such as Mac OS and iOS, are supported through free third-party apps.
No payment info needed: One benefit to a VPN trial with Trust.Zone is that you don't need to enter any payment info. Simply create an account and start using the VPN. If you do decide to get a paid subscription, they are offering a 10% discount for Restore Privacy readers with this coupon code: RESTOREPRIVACY10
See our Trust.Zone review for more info and test results.
---
5. VyprVPN 30 day trial
VyprVPN is an affordable, high-performance VPN service that offers a 30 day risk-free trial with all subscription plans. This Switzerland-based VPN has a great lineup of VPN apps that are reliable, secure, and user-friendly with built-in leak protection.
One unique aspect of VyprVPN is that they own every server in their network (no third-party rental servers). This helps to secure all data on the network, while also offering better performance. VyprVPN's server network is built to encrypt all DNS queries via their VyprDNS system.
VyprVPN remains a good choice for streaming, with full support for Netflix, Hulu, and other services. It is one of the best VPNs for Amazon Prime Video as well. Torrenting is allowed with VyprVPN with all servers without any restrictions.
For security, VyprVPN uses strong encryption and also supports the WireGuard VPN protocol, similar to NordVPN. It has also been audited and verified to be a no-logs VPN. Speed tests were previously good with VyprVPN, and with the addition of WireGuard, they are now even better. However, it still could not beat out NordVPN in the VyprVPN vs NordVPN comparison.
Every VyprVPN subscription plan comes with a 30 day risk-free trial. Take advantage of this offer to test drive the VPN service.
Our VyprVPN review has more test results and info.
---
Free trial VPNs that we do NOT recommend
Above are the top free trial VPN recommendations. On the opposite end of the spectrum, there are a few other free trial VPNs you may want to avoid:
PureVPN offers a trial, but we found the service to leak DNS requests, while also having really slow speeds. And if that wasn't enough, PureVPN was also caught logging users and providing the data to the FBI, as we discuss in our PureVPN review.
CyberGhost offers a 7 day free trial, but it may come with some problems. First, CyberGhost speeds are really hit or miss, which we discovered in testing for the CyberGhost review. Additionally, the service also gets blocked by Netflix. CyberGhost is also owned by a company that has a history of making malware.
Ivacy has connections to PureVPN, and they also offer a cheap trial. However, after the trial expires, the prices jump up to an above-average rate — and you won't catch this until it's too late, unless you read the fine print.
Tread carefully when selecting a free trial VPN. We only recommend going with a reputable service with a good track record.
Which is the best free trial VPN?
In terms of the best overall VPN discussed on this page, NordVPN is the top recommendation.
It consistently performs well in all areas of testing, especially in the categories of speed, reliability, and security. NordVPN's speed is now far above other VPNs, thanks to the WireGuard protocol and a high-performance network of dedicated servers. For a lower-priced VPN, it also delivers many features, apps for all devices, and full streaming capability across a wide range of services.
No up-front payment: If you are looking to try out a VPN right now without paying anything up front (or providing billing info), then Trust.Zone would be the best option. It is also one of the fastest and cheapest VPNs on the market.
With any of these VPNs, you'll have a chance to try out the service without risk.
Test your VPN during the trial window
Ok, so now you have a free trial VPN and you want to see how well it performs.
You may want to run the service through various VPN tests and checks to look for:
IP address leaks
DNS leaks
VPN speeds and reliability
VPN features working properly
You can also test out the different VPN apps on the devices you want to use, such as on your computers, phones, or tablets. If you find any issues, you can work with the VPN's support department or cancel the service and go with a different option.
Free trial VPNs vs paid trial VPNs
The main problem with most free trial VPNs that we highlighted in this report is that the trial window is short. You can see this for example with the following free trial VPNs:
One potential problem here is that this short time window (or minimal bandwidth) may not be enough to really test the service. Consequently, your free trial may expire before you are comfortable with the VPN and have performed enough testing to see if you like it.
On the other hand, you can also test a 30 day trial VPN. Having a full 30 days to test out the service (risk free) with all your different devices will ensure that you are satisfied with the VPN and it works for your situation. Here are the best 30 day risk-free trial VPNs:
Be sure to use the discounts above for maximum savings.
A quick note on free VPNs
Since we are on the topic of free trial VPNs, we may as well mention free VPNs.
As a general rule of thumb, free VPN services are usually dangerous, invasive, and oftentimes malicious. Simply put, free VPNs make money off the user by collecting your data and selling it to the highest bidder, which is usually advertisers. There have been numerous free VPNs busted for installing malware and tracking libraries in their apps, such as Betternet, for example.
Are there any risks with a free trial VPN?
If you go with one of our tested and recommended VPNs in this guide, then there are no risks for the free trial VPN.
If you are nervous about getting stuck with a VPN you don't like, then I'd recommend going with one of the 30 day risk-free trial VPNs. This gives you lots of time to test and be certain it is the VPN for you, without any risk.
Note: You can also check out the cheapest VPNs here.
Conclusion on VPNs with free trials
Alright, as a brief recap, we covered the best free trial VPN services currently available on the market. We also discussed a few risk-free trial VPNs that give you a full 30 days to test out the service.
Whichever option you decide to go with, keep the trial window in mind when testing out the service.
You could even put the last day of the trial on your calendar as a reminder. If you find the VPN is not to your liking during the trial, simply cancel the service and move on to a different option. Stay safe!
---
---
---
---
---
---
If you have any other questions about free trial VPN services, just drop a comment below.
Last updated on December 13, 2020.