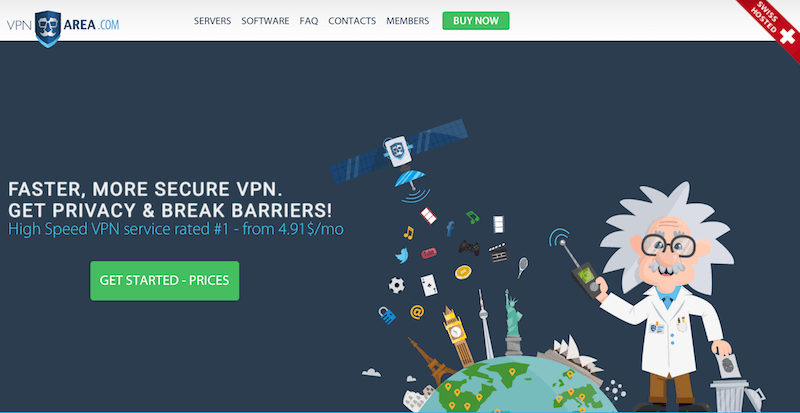 Summary: VPNArea is not the biggest name in the VPN industry, but this Bulgaria-based provider did very well in testing for this review. It passed all privacy and security tests while also having excellent speed and reliability throughout the server network. VPNArea offers good privacy and security features as well as strong encryption. They further protect customer data with a strict no logs policy, Bulgaria jurisdiction, and server hosting (for business operations) in Switzerland.
In addition to all the privacy and security benefits, VPNArea also has many servers optimized for torrenting and various streaming services (Netflix, BBC iPlayer, and others).
While it doesn't offer as many advanced privacy features as Perfect Privacy, VPNArea still did well in every category. They have also recently added self-hosted, secure DNS which also includes ad blocking. If you are looking for a privacy-focused VPN that isn't too expensive, VPNArea is a great option.
+ Pros
Competitive price
No logs
Excellent for streaming with dedicated servers for Netflix, Hulu, Amazon Prime, and BBC iPlayer
Great for torrenting/filesharing with dedicated P2P servers
Strong security features, with self-hosted DNS
Good speeds throughout the server network
6 simultaneous connections (which can be shared with others)
Dedicated IP addresses available in some countries
Large server network

Connections
6 (can be shared with others)

Price
$4.92

Jurisdiction
Bulgaria

Privacy Tests
Passed all tests.
This in-depth VPNArea review reveals all the important details after thorough testing and analysis.
8 May 2017
Recommended
Pricing
VPNArea offers three pricing tiers, with the yearly rate coming in at $4.92 per month. For a high quality, privacy-focused VPN service, the price is quite reasonable.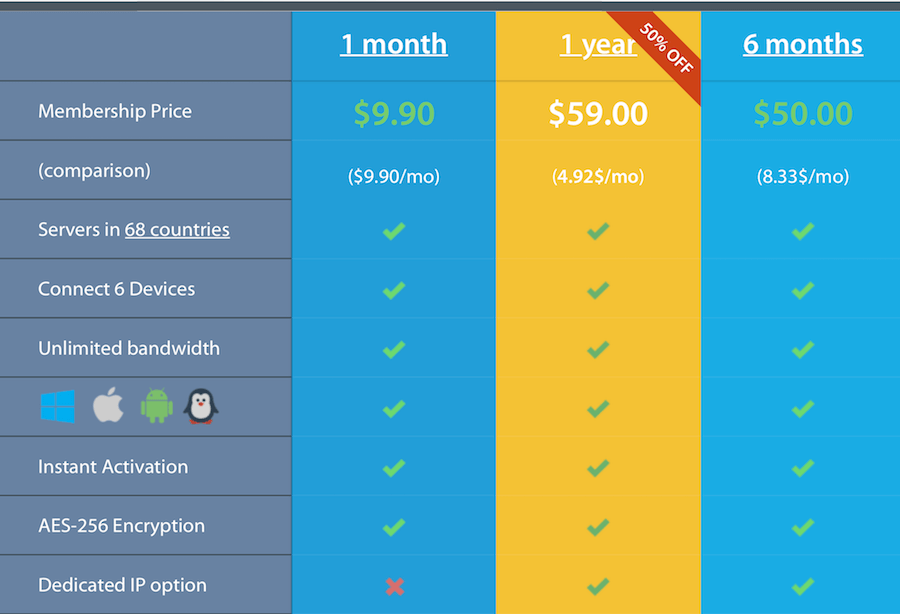 The only differences in the subscriptions is that the dedicated IP address option is not available for the monthly plan. Other than that, everything is the same.
VPNArea offers a clear-cut 7 day money-back guarantee. There are no bandwidth clauses or hidden stipulations.
When purchasing a subscription you have lots of different payment options:
PayPal, Visa, Mastercard, Maestro, Discover, American Express (AmEx), UnionPay, JCB, Bitcoin, Webmoney and Payza.
You can see the pricing and payment details here.
VPNArea applications
One unique benefit you get with VPNArea is the ability to share your account with friends and family. This allows you to split the cost. Most VPNs will block your account for sharing a subscription.
VPNArea gives you 6 simultaneous connections per subscription. This is double the number offered by VyprVPN (basic plan), but fewer than the unlimited number of connections offered by Perfect Privacy.
VPNArea provides you with step-by-step installation tutorials for many devices and platforms. In the members area you can access guides for:
Windows
Android
Mac OS X
Linux
iOS (iPhone and iPad)
Routers (Asus, DD-WRT, Tomato, GLI, Asus Merlin)
Streaming services (Netflix) on routers
Streaming services and devices (Amazon Fire Stick, Kodi, etc.)
Here are a few guides you will find in the members area: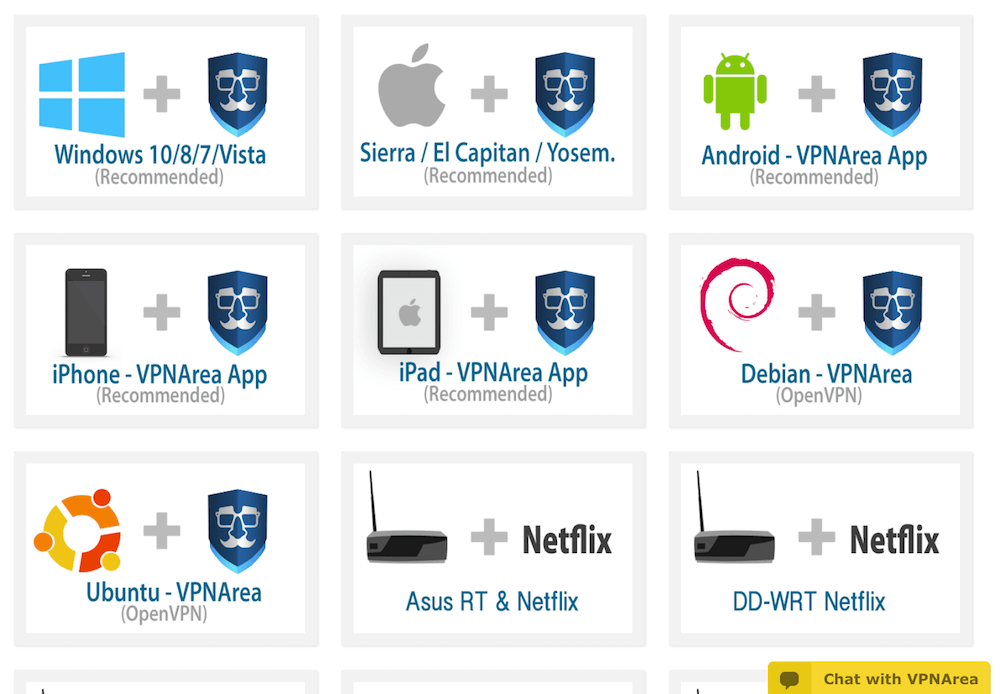 VPNArea's main application is called Chameleon. We'll take a close look at how it performed with both Windows and Mac OS.
VPNArea on Windows
VPNArea's Windows application worked very well in testing. It offers you a user-friendly layout that also incorporates the different privacy and security features. In the screenshot below I'm testing out one of the high-bandwidth servers in the Netherlands.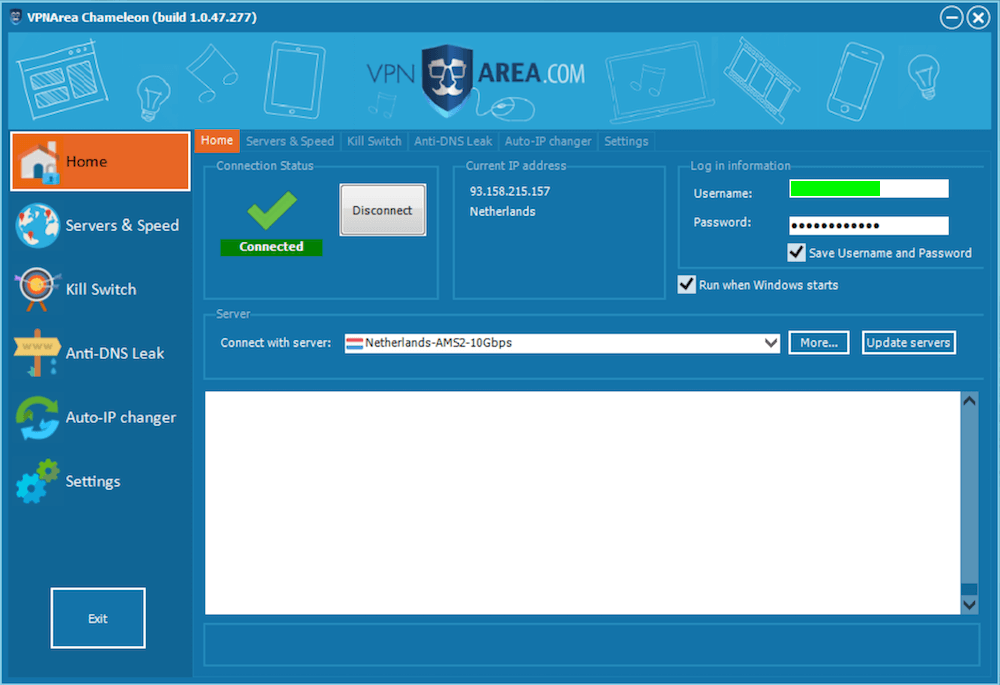 After modifying the settings to suite your needs, you can quickly connect to a VPN server directly from the Windows menu bar.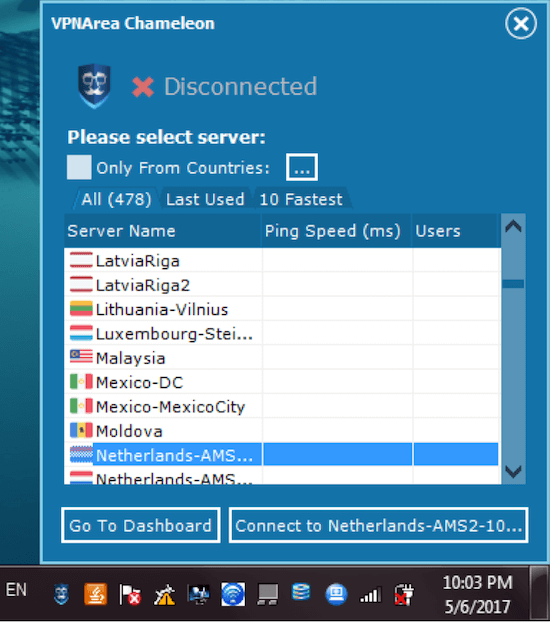 From the menu bar you can connect to the 10 fastest servers in your geographical area.
You can also configure the VPNArea client to only connect to servers in specific countries of your choice.
The Chameleon application offers the following privacy and security features:
DNS leak protection
IP leak protection (includes WebRTC leak protection)
Kill switch (to block all internet traffic if the VPN connection drops)
Startup options for full-time, always-on VPN use
Overall the Windows client performed very well in my testing and daily use. The privacy and security features are very customizable, which allows you to configure exactly how you want your VPN to work.
The kill switch feature, for example, is very robust. You can configure it to completely block all network traffic if the VPN is not active. Most VPNs offer a "soft" kill switch, which only blocks traffic from your internet browser, rather than protecting all traffic (applications, email, etc.).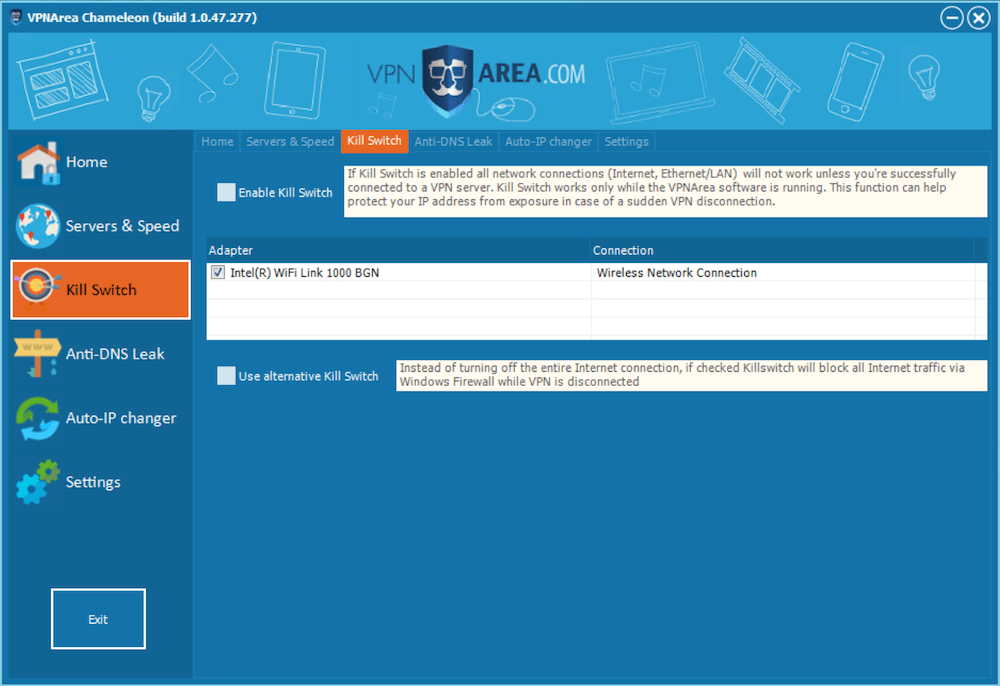 When enabled, this setup creates a leak-proof connection that forces all internet traffic over the VPN, which protects your privacy if the VPN disconnects.
VPNArea on Mac OS
While VPNArea's Mac OS client worked very well in testing for this review, it is not quite as customizable as the Windows version. Nonetheless, in the important areas of privacy and security, it worked worked perfectly in my testing.
Just like with Windows, the VPNArea icon will display in the Mac OS menu bar. The color-coded icon displays real-time connection status and allows you to quickly connect to a server of your choice.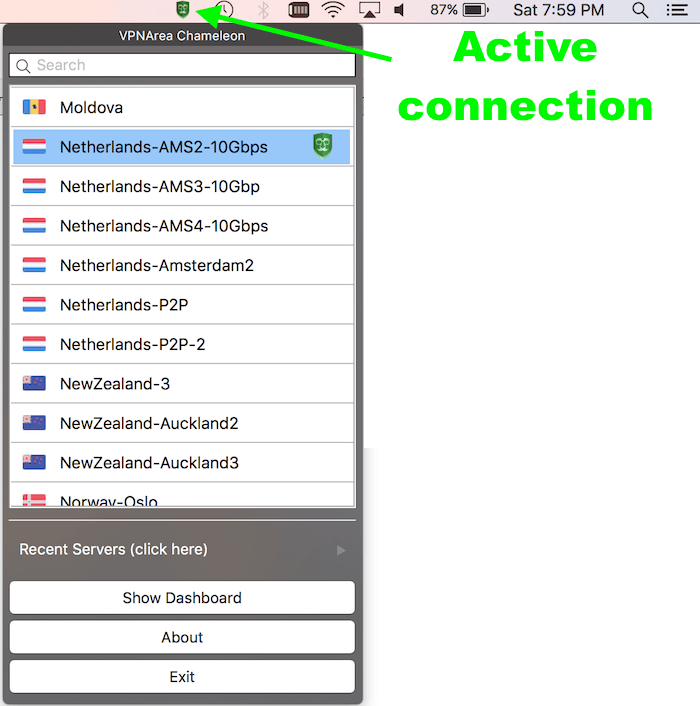 Just like with the Windows application, you can configure the kill switch to completely disable your network connection if the VPN is not active.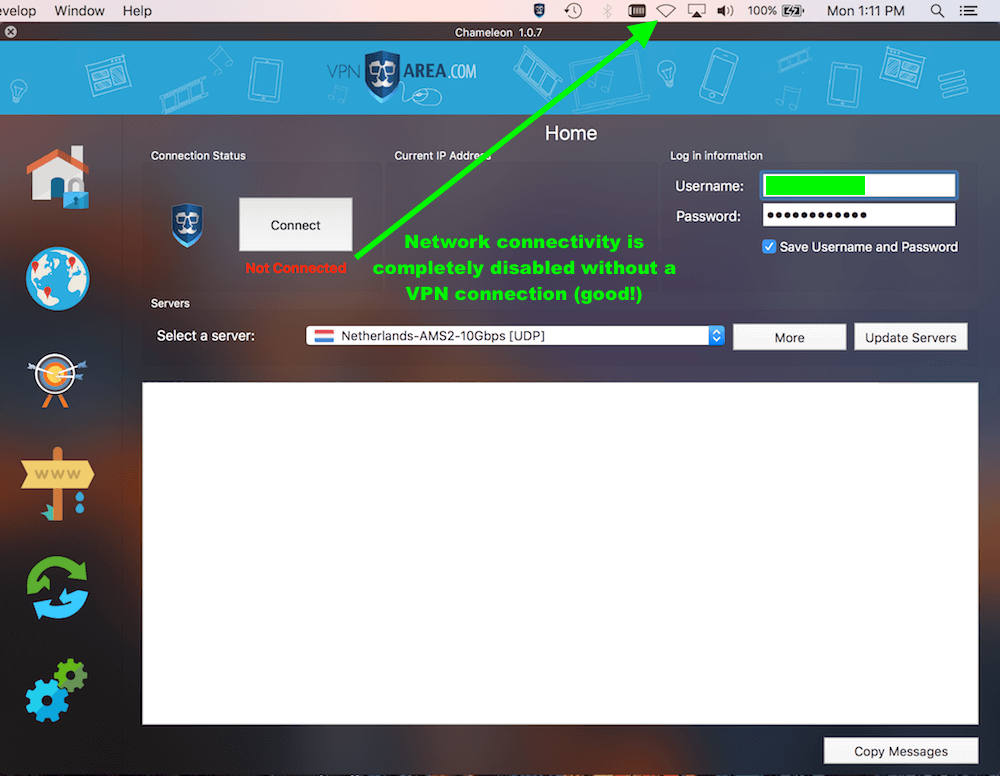 When you are not connected to a VPN, your WiFi network (or ethernet) will be completely disabled. This type of a kill switch provides you with the maximum amount of protection.
Note: VPNArea also offers a free license for using Viscosity on Mac OS. Viscosity is a premium third-party VPN app that works very well with Windows and Mac OS X.
Privacy and security test results
I tested VPNArea's Windows and Mac OS clients for the following issues:
DNS leaks
WebRTC leaks (which affects Firefox and Chrome browsers)
Kill Switch (is it properly blocking all traffic when VPN connection drops)
Note: prior to running the tests, I activated IP leak protection and DNS leak protection features in the VPNArea client (I used DNS servers in Luxembourg, which is close to my location).
For DNS leak protection, there are a variety of DNS servers you can use, which you can find in the member area. This is a little bit more tricky to setup, but it seems to work well based on my testing.
Update: While VPNArea did well in testing with no DNS leaks, they do not offer their own self-hosted DNS resolvers. While you can use secure and safe third party DNS (such as these), it would be better if VPNArea provided their own DNS. Hopefully this can be added in the future.
Testing a VPN server in Australia with the Windows client: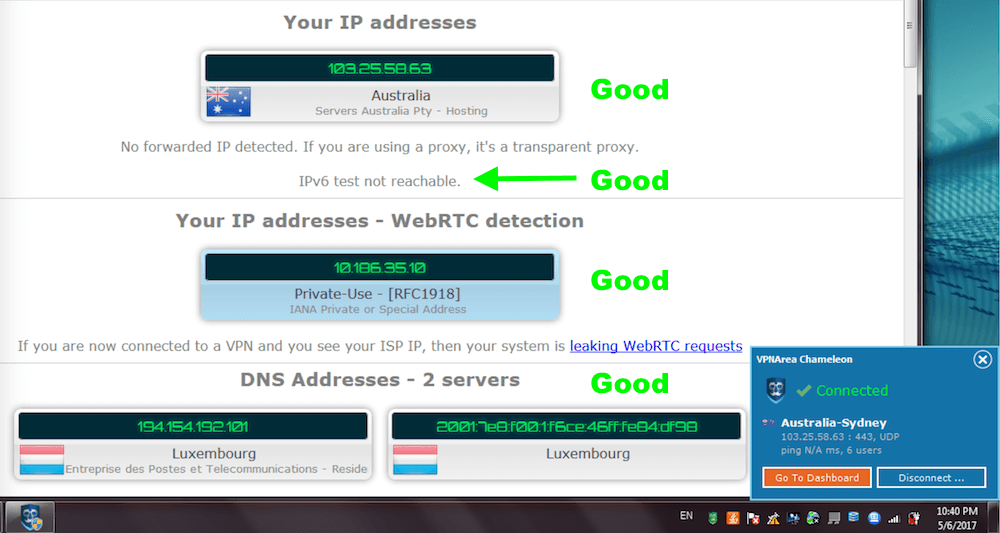 Testing a VPNArea server in Canada with the Mac OS client (all results were good):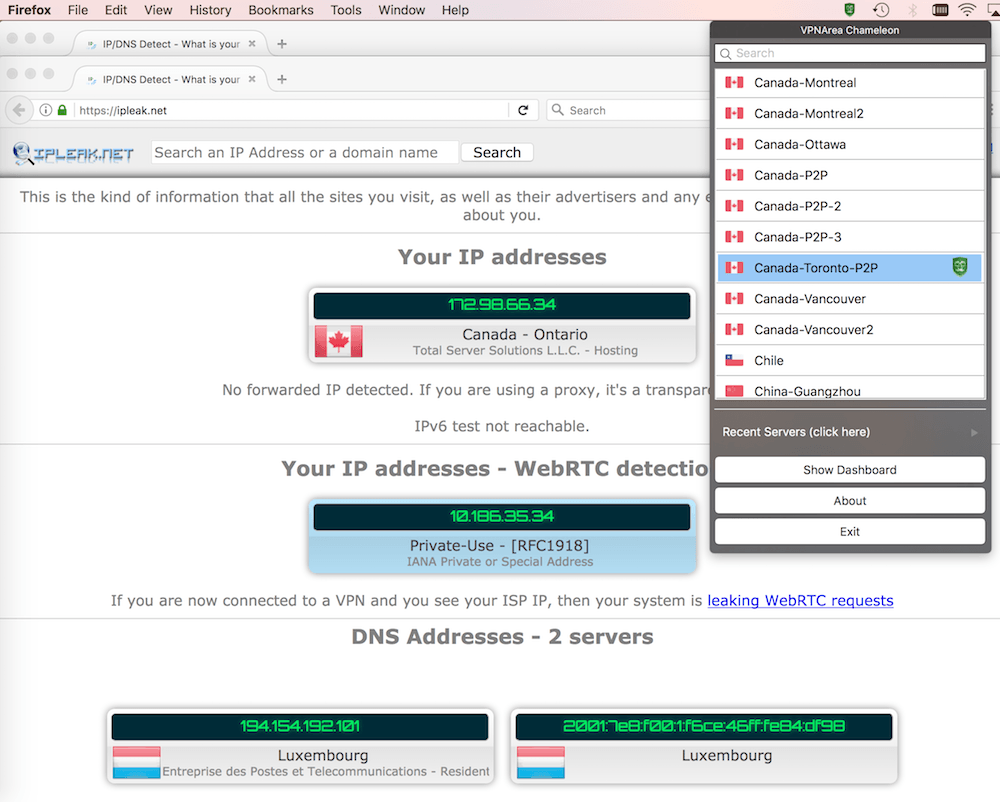 As shown earlier, VPNArea provides a very robust kill switch that completely disables network connectivity to protect your privacy if there is no active VPN connection. Testing the kill switch: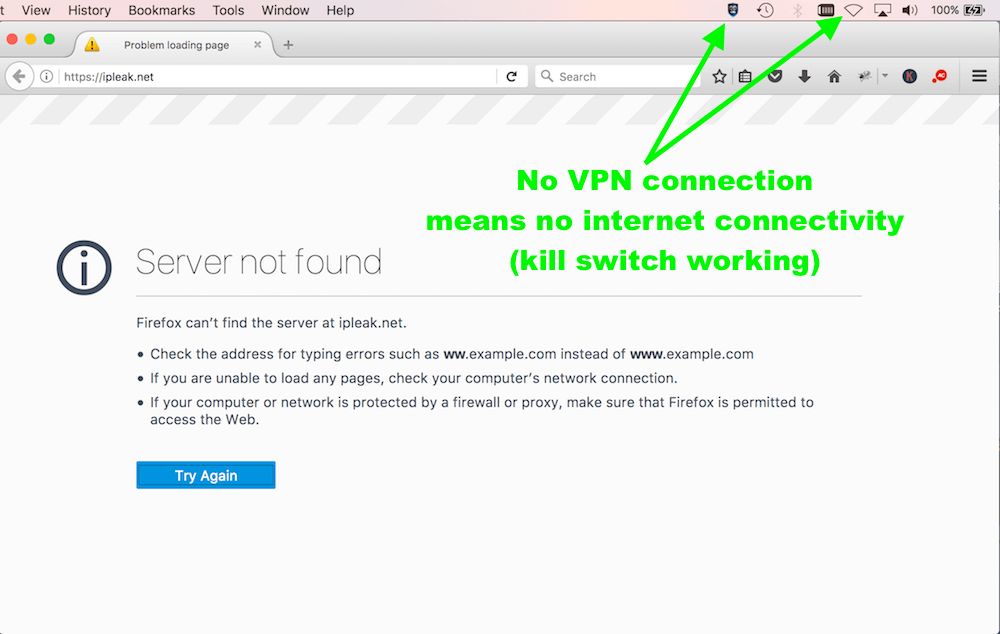 For this VPNArea review I also tested servers in:
the United States
the United Kingdom
Netherlands
Sweden
Germany
Austria
Turkey
Test Results: VPNArea passed all privacy and security tests on both Windows and Mac OS:
No IPv4 leaks
No IPv6 leaks
No DNS leaks
No WebRTC leaks
Kill switch works well
Benefits to you: Based on my testing, VPNArea will do an excellent job protecting your privacy and security online. Many VPNs fail these tests miserably – see here for example. VPNArea passed all tests without any problems to report.
VPNArea for Netflix, streaming, and torrenting
VPNArea is an ideal choice for anyone wanting to stream media and/or torrent (P2P download).
They offer a large selection of servers that are optimized for different streaming services, such as:
Netflix
BBC iPlayer
Amazon Prime
Hulu
Additionally they provide quite a few servers that are optimized for P2P torrenting. This is one reason VPNArea is recommended in the Best VPNs for Torrenting guide.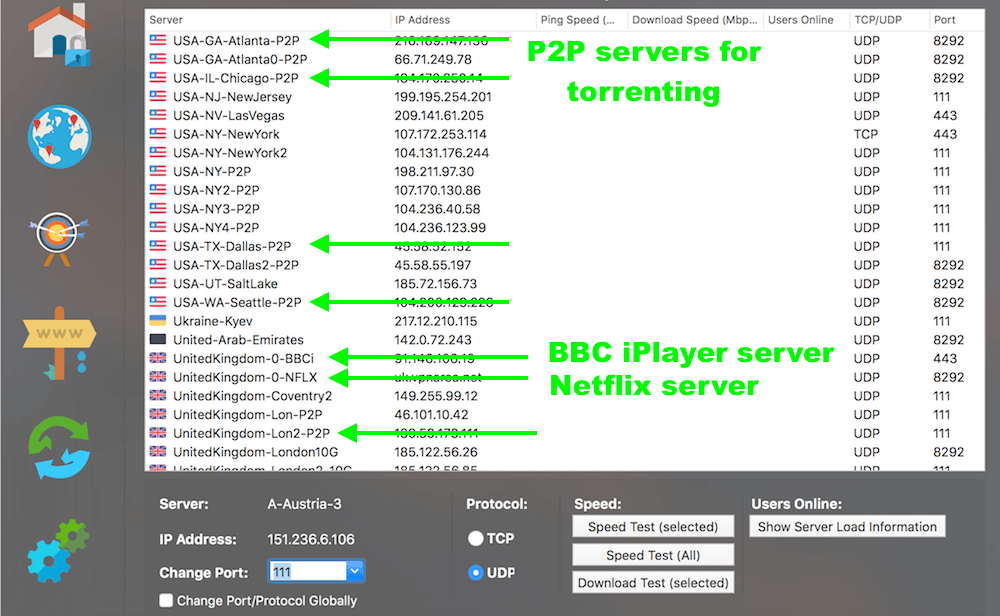 With VPNs, you usually have to choose between a service that is focused on privacy/security or one that is focused on streaming. With VPNArea, you can get both. You can read more about how VPNArea is optimized for both torrenting and streaming on their website.
Company information and jurisdiction
VPNArea has been around since 2012 and is under the parent company of Offshore Security EOOD. According to the website, the computer systems and hosting for the company are physically based in Switzerland, which is where "customer data" is processed. Switzerland is a very secure country for data security and privacy in general.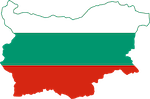 The parent company (Offshore Security EOOD) is registered in Bulgaria. From a legal perspective, that puts VPNArea under Bulgarian laws. This is good because Bulgaria is an excellent privacy jurisdiction.
Server network
VPNArea has a large server network which should provide you with a fast and reliable server no matter where you are located in the world.
They currently have servers in 68 different countries and are still expanding.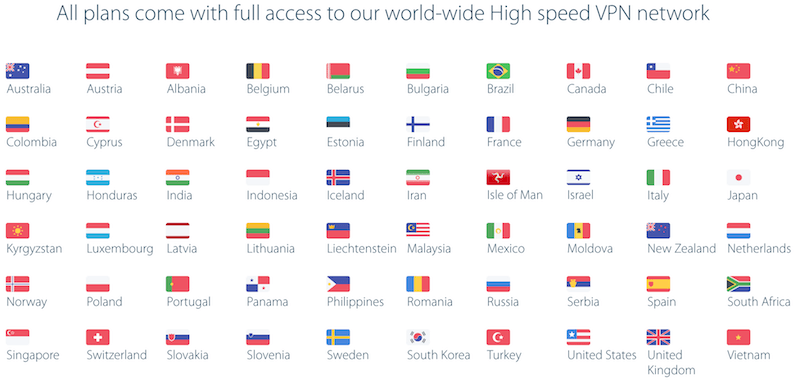 Another benefit of VPNArea's server network is that there is always plenty of bandwidth. When you look at the server stats in the application, there are quite a few servers available with 0 active users. Fewer users on the server network ensures faster speeds and better reliability.
They emphasize this important factor on their website:
1 server for each 250+ customers. We have 13 times better members:server ratio and therefore – better speed. New servers added every month.
Members have access to a detailed server status page in the member area.
No logs
The next important topic when discussing privacy is logs. VPNArea is a clear no logs VPN, as explained on the website:
Our hosting is based in Switzerland. Our company is registered in Bulgaria. Since we're not an internet provider we do not fall under the data-retention laws in the country where the company is registered. Therefore we do not keep logs of your activity.
That said we do not support illegal activity, spamming, hacking or any sort of fraud schemes and scams or copyright infringement or illegal pornography, please refer to our Acceptable Use clause in the Terms of Agreement .
Sounds good. And after reading through the Terms of Agreement, and the Acceptable Use Policy, there's nothing that raises concern. (Always read the fine print.)
Speed testing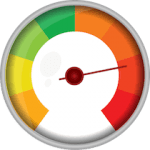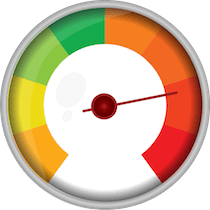 Overall, the speed testing results for VPNArea were good.
I tested many VPN servers throughout Europe (my physical location). Speeds were fast and stable across the board, only reducing my baseline (without a VPN) speed by about 1-4 Mbps. Speeds for VPN servers in the United States and Asia were also good, but about 30-50% slower due to the distance lag (higher ping).
One of the biggest factors contributing to VPNArea's good speeds is that the servers aren't overcrowded with users. Many VPNs oversell their service, which results in overloaded servers – see this screenshot for example.
Overall VPNArea will offer you great speeds. While it wasn't as fast as Perfect Privacy, it still did very well in speed testing.
Website and support
The VPNArea website is simple and easy to navigate. It isn't quite as well designed as other VPN websites I've seen, but it gets the job done. They also have a user forum where updates and relevant information are posted on a regular basis. If you need to reach support you have the following options:
Live chat
Email
Skype
I tested out both the email and live chat options. In both cases, the support representatives were prompt and helpful with my inquiries. Live chat is available every single day of the week, throughout most of the day (but not quite 24/7, yet).
Overall, VPNArea has excellent support based on all of my interactions with different members of their support staff.
VPNArea alternatives
The only minor drawback with VPNArea is they don't offer quite as many advanced privacy features, such as multi-hop VPN chains. This feature allows you to create an encrypted VPN tunnel across multiple VPN servers, which gives you a higher level of anonymity.
Two alternatives offering this feature are Perfect Privacy (see Perfect Privacy review) and ZorroVPN (see ZorroVPN review).
Overall, VPNArea still offers all the important privacy and security features most people need. And I've also observed that they add new servers and features every few months. So VPNArea appears to be moving in the right direction, based on my observations over the past year.
Signup and installation
Signup and installation is quick and easy. The first thing to do is go to the VPNArea homepage (link opens in a new window).
From the homepage, click on the "Get Started – Prices" button or the "Buy Now" button, both of which will take you to the payment page.
After completing the payment you'll be emailed a receipt and will be able to access the members area from the menu at the top of the VPNArea homepage. From there, you can download the VPN application for your devices.
Note: when signing up, you do not need to enter your first and last name.
VPNArea Review Conclusion: Recommended
VPNArea earned a 4.8 out of 5 rating. Here are the final scores in the different categories:
Speed: 5
Reliability: 5
Support: 5
Privacy: 5
Price: 5
Features: 4
The one area where VPNArea scored a 4 was in features, only because it doesn't offer quite as many privacy features when compared to other VPNs, such as Perfect Privacy. Nonetheless, VPNArea did very well in every category, which is why it is also featured on the Best VPN List. Here's the final breakdown:
+ Pros
Competitive price
No logs
Excellent for streaming with dedicated servers for Netflix, Hulu, Amazon Prime, and BBC iPlayer
Great for torrenting/filesharing with dedicated P2P servers
Strong security features, with self-hosted DNS
Good speeds throughout the server network
6 simultaneous connections (which can be shared with others)
Dedicated IP addresses available in some countries
Large server network
Overall, VPNArea is a great VPN service that offers an excellent value for your money, despite not being a widely recognized name in the industry. It is one of the few VPNs that provides you with many streaming/torrenting options while also doing a great job with privacy and security. If you're looking for a high-quality, privacy-focused VPN that is also low-cost, VPNArea is definitely worth consideration.