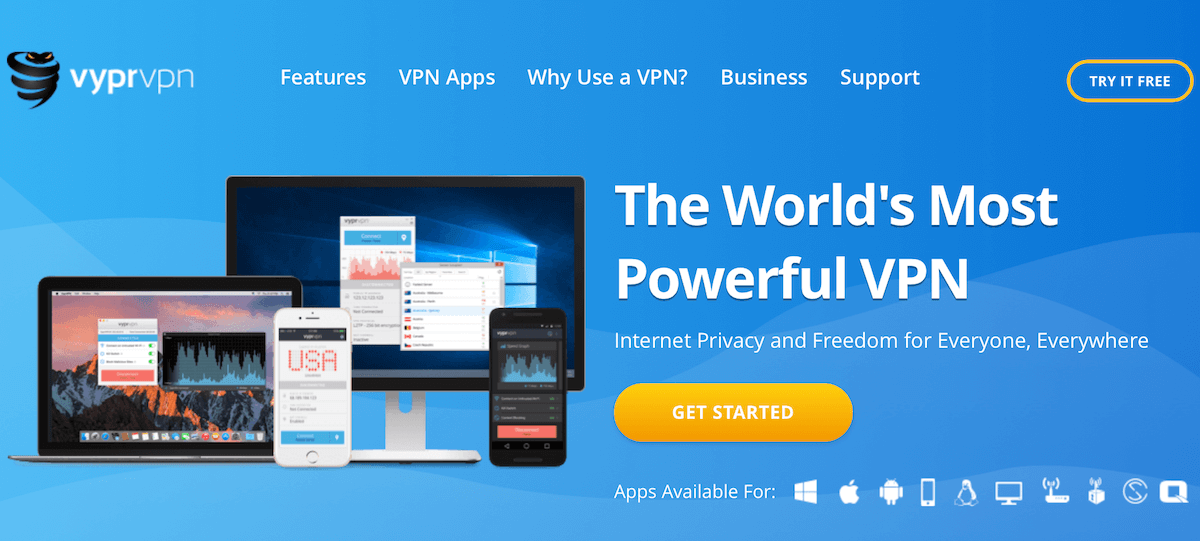 VyprVPN Review and Test Results
Performance

Features

Support

Value
Review of:
VyprVPN is a Switzerland-based VPN service that performed very well in testing for this review. Extensive testing of their Windows, Mac OS, and Android apps did not identify any leaks, bugs, or problems. They are one of the few VPN providers that actually owns every server in their network (no renting from third parties). Aside from the high level of security, this also provides you with excellent speeds and reliability, based on my testing.
The main drawbacks with VyprVPN are their connection logs and anti-torrenting policies. If use their network for torrenting (copyright violations), they may block your account. The connection logs also may not be too concerning for some users. VyprVPN is very transparent about their policies (no dishonest or contradictory claims) and all connection data is deleted after 30 days.
In terms of value, VyprVPN does quite well. They offer a 25% discount on annual plans, which brings the price down to $3.75 a month, making this one of the cheapest (high quality) VPNs you will find. Every subscription also includes a 3 day free trial, which allows you to test VyprVPN before being charged.
Keep reading this review for the pros and cons of VyprVPN, or check out the VyprVPN website here >>
+ Pros
Entirely self-owned and operated server network, including secure DNS
Excellent network security
Great speeds and reliability
Obfuscation features to defeat VPN blocking (Chameleon protocol)
User-friendly applications for many devices/platforms
– Cons
Minimal connection logs (no activity, erased every 30 days)
Torrenting (P2P downloads) discouraged

Connections
3 (basic)
5 (premium)

Price*
$3.75 (basic)
$5.00 (premium)
*with discount

Jurisdiction
Switzerland

Privacy Tests
Passed all tests.

Protocols
OpenVPN
IPSec/L2TP
IPsec/IKEv2
PPTP
Chameleon*

Multi-hop
No

Obfuscation
Yes

Logs
Connection logs**
*The Chameleon Protocol is the self-developed 256-bit OpenVPN protocol that also obfuscates VPN use.
**VyprVPN deletes all connection data after 30 days.
Try VyprVPN with a 3 Day Free Trial (Plus 25% Discount) >>
VyprVPN price
VyprVPN offers a good value when you consider the features and overall quality. For a high-performance VPN with a large selection of apps, the prices are quite competitive when compared to other alternatives.
Here are the 25% off reduced prices you'll get from this discount link >>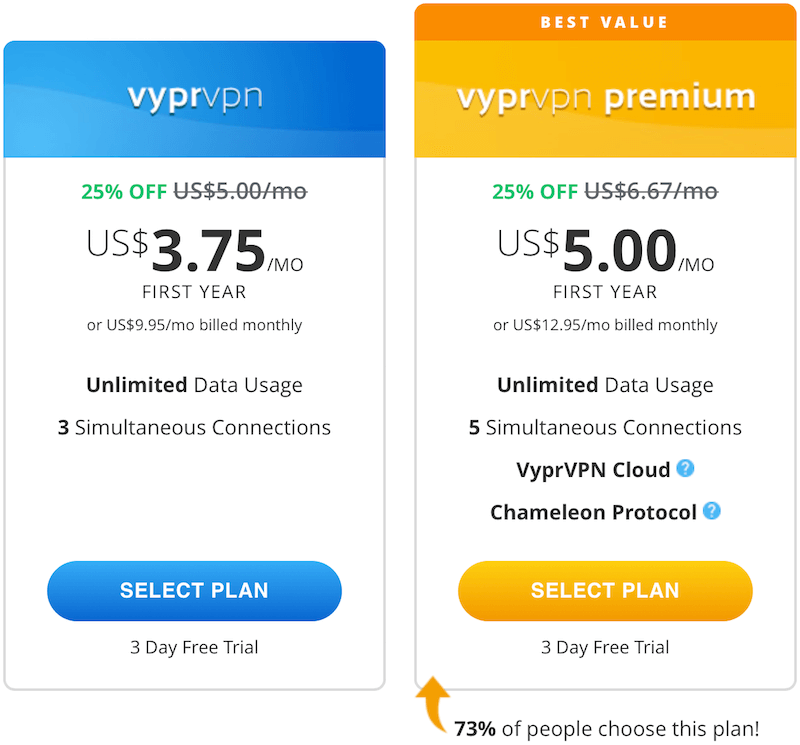 Here are the main differences between the two VyrpVPN subscription plans:
Connections – 3 with basic / 5 with premium
Chameleon Protocol – This is a self-developed 256-bit OpenVPN protocol designed to defeat VPN blocks and hide (obfuscate) the fact that you're using a VPN. The Chameleon protocol would be a good option for defeating VPN restrictions with universities/schools, corporate networks, internet service providers, or in countries like China, UAE, Saudi Arabia, Iran, Turkey, Qatar, etc.
VyprVPN Cloud – This option is just a separate VPN server that can be operated with a third-party host.
VyprVPN offers different payment options, including all major credit cards, PayPal, and Alipay. Unfortunately, there is no option to pay with Bitcoin or other cryptocurrency as of right now.
VyprVPN and user privacy
VyprVPN offers some unique benefits over other VPNs in the areas of securing customer data and protecting your privacy.
Switzerland jurisdiction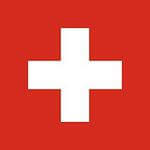 VyprVPN is owned and managed by Golden Frog GmbH, a company based in Meggen, Switzerland. This puts VyprVPN and all customer data under Swiss data protection laws.
Switzerland is an excellent jurisdiction for privacy, with data protection legislation being incorporated into the national legal structure. It's a country that is fiercely independent (not a member of the EU) and also not a member of the infamous 5 Eyes or 14 Eyes mass surveillance alliances.
As they discuss on the About Page, Switzerland was carefully chosen as the legal jurisdiction when the company was initially founded. The owners of VyprVPN, Ron and Carolyn Yokubaitis, are in Texas (USA) and have a long history fighting for online privacy and combatting illegal mass surveillance.
The company background is also interesting. VyprVPN was created in response to the infamous Room 641a scandal, where the NSA (US government spy agency) was conducting illegal mass surveillance using AT&T's network.
Total network control (no third parties)
One big advantage with VyprVPN is that they own and manage 100% of their VPN server network. This cuts out all third parties and better secures your data and privacy.
Many VPNs rent cheap virtual servers from third parties. This a problem because these servers are often logged by the host (landlord). This practice could potentially compromise your privacy and data, even when the VPN claims to be a "no logs" service.
VyprVPN maintains 100% control over the hardware, the network, and the code, removing all third parties from the equation.
See the details on their server network here.
VyprDNS – Encrypted DNS without logs
Many VPN services also rely on third-party DNS.
Just like with servers, third parties can simply log all your DNS requests, which gives them your browsing history. VyprVPN provides their own secure DNS resolvers, called VyprDNS – see here. This self-owned and operated system better protects your DNS requests and browsing history from third-party snooping and DNS vulnerabilities.
Supported devices and platforms
VyprVPN offers apps for a large number of devices. For this VyprVPN I tested the different applications with Windows, Mac OS, and Android. Everything worked well without any problems to report.

In addition to the apps above, VyprVPN also provides direct support for the following platforms:

The main thing to keep in mind is the connection limitation, which varies depending on the pricing plan you choose:
Basic plan ($3.75) gives you 3 connections
Premium plan ($5.00) gives you 5 connections
VyprVPN on a router
One trick to using a VPN on many devices, without exceeding your connection limit is to use a VPN on a router. The router will count as one device, but it will extend the protection and benefits of a VPN to every device that connects to the router.
I tested out VyprVPN on an Asus router and found it to perform well. See this step-by-step VPN router guide I created for instructions on setting up VyprVPN with a compatible Asus router.
VPN router app
VyprVPN also offers a router app that simplifies the installation and setup process. One advantage of their app is that it lets you easily select how each device on your network connects – either through the VPN or your regular (local) connection.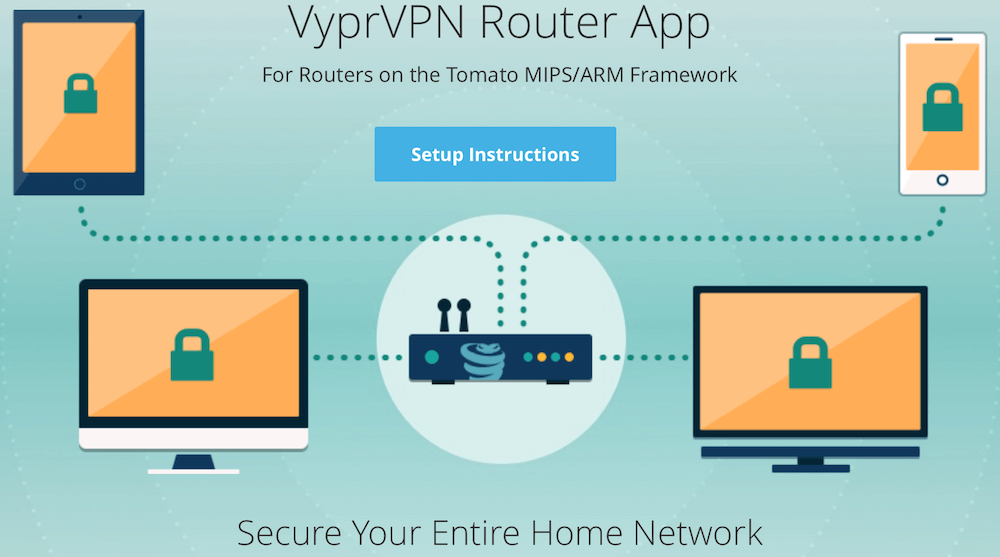 Two other benefits of the VyprVPN router app are:
The ability to switch between different VPN protocols, including PPTP, OpenVPN (160-bit & 256-bit) and Chameleon.
The ability to connect to different servers in the network.
Full protection from VyprDNS for all of your DNS requests.
Note: VyprVPN's router app does not work on all routers. You can check the hardware requirements and learn more about the VyprVPN router app here >>
For an overview of VPN routers and all the different firmware options, see the VPN router guide.
VyprVPN app testing
VyprVPN offers user-friendly apps that performed very well in testing for this review. In testing the different apps for this review I did not identify any problems with crashing, freezing up, or leaking data. I tested VyprVPN apps on:
Here's what the desktop app looks like, with the locations screen on the right, sorted by ping (latency).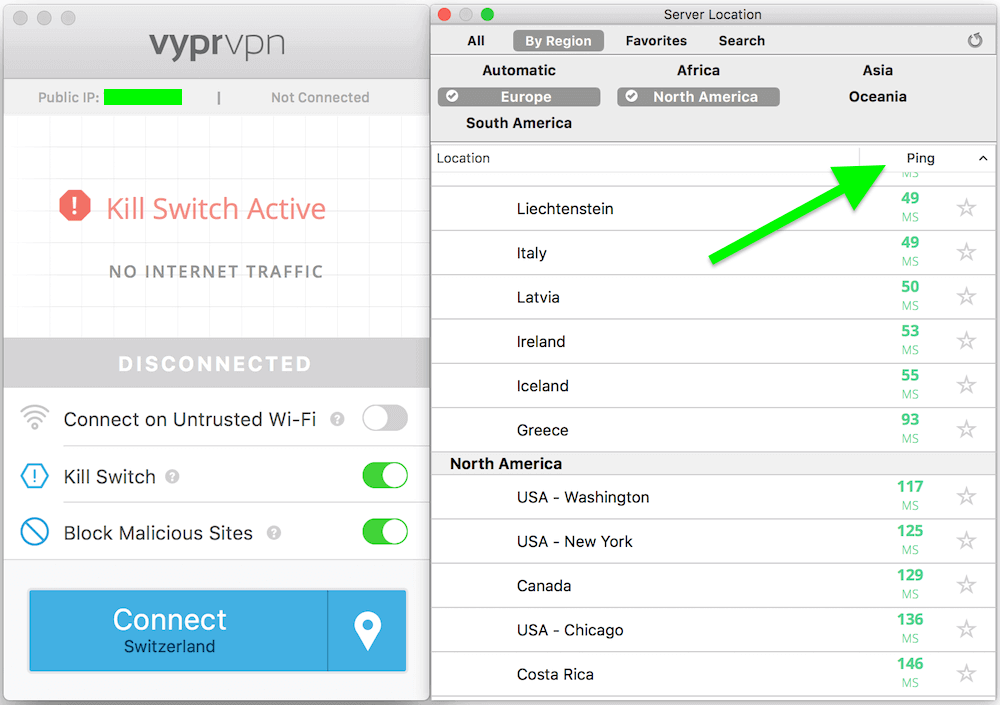 In the top right corner you can see that servers are grouped by geographic region and then ranked by ping.
You can also see there are two features activated in the VPN app:
Kill Switch – This forces all internet traffic through the VPN. If the VPN connection drops, your internet traffic will be blocked. This ensures that your real IP address does not get exposed.
Block Malicious Sites – This option filters/blocks a list domains that are known to spread malware.
My overall experience in testing out the different apps is that they are simple and work very well.
VyprVPN Android
Many people want a VPN that will perform well on mobile devices.
VyprVPN offers both an Android app as well as an iOS app.
Here is a quick look at the Android app (left) when connected to a VPN server in the Netherlands. On the right are the leak testing results (no leaks).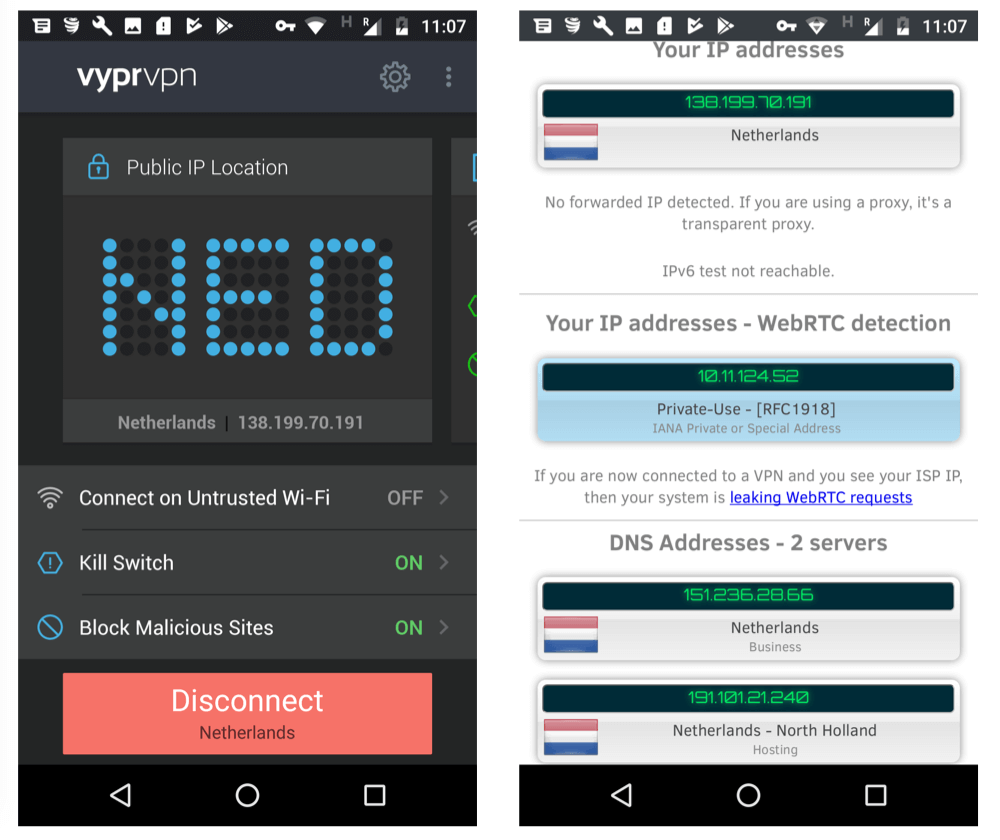 Another great feature of the Android client is the ability to selectively route apps on your device through the VPN on a per-app basis.
Here's what that looks like in the Android settings: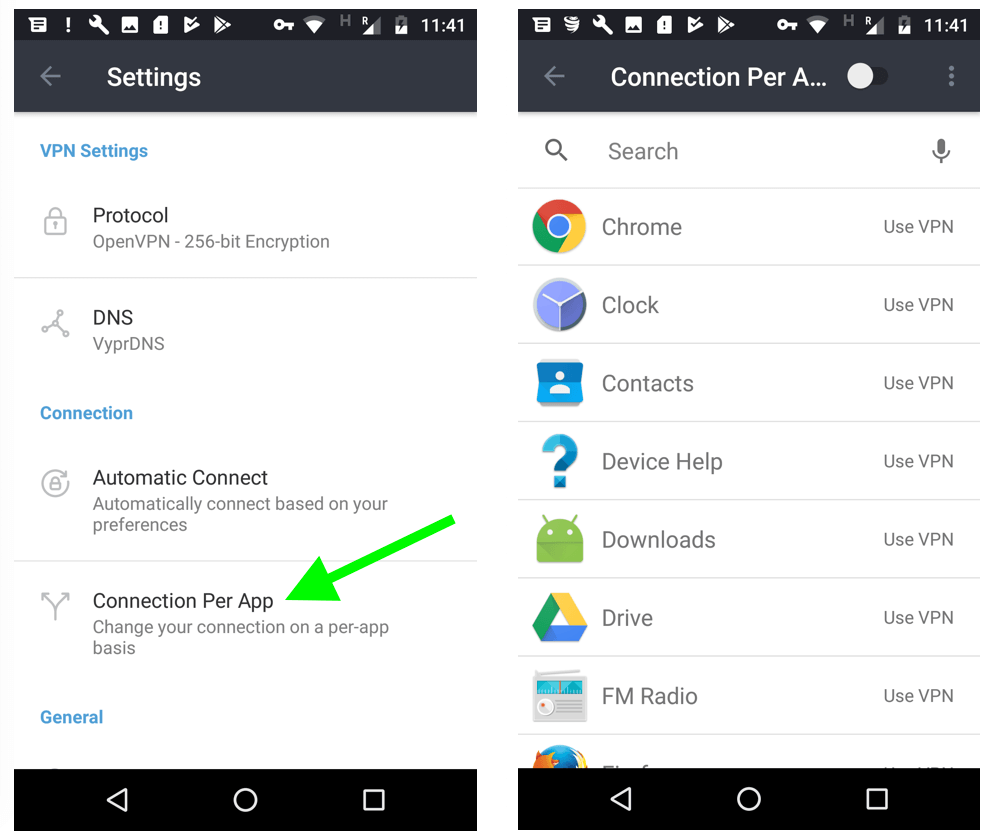 VyprVPN also offers a great iOS app that I have used in the past, although did not thoroughly test for this review.
VyprVPN is an excellent choice if you're looking for secure, leak-proof VPN apps to use with Android or iOS mobile devices.
VyprVPN privacy and security test results
VyprVPN did well in all privacy and security tests. I.
I ran the Windows, Mac OS, and Android apps through some basic VPN tests to check for:
DNS leaks
WebRTC leaks (which affects Firefox, Chrome and Opera browsers)
Kill switch (to see if it is properly blocking all traffic when the VPN connection drops)
Here were a few of the results.
Testing a server in the United Kingdom: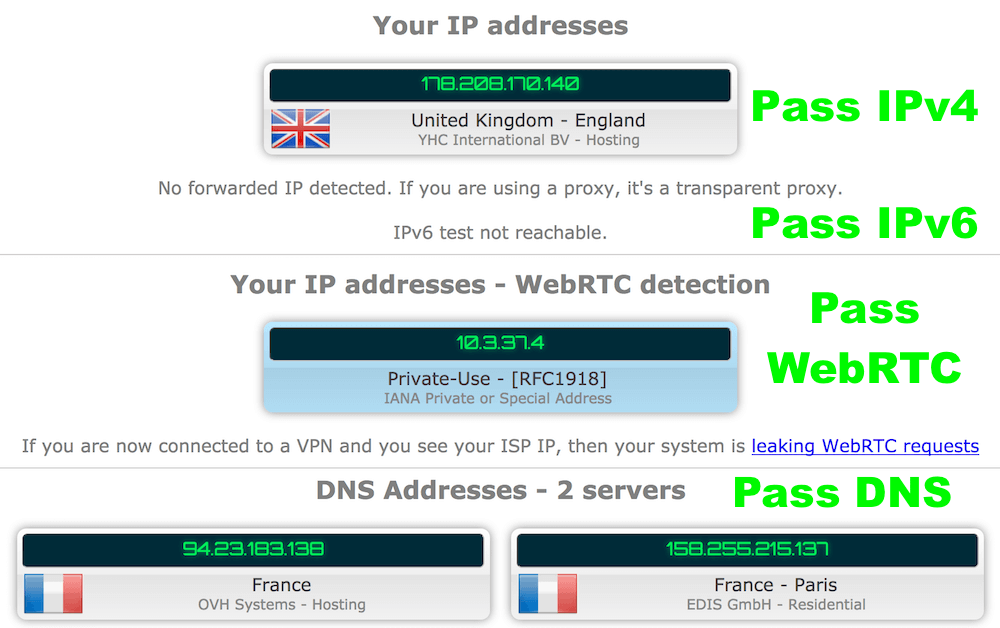 Testing a server in the United States: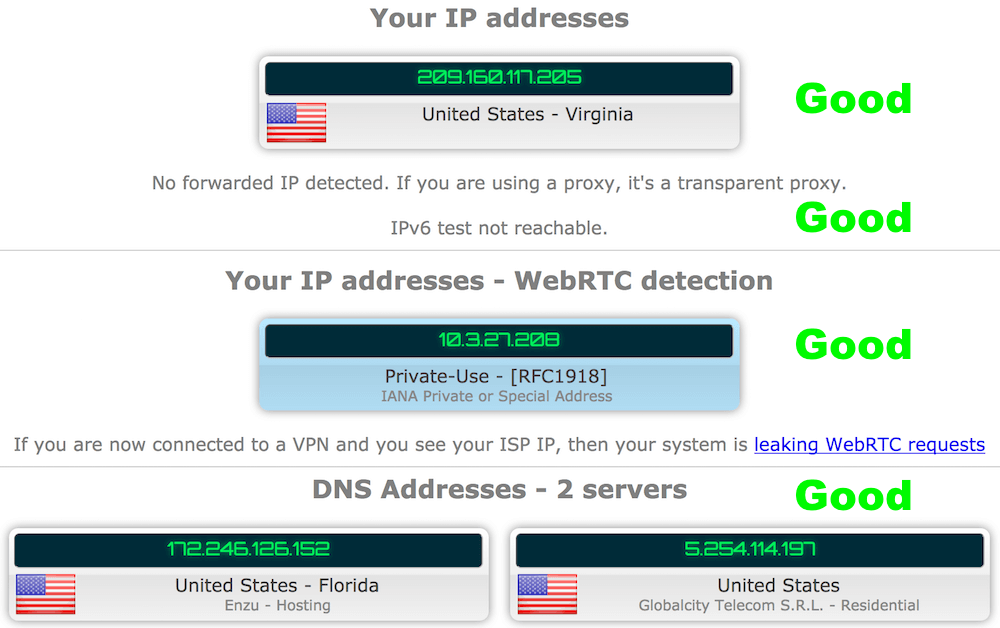 Testing a server in Australia: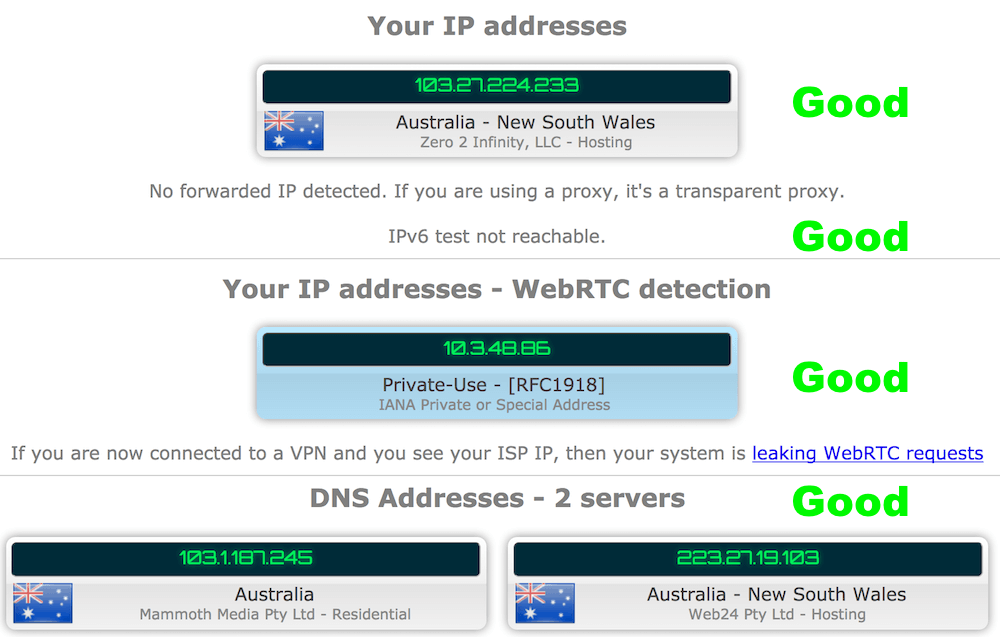 I did not identify any leaks in my testing.
Kill switch tests: I also tested out VyprVPN's kill switch function, to make sure all internet traffic was being properly blocked when there was no VPN connection.
The kill switch worked perfectly in all my tests.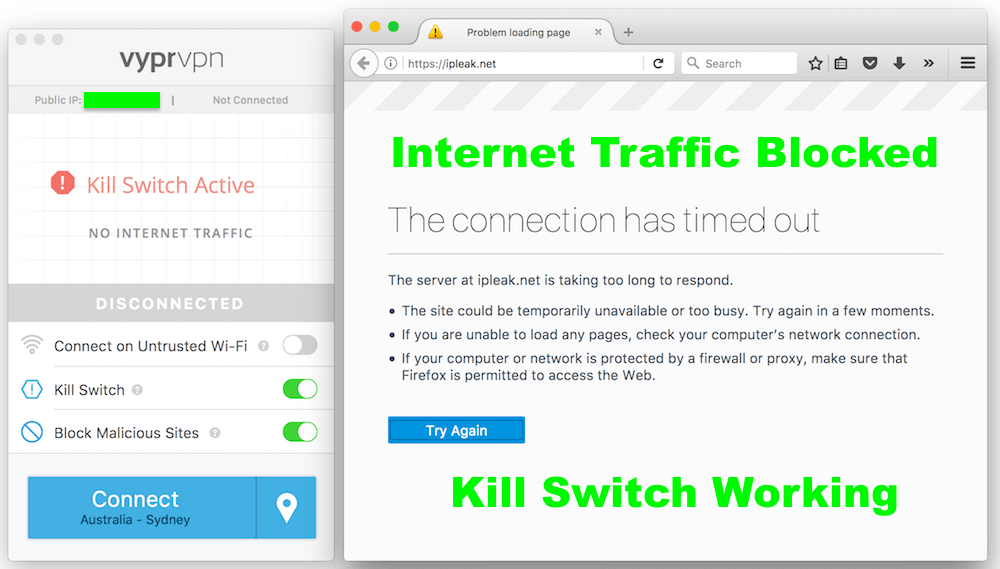 VyprVPN passed all privacy and security tests on Windows, Mac OS and Android:
No IPv4 leaks
No IPv6 leaks
No DNS leaks
No WebRTC leaks
Kill switch works well
Now moving on to performance tests…
VyprVPN speed tests
VyprVPN also performed very well in the area of performance – speed and reliability.
Connecting to the "fastest server" in my location (Western Europe), I could typically get between 70 and 100 Mbps.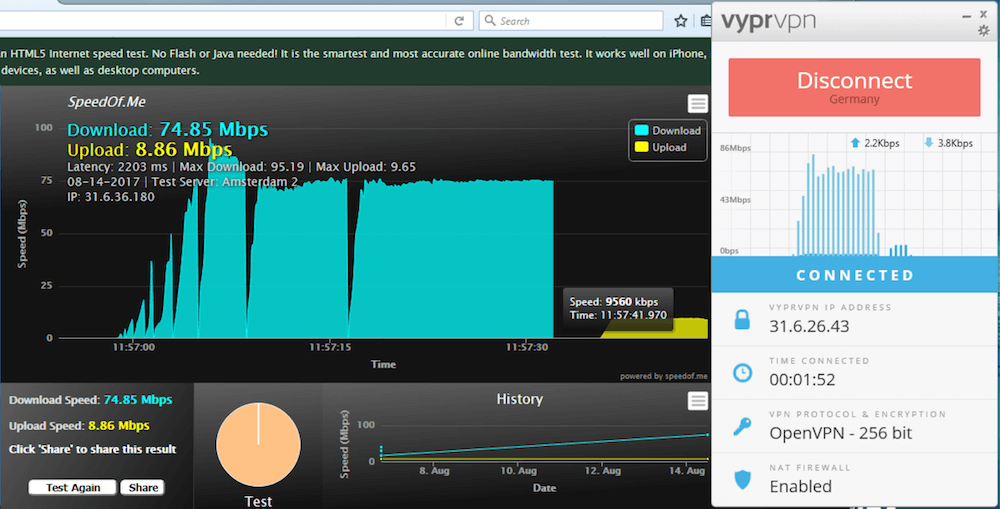 I also tested connection speeds to US servers from my location in Western Europe. Despite the long distance, the speeds were excellent – usually between 60 and 90 Mbps.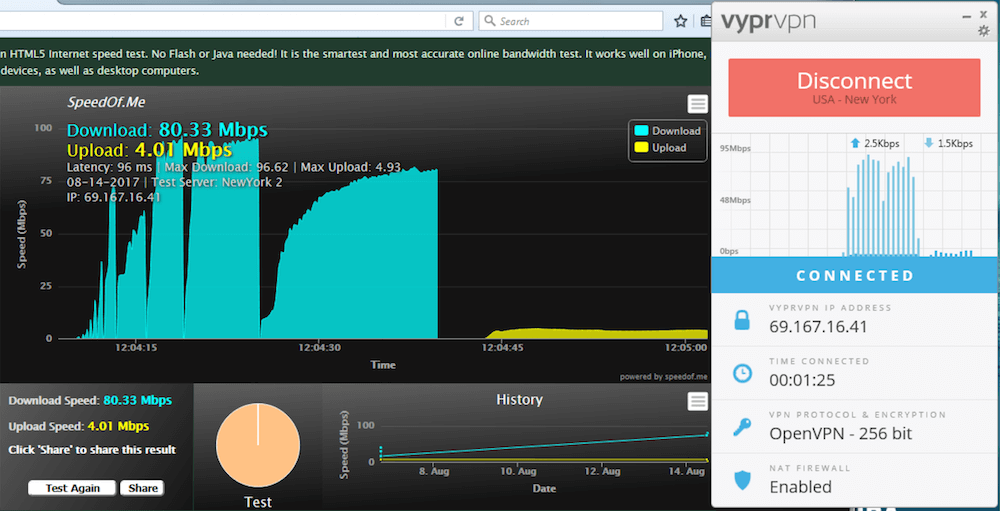 Based on all my tests, VyprVPN offers very fast and reliable speeds.
If you need bandwidth for streaming media or other activities, VyprVPN would be a great choice.
VPN Obfuscation with the Chameleon protocol
VPN blocking is a growing problem in much of the world, especially where governments or institutions do not want people using VPNs to evade restrictions and censorship.
This is especially the case with:
China, Turkey, Russia, Iran and other Middle Eastern countries
Universities and schools
Corporations (work networks)
VyprVPN offers an excellent obfuscation feature to defeat VPN blocking – it's called the Chameleon protocol.
This is a self-developed OpenVPN protocol with 256-bit encryption that will blend in with regular internet traffic to defeat restrictions and blocking. (See the details here.)

I've read many people having success with both VyprVPN and VPN.ac in China and other areas where VPNs are blocked.
VyprVPN logs
While VyprVPN does well in other areas of protecting user privacy and having a very secure network, the connection logs are one drawback. Here are all the details from the VyprVPN Privacy Policy:
Each time a user connects to VyprVPN, we retain the following data for 30 days: the user's source IP address, the VyprVPN IP address used by the user, connection start and stop time and total number of bytes used.

We retain VyprVPN session data for 30 days to use with billing issues, troubleshooting, service offering evaluation, TOS issues, AUP issues, and for handling crimes performed over the service.
The key point here is that your connection data is being logged and stored for 30 days. While logging is certainly not an advantage, for many people it may not be too concerning after closely examining the policies.
Here is more clarification from the VyprVPN website (Golden Frog is the parent company):
What Golden Frog Does Not Collect From VyprVPN Sessions:

Does not log a user's traffic or the content of any communications
Does not perform deep packet inspection of your traffic, except where requested by the customer for firewall purposes.
Does not perform shallow packet inspection of your traffic, except where requested by the customer for firewall purposes.
Does not discriminate against devices, protocols, or applications. Golden Frog is network neutral.
Does not throttle your Internet connection.
Does not rate limit Internet connection.
On a positive note, it is clear that VyprVPN is being honest and transparent with their policies. This is in stark contrast to VPNs that falsely claim to be "no logs" – such as Betternet and PureVPN – but then explain the data they "collect" or "retain" in their privacy policy.
Overall I do not consider connection logs to be a deal-breaker, especially if the VPN service is transparent and honest about their policies. Other VPNs I recommend that keep connection logs include VPN.ac (review) and also ExpressVPN (review).
However, if you are looking for a truly no logs VPN provider, two good alternatives are Perfect Privacy (review) and VPNArea (review).
No torrenting and P2P downloads
VyprVPN's policies also discourage torrenting. For most people, this doesn't matter. But if you enjoy torrenting, you should look elsewhere – see the Best VPNs for Torrenting guide.
Many VPNs discourage torrenting simply because repeated copyright violations will often get them banned from various data centers. This makes maintaining the server network difficult.
Some VPNs limit torrenting to only designated servers that are located in better jurisdictions.
If torrenting is not your thing, then this does not even apply.
VyprVPN servers
One of VyprVPN's best features is that they own and exercise 100% control over their entire server network. As explained on their About Page, VyprVPN remains fundamentally distrustful of third parties, due to the risks they pose to customer privacy.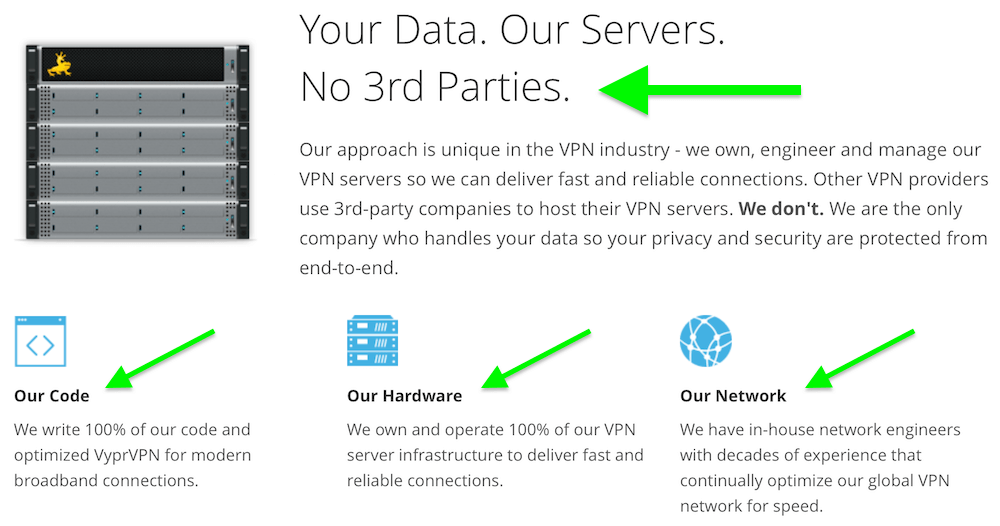 While owning 100% of their network better protects your privacy, it does create some drawbacks in terms of server locations. VyprVPN offers a good lineup of servers, but they also explain in this post that they can't have physical servers in some countries that don't meet their standards.
In such cases, the server locations may not line up with where the server is actually located. They refer to these examples as "virtual server locations". You can read more about this here.
Ideally, VyprVPN would have premium physical servers in every country (no virtual locations). It appears they are trying to take a middle ground, whereby they only use their own physical servers, but also use these servers to spoof different locations around the world.
To be fair, this is fairly common in the VPN industry – you can find the same practice with ExpressVPN as well.
VyprVPN transparency
Another unique aspect with VyprVPN is that they are a very transparent company. With many VPN services, it's difficult to find any information about the owners, operations, policies, etc.
However, with VyprVPN, all of the information below is clearly available on their website:
Company owners (Ron and Carolyn Yokubaitis from Austin, Texas)
Company jurisdiction (Switzerland)
Company history (created in 2008 in response to illegal NSA surveillance operations)
Exact logging policies explained in detail (no contradictory "no logs" claims)
Great read: VyprVPN also has a great blog post exposing some of the common myths and lies of the VPN industry. The following article is a great read for anyone who uses a VPN:
I Am Anonymous When I Use a VPN – 10 Myths Debunked
VyprVPN Review Conclusion
Overall VyprVPN is a high-quality, fast, secure VPN that performed well in testing for this review. It offers a great lineup of applications that are user-friendly and secure. VyprVPN's server network is the highest quality and remains completely under their own control (no third parties).
The main drawbacks I found in this VyprVPN review are their policies regarding connection logs and torrenting. Overall I don't find this too concerning, especially considering that VyprVPN is honest and transparent about with all their policies.
The final consideration is value – what you get for your money. For $3.75 a month (basic plan) VyprVPN has a lot to offer. In comparison to other high-quality VPNs that performed well in testing, VyprVPN is among the least expensive. You can also pick up a 3 day free trial with the link below if you want to test it for yourself.
Try VyprVPN with a 3 Day Free Trial (Plus Get 25% Off)
---
Alternatives to VyprVPN: