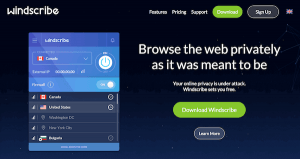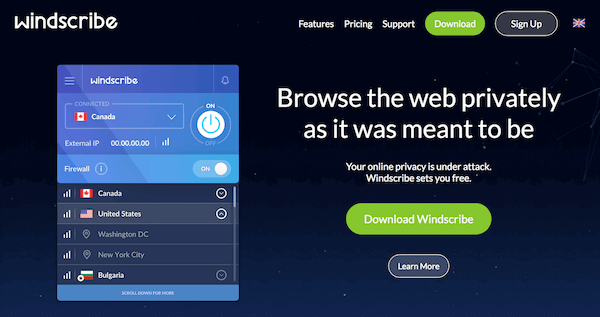 Windscribe VPN is a Canada-based service that offers both paid and "free" VPN tiers. For basic users it may not be a bad choice, but there are also some drawback to consider.
For one, most of the servers tested for this review were found to have sub-standard speeds. Both ExpressVPN and VPN.ac outperformed Windscribe in all speed tests.
Windscribe also makes questionable "no logs" claims on its website, which directly contradict its own policies (screenshots below). Windscribe is also selling cheap "lifetime" subscriptions through third-party sales websites, which raises questions about the long-term sustainability of this service. As we have learned before: a lifetime VPN is not based on the lifetime of the customer, but rather, the lifetime of the VPN service – however long it stays in business.

Jurisdiction
Canada

Logs
Connection logs

Price
$4.08
+ Pros
User-friendly applications
Ad blocker via the browser extension (but not built into VPN client)
Free plan gives you 10 GB of data per month
Unlimited connections
– Cons
Slow speeds
Based in Canada (Five Eyes)
Contradictory "no logs" claims
Slow support
---
Alternatives to Windscribe VPN:

Review
(
ExpressVPN
)

Review
(
NordVPN
)

Review
(
VPN.ac
)
---
Windscribe VPN
Windscribe VPN is a service offered by Windscribe Limited and is based in Ontario, Canada.
As we have discussed before, Canada is a member of the Five Eyes surveillance alliance, along with the United States, UK, Australia, and New Zealand. Canada also has mandatory data retention laws and abusive surveillance practices, as discussed in the VPN for Canada guide. Jurisdiction is an important consideration when choosing a VPN because this determines what laws and governance the VPN must operate under.
Copyright violation laws are another aspect to consider with jurisdiction. As discussed in the VPN for torrenting guide, Canada has some strict laws against copyright violations, along with data retention that is used to prosecute piracy (copyright infringement) cases. This may be something to consider if you are using a VPN for Kodi or torrenting.
Windscribe offers custom applications and support for the following devices and platforms:
Computers – Windows, Mac OS, and Linux
Browsers – Firefox, Chrome, and Opera
Phones/Tablets – iOS, Android, Blackberry
TV – Amazon Fire TV/Fire Stick, Nvidia Shield, Kodi
Routers – DDWRT and Tomato (see also the Restore Privacy VPN routers guide)
You can get more information, as well as detailed setup guides, on the website here.
Encryption – The Windscribe VPN desktop client uses an AES-256 cipher with SHA512 auth and a 4096-bit RSA key. The browser extension uses TLS 1.2, ECDHE_RSA with P-256 key exchange and an AES_128_GCM cipher.
Windscribe VPN price
The current pricing plans and discounts can be found on the Windscribe VPN site.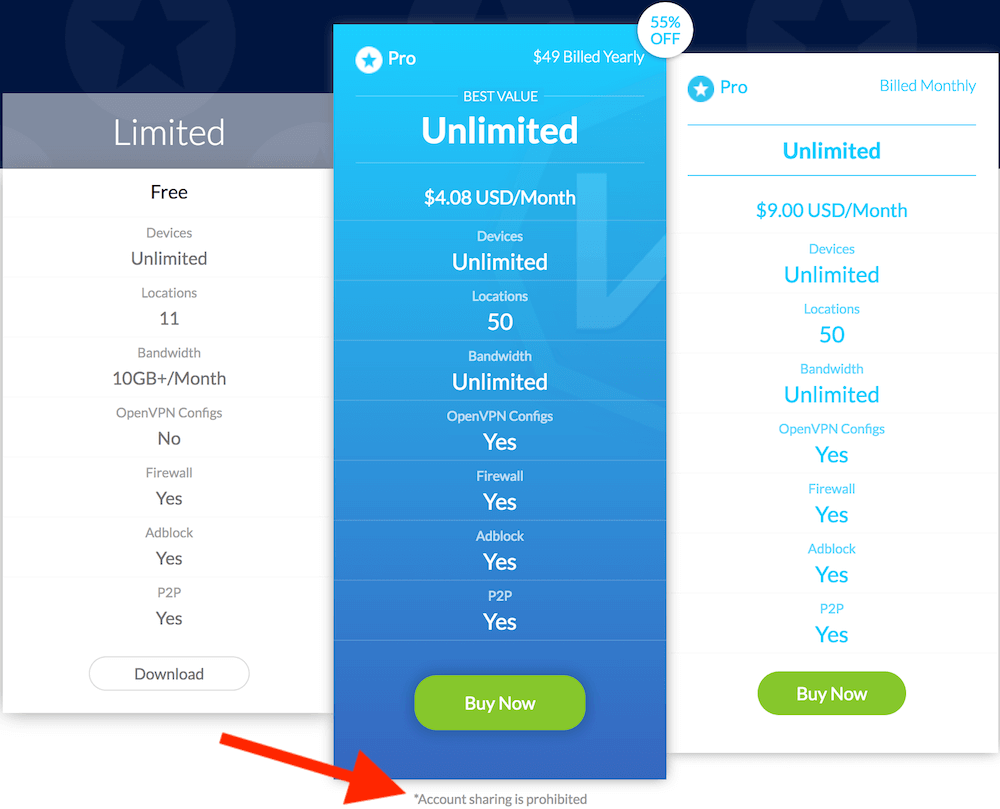 You can see in the bottom of the photo above that account sharing is prohibited.
This is typical with most VPN services. However, one option that gives you six connections and allows you to share your account with others is VPNArea (see review here).
Windscribe VPN refund
Windscribe's refund policy contains some fine print. Here are three important points to keep in mind before you purchase a subscription:
The refund window is for 3 days.
The refund policy only applies if you purchase directly from Windscribe (no third-party sites like StackSocial)
If you use more than 10 GB of data your refund will be void.
Here is the exact wording from their website:

A shorter refund window is not too surprising since they encourage people to test out the free service before going with a paid subscription. There's no sense paying when you can test for free.
Windscribe free VPN
While free VPN services are often riddled with problems and risks, Windscribe appears to offer a decent option.
Windscribe's free VPN tier is limited to 11 server locations and 10 GB of data per month. On a positive note, however, P2P downloads (torrents) are allowed.
Here is a screenshot of the Windscribe Windows VPN client.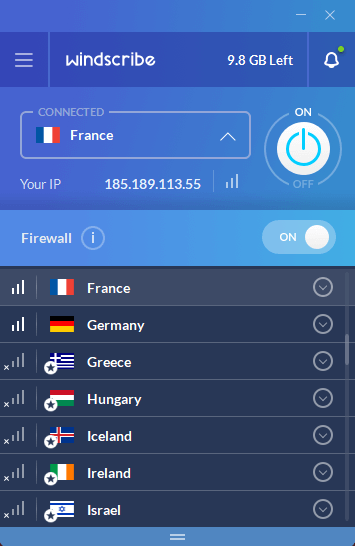 Overall the client has a nice layout. You can see your remaining monthly bandwidth at the top right, along with your server options, connection status, and IP address. When testing the client and switching between the free VPN servers everything worked well.
In testing out the Windscribe VPN client for Windows, I did not notice any bugs or crashes or other problems.
Here is a test for IP address leaks using the website ipleak.net and the Windscribe Windows client: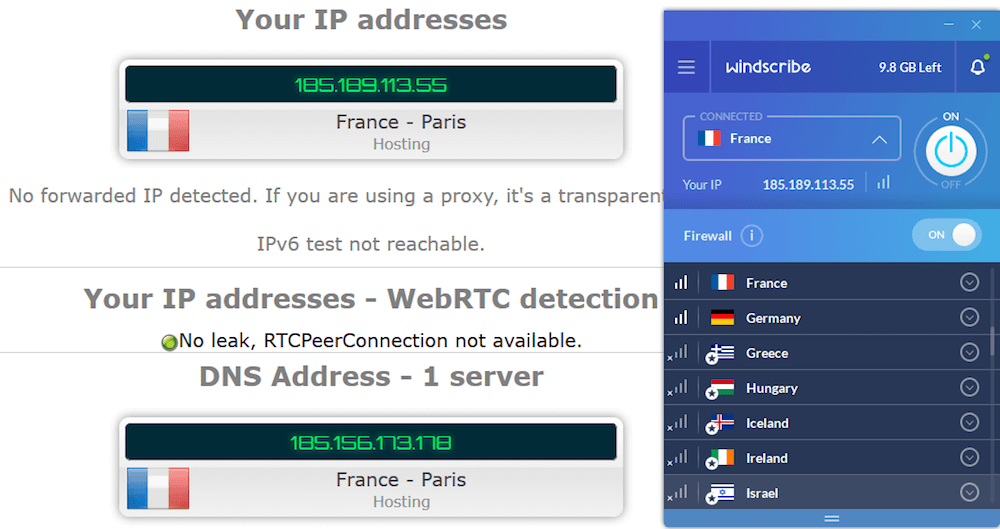 I also ran a few speed tests with nearby servers. My baseline speed was about 100 Mbps. Physical testing location: Germany.
Here I am testing nearby server in France with the Mac OS client. Download speeds were about 5 Mbps – not very good.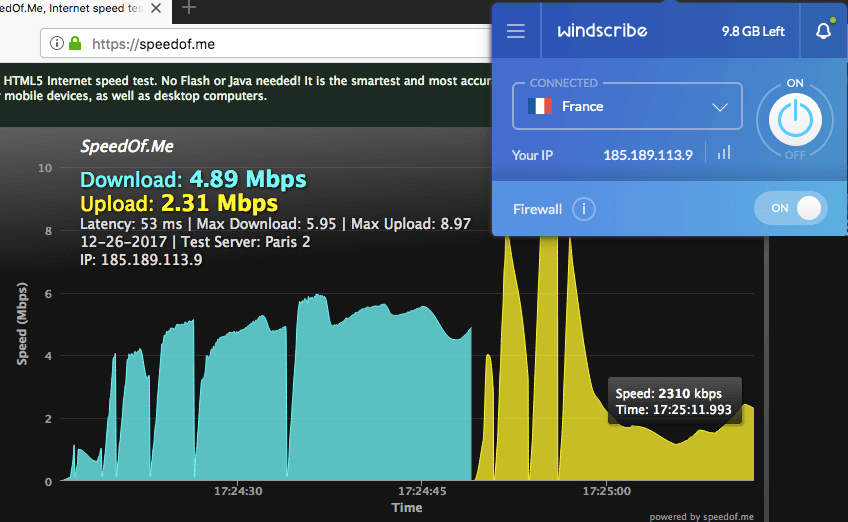 One factor that frequently affects VPN speed and performance is server congestion. While Windscribe does have a server status page you can see on their website, it does not show available bandwidth. As a comparison, you can see two providers that show you real-time 24/7 bandwidth available on every server:
Comparison speed test – Immediately after running the test above for Windscribe, I also tested ExpressVPN using a server in the same country (France).
With ExpressVPN, I found the download speeds to be over 12 times faster at 60.8 Mbps: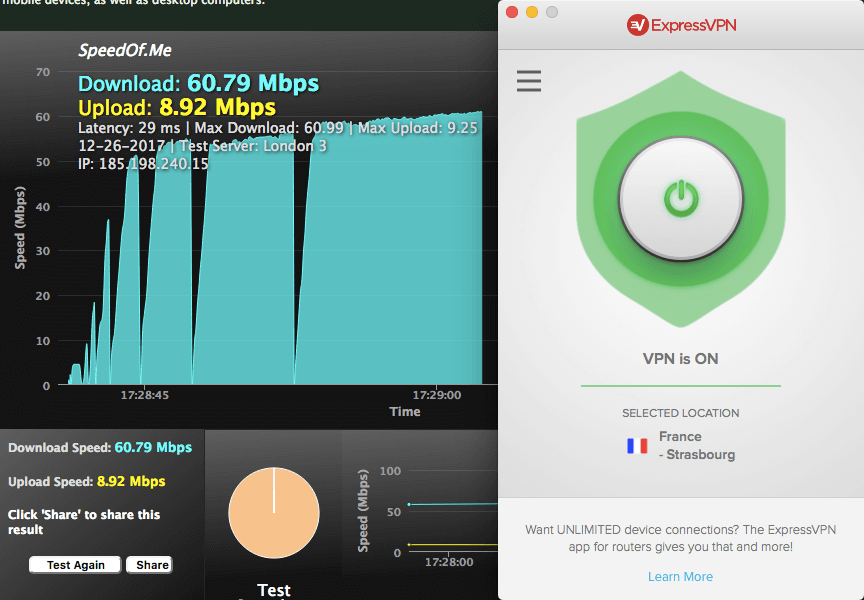 After testing and personally using dozens of different VPN providers, ExpressVPN remains the best option for speed that I have used.
Windscribe VPN (paid service)
The three distinctions between the free VPN and the paid VPN I noticed were:
Bandwidth – You are limited to 10 GB of bandwidth with the free VPN; with unlimited bandwidth on the paid plan
Server locations – The free plan gives you 11 locations; the paid plan gives you 50 locations.
Speed – I found the paid VPN servers to be somewhat faster than the free VPN servers.
Other than these three differences, everything is essentially the same with the free vs paid plans. The software is identical. The only differences you will see after upgrading is that all servers become available for use and the bandwidth limit is removed from the application window.
Windscribe speed test (additional results)
To test additional servers in the network I upgraded to a paid plan. This was also necessary as I was quickly running out of bandwidth (10 GB).
In testing various Windscribe servers throughout the network, I did notice that the paid servers were slightly faster. Here is one example with a server in Denmark, with 30 Mbps download speeds: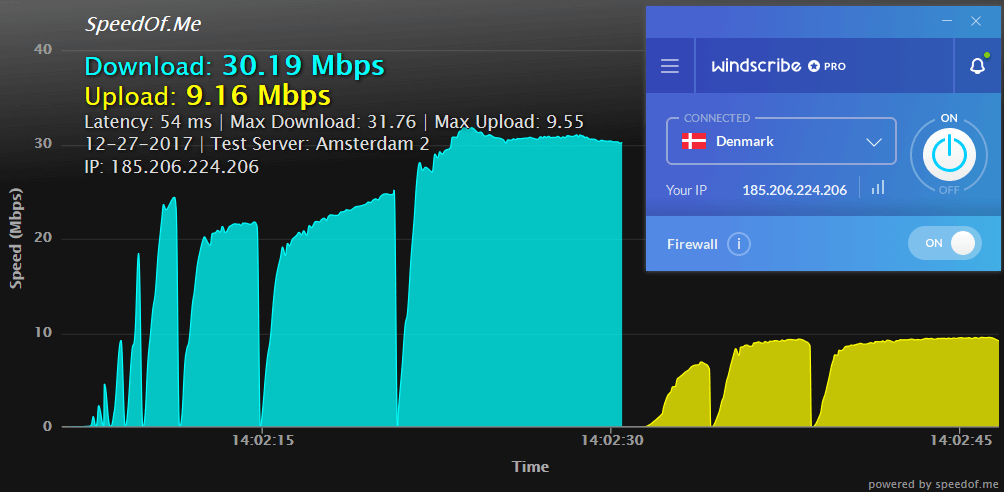 However, the speeds in general still weren't blazing fast, especially considering my baseline connection is 100 Mbps.
Here is another test using Windscribe's US East server, which is one of the free VPN servers. Download speed was only about 2.7 Mbps: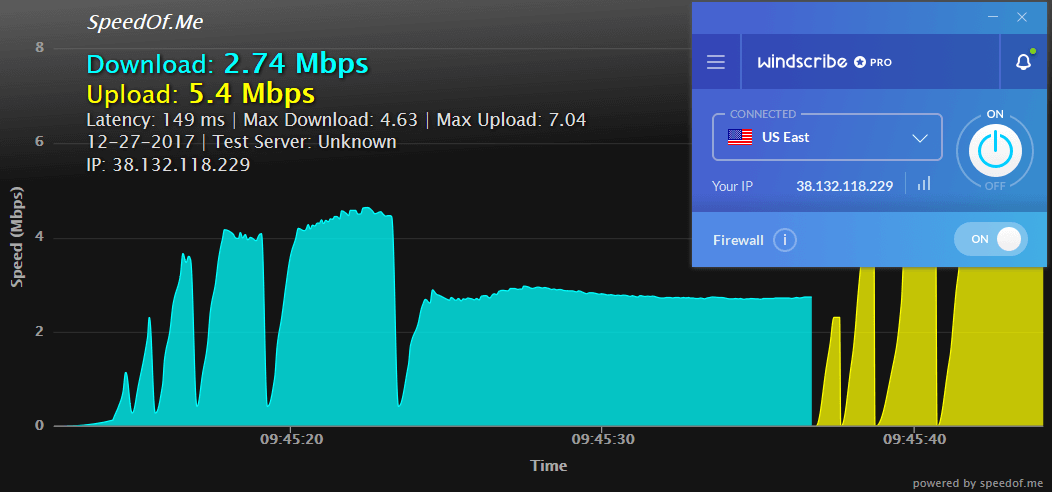 And as another comparison, I ran the same test while using VPN.ac (review).
Download speed with the VPN.ac US East server was significantly higher at 71.7 Mbps: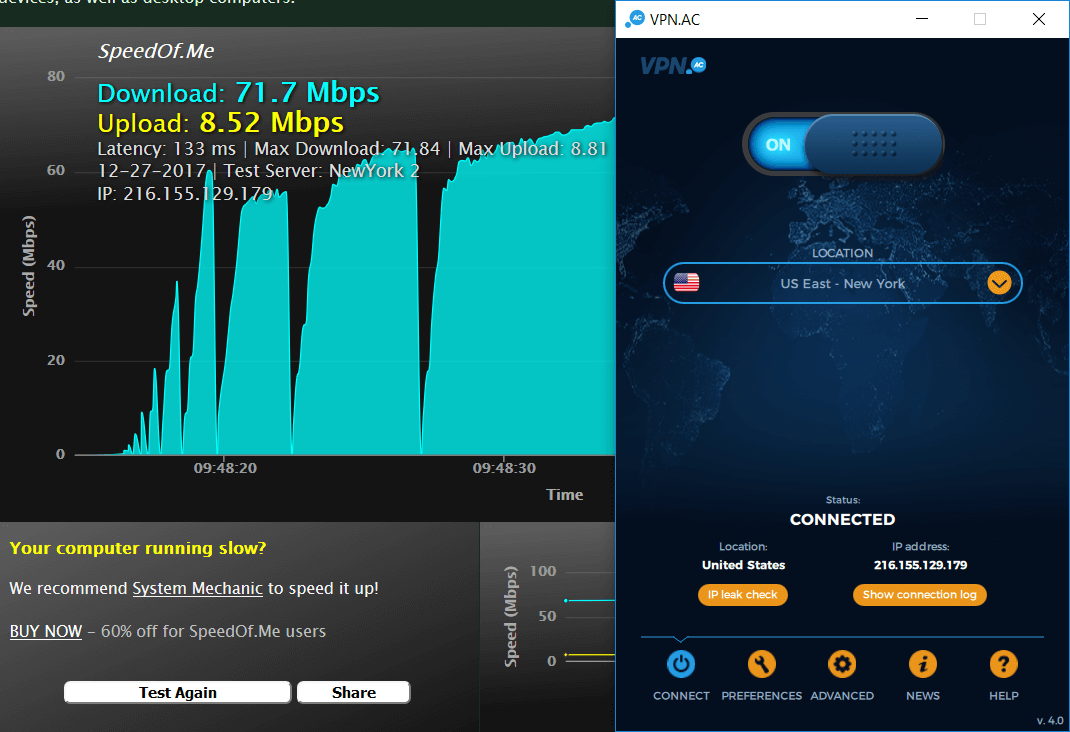 Overall Windscribe did not do great in speed testing.
The slower speeds may have been due to server congestion or other factors – there's no way to be certain. If you want faster speeds, it would probably be best to avoid the free servers or consider other VPN alternatives.
More free VPN bandwidth
Windscribe offers a few different ways to increase your bandwidth allocation above the 10 GB monthly limit.
Immediately after downloading the free version of Windscribe I was hit with an email showing me how to get more data. Aside from buying a premium subscription, I could also: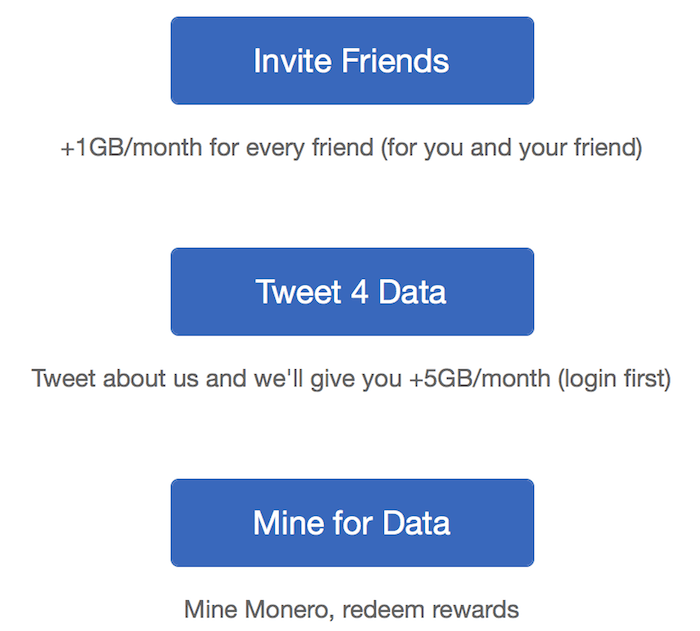 Inviting friends and tweeting for data are self-explanatory ways to get more data for your free Windscribe VPN account.
The third option, however, is to let Windscribe use your CPU to mine for Monero cryptocurrency. This is the "mine for data" option and it works when you access a specific page on the Windscribe website.
It seems some people like the idea to mine cryptocurrency and others don't. It is similar to when news broke that the Pirate Bay had added a CPU-hijacking Bitcoin miner to some of their pages.
Here's the explanation from Windscribe:
When you have this page open, your computer will use its spare CPU cycles to solve math puzzles (hashes) in order to mine Monero. As a result, you may see that your CPU usage is higher than normal, but you can control this with a slider below.
Rather than the handing over your CPU for mining Monero, it may just be worth it to upgrade to a paid account.
Windscribe browser extension
When you go to download Windscribe, you notice that they recommend downloading both a VPN application and a browser extension.

More and more VPNs are offering browser extensions that can be used with VPNs. I've also recently noticed this with ExpressVPN and VPN.ac, for example.
So why use the VPN together with the browser extension?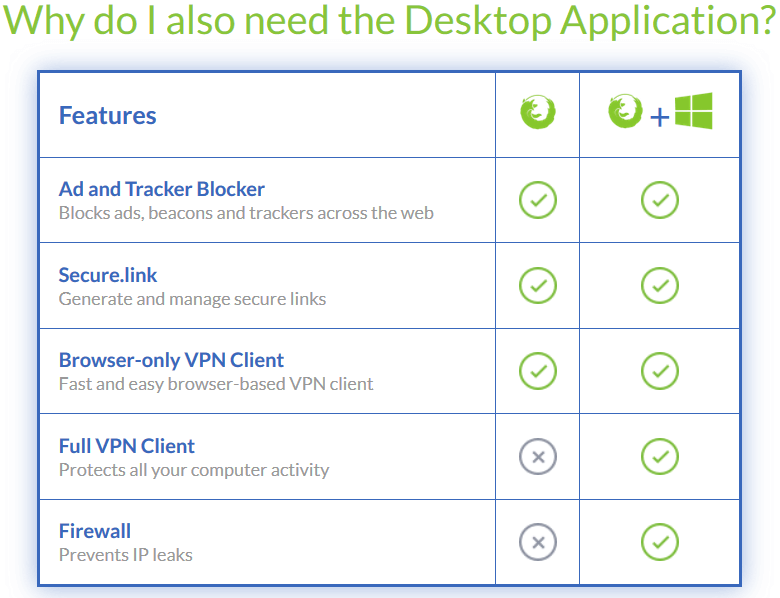 Using a browser extension may be good in certain situations. However, it's also important to note that a browser extension is not a VPN. Instead, it is an HTTPS proxy, which does not offer the full protections of the VPN, such as firewall protection against IP leaks. This is noted in the table above, even though they refer to the proxy extension as a "browser-only VPN client".
I sent the support department emails asking for clarification on the browser extension. Unfortunately at the time that this review was published, I have not heard anything back from support (and this is as a paid customer with a premium account).
Update – I received an answer from support seven days after I submitted the help ticket.
Overall, the Windscribe browser extension is still a decent feature, although I would not recommend using only the proxy browser extension alone. We'll test this further below.
Windscribe double-hop VPN
One good feature for obtaining more security and online anonymity is through using a multi-hop VPN.
While not necessarily a true double-hop VPN, Windscribe states that you can use both the VPN client on your computer in combination with the browser extension, with each using a different server location.
I tried to do this with Windscribe and initially had some troubles with different error messages. Eventually it started working properly, allowing me to test out the functionality.
Here I am connected to a server in Sweden with the VPN client, while connected to US East via the browser proxy extension. The speeds were alright at about 26 Mbps – not too bad, but also not great.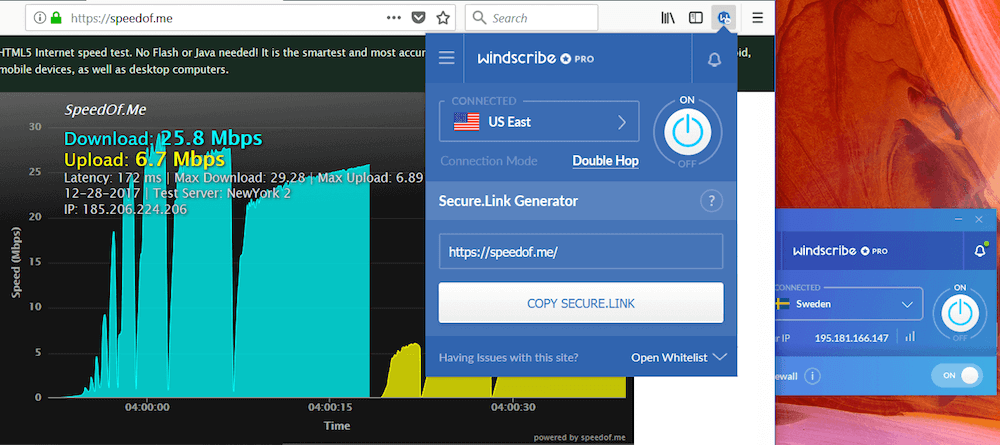 Note: the main factor for performance is the OpenVPN desktop client, which is connected to a server in Sweden above. The browser extension likely does not have a major impact on performance since it uses only TLS encryption as a proxy.
For another comparison, I tested the exact same configuration using VPN.ac.
Here I am connected to a VPN server in Sweden using the VPN.ac desktop client, while also being connected to US East via the browser extension.
The speeds with VPN.ac were much better at around 68.5 Mbps.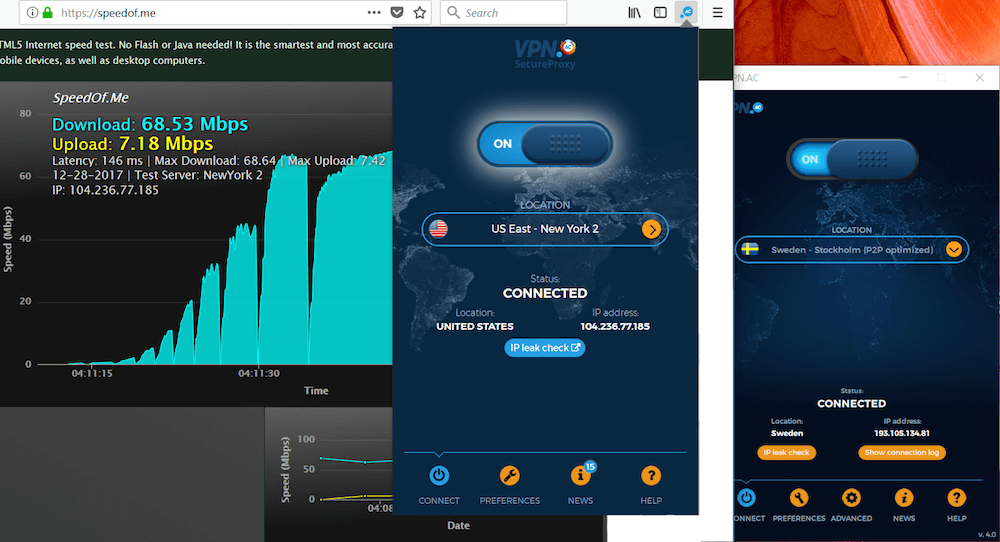 The double-hop VPN is a good setup for more privacy, even though Windscribe is not truly a double-hop VPN. For more information on this topic, see the multi-hop VPN guide.
Windscribe ad blocker
The Windscribe browser extension also works as an ad blocker.
The different ad blocking functions with the Firefox extension include:
Anti-Social – This blocks social media domains (buttons).
Untraceable – This blocks ad beacons and trackers.
Ad Blocker – The standard ad blocker.
There are some other interesting browser extension features which include:
Proxy Time – This sets the browser time to whatever proxy server you are connected to.
Split Personality – This rotates your user agent, which should theoretically protect you against browser fingerprinting (but see test results below).
Cookie Monster – This deletes cookies after closing a tab.
Here is the full Windscribe browser extension below, which I tested out with the latest version of Firefox.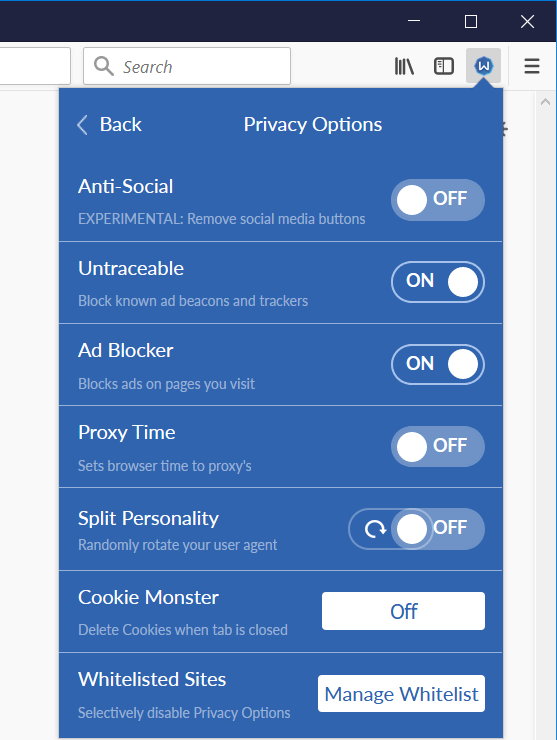 I tested out the ad-blocking capabilities with the Firefox extension and it seemed to work fine with various websites.
Whitelist – One benefit with the Windscribe browser extension is that it gives you the ability to whitelist certain sites. Usually with VPN-based ad blockers, this is not an option.
How does Windscribe's ad blocker stack up to other VPN-based ad blockers?
Just like with any other browser extension, Windscribe's ad blocker is browser-based. This has both pros and cons.
As a comparison, there are two other ways that I've seen VPNs implement ad blocking:
Built directly into the VPN client. This works well because it protects everything on your computer against tracking and advertisements, without having to hassle with additional browser extensions. It is an all-in-one solution – for examples see NordVPN (review) or Private Internet Access (review).
Activated server-side, which means that ad-blocking will be active whenever you connect to the VPN network. This will block all ads at the VPN server level (rather than at your computer) and works with any encryption protocol, application, or device that uses the network. I have only seen this with Perfect Privacy (review).
Windscribe browser fingerprint protection
Windscribe offers a "split personality" feature with the browser extension.  They state that this feature will "will rotate your user agent between the most common ones out there, to reduce the chance of fingerprinting" – as they explain on their website.
I was somewhat skeptical when reading this, especially since adding browser extensions actually makes you more unique and easier to track – which is explained further here.
I decided to test the "split personality" feature using a standard browser fingerprint test at PANOPTICLICK, which is a research project from the Electronic Frontier Foundation.
As you can see in the results, the browser extension did not protect me as my fingerprint was uniquely identifiable. (Note: I was running a standard, unmodified version of the latest Firefox browser with the Windscribe extension as the only add-on, and "split personality" enabled.)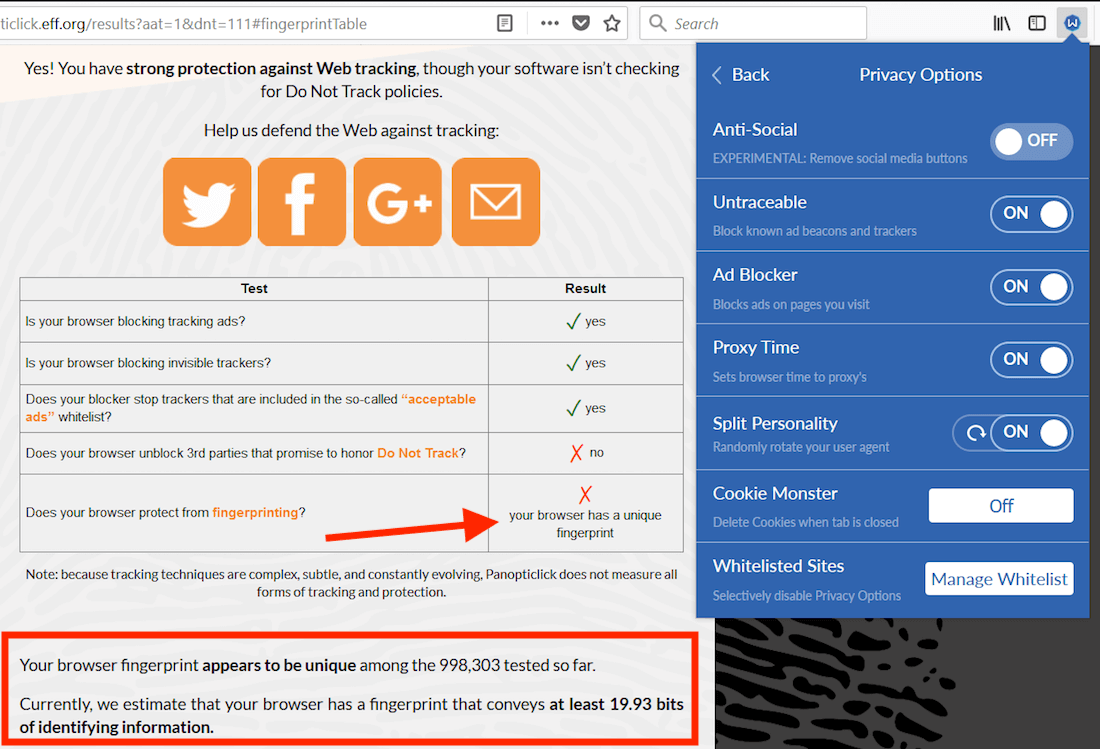 Despite the "split personality" feature being on, the browser was "unique among the 998,303" other tests.
Unfortunately, browser fingerprinting is a very tricky issue to protect yourself against, simply because there are so many different factors at play.
In the browser fingerprint guide I discuss various options. Some people like using the Tor browser because it does well protecting users again browser fingerprinting, but it also comes with risks and drawbacks (see the Tor guide for details).
I also tested the latest version of the Tor browser (which is simply a hardened and protected version of Firefox). The results were much better as the browser did not have a unique fingerprint: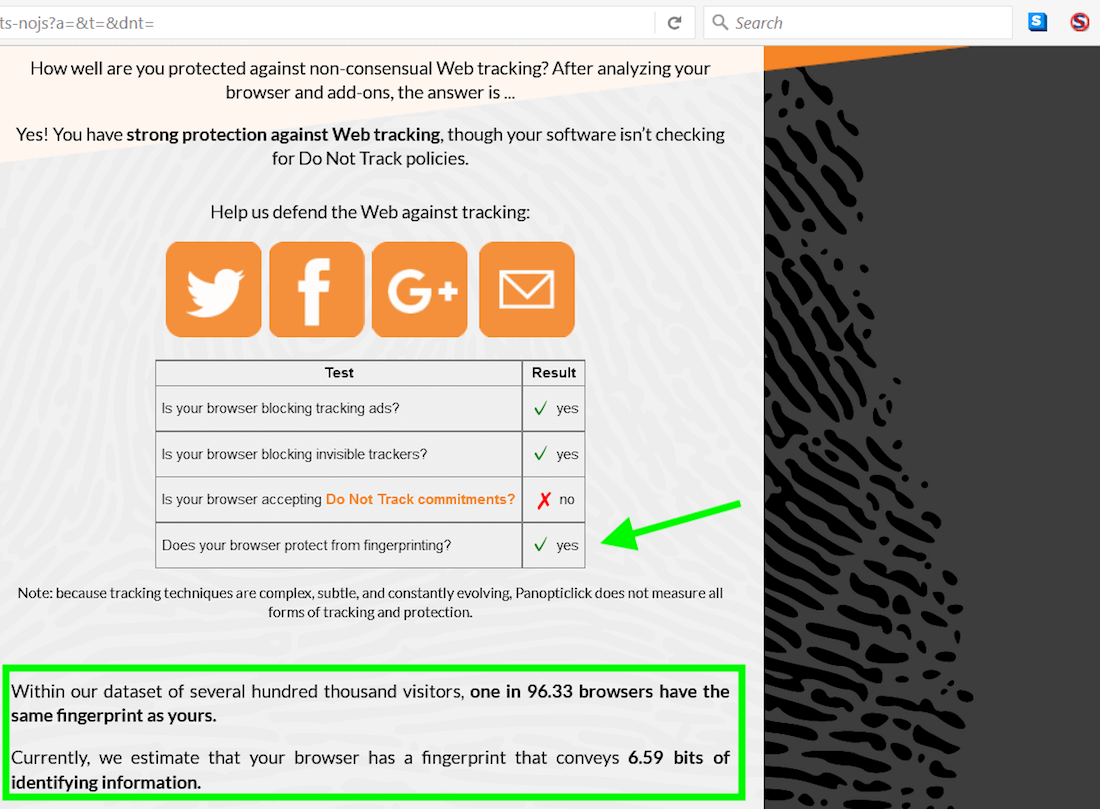 Given these test results, you would be better protected using the Tor browser than the Windscribe extension in your regular browser.
The one downside is that the Tor browser may be overkill for regular internet use. But if you want a high level of protection, using the Tor browser with a good VPN (Tor disabled) is probably your best bet. (Setup instructions here.)
Windscribe's (false) "no logs" claims
Windscribe is yet another VPN that uses various "no logs" marketing claims on their website, but then discloses data that is "collected" when you read the privacy policy.
Let's first take a look at the marketing claims on their main website: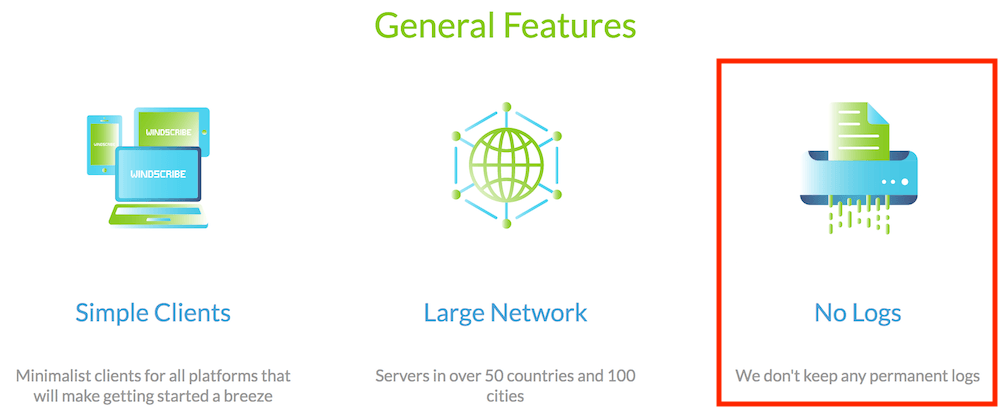 Of course, given that Windscribe implements bandwidth restrictions, we already know that they are logging your bandwidth use. Therefore, they are certainly not a "no logs" VPN service.
Here is another bold claim from Windscribe's website on their logging policies:

UPDATE: Windscribe has since revised their website since this review exposed the contradictory/misleading statements. However, they still claim to be "no logs" – which is false.
Now let's take a look at the fine print…
At the very bottom of the Windscribe End User License Agreement (EULA) you find the following:

This statement is somewhat concerning, especially since collected data may be used to hit users with promotions and other things which "may be of use or interest to you". Furthermore, there is no mention that "everything" is getting deleted after three minutes.
Now let's examine the Windscribe Privacy Policy, which you can find on their website:
We store total amount of bandwidth your account has consumed in 1 month period, which is reset every month on the day of your registration. This is used to enforce free tier limitations as well as prevent abuse. We do not store historical usage. We also store a timestamp of your last activity on the Windscribe network, this is done to weed out inactive accounts. We do not store connection logs, IP timestamps, or sites you visit (we are firm believer that one's browsing history should be taken to one's grave).
Aside from this being an obvious contradiction with the "no logs" claim earlier, there is also another problem. As we saw above, Windscribe claims to "erase everything three minutes after your session closes". However, their official policy is to log bandwidth consumption taking place over a "1 month period".
Windscribe's marketing claims do not align with their own policies.
Unfortunately, contradictory logging statements are somewhat common with VPNs – see for example with PureVPN, ProtonVPN, CyberGhost, and Betternet.
Logs are an important consideration, especially if you need a VPN for USA or are living in an unsafe surveillance jurisdiction. For a list of proven no logs VPN providers, check out the no logs VPN guide.
Windscribe Netflix
Does Windscribe work with Netflix?
Yes – but I have seen complaints from some users about Netflix not working with certain devices.
Windscribe has recently launched two dedicated servers that are exclusively for streaming Netflix. Windsribe refers to their Netflix feature as Windflix on their website:

The two Netflix (Windflix) servers are in the United States and United Kingdom. I tested the UK Windflix server and found the bandwidth and speeds to be pretty decent.
Note: there are two other VPNs that I've tested that also currently work with Netflix:
VPNArea – Like Windscribe, VPNArea also offers dedicated server hubs for Netflix and other streaming services (see VPNArea review).
ExpressVPN – ExpressVPN has a variety of different servers for using with Netflix. They also have 24/7 live chat support and a 30 day money-back guarantee (see ExpressVPN review).
NordVPN – NordVPN has many different servers that support Netflix connectivity (see NordVPN review).
Using Netflix with a VPN continues to be a cat-and-mouse game. Many VPNs that previously worked with Netflix are now blocked.
Because I have seen various user complaints with Windscribe working with Netflix, it did not earn a spot in the Best VPN for Netflix guide.
Windscribe support
Windscribe offers four different options for support on their website.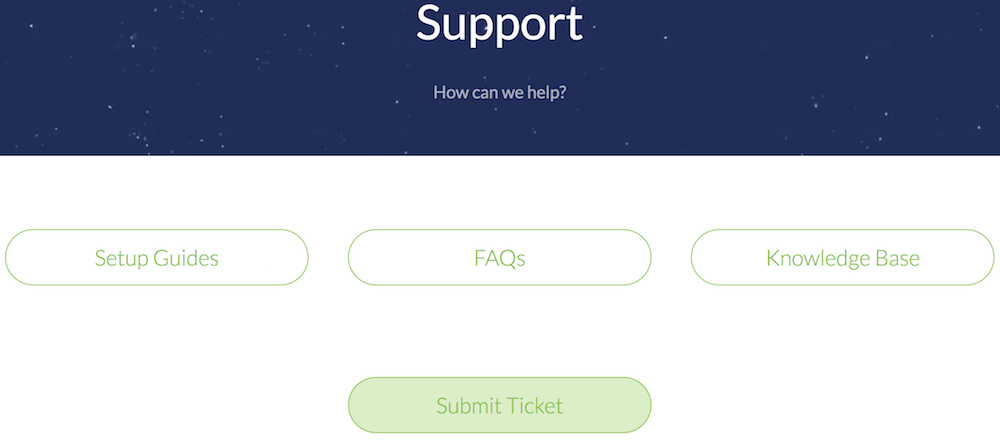 Windscribe offers some basic guides, articles, and FAQs, which I found to be pretty useful.
They also have a reddit page that appears to be fairly active.
I tried emailing their support team with two different issues and was pretty disappointed in the reply time. Hopefully they can improve this going forward.
Windscribe VPN review conclusion
Considering everything, particularly the back-to-back speed tests, Windscribe does not earn a recommendation for this review.
While it is a is a basic, user-friendly VPN service, there are certainly better options available that will provide you with better speeds and support.
The jurisdiction in Canada (Five Eyes) is also not ideal.
If you are open to other alternatives, these VPNs offer better performance and they are located in good privacy jurisdictions:
---
Alternatives to Windscribe VPN:

Review
(
ExpressVPN
)

Review
(
NordVPN
)

Review
(
VPN.ac
)
---
If you have used Windscribe VPN, feel free to share your honest review (good or bad) below.
---