This 1Password vs Dashlane comparison report takes an in-depth look at two leading password managers.
Despite enormous efforts by the cybersecurity industry to overpower crime in cyberspace, every subsequent year the number of cyberattacks gets higher. Consequently, the current cyber statistics are nothing short of shocking.
So, keeping an eye on your login credentials for all your online accounts while making sure your sensitive information is secure has never been as critical. One way to stay on the safe side is to utilize a solid password manager.
Fortunately, both Dashlane and 1Password are among the best password managers out there, but which one is better?
With both contenders, you'll find feature-rich yet affordable plans aimed at individuals, families, and businesses. You'll also get easy-to-operate user interfaces (UIs), industry-standard security, and some superb features that make these two password managers shine among similar-looking competitors.
| | | |
| --- | --- | --- |
| | 1Password | Dashlane |
| Website | 1Password.com | Dashlane.com |
| Platforms | Windows, macOS, Linux, Android, iOS | Windows, macOS, Android, iOS |
| Browser extensions | Chrome, Firefox, Safari, Brave, and Edge | Chrome, Safari, Firefox, Opera, Edge |
| Free version | No (14 day trial) | Yes |
| Encryption | AES 256-bit | AES 256-bit |
| Support | Email | Email & Chat |
| Price | From $1.50/mo. | From $4.99/mo. |
So, without further ado, let's take a look at the key areas we're going to cover in this comparison guide:
Background check
Platforms availability
Core and premium features
User interface and ease of use
Security and encryption
Privacy policy
Plans and pricing
Customer support options
Now it's time to start the ball rolling with a brief background check of 1Password and Dashlane, side by side, and see which one inspires more confidence.
Background check: Company information and history of security incidents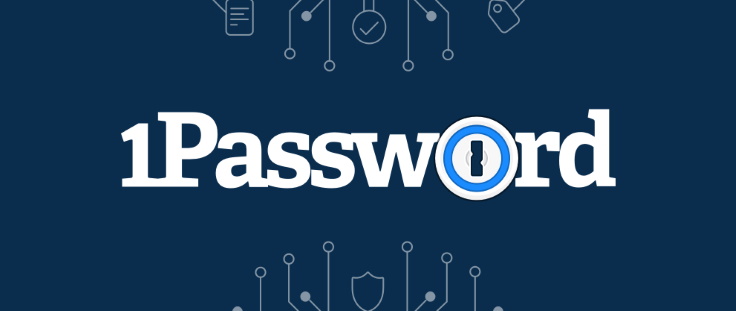 Launched by AgileBits in 2006, 1Password started its journey to success as a Macintosh-only program. It has since been updated to run on all the major platforms – operating systems and web browsers alike.
Unfortunately for us who like to keep our private information private, AgileBits operates from Ontario, Canada. We say "unfortunately" since Canada is one of the Five Eyes Alliance (FVEY) countries. If you have heard about them, we'll clear it up in a couple of sentences.
Countries that are members of the FVEY (the USA, the UK, Australia, New Zealand, and Canada) are part of an international intelligence-gathering alliance notorious for prying on each other's citizens and sabotaging the work of cybersecurity companies.
So, in short, they're famous for having pretty poor privacy laws and practices. It's no surprise that many privacy advocates advise against using services from any of the FVEY countries.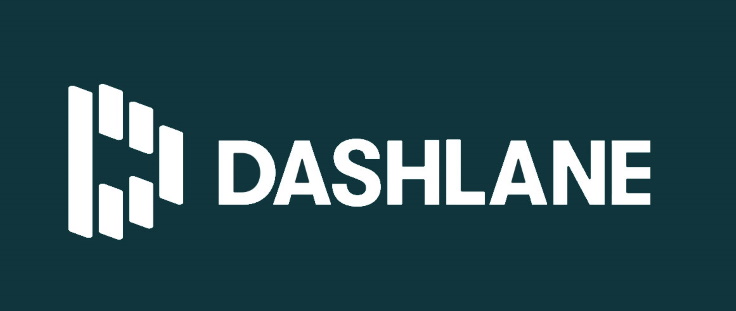 Developed by Dashlane Inc. in 2012, Dashlane is a venture-funded project that has reportedly raised over $200 million in venture funding in recent years. At the same time, the company passed 10 million users in 2018, and the numbers continue to surge. This shows that Dashlane has the capacity to support even the most challenging customers, something many of its competitors can't brag about.
Dashlane Inc. is situated in New York City, USA. So, like its chief competitor AgileBits, it also operates from a Five Eyes country.
So, to shield yourself from their spying activities, you'll have to utilize the right privacy tools and restore your online privacy. At the bare minimum, a virtual private network (VPN) service, a privacy-focused browser, and an ad blocker.
It's also worth noting that neither 1Password nor Dashlane suffered a security breach or otherwise significant security incidents. This is a stark contrast to what we observed in the LastPass review.
Background check winner: It's a tie
---
Platforms availability: Platforms availability: Does 1Password or Dashlane support more platforms?
To make sure your password manager is going to run seamlessly on all your devices, you'll want to take a careful look at its cross-platform compatibility. As we did in our past NordPass vs Bitwarden comparative guide, we're going to check what operating systems and web browsers are supported by our two contenders.

Like its competitors, 1Password comes in two styles – as a desktop/mobile app and also as a browser extension (just like we found in the NordPass review).
1Password's app is currently available on the following operating systems:
Windows (64-bit version of Windows 10 or up)
Linux (any version supporting snap 64-bit x86 or ARM processor and GNU C Library, glibc 2.28 or up)
macOS (version Catalina 10.15 or up)
Chrome OS
Android (version 9 Pie or up)
iOS (version iOS 15.5 or up)

When it comes to browser extensions, 1Password supports these:
Google Chrome
Mozilla Firefox
Microsoft Edge
Opera
Safari
Now, let's take a look at Dashlane.
Dashlane's latest desktop and mobile apps are compatible with the following OS':
Windows
macOS
Linux
Chrome OS
iOS / iPadOS (version 15 and up)
Android (version 8 and up)

While Dashlane supports browser extensions on computers running on Windows, macOS, Linux, or Chrome OS, it's supported via browser extensions, not native apps.
Speaking of browser extensions, Dashlane supports these:
Google Chrome
Mozilla Firefox
Microsoft Edge
Safari (macOS 12.0 and up)
Also, while Brave and Opera aren't officially supported, Dashlane still works very well with both of them.
In the end, 1Password and Dashlane support exactly the same operating systems. However, while 1Password is officially available with more browser extensions, Dashlane supports more of them on the sly. So, we'll call it a draw.
Platforms availability winner: It's a tie
---
Features comparison: 1Password vs Dashlane
While all password managers will vary when it comes to additional features, when we're talking about the core capabilities – they're all roughly the same. These core features include the ability to:
import/export passwords
auto-fill and auto-capture login information
create strong passwords with a user-friendly generator
In addition to this, you'll want to look for a few security-focused features, but we'll leave that for another chapter. However, if you want to check that straight away, scroll down until you catch the "Security and encryption" chapter.
Now, let's get back to core features.
This is the bare minimum you should expect to get with 1Password and Dashlane:
Autosaving and auto-filling credentials
An industry-standard encryption
Cross-platform support including OS' and web browsers
Categories for passwords, secure notes, and credit card details
Emergency access
Simple-to-use strong password generators
Secure password vaults
Syncing passwords across multiple devices
Secure data sharing
Two-factor authentication (2FA)
Well-designed dashboards
Very well, now let's continue with the core capabilities – as we did in our NordPass vs LastPass side-by-side comparison.
Once we cover these three categories (that is, importing/exporting passwords, auto-filling forms, and generating strong passwords), we'll continue with the premium features.
Importing/exporting passwords
As soon as you begin your journey with a password manager, you'll want to start adding your passwords to the secure password vault.
If you're switching your old solution for a new one, the easiest way to shift your passwords is via the password importing feature. This is also true if you've utilized your web browser for this purpose.
So, which of our contenders can brag about superior importing/exporting options?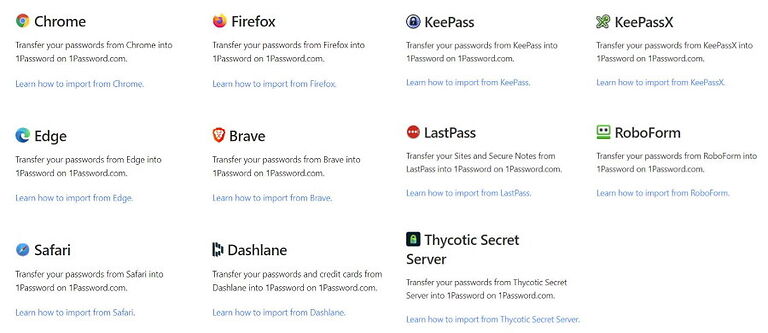 With 1Password, you'll get a limited set of browsers and password managers you can import from directly. These supported browsers are Chrome, Firefox, Edge, Brave, and Safari. As for other password managers, 1Password supports direct imports from Dashlane, KeePass, KeePassX, RoboForm, and LastPass.
If the source you want to import from isn't on this rather short list, you can try importing your data via .CSV files. Since this can get tricky, check out 1Password's knowledgebase for a step-by-step guide before making the first move. We also covered it in more detail in our 1Password review.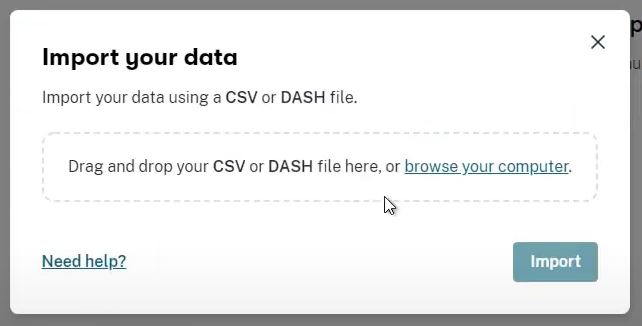 Likewise, with Dashlane you get to import your data directly from only a few browsers (Chrome, Firefox, Edge, Safari, and iCloud Keychain) and other password managers (1Password, RoboForm, KeePass, LastPass, and PasswordWallet). For more details on importing passwords with Dashlane, see our Dashlane review.
In the same way, you can make use of a custom .CSV file if the source you're using didn't make this list.
All in all, both of these lists seem a bit basic if you ask us.
Auto-filling and capturing login information
As you suspect, both password managers we're looking at possess auto-capturing and auto-filling capabilities. It will make your logins smooth and swift with either of our competitors as there are slight differences only.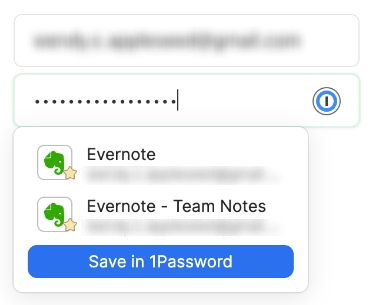 In comparing 1Password vs Dashlane with auto-fill functionality, both will free you from the need to type in or copy/paste your passwords when logging in to sites you use. As both contenders perform these tasks with a similar level of convenience, it's pretty much impossible to pick a favorite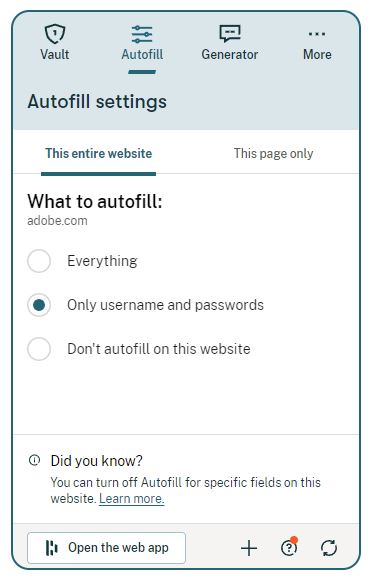 Also, you can set both contenders to auto-fill the form and log you in, to auto-fill the form only, or skip this altogether.
Random password generator
If you've hoped to find a fine password generator that'll help you create hard-to-crack passwords for all your accounts, you'll be glad to hear both 1Password and Dashlane offer one.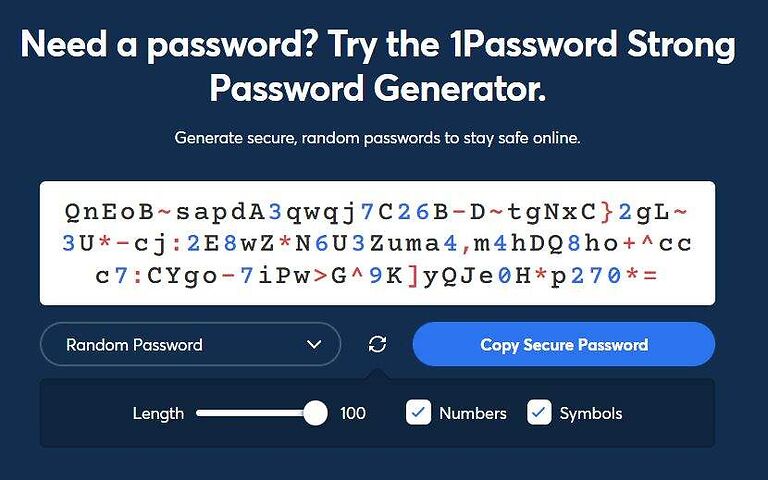 With 1Password's generator, you can come up with up to 100-character-long passwords in a matter of seconds. What's more, you can create passphrases and PINs too and the process is exactly the same. You just need to choose what you want to create on the bottom menu.
Alright, 1Password comes with a superb strong password generator, but what about Dashlane?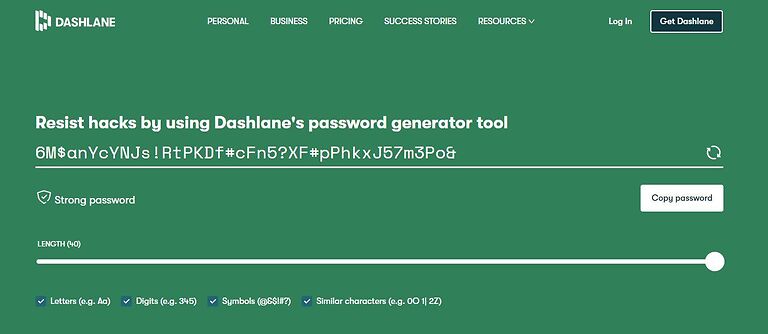 Dashlane will supply you with a competent password generator, and it's configurable too. As you can see above, you can control the use of letters, digits, and symbols to create up to 40-character-long passwords. However, there's no option to generate passphrases and PINs like with 1Password.
For your passwords to be strong, make sure their length is no less than 16 characters. Also, try using a combo of uppercase/lowercase characters but also digits and symbols.
Premium features: 1Password vs Dashlane
Besides the basic features, we'll have to look at the features with a premium tag – just like we did in our 1Password vs LastPass comparison. Without it, this comparison guide couldn't be complete.
In the case of Dashlane, some of these will come with free and others with premium plans. Since 1Password doesn't offer anything for free, all of its features are locked behind a paywall, core and premium ones alike.
So, if you came here to find out which premium features you'll get with both password managers, stay tuned. We've thrown together a short list of the most outstanding features you'll get with 1Password and Dashlane.
1Password Emergency Kit
As soon as you set up your master password with 1Password, you'll be given a Secret Key and an Emergency Kit. Both are there for the sake of your security. You'll need a Secret Key to log into your 1Password account and Emergency Kit will be there to save your account if you lose all other login information.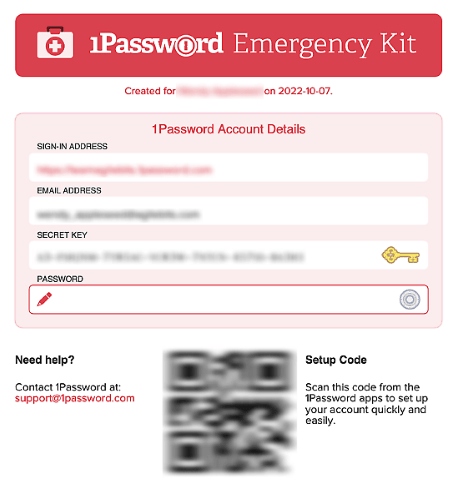 An Emergency Kit comes in the form of a .PDF file with all the information you'll need to enter your 1Password account in case of emergency. It serves as offline storage and the smartest strategy is to print it and keep it somewhere safe – perhaps in a safe?
Your Emergency Kit includes these pieces of your personal information:
Email address – the address you used to create your account.
Sign-in email address – the address you use to sign in to your account.
Secret Key – a 34-character-long key that serves as a second line of defense along with your account password.
Account password – a password you use to sign in to your account.
Setup code – a QR code you'll be using to sign in from now devices.
With the Emergency Kit feature, there's no need to freak out if you can't find your login information.
VPN for WiFi protection
If you're planning to use both password manager and VPN service, you can get both in a combined package.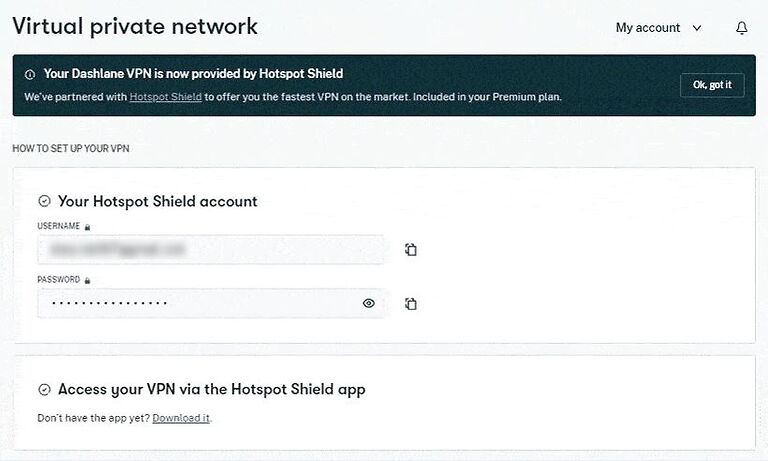 If you go with Dashlane's "Premium" plan, you'll get a two-in-one type of product, a password manager, and a Hotspot Shield VPN service. And the price tag looks really reasonable at $3.99 per month, making it a cheap VPN for those on a budget.
Backed by VPN, you can browse the web without worrying about your online privacy. Plus, since this VPN service doesn't limit your bandwidth usage, you're free to encrypt any amount of traffic you want.
However, since Hotspot Shield isn't exactly one of the best VPN services out there, you'll probably be better off with some of its competitors (such as NordVPN, Surfshark, and ExpressVPN).
Despite that, utilizing a run-of-the-mill VPN service is still a cut above not using a VPN at all. After all, it's an amazing privacy tool that can also keep all your sensitive information on the safe side of the internet.
Travel mode
The travel mode is one of the top features you'll get with 1Password and it's perfect for travelholics that are troubled by the lack of privacy.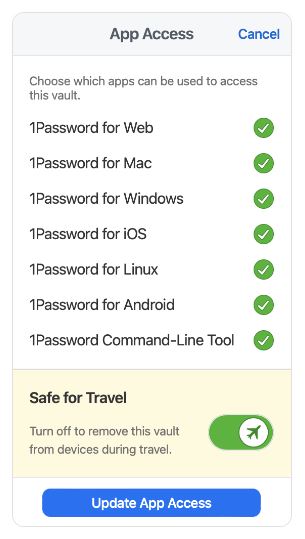 While planning your trip, visit your vaults and select which of them are safe for travel. Then, once you're ready to go, activate the travel mode. All vaults that aren't assigned as "safe for travel" will be removed from your device.
This can prove to be particularly practical if you bump into an overly inquisitive border inspector as they'll be able to see only data from "safe" vaults. Also, if your device gets lost or stolen during the trip – your sensitive data will stay out of trouble.
Dark web monitoring / Watchtower reports
There's no reason to fear the dark web if you're using 1Password or Dashlane.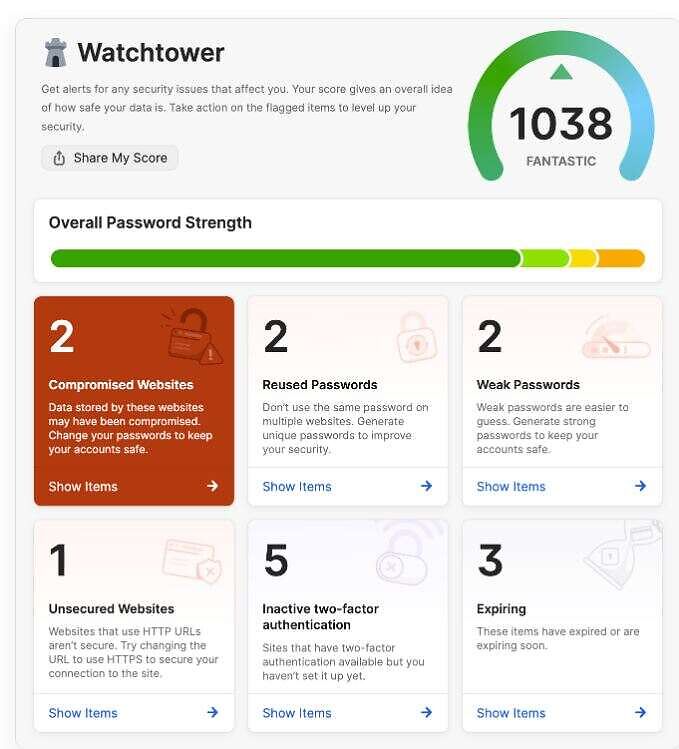 Both password managers will keep a watchful eye on known data breaches to find out if your private information has been exposed. If yes, you'll be prompted to change the compromised data (such as your passwords, login information, or other data) straight away.
This way, you can take action before your data gets into the hands of cybercriminals crawling the dark web and before irreparable damage is done.
On the downside, you won't get this feature with the free edition of Dashlane. Plus, even with the paid plans, Dashlane will check five of your email addresses for data leaks, and not one more.
However, 1Password's Watchtower tool will check the email address you used to sign up for your 1Password account, and that's about it. This makes Dashlane looks quite generous in comparison.
Encrypted file storage
As soon as you sign up with either of our competitors, you'll get access to secure file storage where you can save your sensitive files in all most common formats (.DOC, .DOCX, .PDF, and so forth).
With 1Password's personal plans you'll get 1GB of document storage per account. With business-focused plans, the size of the storage spiked up to 5GB per account, which should suffice for most businesses.
Dashlane's paid plans will supply you with 1GB of encrypted file storage. However, files mustn't exceed the size limit of 50 MB. To make use of this storage, you'll need to create a secure note in Dashlane. Once this is done you'll be able to attach multiple files to that secure note. As other data in your vault, these files will be synced across your devices.
Features winner: It's a tie
---
User interface and ease of use: Is 1Password or Dashlane more user-friendly?
When it comes to ease of use, most of us want to see the same features: simple sign-up, seamless installation, and a user-friendly UI. While both our contenders are similar, one of them comes with a superior UI and that one is Dashlane.
Also, those who have never used a password manager before will likely find Dashlane simpler to start with. It feels exceedingly easy to use and it offers step-by-step walkthroughs for the first installation leaving no room for confusion.
Sign-up and installation
The sign-up procedure is pretty much the same with both password managers.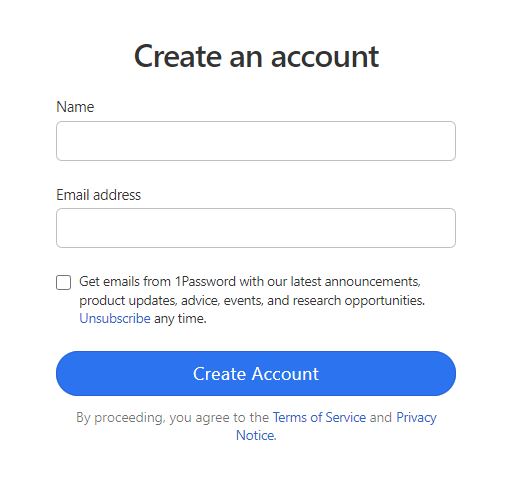 However, with 1Password you'll be asked to supply an email address and come up with a username. Meanwhile, Dashlane takes a more direct approach and prompts you to download the app straight away. We were transferred to Chrome Web Store and asked to add the Dashlane extension to our browser.

So, aside from these slight differences, downloading 1Password and Dashlane apps is equally easy, and the same is true with installation.
In addition to signing up and installing the apps, you'll be also required to create solid master passwords. With1Password you'll also get your Secret Key and Emergency Kit.
We should also note that since 1Password doesn't offer a free version of its products, you'll have to provide your credit card details.
User interface
At first sight, 1Password seems a bit more complicated to use and its UI is the main culprit for this.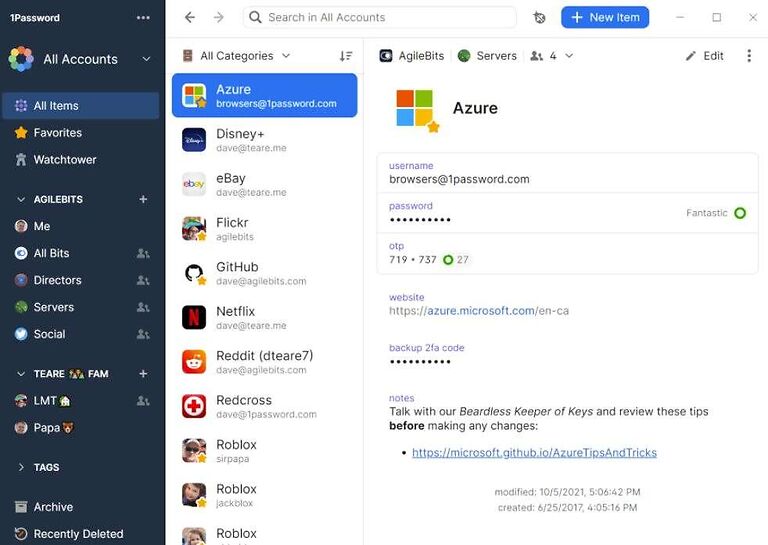 As soon as you arrive at your dashboard you'll make out the options to add vaults, check the billing information, and invite people. But where can you store all your precious passwords?
Well, you'll get that option as soon as you create your first vault. Passwords get stored in secure vaults, after all.
Since the layout of 1Password's UI isn't the same as with other popular password managers, getting the hang of it might take some time. However, once you figure out where everything is, you'll find it extremely easy to use.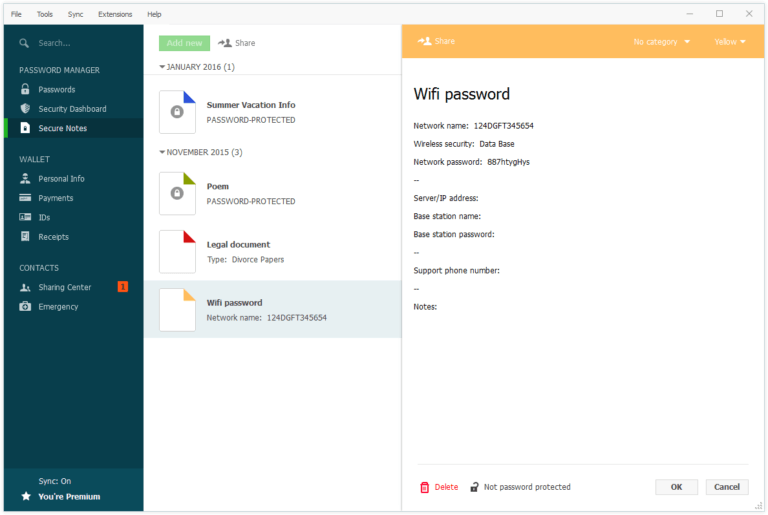 At the same time, Dashlane's dashboard exhibits everything it provides in plain view. This makes it close to impossible to lose your way on the UI. Everything you want is shown in the left column including the options to create/edit secure notes, manage passwords, check your payments, and so on.
As you add items to your secure vault, they'll turn up in a field on the right side of the dashboard. If you want to sort them by name, category, or usage, go to the dropdown menu and make your choice.
All in all, while both UI are user-friendly, with Dashlane the expected learning curve is practically non-existent.
Password managers in action (summary)
When you arrive at your dashboard with 1Password, you might feel at a loose what you should do next. It's because 1Password can create multiple vaults. So, to start adding passwords or secure notes into your vault, you'll first need to create one. It's more straightforward with Dashlane, which makes its UI slightly simpler to use.
Nevertheless, 1Password is much more user-friendly than its open-sourced counterpart – as examined in our 1Password vs Bitwarden side-by-side comparison.
However, there's one area where Dashlane seems clumsy and that's the functional asymmetry between its browser extensions and web apps. The browser extension will give you access to your password and that's it. To access your secure notes, personal data, and payments, you'll have to use the web app.
1Password's browser extension has its drawbacks as well. For instance, If you wish to share passwords you'll have to use the web app. For some reason, this feature isn't available with browser extensions.
User interface and ease of use winner: Dashlane
---
Security and encryption: Is 1Password or Dashlane more secure?
If the password manager you're using gets hacked by cybercriminals, all your passwords and other sensitive data might become compromised in that cyberattack. So, using a password manager comes with certain security concerns.
Fortunately, all the top password managers have found ways to combat cyber threats and keep your data secure.
Both 1Password and Dashlane fall into this category. With either one, your sensitive data will be shielded by industry-standard encryption, a zero-knowledge policy, and advanced authentication methods. So, even if someone hacks your password manager, your data will remain in a safe place.
Now, let's check the main areas concerning password manager security as we did in our NordPass vs RoboForm guide. These include encryption, MFA security, encrypted data storage, and third-party security audits the companies have undergone.
Encryption
Both 1Password and Dashlane utilize industry-standard 256-bit AES encryption. As the US government is currently using this type of encryption to safeguard top-secret information, your sensitive data should be superbly secure.
All your sensitive data (such as passwords, secure notes, and documents) is encrypted before it leaves your devices. That is, in transit between your device and companies' servers. This suggests that not even their employees can see your information in its unencrypted form, which is welcome news for your privacy as well.
As pointed out above, in addition to a master password 1Password also adds a 128-bit Secret Key as an additional line of protection. Its purpose is to make your master password harder to crack by brute-force attacks.
Meanwhile, Dashlane also boosts your password security with Argon2 cryptographic algorithm. This password-hashing algorithm will make your encrypted data even harder to crack by cyber criminals.
Multifactor security
With 1Password you'll get a fine variety of MFA choices. Some of these include strengthening your master password USB keys and biometric scanning. Also, you can utilize third-party authenticator apps like Google Authenticator, Microsoft Authenticator, and Authy. What's more, 1Password is compatible with the latest U2F security keys such as YubiKey and Titan.
Unfortunately, 1Password offers no backup codes. So, if you lose access to the 2FA methods you're using, accessing your account won't be as straightforward.
At the same time, Dashlane supports biometric scanning for Android, iOS, Windows, and macOS. Also, you can sync Dashlane with third-party apps such as Google Authenticator, Authy, and Duo.
Unlike 1Password, Dashlane offers a set of single-use backup codes you can store in a secure place aside from your Dashlane account.
Secure data storage
Since we've talked about this subject in one of the previous chapters, we'll sum it up for you here. Both 1Password and Dashlane provide secure data storage to their paid users – so, no freebies with these two.
With 1Password's personal plans you'll get 1GB of storage space and 5GB of storage with business-focused packages. Users can choose between the USA, Canada, and the EU as the location of their data storage, which is a nice touch.
Dashlane's premium plans will get you 1GB of encrypted file storage, where each file can be up to 50 MB. To make use of this storage, you'll have to create a secure note in Dashlane first. After this, you can attach multiple files to the secure not you've created.
As for secure storage location, Dashlane utilizes Amazon Web Services (AWS), which means your data will be stored somewhere in the USA.
Third-party security audits
1Password's "Security Audits" page provides plenty of information on independent audits that were conducted between 2015 and this year. Most of the recent audits were performed by Cure53, a Berlin-based cybersecurity company that has also audited VPN services such as ExpressVPN and NordVPN.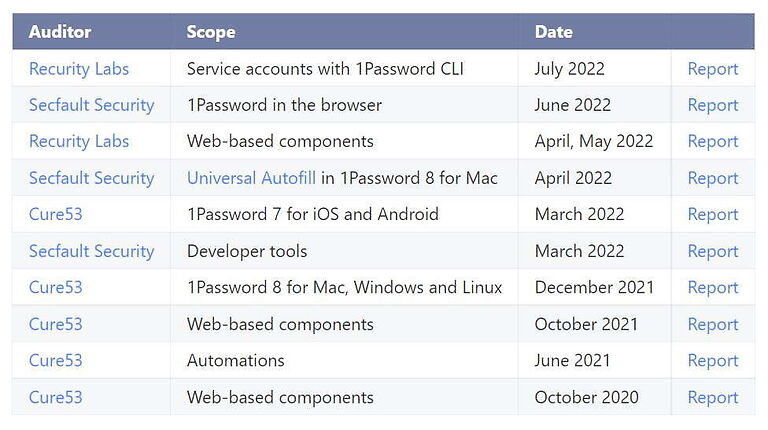 From 2020 to 2022, a total of ten third-party audits were conducted – as is shown in the table above. While Cure53 performed most of these, cybersecurity companies such as Secfault Security and Recurity Labs took part in making 1Password more secure.
Also, 1Password owns SOC 2 Type 2 certificate.
As for Dashlane's security audits, we couldn't find any published audit results besides a 2016 paper by a group of students at MIT. While this security analysis found Dashlane to be "quite secure against all of the attacks", it fails to live up to audits conducted by well-known cybersecurity companies.
Security and encryption winner: 1Password
---
Privacy policy: Is 1Password or Dashlane more private?
Both 1Password and Dashlane will collect some pieces of private information from their users. This will include your username, email address, IP address, type of device you use, and payment methods you've used. However, this isn't all.
If you'd like to know what your private information could be collected by these companies, check 1Password Privacy Policy and also Dashlane Privacy Policy.
Also, since both 1Password and Dashlane are based in the USA (the heart of the FVEY countries), they can be completed by law to share your private information with the governments of these countries.
In addition to this, your precious information could also be shared with other third parties, such as subsidiaries, affiliates, and business partners.
From the standpoint of privacy protection, both 1Password and Dashlane go together with some serious shortcomings. So, determining which one is more private isn't as clear as in our NordPass vs Dashlane comparison.
However, all hope is not lost yet. To limit the amount of information your password manager provider can see (such as your IP addresses) you can take advantage of one of the best VPN services we have tested.
Privacy policy winner: It's a tie
---
Plans and pricing: Are 1Password and Dashlane a good value?
At long last, let's launch into the plans and pricing area as we did in our previous NordPass vs 1Password comparative guide.
Before we continue with paid plans, we'll have to check Dashlane's forever-free plan fittingly titled "Free". It will let you store an unlimited number of passwords and share them securely too, but it works on one device only. So, simply pick up your favorite device and give it a go.
This is where we would compare the free plans of both password managers, but we can't do that since 1Password is short on freebies.
Now, let's see 1Password has to offer.
1Password: Personal plans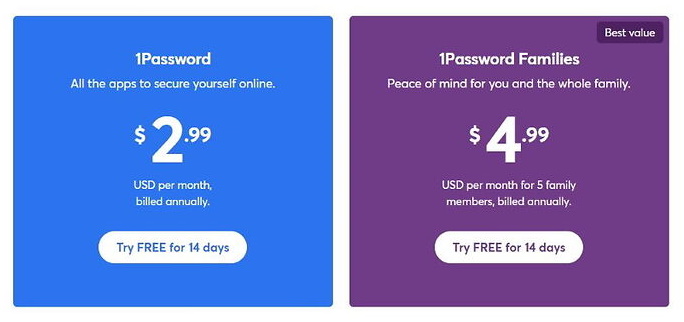 The most budget-friendly option you can purchase with 1Password is a personal plan plainly titled "1Password". For it, you'll have to pay $2.99 per month and it can be billed annually. So, it will add up to $35.88 per year, once it starts after a 14-day trial.
If your free trial is running out and you don't plan to continue using 1Password, cancel your subscription before the trial ends. Like with VPNs with a free trial, once the trial runs out, you can say goodbye to your money.
The "Family" plan can cover up to five users and costs $4.99 per month, billed annually at $59.88. It'll get you everything from the previous one but also a management console for the family, more user accounts, and the ability to recover locked family member accounts.
And if the five-user limit can't cover your family, you're free to invite additional users to your plan for $1 per person per month.
1Password: Business plans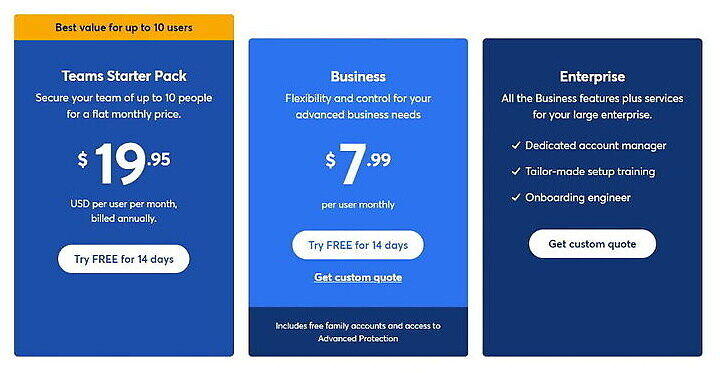 There are three business-focused solutions with 1Password: "Teams", "Business", and "Enterprise".
The smallest out of the three solutions is "Teams" and it starts at $19.95 per month. It can cover up to ten users and supports up to five guest accounts for limited sharing.
The next in line is "Business" and on top of everything from "Teams", it includes custom security controls, an activity log for tracking any changes to the vault, and Watchtower reports for businesses. This plan will cost you $7.99 per user per month.
Last but not least is the "Enterprise" plan and as its name suggests it's aimed at enterprises. As expected, you'll need to get in touch with the sales staff to get the pricing as the plan is completely customizable.
1Password: Additional pricing information
All plans except for "Enterprise" offer a 14-day free trial and you won't be asked to leave credit card information in advance.
Accepted payment methods with 1Password include all major credit/debit cards (including Visa, Mastercard, American Express, Discover, Diners Club, and UnionPay) and that's it. So, no PayPal or other ways to pay for your plan.
Now, let's look at Dashlane's plans and pricing and how it compares to 1Password.
Dashlane: Personal plans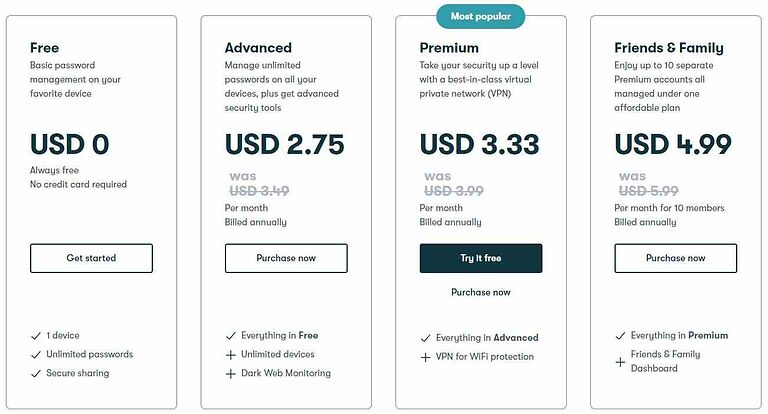 Apart from the free plan, Dashlane also provides three paid personal plans: "Advanced", "Premium", and "Friends & Family". The first two are aimed at single users while the family-focused plan can cover up to ten users.
"Advanced" will cost you $2.99 per month, on annual billing, and give you a couple of extra security tools such as dark web monitoring.
To get the VPN service Dashlane is famous for, you'll have to purchase the "Premium" plan or up. It will set you back $3.99 per month, also on annual billing.
Dashlane: Business plans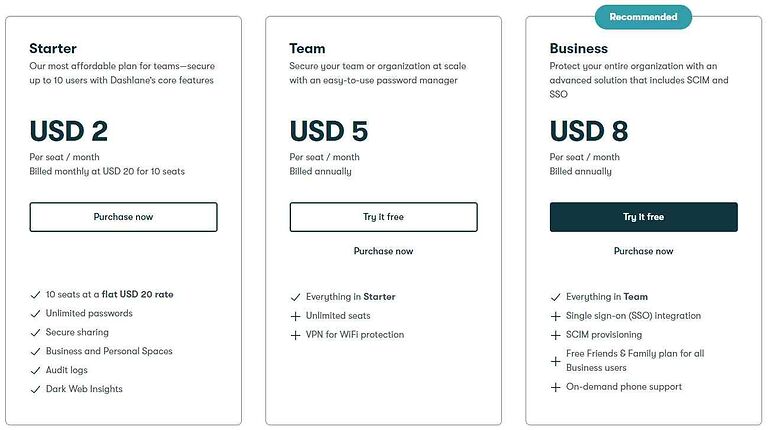 As for business-focused solutions, Dashlane has three plans: "Starter", "Team", and "Business".
The budget-friendly option perfect for small teams is "Starter" and it covers ten users at a flat $20 rate. While it offers a fine array of business-focused features, VPN for WiFi protection isn't one of them.
To secure yourself a VPN service you'll have to go with the two pricier plans, "Team" ($5 per user per month) or "Business" ($8 per user per month).
If you want to safeguard your business with an advanced security solution that includes SCIM and SSO, you'll want to choose the "Business" plan.
Dashlane: Additional pricing information
With personal plans, you can choose between a monthly or an annual billing option. Meanwhile, All businesses-focused plans can be billed once a year, and that's it.
Dashlane offers a 30-day money-back guarantee for personal plans and 30-day free trials with "Premium", "Team", and "Business" plans.
When it comes to payment methods, Dashlane accepts payment via all major credit/debit cards and uses payment services from PayPal, Stripe, and Checkout.com.
Plans and pricing winner: Dashlane
---
Customer support: Does 1Password or Dashlane offer the best support?
Both 1Password and Dashlane can back you up with several support options including self-service and email support but neither of them provides telephone support. However, truth be told, most password managers don't.
Dashlane also supports its customers via live chat while 1Password doesn't.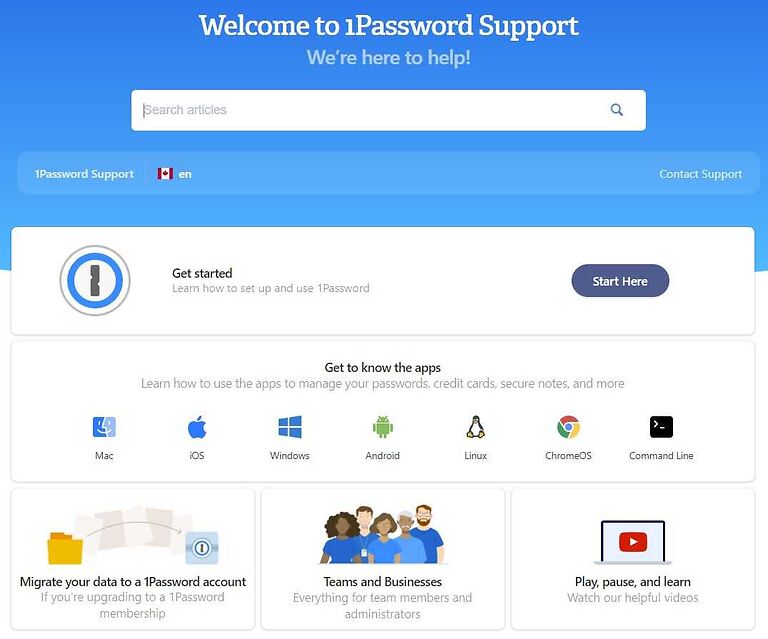 With 1Password users seeking support can choose between email support, a well-stocked knowledgebase, and a community forum. You're also welcome to visit its official YouTube channel where you'll find some solid step-by-step guides. And if you're into social networking, get in touch with the 1Password team via Twitter.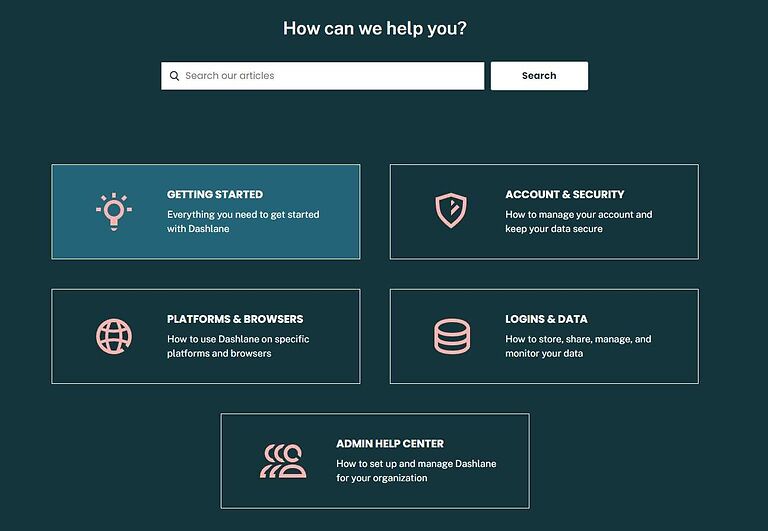 With 1Password users seeking support can choose between email support, a well-stocked knowledgebase, and a community forum. You're also welcome to visit its official YouTube channel where you'll find some solid step-by-step guides. And if you're into social networking, get in touch with the 1Password team via Twitter.
Besides in-depth knowledgebase stuffed with simple-to-follow guides, Dashlane offers both email and live chat support. While these channels aren't accessible around-the-clock, you can utilize them in French, German, and English language.
While Dashlane doesn't offer an official support forum where one could seek help from fellow users, there's a rather active community on Reddit.
Customer support winner: Dashlane
---
Conclusion: Is 1Password or Dashlane the best?
Now it's time to review every category of this Dashlane vs 1Password comparison.
All things considered, both 1Password and Dashlane are superb choices for password management. As both are surprisingly simple to use, you should feel comfortable using either of them, even if it's your first time ever.
Also, both support all popular platforms, offer a full set of features, and come as secure as they can get.
However, while it wasn't a no-brainer, one of our contenders came on top and that one is Dashlane.
If you're slightly surprised by our choice, here's the run-through of all areas we've considered in this 1Password vs Dashlane comparison guide.
Background check: It's a tie -both password managers are operating from the USA, a country with poor privacy laws. Also, both have solid backgrounds.
Platforms availability: It's a tie – 1Password is formally available with more browser extensions, while Dashlane supports more of them off the record.
Core and premium features: It's a tie – both contenders offer some superb premium features making it hard to single out one of them.
User interface and ease of use: Dashlane – while 1Password is utterly user-friendly, Dashlane's dashboard makes it close to impossible to lose your way while using it.
Security and encryption: 1Password – while our contenders utilize the same industry-standard encryption, Dashlane is suspiciously secretive about its security audits.
Privacy policy: It's a tie – since both password managers are based in the USA and collect some user data, neither of them can boast about privacy.
Plans and pricing: Dashlane – besides the paid plans, Dashlane also provides a forever-free edition.
Customer support options: Dashlane – while both contenders offer solid self-services, Dashlane also provides a live chat support channel.
If you'd like to see our separate reviews for both password managers, you can check our 1Password review and also the Dashlane review.
1Password vs Dashlane FAQ
Were 1Password and Dashlane ever hacked?
No, as far as we can tell, neither 1Password nor Dashlane was ever hacked. Nevertheless, even if they happen to get hacked, there's no need for alarm. Your passwords and all other sensitive data are encrypted and hashed before leaving your local device. So, even if hackers get a hold of your data, they won't be able to use it.   


Do 1Password and Dashlane steal your passwords?
No, they don't. 1Password and Dashlane don't store your master password on their servers nor do they send it over the internet. Also, since all of your sensitive data, including your passwords, is encrypted before reaching their servers, they aren't able to see or steal it.  


Do 1Password and Dashlane
offer free plans?
While Dashlane provides a forever-free edition of its password manager, 1Password doesn't. The closes thing you'll get to the free edition with 1Password is its 14-day free trial.


This 1Password vs Dashlane comparison guide was last updated on January 3, 2023.