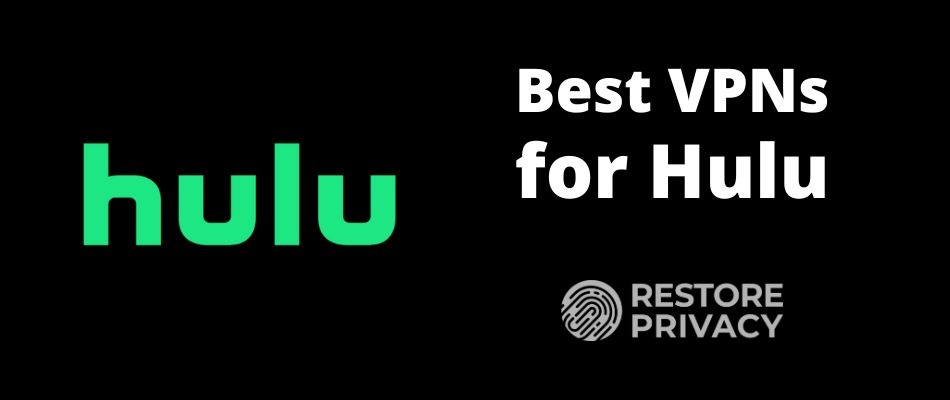 Today we are going to take a look at the best VPNs for Hulu. So why would you want to stream Hulu with a VPN service and how do you find the best one for the task? This Hulu VPN guide will answer all these questions and more.
Hulu has some excellent content, and with all the events of the past few years, more people are streaming content online than ever before. Unfortunately, Hulu is only available to users in the United States and Japan. If you are physically outside of those areas, you will need a VPN to access Hulu — otherwise, you'll be blocked.
This geo-blocking takes place, even if you are a paying subscriber and a resident of the USA or Japan. If you are not physically located in the geographic region covered by your Hulu description, accessing the service can be challenging.
To stream Hulu from anywhere in the world, you'll need a good VPN (virtual private network). VPNs have the ability to make it appear that you are connecting from a different geographic location than where you are physically located.
WARNING: Hulu can detect and block most VPN services. Only a few VPNs are capable of consistently defeating the Hulu geo-blocking technology to give you access to the content you pay for. To save you lots of time and effort, we've done the testing and narrowed the field down to the three best VPNs that work with Hulu streaming.
Top VPNs for Hulu
NordVPN – Best VPN for Hulu with the fastest speeds, a large server network, great privacy features, and support for all types of streaming devices (with a 68% off coupon)
Surfshark – A fast and affordable Hulu VPN with secure apps
ExpressVPN – Reliable VPN for Hulu with user-friendly apps
Now let's dive right in by looking at the criteria we used to select these Hulu VPNs.
How we rank the best VPNs for Hulu
Here are the criteria we used when deciding which VPNs make the grade:
The ability to defeat Hulu's geo-blocking technology.
A global server network that can deliver streaming content in HD without interruptions worldwide.
Easy-to-use apps that work across the range of devices where you might want to stream Hulu content.
The ability to serve as a great general-purpose VPN, not simply stream Hulu content.
A strong technical support team that will help you get connected to Hulu if you have issues and also deal with any general problems you might have.
So without further delay, here are the best VPNs for Hulu:
NordVPN – Best VPN for Hulu streaming in 2023
| | |
| --- | --- |
| VPN | NordVPN |
| Based in | Panama |
| Logs | No logs (audited) |
| Price | $3.19/mo. |
| Support | 24/7 live chat |
| Refund | 30 days |
| Website | NordVPN.com |
NordVPN is a well-known VPN service that consistently ranks as one of the best in the world. In our testing, NordVPN also ranks as the best VPN for Hulu users. NordVPN has over 5,700 fast VPN servers spread across 60 countries, with 1970+ servers in the United States and 130+ servers in Japan. This Panama-based service can definitely deliver the goods when it comes to streaming Hulu (and virtually any other service as well).
While testing out NordVPN with Hulu, we were impressed with the service's ability to deliver movies without any problems, blocks, or buffering, despite the fact that we were connecting from over 2,000 miles away.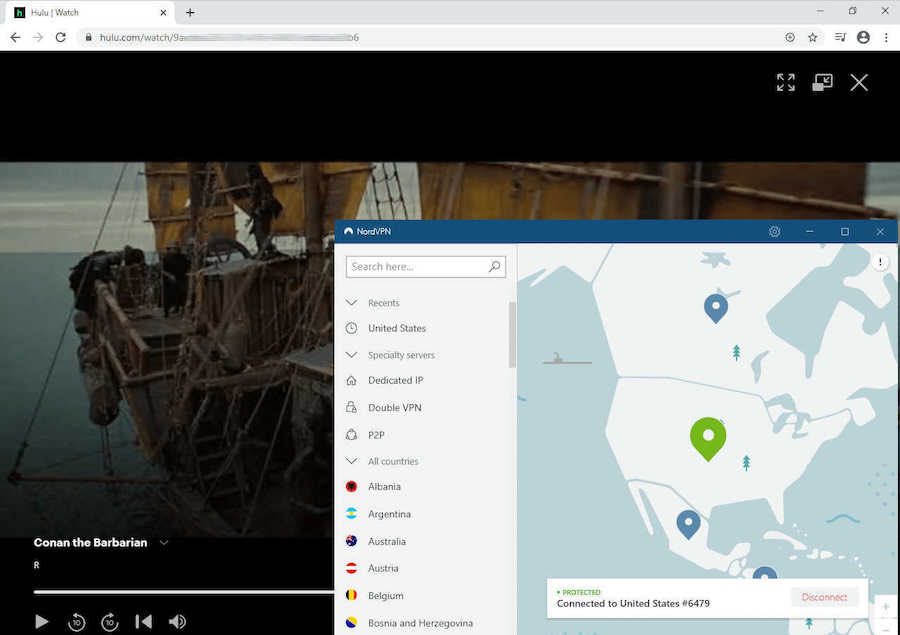 NordVPN is consistently one of the fastest VPNs with the NordLynx VPN protocol. NordLynx is a custom implementation of the new, super-fast, super-secure WireGuard VPN protocol. This protocol delivers the fastest speeds possible, instant connections, and cutting edge encryption.
We found NordVPN with NordLynx to have a huge performance advantage over other VPNs. You can see this in recent tests for the NordVPN vs ExpressVPN comparison. Below is the result we got on a recent speed test using a NordVPN server in Seattle (USA). At 755 Mbps, this makes NordVPN the fastest VPN for Hulu we have ever tested:
NordVPN supports a wide range of devices beyond computers and smartphones. If you want to watch Hulu on some particular device, NordVPN probably has an app for it. And if your particular interest is watching Hulu or doing other unblocking activities on Amazon devices, then you'll want to check out our guide on the best VPNs for Firestick and Fire TV.
NordVPN ticks all the boxes for a general-purpose VPN too. They are a no-logs VPN, a fact that has been verified multiple times by companies like PWC AG and Deloitte. This VPN really excels in the area of advanced privacy and security features. Here are some advanced features. (You can get the full details in our NordVPN review):
Threat Protection is an advanced security feature that blocks ads, malware, and dangerous domains. The desktop version (Windows and macOS) additionally can remove tracking parameters from links, and protect you against malicious downloads. Threat Protection functions even if you are not connected to a VPN server. This is the most capable VPN ad blocker currently available.
Threat Protection Lite brings a subset of the Threat Protection features to other operating systems and major web browsers. It provides the core ad, malware, and tracker blocking functions, but lacks the file protection ability, and only protects traffic passing through a VPN server.
Kill Switch secures your data by blocking data flow if the connection to a VPN server is lost. Most NordVPN apps have an Internet Kill Switch, which disables all traffic when the connection is lost. The Windows version of NordVPN also includes an App Kill Switch, which quits selected apps when there is no VPN connection.
Split tunneling lets you control which apps use the VPN tunnel and which connect directly to the internet.
Meshnet is a NordVPN service that allows you to access trusted devices as if they were connected through a secure LAN (Local Area Network). It provides a high-speed, low-latency, encrypted, direct connection between devices. It is ideal for activities such as collaboration, file sharing, and playing LAN games.
See all NordVPN features here >>
NordVPN server network
NordVPN servers all run on dedicated hardware in RAM-disk mode. This type of diskless operation is a major privacy boost as it secures your data against the threat of someone physically removing a VPN server or disk drives. An audit by VerSprite confirmed that their network and apps really are secure.
Another way the company is boosting the privacy and security of the server network is by transitioning to colocated servers. Most VPN providers lease servers from third-party data centers in countries around the world. This means that some entity other than the VPN provider owns and operates the VPN servers. And that is a potential security problem.
Nord Security (the parent company of NordVPN) is dealing with this problem by moving to colocated servers. Colocated servers are servers that are housed in third-party data centers, but are owned and operated by personnel from the VPN company, not the data center owner.
With such a large network of VPN servers, NordVPN has room for a variety of specialized servers.
Double VPN servers pass your traffic through two servers located in two different countries. This slows your connection a bit but makes it much more difficult for even state-level entities to track your online activities.
Onion over VPN servers add the anonymity of the Tor network to the security and privacy of NordVPN.
Obfuscated servers make your VPN traffic look like regular HTTPS encrypted traffic. This hides your VPN traffic from internet censors. Obfuscation is an important feature if you need a VPN for China, the UAE and Dubai, or for Russia).
Dedicated IP servers are an extra cost feature. A dedicated IP server gives you a static IP address that is dedicated to your sole use.
P2P servers are servers that are optimized for peer-to-peer operations like file sharing and torrenting.
Additional information
NordVPN offers top-notch customer service with 24/7 live chat support through their website. They also back all subscriptions up with a 30-day money-back guarantee. This gives you plenty of time to test-drive the VPN with any streaming service.
Non-Hulu streaming services unblocked: Netflix (US, UK, Canada, France, Germany, Netherlands, Spain, Japan, Australia, India, Italy, and possibly other regions), BBC iPlayer, Amazon Prime, HBO, DAZN, SkyGo, Hotstar, and many more.
+ Pros
User-friendly and reliable apps
Double-VPN and Tor-over-VPN servers
Passed numerous 3rd-party audits
Strong encryption standards with full support for WireGuard
Works with Netflix and many streaming sites
Threat Protection feature to block ads, trackers, and malware
Professional 24/7 live chat support
Consistently fast speeds
Dedicated RAM-servers with 10 Gbps bandwidth channels
– Cons
Big discounts only available with 2-year plans
NordVPN's Cyber Deal is live:

Get 68% Off NordVPN with the coupon below plus 3 months FREE, no activation code needed:
(Coupon is applied automatically; 30 day money-back guarantee.)
Want to learn more? Check out our full NordVPN review.
---
Surfshark – Great VPN for streaming Hulu with a low price tag
| | |
| --- | --- |
| VPN | Surfshark |
| Based in | The Netherlands |
| Logs | No logs |
| Price | $2.30/mo. |
| Support | 24/7 live chat |
| Refund | 30 days |
| Website | Surfshark.com |
Surfshark holds the second spot on our list of the best VPNs for Hulu. As a relative newcomer in the VPN world, Surfshark is something of a prodigy. Coming from nowhere, it has quickly vaulted to the top tier of VPN providers across a wide range of use cases. Defeating Hulu's geo-blocking is just one of this VPN's skills.
Surfshark has a network of 3,200+ servers spread across 100 countries, with 62 servers in Japan and over 600 servers in the United States. This gives you a good selection of servers for unblocking Hulu, Netflix, Amazon Prime, or nearly any other streaming service. Surfshark runs as a no-logs VPN service with all servers operating in RAM-disk mode for more data security. Their no-logs status was confirmed through an audit by Deloitte.
Surfshark supports the WireGuard VPN protocol, and when you select WireGuard instead of OpenVPN, Surfshark is second only to NordVPN in raw speed. You will want to take advantage of WireGuard whenever possible, because Surfshark running OpenVPN is relatively slow.
Surfshark offers quality apps for all popular devices and operating systems, including computers, tablets, phones, gaming systems, and more. They also have browser extensions that have been audited by Cure53 and are ranked as the best Chrome VPN extension. Below is the Surfshark app we tested on Windows.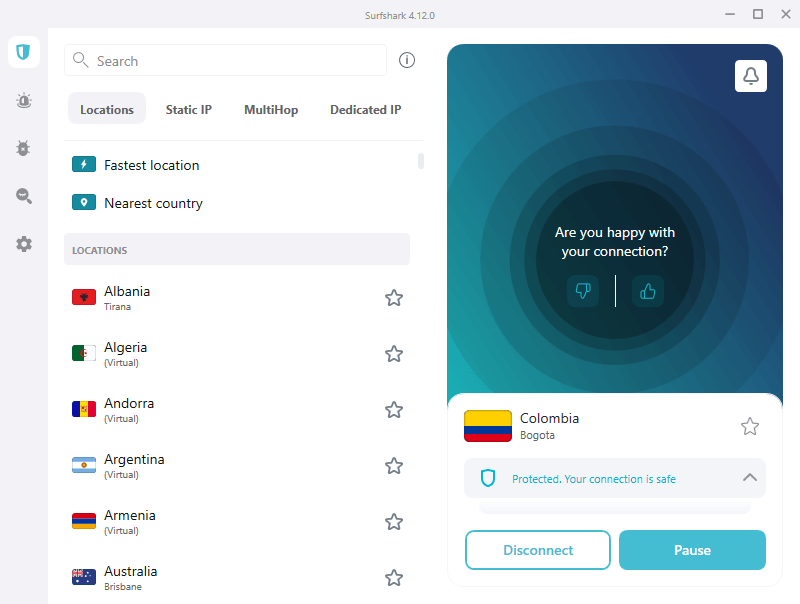 As you would expect for any service that made this list, Surfshark handles regular VPN tasks with ease. They use industry-standard encryption and are based in the Netherlands, a safe and privacy-friendly jurisdiction. And like NordVPN, Surfshark also offers some great privacy and security features:
CleanWeb is Surfshark's ad blocking feature. It blocks ads, trackers, and malware domains. Like NordVPN's Threat Protection Lite, CleanWeb can only protect traffic passing through a VPN server. CleanWeb is included in the Surfshark apps for Windows, macOS, Linux, iOS, Android, and FireTV.
CleanWeb 2.0 is Surfshark's newest security feature. It incorporates all the capabilities of CleanWeb, and adds a pop-up blocker, data breach alerts, and malware alerts. You can use CleanWeb 2.0 with Surfshark's Chrome, Firefox, and Edge browser extensions.
MultiHop servers are the Surfshark equivalent of NordVPN's Double VPN servers. The entry and exit server in each MultiHop server are predefined by Surfshark.
Dynamic MultiHop servers work the same as standard MultiHop servers, except that you specify the entry and exit servers when you define a new Dynamic MultiHop connection.
Camouflage mode is Surfshark's method of obfuscation. Camouflag mode is automatically activated when you use the OpenVPN protocol.
Static IP servers are servers that will assign you the same IP address every time you connect to them. It is important to note that while you get the same IP address every time, that address is not reserved for your sole use. You will likely end up sharing that IP address with other Surfshark users.
Dedicated IP servers also give you the same IP address every time you connect to the server. But here, the IP address is reserved for your sole use. Dedicated IP servers are available for an additional cost.
Bypasser is Surfshark's split tunneling feature.
See all Surfshark VPN features here >>
Additional information
If you have a lot of devices to connect to Hulu (or the internet in general), you'll be interested to know that each Surfshark account supports an unlimited number of simultaneous internet connections in a single account. And with the low price, Surfshark is one of the best cheap VPNs on the market.
Surfshark support staff also performed well in our tests and interactions. They have 24/7 live chat support and a 30-day money-back guarantee if for some reason the service doesn't meet your needs.
Non-Hulu streaming services unblocked: Netflix (US, UK, Australia, Canada, Singapore, Italy, South Korea, Germany, Japan, Norway, and working on more), Amazon Prime, BBC iPlayer, HBO Max, SlingTV, and more.
+ Pros
Unlimited connections
User-friendly apps for all devices and operating systems
CleanWeb feature to block ads, trackers, and malware
Works great with Netflix and many other streaming services
24/7 live chat support
Strong encryption and security features (audited)
– Cons
Limited support for VPN routers
Above average monthly prices
Surfshark VPN Coupon:

Get 82% off Surfshark VPN (drops the price down to $2.30 per month) plus 2 months FREE:
(Coupon is applied automatically.)
Want more information about Surfshark? Read our full Surfshark review.
---
ExpressVPN – A secure and reliable VPN for Hulu
| | |
| --- | --- |
| VPN | ExpressVPN |
| Based in | British Virgin Islands |
| Logs | No logs (audited) |
| Price | $6.67/mo. |
| Support | 24/7 live chat |
| Refund | 30 days |
| Website | ExpressVPN.com |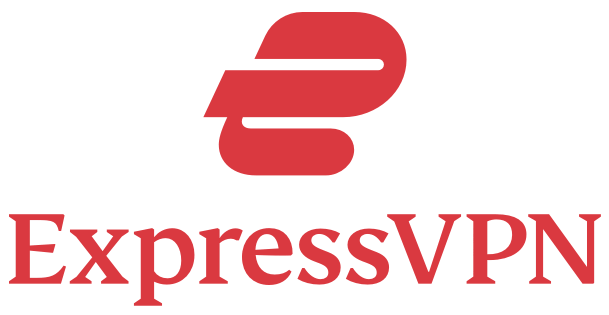 ExpressVPN is the third service on our list of the best VPNs for Hulu. Like our other top recommendations, ExpressVPN has a large network of fast global servers. This includes over 3,000 servers in 94 countries. The network includes 24 server locations in the United States and 4 in Japan. This provides enough servers for unblocking Hulu, as well as Amazon Prime, Disney Plus, and more. ExpressVPN is also a great VPN for Netflix with consistent access to numerous regions.
ExpressVPN is based in the British Virgin Islands and is an audited no-logs VPN service. They run all servers in RAM-disk mode and utilize strong encryption standards with all apps. Unlike NordVPN and Surfshark, however, ExpressVPN offers the Lightway protocol, which promises better speeds and security than OpenVPN but isn't as fast as WireGuard.
ExpressVPN also supports a large number of operating systems and devices with secure and reliable VPN apps. This is a great VPN for gaming systems, and TV Boxes, and even has a dedicated app for Firestick. It is one of the best VPNs for Amazon Prime Video and unblocks numerous services with ease.
Below is the ExpressVPN Windows VPN app we tested for this review. You can see that the VPN app is simple and user-friendly, with a clean and minimal design.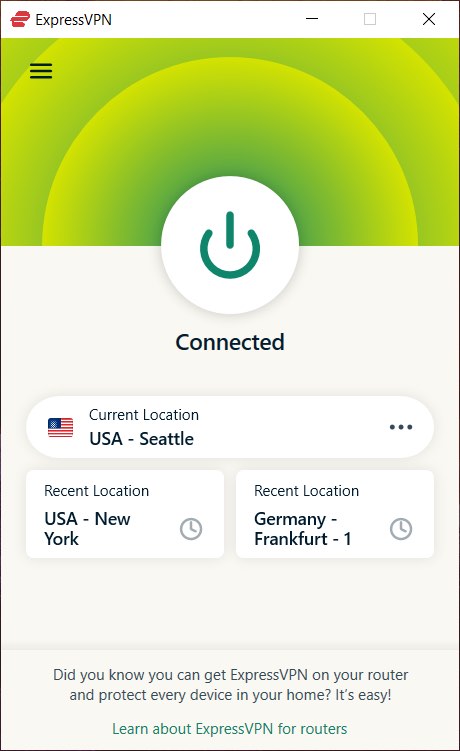 And like Surfshark and NordVPN, ExpressVPN also offers 24/7 live chat support. Additionally, they have lots of guides and videos on their website to help you get the VPN set up correctly for Hulu. You can feel safe giving ExpressVPN a good, thorough trial since they offer you a 30-day money-back guarantee.
Non-Hulu streaming services unblocked: Netflix (US, UK, Canada, Australia, France, Italy, Japan, Germany, the Netherlands, and more), Amazon Prime, ESPN, HBO, SlingTV, and many other streaming services.
+ Pros
User-friendly and secure apps
Split tunneling feature (for macOS, Windows, and routers)
Works with Netflix and most streaming services
24/7 live chat support
Passed independent third-party audits for security and no-logs
Very large server network
– Cons
Above-average prices
Fewer features
Average OpenVPN speeds (use Lightway)
ExpressVPN Coupon:

Sign up for the 12-month plan and get 3 months added to your subscription for free.
(Coupon is applied automatically.)
Want to learn more? Check out our full ExpressVPN review for more details.
---
Hulu VPN FAQs
We've just talked a lot about the best VPN services for Hulu. But people often have more general questions. Here are the most common questions we've heard and the answers to them.
Here are the questions we'll answer:
Do I need a VPN for Hulu?
Which VPN is best for watching Hulu?
How do I stream Hulu from another country?
Does Hulu block VPNs?
Can I use a free VPN for Hulu?
Do you need a VPN for Hulu?
If you are in the USA or Japan and want to access Hulu, you may not need to use a VPN. Online snoops will be able to see what you are watching, but if you don't mind that, you should be fine.
That said, you may still want to use a VPN even in this situation. Believe it or not, some ISPs (Internet Service Providers) throttle streaming content. When they detect that you are streaming Hulu (or other streaming services) they automatically slow down your connection. Why? Because it is cheaper for them to slow down everyone who is streaming content than it is to upgrade their system to support the demand on it. If you use a VPN with such an ISP, they can't tell that you are watching Hulu so won't know that they "need to" cripple your connection.
Another reason to use a VPN with Hulu is to protect your privacy. No one else (except I guess Hulu) has a right to know what you are watching. Using a VPN prevents anyone from spying on your connection to see what you are watching. This would be especially important if you are using your VPN for torrenting as well as for watching Hulu content.
The most common reason people use a VPN with Hulu is because they are physically located in a region that Hulu doesn't support. Hulu checks your physical location (represented by your IP address) and other characteristics to see if you are located within their service area. If not, they block you from accessing their content, even though you might be a paid customer.
The three VPNs we cover in this guide let you change your IP address and apparent physical location by connecting to a VPN server located in Hulu territory (the United States or Japan). Because Hulu sees the IP address and other data for the VPN server instead of your device, Hulu thinks you are physically at the location provided by the VPN server, and lets you connect normally.
Which VPN is best for watching Hulu?
Based on our tests, the best VPN for Hulu is NordVPN with its NordLynx protocol.
However, all three of the VPNs profiled in this article are good choices for viewing Hulu. We suggest you take advantage of the 30-day money-back guarantees offered by these services. Try the VPN that looks best to you. Don't like it or having problems, try one of the other three. Any one of these VPNs is a good choice, so you can't really lose.
How do I stream Hulu from another country?
If you need to access Hulu from another country, you will need to invest in one of the VPN services profiled in this article. Here are the steps you need to follow.
Step 1: Get a VPN that works with Hulu
Sign up for one of the three quality Hulu VPNs profiled in this article:
NordVPN
Surfshark
ExpressVPN
Step 2: Install the VPN on the device(s) you will stream to
Unless you are doing something very exotic, you should be able to find a VPN app that works with whichever device you plan to use to view Hulu.
Step 3: Connect to one of the VPN's servers
Launch the VPN app device. Select a server in the USA or Japan (whichever country you have your Hulu account). If you are using the USA version of Hulu, try to use the VPN server that is closest to you, while still being in the United States. This should give you the best performance.
Step 4: Enjoy streaming Hulu content regardless of where you are physically located
Once you are connected to the right server in the target country, just log in to the streaming service normally. Assuming the VPN you are using knows how to unblock the service you want to stream, that service will think you are just another local user.
Does Hulu block VPNs?
Hulu and other major streaming services (Netflix in particular) make a major effort to block VPN users from accessing their services.
This doesn't seem to make any sense, since you have to be a paying customer to log into Hulu anyway. But what makes sense to us doesn't matter to the people who own the rights to the content on Hulu.
By dividing the world into regions and licensing content to each region based on its value in that region, the copyright holders can maximize profits from their content. While Hulu only has the two regions to worry about, our guess is that the content owners license their stuff to different streaming services in the regions that Hulu doesn't handle.
Many people find these kinds of restrictions to be, well, unnecessarily restrictive, and make the small investment in a VPN necessary to circumvent the geo-blocking.
Can I use a free VPN for Hulu?
There is nothing that prevents you from trying to use a free VPN for Hulu. But there are several reasons why doing so is a bad idea. Hulu uses a geo-blocking system to detect and block VPN users. Free VPNs usually don't have the financial resources to bypass geo-blocking.
Even if you could find a free VPN that worked with Hulu, chances are that Hulu will eventually figure out that you are using a VPN and block the connection.
More importantly, free VPNs often have weak security, increasing the odds that your IP address and online activities could be exposed on the internet.
Worst of all, some free VPNs make their money by logging your online activities and selling the logs to third parties. Some really bad free VPNs go so far as to install malware on your device when you install the free VPN.
Our best advice is to steer clear of free VPNs for Hulu.
Conclusion
If you are a Hulu fan, finding the best VPN for Hulu is surely a priority for you. Not only will a VPN help you stream content, but it also offers an added layer of security and privacy. This is particularly important if you are using public WiFi, or if you want to keep your viewing habits safe from prying eyes.
By subscribing to one of the best Hulu VPNs in this guide, you will be able to:
Stream Hulu content no matter where in the world you happen to be located in the world
Stream great content from other services like Netflix, Amazon Prime, and BBC iPlayer, and who knows how many of the little services that are popping up everywhere
Protect your online privacy in a world where nearly everything you do online is tracked by various third partie. In the US, your internet service provider has been able to track your online activities for years.
Our top recommendation remains NordVPN. This VPN comes with a full 30 day money-back guarantee and also offers a 68% off coupon.
And remember, while we confirmed that each of your recommended VPNs can unblock Hulu today, this is an ongoing battle. The particular VPN servers we tested with today all worked. And if you can't connect to Hulu, contact customer support and they will simply tell you what servers to use. They are available 24/7 and will be able to help you quickly get connected again.
This Hulu VPN guide was last updated on September 6, 2023.