| | |
| --- | --- |
| Service | SpiderOak |
| Based In | United States |
| Free Version | 21-Day Trial |
| Price | $6/mo 150 GB |
| Website | spideroak.com/one |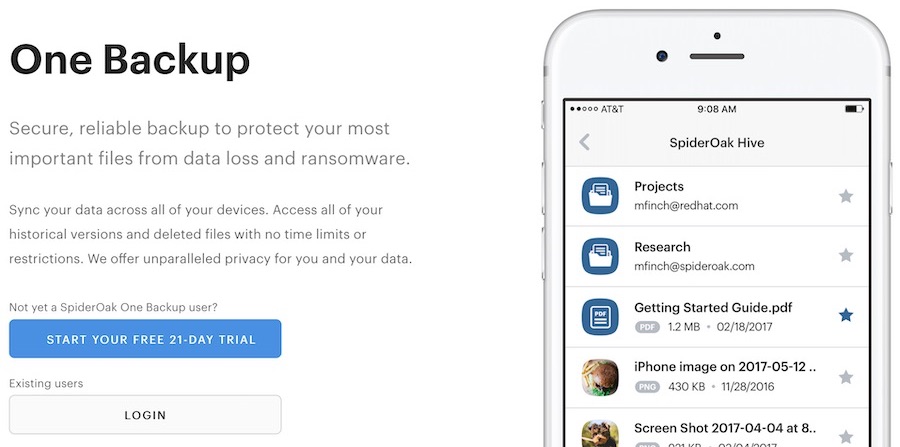 When we looked at SpiderOak last time, we ultimately decided that we couldn't recommend it for our readers. But it has been a while so we came back for another look. And it is a good time for another look, since ransomware (which SpiderOak One protects against) is all the rage these days.
Unfortunately, I still can't recommend SpiderOak ONE Backup for our readers. To see why, keep reading.
NOTE: To make this review easier to read, I will often shorten SpiderOak One Backup to, "SpiderOak One," or simply "SpiderOak." Unless I state otherwise, I will always be referring to SpiderOak One Backup.
+ Pros
End-to-end encryption
"No Knowledge" (zero knowledge) design
Automatic, unlimited version tracking
HIPAA and GDPR compliant
Drag-and-drop backup through Hive
– Cons
Mobile apps have been eliminated
Not open source software
Based in the United States
Browser interface breaks No Knowledge
No file previews
No 2FA support for new users
Higher prices than many competitors
SpiderOak One Backup feature summary
Here is a quick summary of the core features of SpiderOak ONE:
Company information
SpiderOak was founded in 2006 to develop online backup solutions. Beyond SpiderOak One Backup, they produce an enterprise-level backup product (SpiderOak Enterprise Backup) and other products.
The company is based in the United States, which you might consider a drawback thanks to the country's status as the home of the NSA, CIA, and the heart of the Five Eyes intelligence alliance. However, if you are willing to use only the desktop apps, the design of SpiderOak One goes a long way toward mitigating any risk caused by the company's geographic location.
Where does SpiderOak One store user data?
The SpiderOak ONE datacenters are located somewhere in the midwestern United States. That probably raises a red flag for you, since a rule of thumb in the privacy world is you do not want your data stored in the United States. It makes sense to assume that any data stored in the USA is accessible to the National Security Agency (NSA) and other US intelligence organizations.
So why are we even discussing this service? Because of their zero knowledge approach to your data.
What is zero knowledge encryption?
Most privacy-oriented services offer end-to-end encryption. This means that your data is encrypted before it leaves your device, and remains encrypted when it is on the service's servers. Only you can see your data. However, just because your data is encrypted, that doesn't mean that the service knows nothing.
When you store something, there is more to it than just the data itself. The data is probably stored in a folder. And the files that contain your data have names. A service could provide end-to-end encryption of your data, but still have access to this kind of information.
For example, Tresorit provides strong end-to-end encryption for all your data. But information about Tresorit's folders (called Tresors) is not encrypted. This information can include the name of the folder, its size, and which other users have access to that folder. Someone with access to the Tresorit servers could find out a lot about your activities from this information, even without being to read your data.
NOTE: There is some controversy in the privacy community about the use of the phrase "zero knowledge." The phrase is used in a very specific context in cryptography. Per Wikipedia,
a zero-knowledge proof or zero-knowledge protocol is a method by which one party (the prover) can prove to another party (the verifier) that they know a value x, without conveying any information apart from the fact that they know the value x. The essence of zero-knowledge proofs is that it is trivial to prove that one possesses knowledge of certain information by simply revealing it; the challenge is to prove such possession without revealing the information itself or any additional information.
Back in 2017 there was a discussion of this issue on ycombinator.com, including the use of zero knowledge in conjunction with SpiderOak's use of the term. The discussion included participants from SpiderOak. While I haven't tried to confirm this, that discssion could be why SpiderOak now uses the phrase, "No Knowledge" to describe their products instead of the more commonly used term, "Zero Knowledge."
How does SpiderOak One implement zero knowledge encryption?
SpiderOak One calls their implementation of zero knowledge encryption, "No Knowledge." No Knowledge uses 2048 bit RSA and 256 bit AES encryption. Your data, folder names, and so on are all encrypted by the SpiderOak One apps before it leaves your device for their servers.
Since the company doesn't have access to the encryption keys your apps use, there is no way for them to decrypt your data. When your data arrives on their servers, it appears as a series of sequentially-numbered, encrypted containers. In other words, no folder names, no file names, nothing is exposed on the servers that discloses anything about your data. This is as private and secure as you can ask for.
However, there is a caveat. You must save your data with the SpiderOak One desktop apps for No Knowledge to work. You can learn more about this, and why it can be a big problem, check out the One Web interface section later in this review.
SpiderOak One Terms of Service
SpiderOak publishes combined Terms of Service (ToS) that covers all their products, including SpiderOak One Backup. The document is long but written in reasonably clear English. I dug in to see how their ToS might affect your decision on whether or not to use this secure cloud storage service.
Points of interest in the ToS:
The full SpiderOak ToS is found here.
SpiderOak One Privacy Policy
Like their ToS, SpiderOak publishes a combined privacy policy that covers all their products, including SpiderOak One Backup. I dug into this policy to see how it might affect your decision on whether or not to use this secure cloud storage service.
Points of interest in the Privacy Policy:
SpiderOak One security audits & other third-party tests
I wasn't able to find a lot of information on third-party testing or certifications. Here's the info I came across on the SpiderOak website:
SpiderOak's data centers are SAS 70 Type II compliant. Our data center is considered a Tier 3 data center by the Uptime Institute, with N+1 infrastructure, employs the SSAE-16 audit schedule, physically staffed 24/7.

Additionally, SpiderOak matches the requirements set forth by HIPAA and GDPR.
Beyond that, I did come across this third-party assessment of SpiderOak ONE's security published by researchers at Aarhus University in January, 2018. The report claimed that the analysis, "…uncovered several serious issues, which either directly or indirectly damage the confidentiality of a user's files, therefore breaking the claimed Zero- or No-Knowledge property…" The report further states that SpiderOak fixed most of the problems found during the assessment, but that accounts created prior to those fixes could be compromised, even if the user immediately changes their password.
I'm not sure what to make of this assessment. It claims to go beyond previous work analyzing encrypted cloud storage services (ECS) by formally defining, "minimal security requirements for confidentiality in ECS which takes into account the possibility that the ECS actively turns against its users in an attempt to break the confidentiality of the users' data." Using these requirements, the report concludes with an indictment of any encrypted cloud storage system that doesn't require the user to use two different passwords, one for authentication, and one for confidentiality.
If your threat model includes this kind of evil encryption service attacking their own users scenario, you'll want to read, "Can You Trust Your Encrypted Cloud?" for yourself.
SpiderOak One user interfaces
You used to be able to get access to the data you store on the SpiderOak ONE servers through all the user interfaces we have come to expect: desktop apps, mobile apps, and web browsers. But since our last review the company has removed their poorly-rated browser apps from the app stores. And there are issues with the browser interface that makes it a bad choice for protecting your privacy.
So let's take a look at the desktop interface.
SpiderOak One desktop app
The desktop app is the heart of the system. It looks like this when you first launch it: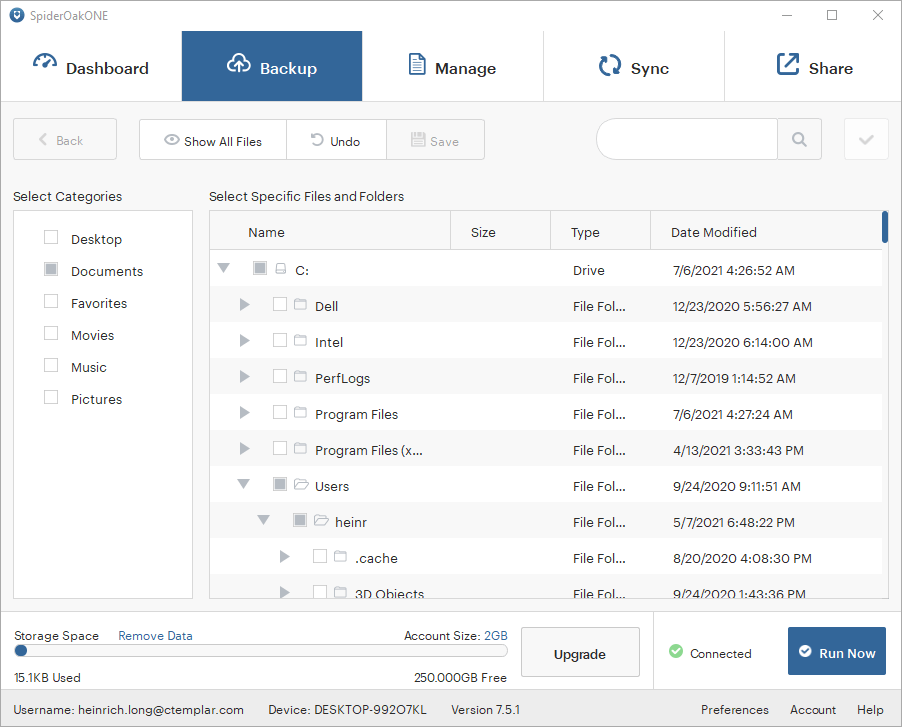 It is the control center for your piece of the SpiderOak One world. It contains the following five sections:
Dashboard – A complete view of everything going on. It shows you which devices are connected, what has been, or is currently being synched, how much storage space you are using, and so on.
Backup – This is where you tell SpiderOak One which files and folders you want it to back up. You can also select specific Categories of files to back up. In this case, SpiderOak ONE will back up the default locations for these types of files on the device, rather than seek out all files of a particular type on the device.
Manage – Go here to download or delete specific files from whichever device they are on. This is also where you go to access past versions of files.
Sync – Where you create new synchronizations, and modify or delete existing ones. The Hive (see below) is always synced. The synchronizations you set up here are in addition to that.
Share – Create a ShareID (a public username) then add files you want to share into a ShareRoom so others can access them.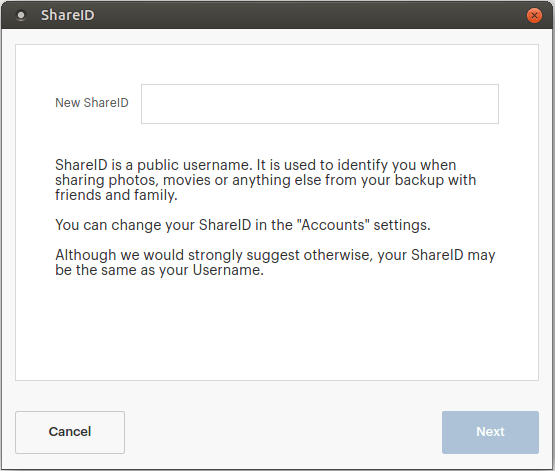 The SpiderOak One Hive
The Hive folder (Hive for short) is a new folder that gets added to your device when you install SpiderOak One. It is the default folder for synchronization. Anything you drop into the Hive is automatically synced to the SpiderOak cloud servers as well as the Hives of any other devices you have connected.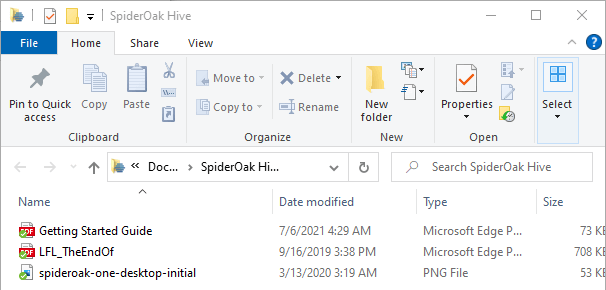 Functionally, the Hive is comparable to counterparts from other products, such as MEGA. So far, so good. Now we need to talk about the other interfaces/apps and understand why they are of no real use to us.
One Web interface
Due to the way using the SpiderOak One Web interface breaks zero knowledge encryption, I didn't use this web interface for this review. For reference, here is what the One Web login page looks like. Note the warning circled in red: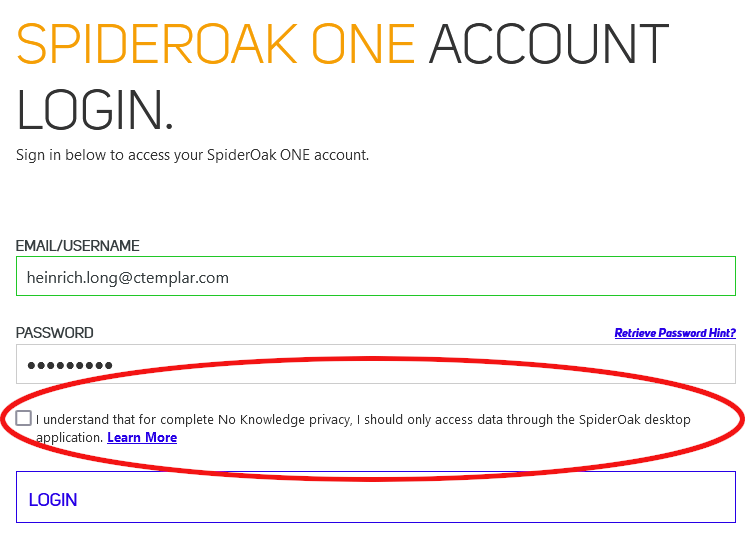 If you log into SpiderOak ONE using a web browser, you give the company access to your password:
Logging in via the SpiderOak website does temporarily allow SpiderOak employees access to your password. Due to this exposure, we discourage users from entering your password online if they wish to fully retain No Knowledge privacy.
Combining this with the fact that the SpiderOak One servers are located in the United States means you have to make a decision:
Do you want the strongest possible protection for your data (zero knowledge encryption), or do you want to be able to log into the service from a web browser while allowing who knows who complete access to everything you store in SpiderOak?
We have seen no reason to doubt SpiderOak's honesty and desire to protect your data. But, the fact that they are located in the United States means they may have no choice in the matter. The US government can force them to surrender any data they have about you, including your password if you happen to expose it by logging in with a web browser.
In short, if you want the best privacy and security for your data, do not use the SpiderOak One web interface, ever.
SpiderOak One mobile apps
When we reviewed this product originally, we were disappointed by the horrible ratings the SpiderOak One mobile apps received. We saw a rating of 2.2 out of 5 stars at the Apple App Store, and 1.9 out of 5 stars at the Google Play Store. We were looking forward to seeing how well the company had done in improving the performance of their mobile apps.
Apparently fixing the mobile apps was not easy. SpiderOak has removed both apps from the app stores. They no longer offer mobile support.
If using your secure cloud service from your mobile device is important to you, stop reading right now. Instead, check out our comprehensive coverage of secure cloud storage services.
SpiderOak One hands-on testing
For this SpiderOak review, I installed the desktop SpiderOak One client on systems running Microsoft Windows 10, and Ubuntu Mate 18.04.
Installing and configuring SpiderOak ONE
Installing the SpiderOak desktop client was simple on both the Windows and Ubuntu machines. Download the installer, launch it and let it install the desktop app and create the Hive folder. You'll of course need to create an account with a username and passphrase.
NOTE: To be sure you have the latest version of SpiderOak ONE, download the installer from this page.
Once you have the desktop installed, you are all set to go, with anything you put into the Hive folder automatically being synced to the SpiderOak servers and any other device you are running the client on.
If your backup needs are more complicated, you can select specific files and folders to by synced, or categories like Documents, and Music. You can also do things like back up certain files or folders to the cloud and sync them to other devices by making adjustments in the Sync section of the desktop app.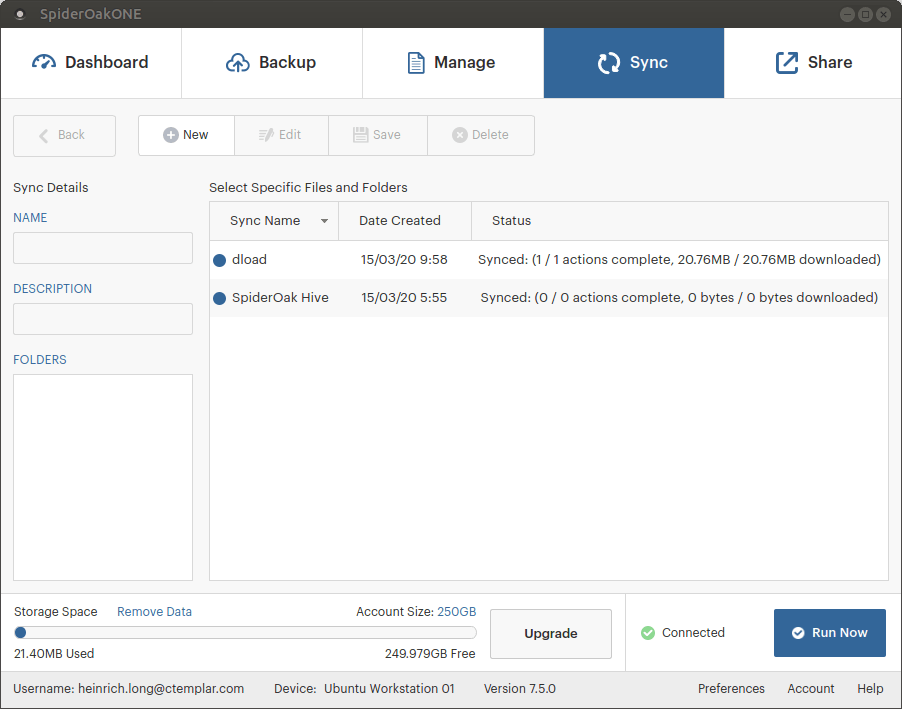 I had no problems with this part of SpiderOak ONE. But after seeing the ratings and reading the reviews of the mobile apps, I opted out of testing them. Similarly, seeing that using the ONE Web interface can break security, I avoided that altogether.
Additional SpiderOak One features
We've covered the most interesting features of SpiderOak already in this review, but there are a couple of additional features I did want to point out:
1. Multiple file sharing options
Earlier we touched on one of SpiderOak's file sharing options, ShareRooms. These are special folders that others can access even if they don't have a SpiderOak account. Give them the ROOMKEY and they can download a copy of the folder and all its contents. But you don't have to set up and populate a ShareRoom if all you want to do is share a single file.
In the Manage section of the desktop client you can select a file and have the app create a shareable link to it. Anyone can use this link; they don't need to have a SpiderOak account. The link will expire automatically after three days.
2. Fine control over scheduling and file selection
SpiderOak can Backup files, Sync them, and Share them. You may use all these facilities, but depending on your use case, you may want control over how frequently each of them occurs. For example, you might want Backup to happen as soon as a file changes, but want to Sync or Share those changes on a more relaxed schedule. Similarly, you might not want to sync really large files, really old files, or certain types of files and folders.
These kinds of adjustments are easy to make through the Preferences option in the SpiderOak One desktop client. Open the Preferences dialog box and select the Backup option to set maximum file sizes and ages for backups. You can also exclude files and folders matching specific wildcard strings such as: ".iso," or "Windows."
Select the Schedule option to control how often Backups, Syncs, and Shares will occur.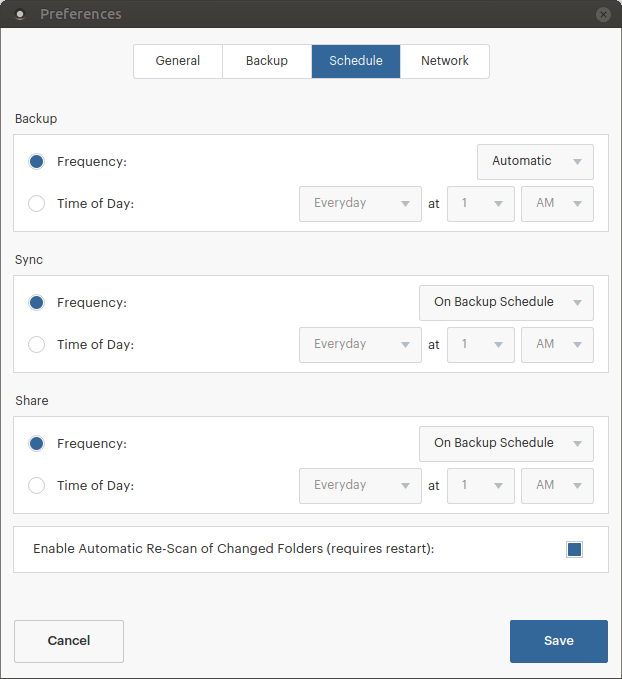 SpiderOak One Support
SpiderOak Support is a single site that handles all the products published by SpiderOak (the company). The specific information you might need for this product is in the One Backup section of the site. The site contains a large number of detailed articles covering most topics you might need information about.
This is great, since the company gives you only one way to get human support. If an article doesn't give you the information you need, the page gives you the option to submit a support request. There is no telephone support or live chat support provided.
How secure and private is SpiderOak One Backup?
Let's try to sum up the security and privacy provided by SpiderOak One.
SpiderOak security
Since SpiderOak is based in the United States and stores your data there, airtight security is very important. While there is no system in existence that can guarantee 100% security against every threat, SpiderOak's No Knowledge design makes me more comfortable trusting them with important data than I would otherwise be.
There are two main security concerns here, both of which we touched on a bit earlier: the One Web interface, and the security assessment conducted by some university researchers in 2018. The first aspect is easy. If you use the One Web interface, you will break the security of your data. While there is no reason to think that SpiderOak would want to compromise your data, the fact that your password is available to them (or anyone else hacked into their systems) means that your data is not secure.
I don't know enough about the internals of the SpiderOak system to know if two factor authentication (2FA) would fix this problem. But it doesn't really matter, since SpiderOak doesn't offer 2FA for new users.
The security assessment seems more a blanket indictment of the majority of secure cloud storage services. If you are concerned, check out the report for yourself.
SpiderOak privacy
The SpiderOak privacy policy is reasonable, and on a par with other good policies we've looked at in the past.
SpiderOak prices
SpiderOak One Backup gives you a free 21-day trial. You don't need to enter a credit card or other payment information to take advantage of this plan.
If you want to go further with SpiderOak, you have four pricing plans to choose from. The prices are somewhat higher than those of competing products, especially when you consider the issues with their mobile apps and browser interface.


SpiderOak ONE Backup review conclusion
After examining everything for this SpiderOak review, I have very mixed feelings about the service. The core product and its desktop interfaces are smooth and cover all the bases. But when I look at the rest of the package, it throws up some big red flags. The browser interface would probably be fine, except for breaking the No Knowledge design by exposing the password.
And the mobile apps were apparently so bad that the company discontinued them. From the perspective of someone looking for secure, private cloud storage, these are major drawbacks.
Even if you are okay with those drawbacks, the price per GB of storage is a lot higher than that for other services.
Is SpiderOak ONE right for you?
As someone looking for private, secure cloud storage, I can't recommend this product to you. While there are definitely things I like about it, I think you can get better usability and better value with some of the other services I've reviewed.
Instead of trying to fit your workflow into and around the limitations of SpiderOak One, we recommend you see our roundup guide of the best cloud storage options instead. Or check out some of our other cloud storage reviews below:
This SpiderOak One review was last updated on July 6, 2021.