Being a well-versed veteran of the market, RoboForm holds a special place among the best password managers today. It can keep all your passwords and personal data safe and secure and allow you to store them in a single place. And it can do all this for a pocket-friendly price – even completely cost-free.
RoboForm started its journey as a simple form-filling software and grew into a fully-featured password manager able to meet most personal and business needs. Determined to stay strong on security, RoboForm utilizes a solid 256-bit AES encryption, two-factor authentication (2FA), password auditing, secure folders for sharing logins, a "zero-knowledge" policy, and cloud-based servers that are performing regular password backups.
However, while RoboForm works wonderfully on computers and smartphones alike, its user interface (UI) can feel somewhat clunky at times. Also, its freemium edition comes with some severe restrictions, but we also see this with NordPass and LastPass.
All in all, if you don't mind paying a couple of bucks for a solid password-management solution, RoboForm is surely worth a look. In this RoboForm review, we'll cover everything from core and premium features and functionality to ease of use and hands-on testing, so stay tuned.
| | |
| --- | --- |
| Website | RoboForm.com |
| Platforms | Windows, macOS, Linux, Android, and iOS |
| Browser extensions | Chrome, Firefox, Opera, Edge, and Safari |
| Free version | Yes |
| Encryption | 256-bit AES |
| Support | Email |
| Price | From $1.16 |
Let's start with a summary of the main pros and cons:
+ Pros
2FA support
14-day free trials with the business plan (for up to 30 users)
24/7 customer support and well-supplies knowledgebase
30-day free trial with the personal and the family plan
30-day money-back guarantee
A free plan for life
Data encrypted in transit and at rest
Encrypted file storage
Individual, family, and business plans
Passwords encrypted locally
Pocket-friendly pricing
Simple setup
Supports all major platforms and apps
– Cons
A subscription is required (even with the free plan)
Based in the US (not great for privacy)
No 24/7 support or live chat support for free users
No monthly billing option
No sync across all devices with the free plan
Now, let's dive into the details of this RoboForm review.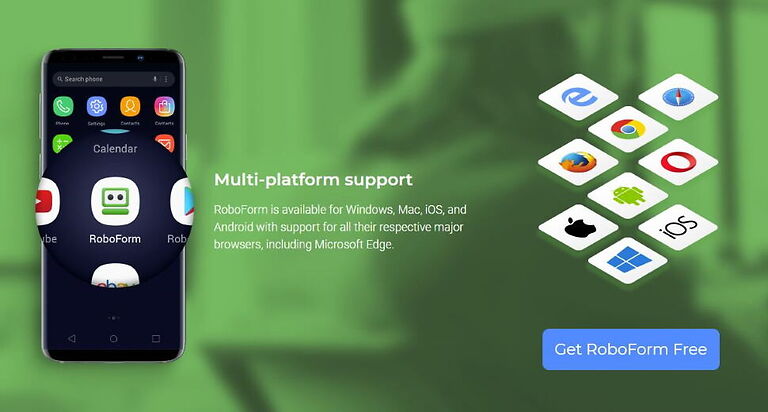 RoboForm feature summary
Before going any further, let's do a quick summary of Dashlane's features, some of which are available with paid plans only.
2FA and time-based one-time password (TOTP) authentication
1-click logins
24/7 customer support with paid plans
30-day money-back guarantee with all paid plans
Automatic form-filling
Cross-platform support covering Windows, Linux, macOS, iOS, Android, and all major brewers
Cloud backups
Data is encrypted on your device
Data encrypted in transit and at rest with 256-bit AES
Encrypted file storage
Emergency access
Password import/export
Strong password generator
Secure shared folder
Secure password sharing
Sync across all your devices and browsers
Unlimited logins with all plans
RoboForm core features (available with the free plan)
If you're wondering about the freemium edition, here are the features you can expect to get with it:
Application logins
Bookmarks management
Multi-platform support
Password audits (via Security Center)
Single-click web forms fill
Strong 256-bit AES encryption with PBKDF2 SHA256
Securely share logins
Unlimited number of logins
Usable on one device only
RoboForm: About the company
Launched in 1995, Siber Systems (or Siber for short) is a privately-held company headquartered in Fairfax, Virginia (USA).
In 2000, RoboForm came into existence as a form-filling software but swiftly evolved into a password manager we know today – one of Siber's flagship products.
In 2015, Siber re-launched the RoboForm edition aimed at small to mid-sized businesses and it works as a software as a service solution (SaaS). Two years later, the company would release a freemium edition and add a family-focused plan that would allow users to add up to four family members – so, five in total.
According to the data available on the official site, RoboForm is currently used by millions of users across the world, individuals, and businesses alike. It has also been translated into 30 different languages.
We must also note that since the company is based in the USA, it puts it into the Five Eyes territory. The Five Eyes Alliance (FVEY) is a major intelligence gathering and sharing alliance, with the USA at its core. This is why many privacy advocates advise against using services that are based in any of the FVEY countries, the USA in particular.
If you're a fan of social networking sites, you can find RoboForm on Facebook, Twitter, LinkedIn, and YouTube.
Terms of Service
Diving deep into Terms of Service (TOS) is a must before purchasing any product and subscribing to any sort of service, password manager included. That's why we had to go through RoboForm's TOS before giving it a green light.
We've reviewed the TOS currently available on RoboForm's official site, but it wasn't specified when the TOS was last updated. The first thing that caught our eyes was the somewhat chaotic presentation of user guidelines, rights, liabilities, and so on. The paragraphs are simply crammed together.
Nevertheless, once we made our way through the terms, we were pleased to find everything being pretty much as expected. So, nothing to worry about.
One thing we should point out is that if you subscribe for a year to RoboForm and fail to pay on time (you have 30 days to do so), all your data will be deleted from Siber's servers forever.
If you want to check out RoboForm TOS for yourself, click right here.
Privacy Policy
Like it usually is, going through RoboForm's privacy policy was lengthy and difficult. It must comply with US laws, as well as European Union (GDPR), Swiss individuals under Privacy Shield, and Virginia law, so it's hardly a surprise.
Siber claims it tries to collect as little user data as it is possible. This data consists of all data collected from the RoboForm license purchase page and data collected from users' computers – and all of it is stored on the company's cloud servers in the data center situated in the USA. It also adds that:
"Personal data stored on Siber servers shall not be sent to other companies or individuals, except for cases when sending of such data is required by Siber business processes or for enforcement of this License Agreement and recipient of data is not expected to divulge or misuse received data."
In addition to this, since Siber is based in the USA, it's subjected to US law, and freely accessible to US intelligence agencies. This means that, in compliance with the law, RoboForm can be compelled to share your personal data with the agency in question and give up any information it has about you.
We should also add that RoboForm's official site utilizes cookies to track users, as well as its affiliates and advertisers. It also makes use of Analytics features – however, you have a choice to get out of this by installing Google's opt-out browser add-on (the one here).
If you want to get more details about RoboForm's privacy policy, you can do it right here.
RoboForm security audits
In May 2023, RoboForm completed a third-party security audit. The audit was conducted by Secfault Security. The audit covered the following aspects:
Windows desktop client
Mac desktop client
Android mobile app
iOS mobile app
Web portals
Browser extensions
While the audit did identify some issues, RoboForm was able to remedy and fix those. All fixes were additionally validated by the auditors at Secfault Security. You can view an executive summary of the audit here.
RoboForm apps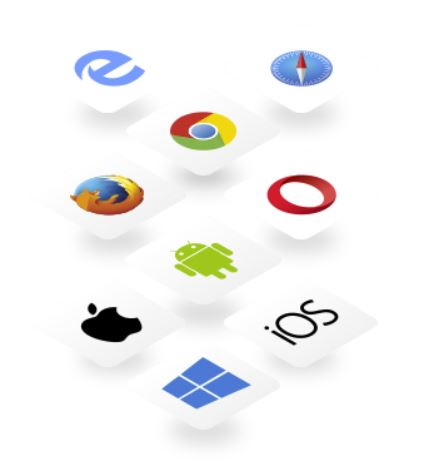 RoboForm-s cross-platform support covers Windows, Linux, macOS, iOS, Android, and all major browsers including Google Chrome, Mozilla Firefox, Microsoft Edge, Internet Explorer, and Opera. Plus, there are also extensions for Chromium-based and Firefox-based browsers.
As for Windows, support stretches all the way back to Vista covering versions 7, 8, and 10, as well as Windows Server.
The macOS users must be using version 10.13 or higher, and the installer comes with browser extensions for Mozilla Firefox, Apple Safari, and Google Chrome.
As for smartphones, you'll have to run it on iOS 13 and Android devices running Android 5 Lollipop at a minimum.
And if you use Linux, you can utilize stand-alone extensions for Google Chrome and Mozilla Firefox.

RoboForm hands-on testing
For this RoboForm review, we've picked out a freemium edition and installed it on a computer running Microsoft Windows and used it on Google Chrome – because it's something an average person would do.
Like we usually do, we recommend you start with the free version of any password manager and try everything out before going for paid plans.
While RoboForm's plans are pretty pocket-friendly, it's smarter to put software to the test first. You can always upgrade your plan if you want to.

How to install RoboForm
To make use of RoboForm's free plan, go to its official site and tap into the "Get RoboForm Free" button – you can't miss it. Since we're using the Chrome browser, this took us to the Chrome web store where every step was explained in a simple way.
Click on the "Add to Chrome" button, confirm your choice by tapping on "Add extension", and wait for a couple of seconds for the installation to finish – it went swimmingly in our case.
After this, you'll be welcomed to RoboForm and asked to create your account. For this, you'll have to supply your email address and your full name. Then, come up with a strong master password – remember, a password manager is only as strong as your master password.
Once this is done, you'll be automatically shifted to your RoboForm dashboard, and you're ready to go.
Note: If the dashboard and pretty much everything looks a bit too dark for your taste, it's because we're using the dark theme. However, you can choose the light one and everything will seem much brighter.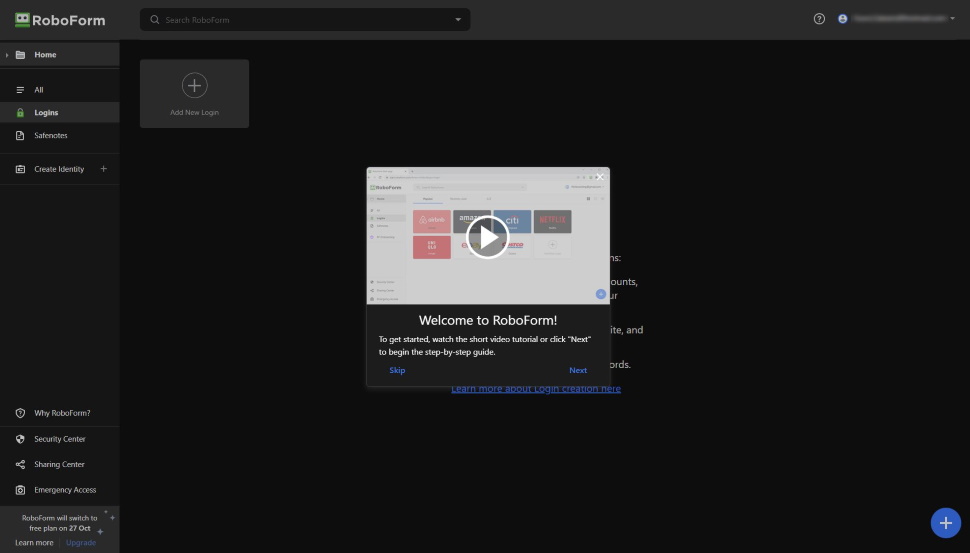 Importing passwords and other data to RoboForm
RoboForm's UI is intuitive and user-friendly, so finding your way around shouldn't be a challenge. Right at the start, you'll be offered a short YouTube tutorial. It will help you figure out how RoboForm works and what should be your first steps.
There are three ways you can import your passwords into RoboForm:
Automatically after account creation or login
Manually via UI
Import your passwords from your old password manager
As for importing passwords from another password manager, the list of the supported ones is here and it includes some big names such as Dashlane, Bitwarden, 1Password, LastPass, and NordPass. We saw this same feature in the NordPass review. Also, you can import passwords from your browser – that is, if the one you're using is on the list linked above.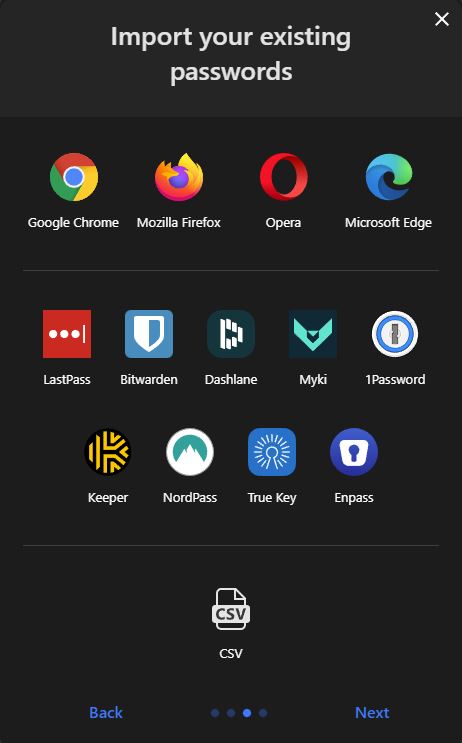 With all such imports, you'll be required to download a CSV file from the password manager in question. So, find the correct guide in RoboForm's Help Center and follow the step-by-step instructions. Although it might look intimidating at first, it's surprisingly straightforward.
Entering passwords manually into RoboForm
If you wish to add some passwords manually, you can do it via your RoboForm dashboard. Once you get there, click on the "A New Login" button or a "+" symbol (there are two) and find the website or app for which you want to save passwords.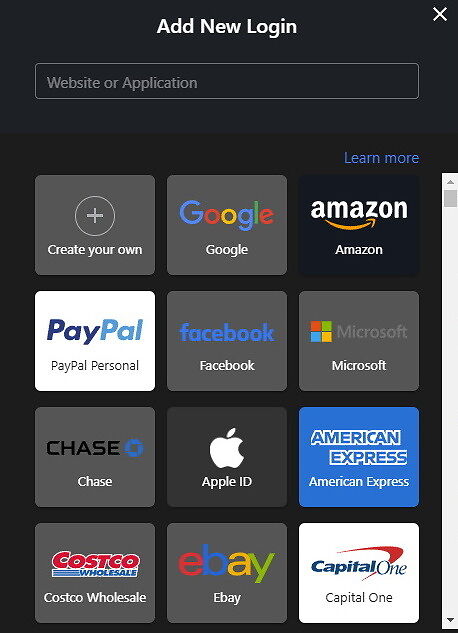 Alternatively, if it isn't on the list or you don't feel like scrolling and searching, just start typing the name of the site/app in the search box above. After this, add your email address/phone/username, then your password, and click on the "Save" button.
If you wish to add additional notes, you can do it here. Also, here is where you can utilize the 2FA feature.
Letting RoboForm save all your passwords automatically
If you'd rather skip spending time adding all your passwords manually, one by one, into RoboForm, you can let RoboForm do the job for you.
First and foremost, make sure the RoboForm extension is installed on the browser you're using. Then, log into your RoboForm account. After this, visit the site for which you would like to save your login information.
Once you enter your login information and click on the "Sign In" button, a small window will pop up prompting you to save your login credentials into RoboForm. In our case, it appeared in the top-right corner.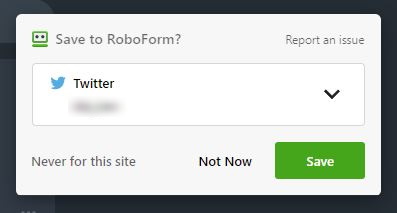 If you're creating a new account on the site in question, the window will pop up after you click on the "Create Account" button. So, the procedure is practically the same.
Also, while you're on this window, you can edit the name of your login, place it into the existing folder, or create a new folder for it. However, take note that the secure shared folder feature is available with paid plans only.
Working with your passwords
Once you've added a couple of passwords in RoboForm, you'll see them in the "Home" on your dashboard. It'll look something like this:

If you don't like the way the icons are lined up, you can change that by picking one of the three options in the top-right corner. While this isn't a must-have feature, we're glad to see it nonetheless.
In addition to login credentials, you can also save safe notes here. To do so, simply choose the "Safenotes" folder on the left sidebar menu and click on the familiar "+" button which will open another window for you to type, name, and save your note.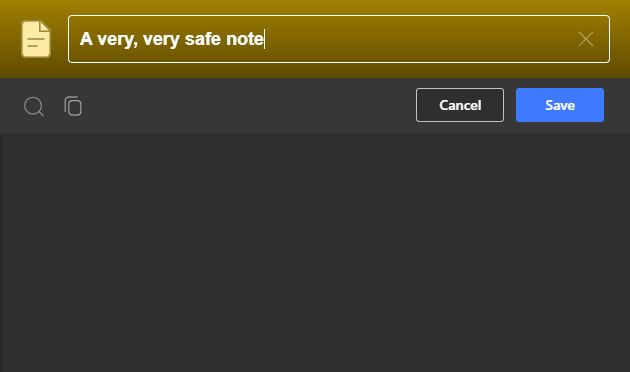 Here, you can also visit Security Center to get your passwords rated and find out how can you improve their strength.
However, we'll get back to this and a few other features a bit later.
RoboForm's random password generator
To create a solid, impossible-to-crack password, you can utilize RoboForm's random password generator. You can access it via browser extension or within the mobile app.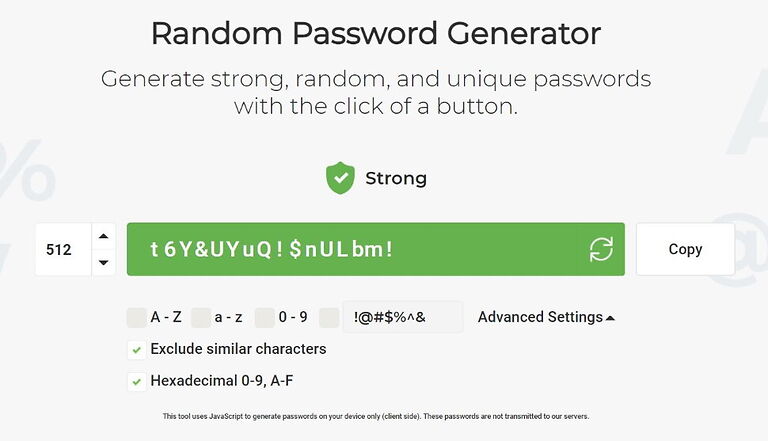 While it creates a 16-characters-long password by default, you have the freedom to change character count up to 512 characters in total. Also, you can change the character type and choose whether to include numbers and upper and lower case letters.
If you go to the advanced options, you can include/exclude similar characters and hexadecimal systems (so, from 0 to 9, and from A to F). If you scroll down the page, you'll get a couple of tips on creating a strong password – which is always welcome.
All in all, RoboForm's password generator is nicely designed and easy to use. What's more, it's on par with the same tools provided by its competitors, like we saw in the Dashlane review, or with 1Password, and LastPass.
We should also note that RoboForm's password generator uses JavaScript to generate passwords on your device (and your device only). This means that these passwords are never transmitted to RoboForm's servers.
Editing your data
With RoboForm's paid plans you can keep your passwords in sync across all your browsers and devices and your passwords backed up on a secure cloud. This means you can log in from any of your devices, and be sure your passwords and other data are synchronized automatically.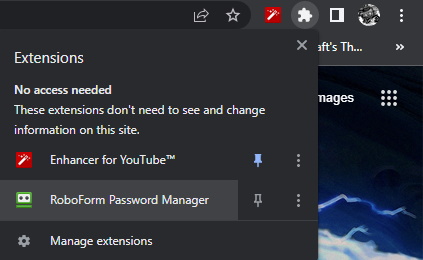 For this purpose, RoboForm will periodically connect to the RoboForm server and update it with your data.
According to this article from their self-service section, automatic syncs are performed:
As soon as you enter your master password
Whenever you edit a RoboForm data file
Whenever you share or send a file or folder
Once per hour while you're logged into your RoboForm account
Plus, you can sync everything manually by clicking on the RoboForm browser extension and selecting the "Sync" option on the dropdown menu.
Editing your data with RoboForm is as easy as anything. To do this, find the login you wish to edit and click on the three vertical dots and select "Edit" from the dropdown menu.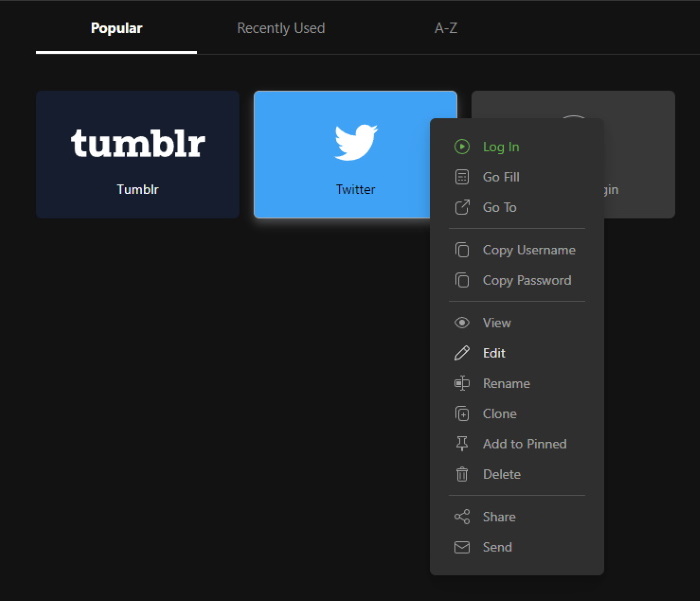 This will open another window where you can edit your data, so do that. Don't forget to click "save" once you're done – and that's about it.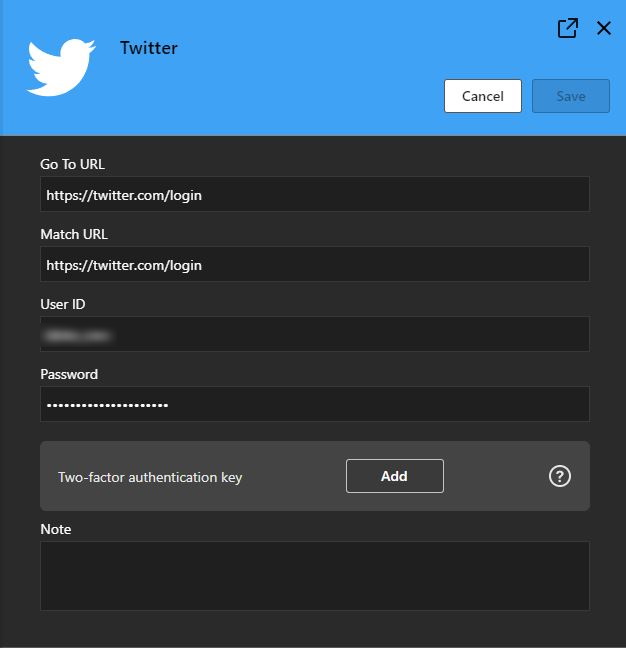 To edit an identity or a contact, click on the three vertical lines next to the identity/contact in question and select "View" from the menu. After this, it's the same as with editing logins and the procedure is almost identical with safe notes.
If you wish to explore additional start page options, check this guide right here.
RoboForm in action
Once you're done with the setup, it's time to put RoboForm to work. However, before this, you'll probably want to check out the "Settings" section on your dashboard.
Here, you can import your existing passwords (from browsers or other password managers), choose user language, select authentication method, enable 2FA (via email, SMS message, or Google Authenticator), and pick out the types of alerts you want to receive (for instance, if your password has been compromised).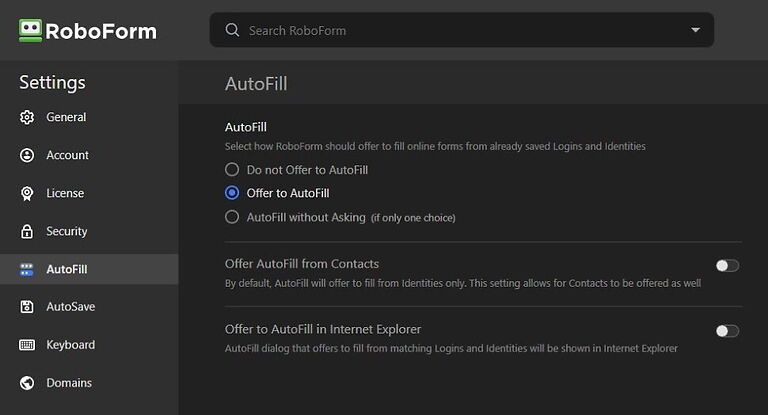 Also, select how you want RoboForm to offer to fill online forms from saved logins and identities, how to save newly detected sign-in credentials, and whether to enable RoboForm key shortcuts in your browser.
Once we chose the preferred settings and started browsing through the internet and logging in, RoboForm worked without a hitch.
Additional RoboForm features
Now that we've covered the basics, let's see what else RoboForm has to offer.
While most of the features are at eye level with most password managers, a couple of them stand out. Nevertheless, while you'll find all the essential features with RoboForm, it isn't as feature-rich as some of its competitors (such as Dashlane).
To get access to some of these, you'll have to upgrade your plan to a paid one once the 30-day trial runs out. Or you could simply settle for fewer features and stay with the free plan.
Here's a short list of some more unique features RoboForm has to offer.
Password audit (with all plans)
You can check how secure your password is right from your RoboForm dashboard.
Simply go to "Security Center" near the bottom of the left sidebar menu and it will automatically check the strength of every password in your vault. There, you can also see if your password has been reused, compromised, or simply flagged as weak.

Since we have reused the same password (in the name of this experiment, of course), both our passwords were flagged as average and rated 49%, which is pretty much in line with our estimates.
So, don't make the same mistake (not even for the sake of experiments) and use a unique password for each login.
Comprehensive form filling (with all plans)
Since RoboForm came into existence as a form-filling software, it's no surprise its form-filling capabilities are top-class.
With RoboForm, you can utilize several different templates for form-filling and you can save multiple templates within a single identity. These templates include forms for credit cards, bank accounts, passports, addresses, cars, businesses, or for a person. Also, you can create custom fields for form-filling.
Once you create an identity in RoboForm, you can utilize RoboForm's auto-fill functionality to swiftly fill that information into web forms. Simply select the correct template in the browser extension and watch while all the fields are filled automatically.
Secure shared folder (with paid plans only)
With all paid plans, you can share multiple logins with other users thanks to the secure shared folder feature. It can also grant specific access levels to specific users.
To create a shared folder, select the "Sharing Center" option on your dashboard, Then, press the "+" button, enter the email address of the person you want to share this folder with, and tap into the "Save" button.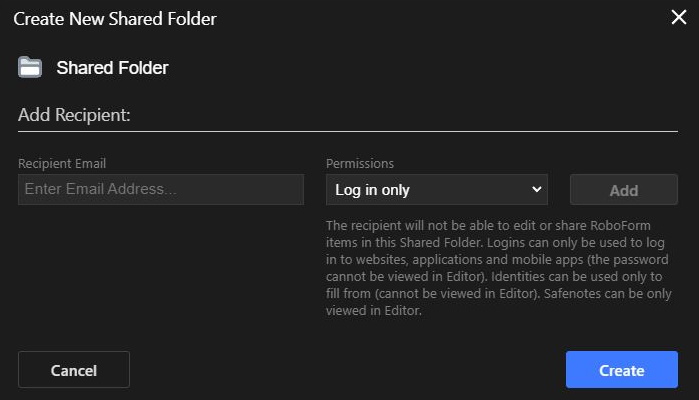 Also, you'll want to pick one out of the three permissions settings: login only, read and write, and full control.
While you can share an unlimited number of items via this folder, you can create two shared folders and that's it, unfortunately.
RoboForm customer support
While you won't get to enjoy RoboForm's priority customer support with the free plan, the scope of support you're going to get should suffice.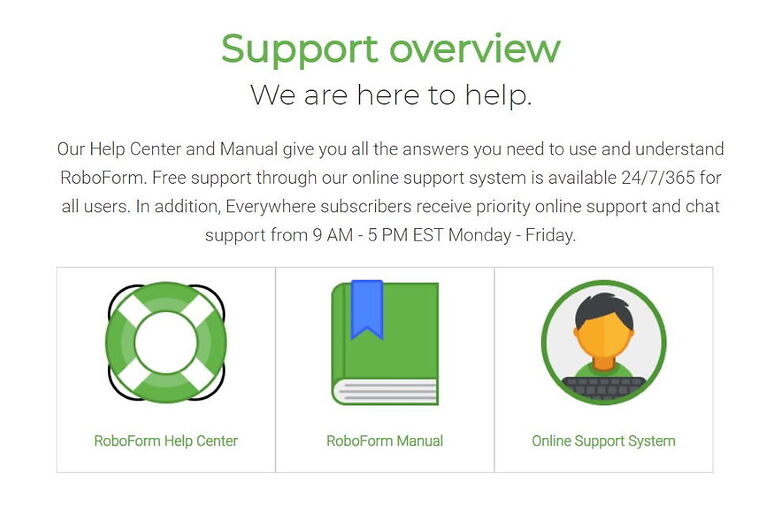 Although we weren't on the priority list, after we tried our luck with an email (containing a couple of simple questions we could otherwise find in their FAQ section) we got a kind and knowledgeable reply within 30 minutes. This came as a surprise as we didn't expect to get a reply the same day, let alone so quickly.
If you prefer to stay self-sufficient, RoboForm's Help Center will supply you with all the guides you'll need. Plus, most of them are simple to understand and follow.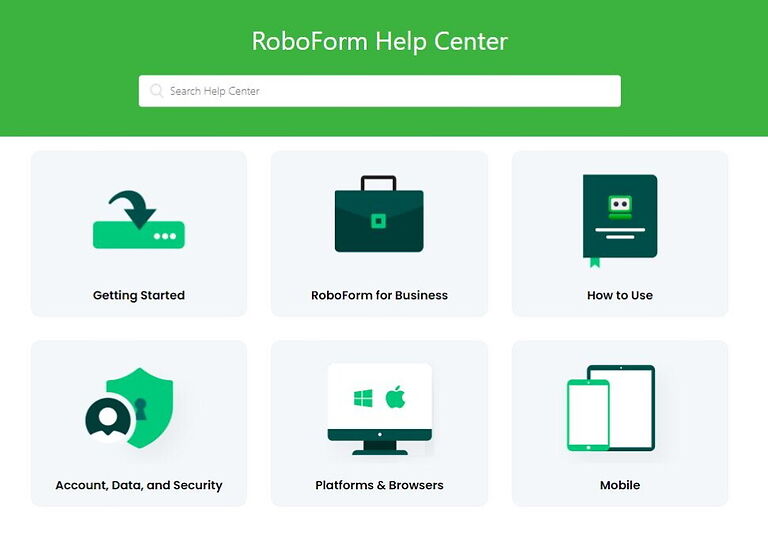 If you're one of the paying customers, in addition to all this you'll get live chat and telephone support. Both are available Monday to Friday during working hours.
How secure and private is RoboForm?
With end-to-end 256-bit AES encryption, 2FA, and "zero-knowledge" architecture, RoboForm stands strong on security.
Since RoboForm shields all user data on its servers with 256-bit AES encryption, it means nobody, not even its team, can access it. The data is encrypted in transit between your devices and the RoboForm servers and encrypted while at rest on their servers.
The only way to access data is through the master password and you're the only one who has it.
This means that in case RoboForm suffers a data breach or gets compelled by the US government to share your data, your data will stay completely safe.
Apart from the standard security protocols, RoboForm also provides most features you would expect from the best password managers. These include a password vault, strong password generator, emergency access, application passwords, automatic form-filling, and secure sharing.
However, when it comes to privacy, things are not as clear-cut. RoboForm collects some personal data from its users and could share it with third parties. It's stated in RoboForm's privacy policy that there are exceptions when personal data stored on Siber servers could be shared with other companies or individuals.
Because RoboForm is based in the USA, it can be forced by the US government to gather and share some personal data from its users. Also, since not a single piece of RoboForm's code is open source, we can only take its word for it.
However, remember that all user data is encrypted on their devices and remains encrypted on Siber servers. Hence, even if the government gets your data it won't be able to decode it.
All in all, in terms of privacy risks, RoboForm is on par with all other US-based password managers.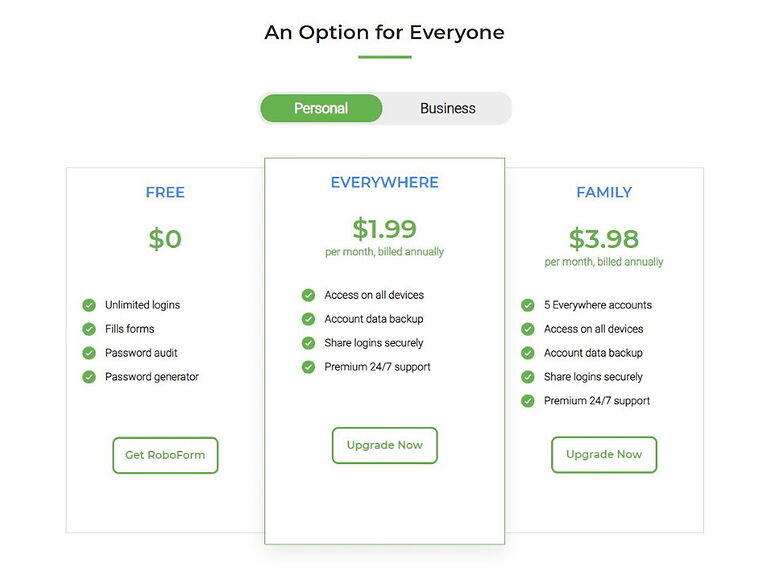 RoboForm plans and prices
As we write, RoboForm offers four plans, two aimed at individuals, one at families, and one at businesses. Out of the four, only one is completely cost-free.
All plans are available on Windows, Linux, macOS, Android, and iOS, as well as all major browsers.
While you can add an unlimited number of logins with the free plan (predictably called "Free"), you can do it for one device only. It comes with some superb features such as auto-saving, auto-filling, and password auditing, but it's seriously limited in comparison to paid plans.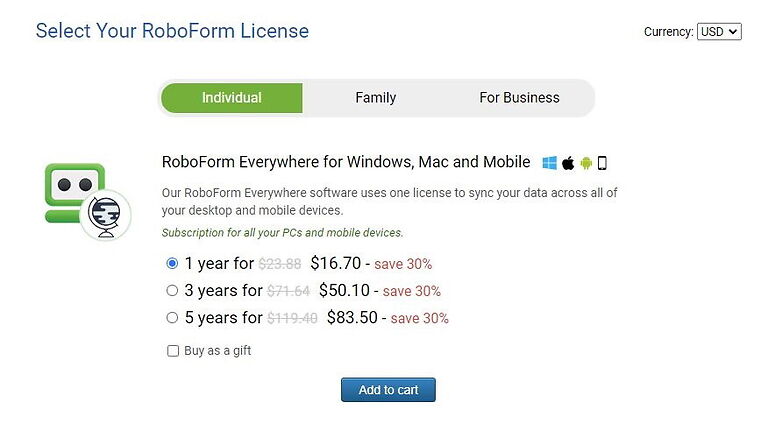 The second plan targeting individual users is titled "Everywhere" and it will cost you $16.70 for a whole year. It's about $1.40 per month which presents a superb value for money.
However, if you want to commit for three years it will cost you $50.10 and if you don't mind subscribing for five years straight it'll be $83.50. Unfortunately, the monthly billing option is not available with RoboForm.
If you wish to try out the paid plans before making any purchases, you can do it. The company offers a 30-day free trial with the "Everywhere" plan and a 14-day free trial with the "Business" package.
Also, with "Everywhere" and "Family" plans you'll get a 30-day money-back guarantee.
RoboForm alternatives
If you're looking for a full-featured yet free plan, then LastPass or Bitwarden might be worth a shot. Like RoboForm, both of these providers offer freemium versions of their flagship products. However, these come with fewer limitations.
While Dashlane comes at a higher price than RoboForm it also brings more features to the table. For instance, a built-in virtual private network (VPN) and real-time dark web monitoring. These features are seldom seen in most popular password managers.
If privacy is one of your top priorities, an open-source password manager such as Bitwarden might be a better choice. It's surprisingly simple to use (particularly the mobile app), pretty pocket-friendly (with a premium plan costing $10 per year) and promotes trust and transparency.
We also compiled an in-depth comparison of RoboForm vs NordPass to compare features and functionality. Additionally, there is also a Dashlane vs NordPass comparison and a Bitwarden vs NordPass comparison.
RoboForm FAQ
How reliable is RoboForm?
RoboForm is one of the most reliable password managers on the market. With a solid track record of over two decades and all standard security features (such as 256-bit AES encryption, 2FA, and a "zero-knowledge" policy) RoboForm is as secure as they come.


Is RoboForm really free?
Yes, there is a freemium edition of RoboForm password manager. It will supply you with an unlimited password and secure note storage, login sharing, a secure password generator, and cross-platform support. However, if you want more features, you'll have to pick out a paid plan.


Where is my RoboForm data stored?
RoboForm stores user data in its cloud server but not before encrypting it with 256-bit AES – the strongest encryption available today. Storing this data in the cloud allows users to sync their data between different devices. It also permits RoboForm's browser extension to fill and auto-save passwords.


RoboForm review conclusion
RoboForm is simple to use, highly secure, and superbly pocket-friendly. In short, if you're looking for a solid password manager, RoboForm is worth a look. That said, you may also want to check out NordPass or 1Password, two other leading brands.
While the old UI felt clunky at times, it looks like it is being replaced by a new, modern-looking, and considerably less-clunky UI, which is welcome news.
As for security, with end-to-end 256-bit AES encryption, 2FA, and "zero-knowledge" architecture, there's not much to complain about.
Plus, its form-filling feature is one of the best(if not the best) in the industry.
RoboForm offers a 30-day free trial with the "Everywhere" plan and a 14-day free trial with the "Business" plan. So, you can try both of them out before making your choice.
See the RoboForm website here to get started.
And if you want to take a closer look at some of RoboForm's biggest competitors, here are our password manager reviews:
This RoboForm review was last updated on August 11, 2023.