Today we're doing an update on the Hushmail review by examining and testing the service once again. Hushmail has been around since 1999 and is an established player in the secure email space. It brands itself as a secure alternative to Gmail.
As we pointed out last time, Hushmail has some unique features that could make it an ideal email service for your needs. However, it has several drawbacks, too. We'll look at both the pros and cons of this e-mail service to help you decide if it is still a good choice in today's hostile online environment.
| | |
| --- | --- |
| Based in | Canada |
| Storage | 10 GB |
| Price | $5.99/mo. |
| Free Tier | None |
| Website | Hushmail.com |
+ Pros
Built-in OpenPGP support
iOS mobile app
Supports POP, IMAP, SMTP
Supports encrypted communication with non-Hushmail users
Strips IP addresses from emails
Special features for a range of different business categories
HIPAA compliant
– Cons
Hushmail can capture user's passphrase, allowing them to decrypt OpenPGP messages
Not open source
Canadian company, subsidiary of a US company (bad privacy jurisdiction)
No calendar or file storage
More expensive than competitors
Hushmail features overview
Hushmail lacks several features that we find with other secure email services. The "basic" features that Hushmail contains include:
Email
Contacts
File storage (up to 10 GB with Hushmail Premium and Hushmail Business)
This puts Hushmail a step behind the competition since it does not include:
That said, Hushmail does offer several benefits:
Secure forms for various business types
A detailed Security Analysis
OpenPGP encryption processed on their servers, rather than in Javascript in the client
We'll look at these benefits in more detail later. In particular, we'll be talking about the way Hushmail implements OpenPGP in their servers, as this is a double-edged sword when it comes to the security of your messages.
Hushmail company information
Launched in 1999, Hushmail is a product of Hush Communications, Ltd., a Canadian company. Hush Communications, Ltd. in turn, is a subsidiary of Hush Communications Corporation, which is based in the United States.
While the company emphasizes the security they provide for your email messages, they also stress that they comply with Canadian warrants requesting data from users, both from the Canadian and US government.
The United States and Canada are founding members of the Five Eyes intelligence organization. Both conduct large-scale intelligence operations and are believed to spy on each other's citizens and share that data, allowing them to circumvent domestic espionage restrictions.
They can and do force local companies to help them spy on users, and may use gag orders to prevent those companies from even informing the targets that they are being spied upon.
After 9/11, the US government imposed additional surveillance on the citizens, which includes reading their private emails. Many security experts fear that additional assaults on your privacy are just a matter of time.
The difficulty of protecting user privacy causes most secure email services to locate themselves outside the United States and Canada. The same can be said of Canada VPN providers, which are also affected by these laws.
Hushmail technical specifications
Hushmail uses standard encryption algorithms and protocols to protect your messages. These include:
OpenPGP
TLS/SSL (used in transit)
PFS (Perfect Forward Secrecy)
HSTS (HTTP Strict Transport Security)
In addition, their specialized business accounts may meet relevant industry standards:
Hushmail for Healthcare — HIPAA compliant
Hushmail for Law — Support for Attorney/Client privilege
Hushmail for Small Business – Web forms with e-signatures
Hushmail hands-on testing
The original version of this review was conducted using the browser-based client and a free 14-day trial account. That free trial account made it easy to get a sense of whether Hushmail was for you, before signing up for one of the myriad paid plans they offer.
Apparently, Hush has decided that a free trial is not necessary. The former links to the free trial now lead to the paid plan signups, so be prepared to pay a hefty price ($49.98 at the time of this review) for the only personal Hushmail option now available.
Signing up for Hushmail
Signing up for Hushmail shows you right away that this isn't a privacy-first service like Tutanota or Posteo. To get your secure Hushmail account, you are required to give them your current email address. That is troublesome, as it results in a link from Hushmail back to you that can easily be hacked or even handed over to anyone who asks for it nicely.
But it gets worse. You are also required to give them a phone number, which poses a significant risk to user privacy. While you could always create a burner email address for the signup process, using a fake telephone number isn't usually an option. And given your telephone number, anyone can get a whole lot of information about you simply by doing a reverse lookup on any of dozens of websites.
If this puts you off, you might want to stop reading and check out our Tutanota review or our Posteo review.
The look and feel of Hushmail
The Hushmail email interface is an old-school, 2-pane setup as shown here: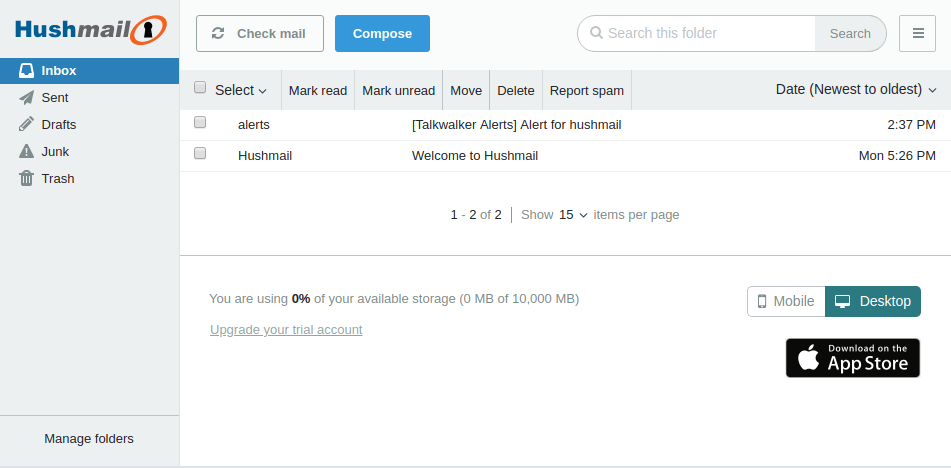 I say old-school because this isn't a drag-and-drop interface like we found in the ProtonMail review.
While not that modern, it is fairly straightforward. Just check the box to the left of one or more messages, then select what you want to do to that message (Mark read, Move, Delete, etc.).
Note that the client displays buttons for Desktop or Mobile at the bottom of the right pane. By selecting Mobile, you'll see the Hushmail client as a responsive interface designed for smaller screens. Depending on the characteristics of your device, it will look something like this: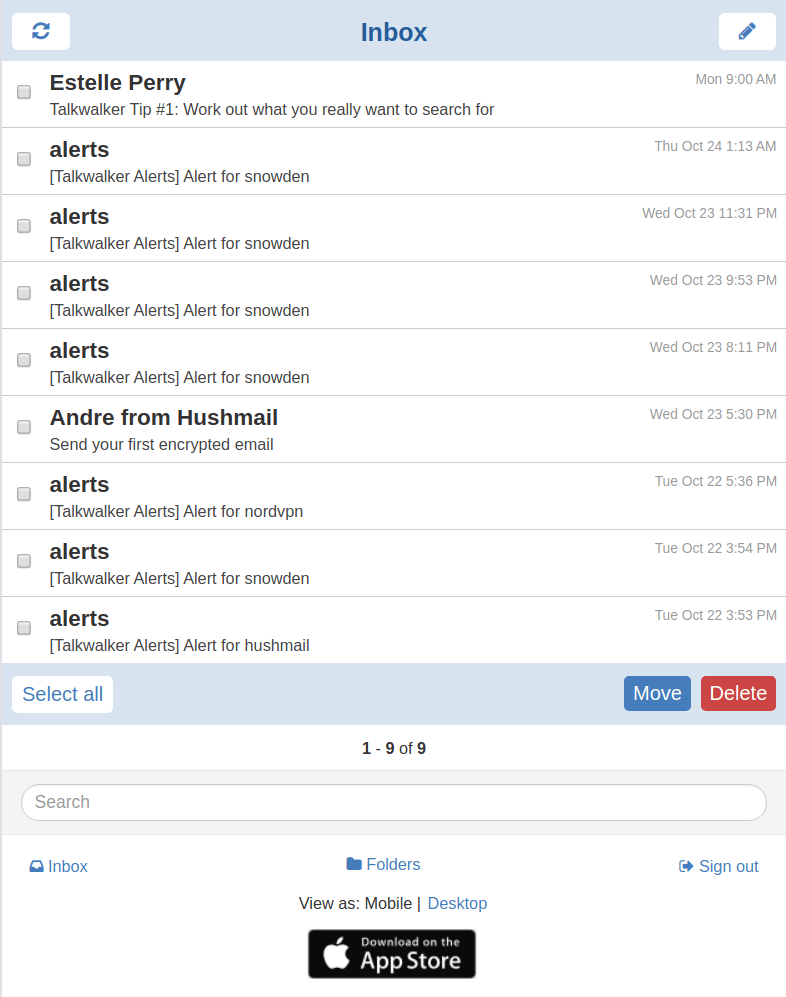 This Mobile view should work on any Android or iOS device. Note that this is not a separate app, merely a different type of interface for a browser page. By contrast, a true mobile app, like the iOS app Hushmail also offers, will only work on certain devices. In general, however, it will be more secure than their responsive web page, even if you are using a secure browser.
Composing messages
You won't have trouble composing messages in Hushmail. The process is virtually the same as in any other email client. All of the most commonly used options appear right in the composition window.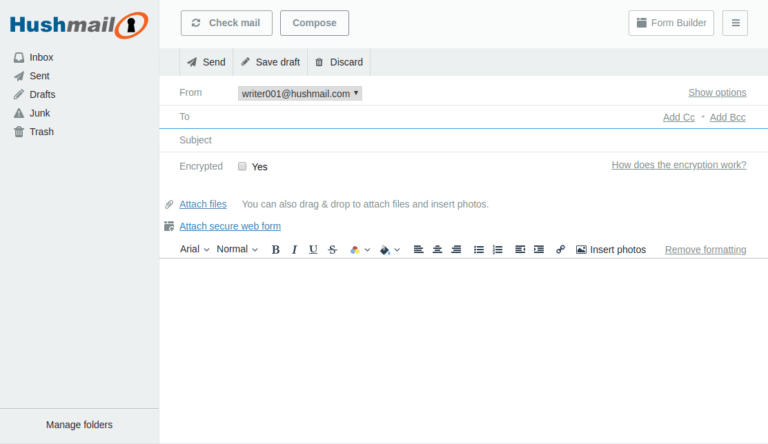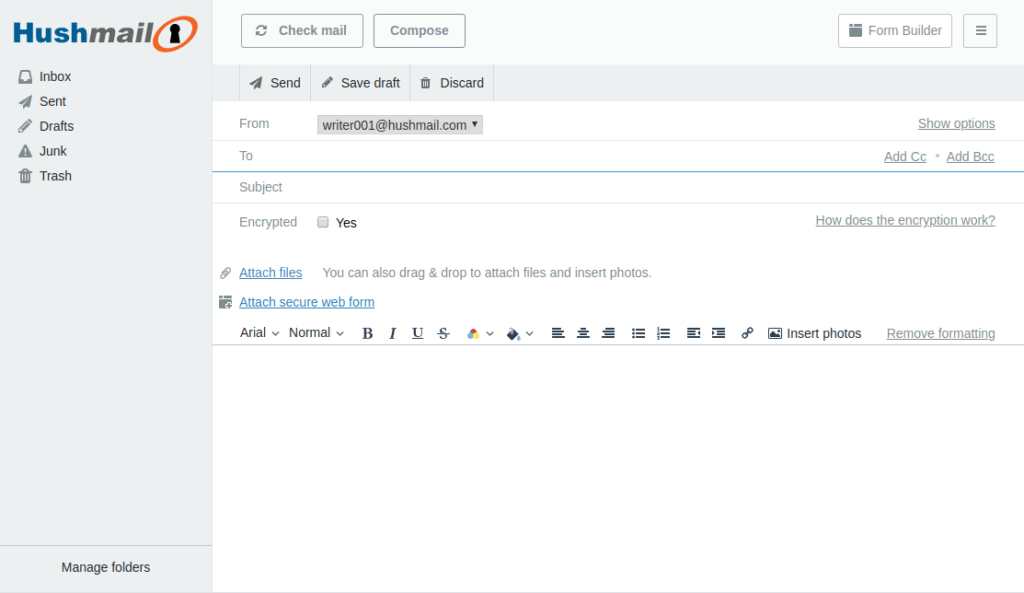 However, there are two options you don't normally see. They are the Form Builder button and the Attach secure web form link. These allow you to create secure forms and attach either your custom forms or some of the prebuilt forms that Hushmail comes with.
Sending messages
Sending messages is also simple. Aside from clicking the Send button, the only thing you need to consider is whether or not you wish to use encryption.
Sending to Hushmail users
By default, messages sent to another Hushmail user will automatically be encrypted with OpenPGP, which is a good security option. But, it is important to realize that the encryption is applied only on the server, not your device. This means that Hushmail could conceivably read your messages before encrypting them, perhaps under pressure from law enforcement or the federal government.
Sending to non-Hushmail users
If you are sending emails to a non-Hushmail user, you can tick or clear the Encrypted checkbox to turn the encryption on/off. If you encrypt your email, Hushmail will send the recipient a link to a secure web page where they can read the message.
Things are a bit more complicated when you send an encrypted message to a non-Hushmail user. If this is something you think of doing, I suggest you visit this page for additional details.
Receiving messages
Receiving messages doesn't require any special actions on your part. Hushmail automatically decrypts any encrypted messages you receive from other Hushmail users, which is convenient.
If you plan on using Hushmail a lot, you will probably want to disable the Email notification option. By default, it will send a notification to your old email (used for sign-up) every time you receive a message in Hushmail.
During the course of this Hushmail review, I received dozens of these notifications, clogging up the other email address. If you don't want this to happen to you, here's how you disable this option in Hushmail:
Click the Options icon in the top right corner (three horizontal lines in a box).
Move to Preferences > About you.
Scroll all the way down and disable the Email notification option.
Searching for messages
The Hushmail Search feature is simple and efficient. Type in the word or phrase you are looking for and Search will find all the messages that contain it, whether in the message header, body, or any other field.
Note that the search function searches the current folder, not the entire folder structure.
Contacts
Hushmail gives you a basic Contacts system that has one particularly useful feature. As you can see below, the Contacts page displays a lot of information about each contact, instead of just listing names and email addresses. This way, you'll be able to quickly find the information you need about a particular contact, without having to open it.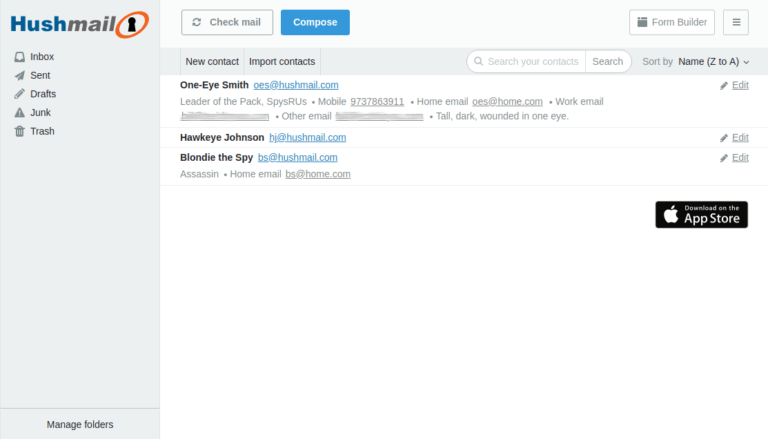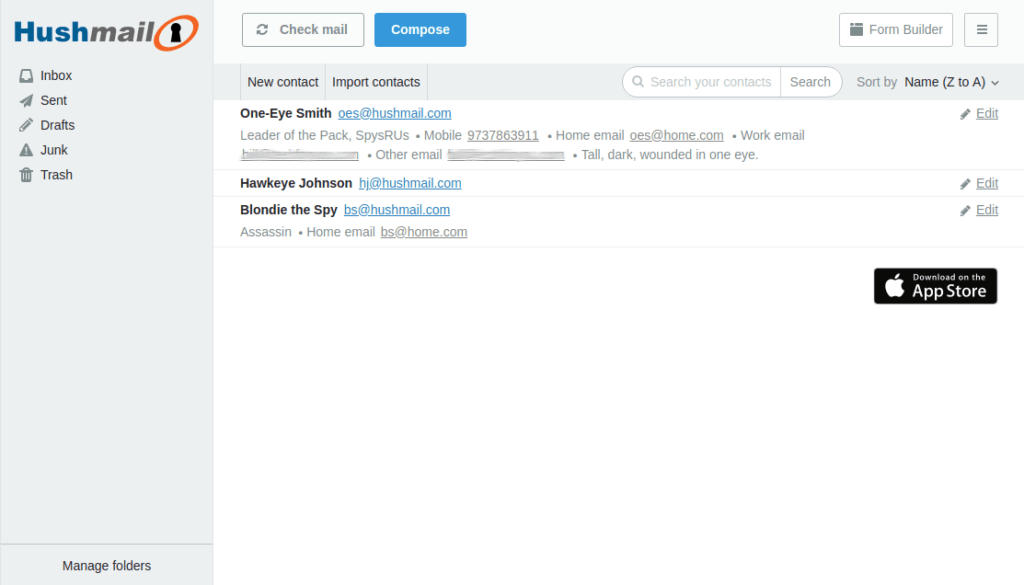 While this might get clumsy if you have a lot of Contacts, the Search box on the page should take care of that problem.
Hushmail can also import contacts from other services that can export their contacts using the CSV format.
Calendar and file storage
As mentioned above, Hushmail does not provide a Calendar, which I consider a mark against the service. Most other secure email services offer this, as you can see in our Mailfence review, Posteo review, etc.
Hushmail Premium recently added a file storage feature. If you install their desktop app, you will be able to store up to 10 GB of data. Honestly, this really isn't all that impressive in 2023, but it is a step in the right direction.
Hushmail preferences
We dipped into the Preferences section of Hushmail when I showed you how to turn off email notifications. There is much more you can do here. I'm not going to attempt to describe all the possibilities in this review, but you'll get an idea of what can be done by looking at this list of tabs located under Preferences:
About you
Reading
Composing
Automatic response
Email aliases
Spam
Security
Billing
For example, a feature like automatic responses makes Hushmail a convenient tool for businesses. We'll talk more about Hushmail's business capabilities a little later.
Hushmail mobile apps
Hushmail has a mobile app, but only for iOS. It was originally launched in July 2016 but apparently isn't too popular. Almost 5 years after its launch, it has a total of 43 reviews. Even worse, the app only gets 1.9 out of 5 stars. However, considering the low number of reviews, we wouldn't put much value into this. It appears to be full of features, and something worth trying out if you use both Hushmail and an iPhone.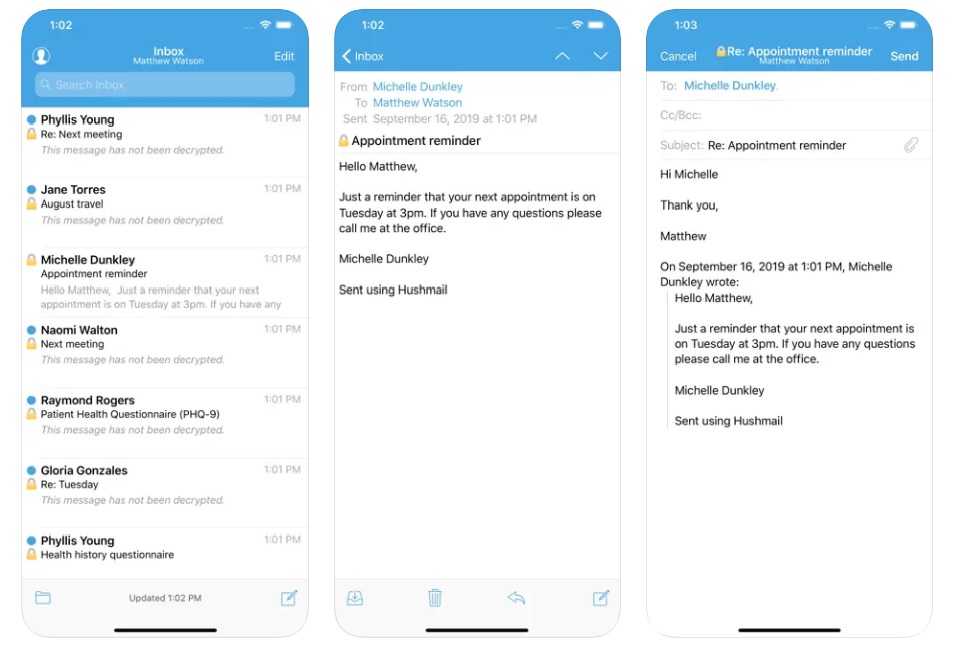 Integration with other email clients
Thanks to its POP, SMTP, and IMAP support, you can work with your Hushmail email using many non-Hushmail email clients. This gives you a way to use your Hushmail account with a real client app instead of through a web page, whichever computer or mobile device you are using.
Hushmail provides instructions for managing your Hushmail account using third-party apps on this page.
Is Hushmail secure? Is it private?
Now that you've seen what Hushmail looks like, let's talk specifically about the security and privacy it provides. We'll start with the Hushmail Logging Policy.
Hushmail logging policy
Hushmail does a good job of laying out what information it logs, when it does so, and what happens to the data after it is recorded. Unfortunately, there are some things in this policy you probably won't like.
As I said before, the problems start when you create an account. Hushmail records your IP Address, Phone Number, and Email Address. Here is their explanation for doing so:
"We use this information to analyze market trends, gather broad demographic information, and to prevent abuse of our services. We will not share this information with third parties."
When you sign in to your account, Hushmail says the information they record may include:
Your IP address
Your browser type
Browser language
Date and Time of the action
Account usernames
Sender and recipient email addresses
File names of attachments
Subjects of emails
URLs in the bodies of unencrypted email
Any other information that we deem necessary to record for the purposes of maintaining the system and preventing abuse.
When it comes to the OpenPGP encryption provided by the service, they say:
"Please note, we may be required to store a passphrase for an account identified in an order enforceable in British Columbia, Canada."
Because of the way the Hushmail encryption system is built, there is a possibility that the company could see and record an account's passphrase. In other words, the Canadian government can order them to record information that could be used to read your encrypted messages.
Sharing your data with the government and gag orders
Like most secure email services, Hushmail will respond to a legally enforceable order to turn in information to the local government (in their case, the government of British Columbia, Canada).
But, companies like Tutanota or ProtonMail log far less information, meaning they have less user data that they can turn over in response to an order. They also have no way of decrypting your encrypted messages, contacts, files, etc. stored in their systems. This means that even if forced to turn over your data, no one will be able to read it.
Hushmail, on the other hand, does extensive logging of user activities and personal information and will turn all that information over when requested. In some cases, Hushmail also has the ability to decrypt encrypted messages, contacts, and other data, and provide that information to the government.
Will Hushmail notify you if they are forced to turn over your data? Not a chance. They say:
"Because such orders generally state that we are not permitted to disclose the existence of the order to a user, we will not disclose to any user the existence, or nonexistence, of any order we may have received."
Well at least Hushmail employees won't be reading your mail, right? Don't be so sure. Read these two passages from the policy:
"Where there are exigent circumstances, such as where the safety or well-being of an individual or individuals is in imminent danger, and we believe in good faith that the disclosure of personal information and account data is reasonably necessary to protect against such harm, we will disclose the records. This may include but is not limited to the welfare of a child, or an act of terrorism."
And also:
"We comply with Canadian Bill C-22 as enacted into law in Canada. "An act respecting the mandatory reporting of Internet child pornography by persons who provide an Internet service". This means that should we become aware of a user that is using the Hush service for the transmission or storage of Internet child pornography, we are required to report this to the appropriate authorities and preserve the records in the user's account. As a result of this notification, we may receive an order enforceable in British Columbia, Canada, requiring the disclosure of personal information or account data."
These statements at least open the door to Hushmail employees looking through your stuff to ensure that they comply with these requirements.
So…
How secure is Hushmail?
Since Hushmail logs a lot of information about you, and in some cases can even decrypt your messages when requested by the government, it is one of the least secure email services I've looked at recently.
But, is Hushmail secure enough for your needs? That of course depends on your threat model, and Hushmail provides some real help here.
One of the nice things about the service is that they post a couple of different articles on how they provide security for your account. Their How Hushmail Can Protect You article tackles their security from a layman's perspective, while their Security Analysis gets into a more detailed, technical discussion. Reviewing these documents should quickly reveal if Hushmail is secure against the threats you are concerned with.
How private is Hushmail?
From my perspective, it is hard to claim that your Hushmail account is private. Here are my reasons for saying this:
The United States and Canada are founding members of the Five Eyes international intelligence organization. Among other things, this means that they share intelligence information about each other's citizens.
As a result of a US Supreme Court case and some legislation called the CLOUD Act, under most circumstances, companies like Hush Communications Corporation are required to provide user data to US law enforcement, even when that data resides on servers in another country. See this for more details.
Most of the computer code that handles your Hushmail account is proprietary. This means that there is no way for outsiders to see whether or not your data is truly protected in the Hushmail system.
Hushmail's OpenPGP encryption is implemented on their servers, rather than in your client. This means that you must trust Hushmail to implement the encryption properly, without recording data in unencrypted form or the passphrase used to encrypt your data.
Note: Normally, I recommend using a good VPN service that secures and encrypts the data flowing between your device and Hushmail's servers. The VPN will hide your IP address, making it much more difficult for a snoop to identify you. While using a good VPN service with Hushmail is still a prudent move, with all the other information the company logs about your activities, along with phone registration, hiding your IP address through a VPN may not be enough.
Hushmail business features
We've already seen that Hushmail has some business-oriented features, such as automatic responses. But the real bonus is its secure forms.
Hush secure forms
One business feature that helps Hushmail stand out from the email crowd is Hush Secure Forms. As the name implies, this is a capability to create secure web forms from within Hushmail. While this threw me at first, once I saw some examples of the forms you can create, it made good business sense. Here are a few examples of forms templates that are ready for you to complete and put to use:
Secure Contact – Your customers can use this form to initiate a secure conversation with you.
Secure File Transfer – A form that you can use to receive confidential documents and other files from your customers.
Client Experience Survey – After an appointment, send this survey to your clients to find out what went well, and how they think you can improve.
Dental Appointment Request Form – You can link to this form from your website, social media, and email signature. Your customers can use the form to request an appointment with you.
Hushmail support
Hushmail provides Email and telephone support, which is offered Monday through Friday, 9 AM to 5 PM Pacific time. Customer Support gets mixed reviews from users. This may well be caused by the fact that there is no telephone support available for people during their free trial of the service.
They also post service status updates and other information to their Twitter account: @hushmail.
Hushmail plans and pricing
Hushmail pricing remains as complicated as ever. That's because of all the different options they offer. You can get a personal account or several flavors of business accounts. Here's a quick rundown of the options that exist today.
Personal accounts
Hushmail no longer offers a free trial account with limited storage and a single email address. Hushmail Premium is the only option you have now. The price is $49.98 per year, with 10GB of storage and unlimited email aliases. However, even with Hushmail Premium, you are limited to Hushmail-provided domain names. If you want to use a custom domain name, you need to use one of their business accounts.
Business accounts
Things get complicated here. There are two Small Business plans, three HIPAA-compliant Healthcare plans, as well as plans for Law firms, Nonprofits, and the ability to craft custom solutions. If you fall into any of these categories, you should go to this page and check out the specifics for your situation.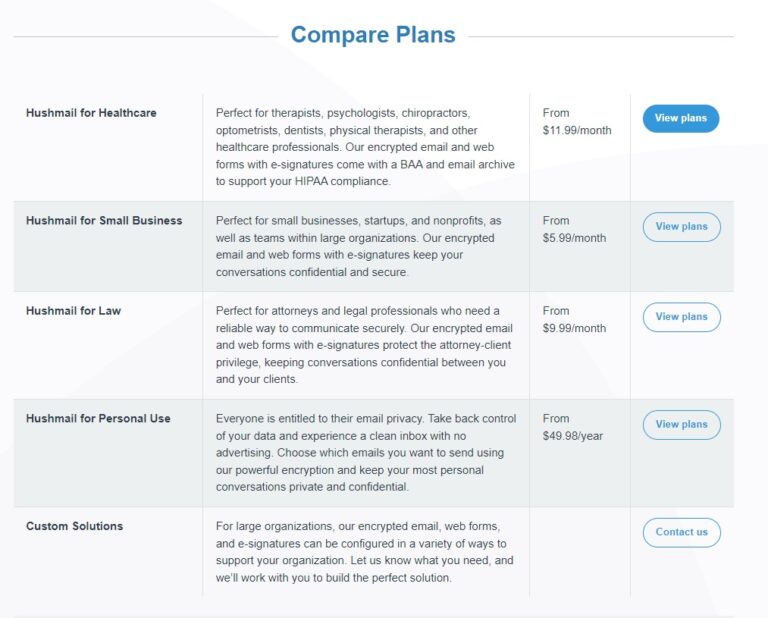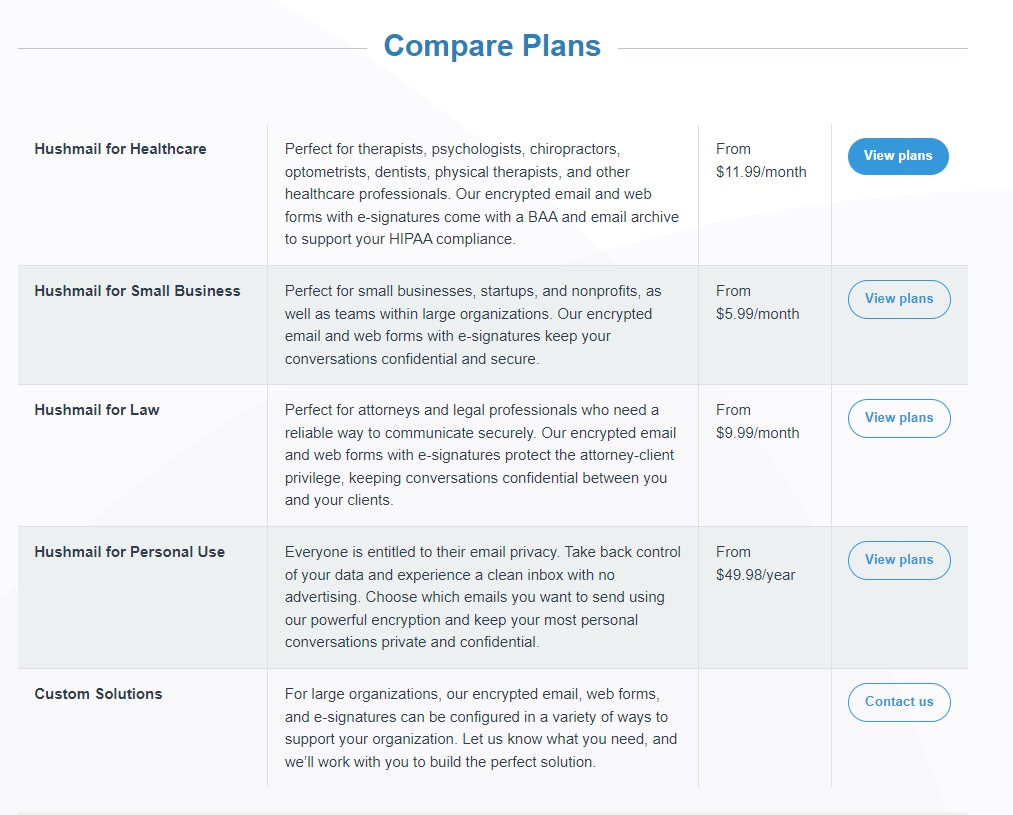 Is Hushmail the best email service for you?
As always, the answer to this question is influenced by your threat model and personal needs. Here are some factors to consider:
Jurisdiction – The company that runs Hushmail is based in Canada, but is a subsidiary of a US firm. In at least one case, Hushmail provided data to the United States, apparently decrypting supposedly secure messages at the request of the government.
PGP support – Uses an audited version of OpenPGP.
Import feature – Can import Contacts in CSV format.
Email apps – A web-based client along with an iOS app.
Encryption – Emails and attachments are encrypted in transit. Messages that do not have the optional OpenPGP encryption are stored unencrypted on Hushmail servers. Because OpenPGP encryption is applied on the server, it is possible for Hushmail to record your passphrase, giving them access to your supposedly secure messages.
Features – Offers some unique features for specific types of businesses. Does not include a Calendar.
Open Source Code – Hushmail is not Open Source.
Hushmail alternatives
If you don't need any of the special features of Hushmail, there are several secure email services that offer a higher degree of security and privacy at a better value. Here are five alternatives, along with in-depth reviews:
By the way, some of these email providers offer free accounts with a certain file storage limit.
If you only need an email address for a short time, we also have a guide on temporary email services.
Hushmail review conclusion
Hushmail offers some unique features for businesses like doctor's and lawyer's offices. And it appears to be secure against many types of attacks. However, it has a relatively high price and is missing a calendar feature, which is standard in most of the competition.
Beyond that, thanks to OpenPGP encryption being done on their servers instead of the client, Hushmail has the capability to record your passphrase, giving them the ability to decrypt your messages.
They have, at least once, decrypted user messages and provided the decrypted messages to the United States government. This makes your messages far less private than on similar services without the capability to decrypt those messages. Hushmail may also be required by law not to disclose these privacy violations to users.
In many ways, Hushmail is similar to Fastmail, an email service in Australia that's also not quite as private or secure as other alternatives.
In short, if you don't mind Hushmail employees, along with the United States and Canadian governments reading your encrypted messages, and you don't mind paying a premium price for the features they offer, Hushmail might work for you. But, unless you need their specialized business features, I suggest looking elsewhere.
Check out some of the other best secure email providers.
Lastly, here is a full list of alternative secure email reviews:
ProtonMail Review
Tutanota Review
Mailfence Review
Mailbox.org Review
Posteo Review
Fastmail Review
Runbox Review

Hushmail FAQ

Is Hushmail still free?


Unfortunately, Hushmail no longer has a free trial. The only option left is Hushmail Premium, which will cost you $49.98 per year.


Does Hushmail hide IP?


Hushmail hides the sender's IP address, replacing it with one from their own servers.


Where is Hushmail located?


Hushmail's headquarters are located in Vancouver, Canada.

This Hushmail review was last updated on September 11, 2023.