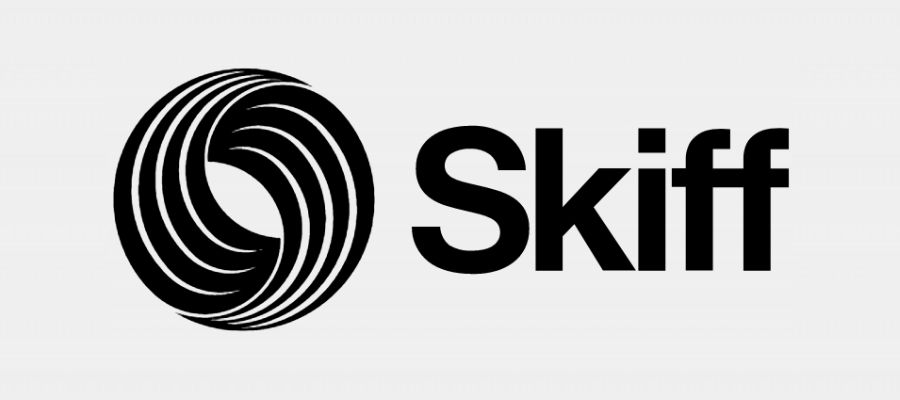 Today we are going to talk about a relatively new email service called Skiff Mail. While it looks very much like every other email service you have ever used, that standard appearance hides some interesting technology and philosophical views.
In this Skiff Mail review you'll learn how and why Skiff Mail is different and why it just might be the right email service for you.
Note: Skiff Mail is the latest component added to the Skiff suite of tools. Currently, the suite consists of Pages (an editor/workspace), Drive (cloud storage for Pages and other documents), Calendar, and Mail. All components of Skiff are protected by strong encryption so not even Skiff can access your content. The fact that it is end-to-end encrypted is just one of the ways that Skiff Mail differs from services like Gmail.
Before we dig down deep, here are the pros and cons of Skiff Mail as we see them:
+ Pros
Easy to use with almost no learning curve
E2E encryption and two-factor authentication (2FA) for security and privacy
Protection from trackers and phishing attacks
Numerous advanced email features (including the ability to unsend mail)
Web interface plus apps for macOS, Android, and iOS
– Cons
Not as widely used as the big names in email
Limited customization options
Mobile Skiff Mail apps don't give you access to other Skiff components
Skiff Mail features
Skiff Mail has the type of solid feature set you would expect for a new email service. These features include:
End-to-end (E2E) encryption (including the Subject)
Address verification
Email aliases, custom domains, and Skiff Domains
Protection from trackers and phishing attacks
Scheduled sending of messages, automatic replies, custom signatures, and the ability to unsend mail
Two-factor authentication (2FA)
Additional features for Pro and Business plan subscribers
End-to-End (E2E) encryption
Messages between Skiff users are E2E encrypted. The encryption occurs right on your device, using encryption keys that also remain on your device. That means only you and the recipient have the ability to decrypt the messages you send. Even the folks at Skiff Mail can't read these messages.
Skiff Mail encrypts both the body of a message and its subject. This is a privacy improvement over services like Proton Mail that use PGP or Open PGP. The PGP standard does not encrypt the subject of your messages.
Note: Skiff's E2E encryption also protects your Skiff Contacts and Skiff Calendar (we'll talk about these services later).
Address verification
Skiff Mail allows users to verify the email address of someone they are communicating with. It works by sending a verification link to the email address provided, which when clicked verifies that it is a valid address.
The service also checks the address against known blacklists of malicious emails, ensuring that the address is safe to use. Skiff Mail verification helps protect users from spammers, scam emails, and other malicious activities.
Email aliases, custom domains, and Skiff Domains
If you are like us, one single email address doesn't cut it. One way we manage our email is by having different aliases for different purposes. We also have multiple domains under our control and those domains need their own unique email addresses.
Happily, Skiff Mail supports those needs. All Skiff subscriptions allow you to create Skiff.com aliases, with the number of aliases determined by the specific plan you select. The Free plan allows four (4) Skiff.com aliases. The Pro plan allows ten (10) aliases, and the Business plan allows fifteen (15) aliases.
Likewise, Skiff Mail allows you to connect custom domains, with the number of domains determined by the plan you select. Only the Pro and Business plans support custom domains, with the Pro plan supporting two (2) custom domains, and the Business plan supporting five (5) custom domains.
Skiff Mail also can simplify the headaches associated with connecting domains to your mail client. With Skiff Domains, you can select a new domain through Skiff and let them configure it for you.
Protection from trackers and phishing attacks
Skiff Mail takes steps to protect you from trackers, phishing attacks, and other malware. Your IP address and device information are also hidden when you open messages to prevent this infomation from getting passed to malicious destinations.
Advanced email features
Skiff Mail incorporates several advanced email features that you could find useful. They include:
Scheduled sending of messages
Automatic replies
Custom email signatures
The ability to unsend mail
Two-factor authentication
Two-factor authentication (2FA) protects your email even if hackers somehow manage to get your Skiff Mail credentials. You should always enable 2FA is you care about your privacy.
Additional features for Pro and Business plan subscribers
Upgrading to one of the paid plans, Pro or Business, gets you additional features like these:
Increased storage capacity. The Free plan includes 10 GB of storage. The Pro plan includes 100 GB, and the Business plan includes 1 TB of storage.
Additional custom domains and aliases (as discussed above)
Unlimited message sending. The Free plan is limited to sending 200 messages per day.
Unlimited mail folders and labels. The Free plan is limited to five (5) folders and labels.
Hands-on with Skiff Mail
If you have used an email app before, you will find Skiff Mail to be very easy to use.
Signing up for Skiff Mail
Start by signing up for a Skiff account. You don't need to enter any personally identifiable information (PII). This gives Skiff Mail a leg up on services like Mailfence, which does require you to enter a valid email address to create a new account.
Skiff Mail gives you a PDF with a recovery phrase you can use to get into your account if you forget your password. You can also give them a backup email address to use if you get locked out. But that is optional, and we don't recommend it if you want to maximize the privacy of your account.
The look and feel of Skiff Mail
The Skiff Mail web app looks very much like your standard email client. Here's what the Skiff Mail Inbox looks like in the web app: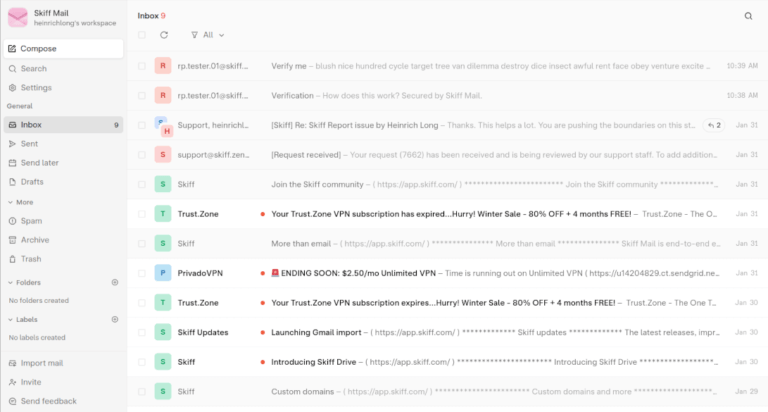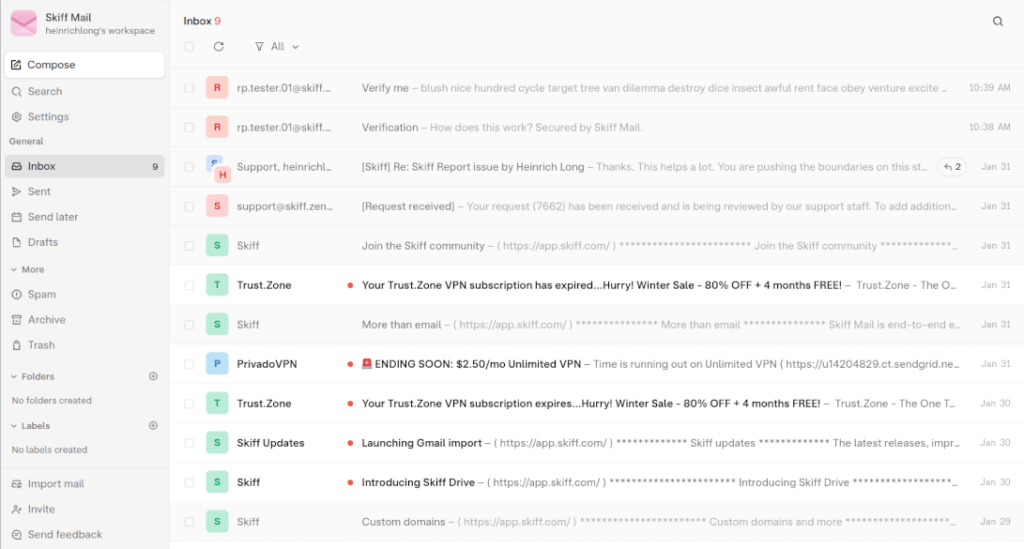 And here's the Inbox in the Android app: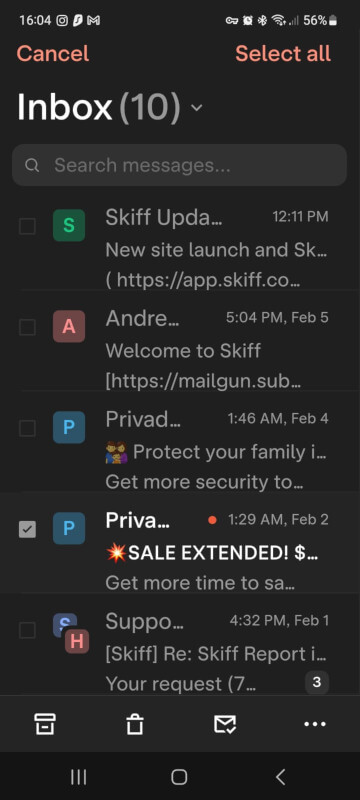 Composing, sending, and receiving mail
In most cases, composing, sending, and receiving mail messages with Skiff Mail works the same as you are accustomed to. Here's the New message window: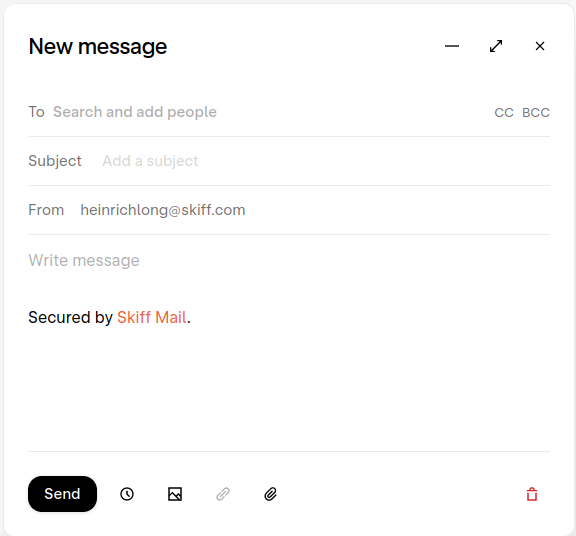 You can see in the preceding image that Skiff Mail doesn't offer a lot of fancy formatting options for your messages. You can, however, include images and attachments. Also, you have the option to delay the sending of a message. Click the clock icon and Skiff Mail gives you a couple of options for when to send the message. It also allows you to enter a custom time of your choice.
That's really all there is to composing messages. If your message is going to another Skiff user, it is encrypted on your device and travels encrypted to the recipient, who is the only person who can decrypt it. But things work a little differently when sending mail to a non-Skiff recipient.
Sending mail to non-Skiff users
Private, encrypted email services like Proton Mail, Tutanota, and Skiff Mail have different ways of dealing with the problem of exchanging email with recipients who don't use the same mail service. Here's how Skiff Mail deals with the problem:
When you send mail to a non-Skiff user, the Skiff Mail app on your device still encrypts the mail. But it then sends the mail to a Skiff decryption service, which decrypts it, sends it to its final destination outside Skiff, then deletes the decrypted version of the message.
The point of all this is that even mail sent outside of Skiff remains encrypted while inside the system.
Still, handling mail between Skiff users and outsiders could be improved. Other encrypted email services put some effort into getting the message to non-Skiff users in an encrypted form. For example, Proton Mail has a (somewhat cumbersome) system for notifying a recipient that they have an encrypted message that they can view if they know a special password.
Searching in Skiff mail
Skiff Mail has a search feature that lets you look for words or phrases in a message. The search box lets you focus your searches to some extent by specifying whether to search for People, Attachments, Labels, or Folders, as well as for specific words or phrases.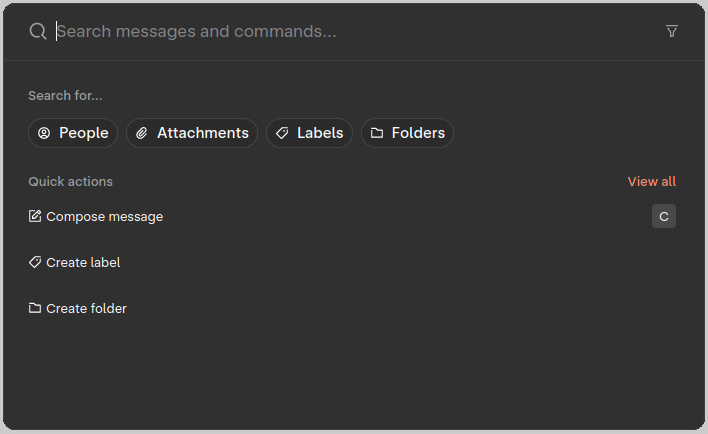 During our testing we found that search only detected words or phrases that were in the message header.
Skiff Mail support
We did contact Skiff support during the course of this review. Support is available via email. The tech responded to our questions quickly and courteously and the answers were exactly what we needed.
Skiff plans and pricing
As we alluded to elsewhere in this quick review, Skiff Mail is part of the Skiff suite. There are three plans available: Free, Pro, and Business. At the time of this review (February 2023), the plans were priced as follows:
Free plan – Free of course!
Pro plan – $8 per month when billed Annually, and $10 per month when billed monthly.
Business plan – $12 per month when billed Annually, and $15 per month when billed monthly.
Skiff Mail FAQ
Here are some of the most common questions that people have about Skiff Mail:

What is Skiff Mail?

Skiff Mail is an email service that aims to be an encrypted alternative to Gmail – and eventually much more than that. How so? By moving toward a decentralized model of email, one that doesn't tie the fate of your email to the fate of some faceless corporation.


How does Skiff Mail encrypt all my data?

Skiff is a fully end-to-end encrypted service. It uses public key authenticated encryption with Curve25519 key generation and secret-key authenticated encryption using xsalsa20-poly1305.


How do I get a domain name for my email?

Skiff Mail supports two ways of getting a domain for your email. One is to register your domain through a standard domain registry service. Then you manually configure the CNAME, T, and MX records necessary to get your new domain connected to your Skiff account.

The other approach is more convenient. You can register a new domain directly through the new Skiff Domains service and be ready to go in minutes, without all the manual mucking about.


Is Skiff Mail secure?

Yes, Skiff Mail is a secure email service. It uses end-to-end encryption, which means that your data is secure and only the senders and recipients of messages can read them. But be aware that messages between Skiff and non-Skiff users travel unencrypted between the Skiff service and the non-Skiff user.


What does it mean when they say that Skiff Mail is decentralized?

This is a confusing topic that should be viewed from the perspective of the Skiff suite and not just Skiff Mail. As it was explained to us by Skiff Support, Skiff has decentralized identity, key ownership, and storage.

When you log into another email service, you do so with an identity that belongs to that service. For example, when you log into Gmail, you use a Gmail address, which of course belongs to Google. You can log into Skiff with a Skiff address, but you can also log in using a Web3 address like a MetaMask wallet or an ENS name. These identities do not belong to Skiff.

Skiff uses public key encryption to protect your data. Those keys belong to you, not to Skiff.

Finally, while your data is normally stored on Skiff's servers, you can elect to store your data using the Interplanetary File System (IPFS). IPFS is a storage system that distributes your encrypted data across the internet in a decentralized fashion. One of the goals of the Skiff team is to eventually offer a version of Skiff that can function using IPFS completely independent of Skiff's own servers.


What's the biggest drawback to using Skiff Mail?

The biggest drawback to using Skiff Mail is the fact that relatively few people use the service right now. As of January 2023, the Skiff suite had over 500 thousand users. We aren't clear on how many of those suite users are also using Skiff Mail. But even if every single Skiff user is an avid Skiff Mail user, that isn't really a lot of users.

Proton Mail, which is probably the most popular private email service has over 70 million users. And Gmail, the big daddy of email services, reportedly has over 1,900,000,000 users. That's almost 2 billion users.

In other words, the biggest drawback to using Skiff Mail could be finding other Skiff users to exchange messages with.
Conclusion: Try Skiff Mail
Skiff Mail is one of the newest private email services on the market. Even the free plan handles all the basics of email in a way that you are surely already familiar with. The fact that it is part of a private suite of free apps boosts its value if you are in the market for more than just email. Even if you just care about the email side of things, Skiff Mail is worth a look.
Alternatives to Skiff Mail
Skiff Mail isn't doing it for you? Don't worry. There are plenty of good email services out there. Here is a list of other email services we have reviewed:
This Skiff Mail review was last updated February 16, 2023.