In a world where privacy concerns and data breaches are increasing, finding a secure and reliable email provider is more important than ever. But with so many options available, how can you be sure you're choosing the best one to protect your sensitive information?
Today, we'll take an in-depth look at StartMail, a secure email app designed to keep your digital communications safe from prying eyes. StartMail is an up-and-coming service that operates out of the Netherlands and has been garnering more attention in a world of eroding privacy. So without further delay, let's see if this is a secure email service you are searching for.
StartMail overview
+ Pros
Create unlimited email aliases
PGP end-to-end encryption
Easy contacts and email migration
Organize your inbox with filters
Minimalistic design
No ads. No tracking. No spam.
Flexible spam filter
Unlimited burner aliases
Anonymous cryptocurrency payments
Use custom domain
Compliant with GDPR
– Cons
Short trial period
Free version unavailable
Lacks Calendar, Notes, and File storage
Introducing StartMail: A Secure Email Solution
StartMail is a secure email provider service launched in 2013. The service is based in the Hague, Netherlands and is relatively affordable. StartMail claims to offer a safe and private service that doesn't extract user data, making it a potential alternative to Gmail.
Speaking of companies vision, StartMail is designed to …
… maximize your privacy and keep you in control of your personal data. We at StartMail care about your rights.
The service also doesn't track or show ads to their users, claiming that StartMail revolves …
… around the principle that your e-mail is your business and nobody else's, including ours.
Compared to free email services like Gmail, StartMail seems to offer higher degree of security, with a variety of encryption options and features.
StartMail Features Overview
By subscribing to StartMail you will get access to these features:
Email (20 GB storage capacity)
Unlimited Aliases
Cloud Data Migration
Contacts
Unlimited Email and Burner Aliases
Easy Email Migration Tool
As you can see, StartMail is fairly basic, as it doesn't offer features like auto-responder, file storage or calendar we've come to expect from similar services. If you really need this tools, you may want to check out ProtonMail or Mailfence instead. You can find a quick overview of both services at the end of this article.
StartMail Quick Technical Overview
StartMail uses a variety of encryption methods and algorithms to protect its users:
TLS with Perfect Forward Secrecy
DANE/TLSA
LibreSSL
CAA DNS records
DNSSEC for signing DNS records
HTTP Strict Transport Security (HSTS)
MTA-STS
LUKS encryption (used for User Vault)
GnuPG for generating keys
PGP end-to-end encryption (via IMAP)
Optional Two-Factor Authentication with TOTP support
For more information, check out StartMail's White paper.
Testing StartMail for this review
For this StartMail review, I subscribed for a Personal account. While StartMail has an Android app, I mainly focused on testing out its web interface.
Setting up StartMail account is straightforward and requires this information:
Display name

Email address

Password

Payment details
Since it doesn't require phone number for verification, you can create a temporary email that is not tied with your identity. Depending on your plan, you may be able to purchase your subscription with Bitcoin and remain fully anonymous. More on that later.
Migration to StartMail
StartMail has partnered with ShuttleCloud, an email migration service that makes it easy to transfer all of your contacts from Gmail and similar services. To start this process, go to Settings > Migration > Start Migration.
StartMail also has a Migration Portal to assist with configuring migration, multi-factor authentication, etc. to make your experience as smooth as possible.
User Interface and Experience
StartMail's user interface is modern and intuitive. If you've used popular email services like Gmail, you won't have any problems with navigating it.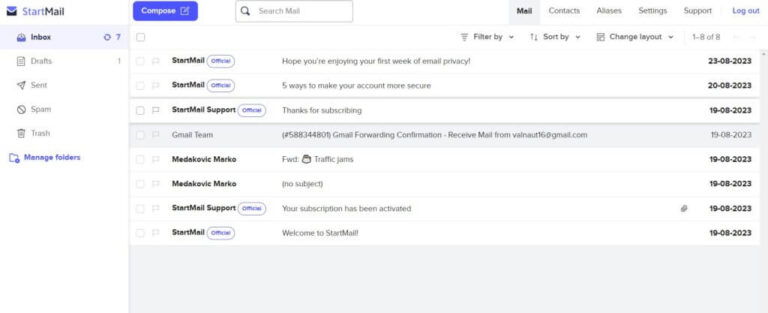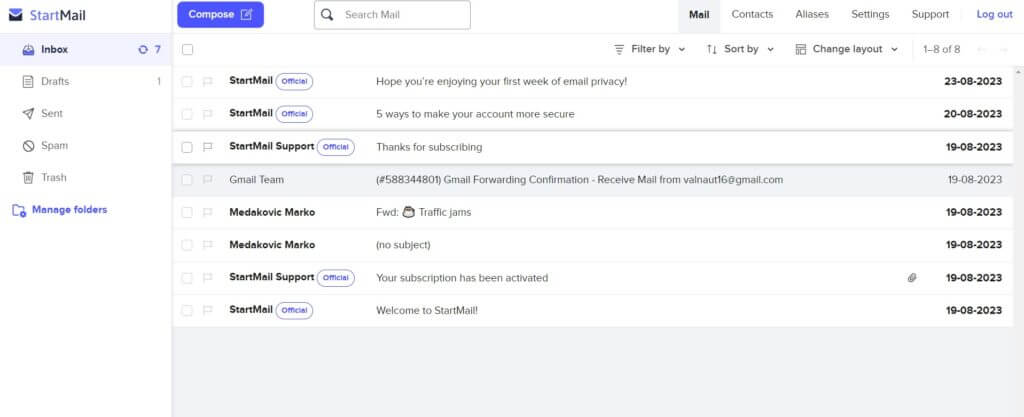 My overall experience was smooth. I didn't experience noticeable lag or processing delays when sending emails or navigating through the platform.
StartMail officially supports major web browsers such as:
Chrome

Edge

Firefox

Safari
Tip: For more privacy with web browsers, check out our guide on private and secure browsers.
While it is compatible with most modern devices, StartMail lacks native apps for Android and iOS. Instead, StartMail provides detailed instructions for setting up an email account on your smartphone. However, configuring it via IMAP may be complicated complicated for some users.
StartMail is comprised of 3 sections: Mails, Contacts, and Aliases. Let's cover them in detail.
1. Mail
Writing, sending, and receiving emails in StartMail is very straightforward. All of the features that you may need can be easily found. This includes encrypting and signing your messages with a PGP-signature, both of which can be enabled on the right. StartMail makes it convenient to secure your data, which is a big plus.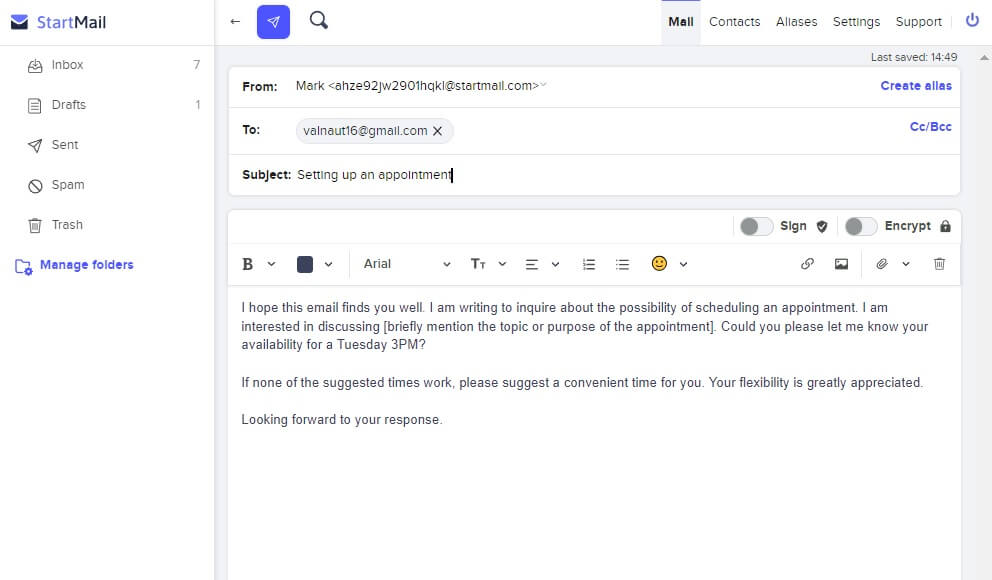 I wanted to encrypt my mail, so StartMail required me to type in a password and a personal message that a recipient can see before decrypting my email. This system is working out perfectly even if your recipient doesn't use StartMail. Every type of media you may attach will also be encrypted.
Once you send a message, it will be stored for 28 days, giving the recipient enough time to read it.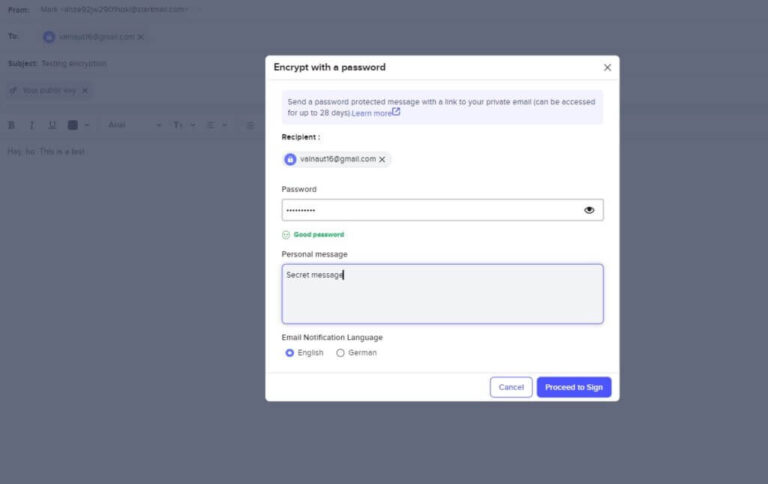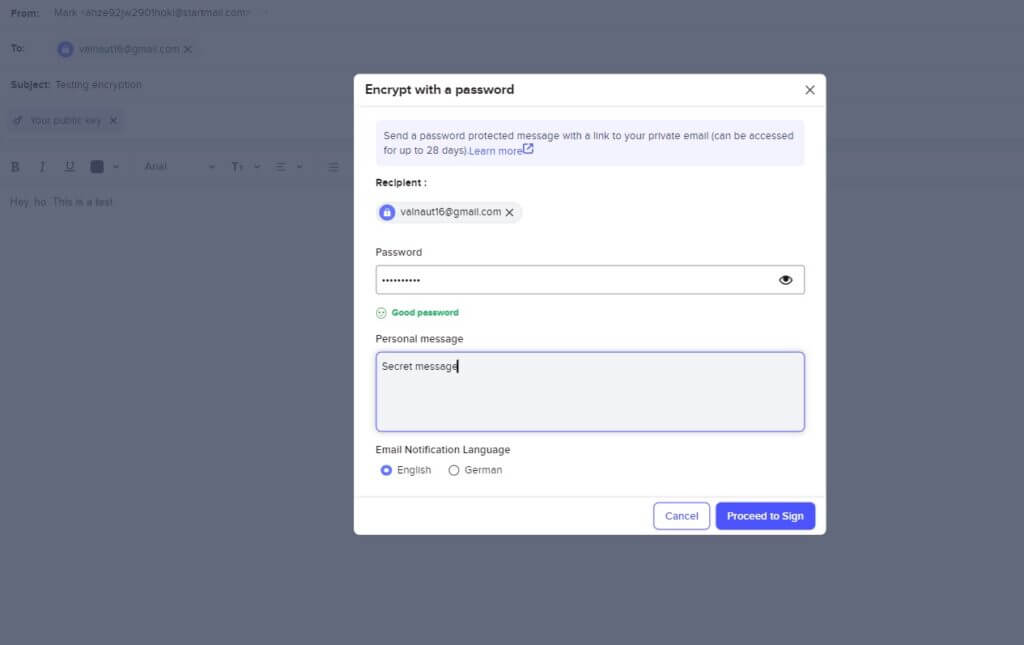 This is all good for one-off emails, but if you want to hold a longer conversation, it's best to rely on the PGP system as its safer. It lets you fully encrypt messages by using a public key or decode received messages via your private key. This can be enabled by visiting Settings > Encryption.
Expectedly, StartMail has a spam section that will block all of your unwanted messages. It uses Bayesian filtering technology which gathers user preferences and real-world metadata to figure out if the email you received should be marked as spam.
For security, data gathered via spam algorithm is stored in User Vault and doesn't pull information from all StartMail users.
2. Email Aliases (unlimited)
StartMail lets you create an unlimited number of aliases. They serve as an alternative email on which you can receive messages intended for your main address. Setting them up is straightforward and can be done in seconds. There are two types of email alias: Burner Alias and Custom Aliases.
Burner Alias
This lets you create a temporary email that you can share with sites and services that seem untrustworthy. You can generate Burner Alias with one click and they will automatically get deleted in one hour. This is yet another way in which you can filter out spam and phishing attempts. Just keep in mind that you can have one burner alias active at a time.
Custom Alias
Conversely, Custom Aliases are very useful for organization. For example, you can create multiple aliases to separate work-related emails from newsletters and private messages. You can also set up an expiration date or use them indefinitely.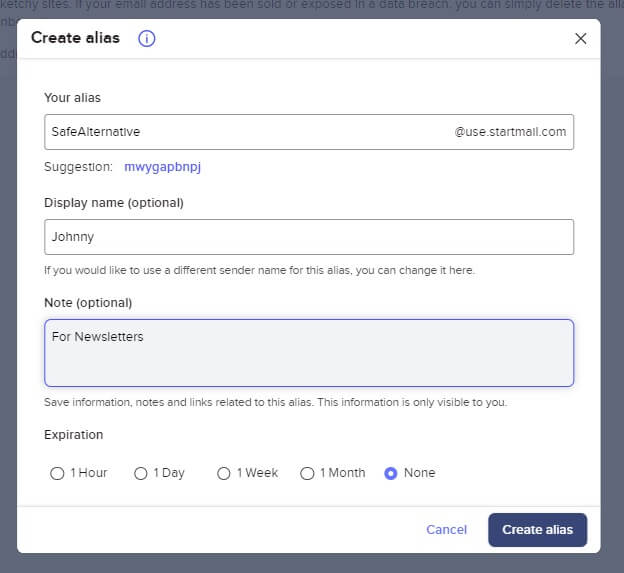 They still offer one degree of separation, as you can delete a certain alias if you start getting emails from unknown senders. This usually means that your information has been sold or exposed during the data breach.
3. Contacts


StartMail lets you add new contacts with a single click. You can tie to it user address, phone number, notes, and various business details.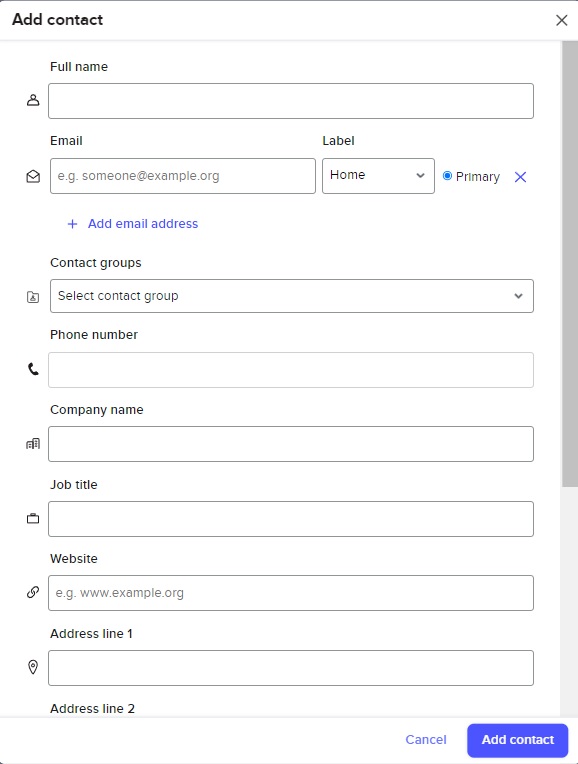 You can also create groups of contacts for easier management, separating private and professional users. Contacts can exist in multiple groups simultaneously, which is convenient. If you want to quickly reach certain people, simply put them under your Favorites.
StartMail Options
To further strengthen security and customize StartMail, you can click on Settings in the top right corner. Here you can change your display details, change recovery code, manage filters, encryption, and mail settings, etc.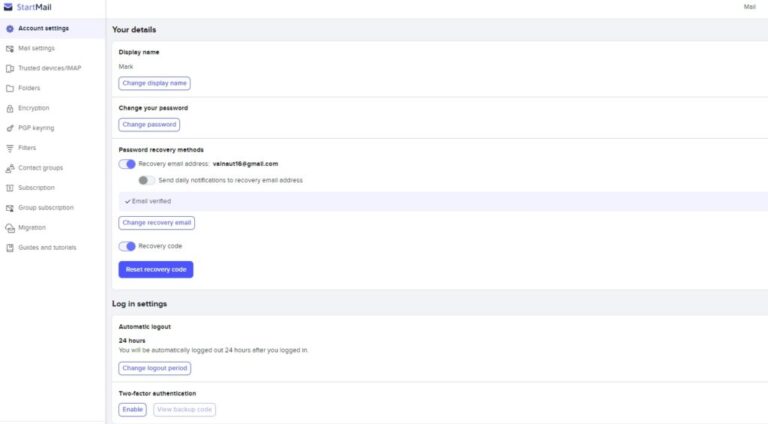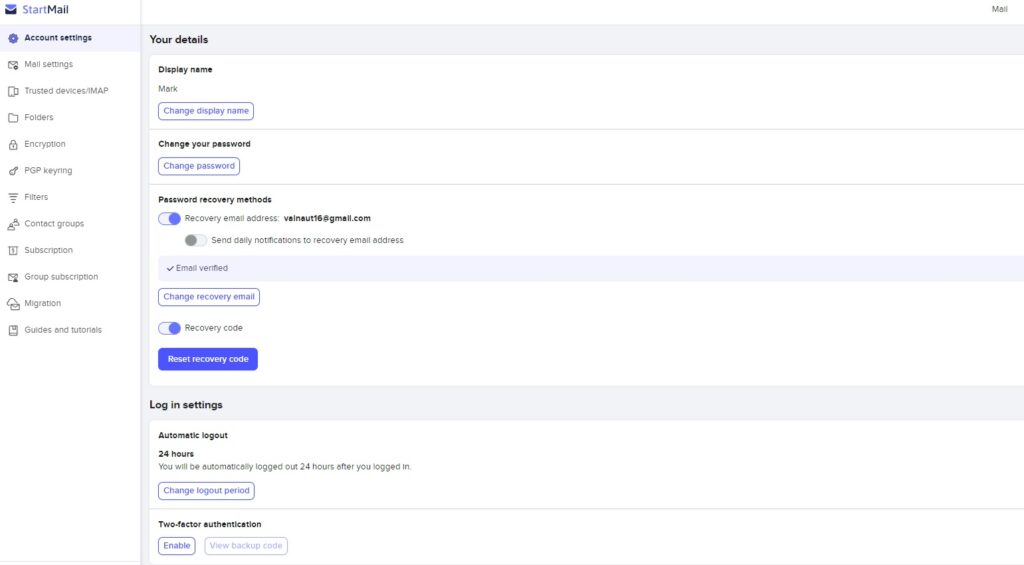 There are to many options to cover here, but I'd like to focus your attention on guides and tutorials section. Here, you can enable Account set up which pops up a wizard that guides you through creating aliases and setting up 2FA and IMAP. Start tutorial will quickly get you up to speed with the remaining features that StartMail has to offer.
StartMail Encryption and Privacy
StartMail uses PGP end-to-end encryption via IMAP to stop third parties from accessing your outgoing data. All your emails are encrypted on its servers and require a private key for unlocking, which is only shared with the recipient. Everything from attachments to subject lines is encrypted. Additionally, PGP uses digital signatures to make sure that the messages haven't been altered during transit. If anything seems weird, they will be blocked.
Having end-to-end encryption is a huge plus for StartMail in terms of user privacy. This means that they can't access your emails and share their content if it is requested by the government. StartMail also offers password-protected messages for users who need to communicate with recipients not using an encrypted email service.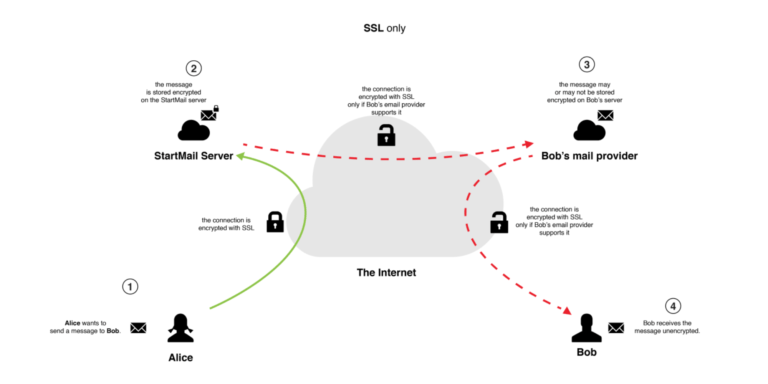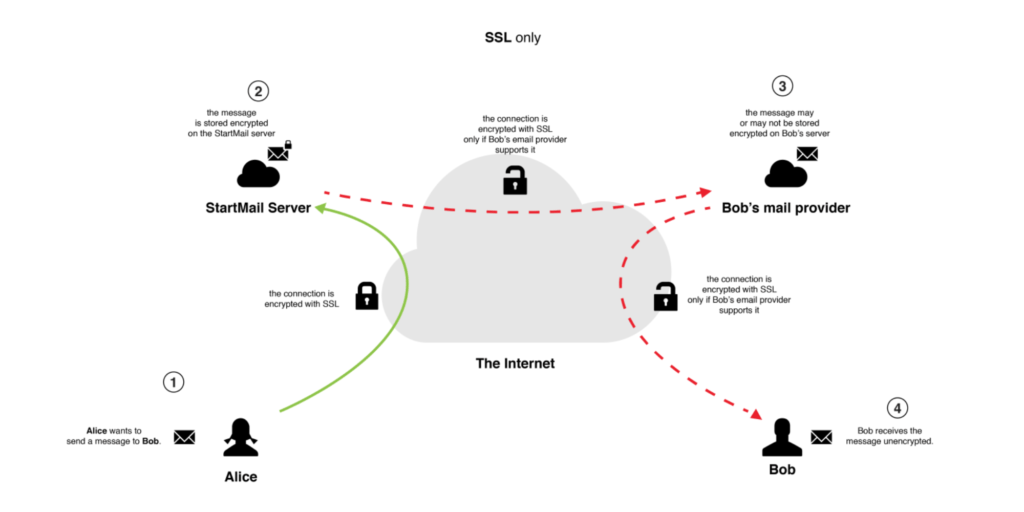 By providing multiple layers of encryption, StartMail ensures that users can communicate securely and confidently without fear of their sensitive information leaking or being intercepted by unauthorized parties.
In addition to encryption, StartMail supports multi-factor authentication, which adds an extra layer of security by requiring both a password and a code from an authenticator app to log in. This makes it harder for hackers to gain unauthorized access to your email account, even if they manage to obtain your password.
StartMail also blocks tracking pixels and malicious links, offering users enhanced privacy and security while opening emails. This features help protect users from phishing attacks, malware, and other online threats. We see similar features with VPNs incorporating ad blockers as an additional layer of protection.
Overall, StartMail's security measures include:
PGP encryption

Password-protected messages

Multi-factor authentication

Server-side encryption
These measures provide a comprehensive suite of tools to safeguard users' data and privacy in an increasingly insecure digital landscape.
Encryption may seem scary and complex, but it doesn't have to be this way. Our guide on how to encrypt email teaches you everything you need to know about the process.
See all StartMail features here >>
StartMail Pricing and Plans
StartMail offers two main plans for its users: Personal ($59.95 /year) and Custom Domain (69.95/year). First-timers will also receive a generous discount. I find that the service is very reasonably priced.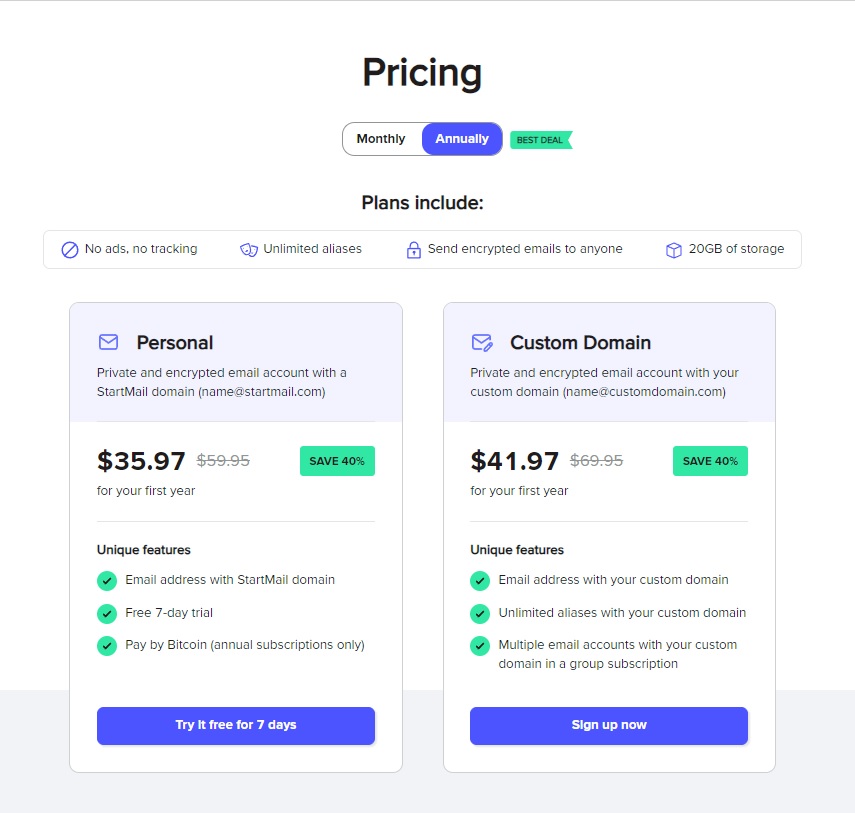 While StartMail isn't free, Personal users will get a 7-day trial to familiarize themselves with its features and interface.
DEAL: You can get an extra 50% off any plan using this coupon >>
How to pay for StartMail
You can purchase your StartMail subscription by using one of these payment methods:
American Express
Discover
Diners Club
MasterCard
PayPal
SEPA direct debit (only European accounts older than 1 year)
Visa
These are all standard options that will reveal your identity. StartMail also supports Bitcoin, so you can contact their customer service to make an anonymous payment. Unfortunately, this is not an available on monthly payment plan or custom domain accounts.
StartMail Password Recovery
If you forgot your password, resetting it is very convenient. You can do it in two ways: provide a recovery email or a one-time recovery code (if enabled).
Note: Alias emails created via StartMail can't be used for recovery.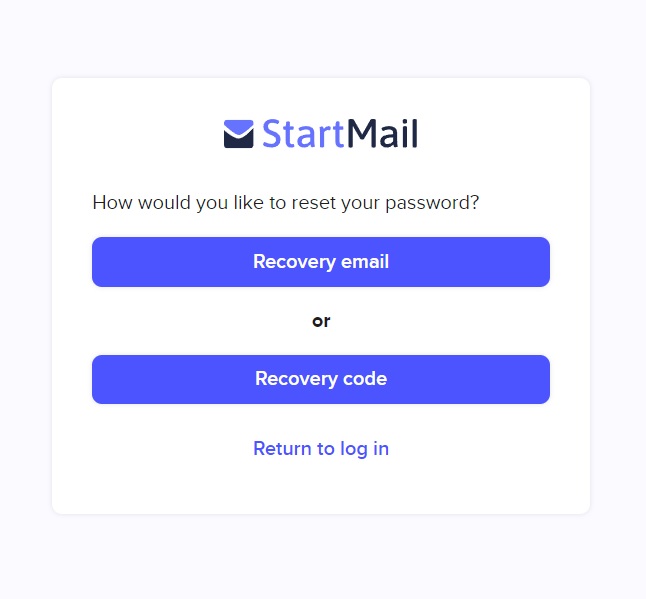 I have done the second, so StartMail gave me a new recovery code which I saved immediately, as it is not stored on their servers.
After saving my recovery code, I was offered to put in my recovery email.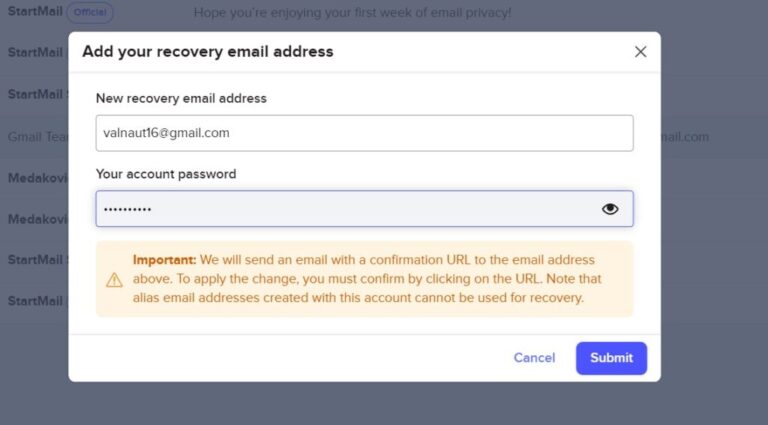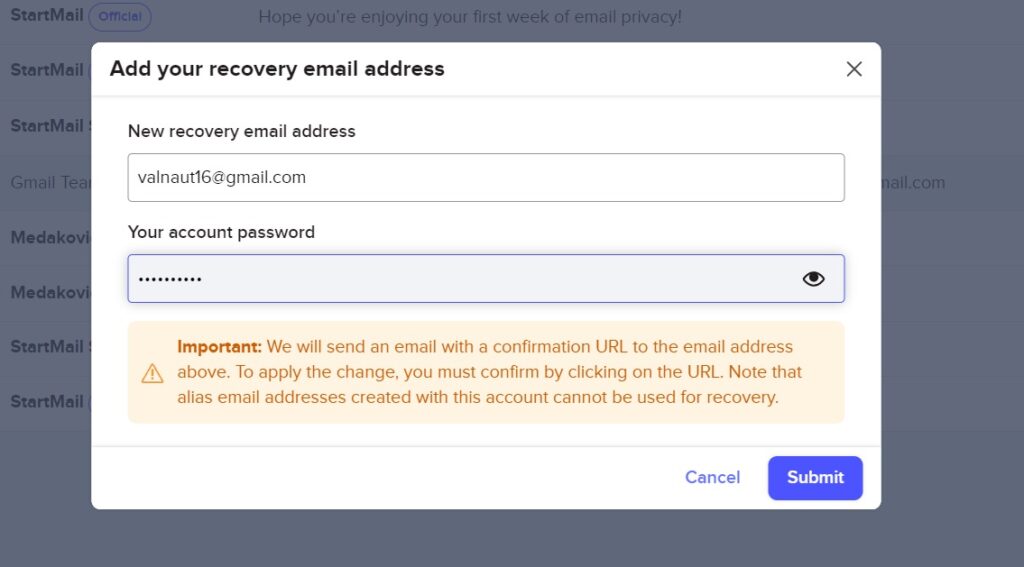 Customer Support Experience
StartMail lets you contact customer support directly via email or by completing form on their website. The service is professional and fairly responsive, so you can expect an answer in 24 hours. It also offers an extensive help section, with 25+ straightforward guides covering each aspect of the service.
StartMail Terms of Service
To test how private and secure StartMail really is, I have decided to read their Terms of Service. This part quickly caught my attention:
StartMail may immediately terminate the Agreement and delete the Account in the event of a violation of the Terms of Use, and retain any evidence or information relevant to this decision.
And what falls into the category of violation? Purchase and resell of stolen items, threatening other users and destruction of property, distribution of drugs, and sending spam messages.
Note that StartMail is not above the law, and if the Dutch government requests your user data, they may be obligated to send it. We also saw this with numerous ProtonMail data requests, also discussed in the ProtonMail review. As stated in the StartMail ToS:
If we receive a request by Dutch judicial authorities to hand over information about one of our Users, we will have our lawyers check the validity of the request and determine whether we are obliged to comply.
When speaking about third parties, StartMail is pretty clear:
We will not comply with any requests from private third parties to provide information about our Users unless we receive a valid Dutch court order to such effect.
Does StartMail save user logs?
When it comes to user privacy, StartMail goes above the norm. Still, there are some cases in which it will keep user data for certain time period, unlike a no logs VPN service, for example.
So why does StartMail keep logs? Well, a spokesperson explained that the logs are for "detecting and troubleshooting operational issues like problems with the webmail application, emails not being delivered and fighting spam and phishing."
For example, StartMail will store some of the user metadata for up to 7 days. The reason is that these logs are useful for detecting and solving operational problems, and will help against phishing.
When you delete an email it will be quickly removed from your user vault. However, StartMail will hold an encrypted copy of the message for up to three days. They call this a part of their "backup strategy", which made me a bit skeptical.
While StartMail doesn't track users or show adds, it still uses some cookies to provide a smooth user experience and gain knowledge on how to improve its service.
Luckily, Start Mail is compliant with European GDPR laws. This means that you can completely delete your account and data whenever you desire. Its Privacy Policy clearly states that your account will be immediately removed.
Is StartMail Worth It?
Among the plethora of email providers, StartMail comes out as a great option for users who value privacy and security. Despite its pricing and lack of native apps, its robust end-to-end encryption makes it a worthwhile investment for those looking to protect their sensitive data.
StartMails web interface is responsive and intuitive, making it very easy to send encrypted and signed emails. Furthermore, powerful filtering options enable users to organize their emails efficiently and locate important messages amidst spam or promotional materials.
Because all of this, StartMail managed to finish on our list of best secure email services in 2023.
Give StartMail a test drive using the coupon below for maximum savings.
Exclusive StartMail Coupon:

Get 50% Off any subscription plan with the coupon below, no activation code required:
(Coupon is applied automatically.)
Alternatives to StartMail
While StartMail is a strong choice for secure email, there are alternative providers to consider, such as ProtonMail and Mailfence. These services offer different features and pricing structures, allowing users to find the solution that best fits their needs and budget.
ProtonMail
ProtonMail, a popular secure email provider, offers a free tier and lower-priced plans compared to StartMail. With end-to-end encryption and a user-friendly interface, ProtonMail has gained a strong reputation in the encrypted email market.
In addition to its encryption features, ProtonMail also offers calendar, file storage, and a VPN service called ProtonVPN. All this makes it a comprehensive solution for users seeking a secure and private email service. Its free tier and competitive pricing make it an appealing alternative for those looking to balance security and affordability.
If you wish to find out more about the service, take a look at our ProtonMail review.
Mailfence
Mailfence is another secure email provider that emphasizes user privacy. Offering end-to-end encryption and digital signatures, Mailfence ensures that your communications remain secure and private.
In addition, Mailfence also provides a range of collaboration tools, such as shared folders, group chat, and file sharing. This makes it an attractive option for users seeking a secure email provider with additional functionality to support team collaboration and communication.
We only have time for a quick overview. But if you want to learn more, you can check out this Mailfence review.
Honorable Mentions
We have also covered many secure email services that may not be our first alternative to StartMail. However, they all offer something you might find useful. Here is our list:
Mailfence Review
Mailbox.org Review
Hushmail Review
Fastmail Review
Runbox Review
Frequently Asked Questions
Is StartMail worth it?
StartMail is definitely worth it. It offers a reliable service with top-notch security and privacy features, plus unlimited aliases and generous storage space.
How much does StartMail cost?
StartMail costs $59.95 per year, making it an affordable email service compared to competitors.
How secure is StartMail?
StartMail is a secure email platform that uses Pretty Good Privacy (PGP) encryption, zero-access encrypted storage, and offers disposable email aliases to keep messages private.
All plans come with unlimited aliases which can help protect users from phishing attacks and spam, and the company does not collect or sell any user information.
Can StartMail be traced?
StartMail is an encrypted email service that offers end-to-end encryption and does not log any user data, so it cannot be traced using IP address information contained in email headers.
This makes StartMail an ideal choice for those who value their privacy and want to ensure that their emails remain secure and private.
What is StartMail?
StartMail is a secure email provider offering encrypted messaging, disposable aliases and data storage, based in the Netherlands. It provides users with a secure communication environment and peace of mind.
This StartMail review was last edited on September 12, 2023.