A VPN – Virtual Private Network – is becoming the go-to solution for people all around the world. Whether you want more privacy and security or a safe and effective way to unblock websites and stream media, a good VPN is the solution. But there's just one problem.
With so many different VPNs on the market, how can you find the best VPN service for your unique needs?
Sorting through the noise is increasingly difficult with all the new VPNs coming online and dozens of overnight experts making dubious recommendations.
In testing and researching hundreds VPN services over the past five years, I've found that most VPNs fail when put to the test. Here are three common problems:
VPNs that leak IP addresses and/or DNS requests. IPv6 leaks and DNS leaks affect many popular VPNs and this can expose your identity, location, and/or browsing history to third parties.
VPNs with broken features. While most VPNs offer a kill switch or some form of leak protection, I've found that often these features fail under certain test cases, such as when switching network interfaces or reconnecting with the VPN server.
VPNs that share data with third parties. This is mostly a problem with free VPN services that collect and sell user data. However, even some highly-recommended paid VPNs have been busted for logging their users, including IPVanish and also PureVPN.
While this may sound alarming, there are still some excellent VPNs that we have identified in our testing and research.
Best VPN Services for 2020
ExpressVPN – Best all-around VPN
NordVPN – Best value VPN with great performance and security
Surfshark – Top VPN with a low price
VPN.ac – Secure and user-friendly VPN service
Perfect Privacy – Best VPN for advanced privacy features
OVPN – Secure, privacy-focused VPN in Sweden
ProtonVPN – Secure VPN in Switzerland
Trust.Zone – Basic VPN with solid performance
How to choose the best VPN service
The easiest way to choose the best VPN service is to make a list of important factors, and then match up the service that best meets your needs. For some people, streaming Netflix and unblocking websites is the top priority, while others may want advanced privacy features.
Here at Restore Privacy, we take all these different factors into consideration when ranking the best VPN services. Here are the basic factors that we consider to be important when choosing the best VPN for your needs:
Passed all tests with no data leaks found (no IP address leaks or DNS leaks)
Good performance throughout the server network (speed and reliability)
High-quality VPN apps with all features working correctly
Supports the OpenVPN protocol and strong encryption standards
Offers a money-back guarantee
Trustworthy and well-established VPN provider with a good track record
Located in a safe privacy jurisdiction (outside of Five Eyes countries, such as the US and UK) to keep your data safe
If a VPN did not fulfill all the criteria listed above, it was not featured in this report. And when you apply this standard to all the VPNs on the market, there are very few that make the cut. So let's cut to the chase. Here are the best VPNs for 2020:
1. ExpressVPN – Best all-around VPN service
In an overcrowded VPN market, ExpressVPN continues to stand out from the rest and remains the top recommendation on Restore Privacy. While many VPNs suffer from bugs, slow speeds, and data leaks, ExpressVPN consistently provides excellent performance, the highest security, and 24/7 access to all major streaming websites and content. In short, it just works.
For security, ExpressVPN utilizes strong encryption with an AES-256 cipher and a 4096-RSA key. It supports the OpenVPN protocol on all VPN apps and incorporates a Network Lock kill switch to ensure all data remains secured and encrypted (no leaks).
ExpressVPN also maintains the highest network security standards with all servers running in RAM-disk mode. This makes it impossible to store any logs or data on VPN servers and also improves security (see the TrustedServer feature). Additionally, it has passed an independent audit by PWC verifying compliance with its no-logs policy.
Need a VPN for streaming? ExpressVPN is currently the best VPN for Netflix, supporting numerous Netflix regions around the world. It also works with BBC iPlayer, Hulu, Amazon Prime, Disney+ and many other streaming services. Simply connect to one of the 160 server locations (in 94 countries) and you'll be set to stream.
Here are a few other reasons ExpressVPN stands out from the crowd:
Top speeds: ExpressVPN consistently outperforms other VPNs. It is well-known for premium performance and it continues to deliver today.
Browser extensions: Browser extensions are available for Chrome, Firefox, and Safari that are open source and incorporate HTTPS Everywhere.
Apps for all devices: User-friendly apps are available for all major devices and operating systems, including Windows, Mac OS, Android, iOS, Linux, routers, smart TVs, and more.
Split tunneling: Split tunneling is available with the Windows, Mac OS, and router apps. (This is the ability to route certain apps or website traffic outside the encrypted VPN tunnel.)
VPN router app: If you want to use a VPN on a router, ExpressVPN offers a dedicated router app. The app simplifies using a VPN on a router, while also giving you the ability to easily switch server locations.
Security Audit: ExpressVPN passed a third-party security audit conducted by Cure53, a cybersecurity firm in Germany.
Responsive support: Live chat support is available 24/7 directly through the website, in addition to a huge selection of setup videos and how-to manuals.
User-friendly: ExpressVPN is very user-friendly with intuitive and simple VPN apps.
Main drawbacks:
More expensive than some competitors (but see the coupon below)
Refund policy: All subscription plans come with a full 30 day money-back guarantee, no questions asked.
ExpressVPN Coupon
Sign up for the 12 month plan, and get 3 months FREE (49% Off)
Get Three Months Free + 49% Off ExpressVPN >>
(Discount is applied automatically)
See the ExpressVPN review for more test results and analysis.
---
2. NordVPN – Best value VPN with great performance and security
NordVPN is a popular VPN that continues to improve and upgrade its service. It is one of the few VPNs that offers full support for the WireGuard VPN protocol directly in its VPN apps. WireGuard provides upgraded security with the latest encryption and is the fastest VPN protocol we've tested.
In addition to the newly-introduced WireGuard VPN protocol, NordVPN has many other privacy and security features you may want:
CyberSec feature to block ads, trackers, malware, and phishing domains
Double VPN servers to encrypt traffic over two locations
Tor-over-VPN servers that add an extra layer of encryption via the Tor network
Very secure server network with all servers running in RAM-disk mode (no logs)
Built-in leak protection for all VPN apps (no leaks with the kill switch)
Like ExpressVPN, NordVPN has also passed independent audits for both security and compliance with no-logs policies. It introduced a public bug bounty program and also has an ongoing partnership with Versprite for security audits and penetration testing. NordVPN uses very strong encryption with an AES-256-GCM cipher and DHE-4096 key exchange in implementing Perfect Forward Secrecy.
With premium speeds and strong security, NordVPN is our top-rated VPN for torrenting. It also works very well for all major streaming services, including Netflix, Hulu, BBC iPlayer, Disney+ and more. You can use the NordVPN app if you need a VPN for Firestick, TV boxes, or Smart TVs, or any other streaming device.
As of right now, NordVPN has about 5,400 servers in 59 countries. It does not use any virtual server locations and all servers run on dedicated hardware in RAM-disk mode. This improves security and also makes storing logs on the VPN server impossible. In addition to the specialty servers we discussed above, NordVPN also offers obfuscated servers, which conceal VPN traffic as regular HTTPS encryption. This is a useful feature to get around VPN blocks, such as when using a VPN for China.
NordVPN continues to evolve and improve while remaining one of the top leaders in the VPN industry. Check out the two-year plan with the coupon below for maximum savings.
Main drawbacks:
Big discounts are only available with two-year plans.
No router app (but can still be used with most router firmware)
Refund policy: All NordVPN subscription plans come with a full 30 day money-back guarantee.
NordVPN 68% Off Coupon
Get 68% off NordVPN (drops the price down to $3.71 per month)
68% Off NordVPN Here >>
(Discount is applied automatically)
See our NordVPN review for more test results and analysis.
---
3. Surfshark – Top VPN with a low price
Officially launching in 2018, Surfshark is one of the newer VPN services we've tested. Despite being a relative newcomer, Surfshark comes loaded with features, great leak protection settings, access to numerous streaming services, and excellent support. Additionally, it gives you an unlimited number of connections.
Surfshark maintains strong privacy protection policies and is a no-logs VPN based in the British Virgin Islands. The Surfshark apps incorporate good leak protection settings (kill switch) to ensure data remains encrypted and secure without any leaks. There is also a CleanWeb feature to block ads, trackers, and malware domains.
Surfshark utilizes strong encryption with an AES-256-GCM cipher and supports both the OpenVPN and IKEv2 VPN protocols. Similar to our other top recommendations, Surfshark is now running all servers in RAM-disk mode for added security. It offers 13 double-hop VPN server configurations, allowing you to encrypt traffic over two servers at the same time. While Surfshark offers decent speeds with many servers, it is not quite on par with NordVPN or ExpressVPN in terms of performance.
If you want to stream media and unblock websites, Surfshark does well in this category. It currently supports 10+ different Netflix regions, as well as most other streaming services. It is a great VPN for Android and iOS with dedicated mobile apps.
Surfshark continues to gain traction in the VPN market. It remains a strong contender while also being one of the best cheap VPNs at only $2.49 per month with the two-year plan.
Main drawbacks of Surfshark VPN:
Variable speeds with some server locations (but nearby servers were fast)
No VPN router app (but routers still supported)
Refund policy: All Surfshark subscription plans come with a full 30 day money-back guarantee.
Surfshark 81% Off Coupon
Get 81% off Surfshark VPN (drops the price down to $2.49 per month)
81% Off Surfshark VPN Here >>
(Discount is applied automatically)
See the Surfshark review for more test results and analysis.
---
4. VPN.ac – Secure and user-friendly VPN service
VPN.ac is a security-focused VPN that offers good performance and features at a competitive price. It is based in Romania and was started by a team of network security professionals. VPN.ac did well in testing with fast speeds, strong encryption, and good privacy features.
VPN.ac currently supports the WireGuard VPN protocol. However, unlike with NordVPN, it takes some work to set up and use correctly and is not supported directly in the apps. VPN.ac's apps incorporate built-in leak protection, port selection, and offer a variety of VPN protocols and ciphers to choose from. They also have specialty servers: double-VPN servers, P2P servers, and Obfuscated servers.
In addition to the desktop VPN app, you can also use VPN.ac's secure proxy browser extensions, available for Chrome, Firefox, and Opera. You can also use VPN.ac to stream American Netflix, but other Netflix regions are not supported.
Main drawbacks of VPN.ac:
The main drawback of VPN.ac is the connection logs. Basic connection logs (no activity or usage data) are kept for 24 hours for network security and optimization. These logs are erased automatically every 24 hours. This is explained more on the VPN.ac website.
Another drawback of VPN.ac is that it does not work well with some streaming services.
Refund policy: All plans come with a 7 day refund window.
Discounted trial: You can get a discounted one-week trial for $2 (see the FAQ section of the menu).
The VPN.ac review has more test results and analysis.
---
5. Perfect Privacy – Best VPN for advanced privacy features
If you are looking to attain the highest levels of privacy and security, Perfect Privacy may be a good choice. It is based in Switzerland with a strict no-logs policy and is run by a dedicated team of privacy enthusiasts. Although it might be overkill for some users, Perfect Privacy offers a number of advanced features you won't find elsewhere. These features include:
Multi-hop VPN servers: With Perfect Privacy, you can route your traffic across multiple VPN server hops (up to four). This offers a higher level of protection for those who want it. Additionally, the NeuroRouting feature (supported on all devices) dynamically routes traffic across multiple hops in the VPN network.
Ad/tracking blocker: The TrackStop feature blocks thousands of ads and trackers, as well as malware and phishing domains at the VPN server level. You can also activate a filter to block social media trackers.
IPv6 support: Perfect Privacy is one of the few VPNs offering full IPv6 support (you get both an IPv4 and IPv6 address).
Port forwarding: Perfect Privacy allows you to customize your port forwarding settings, which is ideal if you need a good VPN for torrenting.
Strong encryption: This VPN secures data using an AES-256 cipher with a 4096-bit key exchange. Users can choose between OpenVPN and IPSec/IKEv2 protocols.
Similar to Surfshark, Perfect Privacy gives users an unlimited number of connections, but at a much higher price. You can use Perfect Privacy with custom apps for Windows, Mac OS, Linux, and Android, along with support for other devices (including iOS). While the apps do not feel quite as polished as some other VPNs, it does offer a lot of features if you need a VPN for Windows or other desktop operating systems.
Main drawbacks:
More expensive at $8.95 per month with the two-year plan
Limited support for Netflix and other streaming services
Small server network (but all servers running on dedicated hardware in RAM-disk mode)
Refund policy: 7 day refund window with all subscriptions.
See the Perfect Privacy review for more test results and analysis.
---
6. OVPN – Secure, privacy-focused VPN in Sweden
Next up on our list is OVPN, one of the best VPNs from Sweden. It was started in 2014 with a simple goal to be the "most reliable and trustworthy VPN provider." They go to great lengths to safeguard the data of their users with a multi-layered approach to security. OVPN's entire network runs on self-owned dedicated bare-metal servers with ample bandwidth and strong security. All servers operate in RAM-disk without hard drives, multi-hop configurations are supported, and no logs are stored.
OVPN did surprisingly well in our tests, competing among the top VPN providers. It offers secure apps that include built-in leak protection settings, and even has a full GUI Linux client with all features available. VPN apps for mobile devices (Android and iOS) are currently in development, but you can still use third-party apps with the service. WireGuard is supported, but not directly in the apps, like with NordVPN.
From the very beginning, OVPN has offered a transparent and privacy-focused service. Here are some noteworthy details:
Transparent and public-facing leadership (can be verified on the website).
Monthly transparency reports are published going all the way back to 2014.
OVPN even has insurance that will cover any legal fees necessary to fight against demands for user data by third parties.
A 2020 court case proved OVPN is true to its no-logs policy.
Completely anonymous payments and signup methods are supported.
Even though OVPN is a privacy and security-focused service, they still offer some support for streaming services. This includes Netflix and Hulu, although they currently do not support as many streaming channels as NordVPN or Surfshark.
While OVPN does have a lot going for it, there are a few drawbacks to consider:
Multi-hop servers are not included on monthly plans
Fewer streaming services supported
No VPN apps for mobile devices (but can be used with third-party apps)
Refund policy: 7 day refund window with all subscriptions.
See the OVPN review for more info.
---
7. ProtonVPN – Secure VPN in Switzerland
ProtonVPN is a VPN service that was launched by the team behind ProtonMail in 2017. Since its debut, ProtonVPN has made many improvements. Similar to Perfect Privacy, ProtonVPN is a privacy-focused VPN in Switzerland. And like some of our other top VPN recommendation, ProtonVPN also offers double-VPN servers through a "Secure Core" configuration.
While ProtonVPN is largely a privacy-focused service, it also supports some streaming services. It currently supports American Netflix, Amazon Prime, and is also a good VPN for Disney Plus. But that's not all. ProtonVPN also works if you need a VPN for Hulu. Torrenting is allowed on most servers, although speeds were not as fast as our top-recommended VPNs (ExpressVPN and NordVPN).
If you want to combine a VPN service with a secure email, you can pick up the Visionary plan that includes both ProtonVPN and ProtonMail – but it's not cheap. ProtonVPN also offers cheaper subscriptions, including a "Basic" plan at only $3.29 per month.
Main drawbacks of ProtonVPN:
Speeds were below average with some servers (not consistently fast)
Prices are above average for access to all servers and features
See the ProtonVPN review for more test results and info.
---
8. Trust.Zone – A basic VPN with good performance
Trust.Zone is a smaller, privacy-focused VPN service based in Seychelles, which is a good offshore privacy jurisdiction. It offers basic, user-friendly VPN apps for Windows, iOS, and Android with built-in leak protection. Additionally, Trust.Zone supports other operating systems through third-party apps, such as Tunnelblick and OpenVPN Connect.
Trust.Zone boasts a good selection of servers around the world, despite being a smaller VPN. Prices are quite reasonable at only $2.88/month with the two-year plan. When you pay with cryptocurrencies, you'll get an automatic 10% discount. They are also offering a coupon code for Restore Privacy readers (see below).
Speed tests for the Trust.Zone review were good, with most servers around my full baseline speed. Trust.Zone supports streaming US Netflix and Hulu, and also does not restrict torrenting on their network. It is one of the best VPNs with a free trial, allowing you to test the service without entering any payment info.
There are two main drawbacks I found:
Limited on features compared to other leading VPNs
No custom VPN clients for Mac OS (see these other VPNs for Mac)
If you want to give Trust.Zone a test run, you can do so completely free for 3 GB of bandwidth or 3 days, whichever comes first.
Exclusive Coupon Code: For an additional 10% off your order, use this coupon code:
RESTOREPRIVACY10
See also the Trust.Zone review for more details.
---
What is the best VPN for privacy?
Any of the recommended VPNs in this guide would be good choices for privacy and data security. They have all been tested and found to be secure (no leaks), reliable, and operate in safe privacy jurisdictions (outside of Five Eyes countries).
With the exception of VPN.ac, all of the recommended VPNs are no-logs services. Additionally, these two have passed third-party audits verifying their no-logs policies:
ExpressVPN passed a no-logs audit performed by PWC and a security audit conducted by Cure53. Additionally, ExpressVPN passed a real-world test when the Turkish government demanded logs and then seized an ExpressVPN server, but failed to obtain any data.
NordVPN has passed two separate no-logs audits performed by PWC in Zurich, Switzerland. It also has an ongoing partnership with Versprite to conduct infrastructure audits and carry out penetration testing to identify and fix any vulnerabilities. NordVPN has successfully converted its server network to only run in RAM-disk mode.
These VPNs offer multi-hop servers (the ability to encrypt your traffic across 2+ VPN servers). This offers a higher level of privacy and security beyond single-hop VPN servers:
NordVPN: Double-VPN servers and Tor-over-VPN servers
Surfshark: Double-VPN servers with 13 different configurations around the world.
VPN.ac: Offers 22 double-VPN servers
ProtonVPN: The "secure core" feature consists of double-VPN server configurations.
Perfect Privacy: You can create multi-hop servers with every server in their network, with up to four servers. The NeuroRouting feature also routes traffic across multiple servers in the network.

If you are really concerned about achieving the highest level of online anonymity, you can also chain VPN services (using more than one VPN at the same time). This is discussed further below.
What is the best VPN for streaming?
One of the best VPNs for streaming is ExpressVPN. Here's why:
Full access to all streaming services. ExpressVPN provides the best access to all major streaming services: Netflix, Hulu, Amazon Prime, Disney+, BBC iPlayer, ESPN, HBO, SkyGo, and many more.
Premium speeds to stream media without any pauses, interruptions, or buffering.
Apps for all streaming devices, including Smart TVs, TV boxes, tablets, computers, phones, gaming systems, and more.
Below I'm using ExpressVPN to stream American Netflix from my location in Europe. ExpressVPN currently supports the following Netflix regions: US, UK, Canada, Australia, France, Italy, Japan, and Germany.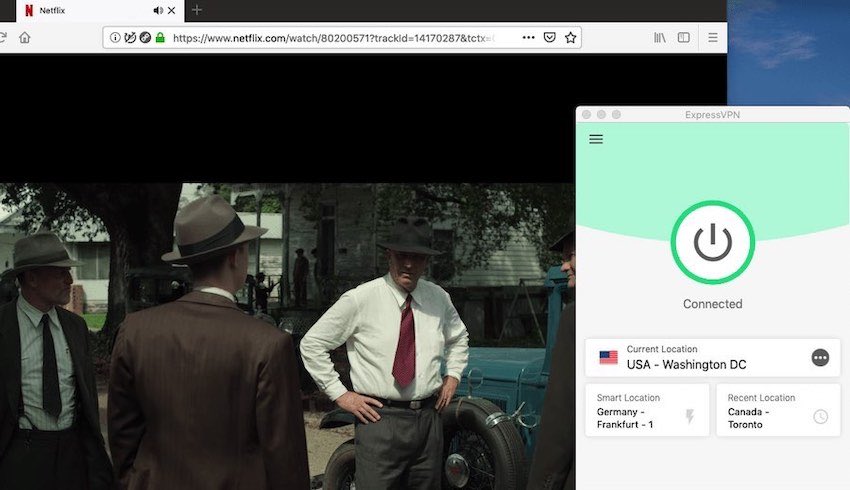 Aside from unblocking content around the world, VPNs are also crucial for protecting yourself against ISP snooping and potential copyright issues when streaming from third party sites or when torrenting. (This is discussed more in my VPN for Kodi guide.)
What is the top VPN for Android and iOS mobile devices?
We recently tested out numerous VPNs for Android and found the best one to be NordVPN.
NordVPN tops the list as the best VPN for Android and iOS mobile devices for three main reasons:
WireGuard VPN protocol – This protocol performs the best on mobile devices that may go in and out of connectivity. Connections are quick to establish, very stable, and fast.
Fast speeds – With the WireGuard VPN protocol and an upgraded network of dedicated servers, NordVPN is faster than ever before. It outperforms other VPNs and will give mobile users excellent performance.
Great mobile apps – I really like NordVPN's mobile apps (both Android and iOS) for two reasons. First, they are very secure with reliable leak protection features and strong encryption. Second, they include all of the main features of the desktop client, including CyberSec, WireGuard support, and all specialty servers.
ExpressVPN, Surfshark, and VPN.ac also offer great Android VPN clients.
How to get the best speeds and VPN performance
How can you achieve the best speed and performance with your VPN?
If you are using a top-rated VPN service, you shouldn't notice a huge reduction in speed. Of course, the extra work that goes into encrypting your traffic across VPN servers will affect speed, but usually it's not noticeable for regular browsing, especially if you're using a nearby server.
Here are some tips for getting the best VPN speeds and reliability:
Use the closest server possible to your physical location. This generally reduces latency and improves performance.
Choose the least crowded server or "recommended" server. Some VPNs help you select the best VPN server by showing server bandwidth loads or having "recommended" servers based on distance and loading.
Experiment with different VPN protocols. OpenVPN UDP offers the best mix of security and speed. WireGuard is the fastest VPN protocol we've tested. Trying different VPN protocols and encryption options may help to find the best fit for your network.
Consider antivirus and WiFi interference. Sometimes antivirus software or other WiFi networks may interfere with VPN speeds.
Use a wired (ethernet) connection rather than WiFi. Wired connections (with high-quality ethernet cables) generally provide faster and more consistent speeds than WiFi, and are also more secure than WiFi.
Consider processing power. Processing power on your device may also be limiting speeds, especially if you are using a VPN router.
Consider your operating system. I've found VPN speeds on Linux and Mac OS to generally be better than Windows. When using a VPN on Windows, sometimes the TAP adapter will interfere with speeds, as well as background processes/updates that take up bandwidth and processing power.
Upgrade your internet connection. Your VPN will not be able to exceed the baseline connection speed of your internet provider.
As you can see, there are many different factors affecting speed. Experimenting with these different variables will help you achieve the best VPN speeds possible.
Are VPNs safe and legal?
First we will address the issue of safety.
If you are using a good, reputable VPN service that effectively secures your traffic (no leaks), then yes, a VPN is safe to use. But therein lies the catch because there are many unsafe VPNs on the market, especially when it comes to free VPN services, which we will explain further below.
The next question: Are VPNs legal?
In general, the answer is yes, it is perfectly legal (and normal!) to use VPNs, even if you are in places like China where VPNs are restricted. VPNs are used every day by businesses and individuals throughout the world for basic privacy and security purposes. Businesses rely on VPN technology and encryption for security reasons and it would not make sense for this to ever become illegal.
That being said, China currently has a "ban" on non-approved VPN services that do not go along with state censorship requirements, as explained in the China VPN guide. The United Arab Emirates and a few other Gulf State countries have laws against people using VPNs to evade state censorship. Fortunately, this is not an issue in Western countries, where VPNs remain a safe, legal, and popular tool. (But of course, none of this is legal advice!)
VPN jurisdiction and trust
If you are serious about privacy and data security, you need to consider where the VPN is based (jurisdiction). We have seen many examples of privacy-focused services being compromised by governments in the countries where they operate. This is often the case with the United States and United Kingdom, which are both members of the Five Eyes surveillance alliance.
Let's examine the United States, for example, and how VPNs based in the US could be affected.
The United States has extensive (and powerful) surveillance programs allowing authorities to tap internet infrastructure for bulk data collection. These laws give the different agencies tremendous power to snoop on and record your digital activities.
The US government has a long history of working with (and forcing) private tech companies to facilitate mass surveillance and bulk data collection efforts – see the PRISM program.
US VPN services could be served National Security Letters or other lawful data collection demands, while also being prohibited from disclosing anything to their customers through gag orders.
These laws and capabilities essentially give some governments the authority to compel a legitimate privacy-focused company to become a data collection tool for state agencies. If a VPN were to be compromised, it would likely happen behind closed doors, without a word (or warning) to the users.
Just take a look at the case with Lavabit. Rather than comply with the lawful requests for user data and encryption keys, the founder was basically forced to shut down the business.
The same circumstances unfolded with Riseup, a Seattle-based service that offers a VPN and secure email:
After exhausting our legal options, Riseup recently chose to comply with two sealed warrants from the FBI, rather than facing contempt of court (which would have resulted in jail time for Riseup birds and/or termination of the Riseup organization).

There was a "gag order" that prevented us from disclosing even the existence of these warrants until now. This was also the reason why we could not update our "Canary" [warrant canary that warns users about these events].
Ignoring jurisdiction (where the service is based) when selecting privacy tools could put your privacy and security at risk.
What is the best free VPN service?
We generally do not recommend free VPN services because they are not safe.
"When something is free, you are the product."
This famous quote certainly holds true for "free" VPNs because you are likely paying for the service with your private data, which is sold to third parties.
Free VPN services will offer a free product that collects your data for profit. Here a few well-documented reasons showing why free VPN services are risky:
Safer alternatives include free trial VPN services. ProtonVPN also has a plan for one device and unlimited bandwidth.
Can I just use a third-party DNS provider rather than a VPN?
A lot of people recommend using a third-party DNS provider rather than a good VPN – but this isn't a good idea, for a few reasons.
First, a third-party DNS provider is only handling DNS requests, not providing you with any privacy or encrypting traffic. Your real IP address remains exposed with everything you do online, even if your DNS requests are encrypted.
Second, your internet provider (ISP) can still see every website you visit (the IP addresses), while these websites are also able to see your real IP address.
In contrast, a good VPN will not only conceal your IP address and location, it will also encrypt and translate all of your DNS requests, which remain encrypted within the VPN tunnel. This secures your activities (browsing) from third parties, including your ISP, while also protecting your identity.
Lastly, a centralized DNS provider, such as Cloudflare, could be snooping all your traffic and handing this over to third parties. Generally speaking, this is not a good idea for privacy.
Can you use two or more VPNs at the same time?
Some people seek to achieve very high levels of security and online anonymity. In addition to using a secure browser, blocking trackers, and taking proper precautions with your activities, using two or more VPNs is also a good idea. Why would you want to do this?
Here's why you may want to use two or more VPNs at the same time:
You are effectively distributing trust between two or more entities, which can be beneficial depending on your threat model.
Neither VPN will have both your browsing activity and your identity (IP address). One VPN can see your source IP address and the other VPN can see the websites you visit, but neither VPN could have both your IP address and browsing data.
This will add more encryption to your traffic and also allow you to utilize more data centers at the same time (further distributing trust). Additionally, you can distribute trust by choosing data centers in different jurisdictions around the world.
To de-anonymize you, your adversary would have to be working together with the two (or more) VPNs — and this is highly unlikely, especially with VPNs located around the world.
Traffic correlation attacks become extremely difficult for adversaries when you are chaining VPNs.
Here's an example of a savvy VPN user in Brazil utilizing a VPN server in California, then routing traffic through a second VPN server in Canada, both from different VPN services, to access a website in Europe.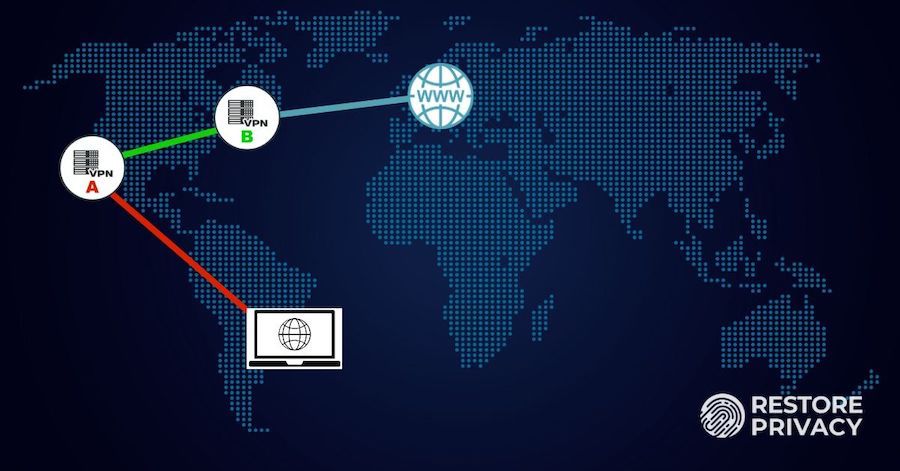 Now let's examine two easy ways to do this.
One way is to run one VPN service on your computer and a different VPN service on your router. This way, your internet connection passes through two separate VPN services. The connection looks like this:
VPN1 on your computer > VPN2 on your router
The method above is simple and easy to do. A fast and fully-featured VPN router we have reviewed is the Vilfo router.
Another way to do this is with virtual machines, which you can run for free using Virtualbox. To do this, just set up a virtual desktop computer running on your host computer. Then, you run one VPN service on your host computer and a different VPN service on the virtual machine.
When working on the virtual machine, your internet connection passes through both VPN services, like this:
VPN1 on your host computer > VPN2 within your virtual machine
Note: Running Linux virtual machines offers other benefits in terms of security, compartmentalization, and also browser fingerprinting. But it can be tricky and time-consuming.
For the truly paranoid and those seeking the highest levels of anonymity, chaining two or more VPNs is the way to go. You can chain as many VPNs as you like, but be aware that you'll take a performance hit. Nonetheless, I can routinely get around 70 Mbps chaining two different VPNs on a 100 Mbps connection with different locations around the country.
What devices can you use with a VPN?
A VPN can work with nearly any device that connects to the internet:
Computers – Whether you're running Windows, Mac OS, Linux, or even a Chromebook, you will be able to use a VPN on your computer. Installation and setup options will depend on the VPN service you go with.
Phones and tablets – VPNs are also very popular on phones and tablets. Whether you are running Android or iOS, you will be able to use your VPN on any smart phone or tablet. Ubuntu Touch should also work with a VPN.
Routers – When you install the VPN on your router, all the devices that connect to your router will be using the encrypted VPN tunnel – without the need to install VPN software on each device. The router will only count as one VPN connection under your subscription, even if there are numerous devices using the router's encrypted VPN connection. There are some important considerations before you do this – see my VPN router guide for setup tips.
TV boxes – Most TV boxes are built on the Android operating system. This means that you can install a VPN on your TV box using your VPN service's Android app. Check with your VPN provider for instructions.
Smart TVs – Whether or not you can use a VPN on your smart TV will depend on the type of smart TV you have and whether your VPN supports it. Android-based smart TVs can use an Android VPN app. Samsung smart TVs can be used with the ExpressVPN MediaStreamer feature.
Fire Stick and Fire TV – VPNs can also be used on Fire Stick and Fire TV. For more information, see the best VPN for Firestick and Fire TV guide.
Comparison Table of the Top VPNs for 2020
This concludes the best VPN report with the latest test results.
The table below highlights the top-rated VPNs that met all of our criteria. These services passed all tests with no data leaks, offer good speeds, reliable VPN apps, and strong encryption standards. Additionally, they are located in safe privacy jurisdictions and have an established track record and good reputation.
Stay safe, secure, and private in 2020 and beyond!
---
---
---
---
---
---
---
---
---
---
Last updated on October 5, 2020.