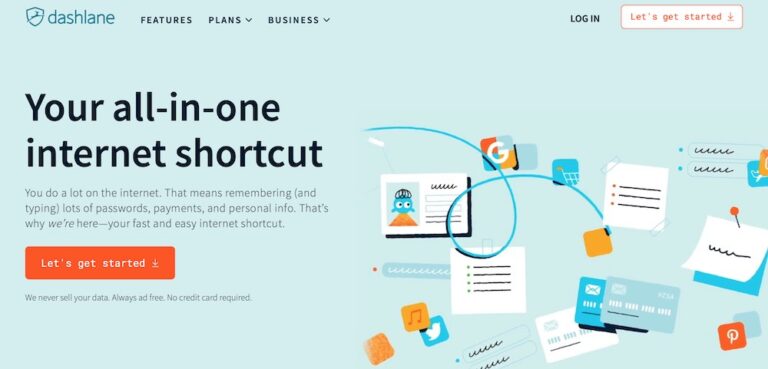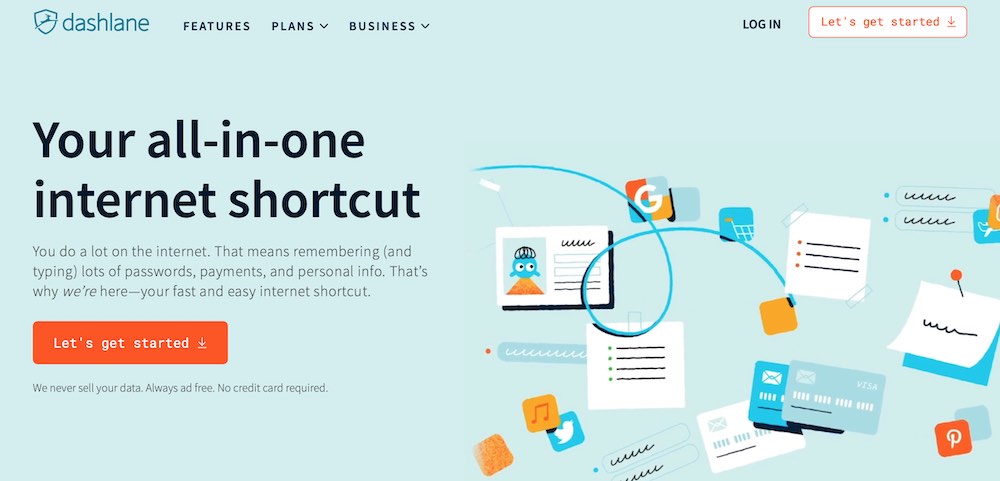 Are you willing to pay a bit more for a capable, feature-rich password manager? Dashlane fits that description, going above and beyond the competition by packing in a VPN, Credit Monitoring, and other features that aren't normally associated with password managers.
Dashlane is a well-known password manager that has been around for years. Here's a quick summary of the pros and cons:
+ Pros
Passwords encrypted locally
Passwords stored in cloud and on your device
Free and paid plans
VPN for extra security
Encrypted file storage
Dark Web monitoring
Supports 2FA
Complies with GDPR and CCPA
Data encrypted in transit and at rest
Automatic password updates with many popular sites
Secure password sharing
Supports all major platforms and apps
Includes many extra features
– Cons
You must provide valid email address
Based in, and data stored in, USA
No telephone support
May collect and share some user data
May disclose user data
No account recovery feature
No multi-factor authentication
No published audit results
No family plans
Now let's get into the details of this Dashlane review.
Dashlane feature summary
Here's a quick summary of the full set of Dashlane features, some of which are only available on one or the other of the paid versions of the product:
Supported platforms include Windows, macOS, Linux, Android, iOS, web, major browsers
Secure Password Generation, Sharing, and Changing
Secure Notes
Form and Payment Autofill
2FA and TOTP Support
Password Import/Export
Data is encrypted on your device
Data encrypted in transit and at rest with AES-256, Argon2
1GB encrypted file storage (50MB max for individual files)
Synchronizes across all your devices and browsers
Reports & Analysis
Security Alerts
Inbox Scanning
Credit Monitoring
Dark Web Monitoring
Receipt Capture
Identity Theft Insurance / Identity Restoration Support
VPN
Dashlane core features (available with free plans)
Here are the core features of Dashlane, the ones that you have access to in the free versions of the product. You have the ability to:
Store up to 50 Passwords
Usable on One Device
Secure Notes
Form and Payment Autofill
Basic Two Factor Authentication (2FA)
Securely generate and change passwords
Securely share passwords with 5 Accounts
Security Alerts
Import and export passwords
Note: I'll cover the other versions of Dashlane and their additional features a bit later in this review. Right now I want to talk about some factors that will help you decide whether to learn more about Dashlane or not.
Company information and background
Dashlane is a venture-funded company that has reportedly raised over $200 million in venture funding over the years, and passed 10 million users in 2018. This gives them the size and resources to support even the largest customers, a characteristic that many of their competitors lack.
The company is based in New York City, USA. This is unfortunate, since it puts them in Five Eyes territory. The Five Eyes Alliance (FVEY) is a major intelligence gathering and sharing alliance, with the United States at its heart. Many privacy advocates advise against using services that are based in any of the FVEY countries.
Terms of Service
I reviewed the Dashlane Terms of Service (TOS) that were updated December 1, 2019 (the most current as of the date of this review). I appreciate the way Dashlane included a small, "plain English" explanation at the top of each section of the TOS, since the document itself is long and heavy on legalese.
Despite being long and detailed, the TOS was rather vague in a few areas that are important to people who value their privacy. Under Usage Information, they state that:
Dashlane owns all data regarding installation, registration, and the use and performance of the Services, including usage statistics and activity logs, (collectively, "Usage Information"). Usage Information does not include any personally identifiable information.
It isn't clear what data is included in Dashlane usage statistics and activity logs. Nor whether they apply to the VPN as well as the password management elements of the product. What I do know is that the best privacy-oriented VPN services, such as ExpressVPN and NordVPN, categorically state that they do not keep any usage statistics or activity logs.
Finally, under Cooperation, Dashlane states that:
Nothing in these Terms limits our right to cooperate with authorities.
You can see the complete Dashlane TOS here.
Dashlane Privacy Policy
The Dashlane Privacy Policy is likewise long and difficult. They need to comply with US laws, as well as European Union (GDPR) and the California Consumer Privacy Act, so that's no surprise.
The company says they try to collect the minimum amount of User Personal Information (Personally Identifiable Information or PII) they can. This includes your email address and your phone number (if you choose to provide it). They are clear that they do not know your master password and cannot decrypt the data you store in Dashlane.
However, there are cases where they will record more PII than this. If you sign up for a paid plan, Dashlane stores the expiration date of your credit card as well as the last four digits of that card. They also state that,
Depending on the provider, we may able to access the name, address and phone number associated with a payment method on the payment provider service, but complete credit card information is available only to our payment processors.
I'm not sure why a payment provider would pass this data to Dashlane. I'm also not thrilled that Dashlane doesn't say anything about what they do with such data if it is accessible.
Add in the data about your connection that they automatically gather, operating system name and version, device identifier, browser type, browser language, and IP address, and they will be able to create a pretty detailed profile for you.
Because the company is based in the United States, they are subject to US law, and easily accessible to US intelligence agencies. Legally, Dashlane can be compelled to give up whatever information they have on you, and as they point out in the TOS, they have the right to give up any information about you voluntarily. They can also disclose your personal data where they believe it is necessary to protect their rights or the services.
If any of these issues concerns you, you can get all the details in the Dashlane Privacy Policy.
Dashlane security audits?
Dashlane has a patented security architecture and states that "all our products are audited regularly and by different security auditors." However, I could not find any published audit results. The closest I came was a 2016 paper by a group of students at MIT, who found no major vulnerabilities.
Dashlane apps
Dashlane will work on all major operating systems and web browsers.
They support Windows and Mac OS, as well as Linux machines and Chromebook. The support for Linux and Chromebooks is via browser extensions, not native apps.
They have clients for the newer versions of iOS (12.2 and above) and Android (6 and above).
When it comes to browser extensions, Dashlane officially supports Chrome, Firefox, Safari, Edge (but works just fine with Brave and Opera).
Dashlane also offers a web app that runs with all the major browsers, except Chrome.
Assuming you are running one of the paid versions of Dashlane, your data will automatically stay synced across all these clients.
Dashlane hands-on testing
For this Dashlane review I selected the Free Plan and installed it on a computer running Microsoft Windows and Google Chrome. As is usually the case, I recommend you start with the Free version of any password manager and give yourself some time to really get the feel of it before committing to a paid plan. This is particularly true with Dashlane, as their paid plans are among the most expensive out there.
Installing Dashlane
The Dashlane installer installed the Dashlane Desktop app without issues. Then, it guided me through creating an account and installing the Dashlane Browser Extension for Google Chrome. The process works well, and Dashlane guides you through everything to make the process as easy as possible.
Note: The Dashlane Desktop app installed as a free 30-day trial of the Premium Plan, rather than the Free Plan, so some of the features you experience now will disappear in a few weeks if you decide to stick with the Free Plan.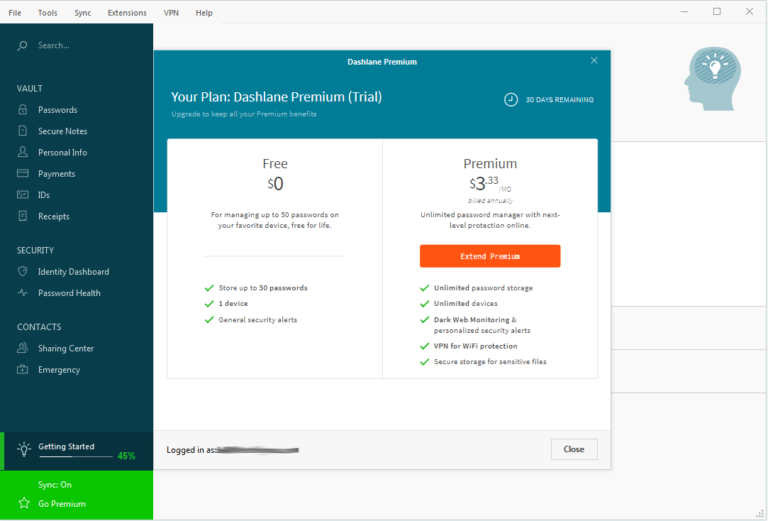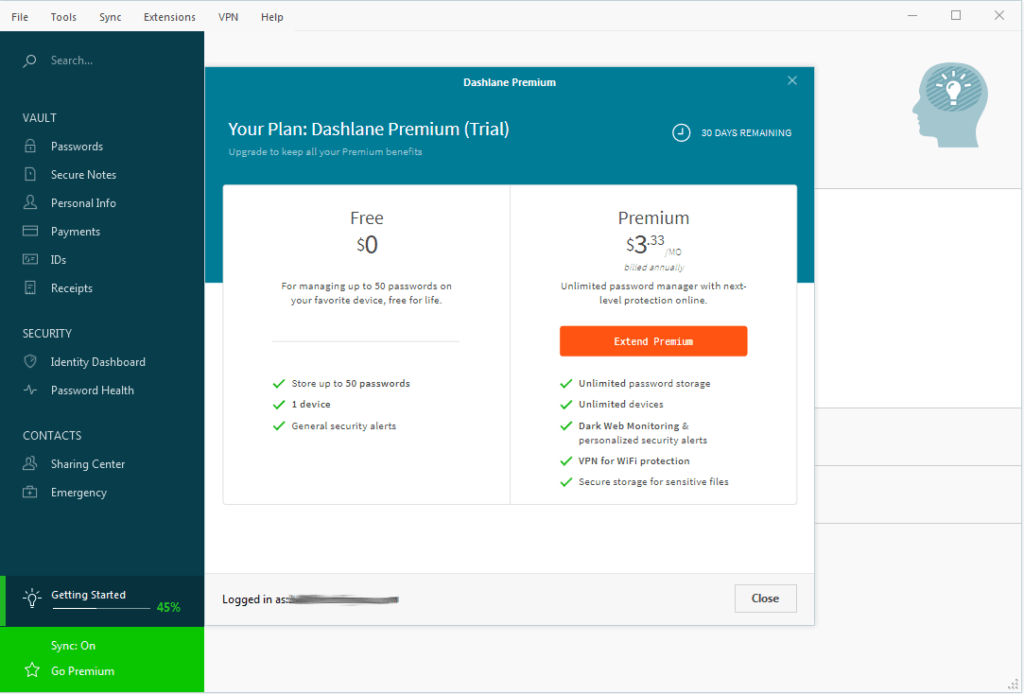 You'll need to enter a username, password, and a valid email address to complete the account creation process. Dashlane will send a confirmation message to that address, and once you reply to that you will be ready to go.
If you want to increase the security of your passwords, you can enable basic two-factor authentication (2FA) on your account. The Premium versions of Dashlane gives you additional 2FA options. You can also see the details on how Dashlane implements 2FA.
Importing passwords and other data to Dashlane
Once you have your account, you need to get your passwords and other data into Dashlane. You could do it manually, but you don't have to. Dashlane knows how to import your passwords from many sources.
Dashlane can import passwords and other data from:
Chrome
Firefox
Internet Explorer
LastPass
1Password
Roboform
PasswordWallet
KeePass
To import from one of these, open the File menu in the Dashlane Desktop app and select Import Passwords. The app will walk you through the process.
If your passwords are stored someplace else, don't panic. Dashlane can also import passwords using a Custom CSV file. If this applies to you, this page will tell you how to make it happen.
Manually entering passwords and data into Dashlane
If you do want or need to enter some passwords manually, you'll be doing it through the Desktop app as well.
Note: We'll look at adding passwords here, but the process is basically the same for anything else you might want to store in Dashlane. Dashlane gives you a good set of folders for storing information, which you can see below.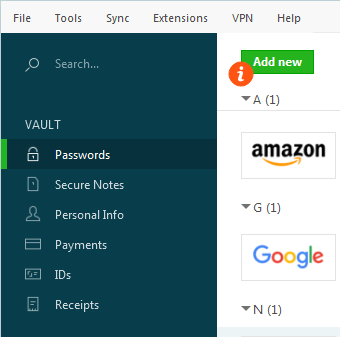 In the menu on the left side of the app, click Passwords in the Vault section. Then just hit the Add new button to add the password data by hand. If this is the first time you've gone through the process in the app, you can click the orange circle with the letter "i" in it (as seen in the previous image) to be guided through the process.
Letting Dashlane capture a password itself
The final way to add credentials is to log into a page with the browser. Once you enter the username and password, and log into the site, Dashlane will recognize what you are doing, and offer to add that information to the vault, like this: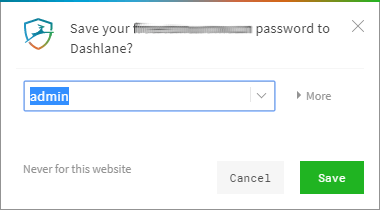 While Dashlane is good at this, no password manager can capture information from 100% of the sites out there. So don't get upset if Dashlane sometimes fails to get it right and you need to enter the data for a particular site manually.
Working with your passwords
Once you add some passwords to Dashlane, you can open the browser extension and see what's in your vault. It will look something like this: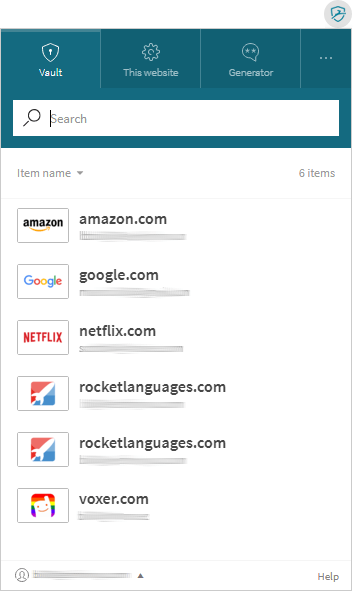 This is one place where Dashlane can feel kind of clumsy. You need to work with different components of Dashlane depending on what you want to do. Here's what I mean:
The browser extension only gives you access to passwords.
The web version of the app gives you access to Passwords, Secure Notes, Personal Info, and Payments: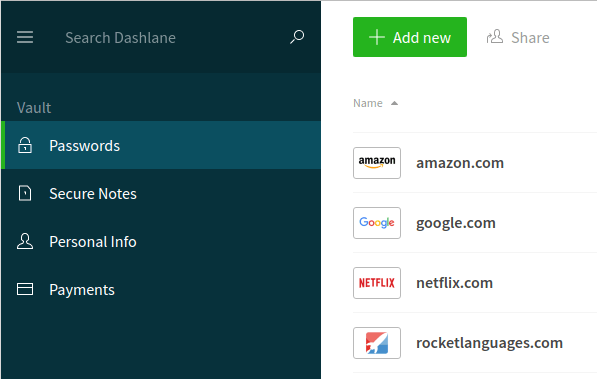 The desktop client gives you all of those, plus IDs and Receipts as we saw earlier.
Dashlane password generator
One of the best things about password managers is that they allow you to use strong passwords without having to memorize a complex sequence like the password in the following image: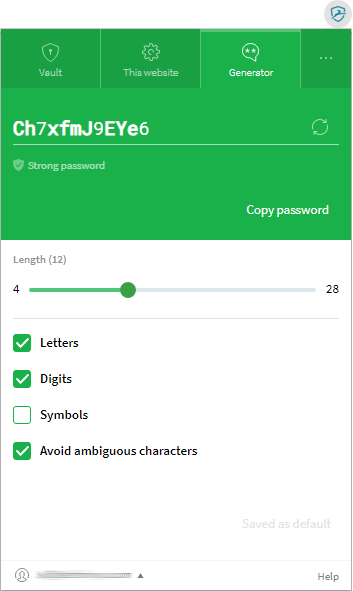 Dashlane includes a configurable password generator. As you can see above, you can control the use of letters, digits, symbols, length, and use of ambiguous characters.
The Dashlane password generator isn't as configurable as the one in some of the competition, but it certainly does the job. I would, however, suggest increasing the length of the passwords it generates. I recommend creating passwords with a minimum length of 16, for added difficulty in cracking them.
Editing your data
Dashlane is similar to Bitwarden in that it stores an encrypted copy of your data on each device as well as keeping a copy in the cloud (on Dashlane's servers). This arrangement makes it easy to keep all your devices synchronized. Each device syncs with the copy of your data living on the Dashlane servers. You can log into your account from any device, and your passwords and other data get synchronized automatically.
But what happens if your device can't connect to the servers for a while? Something could change on the disconnected device or one of your other devices without the change getting synchronized across all of them. Once the connection was restored to the disconnected device, Dashlane would be confronted with two different versions of the same item.
Some password managers deal with this potential problem by preventing you from changing the data on your device when it can't talk to the central servers. When I tested this on Dashlane, I was able to make changes to the data in the disconnected device.
When I reconnected the device to the Internet, Dashlane picked up on the change. But Dashlane didn't reject the change because it occurred when the device was offline. Nor did it force the change onto the rest of the devices.
Instead, Dashlane generated a new entry for the changed password and added it to the Vault. In effect, Dashlane said to me, "You created this mess by making changes that I couldn't sync. Now you fix it!"
Depending on your point of view, the way Dashlane handled this could be better than the competitors who block all changes on a disconnected device. But is is definitely something you should know about. If you do run into the problem of duplicate entries, this Dashlane Help page tells you how to fix the problem.
Dashlane in action
Once you are done with all the preliminaries you are ready to put Dashlane to work. Whenever you visit a web page that Dashlane has data for, it will display the Dashlane icon in any of the date fields it "knows." Click the icon to fill all the relevant fields.
If you have more than one password for this page (multiple email accounts with the same provider for example) Dashlane will display a list of the information it has for that page. Select one of the options and Dashlane will fill the appropriate fields on the page.
Additional Dashlane features
We've touched on the basics, but Dashlane has far more to offer. Some of these additional features are common to other password managers, and some are unique. To get access to most of these after your 30-day trial, you'll need to upgrade to one of the paid Dashlane plans.
To help you out, I've included short descriptions of the coolest or most unique features, and listed the Dashlane Plans they are included in.
Sharing passwords (all plans)
While the free Dashlane plan has some real limitations, it does allow you to share passwords with another user. Here are the limits:
Free plan: share five password accounts
Paid plans: no limits on the number of passwords you can share
1 GB secure file storage (paid plans)
Paid versions of Dashlane give you 1GB of encrypted file storage, with individual files limited to 50MB in size. To use this storage space, you create a Secure Note in Dashlane. You can attach one or more files to a Secure Note, which gives you a way to logically organize the documents. The documents you attach to a Secure Note are encrypted and synced throughout Dashlane just like your passwords and other data.
Password health analysis and fixes (all plans)
Dashlane's Password Health analysis scans your passwords looking for problems that you can fix. If the analysis finds problems, you can use the Password Generator and Password Changer to eliminate the problems quickly.
Emergency contact access (all plans)
If something were to happen to you, Dashlane's Emergency Contact feature provides a solution for others to retrieve your passwords. You can designate another person who can access your Passwords and Secure Notes if you can't do it yourself. Setting this up takes a little work, but would be well worth it if something bad were to happen.
You can see the details on setting up Emergency Contact access on this page.
Dark web monitoring (paid plans)
Online databases are constantly getting hacked and breached, potentially exposing our personal data to all sorts of bad guys. Dark Web monitoring is Dashlane's answer to the problem. They scan the Internet (specifically the portion known as the Dark Web) looking to see if any of your email addresses appear there. If so, they send you an alert so you can deal with the problem before some creep takes advantage of it.
For more on Dark Web Monitoring, including the steps Dashlane takes to ensure that your data is safe while scanning for problems, see here.
VPN service (premium plans only)
A VPN helps protect your privacy when using the internet (see What is VPN). Dashlane provides paid Premium Plan users with access to the Hotspot Shield VPN service. They recommend that you connect to the VPN whenever you feel the need for additional privacy protection. Using a VPN is particularly important when using public WiFi hotspots, as these are often targeted by hackers and other unsavory characters.
Unfortunately, Hotspot Shield is certainly not the best VPN service and has been involved in lots of controversy:
It was directly identified in an academic paper for "actively injecting JavaScript codes using iframes for advertising and tracking purposes" with their Android VPN app.
Hotspot Shield also made headlines for leaving its users vulnerable to having their location exposed, as explained here.
Overall, VPNs are a very important privacy tool to keep your data safe, but I would consider other options, rather than using Hotspot Shield through Dashlane.
Credit monitoring (premium plus plan, US only)
Do you live in the United States and have the Premium Plus Plan? If so, Dashlane has a deal that allows you to monitor your credit score and credit history at TransUnion, one of the big three credit monitoring agencies. Once you set this up, you'll be able to check your credit score and history through the Identity Dashboard in the Dashlane desktop and mobile apps.
However, as we noted in the identify theft guide, you can check this for free yourself.
Identity restoration service and identity theft insurance (premium plus plan, US only)
The Dashlane Identity Dashboard is also the place to go if you are Premium Plus Plan member living in the United States. If you think you are a victim of identity theft, you can go here to connect to specialists at TransUnion who can work with you to resolve the problem. If you think you have suffered losses due to the theft, you can also speak to agents at AIG insurance who can help you file an insurance claim.
While Credit Monitoring, Identity Restoration, and Identity Theft Insurance are only marginally related to password management, you may find it convenient to have these services bundled with your Dashlane subscription.
Dashlane support
Dashlane offers live chat support Monday through Friday, from 9AM to 6PM, EST. They also offer email support and a useful Support Page. They don't offer phone support.
I have not had any problems with Dashlane Support. However, searching consumer review sites like the Better Business Bureau (BBB), and Trustpilot gave the Support team very mixed reviews.
How secure and private is Dashlane?
Let's talk about how well Dashlane protects your security and privacy. Let's start with security.
I have no doubts about Dashlane's security. Your data is encrypted using AES-256 and Argon2 before leaving your device, encrypted in transit between your device and the Dashlane servers, and encrypted while at rest on their servers. The US Government uses AES-256 encryption to protect Top Secret data, and I've not heard of anyone cracking this encryption scheme.
Things are less clear when it comes to your privacy. Dashlane does collect some personal data, and they may share it with third parties. They state right out that they can and will disclose the personal data they have on you when they think they need to. And because they are based in the United States, even if they don't want to, they can be forced by the US Government to try to gather and share additional personal data. Since only parts of Dashlane's code are Open Source, all we can do is trust them.
That said, remember that all the data you store in Dashlane is encrypted on your device, and remains encrypted on Dashlane's servers. They state that they don't have access to your password and can't decode your data.
Given all that, the privacy risk with Dashlane seems similar to that of any other product based in the United States.
Dashlane prices
The great features and benefits of Dashlane come at a price; depending on the plan you choose, this can turn out to be one of the most expensive password managers out there.
Dashlane free plan
While there is a Free Plan, it is crippled in that it only stores a total of 50 passwords on one device. If you don't do much online, those specs might be sufficient for you:

In my opinion, the Free Plan is really best viewed as a trial version of Dashlane. You can use it for a while to see what you think without risking any money.
For most people the Free Plan won't be enough. You'll need to store more than 50 passwords. Or you'll have more than one device to protect. Or you'll want some of the features that are only available in paid plans.
Dashlane Premium plan
The next step up is the Premium Plan. Happily, the folks at Dashlane cut the price on this plan. The Premium Plan used to run $4.99/month; the price is now $3.33/month. Because the Dashlane Premium Plan is billed annually, that means the upfront price you pay for Premium has dropped from $59.88 annually to $39.96 annually. This makes Dashlane a much more competitive product, pricewise.
The premium plan does away with the limitations on the number of passwords and will sync all your devices, not just one. You also get the Dark Web Monitoring and VPN, unlimited password sharing, additional authentication capabilities, and more.
Dashlane Premium Plus plan
If you live in the United States you can go one step further and invest in the Premium Plus Plan. It gives you everything in the Premium Plan, and adds:
Credit Monitoring
Identity Restoration Support
Identity Theft Insurance
The Premium Plus Plan does indeed give you premium features, but you will have to pay a premium price for them. This plan runs $9.99/month, and like the Premium Plan, is billed annually. That comes out to $119.88, so make sure the Plus features are really worth $80/year more to you before you go Premium Plus.
For a detailed comparison of the Free Plan vs Premium and Premium Plus Plans, you can see this page.
Dashlane Business plan
The Dashlane Business plan gives you all the features of the Premium plan except the VPN. If you are looking for a Business plan, presumably you have your own VPN solution in place (if not, you should probably check out our list of the best VPN services).
In addition to the Premium features, the Business Plan gives you Dashlane Smart Spaces, a nice way to organize your Dashlane data into work and personal spaces, an Admin Console, and other business-oriented features.
The price is $4.00/per user/per month, which is not at all excessive amongst business-oriented password manager plans. You can get a full rundown on the Business plan here.
Dashlane alternatives
What if you don't like Dashlane for some reason? Perhaps you don't need all the Premium features, but the Free Plan is too limited for your situation. In this case, I suggest you consider LastPass or Bitwarden. All three products are based in the United States. Both LastPass and Bitwarden have free versions like Dashlane, but they are not limited the way Dashlane is.
LastPass is powerful and good looking, with lots of additional features. It is somewhat less expensive than Dashlane, but doesn't offer a VPN or the credit management tools of Dashlane. Also, LastPass is not Open Source.
Bitwarden takes a slightly different tack. It doesn't have some of the features of the other two, and is probably less suited to Enterprise clients than either of them. On the other hand, Bitwarden is fast and attractive, completely Open Source, and a price tag of only $10 per year for their Premium plan.
Dashlane review conclusion
Is Dashlane the best password manager for you? It definitely has a lot going for it. It is one of the most feature-rich products you'll find in this space. It is attractive, with support for all the devices and browsers you are likely to use. And the price for the Premium Plan is much more reasonable, since the price adjustments. On the other hand…
The Free Plan is far inferior to those offered by competitors like LastPass or Bitwarden. And you may not want to pay a premium price for features like Credit monitoring or Identity Theft Insurance. This is particularly true for the VPN service (Hotspot Shield), which has a spotty track record.
Speaking of privacy, if your privacy is a top concern, you might not like the idea that Dashlane is based in the United States, the home of Five Eyes and other international intelligence organizations.
However, if you don't mind the price, or the fact that it is based in United States, Dashlane has potential. I urge you to start with the Free Plan, and really give this premium password manager a test drive before buying. With so many capable, (and lower-priced) password managers on the market, you have lots of options to choose from. You can check out the Free Plan here.
See our main password manager guide for more info on this topic.
Lastly, here are some other password manager reviews you may want to check out: