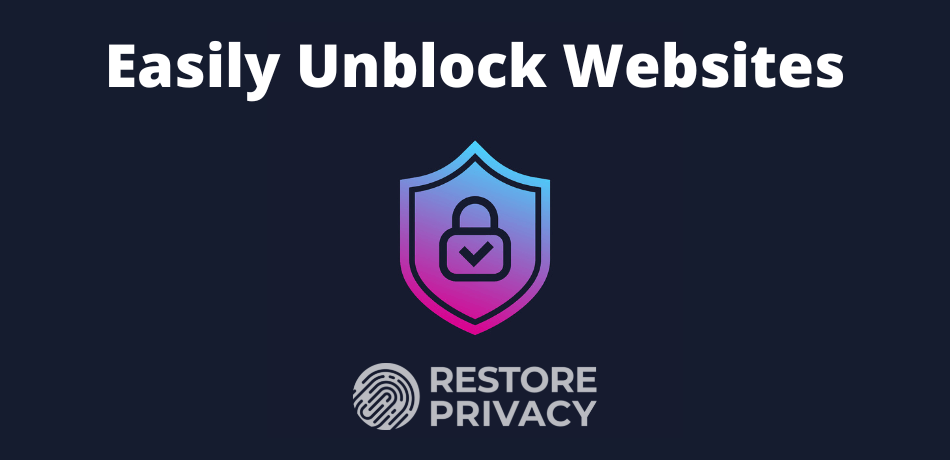 Internet providers, governments, and big tech companies throughout the world are now blocking access to various types of websites, for many different reasons. And you are here because you're looking for easy solutions to unblock websites from anywhere in the world. This guide will give you easy solutions, no matter where you happen to be located.
So who is blocking websites and why?
The answer to this question is complex and there are many different factors at play, but here's a quick overview of the situation:
Governments: Many governments, particularly in China and the Gulf Arab States, block websites that contain information politicians consider false, dangerous, or simply unflattering for the country, its policies, or the government. This is also the case in Russia — and we even have a dedicated guide on how to unblock websites in Russia.
Media companies: Many streaming media companies block access to websites from outside a specific geographic area. A publisher can license their content to a streaming media company that serves a specific geographic region. One of the terms of the license is usually a requirement to limit distribution of the content to a certain geographic area.
Big Tech – Big Tech is in on the game too. Whether it's Google and YouTube (which is owned by Google) or Facebook and company, these companies are increasingly blocking websites and restricting content, for various reasons. Twitter does the same, along with other social media sites.
Website blocking is a big and growing problem for anyone who wants access to information. You know, like the internet used to be back in the day.
In this guide we will show you how to quickly, safely, and easily unblock websites. We'll first examine how websites get blocked, then we'll run through a big list of tricks and techniques you can try if you want to unblock a particular website. We'll wrap up this guide with an Unblock websites FAQ.
Are you ready to do battle against Internet censorship? Let's go.
WARNING: The Internet is infested with dangerous "unblock proxy" websites that promise to help you unblock the site you are interested in, often free of charge. In the majority of cases, using one of these sites is a really bad idea.
In 2015 security expert Christian Haschek examined over 400 different proxy services for unblocking websites. He found that 79% of them were dangerous for one reason or another. Other researchers have found similar levels and types of risks with free VPN services.
As Tim Cook, CEO of Apple, said a few years ago,
…when an online service is free, you're not the customer. You're the product.
Or in many of the more egregious circumstances, the victim.
Unblock website guide – Table of Contents
In this guide we will cover the following topics:
How website blocking works
Why VPNs are the best tools for unblocking websites
Our recommendations for the best website unblocking VPNs
Other tricks and techniques to unblock websites
Unblock websites FAQ
Unblock websites conclusion
Let's talk about…
1. How website blocking works
The secret to blocking websites is the Internet Protocol address (usually called the "IP address"). Everything on the Internet has an IP address assigned to it. That address uniquely identifies every device connected to the Internet, including the physical location of that device.
Note: While it is often said that an IP address uniquely identifies every computer or other device connected to the Internet, that isn't actually true. For example, your home router is assigned a unique IP address, but the individual Internet-connected devices in your home have addresses that are relative to that node. For simplicity, we too will treat each device as having its own unique IP address, since that simplification won't impact the explanation that follows.
Because each device's IP address includes the general location of the device, it can be used to block your device's access to a website based on where in the world you are located.
When you try to connect to a geoblocked website, the site examines your IP address to determine whether you are allowed to make the connection or not.
2. Why a VPN is the best tool for unblocking websites
A VPN (virtual private network) protects your privacy by hiding your actual IP address from the world. When you connect to a VPN server, one of its functions is to strip your actual IP address from the messages you send, and replace it with the IP address of the VPN server. This works great for protecting your privacy, hiding your location and ISP-assigned (real) IP address.
But you can use this VPN privacy function another way. Since you have control over which VPN servers you connect to, you can choose to connect to a server located inside the geoblocked area before trying to connect to a blocked website. This is known as geo-spoofing, or "spoofing" your digital location.
When the geoblocked website checks your IP address, it will think that you are located inside the blockade, and should unblock the website for you.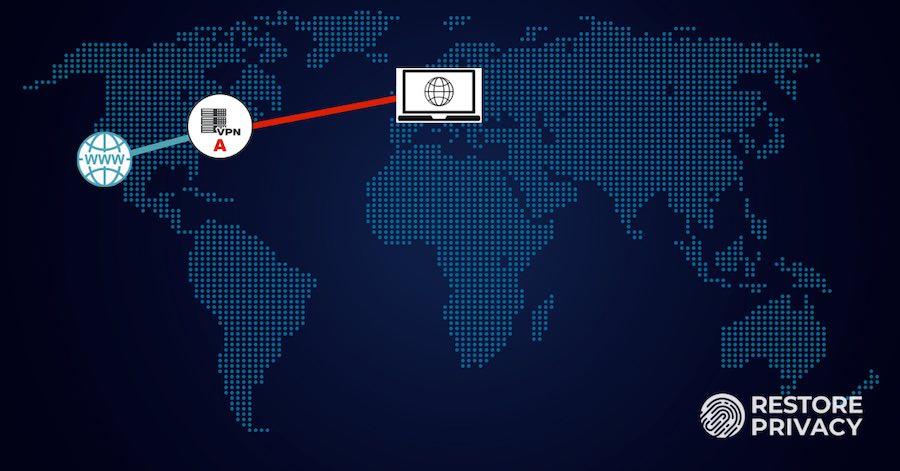 In addition to helping you defeat geoblocking, using a VPN can help you in the case where the censorship is caused by your local internet service provider (ISP). A VPN does more than hide your real IP address from the outside world. It also keeps your ISP from knowing what you are doing.
A VPN uses powerful encryption and other techniques to create a connection that acts like a tunnel from your device, through the Internet, to the VPN server you are connected to.
This encrypted tunnel prevents any outside observer, including your ISP, from knowing what websites you are visiting. All they can tell is that you are connected to a VPN, not what websites you are visiting through the VPN. This leaves the ISP, governments, and other third parties no way to know if and when it should block your website access.

Please keep in mind that this was a highly-simplified explanation but it does illustrate why using a VPN is your best bet for access to blocked sites.
What if VPNs are blocked?
In some cases, VPNs can be blocked. For example, VPNs are largely blocked in China, and in some cases, on certain school or work networks. Fortunately, in these cases, there are some good solutions that allow you to get around VPN blocks.
The key is obfuscation, which is when the VPN obfuscates (hides) VPN traffic to appear as regular HTTPS encryption. The VPNs we recommend below all have obfuscation features. That means they will work, even in cases where internet service providers (or network admins) are attempting to block VPNs.
The obfuscation technique is the easy solution if you need a VPN for China or anywhere that VPNs may be blocked.
3. Our recommendations for the best website-unblocking VPNs
At this point you are probably wondering which are the best website unblocking VPNs. Based on the research and testing we did while conducting in-depth VPN Reviews, these are the top services to consider for unblocking websites:
---

---

---
---
Here is a quick overview of each service, from the perspective of unblocking websites:
1. NordVPN – Best VPN for unblocking websites in 2023
| | |
| --- | --- |
| VPN | NordVPN |
| Based in | Panama |
| Logs | No logs (audited) |
| Price | $3.19/mo. |
| Support | 24/7 live chat |
| Refund | 30 days |
| Website | NordVPN.com |
The best VPN for unblocking websites is currently NordVPN. Based in Panama (a great location for a pro-privacy service), NordVPN offers a range of advanced security and privacy features, including double-hop VPN servers, Tor-over-VPN servers, and CyberSec, a technology that blocks ads, malware, and assorted other evil crud from getting onto your system.
NordVPN is a great choice for unblocking all types of content around the world. It can unblock Netflix libraries from many parts of the world, and delivers high-speed streams from most content sources. NordVPN also earned our pick as the best VPN for torrenting, due to their fast performance in our most recent testing.
One of the reasons that NordVPN is so fast is because it supports the WireGuard VPN protocol. WireGuard is the latest in VPN technology and is consistently faster than other protocols, while also offering upgraded security. You can see this in the NordVPN vs ExpressVPN comparison, where NordVPN consistently outperformed the other VPN that did not have WireGuard.
To unblock websites consistently and quickly, your VPN needs to have a large, reliable server network. NordVPN delivers in that regard with 5,500+ servers located in 58 countries around the world. NordVPNs network consists of 10 Gbps bandwidth channels and all servers run in RAM-disk mode, a secure and no-logs configuration.
Lastly, NordVPN offers secure apps for Windows, macOS, Android, iOS, and Linux. Below is the the NordVPN desktop app we tested: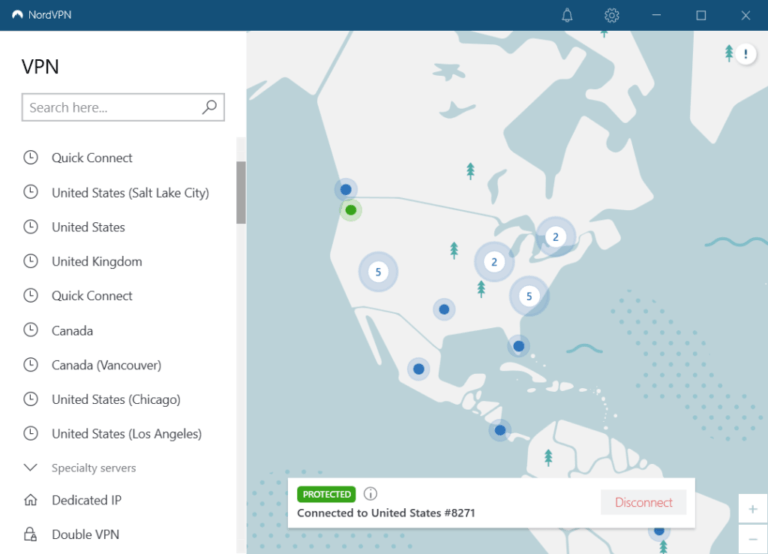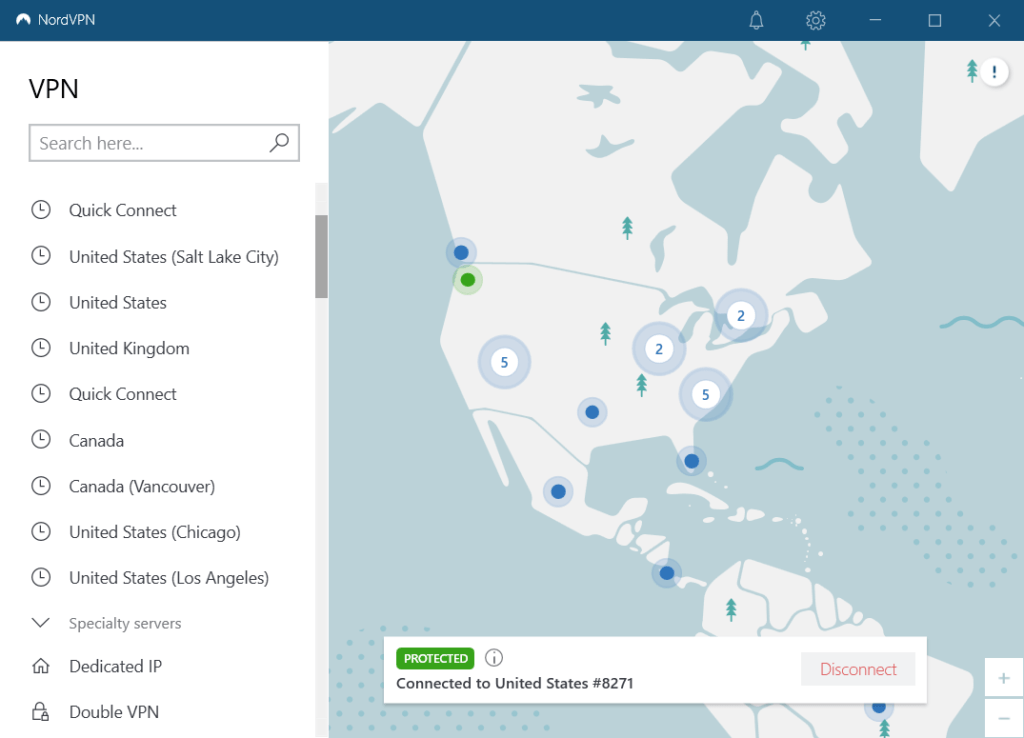 All NordVPN subscription plans come with a 30 day money-back guarantee. They also have 24/7 live chat support if you need any help getting things setup correctly.
+ Pros
User-friendly and reliable apps
Double-VPN and Tor-over-VPN servers
Passed numerous 3rd-party audits
Strong encryption standards with full support for WireGuard
Works with Netflix and many streaming sites
Threat Protection feature to block ads, trackers, and malware
Professional 24/7 live chat support
Consistently fast speeds
Dedicated RAM-servers with 10 Gbps bandwidth channels
– Cons
Big discounts only available with 2-year plans
NordVPN's Cyber Deal is live:

Get 68% Off NordVPN with the coupon below plus 3 months FREE, no activation code needed:
(Coupon is applied automatically; 30 day money-back guarantee.)
If you want more information on NordVPN's advanced features, or want to see those speedy test results for yourself, check it all out in our NordVPN review.
---
2. Surfshark VPN – A reliable and low-cost VPN to unblock websites
| | |
| --- | --- |
| VPN | Surfshark |
| Based in | The Netherlands |
| Logs | No logs |
| Price | $2.30/mo. |
| Support | 24/7 live chat |
| Refund | 30 days |
| Website | Surfshark.com |
Surfshark is another up-and-coming VPN that is growing in popularity. It is based in The Netherlands and delivers tons of features, fast speeds, and user-friendly apps for a very affordable price. If you want a fully-featured VPN to unblock websites anywhere, then Surfshark is a cheap VPN you should consider.
Surfshark also supports the Wireguard VPN protocol (like NordVPN). The speeds are similar, but NordVPN had a slight edge in the Surfshark vs NordVPN comparison tests. Surfshark also has about 3,200 servers in 63 countries, which gives you plenty of options for unblocking websites.
Surfshark also has some great privacy and security features. They have a CleanWeb feature, which is a VPN ad blocker that also filters trackers and malware. Surfshark also has Double VPN servers that encrypt traffic over two hops. All Surfshark VPN apps also include a VPN kill switch to block traffic if the connection drops for any reason.
Below is the Windows VPN app we tested from Surfshark. All of the apps performed well without any problems or crashes.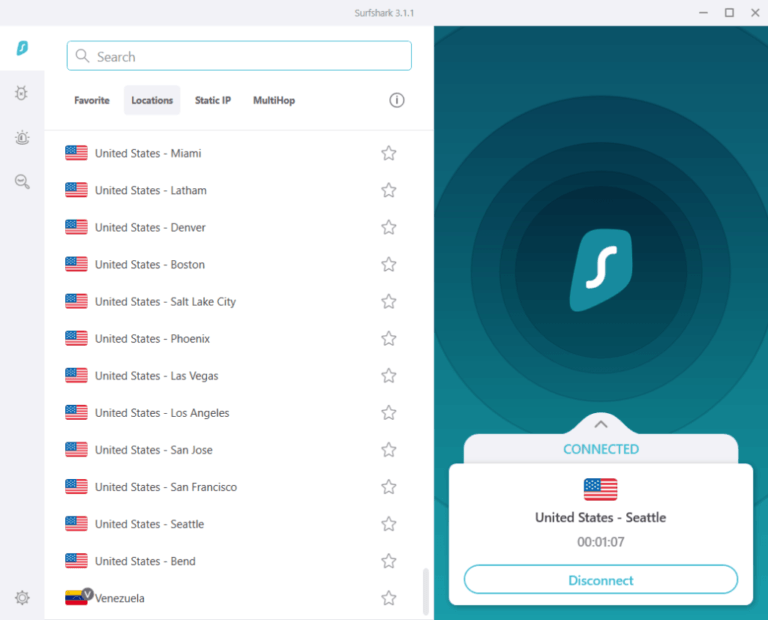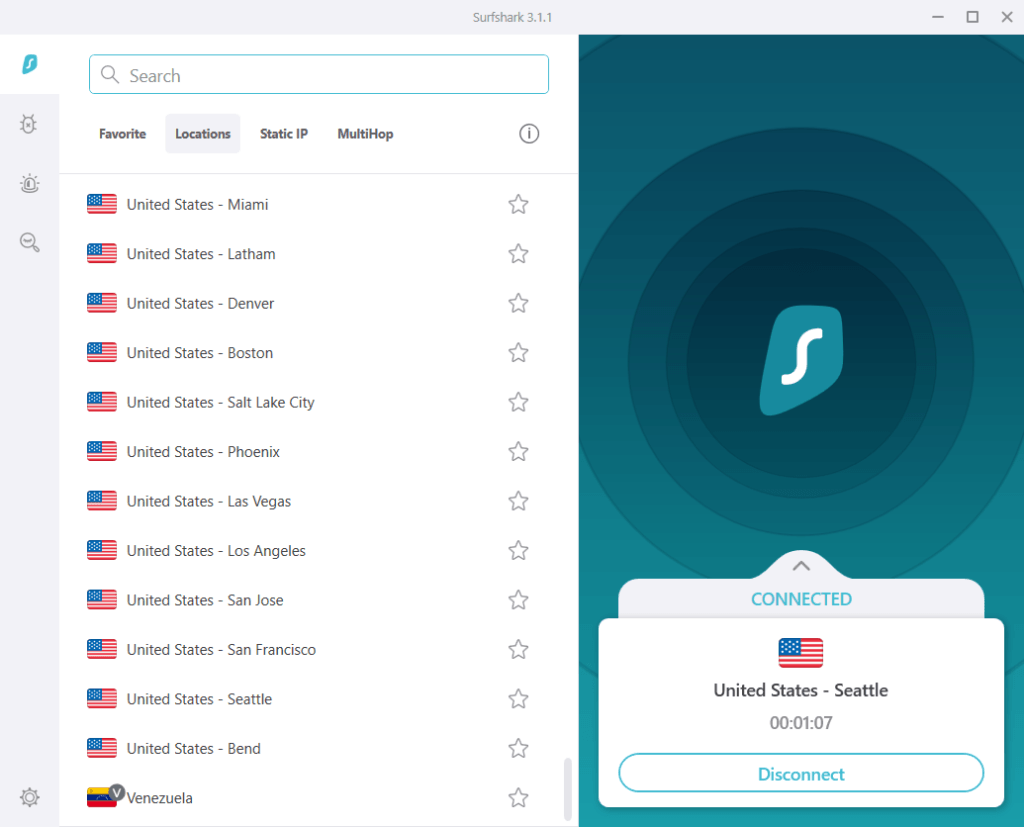 Surfshark also offers 24/7 live chat support and a 30 day money-back guarantee on all subscription plans.
+ Pros
Unlimited connections
User-friendly apps for all devices and operating systems
CleanWeb feature to block ads, trackers, and malware
Works great with Netflix and many other streaming services
24/7 live chat support
Strong encryption and security features (audited)
– Cons
Limited support for VPN routers
Above average monthly prices
Surfshark VPN Coupon:

Get 82% off Surfshark VPN (drops the price down to $2.30 per month) plus 2 months FREE:
(Coupon is applied automatically.)
Check out our Surfshark VPN review to learn more and see the test results.
---
3. ExpressVPN – Reliable VPN for unblocking websites
| | |
| --- | --- |
| VPN | ExpressVPN |
| Based in | British Virgin Islands |
| Logs | No logs (audited) |
| Price | $6.67/mo. |
| Support | 24/7 live chat |
| Refund | 30 days |
| Website | ExpressVPN.com |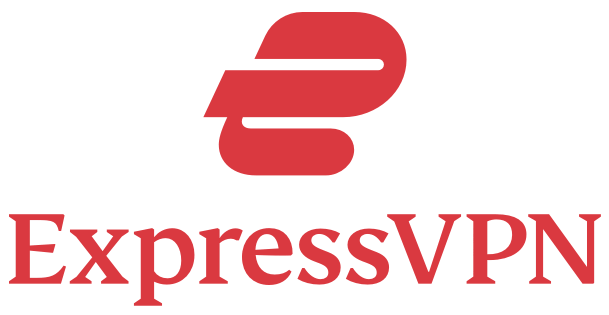 ExpressVPN is another great option for unblocking websites. This VPN is based in the British Virgin Islands (BVI), a great location for a privacy-oriented service.
But what about unblocking websites?
Yes, ExpressVPN excels at this too. Long known as one of the best VPNs for unblocking Netflix, ExpressVPN also does a great job of unblocking BBC iPlayer, YouTube, and other streaming services. Torrenting is also supported here, with ExpressVPN's strong security and privacy features helping you to stay hidden when necessary.
While ExpressVPN is faster than most VPN services, it is not the fastest VPN we have tested. One reason for this is that ExpressVPN has not adopted the WireGuard VPN protocol, which is a fast and new VPN protocol that is gaining popularity. Nonetheless, ExpressVPN does offer the Lightway protocol, which is similar to WireGuard, but not quite as fast.
With ExpressVPN, you will get access to a great selection of apps for Windows, macOS, iOS, Android, Linux, and even routers. They also have a dedicated app if you need a VPN for Firestick streaming. Below is the ExpressVPN Windows app we tested out — it performed well in our VPN tests.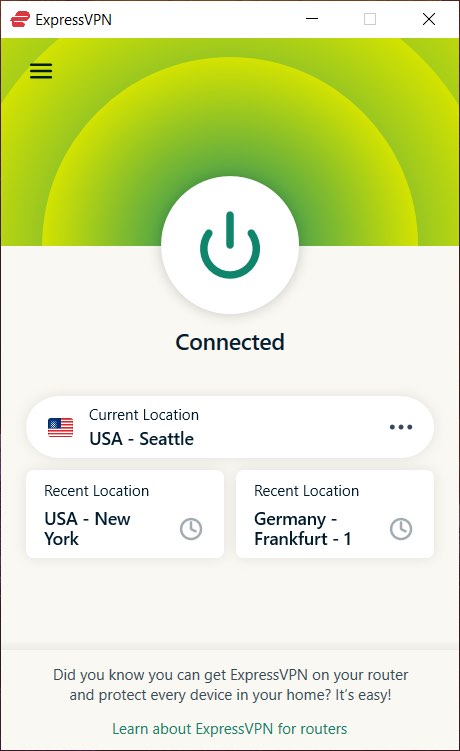 ExpressVPN plans come with a 30 day refund window and 24/7 live chat customer support.
+ Pros
User-friendly and secure apps
Split tunneling feature (for macOS, Windows, and routers)
Works with Netflix and most streaming services
24/7 live chat support
Passed independent third-party audits for security and no-logs
Very large server network
– Cons
Above-average prices
Fewer features
Average OpenVPN speeds (use Lightway)
Check out our ExpressVPN review for more information and test results.
---
VPN.ac – Flexible obfuscation to unblock banned sites
VPN.ac is a small virtual private network based in Romania, which has a solid reputation for protecting privacy. A particular strength is its ability to get past VPN censors with its flexible server obfuscation options. Nevertheless, VPN.ac is not recommended for viewing content from streaming media sites. That is not its purpose.
Note: VPN.ac also has a built-in ad blocker called SecureDNS and is on our list of the best ad blocker VPNs.
This strength of this VPN is its highly-customizable obfuscated servers. Instead of simply choosing whether to use an obfuscated server or not, with VPN.ac, you have impressive control over the Protocols and Ports that the obfuscated servers use. Going even one step further, VPN.ac has a set of servers that are pre-optimized to work for China other countries that try to block VPNs.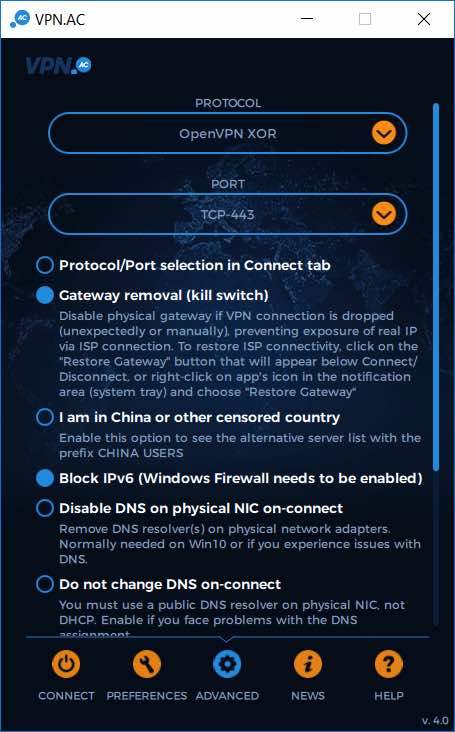 Other interesting VPN.ac features
Aside from the obfuscation features, VPN.ac has a few other things going for it. They are implementing WireGuard support in their apps (it is already available in their servers).
They don't have very many servers, only around 130 in 26 countries. Happily, each individual server is secure and powerful, and they add new servers when necessary to support their users. For additional security, they have 22 Multi-hop (double VPN) servers you can use.
+ Pros
Dedicated bare-metal servers with self-hosted encrypted DNS
Excellent speeds with plenty of available bandwidth
Multi-hop (double VPN) server configurations
Obfuscation features with many different encryption options
Secure proxy browser extensions
WireGuard VPN support
– Cons
Does not work well for streaming

Fewer features than other leading VPNs

Limited refund window (7 days)
Check out our VPN.ac review for more information and test results.
---
4. Other tricks and techniques to unblock websites
While we are adamant that a top VPN service is the best way to unblock websites, there are other techniques you can try if you aren't ready to spring for a VPN subscription. Here are several tips and techniques you can try for unblocking that website that is driving you crazy. We've arranged these options roughly in order of ease. That is, the ones at the top of the list are generally easier/faster to try than the ones at the bottom of the list.
So here's the easiest trick to try:
Change your IP address to access restricted content
The idea here is that your current IP address is blocked, but other ones from the same region may not be. Most ISPs use dynamic addressing. This means that the ISP assigns an IP address assigned to your router, and that this IP address changes periodically. Your currently-assigned IP address could be blocked because of bad behavior by a previous user or various other reasons. But you aren't stuck waiting around hoping that your ISP assigns you a different address soon. You can force the issue.
Changing your assigned IP address is easy: simply unplug your router for a minute, then plug it back in again. In most cases, your router will be assigned a new IP address while it is powering up and reconnecting to the system. Once it does, you can try that pesky blocked website again.
Another thing you can try here is to set up your phone as a mobile hotspot, then use its Internet connection to try the blocked site. This can get you around site blocking by your ISP, – unless of course your phone company is also in on the website blocking game.
This trick won't help you if you are trying to connect to a geoblocked resource like BBC iPlayer or Netflix. That's because they only unblock access for IP addresses in their geographic area. If you are not in that area, changing to a different IP address won't get you one in their area; it will just get you another one in your area.
Connect using the IP address instead of the URL
This technique relies on the fact that there is more than one way to tell your web browser what website you want to visit. The way we normally do it is we enter the URL of the site. URLs are human-readable forms of a web address, such as RestorePrivacy.com, or ExpressVPN.com. When you enter a URL like this, it gets passed to a particular DNS (Domain Name System) server, which turns the URL into an IP address, which is the machine-readable form of the Internet address. The IP address is what the Internet uses to connect you to the website you want.
One way to block you from visiting a website is to tell the DNS Server not to return a valid IP address when someone enters the blocked URL. Whoever is doing the blocking may only have set things up to block the URL, and not the IP address. If this is the situation, and you enter the IP address of the website into your browser, you should be able to connect directly to the blocked website.
The technique you use to find the IP address of a website varies depending on which operating system you are using. In Microsoft Windows, you would open the command prompt and enter tracert websitename.com (for example tracert restoreprivacy.com) to find the IP address of that site. In the following screen capture, the set of numbers in the square brackets 45.79.181.19 is the IP address of RestorePrivacy.com.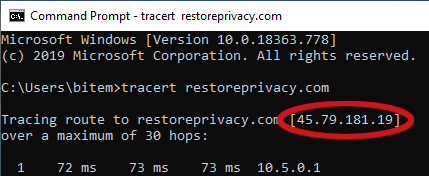 Other operating systems have similar commands for finding the IP address.
And speaking of Windows, if you want more privacy on this operating system, then see our Windows privacy guide.
Try a URL shortener
This trick also looks to bypass your ISP's DNS Server. In this case, the technique is to use a URL shortener site to evade any blocking in the DNS. Don't worry about the length of the URL that the shortener site creates. Its length is not important for this trick. This may or may not be shorter than the URL of the site you want to unblock. That doesn't matter. All you are trying to do is come up with a URL that gets past the censors to unblock the site you want to visit.
Here's how you do it:
Enter the URL of the blocked site into the shortener and generate a new URL.
Paste the URL generated by the shortener site into your web browser. With any luck, this will unblock the site for you.
Try the Wayback Machine to retrieve saved versions of the website
If the website you want to unblock is relatively popular, and you can live with a recent copy of the site, rather than a live connection to the actual site, this trick could be your salvation.
The Internet Archive Wayback Machine is an archive of much of the content on the Internet. With over 425 billion pages archived there is a good chance that copies of at least some of the pages of the blocked website you are interested in will be available here.
The Wayback Machine is super easy to use, too. Just go to the site, and enter the URL of the website you are interested in.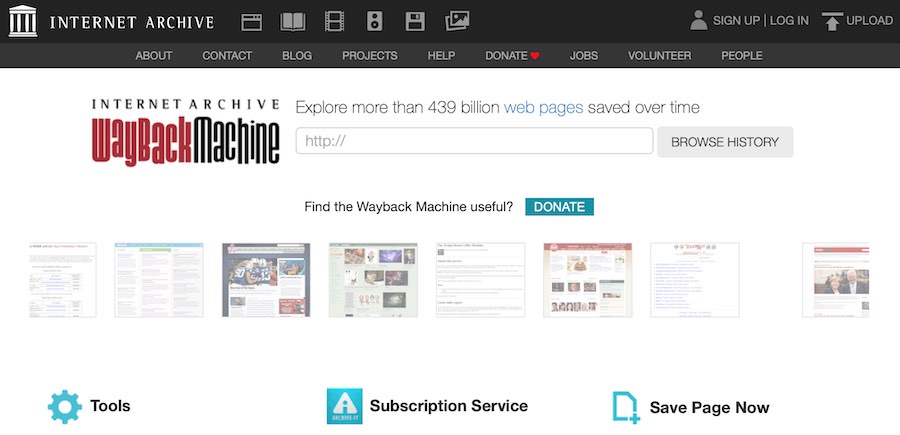 Once you get these results, you can hover the mouse over one of the circled dates to see how many snapshots the Wayback Machine took on that day. Open a snapshot by clicking on the time of day that the snapshot was taken. The Wayback Machine displays a copy of the site.
This approach doesn't unblock the website for you, Instead, it gives you access to whatever copies it made at the date and time.
Let Google Translate make the connection and unblock content
Here's a technique that can come in real handy if you are fluent in some language other than the one the blocked website is written in.
As its name implies, Google Translate is an automatic translation tool from Google. Censors may not think to block Google Translate's access to websites that are unreachable through normal means. Here's how you can take advantage of this mistake.
Go to the Google Translate web page.
On the left side, select the language the blocked website is written in. On the right side, select a language you know well that is not the same as the language of the blocked site.
On the left side of the translate window, enter the URL of the website you want to unblock.
On the right side of the window, click the Translate icon circled in red in the screenshot below.
With a bit of luck, Google Translate will display the translated version of the website.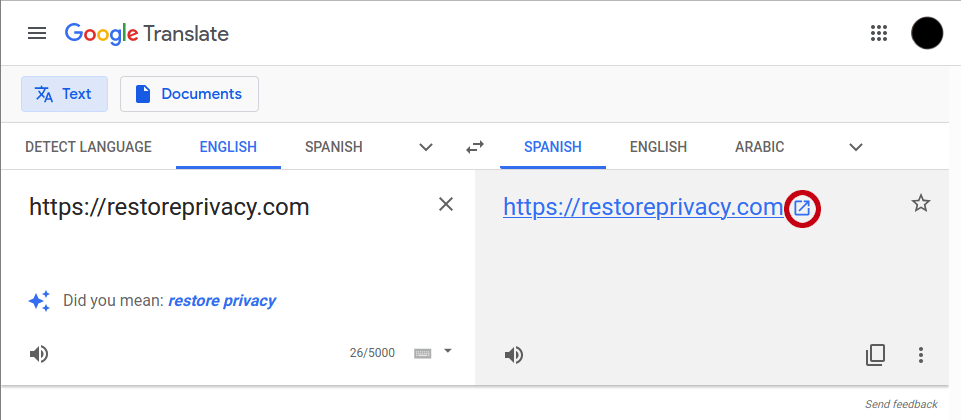 Keep in mind that no machine translation is perfect, and translating a blocked site in this way will introduce translation errors.
Look for an RSS feed
Are you old enough to remember using RSS feeds? Me either! Seriously though, RSS feeds may give you another way to effectively unblock websites.
RSS stands for Really Simple Syndication, or Rich Site Summary, or RDF Site Summary, depending on who you ask. Regardless of what RSS stands for it does is provide information from websites in a standardized form known as a feed. Most websites generate feeds automatically, and there is a reasonable chance that whoever is blocking the website you are interested in didn't block access to the RSS feed from that site.
RSS readers are (not surprisingly) apps that read and display feeds. The trick here is to enter the URL of the blocked website into an RSS reader and see if it finds an unblocked feed. Here's an example of an RSS feed displayed in Feedly, one of the most popular RSS readers:
Note: RSS feeds only show recent updates to a site, so even if this trick works, it won't give you full access to the blocked website.
Use a different DNS
As we discussed earlier, your DNS can be used to block websites. There we dealt with the problem and unblocked the website by entering the IP address of the website and bypassing the DNS Server entirely. For "once-in-a-while" website unblocking, that approach is fine. But if you have a lot of blocking problems, it might make more sense to switch to a new DNS Server, one which hopefully won't be in the business of blocking website access.
Typically, your router is hooked up to your ISP's DNS Server. This is less than ideal from every perspective. Depending on which ISP you are using, their DNS Server could (and probably will) be slow, unreliable, and busy recording every website you visit.
Unfortunately, third-party DNS also has some noteworthy drawbacks:
It's not private. Your IP address and location will remain exposed to the world. Simply replacing your DNS servers does not change any of that (you'll need a good VPN).
Your ISP can still see everything you are doing. That's right, even if you don't use your ISPs DNS servers, they can still see every website and IP address you visit. That's because third-party DNS does not encrypt your traffic. And the encrypted DNS solutions, such as DNS over HTTPS, will not solve this problem.
To read more about why third-party DNS is simply not a good solution for people who want privacy and security, just read this article:
Why encrypted DNS is ineffective
5. Unblock websites FAQ
Here are the answers to some of the most frequently asked questions about unblocking websites:
Why do websites get blocked and How do they block websites
There are numerous reasons that websites get blocked. Right now, the conflict in Ukraine has resulted in numerous governments and internet service providers blocking access to news and media websites that they feel are spreading "disinformation" — whatever that means. Of course, this is going on in both Russia, and most Western media as well.
Many internet service providers are also forced to block access to websites. A recent example of this in the United States was a court ruling that forces ISPs to block streaming websites.
As you can see, internet censorship is alive and well in much of the world. And this does not look to be changing anytime soon.
What is georestricted content?
Georestricted content is just content that is geographically restricted. In other words, this content can only be accessed from within a specific geographic region, and this is determined by one's IP address. Therefore by manipulating the IP address you broadcast online (which you can easily do with a VPN), you can easily access georestricted content and unblock sites you want to visit.
Is it legal to unblock sites and access restricted content?
Unfortunately, we can't give a guaranteed answer on this one, and we are not lawyers.
Even if we were intellectual property lawyers, it would be impossible for us to keep up with the laws in all 200+ countries of the world. In some repressive countries like China, Russia, and Iran, it may be illegal to unblock certain websites. In most places, however, it is probably legal — but consult your local laws first.
On the other hand, unblocking a site to gain access to geo-restricted content might violate the Terms of Service of whoever published that content. We discussed this in our guide on the best VPNs for BBC iPlayer. We noted that you technically need a "license" to view the content, but there is no verification mechanism or apparent punishment for gaining access from the other side of the world.
This is again where a VPN comes into play because it encrypts and anonymizes your internet activity. If in doubt, connect to a VPN server for safety and privacy.
Conclusion on unblocking websites in 2023
There are lots of reasons you might need to (or simply want to) unblock websites that you might otherwise be prevented from visiting. There are also many techniques for (possibly) unblocking a site or sites. Still, the most reliable, secure, and private way to unblock sites is to use a VPN. More specifically, the best, most flexible way to unblock the most sites is to use one of our recommended site unblocking VPNs.
So what does the future hold for online freedom and unrestricted access to content?
Unfortunately, it's not looking good.
Censorship is only getting worse throughout much of the world, even in Western countries that regularly tout their "freedoms" and liberties. Media companies are also tightening the screws on where and how content can be distributed. But fortunately, there are solutions to this problem too, such as using a VPN for torrenting and P2P file-sharing with others.
Lastly, you will want to be careful with which tool you select to unblock websites. There are some very unsafe proxy tools that you'll want to avoid. Overall, the best tool is a VPN. It is fast, safe, easy, and offers additional benefits in terms of privacy and security.
The main drawback is the price of a good VPN. Fortunately, you can always check out these VPN coupons to save some money.
If you have any other tips or recommendations for unblocking websites, drop a comment below!
This guide to unblocking websites was last updated on January 3, 2023.