| | |
| --- | --- |
| VPN | Hotspot Shield |
| Based in | USA |
| Logs | Connection logs |
| Price | $7.99/mo. |
| Support | Email and Chat |
| Refund | 45 days |
| Website | HotspotShield.com |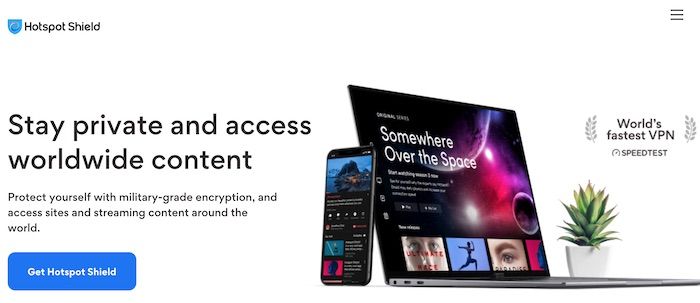 Hotspot Shield is a well-known VPN service. They are justly famous for playing a small part in the Arab Spring protests, and were once named the "World's fastest VPN." But things went down hill for a while, with the company being accused of unfair business practices and suffering a bug that leaked user data. Two years (and a few new owners) later, Hotspot Shield has had the opportunity to recover from those dark times.
We're here today to see how well Hotspot Shield has done putting their problems behind them. Do the apps still suffer leaks? Have they implemented privacy policies that are more protective of their user's data? Can this VPN even be trusted with your private data? By the time you finish this article, you will know.
Hotspot Shield VPN overview
Hotspot Shield is one of the older VPN services. Launched in 2008, the service gained fame for its use by dissidents during the Arab Spring protests in the early 2010s. Problems surfaced in 2016 when a team of academics cited Hotspot Shield in a research paper for using tracking libraries in their VPN service. One year later, in 2017, the Center for Democracy and Technology accused them of unfair and deceptive trade practices. In 2018, another researcher discovered a data leak.
These adverse events caused many websites to stop recommending the service. The VPN got a fresh start in 2019 when it became part of the Pango family of products. Then, in July 2020, Pango (and Hotspot Shield) were acquired by a company called Aura.
Given all that, this was an ideal time to take another look at Hotspot Shield. Here are the positives and negatives we found during our research and testing, along with some interesting facts about Hotspot Shield and its parent companies (we'll try to explain the whole corporate tangle later).
+ Pros
Continual upgrades to their clients
No IP address or DNS leaks were detected in Windows client
Easy to use / Geared toward non-technical users
A suite of privacy products is included
45-day money-back guarantee
– Cons
Possible IP address leaks on Android app
Definitely not the "World's Fastest VPN"
Their server count is misleading
Limited payment options
Does not work well for Netflix and streaming
Based in the United States (a bad privacy jurisdiction)
Expensive prices
Hotspot Shield interesting FACTs:
Hotspot Shield and AnchorFree and Pango and Aura (background info)
Connect 5 devices to Hotspot Shield simultaneously
Free version of Hotspot Shield available
Hotspot Shield PROs
Hotspot Shield has millions of users around the world. That by itself tells you that they must have some great characteristics. Here are the pros that we discovered during our testing and research for this Hotspot Shield review.
Continual upgrades to the Hotspot Shield VPN apps
We are happy to report that the Hotspot Shield development team has been hard at work cranking out new apps and features. Recent improvements we noticed include the addition of a Linux client, as well as the addition of a kill switch and other features to the Android VPN client. They have also recently given you the option to use the OpenVPN protocol when you install Hotspot Shield on a router. However, they still do not support the WireGuard VPN protocol, which we have found to be much faster than OpenVPN.
The Hotspot Shield app family now includes Windows, Mac OS, Linux, Android, and iOS. They also have an extension for the Chrome browser and instructions for how to use the service with some TVs and routers that support OpenVPN.
No IP address or DNS leaks were found in our tests
We ran our standard VPN tests with the Windows version of Hotspot Shield and didn't encounter any leaks. Combine this with the presence of a kill switch in the Windows client, and you should feel safe that your data won't leak onto the internet.
Here is a basic leak test with Windows (no leaks).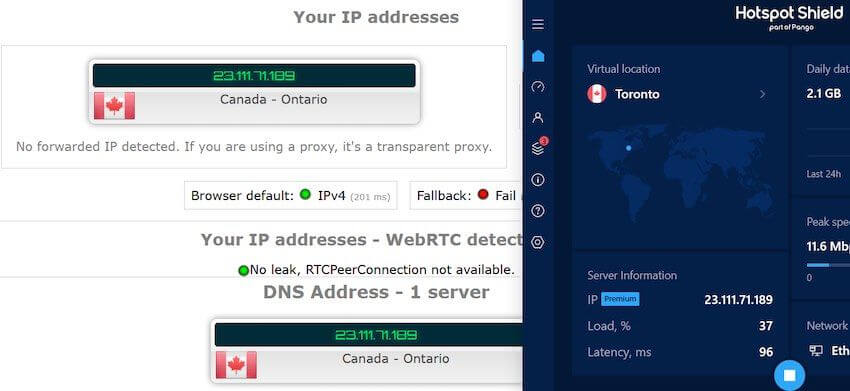 Hotspot Shield is a VPN for Windows that does not have any leaks in our tests.
Easy to use / geared toward non-technical users
Every Hotspot Shield app that I tested for this review was easy to use. Their interfaces are dominated by a big connect button as shown below.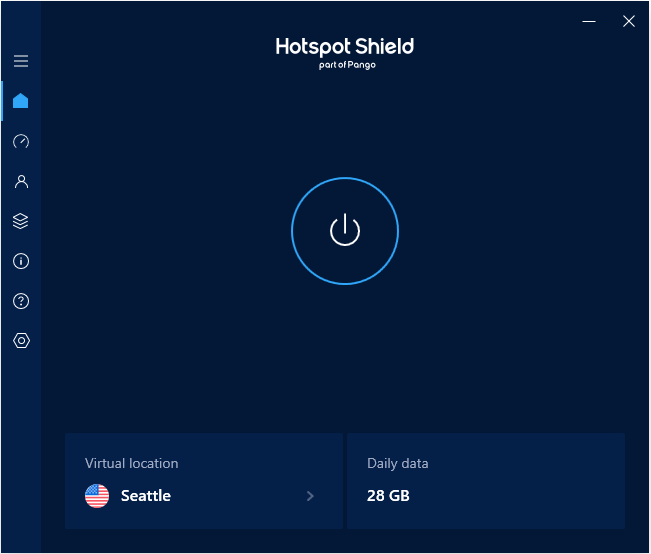 Hit the button and the client will log you into a VPN server. You can select a specific location, or let Hotspot Shield take care of it for you. We also noticed this basic, user-friendly design in our ExpressVPN vs Surfshark comparison.
While they are gradually adding more advanced capabilities such as Smart VPN (Hotspot Shield's version of VPN split tunneling), overall this service feels geared toward beginners.
There are other user-friendly VPN services on the market, particularly NordVPN and IPVanish, but even these offer more features than Hotspot Shield.
A suite of privacy products is included
In 2019, Hotspot Shield was acquired by a company called Pango. Pango bundles Hotspot Shield with several other products to create a privacy suite. This includes a password manager and identity theft protection.
We also see the same thing happening with Aura, which is the new parent company of Hotspot Shield.
There are certainly advantages to bundling products. We see this trend with other services as well, such as with NordVPN and NordPass.
For example, 1Password is a quality password manager, no doubt about it. But after our extensive testing of password managers, we found that other password managers were better. We noted in our NordPass vs 1Password comparison that you can add Hotspot Shield to your 1Password subscription for an added price.
We also see the Identity Guard service to "safeguard your digital and financial identity" from risks. There are many types of services like this that we covered in our guide on identity theft protection.
45-day money-back guarantee
This is one place where Hotspot Shield stands out. The top-rated VPN services usually offer a 30-day money-back guarantee. Many services offer even less.
Hotspot Shield stands out by giving you a 45-day money-back guarantee. If you want a VPN that gives you plenty of time to thoroughly test it, Hotspot Shield should be high on your list of VPNs to investigate. The only other VPN I've seen offering a 45-day money-back guarantee is CyberGhost VPN.
Hotspot Shield CONs
While Hotspot Shield is very popular and definitely has its good points, it also has a number of issues that you need to be aware of. In no particular order, they are:
Possible IP address leaks on Android app
In our tests, the Hotspot Shield app for Android worked most of the time. With that being said, we did run into one case where Hotspot said the phone was secured with an active VPN connection, but our leak testing returned our real IP address. We weren't able to replicate the result, but other reviewers have also reported leaks in the Android client.
Looking at Hotspot Shield users on reddit, we did see this report from one user:
I'm not even sure how I came across Hotspot Shield as a VPN, but I wanted to warn people about using it for torrents. After reading many helpful posts here, I discovered (via doileak.com) that Hotspot Shield has both IPv6 and DNS leaks.

I'm switching to another VPN and luckily caught this before a full refund was out of the question.
Leaks in mobile apps are in some ways even more perilous than leaks in the desktop versions of VPNs. That's because your mobile devices are out in the big, beautiful (and full of hackers) world where they will likely be exposed to far more threats than your home computer is likely to see. If you need an Android VPN client that will not leak, check out this list of the best Android VPNs.
Is this the "World's Fastest VPN"? Not in our tests…
The Hotspot Shield website frequently and proudly points out that they were named the "World's Fastest VPN" in Ookla's 2019 Speedtest Awards. But we never just accept marketing claims at face value without doing our own testing.
I ran speed tests for this Hotspot Shield review on a 500 Mbps connection from my location in the United States. Overall, the speed tests were not impressive.
First, I tested a Hotspot Shield server somewhat close to my physical location, in Seattle: 76 Mbps.

This isn't horribly slow, but it's also not fast. To put this in perspective, we have seen VPNs using the WireGuard protocol achieve speeds over 400 Mbps going between our lab and Seattle.
Next, I tested a Hotspot Shield server in Los Angeles. Speeds were slightly better than before, but still not great at about 82 Mbps.

The last US server I tested was in New York. The speeds were about the same as the other locations: 80 Mbps.

Next, I tested servers in Canada. The speeds were even slower than with Hotspot Shield servers in the US.
Here was a speed test with a Hotspot Shield server in Toronto:

With these speeds, Hotspot Shield is certainly not the best VPN for Canada.
Lastly, I ran a long-distance speed test with a server in the United Kingdom: 45 Mbps.

Overall, these are not very good speed test results. Hotspot Shield is not the fastest VPN by a long shot.
If you want a VPN with the best speeds, I'd recommend checking out NordVPN with the WireGuard protocol.
Hotspot Shield server count is misleading
The Hotspot Shield website claims over 1,800 VPN servers located in over 80 countries. Both the number of servers and the number of countries are above average for the industry. However, there's a little snag.
Many of these locations are virtual servers. These are servers that are physically located in one place but configured to function as if they are located somewhere else. You can see this blog post announcing the addition of more virtual server locations.

Virtual locations are not necessarily a deal breaker, and we also see them used with some other VPNs. However, it would be nice if the company identified which of the servers are virtual servers.
Limited payment options
While many VPN services accept a range of payment options, Hotspot Shield accepts only credit or debit cards or PayPal.

All three of these options are convenient and secure, but they aren't particularly private. The ability to pay for your subscription with cryptocurrencies, gift cards, and other alternative payment methods could boost your privacy.
If you want a VPN with more payment options, including cryptocurrencies, you could check out Surfshark or NordVPN.
Does not work well with Netflix and other streaming services
Many people are using a VPN for Hulu, Netflix, and other streaming services. Indeed, many VPNs claim to work with Netflix. In our tests, however, we've found that only a handful consistently deliver Netflix streaming without getting blocked.
With Hotspot Shield, we were unable to log into the United States Netflix library. This is definitely a drawback for those who want the best VPN for Netflix.
Getting (or blocking) access to Netflix and other streaming services is an ongoing war between the streaming services that want to block you and the VPNs that want to unblock the content so you can view it wherever you are in the world.
Knowing exactly what services are working with a VPN at any given time is a challenge. With people discussing the best VPNs on Reddit, we have seen complaints about streaming. Specifically, some users report that Hotspot Shield is not a good VPN for Amazon Prime or BBC iPlayer.
Many VPNs are devoting significant resources to this endeavor, simply because more people are turning to VPNs to unblock their favorite content. Check out these best streaming VPNs instead.
Based in the United States (bad for privacy)
The United States is not a good location for a VPN or any other business involving privacy.
The country is at the heart of numerous international surveillance organizations. Most of them were created for the Cold War era, they continue to function, and continue to spy on anyone and everyone they can. The US government has the power to surveil people using the telecommunications networks of the United States.
It also has the power to force private companies to do the dirty work for the government. This includes forcing a company to spy on you, potentially violating their own privacy policies and terms of service. We have seen this play out with IPVanish VPN, PureVPN, and others.
With espionage like this, it is easy to see why leading VPN services like ExpressVPN and NordVPN are not based in the USA.
Hotspot Shield is Expensive
Hotspot Shield pricing is nothing if not simple. The Premium version (the version we review here) is priced at $7.99 per month, billed annually. That works out to $95.88 per year. This isn't too bad and is on par with the one-year pricing of services like ExpressVPN and HideMyAss.

However, unlike most VPN services, HotSpot Shield does not offer multi-year discounts.
Somewhat mitigating the relatively high price of Hotspot Shield is the collection of additional software bundled with it. If one or more of those products also suits your needs, the pricing of the entire suite becomes much more reasonable.
As an alternative, you can also consider some of the cheapest VPN services that are under $4 per month.
Hotspot Shield interesting FACTs
Finally, let's look at some additional interesting facts about Hotspot Shield.
Hotspot Shield, AnchorFree, Pango and Aura (background info)
This is one of the more complicated corporate structures we have run across. Hotspot Shield has been providing VPN services to consumers since 2008. It was developed by a company named AnchorFree, which was based in Redwood City, California. It was one of the more popular VPN services until 2017 when the Center for Democracy and Technology accused the company of unfair and deceptive trade practices. Adding to the problems, in 2018 a security researcher discovered a bug in the Hotspot Shield client that leaked user data.
In 2019, Hotspot Shield joined Pango, a new company that offers a suite of security and privacy products. Like AnchorFree, Pango is based in Redwood City, California.
In July 2020, Pango joined Aura, a digital security company. According to Hari Ravichandran, the founder, and CEO of Aura, the goal of all this activity is to,
…build the best all-in-one digital protection platform for consumers. With the scale achieved through these transactions, we continue our journey to build and expand our integrated security platform. Our vision is fueled by our commitment to make digital security simple, user-friendly and accessible to everyone.
Connect up to 10 devices to Hotspot Shield VPN simultaneously
With their Premium plan, Hotspot Shield allows you to have 10 devices connected to the VPN simultaneously. This is slightly above average for the industry.
In general, the VPN industry needs to change the way they deal with simultaneous connections. Look around your home or office. How many computers, smartphones, Smart TVs, and other internet-connected devices do you see?
Now add in the other people who would expect to be protected by your VPN service. It is safe to say that most households in the USA or Europe have far more than 5 devices that want to use the internet, likely all at the same time.
Happily, there are a few VPN services that recognize this problem. Surfshark is one such VPN service. And their solution to "too many" devices wanting internet access at the same time. Surfshark is not only an excellent VPN service. They allow an unlimited number of simultaneous VPN connections on a single account. We also discussed unlimited connections in our IPVanish review.
Another solution to using an unlimited number of devices is to use a VPN router. This will count as only one device, yet it offers the benefits and encryption of the VPN to every device that connects to your router.
Hotspot Shield came up with yet another solution: 5 member accounts, each with 5 simultaneous connections. Kudos to them for doing so.
Free version of Hotspot Shield available
Hotspot Shield does offer a free version of the VPN, which they describe as follows:
Our free VPN ensures access to your favorite content, while protecting your personal data. The Hotspot Shield free VPN plan is perfect for casual internet users. If you need more features, then consider upgrading to our Premium VPN plan. Either way, you'll get world-class privacy and security protection for every device.
While this all sounds fine, we don't recommend using Hotspot Shield's free VPN. It is slow, limited to only one server and 500 MB of data per day, and gathers even more information about what you do online than the paid version does.
All in all, it is a good example of why we generally don't recommend free VPN services. However, if you are determined to use some kind of "free" option, then we have a guide on the best free VPNs here.
Hotspot Shield FAQ
Common questions (and answers) from people looking at Hotspot Shield:

Does Hotspot Shield work with Netflix?

We tested Hotspot Shield to see how well it worked with Netflix. It did not do well at all. While you will be able to connect sometimes, if you are serious about viewing Netflix content from around the world, check out this review of the best VPNs for Netflix.


Is Hotspot Shield good for streaming?

We had problems streaming content from various services using Hotspot Shield. We were able to connect to services sometimes, but it wasn't consistent. There are definitely better-streaming VPNs available.


Is Hotspot Shield good for gaming?

In a word, no. They do have a lot of servers, which is a definite plus. But Hotspot Shield is a relatively slow VPN, and the Pings it returned in our testing would probably be fatal in any first-person shooter. For better options, check out our review of the best VPNs for gaming.


Can Hotspot Shield be trusted?

If by "trusted" you mean, "is my data safe with them," the answer is a qualified yes. This is not a criticism of the company. It is a reflection of the fact that they are based in the United States. The USA can, and has previously, forced VPNs to spy on their users and provide the information to the FBI. This makes trusting your privacy to VPNs based in the United States riskier than trusting VPNs in many other jurisdictions.

Hotspot Shield VPN review 2023 conclusion
The internet today is a dangerous place and everyone needs a VPN. Whether you are worried about internet providers logging browsing activity or companies tracking you online, privacy is a top concern. On the security front, there is news about cybercrime gangs, malware, and data breaches nearly every day. The bottom line is you need the right privacy tools to stay safe.
Turning our attention back to Hotspot Shield, this service has improved greatly since the privacy problems surfaced a few years ago. But we still are unhappy with their privacy policy, as well as their claims of being the fastest VPN. Add in the apparent data leaks in their Android client, relatively high pricing, and location in the United States, and we find that we can't recommend this service.
Over the years we've tested several VPNs that we think would better serve privacy-oriented readers like you. Check out these other options below.
Best alternatives to Hotspot Shield:
Click the VPN name below to read our full review – or grab the discount for the best savings. All three of these VPNs have a 30-day money-back guarantee.
Want more info on our top recommendations? Check out the best VPN services list.
Related Articles:
This Hotspot Shield review was last updated on January 7, 2023.