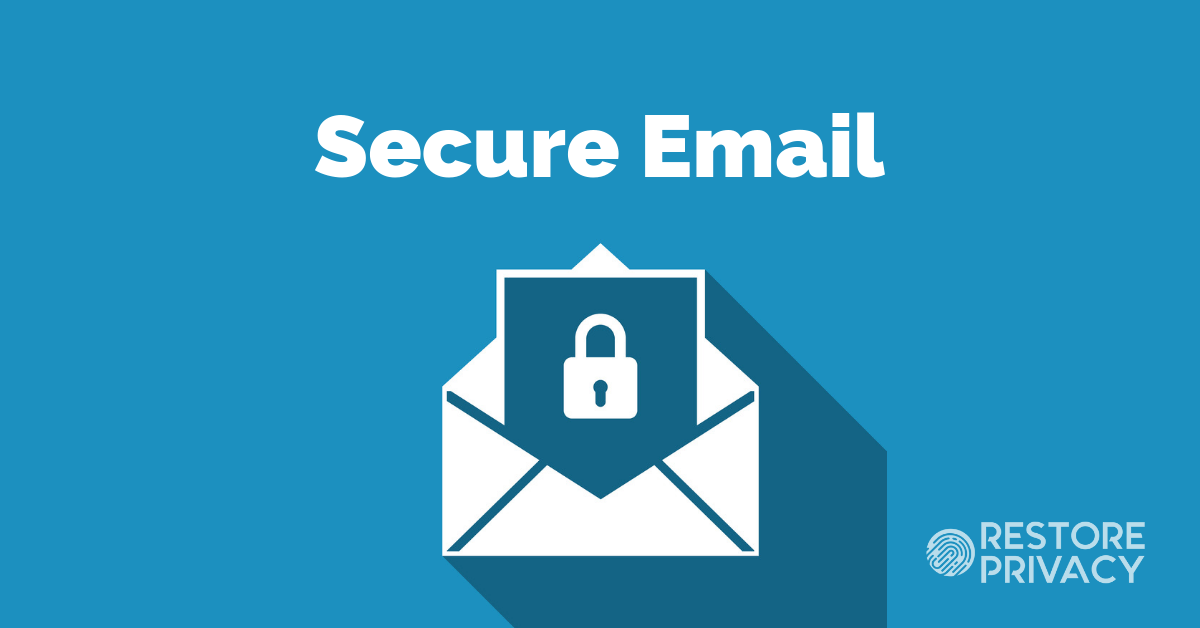 There have been numerous privacy scandals with large email providers over the past few years, prompting many to look for the best secure email that respects user privacy.
Why switch to a secure email provider?
Here are just a few examples of how some "free" email services are violating your privacy and selling you out to third parties:
If you are using one of these popular, "free" email providers, you are likely getting sold out to advertisers and surveillance agencies without your consent, or the ability to "opt out".
Fortunately there is a simple solution: switch to a secure email provider that respects your privacy.
What is the best secure email service?
With so many different types of users, there is no single "best secure email" service that will be the top choice for everyone. While some may prioritize maximum security and strong encryption, others may want convenience and simplicity with user-friendly apps on all their devices. Therefore this list is not in rank order because the "best" secure email service will be different for each user.
Here are just a few factors to consider when switching to a secure email provider:
Jurisdiction – Where is the service located and how does this affect user privacy? Where is your data physically stored?
PGP support – Some secure email providers support PGP, while others do not use PGP due to its vulnerabilities and weaknesses.
Import feature – Can you import your existing emails and contacts?
Email apps – Due to encryption, many secure email services cannot be used with third-party email clients, but some also offer dedicated apps.
Encryption – Are the emails end-to-end encrypted in transit? Are emails and attachments encrypted at rest?
Features – Some features you may want to consider are contacts, calendars, file storage, inbox search, collaboration tools, and support for DAV services.
Security – What are the provider's security standards and policies?
Privacy – How does the email service protect your privacy? What data is being collected, for how long, and why?
Threat model – How much privacy and security do you need and which service best fits those needs?
The goal of this guide is to help you find the best secure email solution for your unique needs. So let's get started!
Tutanota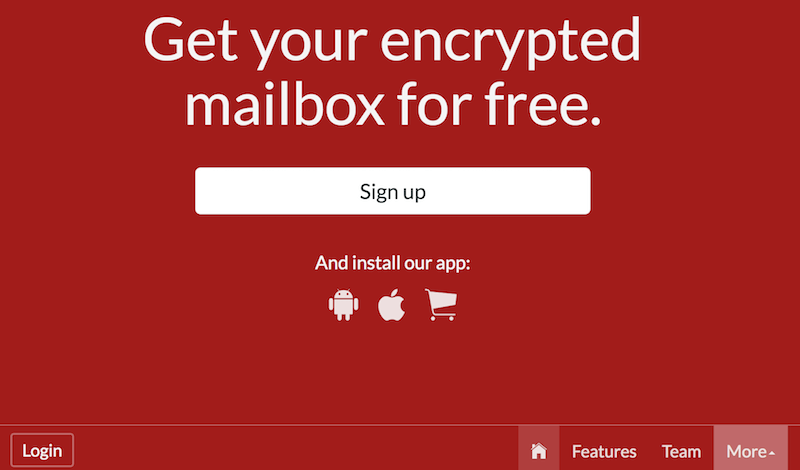 *Free tier: Up to 1GB
Tutanota is a Germany-based secure email service run by a small team of privacy enthusiasts. They respect user privacy and never require phone number verification, even when registering through Tor. While their service is focused on providing you with the highest levels of email security, it still remains user-friendly with good features.
Rather than using PGP and S/MIME, Tutanota utilizes their own encryption standard incorporating AES and RSA, which automatically encrypts the subject line, supports forward secrecy, and can be updated/strengthened if necessary against quantum-computer attacks, as they explain here. All emails are encrypted at rest and you can also send encrypted emails to non-Tutanota users. Emails between Tutanota users are seamlessly encrypted by default (no key exchange necessary).
While Tutanota uses very high standards and is arguably the most secure email provider, this also comes with some tradeoffs, such as no support for PGP, IMAP, POP, or SMTP. Additionally, you cannot import existing emails into your encrypted Tutanota inbox, but they're currently working on adding a migration feature – see the roadmap.
If you are looking for a trustworthy, high-security email provider run by privacy enthusiasts, Tutanota is a solid choice.
---
Mailfence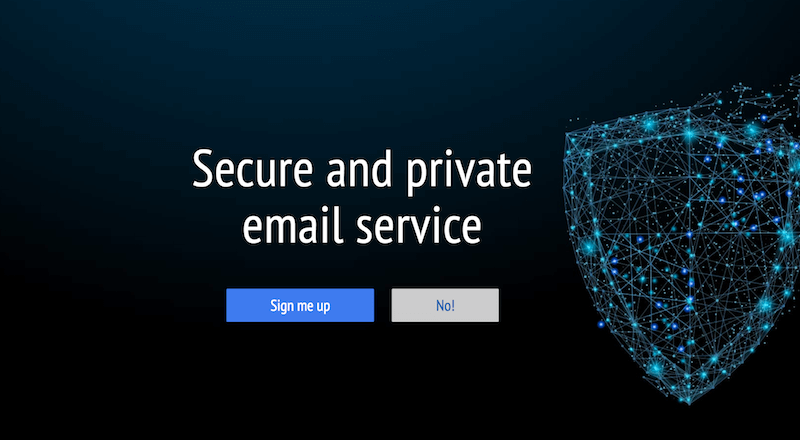 *Free tier: Up to 500 MB
Mailfence is another great all-around secure email provider offering full calendar and contacts functionality, file storage, and PGP encryption support. It is based in Belgium, which is a great privacy jurisdiction with strict data protection laws.
For those wanting full PGP control and interoperability, without plugins or add-ons, Mailfence is a solid choice. Whether you are a personal user or you need a secure email solution for your business or team, Mailfence likely has all the features and options you'd want.
In personally using Mailfence over the past year I've found it to work very well – no glitches, bugs, or problems. I've also found their support team to be great if you need any assistance – highly recommended.
---
Posteo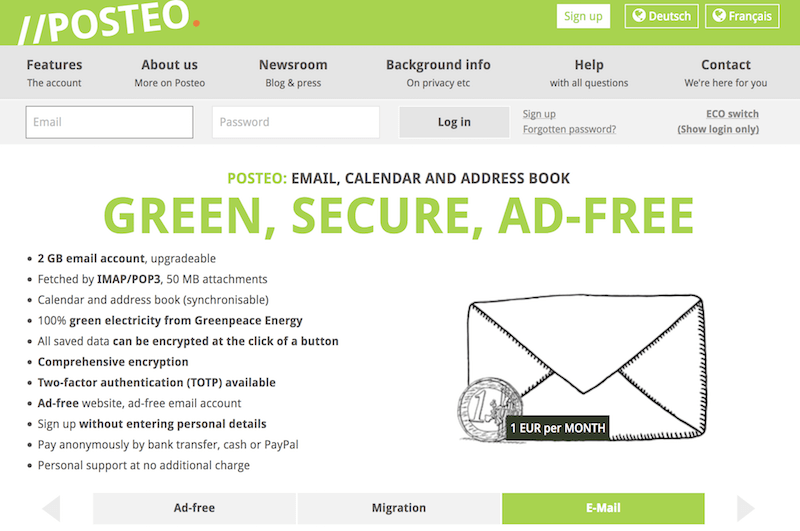 *14 day refund window
Posteo is a Germany-based secure email provider that is affordable, trustworthy, and very privacy-focused. It has been operating since 2009 in Berlin and is entirely self-financed, with no loans, debts, or outside investors from foreign countries. While Posteo gives you strong encryption options, they also support IMAP which allows you to use it on any device with different email clients.
Posteo goes above and beyond most email services to protect the privacy of their users. IP addresses are automatically stripped from emails, no logs are kept, and they offer strong encryption standards. They also support completely anonymous registration and anonymous payment – even allowing you to send cash in the mail for no digital trail. And if you pay with a credit card, PayPal, or some other digital method, they manually separate account details from payment info to further protect user privacy.
---
Startmail
*30 day free trial
StartMail is a secure email service brought to you by the team behind Startpage – a private search engine based in the Netherlands. The Netherlands is a good jurisdiction for privacy and StartMail aims to keep as little data as possible to run their operations (see privacy policy). Unlike most secure email providers, StartMail handles encryption server-side, rather than in the browser – see their white paper explaining why.
StartMail allows users to utilize PGP encryption with emails also being encrypted at rest on their Dutch servers. One cool feature with StartMail is they give you the ability to create temporary, disposable email addresses "on the fly" to use with different services. IMAP and SMTP are also supported if you want to use StartMail with third-party apps such as Thunderbird.
---
Runbox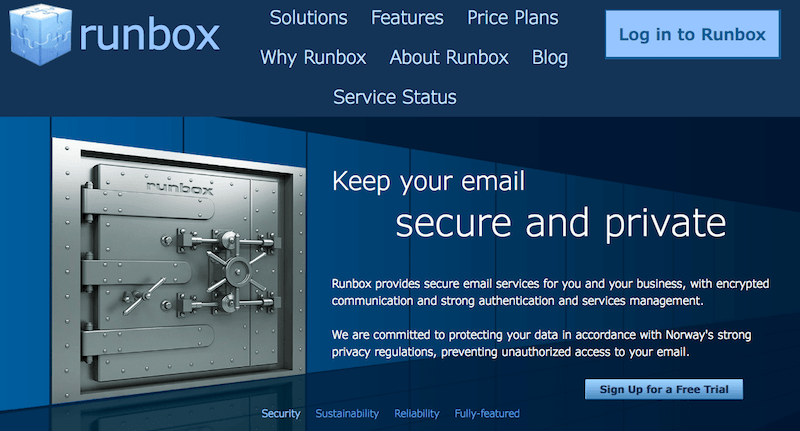 *30 Day free trial
Next up is Runbox, a privacy-focused email provider in Norway with a proven track record. It's important to note that Norway is a good jurisdiction with constitutionally-guaranteed privacy rights, which is why Runbox maintains all servers within the country. The history and values of the company are also interesting. Runbox has been operating secure email services since 2000 and their business uses only clean, renewable, hydropower energy in Norway.
While Runbox places a heavy emphasis on privacy and security, their email service is still user-friendly and fully-featured. You can use Runbox on third-party email clients and they also offer dedicated mobile apps. Runbox offers 30 day free trials and makes importing your existing emails simple with the guides on their site. They are currently offering a discount "2 years for the price of 1" on their website here.
---
Mailbox.org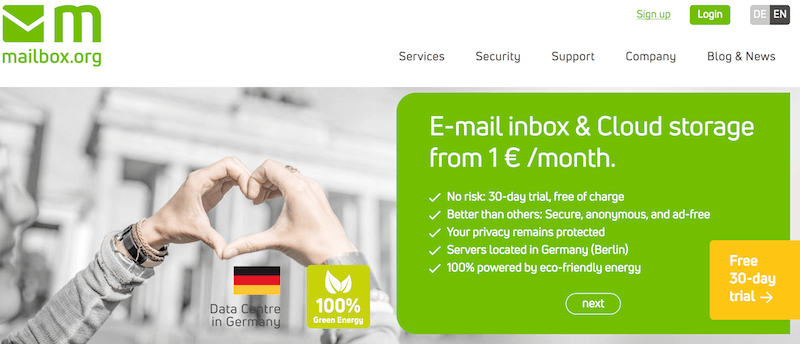 *30 day free trial
Another Germany-based secure email provider worth considering is Mailbox.org. The Mailbox.org team members are internet veterans with a proven track record going back 25 years. Under the leadership of Peer Heinlein, Mailbox.org was launched in 2014 to offer a secure, privacy-focused email service in the wake of the Snowden revelations.
Mailbox.org offers lots of great features for individuals, teams, or businesses. These features include calendar, contacts, groupware, full PGP key management, and secure cloud storage with all accounts. Mailbox.org can be used with third-party email clients with support for POP, IMAP, SMTP, and all DAV services. All emails are physically stored in two separate data centers in Germany for geo-redundancy.
If you want a flexible, secure email service run by a competent team of security experts and privacy enthusiasts, check out Mailbox.org.
---
CounterMail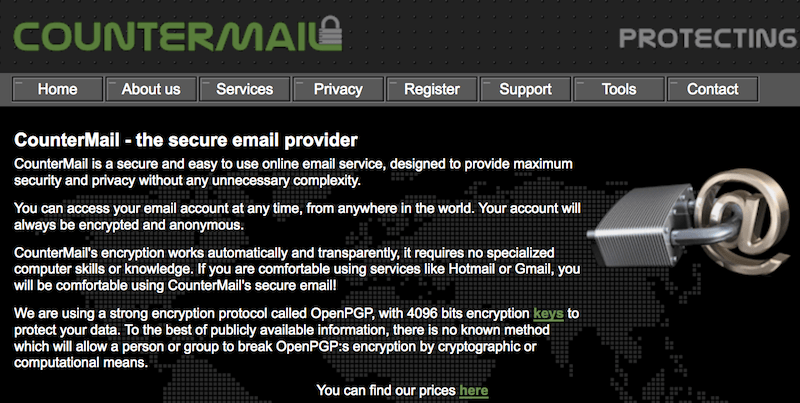 *One week free trial
Next up on our list is CounterMail, a secure email provider based in Sweden. CounterMail has been operating for over 10 years with a philosophy to "offer the most secure online email service on the Internet, with excellent free support." CounterMail uses OpenPGPG encryption with 4,096-bit encryption keys along with no-logs, diskless servers to protect user privacy. Countermail anonymizes email headers and also strips the sender's IP address. All emails and attachments are stored encrypted at rest using OpenPGP on servers in Sweden.
While CounterMail is a bit more expensive than some other secure email providers, they explain this price difference comes from using only high-quality servers and implementing strong security. CounterMail also protects users from identity leaks and Man-In-The-Middle attacks with RSA and AES-CBC encryption on top of SSL. It may not have all the frills, but CounterMail is a serious security-focused email provider with a 10+ year track record.
---
Kolab Now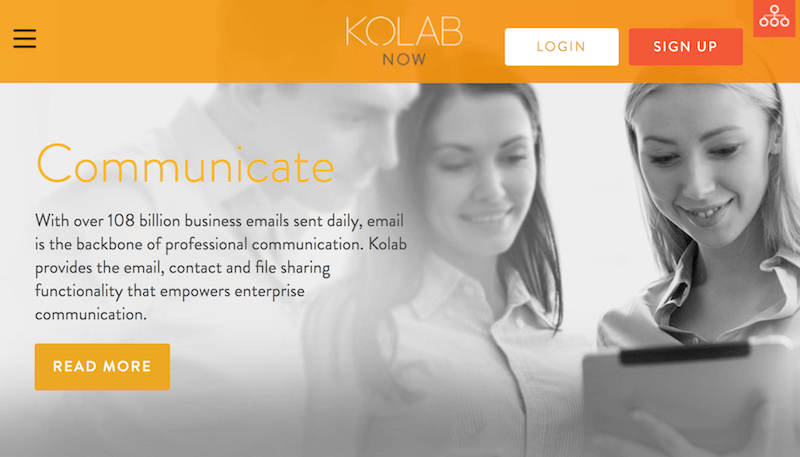 *30 day money-back guarantee
Based in Switzerland, Kolab Now is a great secure email provider offering numerous features and full email suite functionality. A Kolab Now subscription includes email, contacts, calendar, scheduling, collaboration/sharing tools, and cloud file storage. All of the features and options make Kolab Now an excellent choice for business users, teams, and privacy-focused individuals.
While Kolab now does offer numerous features and support for all major operating systems and devices, it also does not offer as much encryption for those who want the highest levels of security. End-to-end encryption for emails is not built-in and emails are not stored encrypted at rest. For those wanting a feature-rich email suite that also does well with privacy and security, Kolab Now would be a great choice.
---
ProtonMail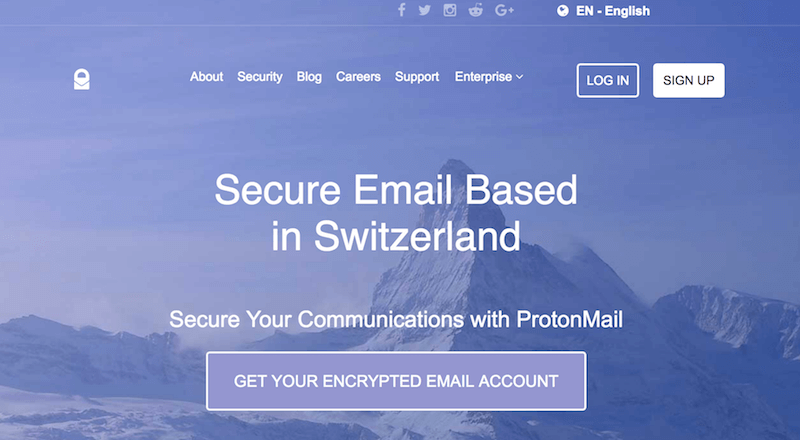 *Free tier: Up to 500 MB
ProtonMail is a Switzerland-based email service that also runs a VPN service – see ProtonVPN. In researching the company, I discovered some interesting history with ties going to the United States, which we will now briefly cover. ProtonMail appeared on the scene in the wake of the Snowden revelations and was widely promoted in American media as "The Only Email System the NSA Can't Access" – which was around the time Lavabit was shut down for not cooperating with the US government.
In 2014 ProtonMail launched a successful crowd-funding campaign where they stated:
We firmly believe that ProtonMail can only succeed in its mission if it remains independent. By raising money through crowd funding, we can ensure that our first and only priority is protecting the privacy of our users.
Less than one year later, however, ProtonMail accepted a $2 million "investment" from a US-based firm called Charles River Ventures (CRV). CRV is an interesting company that seeks to get a "strong ownership stake" in various startups. Around the same time this was happening, Snowden revealed that the NSA coerces US-owned companies to install backdoors or compromise their encryption to facilitate state surveillance efforts. (This is one reason people avoid US-based tech.)
We also find here how the US-based Venture Monitoring Service assisted Proton in the early phase of the company:
We have been working with VMS since the very beginning and our mentors have been key to our success. Our mentors helped us make some of our most important early hires and also helped introduce us to investors. At the start, we had no experience in running a company so the advice from VMS was crucial in helping us make the transition from idea to product to market success.
Officially, ProtonMail is a Switzerland-based company under the name Proton Technologies AG. Their transparency report, however, does not disclose the degree to which the company is owned and/or controlled by US entities.
Looking at the service itself, ProtonMail does a lot of things right. They utilize strong end-to-end encryption standards for email and store all messages and attachments encrypted at rest. ProtonMail has a unique feature for "self-destructing messages" and they have also added address verification and full PGP support. Regarding encryption, however, it's important to note that ProtonMail does not encrypt subject lines of emails, which exposes private data to third parties.
Overall ProtonMail is a well-regarded email provider, but it does have some noteworthy drawbacks. If you are looking for the highest standards of security and anonymity, including full encryption of subject lines, you may want to consider alternatives.
Note: Professor Nadim Kobeissi argued in an academic paper that ProtonMail's architecture is fundamentally flawed and "does not guarantee end-to-end encryption for the majority of users." Reactions to these allegations have been mixed, especially since these arguments could apply to any browser-based email client. You can find the paper here.
---
Thexyz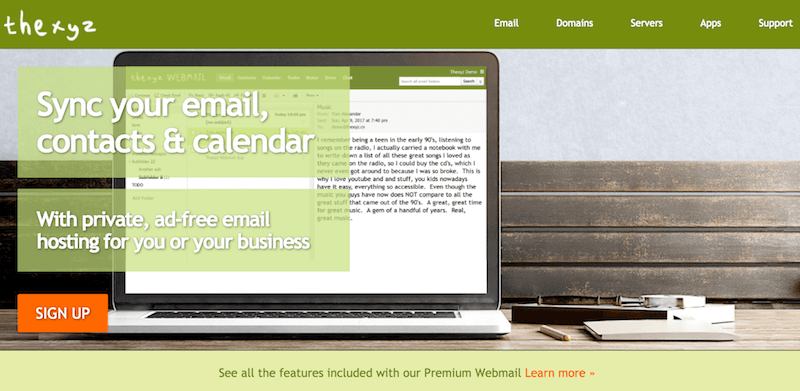 *30 Day refund window
While it has not gotten much attention in the privacy community, another secure email service worth noting is Thexyz. Thexyz is a secure email and web hosting business based in Canada. The email arm of their business has been operating since 2009, as they explain on their about page. One obvious drawback with Thexyz is that they are based in Canada, which is not an ideal privacy jurisdiction (Five Eyes). Nonetheless, this may not be a concern depending on your threat model.
Thexyz does offer some great privacy and security features. Accounts come with secure, encrypted cloud storage as well as contacts, calendars, and team collaboration tools. All emails are stored encrypted at rest using AES 256-bit encryption, with double geo-location redundancy. Even with all the perks and features, Thexyz is still very affordable at $1.95/mo with the premium webmail plan.
---
Want secure email? Pay for it.
The unlimited "free" email business model is fundamentally flawed. It offers a free service, which is used to collect data and thereby monetize the user and make money on ads. With these privacy-abusing "free" services, you are actually paying for the product with your private data.
In contrast, here we recommend privacy-friendly, secure, ad-free email services. While some of these secure email services offer limited free subscriptions, you will need to upgrade to a paid plan for more storage and premium features (this is the freemium business model).
Support good privacy businesses
Fortunately, you can "vote with your dollars" by supporting these privacy-respecting businesses and upgrading to paid accounts. This will help secure email providers to grow, improve, and serve more people through an ethical business model.
Secure email shortcomings and PGP flaws
Most secure email solutions mentioned in this guide utilize PGP for end-to-end encrypted email. PGP, which stands for Pretty Good Privacy and was invented back in 1991 by Phil Zimmermann.
PGP flaws – While PGP is considered a trustworthy, secure encryption method, there have been some flaws in implementing PGP that have made headlines recently – see also the EFAIL vulnerabilities. While the news did attract lots of attention, the "flaws" were mainly limited to the incorrect implementation of PGP by third parties. To my knowledge, this did not affect the secure email providers mentioned in this guide.
Limited Use – Another fundamental problem with adopting secure email is that few people are willing to go through the hassle of PGP key management, encryption, decryption, etc. There are some solutions, to this, however, and by some measures encrypted email usage continues to grow.
Many providers address this issue by making encryption automatic and seamless. Tutanota, for example, uses built-in AES encryption that automatically encrypts emails between Tutanota users, including headers, subject line, body, and attachments. They also provide a secure, two-way communication contact form called Secure Connect.
Vulnerabilities – Even when using a secure browser, there are still vulnerabilities to consider with browser-based email clients. Phil Zimmermann gave a recent interview highlighting some of these shortcomings:
"The browser is not a terribly safe place to run code. Browsers have a large attack surface," he said.

Wherever encryption and decryption take place, though, it's a vast improvement on no encryption. But even encrypting messages may not be enough, depending on the threat model. The very nature of email makes it vulnerable.

"Email has an enormous attack surface," Zimmermann said. "You've not only got cryptographic issues but you've got things like spam and phishing and loading images from a server somewhere that might have things embedded inside."
On a positive note, however, there are many options for securing and hardening your browser – see the secure browser and Firefox privacy guides. Furthermore, most secure email providers offer protection against these attack vectors by blocking email images by default while also utilizing virus filters.
Keep in mind, however, that non-browser email clients can also be problematic – potentially revealing unique information about your operating system (user agent) as well as your IP address and location.
Regardless of these limitations, using a secure email provider will help keep large tech companies from harvesting your email data for third parties.
Secure email vs secure messaging apps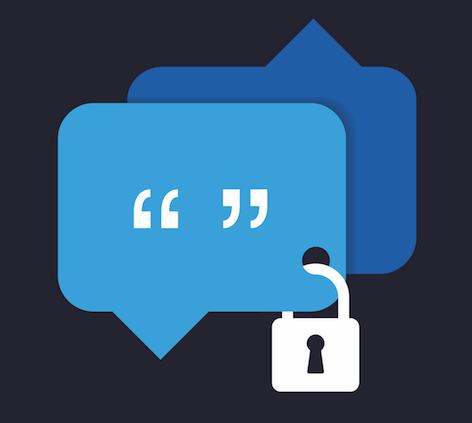 Depending on your threat model, you may also want to consider using secure messaging apps, which do not have all of the vulnerabilities discussed above with email. One of my favorites is Wire, which is free for personal use. Here are three secure messaging apps worth considering:
Encrypted messaging apps generally offer a higher level of security over email, plus they are much easier to use than PGP email encryption.
Finally, encrypted messaging apps are also convenient for back-and-forth conversations, document sharing, and collaboration with others. For more information, check out the Secure Messaging section on the homepage.
Always use a good VPN with email
One fundamental problem with email is that it can expose your IP address and location to third parties, by design.
While some secure email services strip IP addresses and metadata, many others do not. Even the popular Enigmail encryption plugin, which is used with Thunderbird, was recently found to be leaking user IP addresses. Some email services may be forced to log user IP addresses by valid court orders, without disclosing any information to the user.
There have also been many cases where email services are compelled to log user IP addresses by court orders.
Finally, there's also the fact that many email servers keep logs for security, which include user IP addresses, connections times, etc. These logs, of course, could end up in the hands of government agencies or other third parties.
There is one simple solution to effectively conceal your IP address and location – and that is to always use a good VPN service. (See the 'What is a VPN' guide for more a detailed overview.)

A VPN creates a secure tunnel between your device and a VPN server, encrypting your traffic and concealing your real IP address and location. VPNs are easy to use on computers, phones, tablets, and even routers, simply connect it and forget it. The VPN will encrypt and anonymize your internet traffic, while you carry on with business as usual. Some of the larger providers, such as ExpressVPN and NordVPN, offer apps for all major devices and large server networks around the world.
Due to the security and privacy benefits a VPN offers, it's a smart idea to use one whenever you're online. Internet providers in many countries are recording user browsing history (via DNS requests), which is often handed over to third parties. (If you use a VPN, your DNS requests will be encrypted and handled by the VPN server, rather than recorded by your internet provider.)
There are many different VPN guides here on Restore Privacy, including the best VPN 2019 rankings and also various VPN comparisons (with the most popular being the ExpressVPN vs NordVPN comparison).
Conclusion on secure email
Whatever your situation is, using a secure email provider is a smart step to take in protecting your data.
Most of the email providers recommended in this guide offer webmail applications. To ensure your privacy and security with these clients, it's best to access webmail through a secure browser while also using a good VPN service to encrypt and anonymize your traffic, while also hiding your IP address and location.
A good VPN client is also an option with many providers, which offers advantages over webmail.
As a brief recap, below is a table highlighting the best secure email providers. If you have a specific question about one of these services, you may want to reach out to them directly through their website.
---
---
---
---
---
---
---
---
---
---
---
---
Have you used one of these secure email providers? Feel free to leave your feedback/review of the service below.
Last updated February 21, 2019.