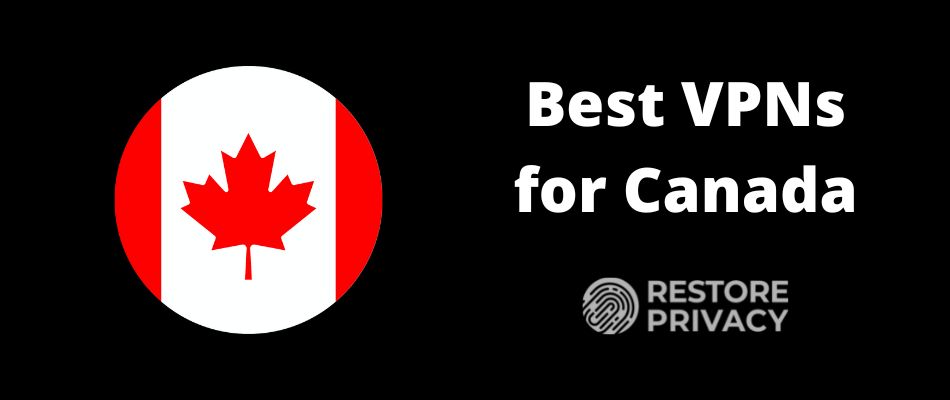 With a growing number of Canadians frustrated over content restrictions and the erosion of online privacy, many are now looking for a good VPN for Canada.
Additionally, Canadian ex-pats are flocking to VPNs to unblock streaming websites that are geo-restricted to Canada or other countries abroad. Using a VPN for Canada is the ticket to watching Canada TV from anywhere, or accessing other regional streaming websites. But with all the VPNs on the market, how do you find the best VPN for Canada that meets your needs?
You might choose to start with VPNs that are based in Canada. But this would be a mistake. Canada is not a good jurisdiction for VPNs. It is a member of the Five Eyes Alliance, a powerful international surveillance alliance. Five Eyes countries are alleged to monitor each other's citizens, then share the intelligence they gather.
Members of this alliance have also been known to force VPN companies to log their users and provide the information to the government, regardless of company policy or promises to users. A VPN based in Canada cannot guarantee your security privacy when the government can force them to violate their own privacy policies.
What about non-Canadian VPNs? Outside of Canada is where you will find your solution. But unfortunately, many VPNs based inside or outside of Canada simply do not make the cut. For example, Windscribe, a popular VPN based in Canada, suffered a security breach that left users exposed even without pressure from the Canadian government.
Note: Even without the security problem, we found that Windscribe is extremely slow, as discussed in our comparison of NordVPN vs Windscribe.
Based on our own VPN tests, we have also found that many popular VPNs leak IP addresses or DNS requests, which can expose your identity and browsing history to third parties. Lastly, there have also been "no logs" VPNs that logged user data for government agencies, as was the case with both PureVPN and IPVanish, a VPN service based in the United States (another Five Eyes Alliance member).
Aside from security and privacy issues, we have also found that many VPNs do not work well for streaming. This is often the case with services that have a small server network and struggle to gain access to popular services like Netflix, BBC iPlayer, Hulu, Amazon Prime, and more.
Consequently, we are only recommending the three VPNs in the table below that met all our VPN for Canada criteria. These VPNs will provide you with a high level of privacy and security, while also offering large, fast server networks to unblock streaming services in Canada and many other parts of the world.
Top VPNs for Canada
NordVPN – Best VPN for Canada with the fastest speeds, secure and user-friendly apps, great support for streaming, and extra privacy features (with a 69% off coupon)
Surfshark – An excellent budget-friendly VPN for Canada
ExpressVPN – User-friendly VPN for Canada
In this Canada VPN guide, we'll tell you more about the VPNs we recommend. As you'll see, these VPNs made the cut with excellent speeds, secure apps, and reliable connections.
Why are so many people using VPNs in Canada?
There are three main reasons that VPN usage continues to grow in Canada: privacy, security, and streaming.
Privacy – Online privacy in Canada has been eroded over the years by laws that give different agencies the authority to investigate and record all online activity. Internet providers in Canada can easily record your browsing habits and hand this data over to third parties (unless you are using a VPN that encrypts all traffic).
Security – Many Canadians are seeking more security when using public WiFi. A VPN encrypts your data and provides more security when you are using public wireless.
Streaming – A VPN is the ultimate tool to improve your streaming and get access to geo-restricted content. We spend a lot of time testing the best VPNs for streaming here at RestorePrivacy.
We'll explore these trends more below.
All of the VPNs for Canada that are recommended in this guide meet the following criteria:
High-quality VPN apps for all major operating systems and streaming devices
Trustworthy and well-established VPN provider based in a good privacy jurisdiction
A large, high-performance server network
Secure VPN protocols, strong encryption, and zero leaks
24/7 live chat support and a money-back guarantee
Here are the three best VPNs for Canada:
NordVPN – Best VPN for Canada in 2023
| | |
| --- | --- |
| VPN | NordVPN |
| Based in | Panama |
| Logs | No logs (audited) |
| Price | $2.99/mo. |
| Support | 24/7 live chat |
| Refund | 30 days |
| Website | NordVPN.com |
NordVPN is easily the top VPN for Canada, with excellent test results in all categories.
NordVPN apps
NordVPN has apps for all major devices and operating systems. The apps come with built-in leak protection (kill switch) and utilize strong encryption standards.
Desktop apps
NordVPN produces great desktop VPN apps for Windows, macOS, and Linux.
The NordVPN Windows desktop app supports the OpenVPN and WireGuard VPN protocols and gives you access to the full NordVPN feature set. To connect to a server in the NordVPN Windows app, you can use the list on the left or click a location on the map. You can also configure it to find and connect to a server automatically. In the screenshot below, I'm testing the Windows VPN app.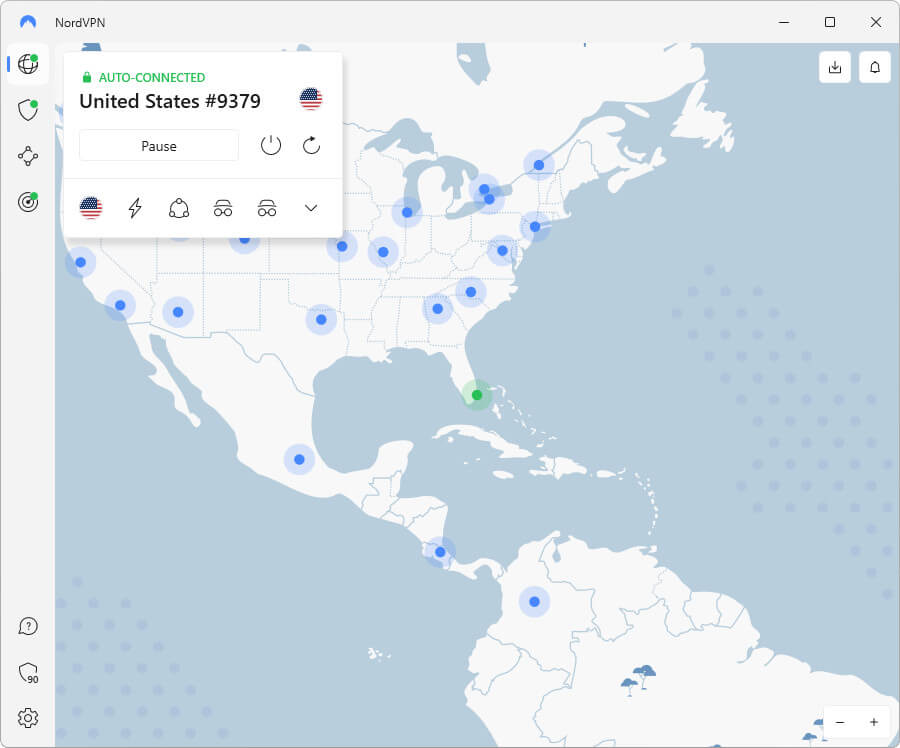 I found connection times to be very good, with NordVPN quickly connecting to servers (no long delays). If you use the NordLynx (WireGuard) protocol, you'll enjoy near-instant connections.
The NordVPN macOS desktop app offers all of the same features as the Windows app. With the macOS client, you can select between the following VPN protocols: IKEv2, OpenVPN UDP, OpenVPN TCP, and NordLynx (WireGuard).
Note: While NordVPN is our top overall VPN for desktop operating systems, there are other options. To find out more bout those, you can check out our comparisons of the top-rated VPNs for Mac, as well as the best VPN for Windows.
The NordVPN Linux client is a very different critter. Like most VPNs that do have a Linux VPN app, this one has a command line interface, instead of a nice desktop app. What does such a critter look like? Like this: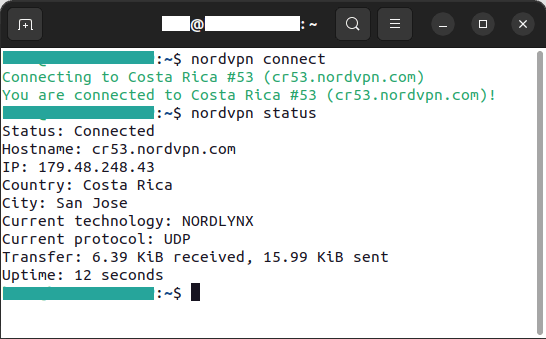 Mobile apps
NordVPN mobile apps give you most of the capabilities of desktop apps while being optimized for smartphones and tablets. Mobile apps have simplified user interfaces that are appropriate for handheld devices and tend to focus on things like quick connections, automatic server selection and switching, and efficient power use.
Here is the NordVPN Android app that we used for testing: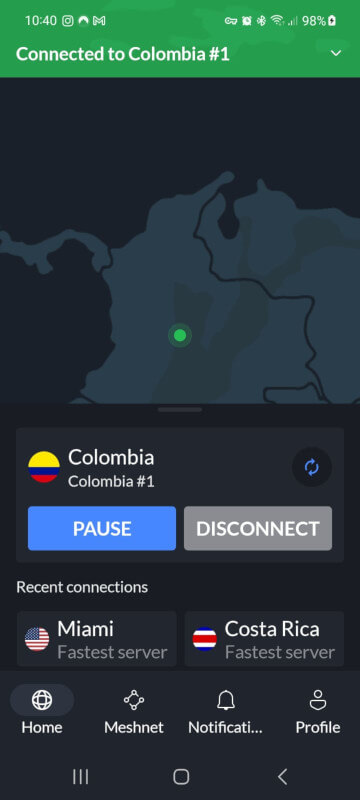 Browser extensions
In addition to desktop and mobile apps, NordVPN provides browser extensions for Chrome, Firefox, and Edge. Whereas the desktop apps give you the full NordVPN feature set and can encrypt and protect all the internet traffic of a device, the browser extensions are more limited and can only encrypt and protect browser traffic. You can also use the desktop apps and browser extensions together for maximum flexibility.
Here's what a NordVPN browser extension looks like: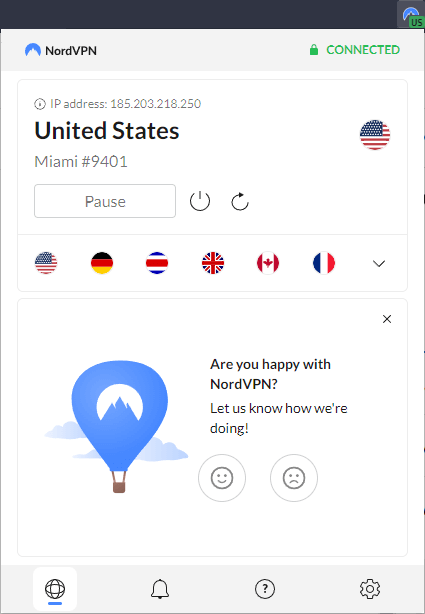 NordVPN's reputation and jurisdiction
NordVPN is based in Panama (an excellent jurisdiction for a VPN) and is a well-regarded no-logs VPN service with a good track record. Panama is not a member of any international surveillance alliances and has no mandatory data retention laws. In other words, it has been and remains an excellent jurisdiction for privacy.
As NordVPN explains this issue further on its website:
We are based and operate under the jurisdiction of Panama. There is no mandatory data retention law in Panama so we do not need to store logs which is perfect for a VPN provider.
We discussed some of the advantages of being based in Panama (as compared to jurisdictions like the United States) in our NordVPN vs PIA comparison.
NordVPN server network performance
One of the biggest advantages of NordVPN is its performance. The NordVPN apps and server network support the NordLynx VPN protocol, a custom protocol that includes the WireGuard VPN protocol. WireGuard is significantly faster than other VPN protocols, while also offering better reliability and improved mobile performance.
In our speed testing, NordVPN is consistently one of the fastest VPNs available. During our Seattle speed test, NordVPN turned in a speed of 445 Mbps on our 500 Mbps test connection. That is the fastest VPN speed we have recorded.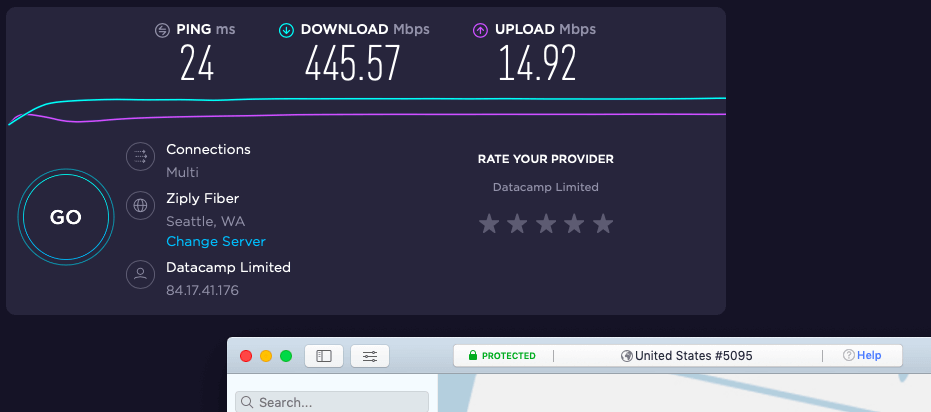 Note: We were also able to get excellent speed test results, over 300 Mbps, with NordVPN servers in Vancouver, Montreal, and Toronto. NordVPN consistently outperforms other VPNs (see the IPVanish vs NordVPN comparison).
NordVPN has an extensive server network spanning more than 5,600 servers across 60 countries. One thing that sets their servers apart from those in the vast majority of VPNs is that they are completely diskless (RAM-servers), meaning they lack any physical storage. This advanced design ensures that no personal data is ever available on the servers, eliminating the risk of hostile entities capturing personal data by physically seizing a server.
NordVPN's engineers continue to update the network for greater security and privacy. As part of these updates, they have updated many servers to use 10 Gbps data channels for faster speeds and more reliability. This substantial bandwidth prevents network overload on busy routes, guaranteeing smooth and uninterrupted connections.
NordVPN is also transitioning to 100% colocated servers. Unlike most VPN services that rely on renting servers from third-party data centers, NordVPN takes ownership and control of their colocated servers. While these servers are housed in third-party facilities, NordVPN's dedicated personnel handle all maintenance and operation of the servers. This strategic approach gives NordVPN yet another layer of security and control.
---
In addition to containing thousands of standard servers, the NordVPN network has a large number of specialty servers tailored to specific uses. These include:
Double VPN servers. These servers encrypt traffic by passing it through two VPN servers, one after another. These servers are located in two different countries. The result of this design is improved security against the tracking of your online activities, at the cost of a bit of speed.
Onion over VPN servers. These servers add the anonymity of the Tor network to the security and privacy of NordVPN. Due to the slow speed of the Tor network, using this kind of server imposes a significant performance penalty.
P2P servers. These servers are optimized for torrenting and other P2P (Peer-to-Peer) file transfers. They are very fast and very secure and help make NordVPN the best VPN for torrenting.
Dedicated IP servers. These servers provide a static IP address. But unlike the shared Static IP servers you can get from some other companies, NordVPN's Dedicated IP servers provide a static IP address that is dedicated to your sole use.
Obfuscated servers. These servers disguise your VPN traffic, making it look like HTTPS (HTTP Secure) traffic. Since almost all websites and browsers use HTTPS these days, your VPN traffic looks just like the vast majority of internet traffic. This allows it to slide right past the vast majority of internet restrictions. Thanks to its Obfuscated servers, NordVPN is a VPN that works for China, UAE and Dubai, Russia, and any other highly restricted regions.
> (opens in a new tab)">See all NordVPN features here >>
Security and privacy
We've already covered some of NordVPN's great privacy and security features. But there are more. NordVPN has completed numerous third-party audits that verified all aspects of the network and apps. Additional audits performed by Versprite and other companies confirm that this no-logs VPN delivers on its promise not to log your activities.
I ran the NordVPN Windows and macOS clients through some basic VPN tests and checks to identify any leaks or problems. Additionally, I also tested out NordVPN's kill switch to see if it worked properly in both clients.
Tests on the NordVPN Windows app did not find any address leaks or DNS leaks. In the screenshot below, you can see:
the IPv4 address matches up with the VPN client (no IPv4 leaks)
IPv6 is effectively being blocked (no IPv6 leaks)
No WebRTC leaks (but this is blocked in your browser)
DNS requests are being handled by NordVPN's private DNS (no leaks)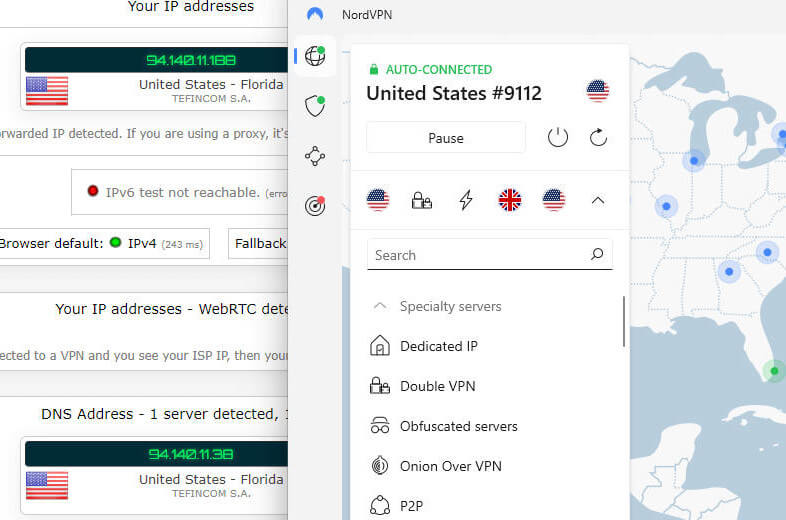 I also found the Internet Kill Switch and App Kill Switch to work well – no issues or problems to report.
MacOS leak tests – I ran the macOS VPN app through the same tests as above with the Windows client. The results were the same in that I did not find any leaks or problems. Additionally, the macOS kill switches worked correctly without any issues.
Android leak tests – Another team member tested the NordVPN Android client when working on the Best VPN for Android roundup. He found it to perform very well without any leaks or issues. If you want more options, both Surfshark and ExpressVPN also offer good Android clients.
NordVPN also boosts your defenses with its Threat Protection and Threat Protection Lite features.
Threat Protection and Threat Protection Lite
NordVPN's Threat Protection is a cutting-edge malware defense system for a VPN. It can be set up to block ads and trackers, as well as prohibit malware domains from connecting to your device. Furthermore, you can configure it to scan the documents you download and delete any that are contaminated with malware before you can open them.
And here's a capability we haven't seen elsewhere. Threat Protection can protect your VPN traffic even when you are not connected to a VPN server. This gives Threat Protection a significant advantage compared to other VPN ad blockers, such as Surfshark's CleanWeb 2.0.
Unfortunately, Threat Protection is only available for Windows and macOS operating systems.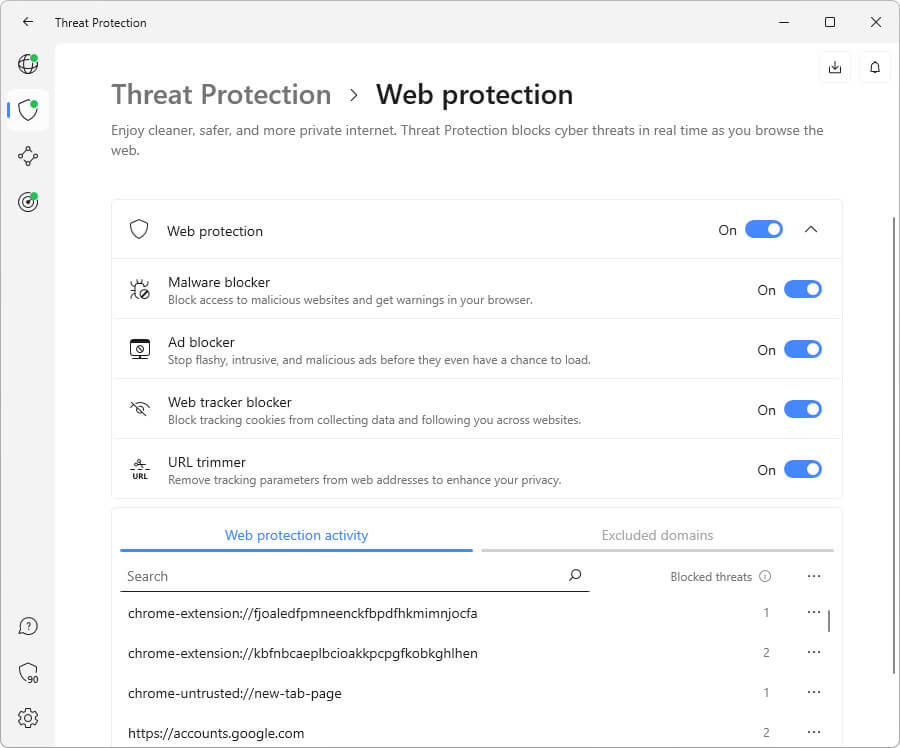 Threat Protection Lite is available for other operating systems and device types. This version of Threat Protection can block ads, trackers, and malware domains from connecting to your computer like its big brother. But it is not able to scan downloaded documents and it does require an active VPN connection to do its job. While those are some minor drawbacks, the advantage of this version is that it can be used with NordVPN's Linux, Android, and iOS apps, as well as their browser extensions.
Streaming and torrenting with NordVPN
With so many people using their VPN for streaming and torrenting, the ability to do those things well is becoming a must-have for any leading VPN service. NordVPN stars in both roles.
Streaming with NordVPN
If you want to stream Canadian TV and movies, NordVPN can definitely do the job. We rate NordVPN as one of the best VPNs for streaming. It easily unblocks the Canadian Netflix library, as well as more than a dozen additional Netflix regional libraries.
NordVPN is also one of the few effective VPNs for Disney Plus. They even offer one of the best Firestick VPN apps available.
Torrenting with NordVPN
NordVPN excels at the two most important characteristics needed to rank as the best VPN for torrenting. It uploads and downloads torrents quickly, and it will not leak your IP address. You can't lose if you use NordVPN for torrenting.
Price and value
If the price and value of your VPN are important to you, NordVPN is one of the best VPNs you'll find. If you are willing to invest in a two-year subscription, you can get a massive discount with our coupon below. This knocks the price down to under $3.50 per month, making NordVPN one of the best cheap VPNs on the market. In addition, all NordVPN plans come with a 30-day money-back guarantee and 24/7 live chat support.
By combining impressive performance and features with a crazy low price, NordVPN has become an amazing value.
NordVPN Canada servers
Montreal
Toronto
Vancouver
We think NordVPN is currently the best VPN for Canada. Here is a summary of the pros and cons of this service:
+ Pros
User-friendly and reliable apps
Double-VPN and Tor-over-VPN servers
Passed numerous 3rd-party audits
Strong encryption standards with full support for WireGuard
Works with Netflix and many streaming sites
Threat Protection feature to block ads, trackers, and malware
Professional 24/7 live chat support
Consistently fast speeds
Dedicated RAM-servers with 10 Gbps bandwidth channels
– Cons
Big discounts only available with 2-year plans
NordVPN's Cyber Deal is live:

Get 69% Off NordVPN with the coupon below plus 3 months FREE, no activation code needed:
(Coupon is applied automatically; 30 day money-back guarantee.)
Check out our updated NordVPN review for more info and test results.
---
Surfshark – A cheap VPN for Canada with great performance
| | |
| --- | --- |
| VPN | Surfshark |
| Based in | The Netherlands |
| Logs | No logs (audited) |
| Price | $1.99/mo. |
| Support | 24/7 live chat |
| Refund | 30 days |
| Website | Surfshark.com |
Next up on our Canada VPN list is Surfshark, a secure and fully-featured VPN at a very low price. Despite being a relatively newer service (launched in 2018), Surfshark has taken the VPN world by storm.
Surfshark features
It offers a very secure VPN service that is packed with features and options. Surfshark's features include:
MultiHop (double-VPN) servers that pass your traffic through pre-defined pairs of VPN servers in different countries
Dynamic MultiHop servers are double-VPN configurations that you define for your specific needs
Camouflage mode to conceal VPN traffic and get through blocking attempts (this makes it a great VPN for UAE, China, and anywhere else that blocks VPNs)
CleanWeb & CleanWeb 2.0 features to block ads, trackers, and malicious domains
Bypasser split tunneling feature
Static IP servers that give you a fixed IP address that you share with other users, plus the security and privacy of Surfshark
Dedicated IP servers that give you a fixed (static) IP address with the security and privacy of Surfshark but is not shared with other users
> (opens in a new tab)">See all Surfshark VPN features here >>
With the growing privacy concerns in Canada, Surfshark's added features may be quite useful. The VPN has completed multiple audits conducted by outside (third-party) auditors. Of particular interest here is that at the end of 2022, Deloitte completed an audit of Surfshark's no-logs policy. Finally, we have independent confirmation that Surfshark is indeed a no-logs VPN.
For encryption, Surfshark uses an AES-256 cipher with the OpenVPN and IKEv2 protocols. And like NordVPN, Surfshark also supports the WireGuard protocol which uses the ChaCha20 cipher. This also offers great speeds, as you can see in the Surfshark vs NordVPN comparison.
In addition to its strong privacy and security features, Surfshark is based in The Netherlands, one of the better locations for a privacy business like this one. As far as we have been able to find, there has never been any kind of security or privacy problem with Surfshark.
Surfshark is cheap and gives you unlimited connections
Before we go further, I should point out two features of Surfshark that attract a lot of attention. One is the price. Surfshark is a high-quality service with an extremely low price. If you use the discount coupon below, you can get a 2-year subscription to Surfshark for under $2.50 per month.
Then there is the way Surfshark handles connections. Most VPNs allow a limited number of simultaneous connections with a subscription. Most VPNs allow you to have either 5 or 6 devices actively using the VPN at any time.
Limits like these are usually sufficient. But as we add more and more internet-connected devices to our lives, it can be a problem. For example, when everyone is home at my place, there could be four smartphones, 4 computers, along with several tablets and Smart TVs all connected to the internet simultaneously. We couldn't have everything connected at once and protected by the VPN with a limit of 5 or 6 simultaneous connections.
Surfshark eliminates this problem by supporting an unlimited number of simultaneous connections. We could have everything connected and using the VPN at the same time with a single Surfshark subscription. If you need a lot of simultaneous internet connections, you should definitely check out Surfshark.
Surfshark apps
Like the other best Canada VPNs, Surfshark offers an excellent lineup of apps for all major operating systems and devices. These apps include built-in leak protection settings and all the privacy and security features discussed above. Here is the Windows VPN app we tested for the review: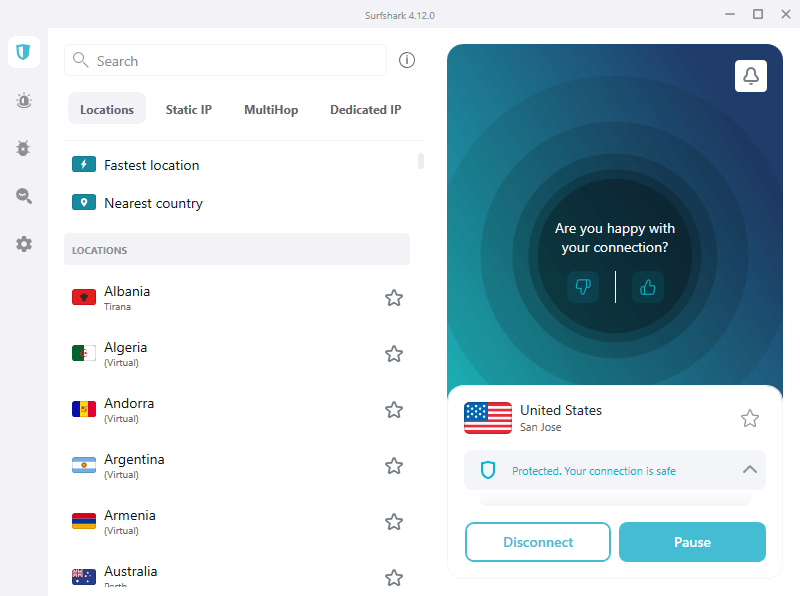 Streaming and torrenting with Surfshark
Like NordVPN, Surfshark is a very capable service for streaming and torrenting. Here are the details.
Streaming
If you are looking to stream Canadian media with privacy and security, Surfshark will fit the bill. They support Canada Netflix, as well as 14 other Netflix regions.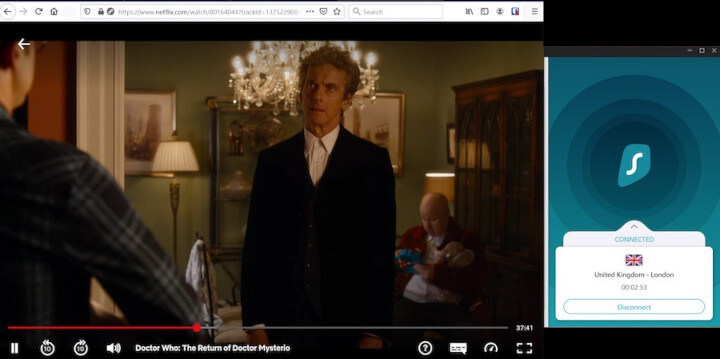 It is also a great VPN for other streaming services such as Hulu, Amazon Prime Video, and Disney+. Surfshark also does a great job as a VPN for Kodi streaming, and supports all sorts of streaming devices, including Smart TVs and Firestick.
Torrenting
Surfshark is very fast and won't leak your IP address, so it should be no surprise that it makes for a great torrenting VPN. As a matter of fact, it joins NordVPN on our list of the best VPNs for torrenting.
Surfshark servers
Surfshark also boasts a large server network that is comparable to ExpressVPN and NordVPN with 3,200+ servers in 100 countries. With this many server locations, you should be able to find a fast and reliable server in whatever region of the world you need.
All Surfshark plans come with a 30-day money-back guarantee. 24/7 live chat is always available directly through the Surfshark website.
Surfshark's Canada VPN server locations
Montreal
Toronto
Vancouver
+ Pros
Unlimited connections
User-friendly apps for all devices and operating systems
CleanWeb feature to block ads, trackers, and malware
Works great with Netflix and many other streaming services
24/7 live chat support
Strong encryption and security features (audited)
– Cons
Limited support for VPN routers
Above average monthly prices
Surfshark Coupon:

Get 80% off Surfshark VPN (drops the price down to $1.99 per month) plus 5 months FREE:
(Coupon is applied automatically.)
Check out our Surfshark review for more info and test results.
---
ExpressVPN – Secure and reliable Canada VPN
| | |
| --- | --- |
| VPN | ExpressVPN |
| Based in | British Virgin Islands |
| Logs | No logs (audited) |
| Price | $6.67/mo. |
| Support | 24/7 live chat |
| Refund | 30 days |
| Website | ExpressVPN.com |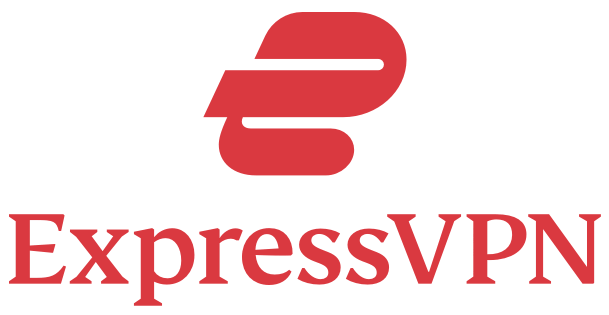 ExpressVPN rounds out our third choice as the best VPN for Canada. What makes ExpressVPN stand out? It offers great speeds, excellent security, reliable apps, and is a good option for streaming. ExpressVPN's apps include a Network Lock feature (kill switch) that integrates with the operating system firewall to block all non-VPN traffic if the connection drops. Traffic is encrypted via 256-bit AES encryption using the OpenVPN or IKEv2 protocols. It also now supports the Lightway protocol, which is similar to WireGuard.
ExpressVPN apps
Do you want an easy-to-use VPN that supports a wide range of devices? ExpressVPN could be the service you are looking for. It is a great choice with support for all major operating systems and platforms. Their apps are clean and minimal, while also integrating all the crucial features you expect from a VPN. It ranks as one of the best VPNs for Windows and does well with all operating systems. Here is the ExpressVPN Windows app: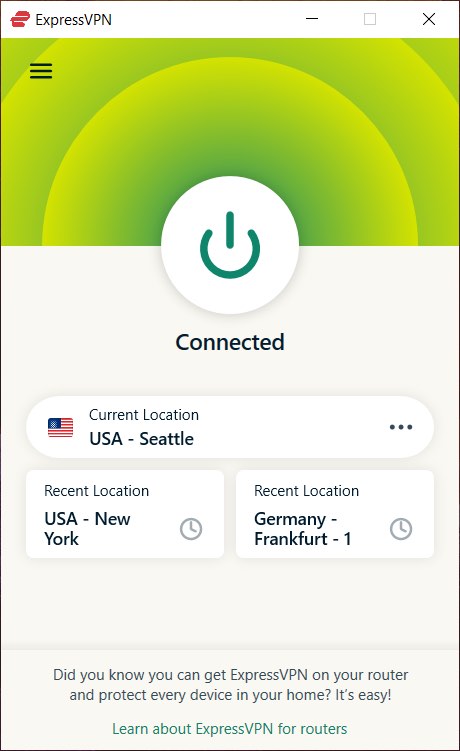 While many VPNs suffer from privacy scandals and various setbacks, ExpressVPN has a squeaky-clean track record going back many years. It has undergone independent security audits by Cure53 and even had its no-logs policies audited and verified by PWC. It also runs all servers in RAM-disk mode to ensure no information can be stored or seized by third parties (see the TrustedServer feature).
As we discovered in the ExpressVPN review, the speeds with Lightway are good, although not quite as fast as with NordVPN or Surfshark, which both support WireGuard. ExpressVPN currently has over 3,000 server locations in 94 countries around the world. This puts it on par with Surfshark and IPVanish. And while many VPNs are getting blocked by Netflix and other streaming services, ExpressVPN continues to get through and is currently one of the best VPNs for Netflix with 24/7 access to many libraries.
ExpressVPN is based in the British Virgin Islands, an excellent privacy jurisdiction outside of the Five Eyes surveillance countries. For support, they offer 24/7 live chat and email, as well as a 30-day money-back guarantee with all subscriptions.
ExpressVPN Canada servers
Toronto
Montreal
Vancouver
+ Pros
User-friendly and secure apps
Split tunneling feature (for macOS, Windows, and routers)
Works with Netflix and most streaming services
24/7 live chat support
Passed independent third-party audits for security and no-logs
Very large server network
– Cons
Above average prices
Fewer features than other leading VPNs
ExpressVPN Coupon:

Sign up for the 12-month plan and get 3 months added to your subscription for free.
(Coupon is applied automatically.)
Check out our ExpressVPN review to learn more.
---
Do you need a VPN for Canada?
As we noted earlier, there are many reasons why you need a VPN for Canada. Here is a brief overview explaining some of the reasons:
Online privacy concerns in Canada
Surveillance and the loss of online privacy is a big concern for regular Canadians. This trend has been growing for many years. Just like in the US, Canada has many laws that sound fine on the surface but contain problems that are hidden in the details. This is more of a problem today in Canada than ever before.
In the past few years, Canada has passed a number of laws that infringe on Canadians' right to online privacy.
Bill C-11 (Copyright Modernization Act) – Passed in September 2011, the Copyright Modernization Act basically forces data collection by internet providers and search engines to enforce copyright claims. In other words, it forces you to sacrifice your online privacy so large digital media companies can go after someone for downloading music or videos.
Bill C-51 (Antiterrorism Act 2015) – The Antiterrorism Act of 2015 is also alarming. It provides Canadian authorities with sweeping authority to hack, record, and monitor practically any device that uses the internet in Canada. Of course, the issue of sacrificing privacy to combat "terrorism" is a worldwide trend and is not limited to Canada.
Protecting Canadians from Online Crime Act – This is the "lawful access" legislation that was passed in December 2014. While the legislation was proposed to theoretically protect people from "cyberbullying", it included many other provisions unrelated to its original intent. This bill broadly expanded the ability of authorities to access online data, phone records, and digital tracking with only "reasonable grounds for suspicion."
People in Canada today can now be snooped and surveilled by internet providers, telephone companies, and a broad assortment of government agencies – and it's all perfectly legal.
The best and most effective solution to these problems is to use a VPN whenever you are online. VPNs work great on computers, tablets, phones, and more. This will encrypt and anonymize your online activity, thereby making it unreadable to third parties.
Canada's neighbor to the south, the United States, may also be collecting data on Canadian ex-pats and passing this on to others (discussed more in the VPNs for USA guide).
Going even further abroad, countries that are members of the Five Eyes alliance are alleged to spy on each other's citizens, then pass the information along to the home country. This allows each country to get information about their citizens that they cannot legally gather themselves.
Canadian internet providers record your browsing activities
If the surveillance concerns noted above weren't enough to put you on edge, it gets even worse. Canadian internet providers can easily record every website you visit. In many countries, such as Australia, this is mandatory due to data retention laws.
Canadian internet providers can record your browsing history by simply recording DNS requests. These requests reveal all the websites you visit and are sent to your internet provider in cleartext. But when you use one of our recommended VPNs for Canada, your DNS requests are encrypted and handled by secure private DNS systems, meaning they are hidden from Canadian ISPs and other third parties.
This is a trend we are seeing everywhere. In the UK, internet providers are forced to record all web browsing of their users and pass this data on to the government – this is why using a VPN for the UK is so important.
Heavy-handed copyright laws in Canada
Canada is also home to some very harsh copyright laws. Thanks to the Copyright Modernization Act (Bill C-11), internet providers and search engines must record your activity. If you are suspected of infringing on any copyright, such as downloading music or movies, you can be hit with fines in the thousands of dollars. (Time to get the best VPN for torrenting and keep your activity concealed.)
Here is one news clip that highlights the importance of using a VPN in Canada when doing anything that could be a "grey area" with copyright issues.

Note: We see these same trends unfolding in the United States. In fact, the COVID-19 relief bill included a provision to jail people for 10 years for illegal streaming.
Streaming and accessing geo-restricted content
Another reason for people in Canada to use a good VPN is for accessing geo-restricted media and websites. For example, UK ex-pats living in Canada may want to watch BBC, which blocks anyone who does not have a UK IP address. With a VPN, someone in Vancouver, for example, could connect to a server in London and stream BBC iPlayer with a VPN to their heart's content.
Similarly, Canadians living abroad can use a VPN to access Canadian Netflix. A VPN is also useful for streaming Canadian TV channels, such as the CBC.
Get a Canada IP address with a VPN
Lastly, there are also people outside of Canada who may want a Canadian IP address. In addition to accessing Canadian media, a Canadian IP address might be necessary for banking and other services.
To get a Canadian IP address, all you need to do is connect to a VPN server in Canada. The VPN server's IP address and location will replace your IP address and location.
What about Canadian VPNs?
You may have noticed that there are no Canadian VPN services (VPNs legally based in Canada) recommended in this guide. The reason for that is simple: Canada is not a very good jurisdiction for privacy. Like the United States, Canada has passed many laws that infringe on people's right to privacy, as we have already noted.
Additionally, Canada is also a member of the Five Eyes alliance of surveillance/data collection partners. This means that the Canadian government cooperates with the US, UK, Australia, and other governments to collect and share mass surveillance data. And speaking of Australia, VPN usage there is also growing, thanks to mandatory data retention laws and the loss of privacy.
Here are some of the Canadian VPNs we have reviewed. None of these were top performers:
Canada is a great country. But from a privacy perspective, it would be wise to pick a VPN that's located in a better jurisdiction.
Are VPNs legal in Canada?
Yes. VPNs are perfectly legal and are used by people in Canada every day for privacy, security, and online freedom. And with more people working from home in Canada, online security is more important than ever.
In fact, Canadian businesses use VPNs every day for data security, especially with remote workers or traveling employees. Even in places like China, VPNs are still legal for everyday use and achieve more online privacy and security.
From Canada to Europe and Australia, VPNs are quickly becoming popular as more people choose to restore their privacy with good VPN services and other privacy tools. In short, you don't have anything to worry about when using a good, trustworthy VPN, whether you're located in Canada or anywhere else.
Of course, you should not be using a VPN to break any laws in your country. If you're like most people, however, a VPN is just an important tool for privacy, security, and more online freedom.
How to get the best VPN speeds for Canada
The main tip for getting the best VPN speeds for Canada is to connect to a nearby server in your geographical region. For each of the Canada VPN services above, I also provided all of the server locations in Canada. If you are in Canada, connecting to one of these locations, or a nearby VPN server in the US, will offer the best performance.
For high-performance VPN services, including all three of our Canada VPN recommendations above, speeds should be excellent with nearly all servers. As a general rule of thumb, however, you should expect some speed tradeoff for long-distance connections, such as connecting to servers in Australia from Canada.
If you want the fastest VPN speeds possible, I would recommend going with either:
NordVPN with WireGuard
Surfshark VPN with WireGuard
While ExpressVPN does have fast VPN servers in Canada, it is still not as fast as either NordVPN or Surfshark VPN. You can see this in our recent ExpressVPN vs Surfshark comparison.
WARNING: A VPN will not help if you have speed problems with your internet provider.
I have seen various complaints from people about Rogers, Bell, and other Canadian internet providers. Issues range from speed problems to connectivity, but user reviews vary on this subject!
If you are having speed issues, you may want to first verify the problem does not reside with your internet provider. It's also easy to test your VPN for speeds and data leaks.
Conclusion: Use a VPN for Canada in 2023
While Canada is a great country with friendly people and beautiful scenery, it is also a place where online privacy rights are deteriorating. We had been optimistic that things would improve over time. But recent events show that at best, it will be a while before Canada becomes a safe place for privacy lovers. Your best bet is to take control of your own data with a good VPN and other privacy tools.
Using a VPN for Canada will help you to defend your privacy, secure your data, and access any content you want from around the world, wherever you are located. While NordVPN is our pick as the best VPN for Canada, any of the VPNs we profiled in this comparison could be the right Canadian VPN for you.
Our top recommendation remains NordVPN. It simply outperforms the others across the board, but ExpressVPN and Surfshark are also not very far behind. All three of these VPNs offer a 30-day money-back guarantee.
This guide to the best VPNs for Canada was last updated on August 13, 2023.