Mailfence is a privacy-oriented office suite offering secure email, contacts, storage, and more. It is aimed at privacy-conscious individuals, businesses, and universities. We have been a fan of Mailfence ever since we first tested it a few years ago and it continues to grow in popularity. According to the company,
We are happy to share with you that the interest in our service is booming. Signups to Mailfence are more than double the numbers of last year and keep on increasing. We are thrilled to see so many new users coming in, joining the fight for online privacy.
Today I revisit the service to see what's new since last time around. For this Mailfence review update, I created a new account and started testing, with a focus on the email side of things. My goal was to see how Mailfence compares to other secure email providers.
| | |
| --- | --- |
| Based in | Belgium |
| Storage | 5-50 GB |
| Price | €3.50/mo. |
| Free Tier | Up to 500 MB |
| Website | Mailfence.com |
Note: While reviewing the entire suite of tools provided by Mailfence was not the purpose of this review, from what I saw of it, Mailfence might work as a replacement for Google's entire G Suite. We already rank it among the best alternatives to Gmail, with many features for all types of users.
Mailfence is also a strong advocate for online privacy, as they note on their website:
…we will lose our right to online privacy if we don't fight for it. Therefore we pledge to donate 15% of all income of the Pro plan to foundations like the Electronic Frontier Foundation and the European Digital Rights Foundation that fight for the defence of our rights in the digital world.
Mailfence, along with Tutanota and several other European tech companies, published an open letter to the European Parliament on April 15, 2021. The letter warned against the banning of encryption in order to, "fight against child abuse." The letter lays out a number of grievous problems with the proposed initiative, which will be used to further spy on people around the world.
According to the letter, this initiative would require all private chat messages, and apparently all end-to-end encrypted content, to be automatically screened for illegal content. This would require everything to be decrypted so that the automated systems could read them. The EU would go from being a global model for personal data protection to a global model for mass surveillance. We also see this unfolding in Australia, as we discussed in our guide on the best VPNs for Australia.
Here is an overview of the Pros and Cons we discovered in this Mailfence review:
+ Pros
Offers end-to-end encryption and digital signatures
Mobile and web apps
Data is stored on Belgian servers
Offers OpenPGP encryption
Messages, Documents, Calendar, Contacts, and Groups
SMTP, POP, and IMAP support
Can synchronize with other email clients
Supports password-protected messages with expiration time
Removes IP addresses from mail headers
OpenPGP user keystore
Great user interface (recently updated)
Cryptocurrency payment options
– Cons
Logging of IP address and some other data
Code is not open source
Mailfence features overview
Mailfence provides a full suite of services, Messaging, Contacts, Calendars, Groups, and Document storage. They use industry-standard OpenPGP encryption and digital signatures to protect your data and authenticate your messages. With support for messaging protocols like SMTP, POP, and IMAP, Mailfence can synchronize with many popular desktop and mobile email clients.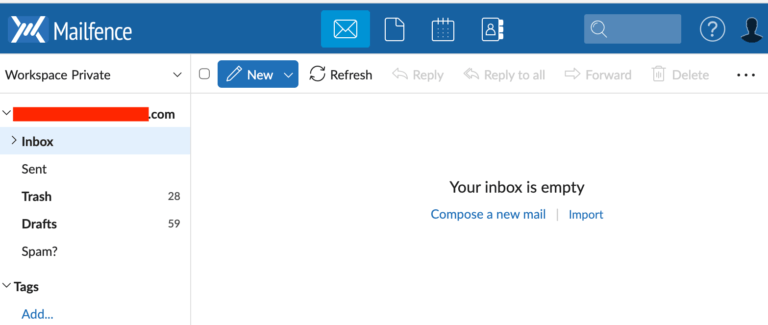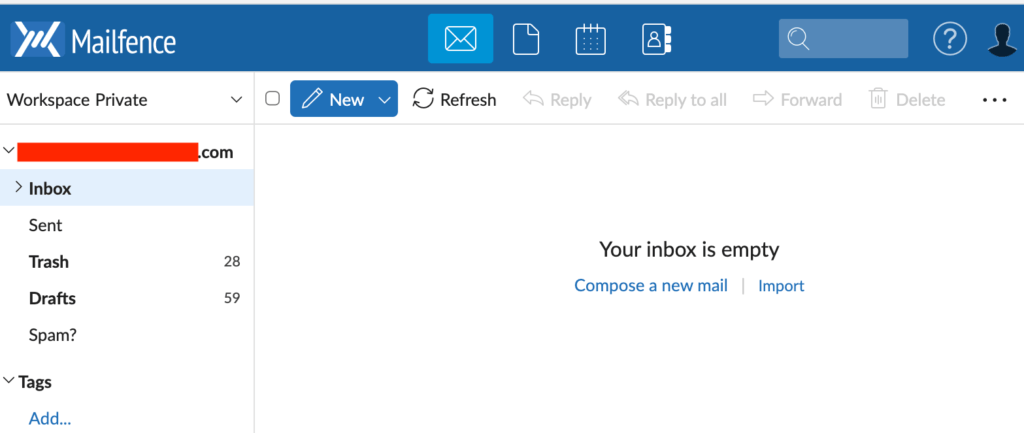 Interesting features of Mailfence include:
A built-in Keystore to manage your OpenPGP encryption keys
The ability to send encrypted messages to users who don't use PGP
Ability to digitally sign emails using OpenPGP
Easy integration with Thunderbird and other email services and clients
SMTP, POP, IMAP, CalDAV, CardDAV, ActiveSync support
A heavily-customizable business version
Mailfence company information
Mailfence is a secure email suite that offers end-to-end encryption (through PGP support) and the ability to work with different email clients. It is offered by ContactOffice Group SA, a Belgian company founded in 1999. The founders launched Mailfence in November of 2013. Your data is stored on Mailfence's own servers in Belgium, which has pros and cons.
Being based in Belgium is good because the country is not part of the Five Eyes intelligence alliance, and does not use National Security Letters (NSLs), gag orders, or other techniques to secretly gather data about users. Mailfence maintains a Transparency Report and Warrant Canary so users can see what legal requests for information it has received in any six-month period.
Being based in Belgium also has drawbacks, however, as a member of the Fourteen Eyes intelligence alliance. In 2016, the Belgian government imposed new data retention rules. These rules force companies to keep track of every transaction within their systems for a period of 12 months in case the authorities want it.
But not any more
On April 22, 2021 the Constitutional Court of Belgium declared the data retention law unconstitutional. Unfortunately, this isn't the end of the story. Federal justice minister Vincent Van Quickenborne and others inside the government are already hard at work coming up with a new law to track digital communications.
How this will affect services like Mailfence isn't clear yet. We'll let you know once we hear more.
Mailfence technical specifications
Mailfence uses strong encryption algorithms to ensure that your messages cannot be read or tampered with. These include:
OpenPGP for digital signatures and for encrypting your data (PGP-MIME and inline-PGP)
SSL/TLS, Perfect Forward Secrecy (PFS), MTA-STS and HSTS for protecting your data while in motion
Other supported protocols include SMTP, IMAP, POP, ActiveSync, WebDAV, CalDAV, and LDAP.
Buypass AS is the certificate authority for Mailfence, as explained here.
Mailfence hands-on testing
I created a free account to test out the service for this Mailfence review. The free version gives you all the basic features, while reserving synchronization ability and business-related features (like custom domains) for the paid versions. I suggest you begin your Mailfence experience with the free version since you can easily upgrade when/if you need to.
Let's get started.
Signing up for Mailfence
Signing up for Mailfence is quick and easy. Go here and click the "Sign up" directly on the homepage.
You'll need to give Mailfence an existing email address so they can send you an authentication message. This is annoying, but it is far better than being required to cough up a telephone number like you are with some services (Fastmail, for example). Besides, you can use a disposable email account if you don't want to give them one of your regular addresses.
Once you get here you'll select your email address from among the options the service provides. And once you get through this, you'll find yourself at a temporary introductory page. You'll get all sorts of information about the service to help you get off to a fast start. At the top of the page, you will see icons for email, documents, calendar, and contacts. We'll start with email:

The look and feel of Mailfence
I've had a Mailfence test account for about three years now. The current layout is a nice improvement over the previous versions. The design makes it simple to switch tasks, draft emails, upload documents, manage contacts, and more.
Messages
The design uses the standard 3-column layout for Messages, with the folders you'll want on the left and the commands you are most likely to need right at the top. And unlike some web-based interfaces I've seen, the controls stay at the top of the window as if this were a standard app rather than a browser-based interface.
Creating and managing encryption keys
Before you go any further with Messages, I suggest you set up your encryption keys. You'll need these before you can send or receive encrypted messages with Mailfence.
Follow these steps in the webmail app:
Click your icon at the top right of the interface.
In the shortcut menu that appears, select Settings.
In the menu that appears on the left side of the window, select Encryption (it is under the Messages heading).
From here you can Generate a new personal key or Import a key.
To complete the process, follow the steps in the wizard that appears. I won't go through the complete process of creating, sharing, and using encryption keys here. If you want to see the details, you can see the instructions on the Mailfence website.
Sending and receiving messages
You can create a plain text message with the defaults, or you can click More to see a menu of options, including the ability to use Rich Text Formatting while writing your message.
Once you are done writing your message, you'll need to decide how you want to send it. You can send the message either encrypted or "in the clear" (with no encryption), and either signed or unsigned.
Click Encryption and a wizard appears that walks you through sending the message either protected by a Password or by OpenPGP encryption.
Click Sign & Send to digitally sign your message before you send it. You can also click the down arrow in that button to send the message without signing it.
Note: If you would like more information on encrypting and signing messages, you can find it here. And we also have a guide on the topic of encrypted email here.
Receiving a message is also easy and works as expected.
Contacts
As any good email program should, Mailfence offers an integrated Contacts feature.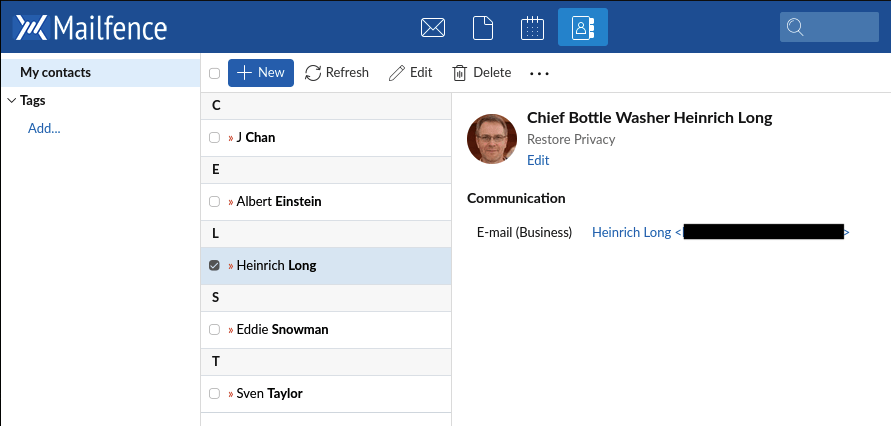 Happily, you don't need to worry about each contact's encryption keys here, since they are all managed in the Keystore.
Groups
Once you've entered your Contacts, you can create Groups. After setting up a Group, you can add both users and the data they need into that group, making it easy to collaborate.
To create and work with Groups, follow the instructions on this page.
Calendars
Mailfence supports one personal Calendar per user. You also have access to the Calendars associated with any Groups you belong to, as well as external Calendars from other services.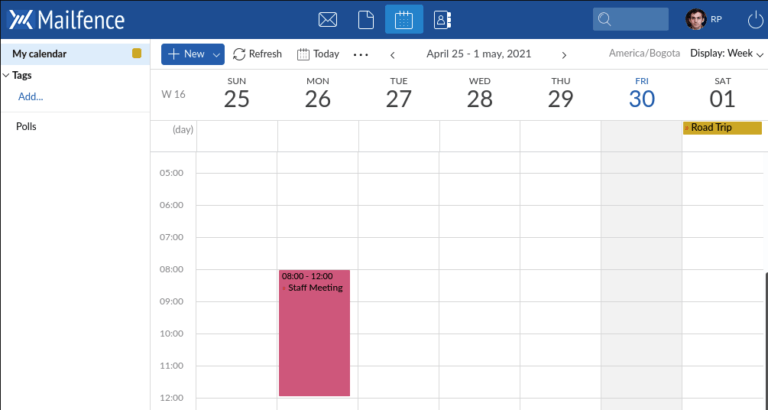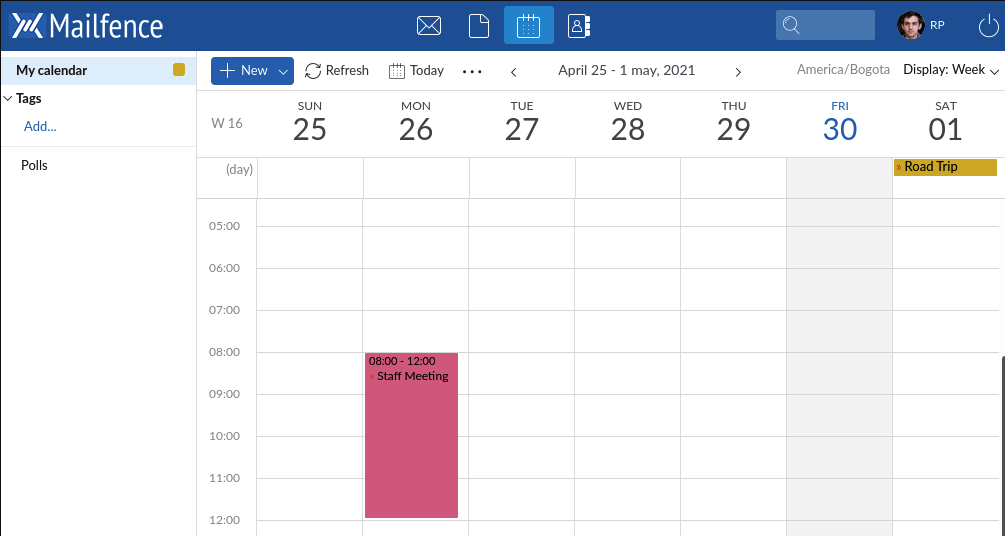 The Mailfence Calendar has a huge range of capabilities. To see what it can do, you can learn more on their website.
Documents
Not surprisingly, Documents is a place where you can upload documents/files so you can access them from any web browser or share them with other Mailfence users.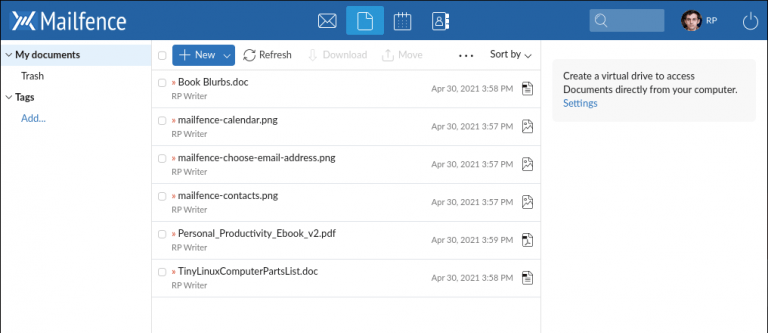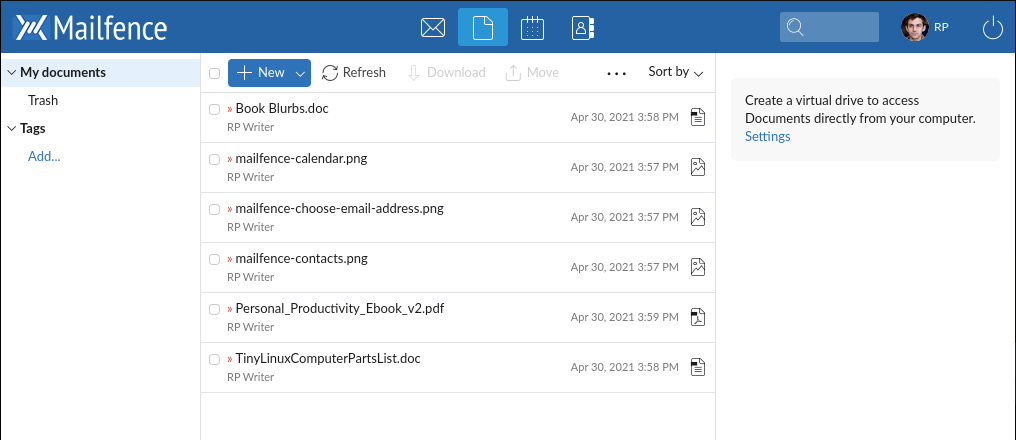 You can learn more about Documents, including how to use group-oriented features like managing permissions, on the Mailfence website.
Mobile and desktop apps
This is one area where Mailfence lags behind other secure email competitors. Unlike services such as Tutanota, Mailfence does not offer desktop apps. For desktop, the only option is to log in to the webmail portal.
However, for mobile devices, Mailfence now has a dedicated app. This is a progressive web app (PWA), which works on Android and iOS devices with certain browsers. Here is what you can do with the Mailfence mobile app:
Access all of the Mailfence components: Mail, Contacts, Calendar and Documents.
Send & receive encrypted emails
Access private & group workspaces
Because the mobile "app" is a web page, whether you can use it or not depends on which mobile browser you have and how it's configured. Right now, you can not use the mobile PWA with Firefox, DuckDuckGo, or Brave browsers. It currently works with Chrome and Safari browsers.
Mailfence business features
Describing Mailfence for Business is a bit tough. That's because, as they describe it,
With Mailfence for Business you get a customized version of the Mailfence secure and private email solution in order to adapt it to the specific security and usage needs of your organization or business.
In other words, their team will work with you to make Mailfence the perfect fit for your business needs. Here is a partial list of the customizations you can request:
The graphic presentation including your logo and the look of your login page
Storage space based on your organization's specific needs
Integration with external services
A custom control panel for managing accounts
And of course your own custom email domain names
The Mailfence for Business API allows you to automate many tasks and integrate with LDAP, Active Directory, and CAS.
Contact Mailfence Support for the latest specification or request specific features.
Support
Like other reviewers and users, I've found Mailfence Support to be great if you need any assistance. They are quick to respond and give quality answers to your questions. Of course, users with the higher-level plans (Pro and Ultra) will get faster service than those Free plan users.
The Mailfence Knowledge Base is a good addition to their Support system. It provides useful information on a wide range of topics including tutorials and step-by-step instructions. You can also find regular documentation on most any aspect of the product.
Mailfence plans and prices
Mailfence offers four pricing plans in total: Free, Entry, Pro and Ultra. While you would probably find the Free plan too limited to use as your main email account, it is sufficient to get a feel for Mailfence before committing to a subscription.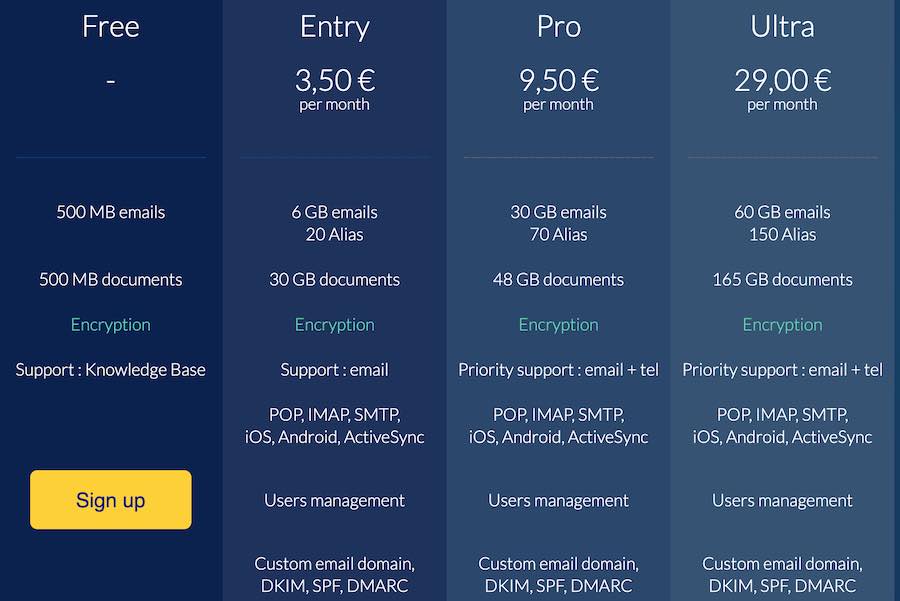 Mailfence supports all major payment options. For situations where you require additional privacy, you can pay for your subscription using the Bitcoin and Litecoin cryptocurrencies. Registering for the service with an anonymous email account (for the recovery address) and paying with cryptocurrency will give you an additional layer of privacy on top of what's already provided by Mailfence.
Should you consider Mailfence?
While many secure email services are somewhat restrictive with features, Mailfence is a fully-featured alternative to Gmail.
Whether you are a regular privacy-conscious user or managing a business team, Mailfence can cater to your needs. Aside from basics like the price and whether it offers all the features you need, there are two other things to consider with Mailfence:
Do you want to use built-in encryption or manage your own?
Does the Mailfence threat model match your needs?
Let's examine each of these questions.
1. Do you want to use built-in encryption or to manage your own?
As you've seen in this review, Mailfence uses PGP encryption (via the OpenPGP standard) and a built-in Keystore to give you complete control over the encryption of your data. Once you've got your encryption keys set up and shared properly, working with encrypted messages is easy. But as you've also seen, there can be a significant amount of work required to create and manage keys so that you can use PGP encryption with others.
Other end-to-end encrypted services like Tutanota handle all that encryption setup and management in the background. But with a solution like this, you lose some of the control you might want to have. You also have to trust the email service to not do anything sneaky in the background. It is up to you to decide which way you want to handle your encryption.
2. Does the Mailfence threat model match your needs?
To know if a secure email service will meet your needs, you have to understand the kinds of threats you want to protect against. Once you know that, you can evaluate whether or not any given service can meet those needs.
One of the nice things about Mailfence is that they have long published their threat model. Here is a summary of their model:
Mailfence protects against:
Eavesdropping on your connection
Mass surveillance
Message forgery / tampering attacks
Compromised account
Data theft
Mailfence does NOT protect against:
A compromised device
A compromised or forgotten passphrase
Sophisticated Man-in-the-Middle attacks
Attacks by powerful state adversaries (NSA and similar heavy hitters)
The Mailfence website has more info on these topics if you want to learn more.
Mailfence FAQ
Here are some frequently asked questions about Mailfence.
Does Mailfence store emails encrypted at rest?
Mailfence has been promising to add an option for full encryption at rest of the entire inbox and all emails. However, as of now, this is not an option and your inbox is not stored encrypted at rest.
Does Mailfence have an app?
Mailfence does not have a desktop app. They do have mobile apps, in the form of a Progressive Web Application (PWA). To find out more about what that actually means, visit this Mailfence blog page.
What are some Mailfence alternatives?
Mailfence is a powerful secure email suite, but it may not be what you want. Fortunately, you have a few different options to consider.
If you like the secure nature of Mailfence and its additional features, such as Calendar and Documents, but don't want to manage encryption keys, you might want to read our Tutanota review.
Do you like that Mailfence supports PGP and integrates with other apps, but don't want all the complexity of the Mailfence suite? Then check out our ProtonMail review.
Mailfence review conclusion
This concludes our Mailfence review. To recap, if a secure email suite with full PGP control and interoperability is what you seek, Mailfence could be the solution. It has all the features and options that you are likely to need, whether you are looking to manage the mail for an entire organization, or just want a great service for personal use.
With 500 MB of free account storage, you can test drive Mailfence for free here >>
Alternatives to Mailfence
If you want to check out some other secure email services, see the reviews below:
ProtonMail Review
Tutanota Review
Mailbox.org Review
Hushmail Review
Posteo Review
Fastmail Review
Runbox Review

This Mailfence review was last updated August 12, 2023.