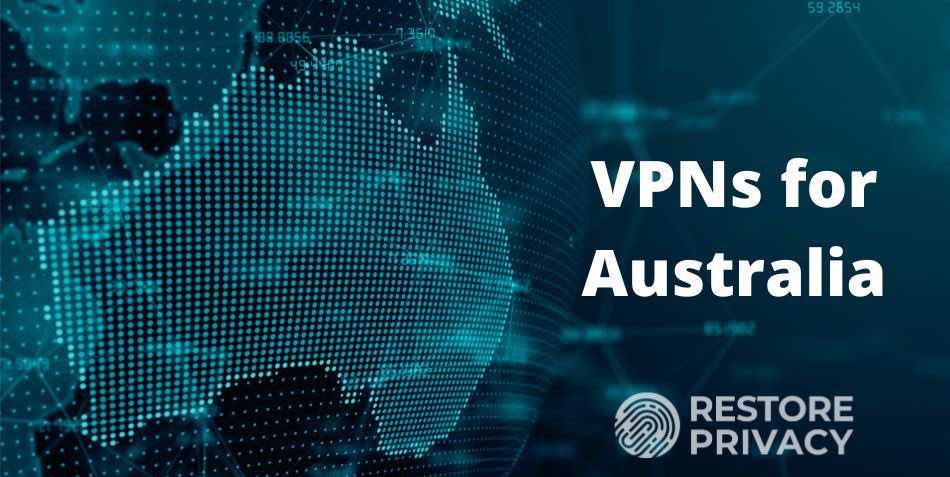 With all of the alarming developments in data retention, blocked websites, and internet providers recording your browsing history, many people are looking for the best VPN for use in Australia. Whether you need an Australia IP address for accessing content, or you are simply looking for more privacy in the land down under, this Australia VPN guide will give you the answers.
VPN usage continues to grow around the world, particularly in Australia. Australia has seen a massive surge in people using VPNs. But how do you find the best VPN for Australia among a vast sea of mediocre VPNs? We've tested all of of the top VPN providers and narrowed the list down to a select few that performed well with great speeds, privacy and security features, reliability, cost, and more.
Top VPNs for Australia
NordVPN – Best all-around VPN for Australia with excellent speeds, secure and reliable apps, great privacy features, and a large server network (with a 69% off coupon)
Surfshark – An affordable, reliable VPN for Australia with excellent features
ExpressVPN – A reliable and user-friendly VPN with servers in Australia
So why exactly are more people than ever choosing to use a VPN for Australia? Here are a few reasons:
Privacy concerns – Various surveys indicate that Australians are more concerned about their online privacy than ever before. The laws in Australia now provide authorities with every website you view online (unless you are using a VPN).
Streaming content – Using a VPN to stream Australian media remains a popular hobby for many, and it's a cheaper alternative to standard TV subscriptions.
Data security – With many people working on public WiFi in cafes, hotels, and airports, there is a growing need to secure your connection and data. Public WiFi hotspots come with many risks, but a VPN will encrypt and secure your connection. There are also many risks of hackers exploiting networks and individuals online.
Australian IP address – There are many reasons to get an Australian IP address. Aside from streaming Australian media, you may also need an Australian IP address for accessing certain servers or websites, such as banking sites.
Whether you are residing in Australia and looking for the best VPN or perhaps you are living abroad and needing an Australian IP for streaming content, a VPN is the best solution. Below are the top VPNs for Australia based on the latest tests:
NordVPN – Best VPN for Australia in 2023
| | |
| --- | --- |
| VPN | NordVPN |
| Based in | Panama |
| Logs | No logs (audited) |
| Price | $2.99/mo. |
| Support | 24/7 live chat |
| Refund | 30 days |
| Website | NordVPN.com |
Topping our list of the best VPNs for Australia is NordVPN. This VPN stands out from the crowd with numerous features, secure apps, and blazing-fast speeds. It is strategically based in Panama, which is an excellent privacy-friendly jurisdiction.
NordVPN apps
NordVPN's applications feature an intuitive interface, allowing users to easily select servers and choose options right from the main window. The NordVPN apps are practical for both novice and experienced users.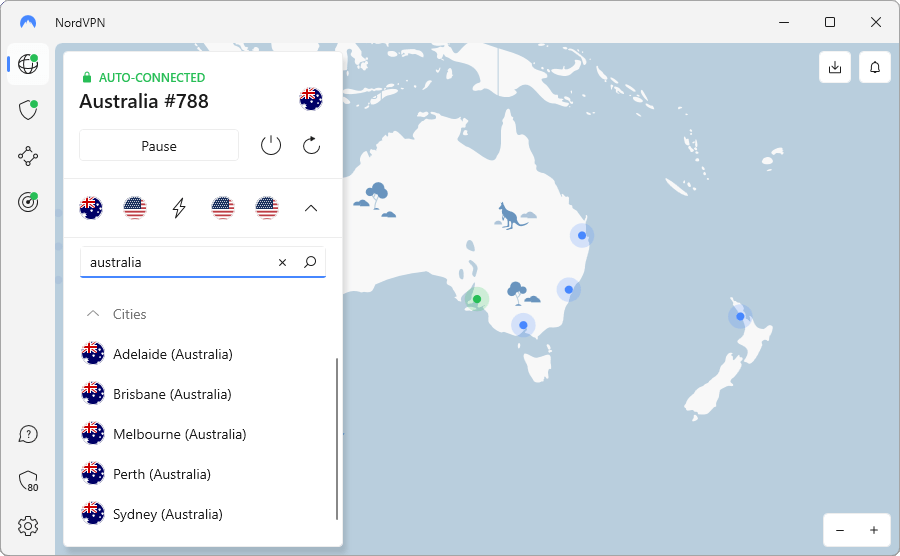 One of the notable features of NordVPN's applications is the built-in kill switch, which provides an additional layer of security by preventing data leaks in the event of a sudden connection drop. We tested NordVPN apps for leaks using our standard VPN test suite. The apps passed all our tests with no leaks, glitches, or any other type of problem.
In our recent ExpressVPN vs NordVPN comparison, NordVPN emerged as the clear winner, in part because of more user-friendly apps.
Other NordVPN features
One of the biggest advantages you get with NordVPN is NordLynx, a custom VPN protocol that incorporates the WireGuard VPN protocol. The WireGuard protocol offers a huge speed advantage over OpenVPN and other legacy protocols. It also provides next-generation encryption technology on top of a lean, lightweight code base. Using WireGuard with NordVPN, we were able to hit speeds of 445 Mbps: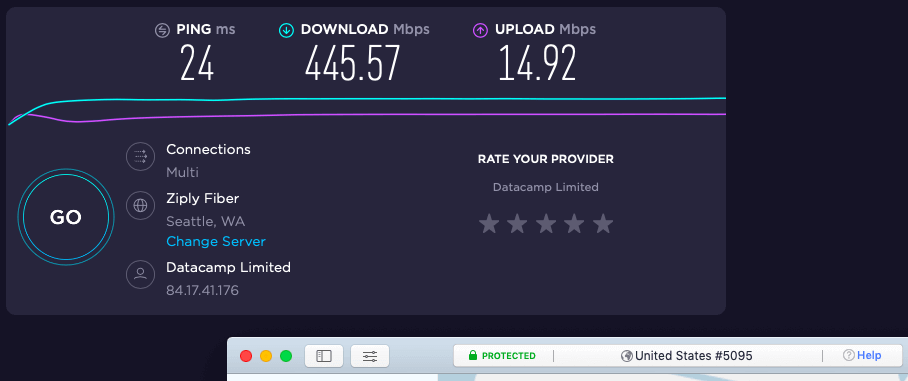 The engineers at Nord Security (the parent company of NordVPN) wanted to use WireGuard for its speed and security. But they had a problem. WireGuard must keep track of a user's IP address while they are connected to the VPN server, which goes against NordVPN's no-logs policies.
To resolve this conflict, Nord's engineers came up with the double NAT (Network Address Translation) system. The system uses a separate Authentication Server to map the user's actual IP address to one temporarily assigned by the Authentication Server. This temporary IP address is passed to the VPN server, ensuring that the VPN server never sees the user's real IP address. Since the user's real IP address never reaches the VPN server, it is impossible for that server to log the real IP.
Another advantage of NordVPN is its huge server network built on premium infrastructure. NordVPN has 5,500+ servers in 60 countries, including five locations in Australia alone. All of NordVPN's servers run on dedicated hardware (no virtual locations) in RAM-disk mode. These RAM-servers offer a higher level of data security and run without any hard drives, so no data can be stored on any server. Furthermore, the company is in the process of adding 10Gbps servers in key locations throughout their network while also switching the entire network to colocated servers. Colocated servers are servers that are owned and managed by NordVPN, but physically located in third-party data centers.
For those concerned about privacy in Australia, NordVPN has a lot of features to offer:
Double-VPN servers – These will encrypt your traffic across two separate VPN servers for more security. (See the benefits in our multi-hop VPN guide.)
Tor-over-VPN servers – These VPN servers exit onto the Tor network for an additional layer of anonymity.
Obfuscated servers – These servers disguise your VPN traffic as regular HTTPS traffic so internet censors can't detect it.
Split-tunneling – Let's you decide which traffic goes through the encrypted VPN tunnel and which goes directly to the internet unprotected.
Threat Protection – This feature will block ads, trackers, and malware domains. It can also scan downloaded documents for malicious content and delete affected ones before you open them. Threat Protection can protect your devices even when they are not connected to a VPN server. This full version of Threat Protection is in NordVPN's Windows and macOS apps.
Threat Protection Lite – This is a more limited version of Threat Protection. It blocks ads, trackers, and malware domains. It does not scan documents and only protects traffic passing through a VPN server. However, Threat Protection Lite is included in NordVPN's Linux, Android, and iOS apps, as well as their browser extensions. You can also use Threat Protection Lite on Windows and macOS, but we recommend you go with the full Threat Protection option whenever possible.
Audited – NordVPN is one of the few VPNs to have completed third-party audits. It passed several security audits and has also had the no-logs policy audited three times. The first two audits were conducted by PwC in 2018 and 2020, and the most recent audit was carried out by Deloitte from November 21 to December 10, 2022.
Dedicated IPs – For those wanting a VPN with a static IP, NordVPN offers this feature.
If you want to stream Australian media, NordVPN is a great choice. It unblocks the Australian Netflix library and many other Netflix libraries around the world (US, UK, Canada, Germany, France, and more). NordVPN also works very well for filesharing and holds the top spot as the best VPN for torrenting with the latest test results.
NordVPN offers a full 30-day money-back guarantee and 24/7 live chat support directly through their website. Among all the Australian VPNs in this guide, NordVPN is one of the best values at $3.30 per month when you use the coupon below.
NordVPN Australian servers and locations
NordVPN currently has over 180 Australian VPN servers distributed across the following locations:
Adelaide
Brisbane
Melbourne
Perth
Sydney
+ Pros
User-friendly and reliable apps
Double-VPN and Tor-over-VPN servers
Passed numerous 3rd-party audits
Strong encryption standards with full support for WireGuard
Works with Netflix and many streaming sites
Threat Protection feature to block ads, trackers, and malware
Professional 24/7 live chat support
Consistently fast speeds
Dedicated RAM-servers with 10 Gbps bandwidth channels
– Cons
Big discounts only available with 2-year plans
NordVPN's Cyber Deal is live:

Get 69% Off NordVPN with the coupon below plus 3 months FREE, no activation code needed:
(Coupon is applied automatically; 30 day money-back guarantee.)
Check out our NordVPN review for test results and more info.
---
Surfshark – A fast VPN for Australia with a low price
| | |
| --- | --- |
| VPN | Surfshark |
| Based in | The Netherlands |
| Logs | No logs (audited) |
| Price | $1.99/mo. |
| Support | 24/7 live chat |
| Refund | 30 days |
| Website | Surfshark.com |
Next up on our list of VPNs for Australia is Surfshark, a secure and fully-featured VPN based in the British Virgin Islands. It is the cheapest VPN for connecting to Australia on our list, coming in under $3.00 per month with the two-year plan. This makes Surfshark one of the cheapest VPNs on the market, which still performs like a premium service.
Surfshark VPN apps
Surfshark VPN apps do away with the scrolling world map that you see in NordVPN. Instead, they give you a large list of servers on the left side of the app window, which lets you find the server location you want by name, rather than location on the map. Here's the Surfshark Windows app with a search that shows all 5 of the locations in Australia where Surfshark has VPN servers.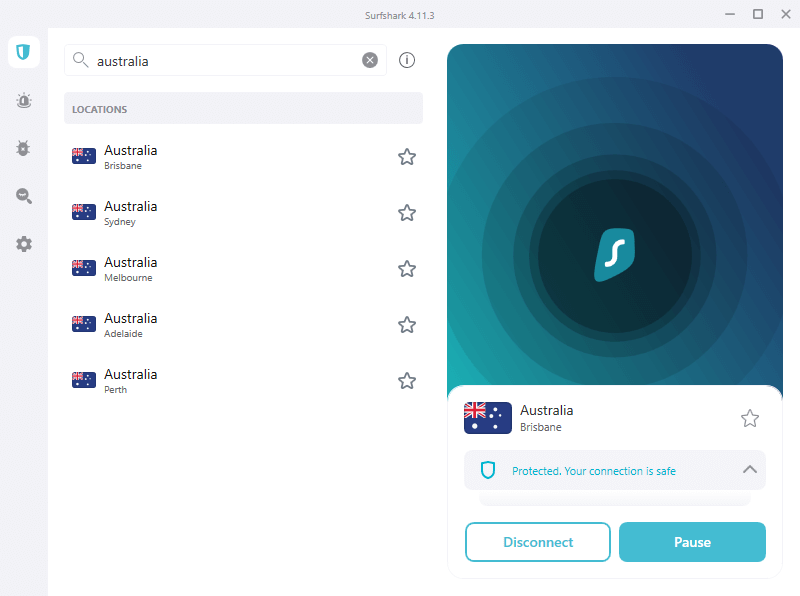 Aside from differences like this, Surfshark apps are much like NordVPN apps. They are good-looking, easy to use, and reliable. They include kill switches and passed our leak tests without a single glitch or leak.
Other Surfshark features
Like our other top recommendations, Surfshark is a no-logs VPN service that is strong on security. It offers many features for privacy-focused users:
MultiHop servers – Double-VPN servers with fixed entry and exit locations.
Dynamic MultiHop servers – You specify the entry and exit locations for the custom double-VPN servers.
CleanWeb – A VPN ad-blocker that protects against ads, trackers, and malicious domains.
Camouflage mode – Obfuscation that automatically conceals OpenVPN traffic by making it look like regular HTTPS encryption.
WhiteLister – The Surfshark version of split tunneling.
Rotating IP – A new feature that changes the way the VPN presents your IP address to the outside world. When this is active, the VPN server changes the IP address it presents for your connection, making it much harder for anyone to know what you are up to online!
GPS Override – Android users can activate this to make Surfshark present the GPS location of the VPN server rather than the GPS location of the phone.
Surfshark also does a great job supporting all major streaming services, including Netflix Australia and other Australian TV streams. Torrenting is allowed on all Surfshark server locations, which is good since Australia has strict copyright regulations. Officially, Surfshark supports ten different Netflix libraries, BBC iPlayer, Amazon Prime, Hulu, and many other streaming options. It also has a dedicated app for Fire Stick and Fire TV.
Like NordVPN, Surfshark also boasts excellent speeds with support for the WireGuard VPN protocol. We were able to hit up to 397 Mbps with servers in tests for the Surfshark review. And with a network of 3,200+ servers in 100 countries, you'll be able to find a fast server wherever you are located.
Surfshark has five Australian server locations. They are:
Sydney
Brisbane
Adelaide
Melbourne
Perth
Surfshark is a great value with a super-low monthly price if you use the coupon below. Plus, they give you unlimited connections with your VPN subscription, while most other VPNs limit you to around five or six simultaneous connections. If you have any issues, Surfshark offers 24/7 live chat support and a full 30-day money-back guarantee.
+ Pros
Unlimited connections
User-friendly apps for all devices and operating systems
CleanWeb feature to block ads, trackers, and malware
Works great with Netflix and many other streaming services
24/7 live chat support
Strong encryption and security features (audited)
– Cons
Limited support for VPN routers
Above average monthly prices
Surfshark Coupon:

Get 80% off Surfshark VPN (drops the price down to $1.99 per month) plus 5 months FREE:
(Coupon is applied automatically.)
Our Surfshark review has more info and test results.
---
ExpressVPN – Secure and user-friendly VPN for Australia
| | |
| --- | --- |
| VPN | ExpressVPN |
| Based in | British Virgin Islands |
| Logs | No logs (audited) |
| Price | $6.67/mo. |
| Support | 24/7 live chat |
| Refund | 30 days |
| Website | ExpressVPN.com |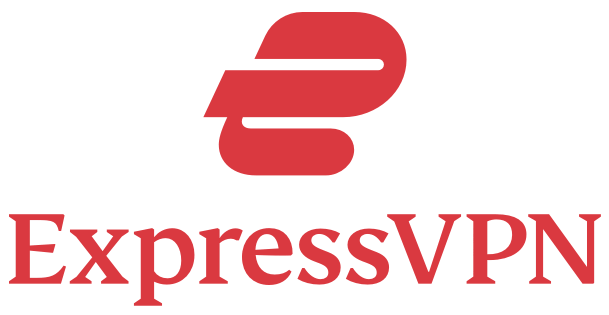 Another great VPN for access to Australia is ExpressVPN. It is based in the British Virgin Islands, which is a good jurisdiction for privacy with no data retention requirements. ExpressVPN is a verified no-logs VPN provider that offers strong encryption and secure applications. The ExpressVPN apps come with built-in leak protection, split tunneling, and a kill switch (network lock).
If you are looking to access Australian media, such as sports, movies, or TV shows, ExpressVPN is a great choice. It works well with unblocking Australian TV if you are living abroad, as well as accessing Netflix, Hulu, and other media. ExpressVPN is one of the best VPNs for Netflix and consistently works well with the service. It also works if you need a VPN for Amazon Prime Video streaming.
ExpressVPN also excels with security. They run all servers in volatile RAM-disk mode with the TrustedServer feature. This improves server security and also makes it impossible to store data on any hard drive. The ExpressVPN apps secure data with an AES-256 cipher together with the OpenVPN and IPSec VPN protocols.
ExpressVPN's apps are simple, well-designed, and easy to use – no matter which device or operating system you have. There are apps for all major desktop operating systems, tablets, phones, routers, and Smart TVs. There's even an Amazon app if you want to stream media using a VPN with Firestick.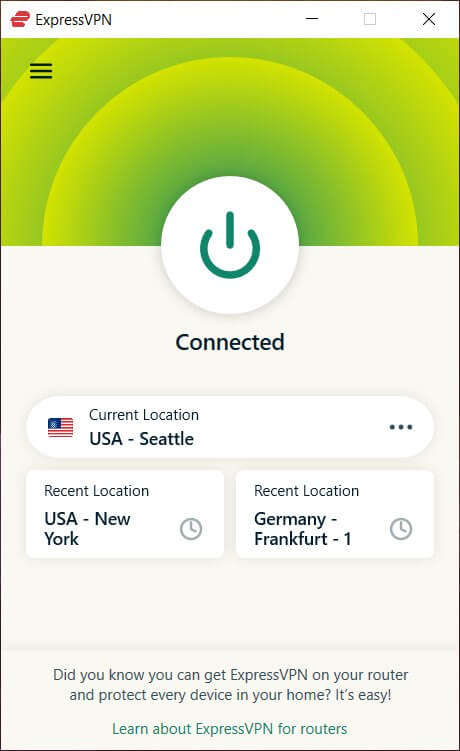 And if you need assistance with anything, ExpressVPN offers 24/7 live chat assistance directly through their website. All ExpressVPN subscription plans come with a 30-day no-questions-asked money-back guarantee.
ExpressVPN Australian server locations – ExpressVPN currently offers Australian VPN servers in the following locations:
Sydney
Melbourne
Perth
Brisbane
+ Pros
User-friendly and secure apps
Split tunneling feature (for macOS, Windows, and routers)
Works with Netflix and most streaming services
24/7 live chat support
Passed independent third-party audits for security and no-logs
Very large server network
– Cons
Above average prices
Fewer features than other leading VPNs
See our ExpressVPN review for more test results and analysis.
---
Why Australians need a good VPN
Perhaps you are an Australian and are wondering if you even need a VPN service. You do. Here's why:
Australian data retention and privacy (ISP logging)
In April 2017, Australia's mandatory data retention laws officially went into effect. Officially called the 'Telecommunications (Interception and Access) Amendment (Data Retention) Bill' – this law forces internet service providers and telecommunications companies to monitor and record user metadata.

The collected metadata is stored for a full two years and is easily accessible to authorities without a warrant. This means that your ISP and phone company are collecting your connection data and this can be handed over to anyone with access to the database. The best solution for this is a VPN, which will encrypt and anonymize your data, thereby making it unreadable to third parties.
As of February 2023, the Australian government has committed itself to an overhaul of this law. But don't read that to mean they are going to stop spying on you. The reforms are all in the areas of better control and monitoring of who is using the data that the companies are required to scoop up. Here are the best details about the potential changes that we could find.
Australia also has the Assistance and Access Act 2018 that allows the government to force tech companies to facilitate surveillance efforts. This may include providing backdoor access to software or even breaking or undermining encryption to facilitate spying.
Reforms to this law have also been discussed in recent years. But like the previous law, the discussions are about the exact rules for when and how the companies can be forced to decrypt your messages, not on revoking the law. Needless to say, this is a very dangerous law and one reason to never use a VPN based in Australia, as we'll discuss more below.
Unblock websites in Australia
Right now there are hundreds of websites being blocked in Australia. These website blocks are carried out by internet service providers, usually on behalf of media companies, such as Foxtel and others.
Using a VPN with a large server network will be very beneficial for unblocking websites around the world. We compare the top choices in our NordVPN vs Surfshark comparison report.
As of right now, most of the website blocks are for torrenting and P2P filesharing websites. However, there have also been proposals to extend website blocks to other content areas as well. A VPN will easily get around any of these blocks and it remains the best tool for you to unblock websites today.
Torrenting and copyright issues in Australia
Torrenting and streaming content can be a grey area. This is especially true if you are accessing content through third-party add-ons, such as when using a VPN for Kodi. In Australia, those who are suspected of copyright infringement can face stiff penalties.
Copyright holders such as Foxtel and Village Roadshow have publicly claimed that they intend to sue Australians for copyright violations in court in the near future. As we will discuss below, the fines and jail time are very serious and are definitely worth the cost of a good VPN subscription.
Securing your data (wherever you are located)
A VPN is a critical tool to protect you against security threats on any network. Wireless networks are increasingly compromised – whether you are using free wireless in cafes or hotels, third parties can hack your data through these networks. A VPN protects you against these threats by encrypting all your data, thereby making your online activities and private information unreadable to third parties – even if the network is compromised.
And speaking of security, the Australian government is also trying to up its game. The government announced they'll be spending nearly $1 Billion on cyber defense over the next decade.
What can Australian ISPs see without a VPN?
If you are not using a good VPN service, internet service providers and mobile carriers can easily record your data and see every website you visit. Earlier we pointed out that Australia has enacted mandatory data retention laws that force internet providers and telephone companies to record connection data.
To record the websites you visit, internet providers only need to log your DNS requests. When you visit a website, your device sends a request to translate the URL into an IP address. Without a VPN, these DNS requests are done by your internet provider (and usually logged). With a VPN, these DNS requests are completely encrypted (unreadable to your internet provider) and handled by the VPN's DNS servers.
All of our recommended VPNs for Australia have their own DNS servers and encrypt DNS requests in the VPN tunnel. This makes your internet activity unreadable to your internet provider. Additionally, the VPN will replace your IP address and location with the VPN server's IP address and location.
Here's a basic diagram showing how a VPN protects your data from third parties:

As you can see in the diagram above, your internet traffic and online activities will be unreadable to third parties, thanks to strong encryption. However, your ISP will still be able to see that you are online and connected to a VPN server, but they won't be able to see (or record) anything you are doing.
Are VPNs legal in Australia?
Yes, VPNs are completely legal to use in Australia.
In fact, VPNs are used every day by businesses around the world for network security, especially with remote workers. As we've discussed before, virtual private networks are becoming increasingly common for all different types of users. This includes businesses, those who want access to Australian media, and an increasing number of people who desire more privacy and security online.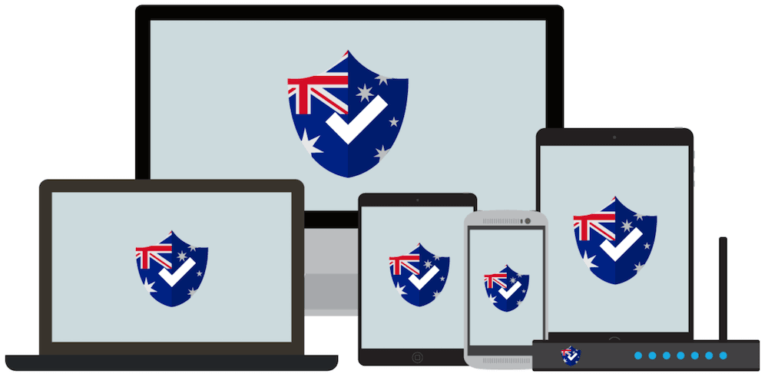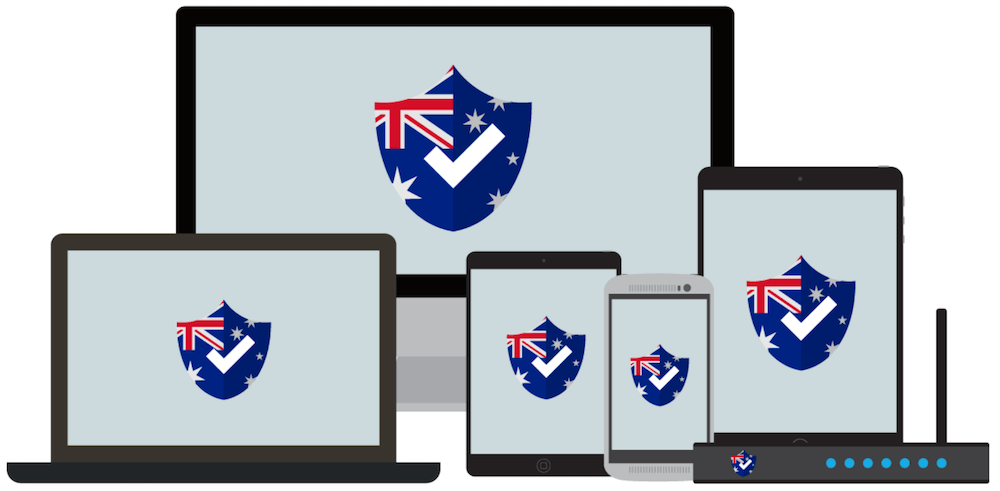 Now let's look at the issue of safety.
Is an Australian VPN safe?
Regarding the safety of VPNs, yes, they are safe to use – but be careful when selecting the best VPN service for your needs.
VPNs are safe to use in Australia, so long as you are using a trustworthy and reputable VPN provider. Granted, there are over 200 VPN providers currently on the market – actually, more if you count all the shady free VPN apps in the Google Play and Apple stores. Unfortunately, the vast majority of VPNs are garbage.
Why you should never use a VPN based in Australia
I do not recommend any VPN that is legally based in Australia. There are two main reasons for this.
Australia's anti-encryption law
In late 2018, the Australian government passed a law to fundamentally undermine encryption and data security.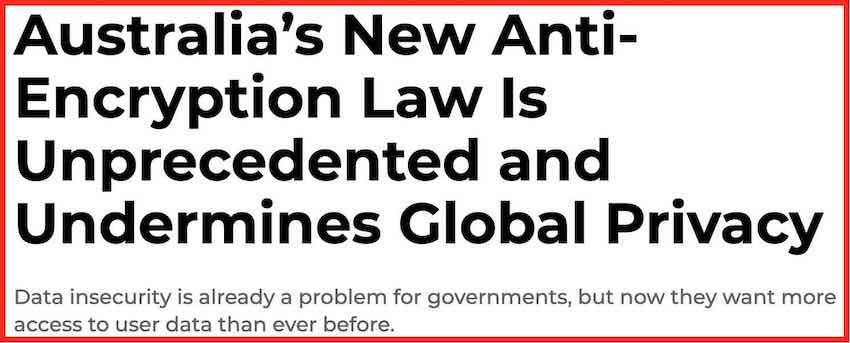 This law applies to businesses operating in Australia, including Australian VPN services. The problems with this bill affect all tech companies based in Australia, including VPNs:
The Australian Parliament passed a contentious encryption bill on Thursday to require technology companies to provide law enforcement and security agencies with access to encrypted communications.

Privacy advocates, technology companies and other businesses had strongly opposed the bill, but Prime Minister Scott Morrison's government said it was needed to thwart criminals and terrorists who use encrypted messaging programs to communicate.
This undermines any service in Australia that secures data with encryption. Data security in Australia is officially dead, and the United States wants to follow the same plan.
Australia data collection
We have already discussed Australia's data retention laws that were rolled out in 2017. Another issue to consider is that Australia is a member of the infamous Five Eyes surveillance alliance. This is an alliance between Australia, the US, Canada, New Zealand, and the UK to collect and share mass surveillance data.
A VPN operating in a safe offshore jurisdiction, such as the ones we recommend in this guide, will offer better protection and safety for your data.
What is the fastest VPN for Australia?
The fastest VPN for Australian content is NordVPN. It consistently comes out on top in the performance category. Here are a few reasons why:
Fastest speeds we've tested (up to 445 Mbps in our speed tests)
Full WireGuard support (the fastest VPN protocol available)
A network with 10 Gbps server bandwidth channels
Dedicated premium hardware for all locations
Reliable apps to ensure a stable connection
NordVPN also consistently outperforms other VPNs. You can see this in the ExpressVPN vs NordVPN comparison guide. It not only does well with performance, but it also beats other VPNs in the features category. You can see this also in the IPVanish vs NordVPN comparison.
How do I set up a VPN for Australia?
No matter what your technical background is, setting up a VPN for use in Australia (or any location) is quite simple.
Here are the basic steps:
Decide which VPN service you want to use and pick a subscription plan.
Purchase the plan and then download the software (VPN apps) for the devices you want to use with your VPN.
Connect to an Australian VPN server (or another location) and enjoy all the benefits of your VPN.
To verify your VPN is working, see our guide on VPN tests.
VPN for Australian TV and sports
Many people who reside outside of Australia are looking for ways to access Australian media and sporting events online. This is where a VPN really comes in handy.
A VPN will give you an Australian IP address, which is usually necessary if you want to stream Australian media from one of the major telecom providers.
Generally speaking, you will need an Australian IP address if you want to stream live Australian media and sports. Popular sporting events in Australia include:
Australian football
Cricket
Rugby
Soccer
To get the best possible streaming experience, it would be good to connect to the closest Australian VPN server to your location. More locations will also ensure one server is not overcrowded during high-bandwidth times.
Conclusion
With Australia's current disregard for your internet privacy, it's crucial that you protect yourself by using a private and secure VPN service that is based outside of Australia. While the government can force Australian companies to record your metadata and potentially decrypt your internet traffic, they have no power over the VPN services we recommend in this article.
What if you don't care about all that political crap and just want to watch your favorite Aussie shows and movies while you are outside the country? You'll still need a VPN to defeat local geo-blocking efforts and protect yourself from Australia's strict copyright laws.
However you look at it, a strong VPN based in a pro-privacy jurisdiction is your best bet for safe and private internet use in Australia. Our top recommendation as the best VPN for Australia is NordVPN. It is the best all-around choice with reliable and secure apps, excellent privacy features, a large network of servers, and extremely fast speeds.
All of the VPNs in this guide have been thoroughly tested for leaks, speeds, security, and reliability. Any one of them will serve you well.
This Australia VPN guide was last updated on June 22, 2023.