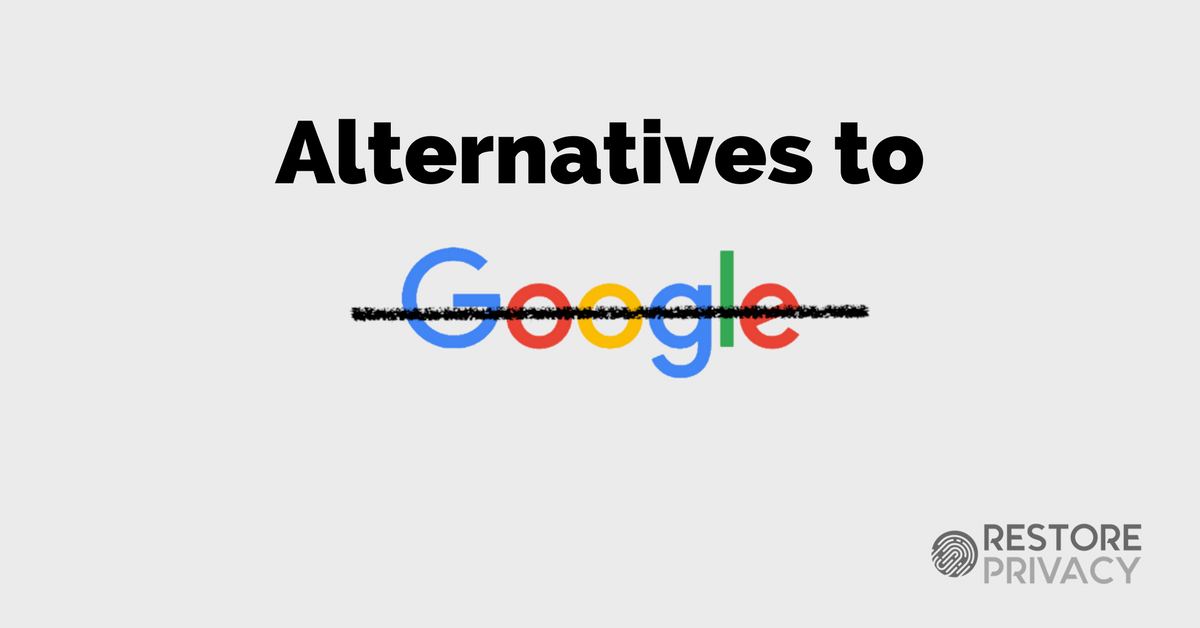 It's been fun Google, but it's time to say goodbye.
Have you noticed?
More and more people are looking for Google alternatives and breaking ties to the Alphabet company.
Regardless of your reasons for wanting to part ways, this regularly-updated guide is basically your one-stop-shop for Google alternatives. Below we'll take an in-depth look at alternatives to all Google products and services, with a focus on businesses and services that respect your privacy.
With more people waking up to the importance of online privacy and security, now is the time to consider alternatives and make the switch. So let's get started!
Google search alternatives
When it comes to privacy, using Google search is not a good idea. When you use their search engine, Google is recording your IP address, search terms, user agent, and often a unique identifier, which is stored in cookies.
Here are a few Google search alternatives:
Check out the private search engine guide for additional information.
Gmail alternatives
Gmail is one of the worst products you can use if you're concerned about privacy. Everything you do through Gmail is collected by the parent company – every email, attachment, and image… Using Gmail gives Google an intimate view of your private life and personal contacts.
When you remain logged in to your Gmail account, Google can easily track your activities online as you browse different websites, which may be hosting Google Analytics or Google ads (Adsense).
There are many different secure email options; here are a few great choices:
For additional information about these and other Gmail alternatives, check out the secure email guide. All of these secure email providers are ad-free, based in privacy-friendly jurisdictions, and do not give third parties access to your emails.
Chrome alternatives
Google Chrome is a popular browser, but it is also very invasive and a bad choice for privacy.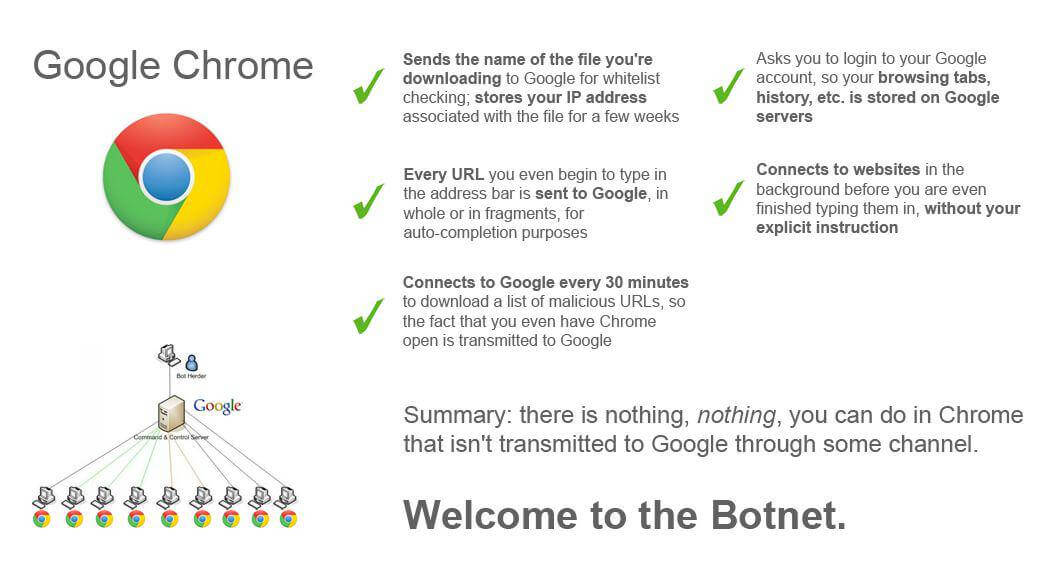 If you are a Chrome user, you may want to consider these alternatives instead:
We also have an in-depth secure browser guide, which includes recommended browser add-ons for privacy and security. You do not have to sacrifice privacy for more security.
Google Drive alternatives
If you're looking for a secure cloud storage option, you can check out these Google drive alternatives. They are more secure and better for protecting your privacy and data.
Dropbox is also a popular Google drive alternative, but it is not the best in terms of privacy.
Google Calendar alternative
For those wanting a combined solution for both email and calendar functionality, there are some great options from secure email providers. These include:
I have used Mailfence email/calendar and it seems to work well.
Here are some more Google Calendar alternatives that may be worth considering:
Etar, which is open source and fairly simple
aCalendar from TAPIRapps. Check it out on the official site here.
Two other Google Calendar alternatives are Kin and Fruxx. However, if you read through the privacy policies, it looks like Etar or aCalendar would be the better options.
Google Docs alternative
There are many solid Google Docs alternatives available. The largest offline document editing suite is, of course, Microsoft Office. However, it is not recommended because… Microsoft and privacy. Nonetheless, there are a few other good Google Docs alternatives:
Google Photos alternative
Here are a few good Google Photos alternatives:
Shoebox – Shoebox has both a free and Pro plan. It appears to be a good Google Photos alternative without any ads. The Shoebox app is available for Windows, Mac, iOS, and Android.
Piwigo – Piwigo is another great option that you can self-host. It is also free and open source.
Google Plus alternative
Does anyone actually use Google Plus? I honestly don't know.
But if so, here are three social media alternatives:
Of course, Facebook will not be recommended because it is a data-collection and surveillance service.
Google translate alternative
There are three Google translate alternatives I have come across:
DeepL – DeepL is a solid Google Translate alternative that seems to give great results. Like Google Translate, DeepL allows you to post up to 5,000 characters at a time (but the pro version is unlimited). The user interface is good and there is also a built-in dictionary feature.
 Lingue – Linguee does not allow you to post large blocks of text like DeepL. However, Linguee will give you very accurate translations for single words or phrases, along with context examples.
dict.cc – This Google Translate alternative seems to do a decent job on single-world lookups, but it also feels a bit outdated.
If you want to translate blocks of text, check out DeepL. If you want in-depth translations for single words or phrases, then Linguee is the best choice.
YouTube alternatives
Unfortunately there doesn't seem to be many popular YouTube alternatives, but here are a few alternatives:
Vimeo
Dailymotion
Bitchute
invidio.us
And lastly, you can also check out the unblock YouTube guide for additional information.
Google analytics alternative
If you're running a website, it's important to see which content people like the most, so you can give your readers what they want. Otherwise publishing articles is like throwing darts blindfolded at a wall. Unfortunately, Google Analytics goes overboard with the tracking. Here are a few alternatives:
Many websites host Google Analytics because they run Google Adsense campaigns. Without Google Analytics, tracking performance of these campaigns would be difficult. Nonetheless, this is still bad for privacy.
Google Maps alternative
A map alternative for PCs is OpenStreetMap.
A few Google Maps alternatives for mobile devices include:
Google Play Store alternative
Currently the best Google Play Store alternative is to use F-Droid and then go through the Yalp store.
As explained on the official site, F-Droid is an installable catalog of FOSS (Free and Open Source Software) applications for the Android platform.
After you have installed F-Droid, you can then download the Yalp store APK, which allows you to download apps from the Google Play Store directly as APK files.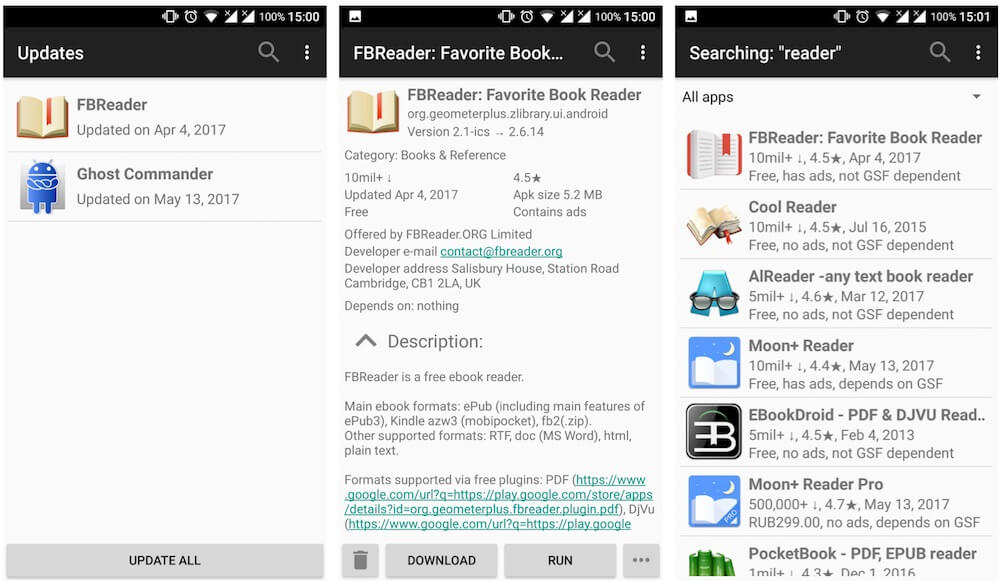 You can learn more about Yalp and download it from the F-Droid website here. (See also the official GitHub page here for more info.)
Google Chrome operating system alternative
Want to ditch the Chromebook and Chrome OS? Here are a few alternatives:
Linux – Of course, Linux is arguably the best alternative, being a free, open-source operating system with lots of different flavors. With some adjustments, Linux Ubuntu can be run on Chromebooks.
Tails – Tails is a free, privacy-focused operating system based on Linux that routes all traffic through the Tor network.
QubesOS – Recommended by Snowden, free, and also open source.
Of course, the other two big operating system alternatives are Windows and Apple's operating system for MacBooks – Mac OS. Windows – particularly Windows 10 – is a very bad option for privacy. While slightly better, Apple also collects user data and has partnered with the NSA for surveillance.
Android alternatives
The biggest alternative to Android is iOS from Apple. But we'll just skip over that for reasons already mentioned. Here are a few Android OS alternatives:
LineageOS – A free and open-source operating system for phones and tablets based on Android.
CopperheadOS – The CopperheadOS project seems to have recently imploded, but it was previously a great alternative.
Purism is also working on a privacy-focused mobile phone called the Librem 5. It met the crowdfunding goals but it's not clear when it will be available.
Other Google alternatives
Based on user feedback and additional research for this guide update, here are a few more Google alternatives to consider:
Google forms alternative – JotForm is a free online form builder.
Google Keep alternative – Here are two different Google Keep alternatives:
Standard Notes is a great alternative for a note-taking service. It is secure, encrypted, and free with apps for Windows, Mac, Linux, iOS, and Android (web-based also available).
Joplin is another great option that is open source and works on Windows, Mac, Linux, iOS, and Android.
Google Fonts alternative – Many websites load Google fonts through Google APIs. One alternative to this is to use Font Squirrel, which has a large selection of both Google and non-Google fonts which are free to download and use.
Google Voice alternative – JMP.chat (both free and paid)
Google Firebase alternative – Kuzzle (free and open source)
Google Blogger alternatives – WordPress, Medium, and Ghost are all good options.
---
Do you care about your privacy?
Most people looking for Google alternatives have woken up to the fact that Google is awful for privacy by collecting as much of your private data as possible.
But what about your internet service provider?
In the United States, United Kingdom, and Australia, internet service providers are also recording your online activity. This information can be legally sold to third parties (in the US), or saved in government databases to be potentially used against you (UK, US, and Australia).
Aside from government surveillance agencies, there are many other third parties that are quietly tracking your online activity, such as Facebook.
One of the best tools for keeping your data out of the hands of third parties is to use a VPN (virtual private network). This will encrypt and anonymize your online activity, while also hiding your true IP address and location. In the best VPN guide I examine some of the top VPN providers, such as ExpressVPN and NordVPN, which are located in good privacy jurisdictions.
The privacy tools guide discusses other solutions as well.
Do you have any other tips or suggestions for Google alternatives?
Feel free to drop a comment below. This guide will be regularly updated to reflect the latest information and user feedback.
Last updated on April 19, 2019. (Added another Google analytics alternative – AT Internet.)