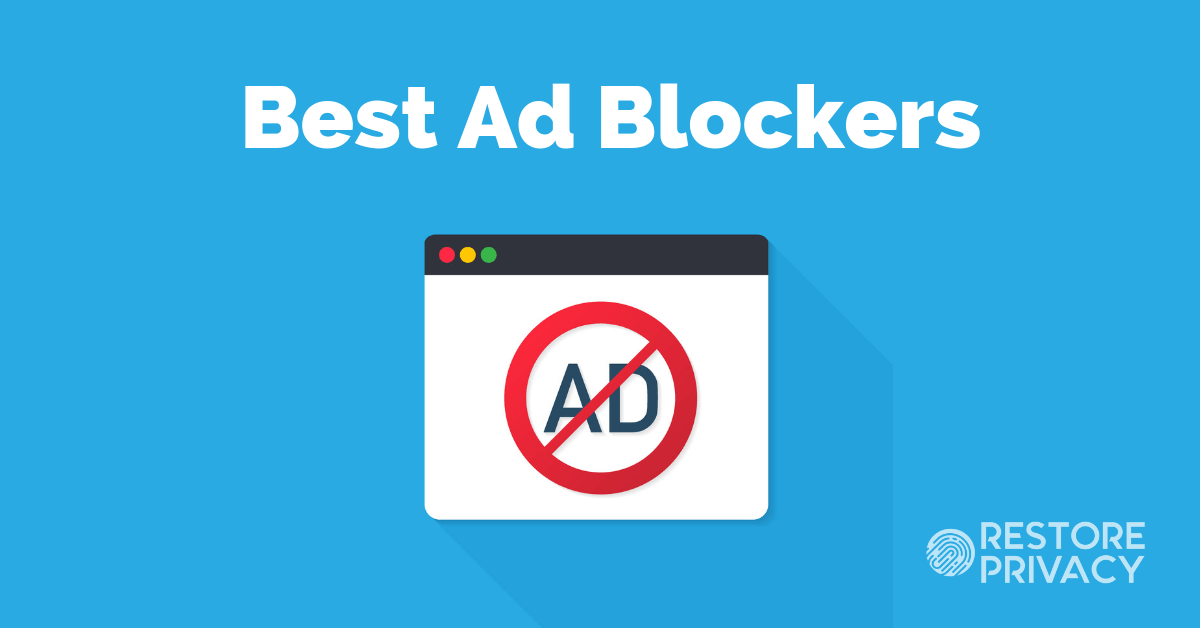 Ads aren't just annoying, they can seriously undermine your privacy and security.
But how do you find the best ad blocker for your unique situation? In this guide we will examine different ad blocker options – from browser extensions to dedicated apps and hardware solutions.
But first, why block online ads?
Privacy – From a privacy perspective, online ads are horrible. Ads are usually served through third-party domains (advertising networks) and contain sophisticated tracking. This tracking software embedded in ads is used to build an intimate user profile to include your interests, browsing activity, location, age, family members, friends, and more. Based on your user profile, you'll be served targeted ads through the ad networks on the websites you visit. Ads are basically digital surveillance cameras that constantly abuse your privacy.
Security – The growth of malicious advertising (malvertising) is truly alarming because your device can be infected by simply loading a page with ads – no clicks required! Ads can be used to serve malicious payloads that exploit security bugs and may even take over your device in exchange for payment (ransomware). Malvertising has even affected major websites such as the BBC and New York Times.
Performance – Ads are also problematic for performance in terms of bandwidth usage and CPU drain, especially with mobile devices. A study by Enders Analysis found that ads can consume up to 79% of mobile bandwidth! Using a versatile and lightweight ad blocker can tremendously improve page load speeds.
Now that you've decided to block ads, we'll examine different ad blocker options in detail below. (This list is not in any rank order.)
Browser ad blocker extensions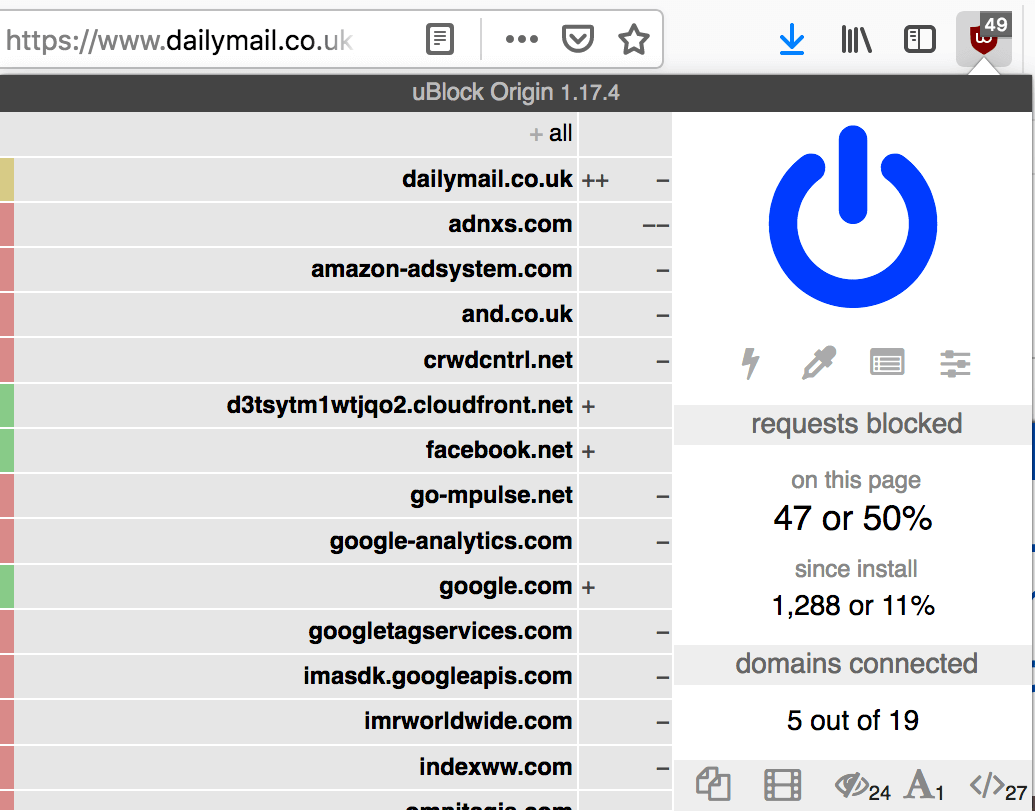 One of the most popular ad blocker options is to use free browser extensions – but choose carefully!
Just like with free VPN services, many free ad blocking browser extensions are also making money through data collection and advertisements:
Adblock Plus doesn't block all ads, but rather operates what it calls an "acceptable ads" program, where ads that meet its criteria for things like placement, size, and distinction, are "whitelisted"—that is, if the company displaying the ads is willing to split the revenue gained by whitelisting with Adblock Plus.

Ghostery, another popular ad blocker, operates under a different model. As a user, you don't see ads and aren't tracked by pesky data trackers. The company, however, makes money by collecting anonymized data on what those trackers pick up. It repackages that data and resells it to publishers, websites, and other companies it says can use the information to help improve the speed, privacy, and performance of their sites.
In other words, many of these "ad blockers" are not good choices for privacy-conscious users – the recurring problem with "free" products.
While I do not recommend using Adblock Plus or Ghostery, due to the privacy issues, there are still a few browser-based ad blockers, filters, and script blockers you may want to consider:
Another option is to simply use the Brave browser, which blocks ads and tracking by default. Brave is based on Chromium and is well-configured for privacy and security out of the box.
Drawbacks of ad blocker extensions:
Ads may still be getting loaded and consuming your bandwidth and resources, even if they are not being shown.
Advertising networks may still be collecting your data and profiling you, even if the ads are not being displayed on the sites you visit.
Some ad blocker extensions still collect your data and/or serve you "approved" ads.
Ad blocker apps
There are also various dedicated ad blocking apps you can use for different devices.

One good (paid) option seems to be AdGuard. AdGuard offers dedicated ad blocker apps for Windows, Mac OS, Android, and iOS devices. They also offer browser extensions for all major browsers. From their FAQ page:
Generally, we at AdGuard don't want to rely just on the capabilities provided by the browsers. That's why our flagship products are standalone programs, which allows blocking ads and trackers system-wide.
There are other ad blocking apps available, but AdGuard seems to be one of the best options I've tested for this category of ad blockers.
Drawback: A dedicated ad blocker app will consume resources.
Virtual Private Network (VPN) with ad-blocking feature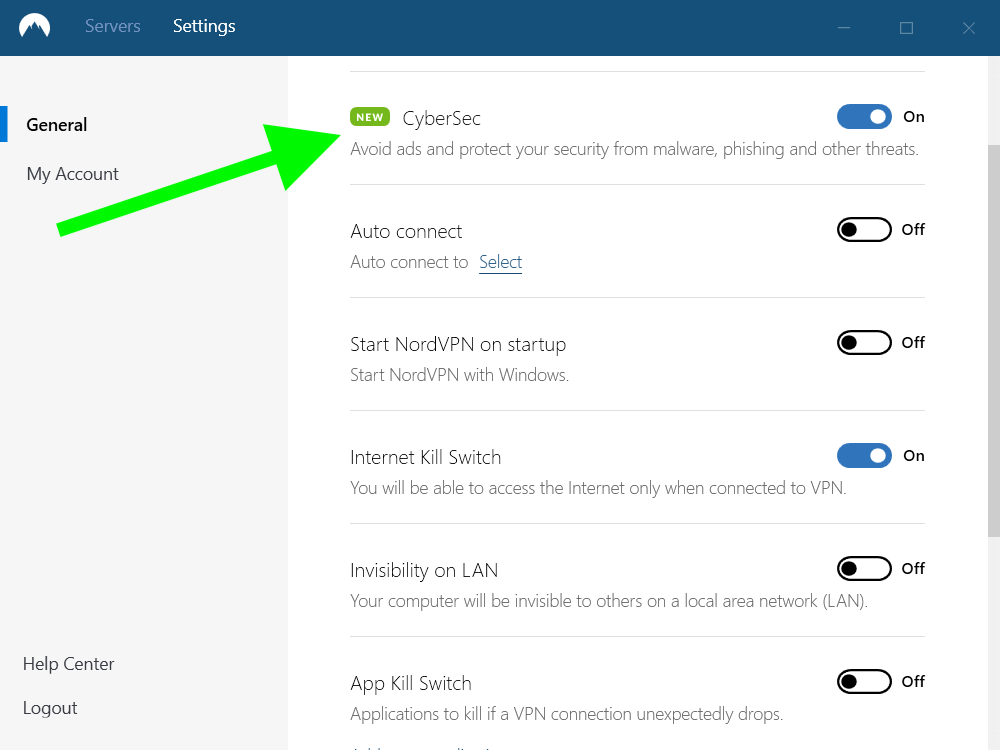 Another option is to use a VPN (virtual private network) with a built-in ad blocker. There are basically three ways that some VPNs services block ads:
The effectiveness of various VPN ad blockers can really vary. I tested different options for the VPN ad blocker guide, and Perfect Privacy was by far the best. The Perfect Privacy TrackStop filter blocks advertisements, tracking, and malware domains at the VPN server level, using very large filter lists that can be enabled by the user.
Of course, you can also use a VPN ad blocker in conjunction with browser-based ad blockers for a higher level of protection.
VPNs I've tested with blocking/filter features:
VPN ad blocker on a router
Another way to use a VPN ad blocker is through your router.
I tested this out and created a guide for using Perfect Privacy on an Asus router and everything worked very well, with easy setup. See this guide for more details: Ad Blocker VPN Router. This setup gives you ad blocking and all the benefits of a VPN for every device that connects on your home network. Your router will only count as one device for your subscription and you won't need to download additional software for each device.
There are other hardware and router options for blocking ads that we will discuss further below.
VPN ad blocker on a VPS
Another option is to run a VPN on your own virtual private server (VPS) with ad blocking DNS. This is often called "rolling your own VPN" and offers security and performance, but it also has privacy tradeoffs because your traffic is not getting mixed with other users (and the VPS company has your personal information). It can also be a bit technical to setup.
Drawbacks with VPN ad blockers:
Only works when connected to a VPN (but you'll get protection on any device and network that connects to the internet)
Requires the purchase of a VPN subscription
Other ad blocker options for your router
Blocking ads across your entire home network has some unique benefits:
You won't need to set up ad blockers on every device.
Devices that don't natively support ad blockers will still be protected (Smart TVs, gaming consoles, etc.).
Now let's look at a few good options.
Ad blocking on a router
AdGuard offers free ad blocking DNS that you can use on your router. This setup page gives you the instructions (select router). All you need to do is enter in AdGuard's DNS servers under the DNS option in your router's settings.
AB-Solution is also a great option for Asus routers running Merlin firmware.
Lastly, some router firmware options may support ad-blocking, such as with DD-WRT and Tomato firmware.
Pi-hole
Pi-hole is a fast and efficient network-wide ad blocker that will function as a DNS server for your network. It is completely free and open source and can be run on a Raspberry Pi or other devices.
You can also run Pi-hole and a VPN together on a Raspberry Pi. PiVPN is an OpenVPN setup designed for Raspberry Pis. The big drawback here is that it does not offer any privacy since the traffic goes unencrypted to your ISP, with the Raspberry Pi being the endpoint.
What is the best ad blocker?
The best ad blocker for you will depend on your unique situation and needs. In other words, there's no one-size-fits-all that will be perfect for everyone.
Many people like browser-based ad blockers, especially since they are usually free. While browser ad blocker extensions may be popular, they also come with a few noteworthy drawbacks:
Ads may still be consuming bandwidth and resources (even if they don't show).
You may still be getting tracked by third-party advertising networks.
If you're connecting lots of devices to your home network, one of the network-wide ad blocking solutions would be good to consider.
Because I'm always connected to a VPN, I like using Perfect Privacy's TrackStop filter, which blocks all ads, tracking, and malicious domains at the VPN server level. With TrackStop being activated server-side, it works with any device I use with the VPN (with or without a VPN app). This setup is fast, efficient, and saves on resources because it does not require any extra ad blocking software or force the browser to parse through filter lists.
A dedicated ad blocking application on your operating system, such as AdGuard, may also be a good idea – but it will also consume resources.
Ad blocker conclusion
Using a good ad blocker is basic digital self defense, especially considering how invasive and dangerous online ads are becoming.
In addition to the privacy and security aspects, effectively blocking ads will also:
Help websites load faster
Consume less bandwidth, which can make a big difference for mobile devices
Improve your overall online experience, without the clutter and distraction of obnoxious ads
The obvious drawbacks with some of these solutions are the cost and/or setup requirements. But considering the risks and annoyance of ads, using a good ad blocker whenever you're online is definitely worth it.
Last updated on June 7, 2019.