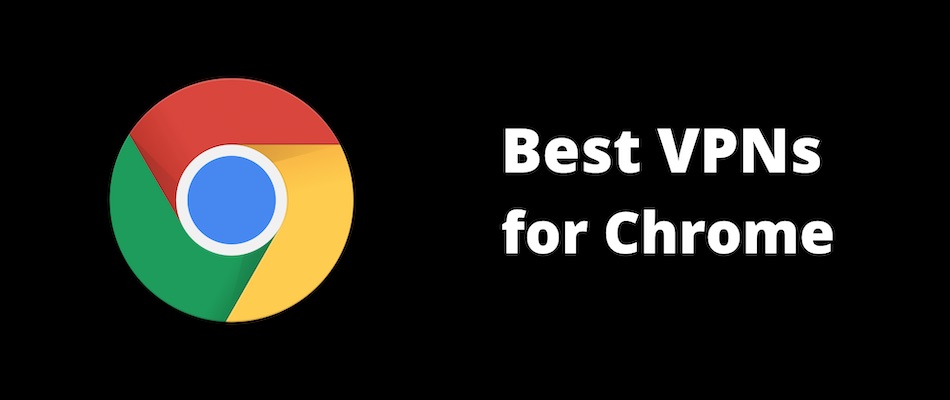 Google Chrome is the most popular web browser in the world. It has a reputation for speed and compatibility, but using Chrome with a VPN adds a layer of privacy and security to your internet access. A high-quality VPN for Chrome will also help you bypass internet censorship, unblock websites, and get access to the content you need.
Furthermore, a VPN browser extension for Chrome can offer a range of benefits, from the ability to control the VPN connection right from the browser window or stop certain data leaks that would otherwise be outside the VPN's control.
WARNING: Through our tests, we have discovered many Chrome VPNs to be leaking user data. This could expose your IP address and identity to third parties. Some studies have also found hidden malware or tracking libraries in free Chrome VPN apps. We'll give you solutions and answers to these problems further below.
Unfortunately, since Chrome is so popular, Chrome users are also targets. The world of Chrome VPN extensions is filled with products that don't work well, steal your data and aren't really extensions of VPNs at all. Below are the three best Chrome VPN extensions that are secure, reliable, user-friendly, and passed all of our tests.
Top VPNs for Chrome
NordVPN – Best VPN for Chrome with fastest speeds, secure apps, large server network, and great privacy features (with a 68% off coupon)
Surfshark – Great budget VPN for Chrome with extra features
ExpressVPN – Reliable VPN for Chrome with user-friendly apps
How we ranked the best VPNs for Chrome
We used the following criteria to find the best Chrome VPNs from the major VPN services on the market:
Successfully completed our testing without any leaking IP addresses or DNS lookups
Fast and reliable performance throughout their server network
High-quality VPN apps, including excellent browser extensions for Google Chrome
Support secure VPN protocols along with strong encryption
A money-back guarantee that doesn't make you jump through hoops to get your money
A reputation for trustworthiness and a track record of good service
Based in a privacy-friendly jurisdiction with no logs
Here are our picks for the best VPNs for Chrome:
NordVPN – Overall best VPN for Chrome
| | |
| --- | --- |
| VPN | NordVPN |
| Based in | Panama |
| Logs | No logs (audited) |
| Price | $3.19/mo. |
| Support | 24/7 live chat |
| Refund | 30 days |
| Website | NordVPN.com |
NordVPN consistently ranks as one of the top VPN services and excels in all areas. It offers strong encryption and secure VPN protocols along with an enormous network of 5,700+ VPN servers in 60 countries.
Our recent performance tests found NordVPN to be the fastest VPN we have tested. This is thanks to NordLynx, NordVPN's custom VPN protocol that incorporates the WireGuard VPN protocol. Here we got download speeds of 445 Mbps with a NordVPN server in Seattle: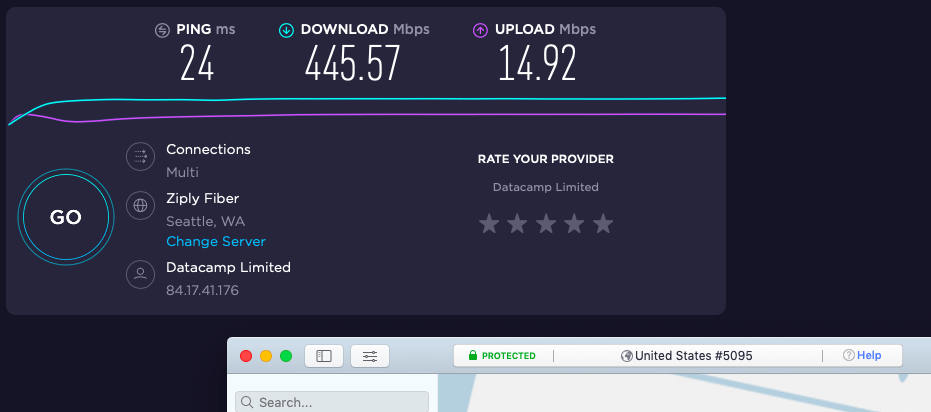 NordVPN server network
The NordVPN server network is not only huge but also diverse. In addition to their standard servers, they offer a range of specialized servers optimized for various functions:
P2P servers – Hundreds of servers around the world that are designed specifically for secure torrenting and other file-sharing activities. NordVPN's automatic kill switch instantly blocks all internet traffic if the server connection fails, ensuring that your IP address is never exposed. (Currently the best VPN for P2P torrents.)
Dedicated IP servers – If your application requires a VPN with a dedicated IP address (a static IP address that is not used by others), NordVPN has you covered. They have dedicated addresses available in the USA, UK, Germany, Netherlands, and France.
Double VPN servers – When extreme privacy is a requirement, you can turn to NordVPN's Double VPN servers. This system passes your data through two encrypted VPN servers instead of one, greatly increasing the difficulty for anyone trying to track your activities.
Obfuscated servers – While a normal VPN will prevent snoops from seeing what you are doing online, they can normally see that you are using a VPN. If you are in a location where using a VPN is prohibited (such as using a VPN for China), obfuscated servers make your VPN connection appear to be normal HTTPS internet activity. This is also a popular tool if you need a VPN for UAE or other restricted countries and networks.
Tor-over-VPN servers – These servers combine the benefits of the Tor network with the benefits of a VPN. But they will be slower than regular VPN servers due to the way the Tor network works (explained more in our VPN vs Tor guide).
See all NordVPN features here >>
NordVPN apps
NordVPN offers secure and user-friendly apps for all major operating systems and devices. It is currently the top VPN for Android and also does well with other mobile devices and desktop operating systems. Here was the NordVPN desktop app we tested on Windows: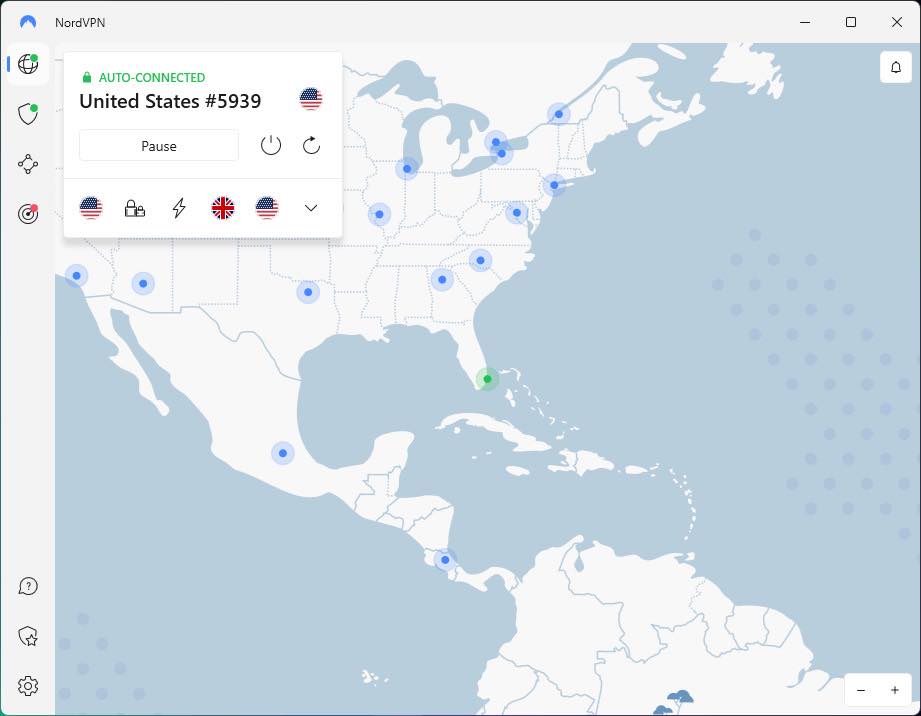 NordVPN security and privacy
NordVPN passed all our leak tests with no problems. Like the other services reviewed here, NordVPN uses its own DNS servers to handle your requests, eliminating this sneaky path ISPs use to track you. In addition to all this, NordVPN is a verified no logs VPN based in Panama, which is an excellent privacy jurisdiction.
Streaming and torrenting
If you want a reliable VPN for streaming movies and media, NordVPN has you covered. It is one of the best in the world at unblocking geo-blocked content, meaning you can stream content from locations in the world you would normally not have access to. For example, NordVPN:
Can stream content from 15+ Netflix regions (US, UK, Canada, Australia, France, Germany, Japan, and more)
Unblocks other leading streaming services, including BBC iPlayer, Hulu, Amazon Prime Video, and many other services
Has custom VPN apps for all major streaming devices (currently the best VPN for Firestick and Fire TV)
NordVPN is also an excellent VPN for torrenting. We think the two most important aspects of a torrenting VPN are the ability to protect your identity at all costs, and the ability to move content quickly. Protecting your identity by preventing your real IP address from being exposed is important due to the chance of violating copyright laws when downloading content.
As we saw in the last section, NordVPN passes all our leak tests, and won't expose your IP address while you are torrenting. And as we noted earlier, NordVPN is currently the fastest VPN we have ever seen in our speed test lab. NordVPN clearly achieves the "move content quickly" requirement as well.
Note: NordVPN also supports many different types of routers if you want to run your VPN on a router. This is useful for using a VPN for Apple TV and any other devices that don't directly support VPNs.
Threat Protection feature
One NordVPN feature that you will definitely like is Threat Protection. This is an advanced VPN ad blocking feature with some serious capabilities. Like the ad blockers offered by some other VPNs, Threat Protection can automatically block ads, trackers, and malware domains that could otherwise jeopardize the security of your devices. But it goes beyond the competition in a couple of ways:
Like an anti-virus program, it can scan the documents you download, before you open them. If it detects malware Threat Protection will delete the offending file before the malware can attack your device.
Unlike other VPN ad-blockers, Threat Protection does not require an active VPN connection to do its job. That means it can protect all your traffic, not just the traffic that passes through the VPN.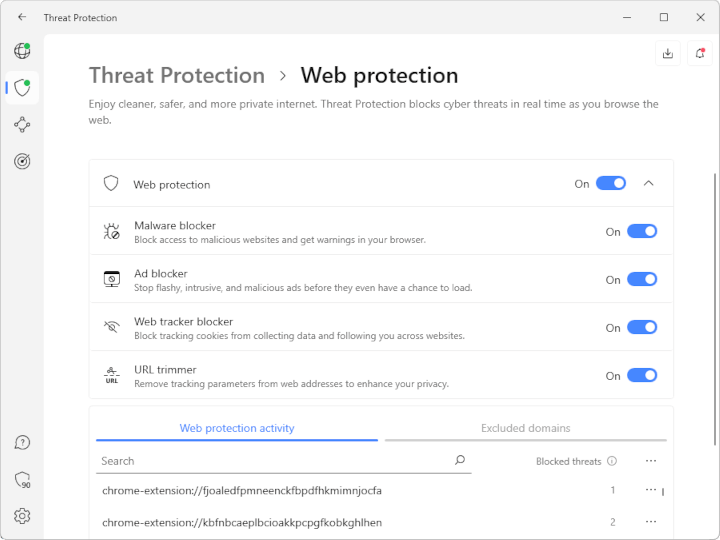 The full Threat Protection feature is available for Windows and macOS desktops. Other NordVPN apps (including the NordVPN Chrome extension) provide Threat Protection Lite, which can only protect browser traffic passing through the VPN tunnel. Threat Protection Lite also lacks the ability to scan downloaded documents. Even with these limitations, Threat Protection Lite is comparable to the ad blockers offered by other VPN vendors.
NordVPN Chrome setup tips
The NordVPN Chrome extension differs from some other Chrome VPNs in one way: you don't need to have the NordVPN desktop client installed to use the extension. The extension does lack some of the capabilities of the full desktop client, but if all you need is basic VPN services in Chrome, you can run without the desktop client.
The NordVPN extension works well and is easy to navigate. It offers a quick connect feature that automatically seeks out the best server for you and connects you to it, saving you the hassles of picking one of their 5,700+ servers yourself.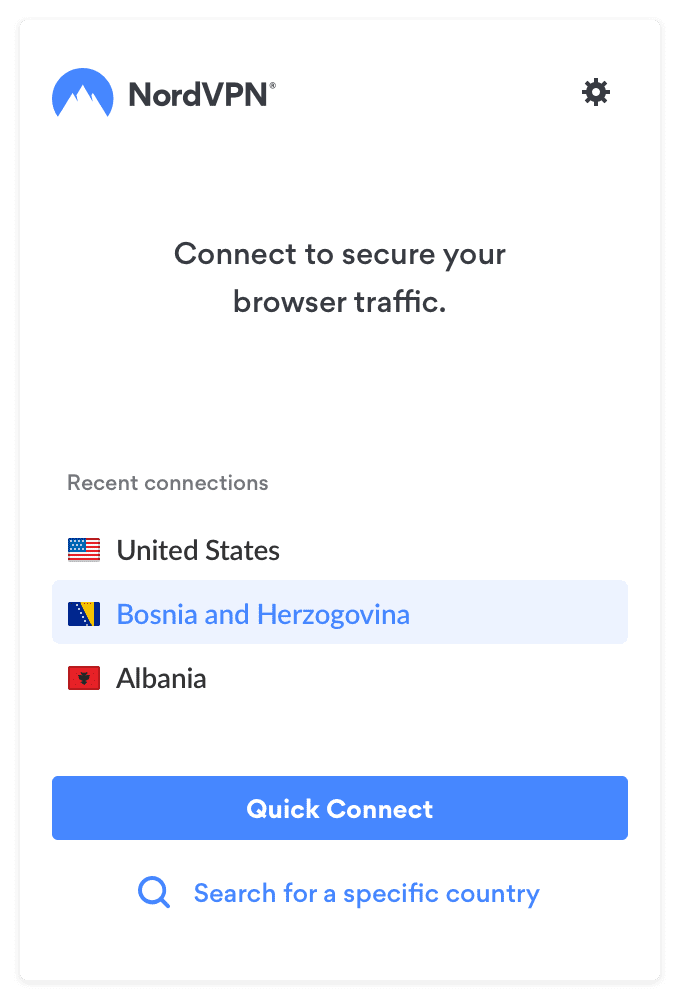 The extension allows you to easily pick the country you want to connect to. The service simply finds you a server in that country, rather than allowing you to pick a specific location or server type, as you can with the NordVPN desktop client.
Which version of NordVPN should you use?
Given all this, you may be wondering how to set up a VPN on Google Chrome. Should you use just the NordVPN desktop client? Just the extension? Both?
The answer really depends on your needs. If you just need a basic VPN connection for only your Chrome browser, you can run just the extension with WebRTC leak protection turned on and you should be fine. Here are some situations where you would also want to use the full VPN desktop client:
If you need to protect applications that connect to the internet without going through Chrome (chat apps, for example)
You need more sophisticated connections (perhaps Double-VPN or P2P servers)
You want to encrypt all traffic on your operating system through the VPN (not just the Chrome browser)
You want the advanced ad and malware blocking capabilities of the desktop Threat Protection feature.
+ Pros
User-friendly and reliable apps
Double-VPN and Tor-over-VPN servers
Passed numerous 3rd-party audits
Strong encryption standards with full support for WireGuard
Works with Netflix and many streaming sites
Threat Protection feature to block ads, trackers, and malware
Professional 24/7 live chat support
Consistently fast speeds
Dedicated RAM-servers with 10 Gbps bandwidth channels
– Cons
Big discounts only available with 2-year plans
NordVPN's Cyber Deal is live:

Get 68% Off NordVPN with the coupon below plus 3 months FREE, no activation code needed:
(Coupon is applied automatically; 30 day money-back guarantee.)
For more info and test results check out our full review of NordVPN.
---
Surfshark – A low-cost Chrome VPN with great performance
| | |
| --- | --- |
| VPN | Surfshark |
| Based in | The Netherlands |
| Logs | No logs |
| Price | $2.30/mo. |
| Support | 24/7 live chat |
| Refund | 30 days |
| Website | Surfshark.com |
Although Surfshark has only been around since 2018, it has quickly raced to the top of the pack and is now one of the best VPNs for Chrome. The service is a verified no-logs VPN and boasts a surprising number of features, in addition to solid leak protection, fast connections, and great support.
Surfshark is also a great VPN for streaming, giving you access to a wide range of streaming services. If the ability to connect the maximum number of devices is important to you, you will be happy to know that Surfshark gives you an unlimited number of simultaneous connections.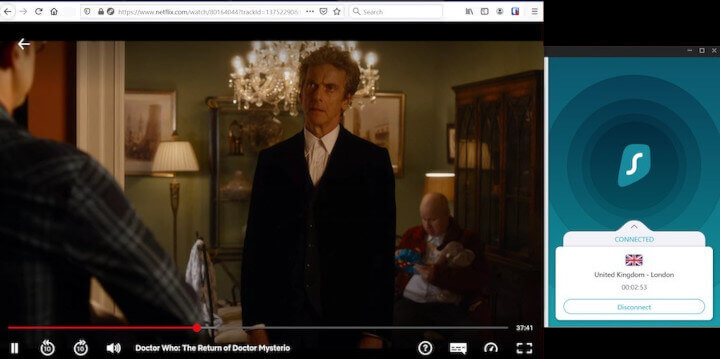 Like the other picks in this Chrome VPN list, Surfshark is a no-logs VPN service. It is based in the Netherlands, which is a good privacy jurisdiction. The Surfshark Chrome VPN app includes a kill switch for solid leak protection, and great security with OpenVPN support and AES-256-GCM encryption to keep your data secure. They also support the WireGuard VPN protocol, with comparable speeds to Nord, as you can see in the Surfshark vs NordVPN comparison.
If you need even stronger security, Surfshark offers a number of MultiHop (double-VPN) servers and Dynamic MultiHop (double-VPN servers you can customize). All servers in the Surfshark network are also P2P friendly, which means you are good for torrenting without any restrictions.
Surfshark also has some extra features built in that you might like. Their Bypasser (split tunneling) allows you to control which applications use the VPN connection and which travel outside it. Camouflage mode is the Surfshark version of obfuscated servers, while CleanWeb blocks ads, trackers, and malware domains.
Surfshark is also the cheapest VPN provider on our Chrome VPN list, coming in at under $2.50 per month when you select the two-year plan and use the coupon below. All subscriptions come with a 30-day money-back guarantee and 24/7 live chat support.
Surfshark VPN Chrome tips
Like NordVPN, Surfshark's Chrome VPN extension can run on its own, without the desktop client even being installed. That said, the Chrome extension lacks some of the capabilities of a full VPN desktop client. Therefore we would recommend you run them both for maximum protection.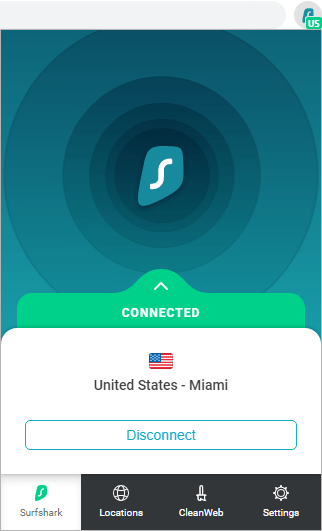 While the Surfshark extension is limited in capabilities (beyond its strong basic VPN functionality) there are a couple of extra options we really like. As you can see in the image above, the extension gives you easy access to the locations you can connect to, in addition to the quick connect button we've seen in both NordVPN and ExpressVPN. You also have the ability to turn CleanWeb on or off from the extension.
+ Pros
Unlimited connections
User-friendly apps for all devices and operating systems
CleanWeb feature to block ads, trackers, and malware
Works great with Netflix and many other streaming services
24/7 live chat support
Strong encryption and security features (audited)
– Cons
Limited support for VPN routers
Above average monthly prices
Surfshark VPN Coupon:

Get 82% off Surfshark VPN (drops the price down to $2.30 per month) plus 2 months FREE:
(Coupon is applied automatically.)
If Surfshark is on your short list of Google Chrome VPN extensions, be sure you check out our full Surfshark VPN review.
---
ExpressVPN – A reliable and secure VPN for Chrome
| | |
| --- | --- |
| VPN | ExpressVPN |
| Based in | British Virgin Islands |
| Logs | No logs (audited) |
| Price | $6.67/mo. |
| Support | 24/7 live chat |
| Refund | 30 days |
| Website | ExpressVPN.com |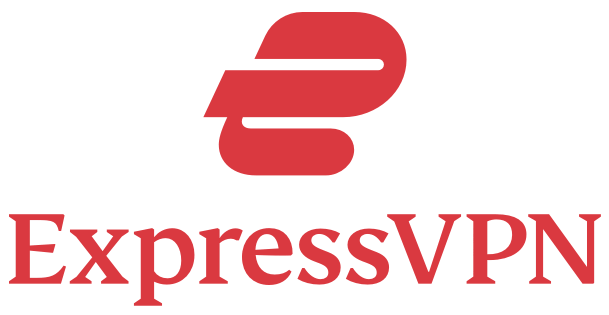 ExpressVPN is a British Virgin Islands-based VPN service that is also one of the best Chrome VPNs. Their network is fast and reliable, using the OpenVPN protocol to protect and transport your data with AES-256 encryption and a 4096-bit RSA key. Unlike other competitors, ExpressVPN offers the self-developed Lightway protocol (rather than WireGuard).
Lightway is a good protocol and makes ExpressVPN faster than it used to be. The result of using it is fast and consistent speeds, which we verified in the Surfshark vs ExpressVPN comparison. Even with Lightway, ExpressVPN isn't as fast as NordVPN or Surfshark. But it is faster than the vast majority of VPN services.
The ExpressVPN apps for desktop and mobile operating systems include Network Lock, ExpressVPN's version of a kill switch. When you activate it, the kill switch ensures that your data cannot leak out of the VPN tunnel. If the VPN connection fails for any reason, the kill switch blocks data from passing onto the Internet unprotected.
As with the other VPNs in this article, you get solid DNS leak protection because ExpressVPN passes DNS requests through the encrypted VPN tunnel. This means that no one, not even your ISP, can spy on your DNS requests.
Beyond this great security and privacy, ExpressVPN is one of the best options when it comes to unblocking websites and streams. If you need access to content that is geo-blocked for any reason, ExpressVPN offers a huge network of global servers to give you access. It is one of the best VPNs for Netflix streaming with consistent access.
ExpressVPN Chrome browser extension
The ExpressVPN Chrome extension is excellent. Attractive and functional, this Chrome VPN is also super easy to use.
Here are some important things to know about using this Chrome VPN extension:
The ExpressVPN Chrome VPN extension will not work unless you also have the ExpressVPN desktop client installed. There are no extensions available for iOS or Android apps.
Benefits of the ExpressVPN Chrome extension
While the ExpressVPN Chrome extension takes advantage of the desktop client's capabilities, it has several benefits of its own that make it worth using this open source extension as well. You can turn the VPN desktop client on and off using the extension, which is nice. And thanks to an audit by Cure53, we know that ExpressVPN's Chrome extension is secure.
Even nicer are the additional features that the Chrome VPN extension gives you.
WebRTC leak protection ensures your IP address and location are not exposed via WebRTC browser leaks.
Location spoofing sets your apparent location to somewhere in the vicinity of the VPN server you are using, preventing HTML5 geolocation tricks from finding your true location.
ExpressVPN for Chrome also incorporates other privacy and security options into their Chrome VPN extension. Below you can see the Privacy and Security settings of ExpressVPN's Chrome extension: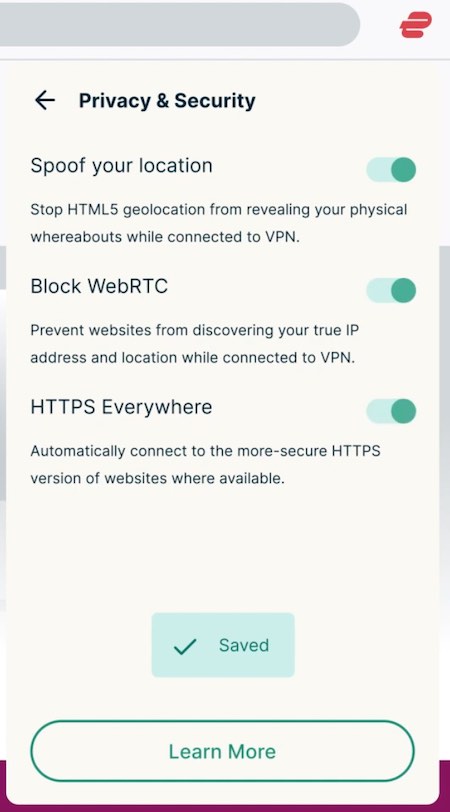 Given that the ExpressVPN extension for Chrome works primarily as a remote control for the desktop client, you may also want to check out our full ExpressVPN review.
+ Pros
User-friendly and secure apps
Split tunneling feature (for macOS, Windows, and routers)
Works with Netflix and most streaming services
24/7 live chat support
Passed independent third-party audits for security and no-logs
Very large server network
– Cons
Above-average prices
Fewer features
Average OpenVPN speeds (use Lightway)
---
How to use a VPN with Chrome
The exact steps for using a VPN with Google Chrome vary depending on which service you choose. ExpressVPN's Chrome extension requires you to install their desktop client for the Chrome extension to run. Other services, like NordVPN and Surfshark, provide Chrome extensions that don't require a desktop client to be installed.
Since we recommend you use both the Chrome extension and the desktop client for the maximum security, privacy, and features, let's visualize a generic setup process that includes both the desktop client and the Chrome extension.
How to set up a Chrome VPN on your operating system
Installing the VPN desktop client for your particular operating system is generally really easy unless your particular operating system is a Linux distro (but we explain how to use a VPN for Linux here). In that case, you'll want to skip this and head to the VPN service's website to find out how painful it will be to install your new VPN. Since you are probably using a VPN with Windows, we'll visualize that.
Here is what you will end up doing on your Windows PC:
Go to the VPN service's website and create an account. You will probably have to sign up for a paid subscription right now.
Download the Windows installer and install the VPN client on your computer.
Start the VPN client (there will probably be an icon on your Windows desktop). Hit the Quick Connect button in the desktop client window. After a few seconds, you should be connected to the "best" VPN server for you.
As long as the VPN desktop client is running, all your computer's connections to the internet should be protected by the VPN. However, one thing that the desktop client can't do is protect you against WebRTC leaks. This kind of leak originates in Chrome and some other web browsers and is best controlled by a browser extension.
How to set up and use a VPN on Google Chrome
VPN browser extensions either require the desktop client to be installed so they can function as remote controls for it (ExpressVPN), or they can function without the desktop client, but can only provide a subset of the capabilities of the desktop client (NordVPN, Surfshark, and many others).
A potential drawback of the standalone VPN Chrome extensions is that they only protect communications between Chrome and the Internet. Anything that doesn't use Chrome to communicate with the outside world will be unprotected.
From the security and privacy perspective, it is far better to run both the desktop client and the browser extension, ensuring you have access to the full power of your VPN service and protecting everything on your device that communicates over the Internet.
Most of the Chrome browser extensions for VPNs are available for download from the Chrome Web Store for free. However, you will still need an account with the VPN service to be able to use the extension.
Only use official Chrome VPN extensions
Make sure you download an official browser extension published by the VPN service itself. There are lots of creepy "free VPNs" and proxies that promise the benefits of a real VPN service while gathering and selling your personal data or doing creepy things to your computer with viruses and similar malware.
But enough of the negatives. Here's what you will typically have to do to get a Chrome browser VPN extension running on your computer:
If you haven't already done so, sign up for an account with one of our recommended Chrome VPN services. Use one of our discount links to get the best deal on your VPN.
If you signed up for a service like ExpressVPN that requires the desktop client, make sure you have the desktop client all set up before going further with these instructions.
Using Chrome (of course), go to the Chrome Web Store and search for the browser extension you need, then click Add to Chrome.
Wait for your computer to download and install the extension.
Click the browser extension's icon at the top right side of Chrome.
Enter the username and password you set up when you created your account to log in to the extension.
Check the extension's Settings to ensure that WebRTC protection and any other options you want to use are enabled.
Either select a VPN server or location from among the options in the browser extension window and click Connect. Or if one is visible in the browser extension window, click the Quick Connect button to let the VPN network find the best server for you and connect you to it.
What about Chrome VPN on Android and iOS devices?
The whole concept of Chrome extensions doesn't apply to Android and iOS devices. This means that to use a VPN on your Android or iOS device, your only option for Android or iOS is the relevant VPN app from their respective app stores. (See our guide on the best VPNs for Android.)
What about free Chrome VPN proxies and extensions?
This is an area where people frequently get confused, so let's first define our terms.
Chrome proxy
A proxy (a proxy server to be more correct) is a server that you can connect to, which will make it appear that your computer is physically located somewhere else. If you wanted access to geo-blocked content in, say, England, you could connect to a proxy server located in England to bypass the geo-blocking.
But that's all a proxy extension does. It doesn't encrypt your data or protect it with a kill switch. That means internet snoops could spy on what sites you visit and what you do there. From a privacy perspective, this is not good at all!
Chrome VPN extension
A VPN (Virtual Private Network) extension is a browser extension that connects to a VPN service. You can use the servers in the VPN's network to get around geo-blocking the same way you use a proxy server. But a VPN takes great pains to provide for your privacy and security. It does this by encrypting communications between your computer and the VPN server and protecting you against data leaks with a kill switch.
Proxy servers allow you to easily get around geo-blocking, without consuming much in the way of resources. Without the full encrypted tunnel provided by VPN services, they do not offer the same level of security as a standard VPN.
Additionally, some proxies limit the amount of bandwidth you can use without upgrading to a paid (or higher-priced) version. Unless you are doing something really simple, with no real ramifications for getting busted doing it, a proxy server is not the best idea.
But the "free proxy" situation is even worse than that. To pay the bills, some proxy servers do things that can cause big problems for you. Secretly gathering user data and selling it is one of the more common scams. We've even heard that one proxy server has been used to launch botnet attacks by pooling processing power and bandwidth from its crowd of "free users."
If you value your privacy and security, we urge you to only use VPN extensions from the reputable VPN services we recommend.
Using a Chrome VPN with an ad blocker
In an age of increasingly obnoxious ads and pop-ups, many people are opting to use a VPN ad blocker, which basically combines two tools into one. There are many VPNs with ad-blocking capability on the market today, including Surfshark and also NordVPN and ProtonVPN.
In terms of using a Chrome VPN extension with an ad blocker, that is also easy to do with both Surfshark and NordVPN. Each of these VPNs offers their own features to block ads, trackers, and malware. However, ExpressVPN does not offer this type of feature at this time.
Conclusion on using a VPN with Chrome in 2023
If you visit the Chrome Web Store you can find dozens of extensions that claim to give you the ability to unblock websites while protecting your privacy. But most of them don't unblock websites very well. Others don't protect your privacy very well. And many do neither well.
Worse yet, many free or unaffiliated extensions spy on you so they can sell your personal information. Some even secretly steal some of your computer time and resources to attack websites they don't like. And things are likely to get worse.
A recent Satacom malware campaign took the stealing theme to a new level. They created browser extensions that were able to steal Bitcoin from the victims. While this particular campaign didn't target Chrome VPN browser extensions, the technology to do so is out there. That means finding a Chrome VPN extension that does the job is tough. So we did the work for you.
Overall, our top recommendation as the best VPN for Chrome remains NordVPN. Nonetheless, any of the options in this guide may be the best choice for your situation.
Stay safe when you browse the Web with Chrome. You can't go wrong with any of these top Chrome VPN extensions.
And if you are on a tight budget, be sure to use any of the coupons that are linked in this guide above, or check out our VPN coupons page for more info.
This Chrome VPN guide was last updated on August 23, 2023.