Surfshark has established itself as one of the premium brands in a very competitive VPN market. Despite only launching in 2018, it ranks near the top in almost every category we have tested. As we confirmed in this most recent set of tests, Surfshark VPN continues to deliver impressive test results with fast speeds and advanced security features.
With all of that being said, there are also a few drawbacks we discovered in our Surfshark VPN review. Overall, this is a solid VPN. But before signing up for a subscription, you will want to get the details and understand all of the pros and cons. Keep reading to see if Surfshark VPN is a good fit for your needs, or if you should consider other options (and we will cover some great alternatives below).
Before we dive into the details of this Surfshark VPN review, let's review the key stats about this VPN in the table below.
Here is an overview of our Surfshark review findings:
+ Pros
Unlimited connections
User-friendly apps for all devices and operating systems
CleanWeb feature to block ads, trackers, and malware
Works great with Netflix and many other streaming services
24/7 live chat support
Strong encryption and security features (audited)
– Cons
Limited support for VPN routers
Average OpenVPN speeds (use WireGuard)
Now let's get into the details…
Pros of Surfshark VPN
Here are the pros (advantages) of Surfshark.
Support for all operating systems and devices + Unlimited connections
Despite being a newer VPN service, Surfshark already has a great lineup of apps that cover all major operating systems and devices. This is indeed important, especially with the growing popularity of streaming content online with various types of devices. In this area, Surfshark delivers apps for all types of devices.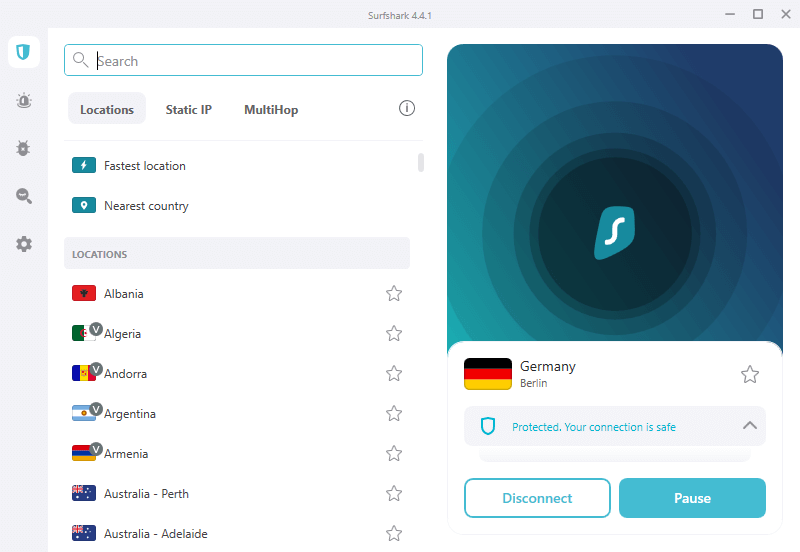 You can use Surfshark with:
Desktop and Laptops
Phones and tablets
Browsers (This is a browser extension)
Chrome and Chromium-based browsers
Firefox
Smart TVs (This is smart DNS)
Amazon Fire TV
Apple TV (making it easy to use the VPN with Apple TV)
Other Smart TVs
Gaming consoles (This is smart DNS)
Note: Do not confuse the Browser Extensions or Smart DNS for the dedicated VPN client on your operating system. In short, a browser extension only works within the browser, rather than encrypting all traffic on your operating system like a VPN. And a Smart DNS is simply modifying your DNS settings rather than encrypting all traffic. We discuss this distinction more in our guide on the best VPN for Chrome.
Surfshark background check
Surfshark has a stellar track since it burst onto the scene in 2018. Over the years, this VPN has grown in popularity by offering excellent features, secure apps, great performance, and all for a low price.
One of the biggest changes to Surfshark was the announcement in 2022 that Surfshark was merging with Nord Security. Fortunately, we see that Surfshark will continue to operate independently, but will now have the backing of a major security company, therefore giving the VPN more long-term stability.
On the one hand, we're not a fan of consolidation as it leaves fewer independent VPNs for people to choose from. But on a positive note, we're impressed with Nord Security as a company, which continues to innovate and offer new security products, including NordPass and also NordLocker, a file encryption tool, and secure cloud storage solution.
Similarly, we see Surfshark also continuing to innovate with new products and services, beyond just the VPN. This includes launching a new antivirus product, as well as a private search engine, an ad-blocking feature, and also a data removal tool (see our Incogni review). With Surfshark and Nord Security joining forces, the future is looking bright.
Unlimited simultaneous connections
Another big advantage you get with Surfshark is an unlimited number of simultaneous connections. In the VPN industry, most services limit you to about five simultaneous connections, give or take a few. While Perfect Privacy also offers an unlimited number of connections, it is significantly more expensive than Surfshark.
Here is the official policy from their website:
We offer an exclusive service to our customers – our VPN enables you to connect all your devices at once, without a limit on simultaneous connections!
This policy really sets Surfshark apart from other major VPN services, as we noted in the IPVanish vs Surfshark report.
Strong privacy protection policies
Surfshark does a great job at ensuring customer privacy remains protected. Previously, this VPN was based in the British Virgin Islands, just like we saw in the ExpressVPN review. However, in October 2021, Surfshark announced they would be relocating to The Netherlands, primarily for business reasons.
We strongly recommend avoiding the US and UK jurisdictions (and other 5 Eyes countries), while other European countries are less worrisome. After closely examining privacy laws, as well as real-world privacy test cases, we still recommend services (particularly secure email services) based in other European countries, such as Belgium, Germany, and The Netherlands, all of which are officially part of the "14 Eyes" group.
With Surfshark now being legally based in The Netherlands, we do not find this concerning since the country does not have any data retention laws and is overall favorable from a privacy standpoint. If Surfshark moved to the US or UK, we would have serious concerns, but that is not the case. Surfshark also notes on its website:
We're based in the Netherlands, so we play by their rules (which are pretty great when it comes to user privacy). As there is no obligatory data retention law, we do not have to store logs, and it makes for a perfect location for a VPN provider.
Now on to the next important question…
Surfshark keeps no logs
I read through the Privacy Policy and Terms of Service for this Surfshark review. Both are rather verbose. Here are some important takeaways:
Surfshark does not keep any logs that could identify a user or their activities online. (No IP addresses or usage data is recorded.)
SurfShark apps have a "crash reports" option to report diagnostic info if the app crashes. This is anonymized and it can be easily disabled in the settings.
Note that many VPN services have an option to send crash reports in the apps. If you find this concerning, just disable the option in settings. The Surfshark mobile apps may also contain an advertising ID. Again, if you find this problematic, then you can just disable it in the settings.
And while we're on the topic of VPN logs, be sure to avoid VPNs with a history of providing logs to authorities. This was an issue we noted in the IPVanish review and also the PureVPN review. (You can see the Surfshark vs PureVPN comparison as well.)
Surfshark Warrant Canary
Surfshark maintains a warrant canary to alert users to any government action that could infringe on customer privacy. Looking at the Surfshark warrant canary at the time of this review, we see:
0 National Security letters;
0 Gag orders;
0 Warrants from a government organization.
Looks good! You generally do not see warrant canaries with US VPN services, which are subject to data requests and gag orders that prevent any disclosure.
Secure encryption and leak protection features
For encryption, Surfshark utilizes the industry standard of AES-256-GCM (Galois/Counter Mode) cipher with an RSA-2048 key exchange. Additionally, Surfshark offers the following VPN protocols:
OpenVPN – OpenVPN is generally considered the "gold standard" with VPNs because it offers good performance, is open source, and is considered very secure.
WireGuard – WireGuard is the newest addition to Surfshark and offers the fastest speeds and the latest encryption technology. WireGuard is supported directly in the Surfshark VPN apps (no extra configuration needed.)
IKEv2 – This is considered to be a very secure protocol with excellent performance. While it usually outperforms OpenVPN, it is not open source, which is a drawback.
Depending on which Surfshark app you are using, you can select from the available VPN protocols right in the settings area. Surfshark currently supports the WireGuard VPN protocol on Windows, Mac OS, Linux, Android, and iOS.
Surfshark kill switch
The Surfshark VPN kill switch feature will block traffic if your VPN connection drops. This ensures your location and IP address remain protected, even if the VPN connection fails (for any reason). You can see the kill switch in the settings.
The Surfshark kill switch has two modes: strict, and soft. Soft mode blocks internet traffic if your connection to a VPN server is lost unexpectedly, but not if you disconnect manually. Strict mode stops internet traffic if the connection to a VPN server terminates for any reason.
Here is the Surfshark Windows app that we tested for this review, with the kill switch enabled: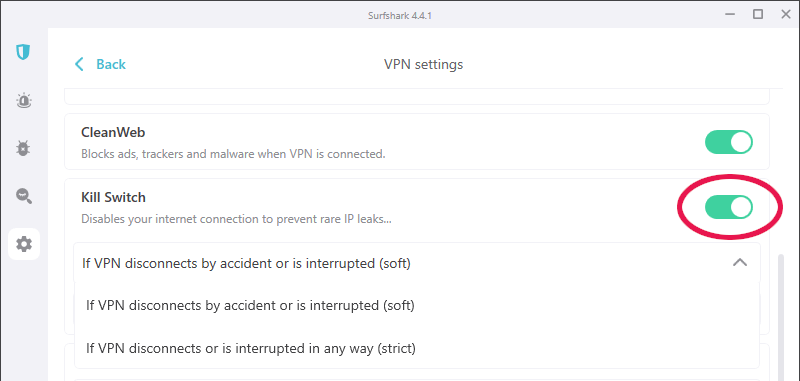 The VPN kill switch feature is available with Surfshark apps for Windows, Mac OS, Android, and iOS. I tested the kill switch with the Surfshark Windows VPN app and everything worked well.
Surfshark leak tests (no leaks found)
For this Surfshark review, I also ran the Windows and Mac OS clients through some basic VPN tests and checks. I could not find any IP address leaks or DNS leaks. In short, everything with Surfshark worked well in our tests.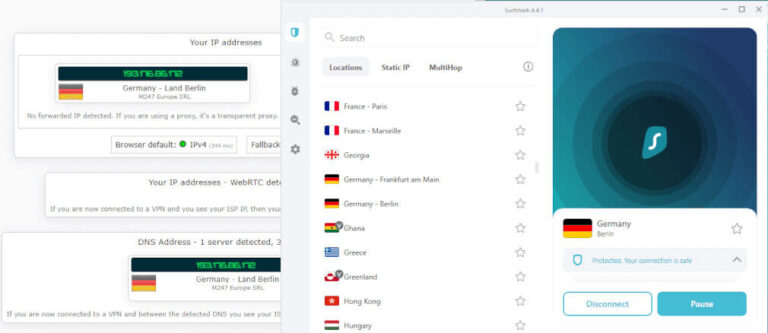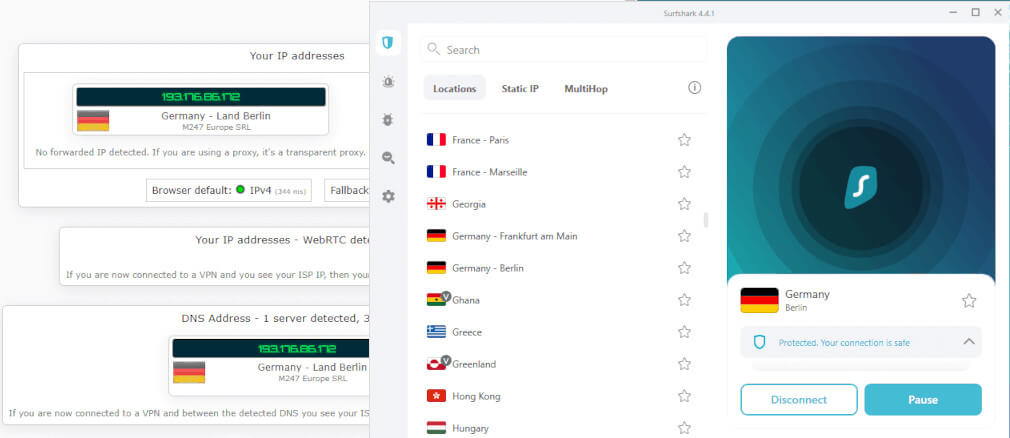 The SurfShark Mac OS app also did well in our tests, with no leaks or bugs identified.
See all Surfshark security features here >>
WireGuard support (very fast speeds)
One of the biggest updates to this Surfshark review is the implementation of WireGuard.
With the latest version of the SurfShark VPN apps, you can easily enable the WireGuard VPN protocol right in the settings, as you see below.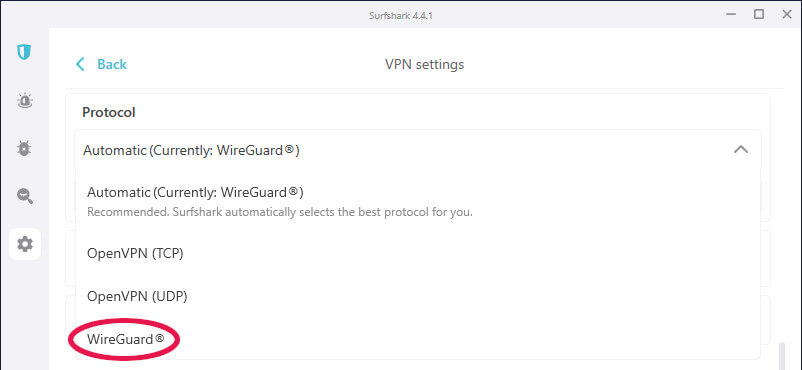 WireGuard is supported directly in the apps for Windows, Mac OS, Android, Linux, and iOS.
There are many advantages to using the WireGuard VPN protocol:
Very fast download speeds
Instant connections (handshake)
Seamless transition between networks, without losing the VPN connection
The latest upgrades in encryption technology
Small code base, which is easier to audit and update than other VPNs
In our tests, we found all of these benefits to be on full display with Surfshark. So let's get to the speed tests.
Surfshark speed test results with Wireguard
We ran all tests on a 500 Mbps connection using the latest Surfshark VPN apps with the WireGuard protocol. All tests were carried out in our US lab testing Surfshark servers in the US, Canada, and Europe.
First I tested a Surfshark VPN server in Los Angeles (USA) and was able to get 346 Mbps.

At well over 300 Mbps, this is an excellent speed test result.
Next, I tested a Surfshark VPN server in Seattle. Once again, the results were excellent at 308 Mbps.

Even though the Surfshark Seattle server is not as fast as the previous Los Angeles server, 308 Mbps is still great.
The last Surfshark server I tested in the United States was in New York. This was the most impressive speed I found, at 397 Mbps.

At nearly 400 Mbps, this puts Surfshark in the league of the fastest VPNs we have tested here at Restore Privacy.
We also ran some speed tests with Surfshark servers in Canada. Here was a server in Toronto at 360 Mbps:

Surfshark is one of the best VPNs for Canada that delivers consistent performance.
Lastly, I tested servers in the UK. Once again, the performance was excellent with this Surfshark server in the UK: 330 Mbps.

If you want the fastest VPN speeds with Surfshark, simply use the WireGuard VPN protocol. We found it to offer very similar speeds to NordVPN in our Surfshark vs NordVPN comparison.
Aside from fast download speeds, WireGuard also offers these benefits:
Near-instant connections (no more waiting 10+ seconds for the VPN to connect)
Improved mobile performance
Better battery life
More reliability (fewer dropped connections)
We did notice that OpenVPN speeds were nowhere near the level of WireGuard performance, but we'll discuss that more below.
Note: Due to Surfshark's support for WireGuard on the Android operating system, and all the benefits this offers for mobile users, we rate it as one of the best VPNs for Android.
Passed an independent security audit
Many VPNs are working to build trust in a rapidly-growing industry by undergoing external audits. Surfshark is going along with this (positive) trend. It underwent an audit by Cure53, a reputable cybersecurity firm based in Germany. Cure53 had this to say:
As the extremely low number of findings and their limited implications clearly indicate, the results of this Cure53 assessment of the Surfshark VPN extensions position the product in a very good light. Two members of the Cure53 team, who examined the scope in November 2018, can only conclude that the tested applications make a very robust impression and are not exposed to any issues, neither in the privacy nor in the more general security realms.
For a third-party security audit, this reads very well. Note, however, that the audit was limited to the Android and iOS browser extensions. You can read the full audit report here.
There are also a few verified no-logs VPNs that have undergone external audits to verify their logging policies. (Surfshark has not done this yet.) Some of the larger VPN services have undergone third-party audits to verify the no-logs status. We discuss two examples of this in our NordVPN vs ExpressVPN comparison.
Large, secure server network operating in RAM-disk
Over the past year, Surfshark has grown quickly and added hundreds of servers to its network. It now boasts a large network of 3,200 servers spread across 100 countries.

As you can see above, all Surfshark servers run Private DNS, are P2P-friendly, and comply with a no-logs policy.
Does Surfshark use virtual server locations?
First, let's define what we're talking about. A virtual server location is when a VPN server announces a location, such as Chile for example, when it is actually located somewhere else, such as in the US. We've examined the issue of virtual server locations before, and there are pros and cons to doing this.
For the purpose of this Surfshark review, we can clearly see that Surfshark uses some virtual server locations for remote regions. Surfshark is transparent about this fact and clearly announces the virtual locations in the apps (unlike HideMyAss HMA VPN for example). You can identify the virtual locations within the Surfshark client because they are marked with a "V" for virtual.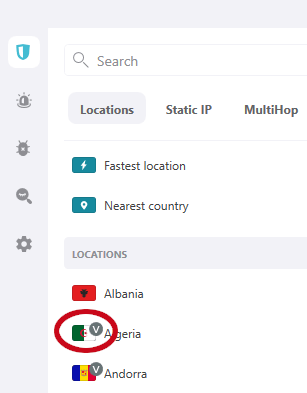 Note: Using virtual server locations is not a dealbreaker. ExpressVPN and others also use virtual locations in a limited number of cases to support remote regions. Like ExpressVPN, Surfshark also discloses all virtual locations, which we covered in the ExpressVPN vs Surfshark.
CleanWeb (ad blocker) and Bypasser (split tunneling) features
Surfshark comes integrated with some cool features that I tested out for this Surfshark review. First, we'll examine the CleanWeb feature.
CleanWeb filter to block ads, trackers, malware, and phishing domains
Surfshark has a useful filtering feature called CleanWeb. This feature blocks ads, trackers, malware, and phishing domains, as well as "suspicious links" that are on a blacklist. There are some nice advantages to VPN ad blockers, which can efficiently block domains at the VPN server via DNS requests, rather than relying on browser extensions.
You can enable CleanWeb in the Surfshark settings. This feature is available in the Windows, Mac OS, Android, and iOS apps. Here is the CleanWeb feature I tested out for this review with the Windows client and it worked well.

I tested this out by visiting some ad-infested websites with CleanWeb enabled. It looks to be working very well as all ads were effectively blocked.
Other VPNs also offer ad-blocking, such as with the Threat Protection feature that we tested in the NordVPN review.
Bypasser (split tunneling) feature
Like with CleanWeb, the Bypasser feature is also activated directly in the Surfshark app settings area. This tool allows you to "Select apps or websites & IPs to bypass VPN." You can see other VPNs with split tunneling here.
This may be useful in certain cases. For example, if you have a streaming service that blocks the VPN, then bypassing the VPN with only that app may be helpful. This is another feature that we also see being offered by other VPNs, as we noted in our Proton VPN review. And for a comparison of these two services, see the Surfshark vs Proton VPN report.
Surfshark works with Netflix and other streaming services
If you need a good VPN for Netflix, Surfshark is a solid choice. They offer access to 16+ Netflix regional libraries, including all of the most popular regions, such as Netflix US, UK, Canada, Germany, France, Japan, Korea, and more. I decided to test out Surfshark's ability to unblock the US and UK Netflix libraries and everything worked perfectly. Below you can see me streaming UK Netflix through Surfshark's server in London: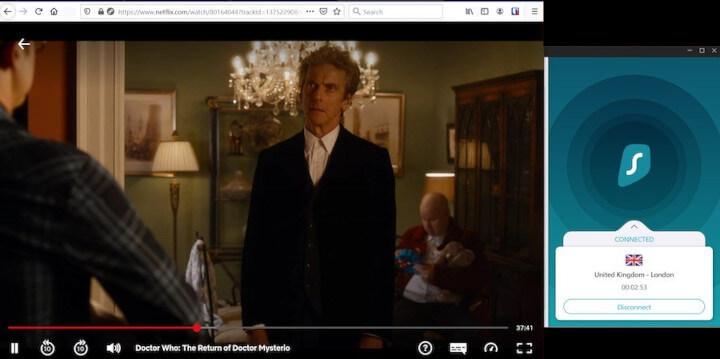 Streaming quality was also perfect, without any interruptions. This is to be expected given the fast speeds and reliable connections. Surfshark certainly outperforms other VPNs with streaming, as you can see in the CyberGhost vs Surfshark comparison.
Beyond Netflix, Surfshark is a great all-around VPN for streaming, with many other services supported including BBC iPlayer, Disney Plus, Hulu, and more. In the most recent update to the VPN for BBC iPlayer guide, we found Surfshark to be one of only a few services that was still getting through.
Multi-hop VPN, plus extra features
Surfshark offers a multi-hop VPN feature, which will route your traffic over two different VPN servers. As of the time of this Surfshark review, there are fourteen different double-hop server configurations available. These can be selected directly within the Surfshark client under Locations > MultiHop.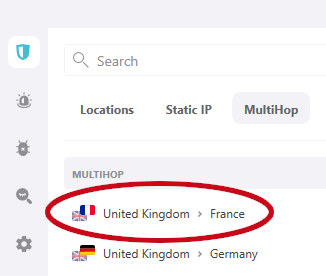 This can be a good feature if you are looking for more encryption and privacy above and beyond a single-hop connection. However, speeds will likely be slower than single-hop servers.
We have a multi-hop VPN guide that dives into this topic more if you are interested.
Extra (paid) features
Surfshark also offers a few additional features beyond what we've covered above. These features are:
Surfshark Alert – Get real-time alerts when your emails & passwords are at risk of being hacked.
Surfshark Search – The real incognito mode for searches you don't want anyone to see.
Antivirus feature – Surfshark is also offering an antivirus feature.
Surfshark One – If you want to get everything together, Surfshark also offers the "Surfshark One" option, which includes all the features of the VPN as well as the Alert, Search, and Antivirus add-ons. This add-on costs an extra $1.49 per month, on top of the VPN subscription price.

You can see these features on the checkout page and they can be incorporated into your VPN subscription.
You may find this package to be useful and worth the monthly (added) price. However, there are many different private search engines available that are free of charge. There are also identity theft protection services, but they can be quite expensive.
Excellent prices and money-back guarantee
Surfshark is probably the cheapest VPN that I would still consider to be a high-quality service. It is a great value. If you use this discount coupon, you can get Surfshark at the current best available price.

As you can see, Surfshark is cheaper than nearly all other leading (high-quality) VPN services.
Surfshark supports all major payment options: credit cards, PayPal, Google Pay, Amazon Pay, and cryptocurrencies.
Note: Check out our page on VPN coupons for other deals and discounts.
Surfshark 30-day refund policy
Surfshark offers a 30-day refund policy on all plans. This is a great refund window as many VPNs restrict refunds to only one week.
After reading through the terms and conditions, there are a few exceptions for mobile apps and gift cards.
We can refund you on the basis of our 30-day money-back guarantee. Except if you signed up via iTunes/App Store or with a prepaid card/gift card. These are out of our hands.
These exceptions are pretty standard. You can see the respective mobile stores for their refund policies.
The 30-day refund window basically acts as a free trial VPN, since you can cancel at any time within the window for a full refund.
Live chat support is available 24/7
In working on this Surfshark review, I had many interactions with their support team. I found the support to be fast and helpful. You can access the live chat support directly through the website and it is available 24 hours a day, seven days a week.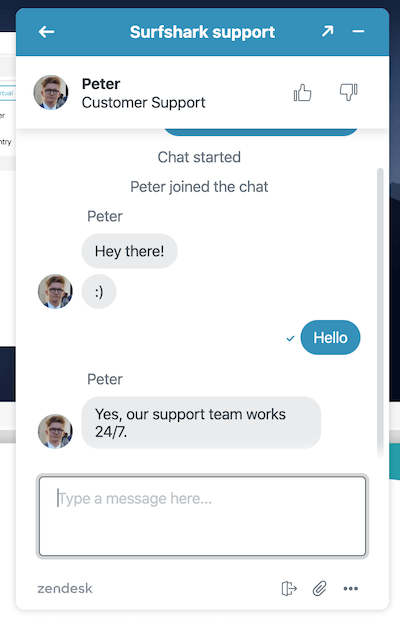 I also found the Surfshark website to have lots of good info. There is a dedicated support domain with dozens of tutorials and guides.
Cons of Surfshark VPN
Now let's examine the cons (drawbacks) of Surfshark VPN.
Average OpenVPN speeds
I ran lots of speed tests for this Surfshark review. The test results for the WireGuard protocol were excellent and are all posted above.
There is one drawback with speeds, however. I found the OpenVPN protocol to not offer the best performance. While anyone can use WireGuard, some may prefer to use OpenVPN for various reasons. OpenVPN is also the only protocol supported with the multi-hop feature.
Below you can see that OpenVPN speeds were not great in a few locations.
Here was a server in Los Angeles with the OpenVPN protocol and I'm getting around 81 Mbps.

Similarly, the OpenVPN protocol with a UK server was also not very impressive at 79 Mbps.

We can expect OpenVPN to not perform at the same level as WireGuard. With that being said, you can typically get speeds of over 150 or 200 Mbps with OpenVPN using a fast VPN service. For example, I can usually get speeds of over 200 Mbps using NordVPN.
If you don't need to use OpenVPN, then you'll be better off with WireGuard, which is more than adequate with Surfshark.
Note: This is still faster than many other popular VPNs, as you can see in our recent Private Internet Access review.
Limited VPN router support
Another drawback I found with Surfshark is that there is no VPN router app. Some VPNs, such as ExpressVPN and VyprVPN, offer a dedicated app that can be used with some routers, with the right firmware. This makes it very easy to get the VPN up and running, assuming you have the right router.
With Surfshark, however, there is no dedicated VPN router app. However, you can still use Surfshark with a router, but it may be more complicated. Here are some options for using Surfshark with a router:
Get a preconfigured VPN router from vendors such as Flashrouters, Sabai Technology, or Vilfo.
Get a VPN-enabled router that comes with full support for OpenVPN. My top recommendation for this is the latest models from Asus.
Flash your existing router with firmware that will work with VPNs. This can be tricky and it also comes with some risk. Proceed with caution.
As you can see, there are still many options for using Surfshark with a VPN router, but it'd be great if they developed a dedicated VPN router app to make that even easier. See my VPN router guide for more of a discussion on this topic.
Surfshark FAQ
Here are some of the top questions we encountered while preparing this Surfshark VPN review:

Does Surfshark work for torrenting?

While it may not be the best VPN for torrenting, Surfshark is still an excellent choice.

According to the Surfshark website, all servers are P2P friendly.





With great speeds (using WireGuard), good leak protection settings, no logs, and safe, secure apps, Surfshark is a good option to consider.

Torrenters may also find peace of mind knowing that Surfshark is not forced to comply with DMCA laws because they are based in The Netherlands. Therefore legal notices and copyright demands should not affect Surfshark users in any way. With copyright violations sometimes resulting in jail time, it's good to use a safe and secure VPN at all times.


Does Surfshark work in China?

Surfshark has a built-in feature called NoBorders, which they developed to help users get around VPN blocks and restrictions. This will be useful in China. VPNs use different names for this feature, such as the Chameleon protocol with VyprVPN.

The Surfshark NoBorders feature can be enabled directly in the app. This should allow you to use the VPN in areas where VPNs may be blocked, such as in China.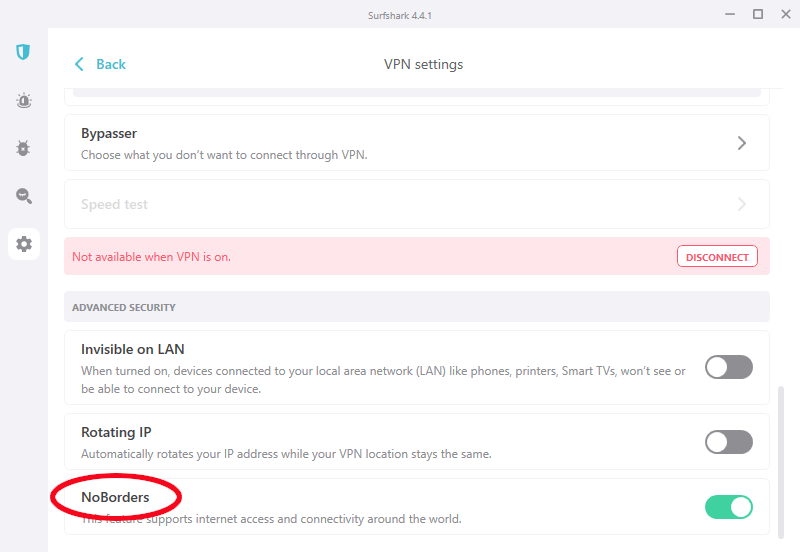 With this feature built into the Surfshark apps, it is probably a good VPN for China if you need to get through the Great Firewall.

Note: Surfshark also has a "Camouflage mode" feature that obfuscates VPN traffic. This feature is enabled with the OpenVPN protocol (UDP and TCP). While this is similar to the "NoBorders" feature, they are separate.


Does Surfshark work for gaming?

Many people use VPNs to improve their experience for gaming — but there are many variables to consider. For a VPN to work well with gaming, it needs:

1. Fast servers

2. A large network that can deliver consistent speeds

3. Reliable VPN apps for all gaming devices

As we have seen in this Surfshark review, this service meets all three of these conditions. It is a great VPN for gaming and should work well.


Can you use Surfshark with Linux?

Yes, you can use Surfshark VPN with Linux using the new Linux desktop app.

One exciting new development with Surfshark is the launch of the Linux GUI app. This was launched in mid-2022 and we tested it out for our guide on the best VPNs for Linux. In this realm, Surfshark is a top contender with its new Linux app that fully supports the WireGuard VPN protocol. Here is a screenshot of the Surfshark Linux app from our tests: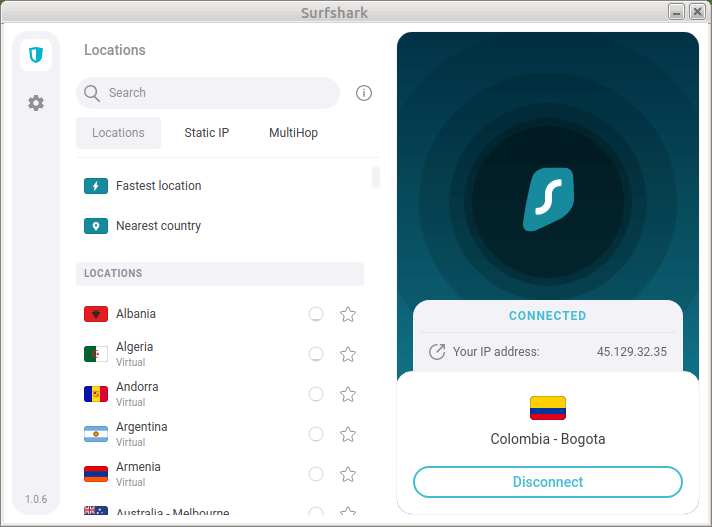 There was one noteworthy drawback with the Surfshark Linux app: it did not have a kill switch. However, Surfshark engineers were true to their word and got the kill switch into the Linux app.
Surfshark review conclusion for 2023
Somehow, Surfshark continues to be a premium VPN service with a cheap VPN's price. When you consider all of the features, preferences, and performance you get for a cheap VPN price, Surfshark is a tremendous value. As a brief recap, here are the highlights of Surfshark VPN:
Great apps for all major devices and operating systems
Unlimited number of connections
Based in a good jurisdiction with a no-logs policy
Good leak protection features (kill switch) with strong encryption
Multi-hop VPN servers (13 to choose from)
CleanWeb feature to block ads, trackers, malware, and phishing domains
Split tunneling feature (Bypasser)
Works well with Netflix and other streaming channels
24/7 live chat support and a 30-day money-back guarantee
Overall Surfshark is one of the better VPNs I've tested and is currently one of our top recommendations. If you want to give Surfshark a try, you will get the best prices with the coupon below:
Surfshark VPN Coupon:

Get 82% off Surfshark VPN (drops the price down to $2.30 per month) plus 2 months FREE:
(Coupon is applied automatically.)
Alternatives to Surfshark
Here is a short list of high-quality alternatives to Surfshark. Click the links to check out their reviews or grab the NordVPN discount coupon for the best savings. Additionally, these VPNs have a 30-day money-back guarantee.
You can also check out our guide on the top VPN Services for other recommendations. In comparison to other VPNs, Surfshark usually does pretty well. Here are our Surfshark VPN comparisons:
If you have used Surfshark VPN, feel free to leave your own review below (good or bad) to help others decide.
This Surfshark VPN review was last updated on January 30, 2023.